Getting tired of the same old ground beef tacos? Spice up your taco night with 39 of the best recipes for taco night!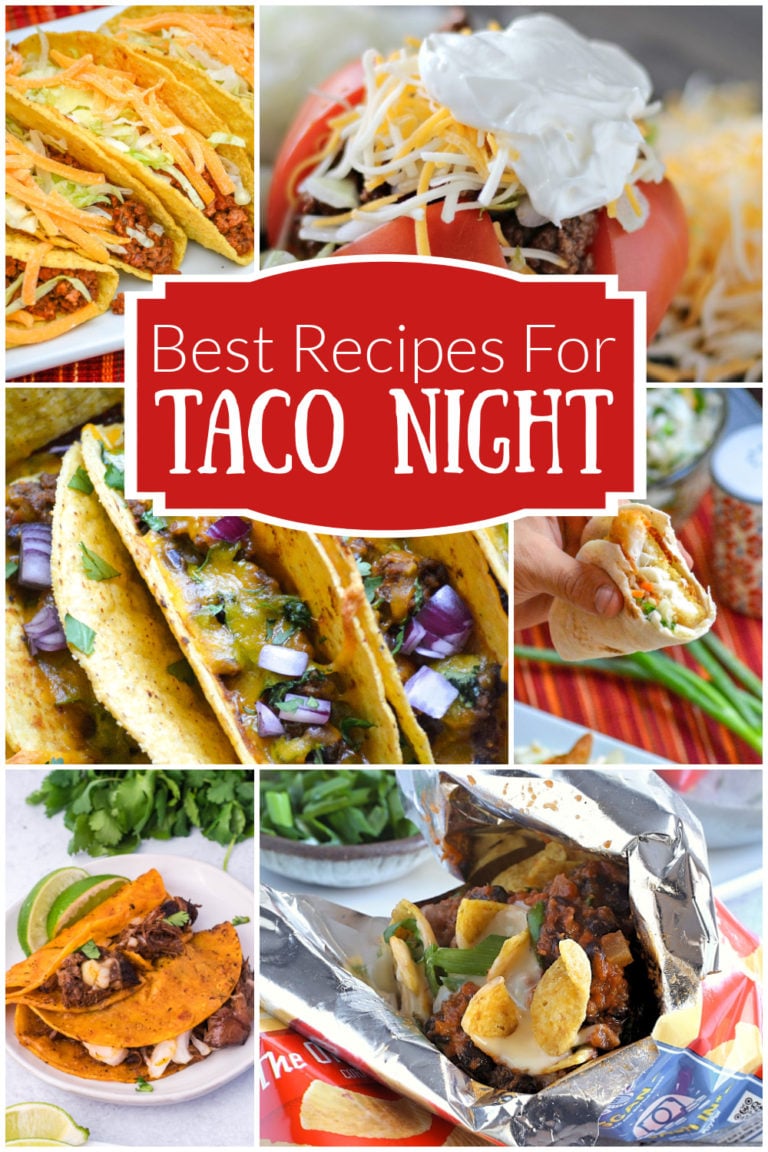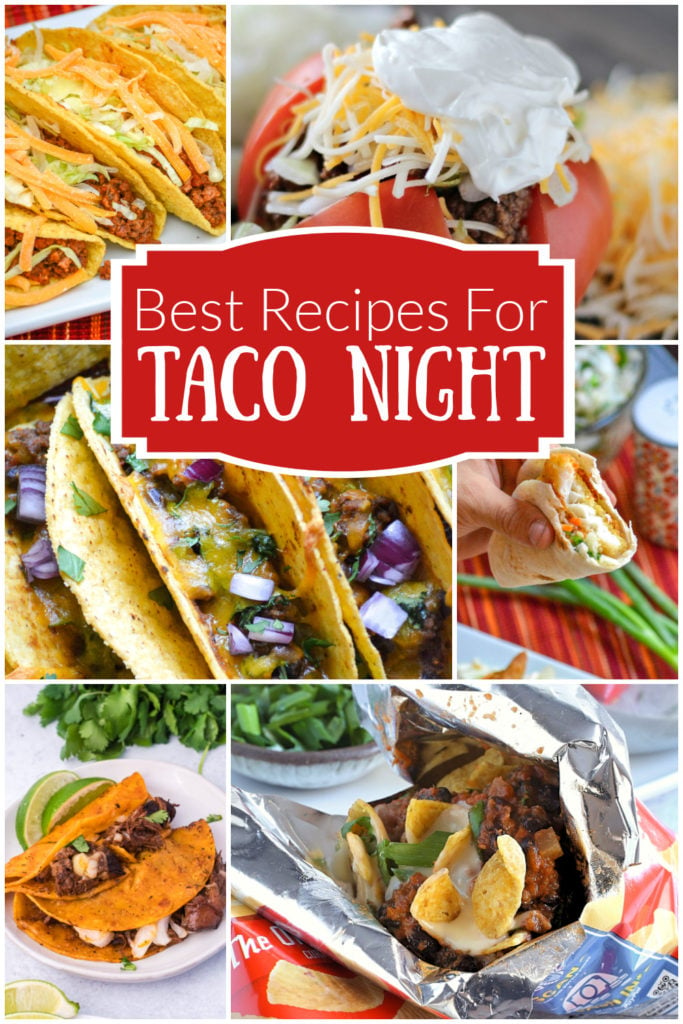 In our house taco night is a weekly must have.
We all look forward to it and love to include all different sorts of Mexican, Southwestern and Tex Mex recipes to keep things interesting.
These are some of my favorite all time taco night recipes that I know you'll love.
Best Beef Tacos
Beef tacos are classic, but just because they are classic doesn't mean they have to be boring.
Spice up your meal plan with some of these ideas: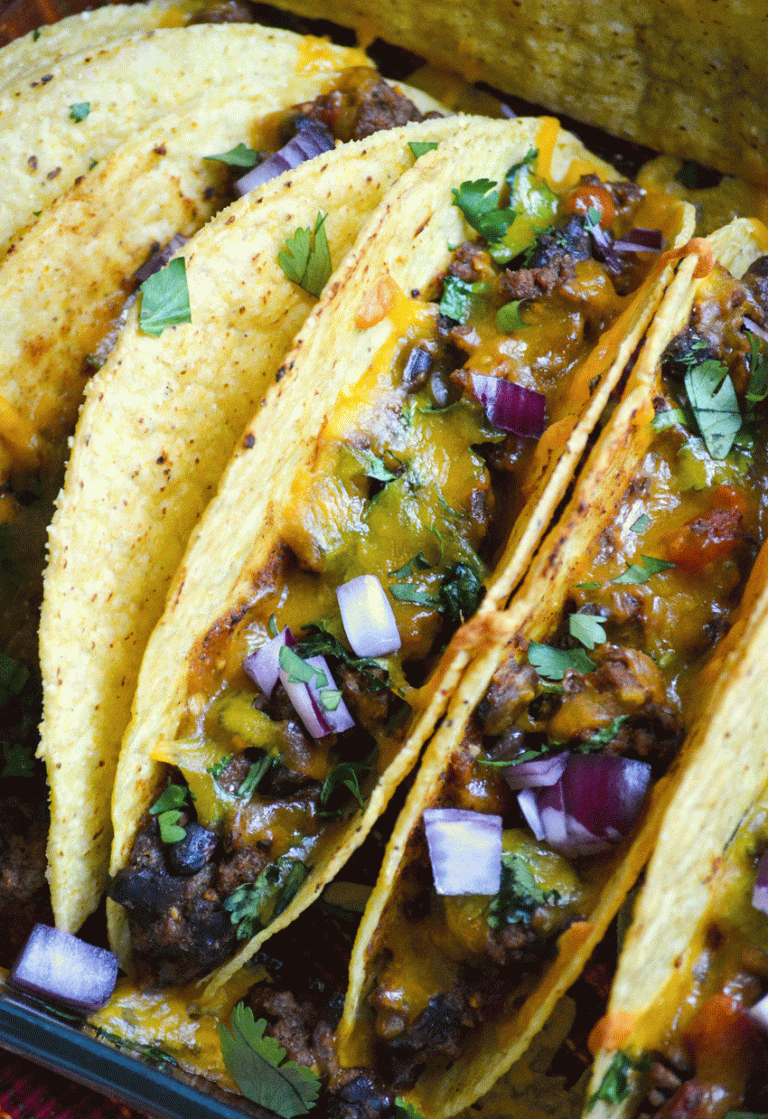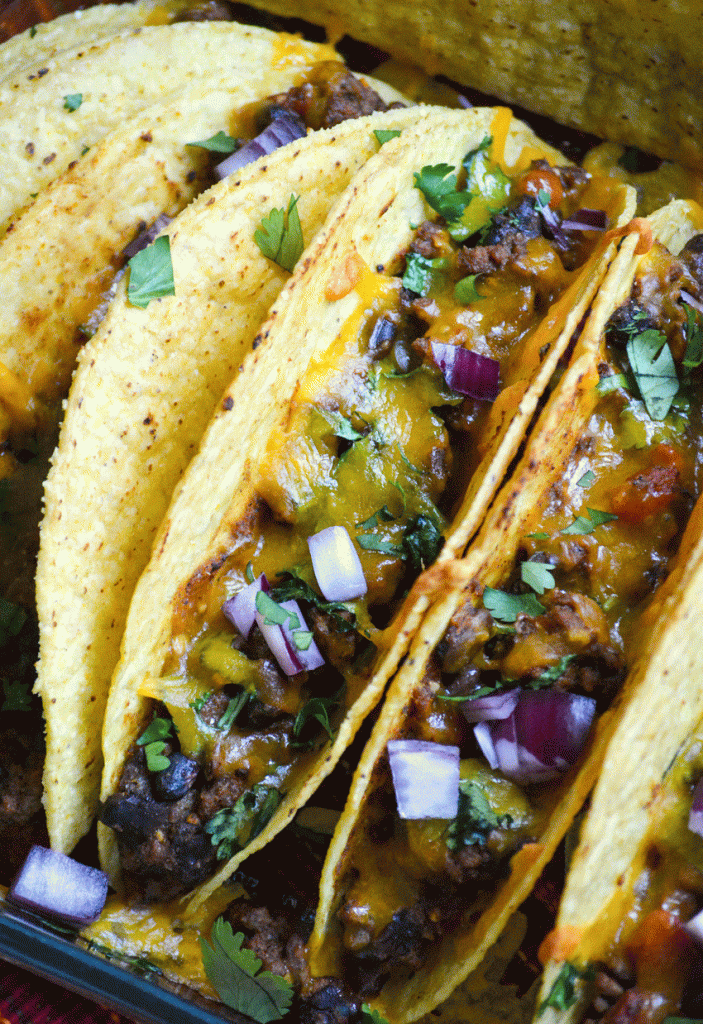 It doesn't get any easier than with these oven baked tacos. This version is stuffed with the most flavorful ground beef and plenty of whole food, hearty ingredients. Eaten as is, or topped with your favorite garnishments- you can't go wrong! Get the recipe.
Taco night just got a whole lot easier with these slow cooker ground beef tacos. No need to stand over a pan to brown your meat, just throw your ingredients in the slow cooker and go! Get the recipe.
Birria tacos are a traditional Mexican meat stew turned into taco form. This slow cooked meal is perfect for a weekend day where you want to smell the lovely aroma and enjoy a spicy, delicious take on the classic. Get the recipe.
Walking tacos don't have to be a treat you only enjoy at the ballpark! Switch up your next taco night with this fun, kid friendly meal you'll love! Get the recipe.
Using frozen ground beef – no need to thaw! Cooks in just 20 min. Serve with desired toppings. So fast, so easy, so so good. Get the recipe.
Delicious Chicken Options
One of the best ways to make taco night more interesting is to switch up your protein option.
These chicken tacos will have everyone begging for seconds!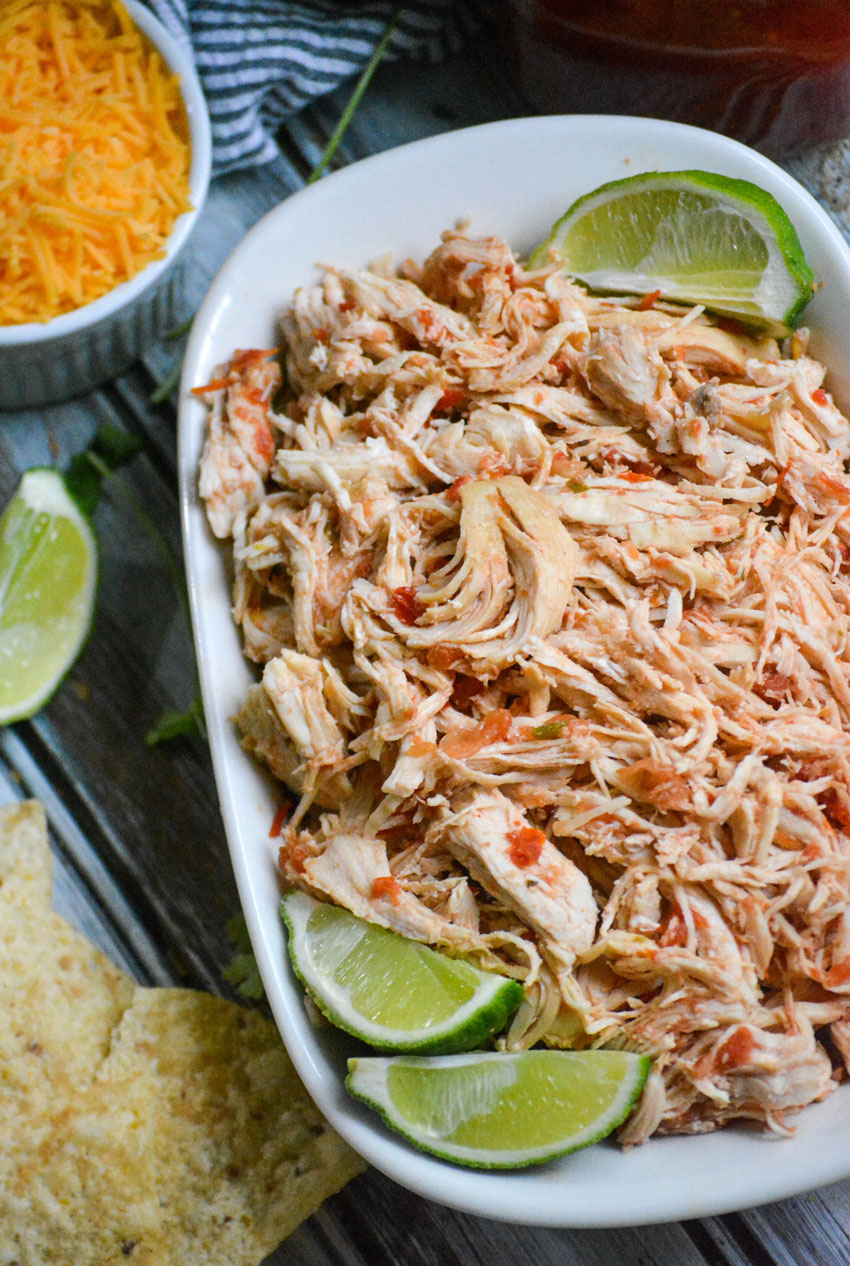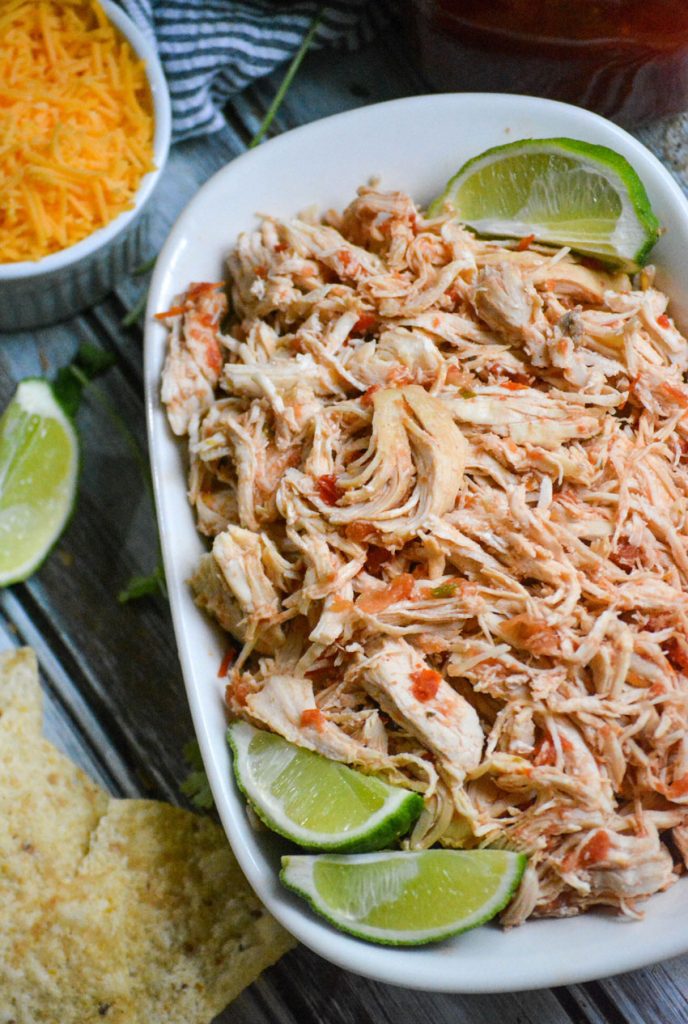 Instant Pot salsa chicken is a quick, flavor dinner recipe you can make right in your pressure cooker. This healthy shredded chicken would be delicious on taco night, as part of a burrito bowl and pairs perfectly with any number of rice dishes. Get the recipe.
This genius hybrid combines nacho cheese Doritos with easy buttermilk marinated chicken strips for fun, snack-able finger food the whole family will love. The perfect way to jazz up taco night! Get the recipe.
The combination of ranch and taco flavors reminded is perfect for fans of cool ranch Doritos. These tacos will have you piling your plate high! Get the recipe.
This pollo fundido recipe is an easy cheesy chicken dish based on the popular dish at many Mexican restaurants. This easy pollo fundido recipe results in savory seared chicken slathered in a zesty cheese sauce that's perfect for feeding to the family. Switch up taco night with this delicious cheesy chicken. Get the recipe.
Instant Pot shredded lime chicken is perfect to stuff into tacos for are an easy, versatile recipe for lunch or dinner. Family friendly and full of wholesome, real ingredients for tacos you can feel good about! Get the recipe.
These super easy oven baked tacos are loaded with creamy buffalo chicken mixture and then topped with extra shredded cheese! Get the recipe.
Chicken street tacos totally loaded up! Juicy seasoned chicken breast, guacamole, pico de gallo and topped with a spicy and creamy homemade chipotle aioli.Get the recipe.
Fish Tacos
For some island or California vibes, skip the beef or chicken and go for fish in your tacos instead.
These tacos are fresh and a bright change of pace.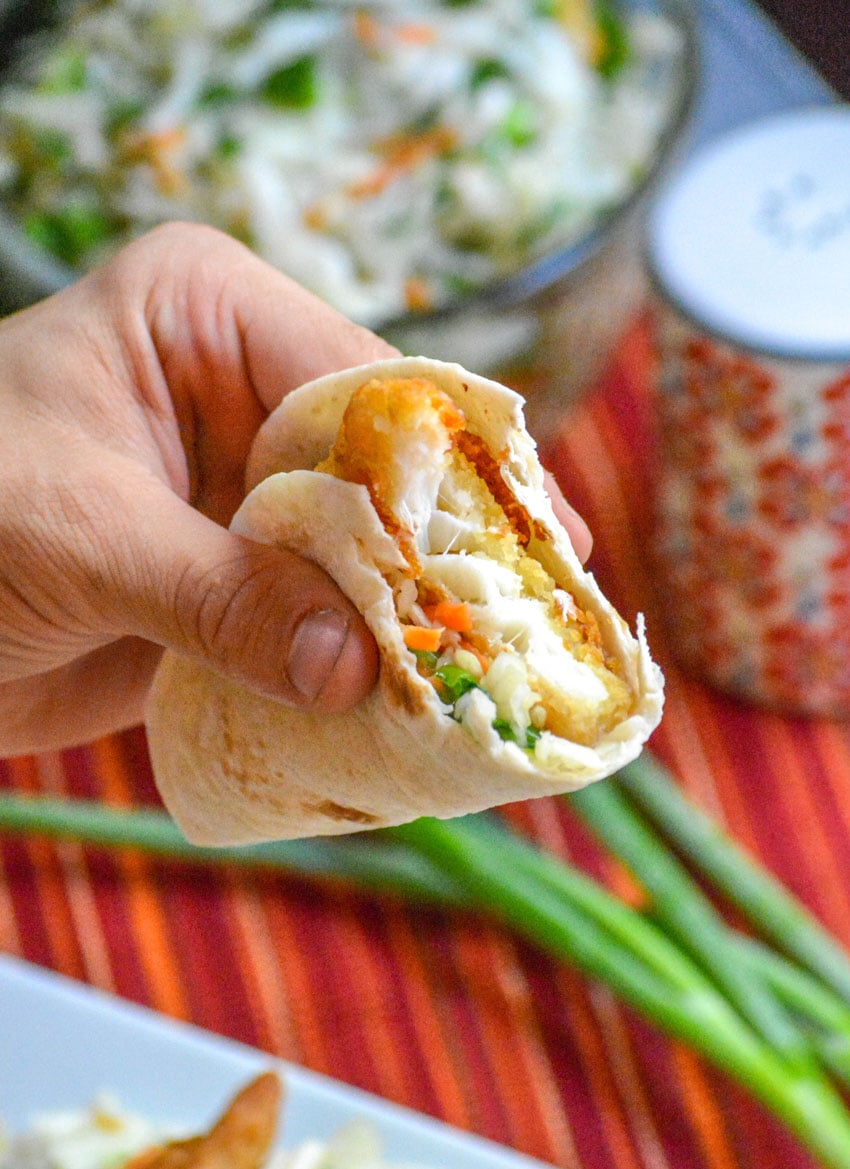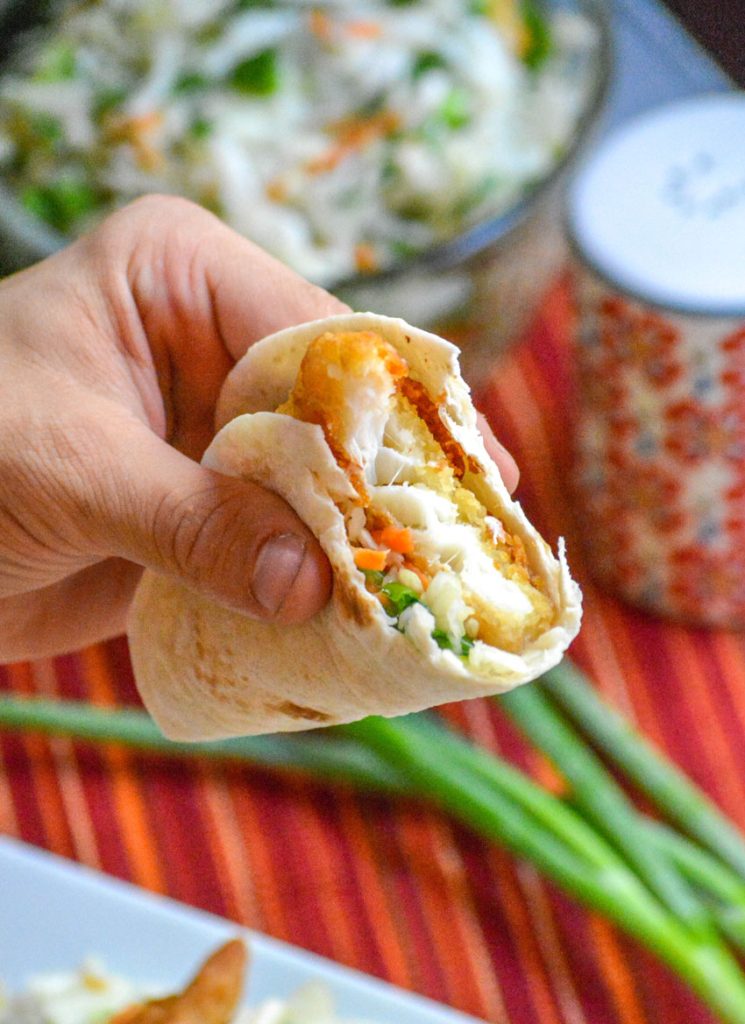 Frozen fish sticks get a makeover just in time for a taco night twist with these chili lime fish stick tacos! This yummy recipe easily dresses up an old frozen standby into a fresh tasting dinner your family will love. Get the recipe.
Could tacos even possibly get any better? Yes, they can. These simple, but savory, Beer-Battered Fish Tacos with Cilantro Slaw are 100% proof of that. Get the recipe.
Bang Bang shrimp tacos give you the taste of the popular Bonefish Grill dish right at home. This quick seafood recipe creates a dinner full of flavors everyone will love! With crispy fried shrimp, creamy coleslaw, and sweet and spicy sauce- you'll be making this meal over and over again. Get the recipe.
A delicious new spin on fish tacos, these yummy Blackened Tilapia Bowls are a healthier option while still being a filling, guilt-free meal. Get the recipe.
Savory and spicy grilled shrimp tacos with chipotle sauce served with lettuce, tomato, diced avocados, red onions, and fresh squeezed lime juice! Get the recipe.
These Baja Fish Tacos are loaded with cilantro lime slaw, zesty Avocado Crema and fresh Pico de Gallo! These fish tacos are pan seared with a blackening spice, no frying or batter required! The perfect healthy dinner recipe everyone in your family will love! Get the recipe.
Taco Casseroles
What's more comforting than a crunchy taco? A Tex Mex inspired casserole of course!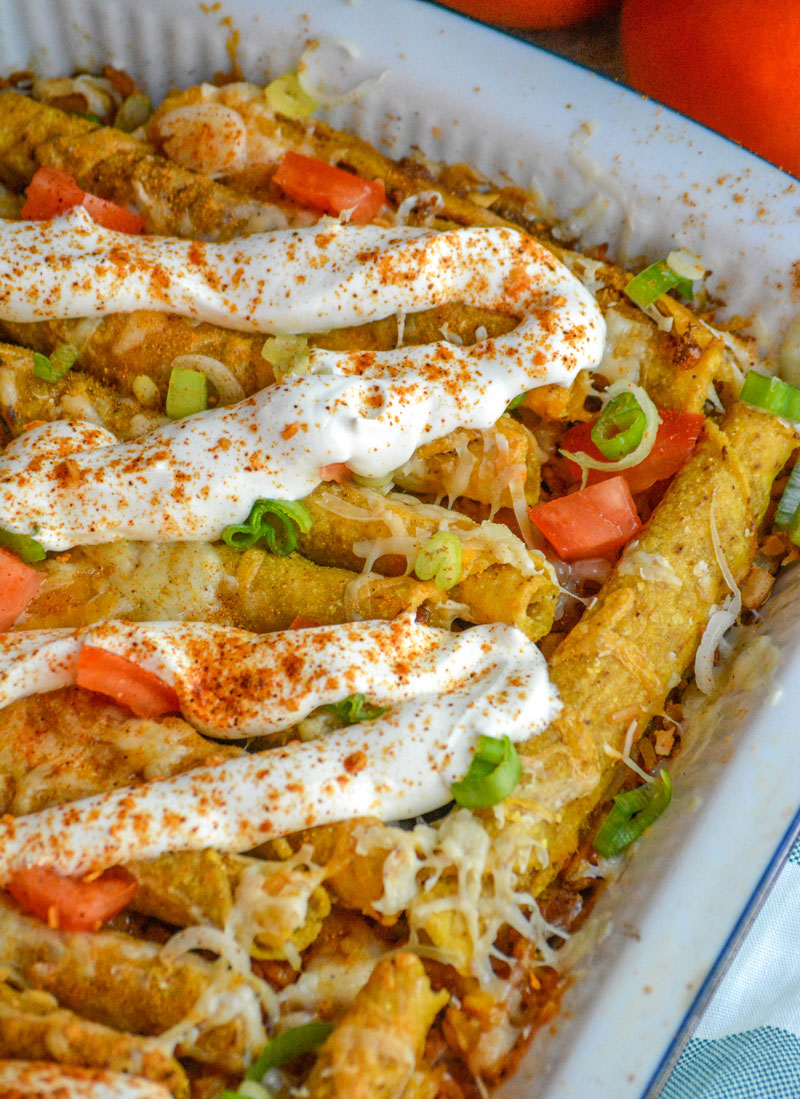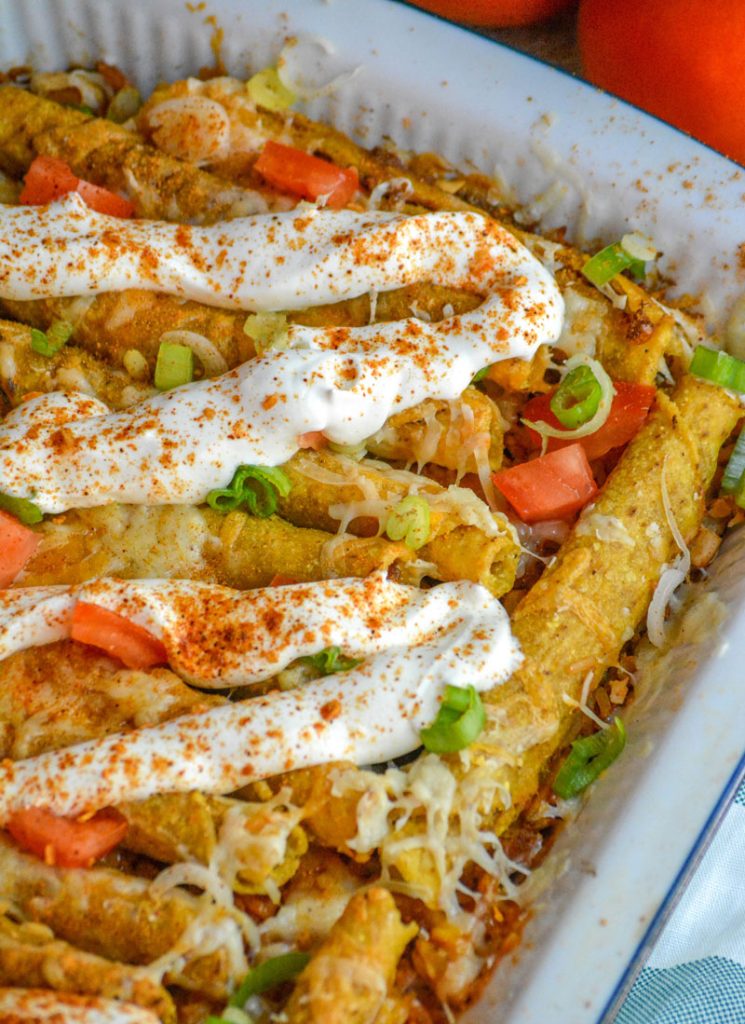 Enjoy this Cool Ranch Doritos Cheesy Chicken Casserole, a new spin on our original cheesy chicken doritos casserole. This rendition features a Mexican blend of cheese, chicken, cool ranch doritios, diced green chilies, and sour cream. It's a dish meant for digging into with gusto! Get the recipe.
Chicken tamale casserole takes all the bold flavors of the traditional dish and takes away the work so you can enjoy the classic flavors even on the busiest days. This cheesy chicken casserole will save the day and fill any of your tamale cravings in no time at all! Get the recipe.
Cheesy beef taquito casserole transforms frozen taquitos from appetizer to an indulgent for dinner. Switch up taco night and make this fun Mexican casserole instead. With big bold flavors of enchilada sauce, refried beans, and taquitos, this dish is a taste explosion you're sure to love! Get the recipe.
A creamy chicken dinner bake, this Cheesy Chicken Doritos Casserole is always a hit. Studded with chopped rotisserie chicken & diced tomatoes and green chiles, and tossed in a yummy cream sauce- for this delicious dish the cheddar cheese just takes it over the top. Get the recipe.
A quick, easy version of chicken chilaquiles- this one offers you sauce options in a skillet with freshly fried corn tortilla strips tossed in sauce and serve with salty, crumbled cotija cheese. Get the recipe.
Chicken and rice are very common ingredients, and the basis of many a good meal. Added together in a single pot with a blend of tomato sauce, broth, veggies, and herbs- this one pot Mexican chicken & rice comes together into a delightful dinner. Get the recipe.
Breakfast Tacos, Burritos and Other Morning Eats
Tacos for breakfast? Um yes please!
These are some of my favorite way to get my breakfast taco or burrito game on.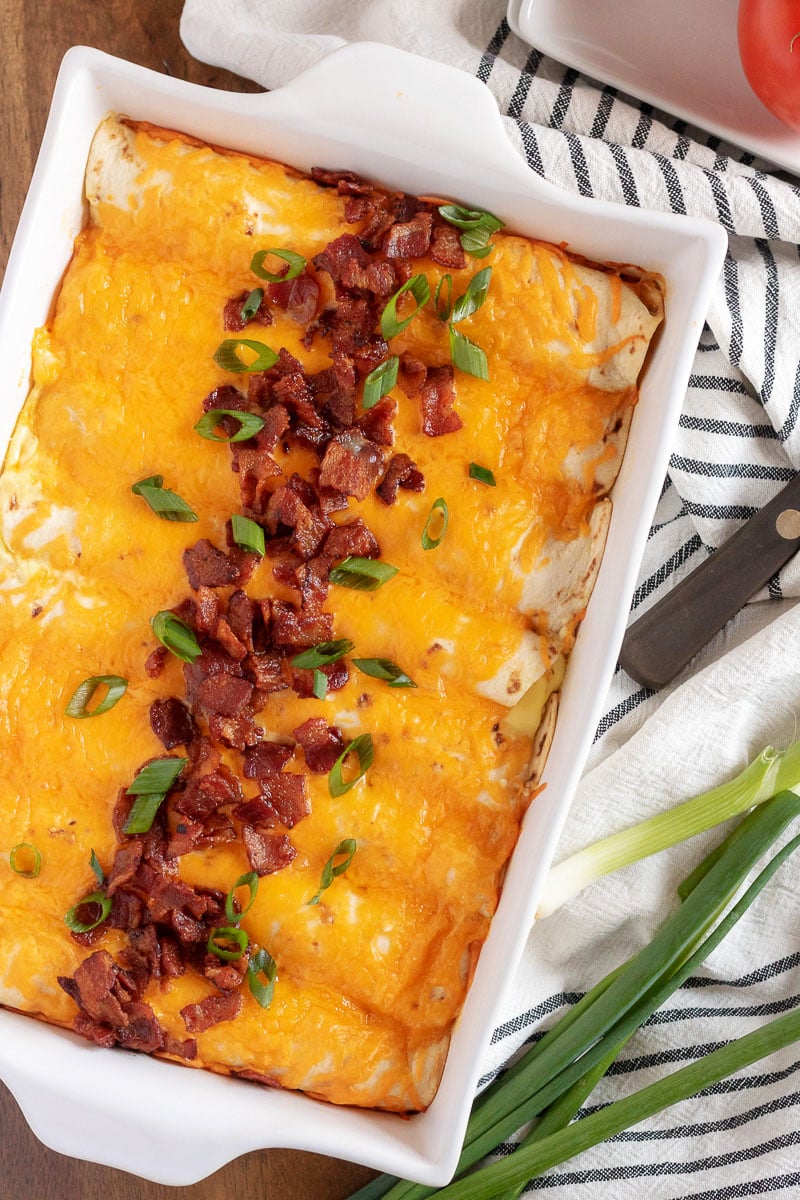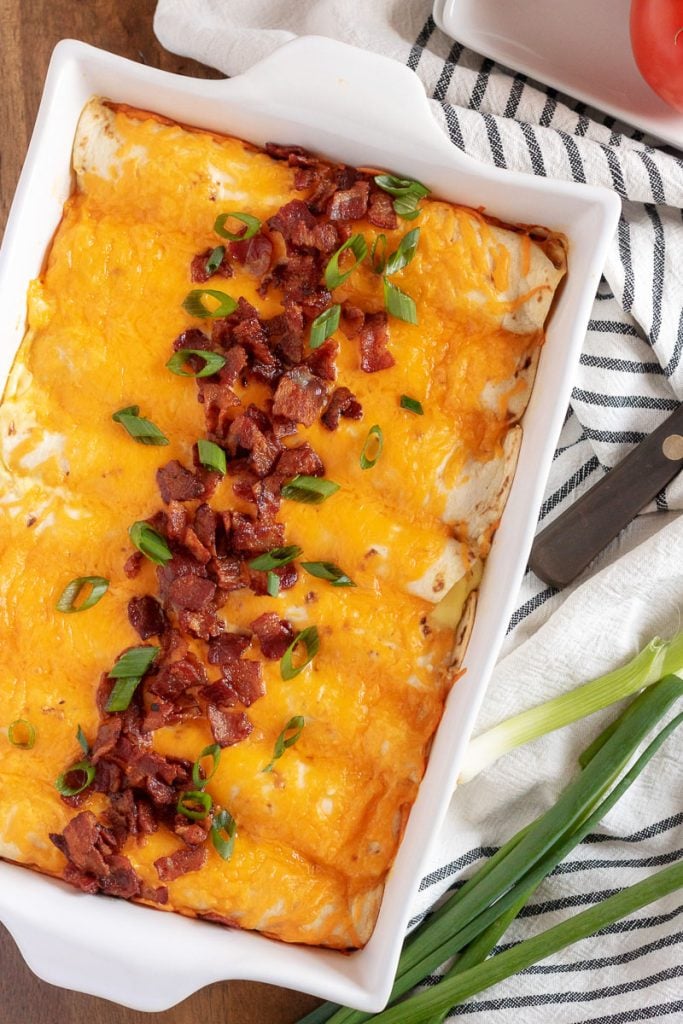 Chile rellenos breakfast casserole is a delicious way to elevate your first meal of the day. This cheesy recipe spices up breakfast with chorizo, chile peppers and spices dotted throughout hash browns and eggs. Get the recipe.
Have breakfast ready to grab and go on busy mornings with these easy sausage breakfast burritos. It's the breakfast for people who aren't typically breakfast people! Get the recipe.
Crispy pan fried tortillas are stuffed with all of your traditional breakfast fixings- like hash browns, fluffy scrambled eggs, crisp bacon, shredded cheddar, and a drizzle of taco sauce. This recipe for a copy cat Taco Bell AM crunch wrap is a must have; it's spot on, and a great make-ahead grab & go option. Get the recipe.
These Breakfast Enchiladas combine a much loved Tex Mex fav with classic AM flavors. Soft flour tortillas are stuffed with a savory meat mixture, and topped with a rich egg custard, crisp bacon bits, and shredded cheddar. Whether made ahead, or on the spot, it's a breakfast made to fill you up and fuel your day. Get the recipe.
Scrambled eggs with bacon, salsa verde and avocado make for a delish breakfast. Get the recipe.
Taco Pastas
Tacos + pasta = heaven. Prove me wrong.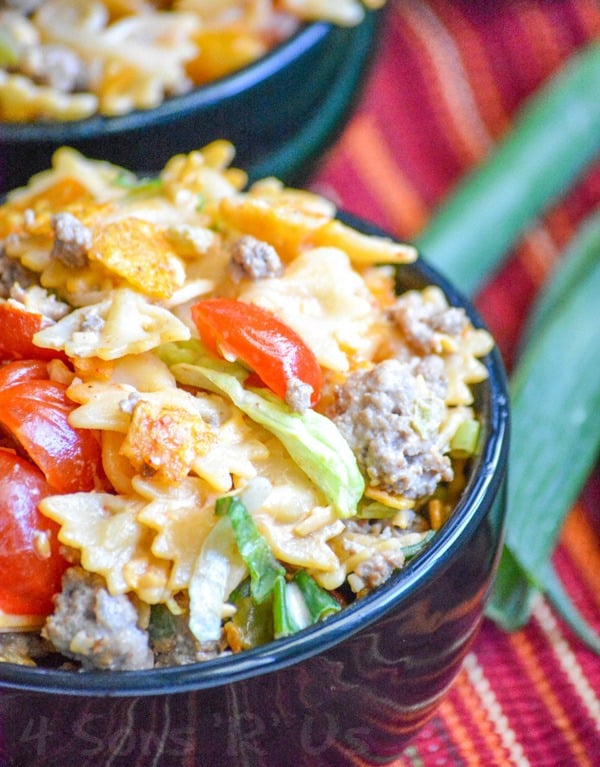 A fresh take on taco pasta, this cheesy ground beef enchilada tortellini is a quick weeknight dinner everyone will love. This winning dinner combines classic enchilada flavors and pillows of cheese tortellini for a quick recipe you will want to make over and over again. Get the recipe.
This taco pasta's a bowl full of bold Southwestern flavors all cooked up in one single pot for a fun family meal. Get the recipe.
Step up your pasta salad game with this creamy Crunchy Doritos Taco Pasta Salad. Featuring seasoned ground beef, crushed Doritos, and fresh veggies tossed in a creamy dressing- it's a real family & potluck pleaser. Get the recipe.
Creamy taco pasta is a fun way to switch up taco night. This cheesy taco pasta dish takes the flavors of classic ground beef tacos and adds them to pasta for an easy dish the whole family will love. Think Hamburger Helper but better. Get the recipe.
A rich and creamy casserole, this Chicken Verde Pepper Jack Mac & Cheese is cheesy Tex Mex heaven. It delivers the same flavors you love in chicken verde enchiladas but with only 6 ingredients, and half the work- making it a must-have family favorite, 30 minute meal. Get the recipe.
Not pasta but pizza! This Meaty Double Decker Mexican Pizza has everything you love about a traditional Mexican pizza from Taco Bell, but we've transformed it into a family meal. Layers of hearty seasoned ground beef & beans, cheeses, a layer of red enchilada sauce and chopped tomatoes and cilantro leaves makes it a perfect dinner to satisfy any craving. Get the recipe.
Outside the Shell
These recipes take classic taco flavors and stuff them into unexpected and delicious shell alternatives.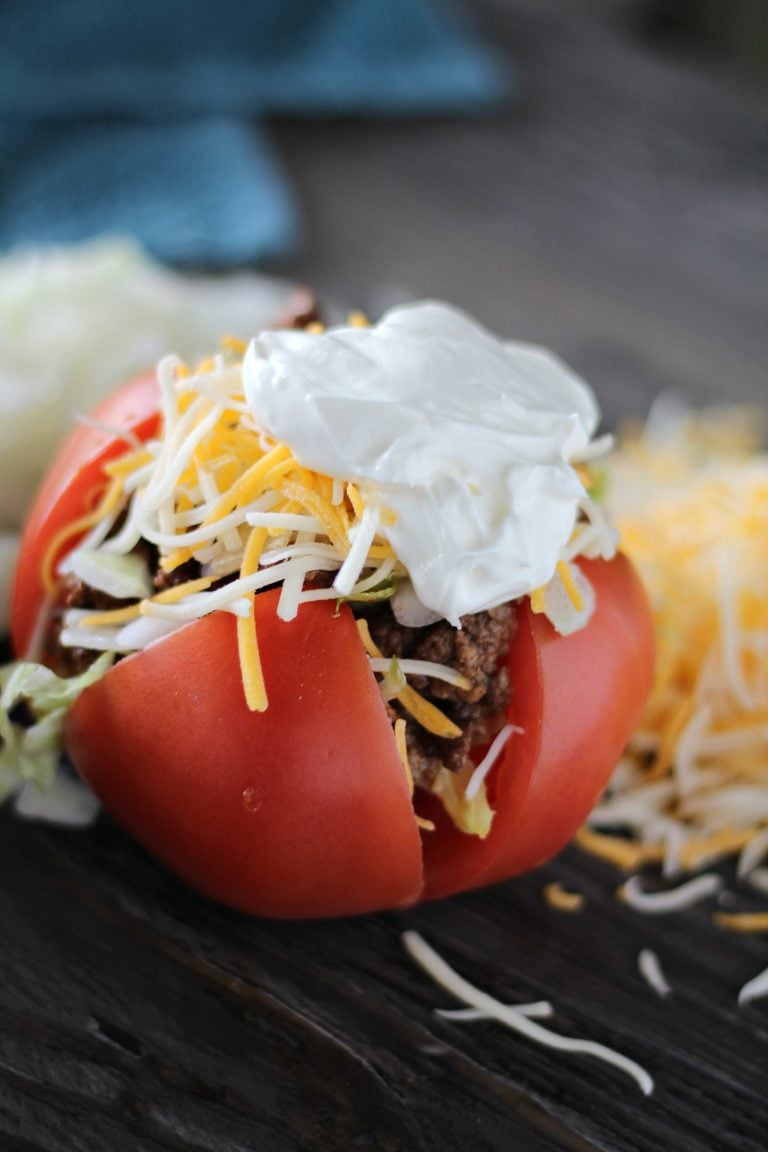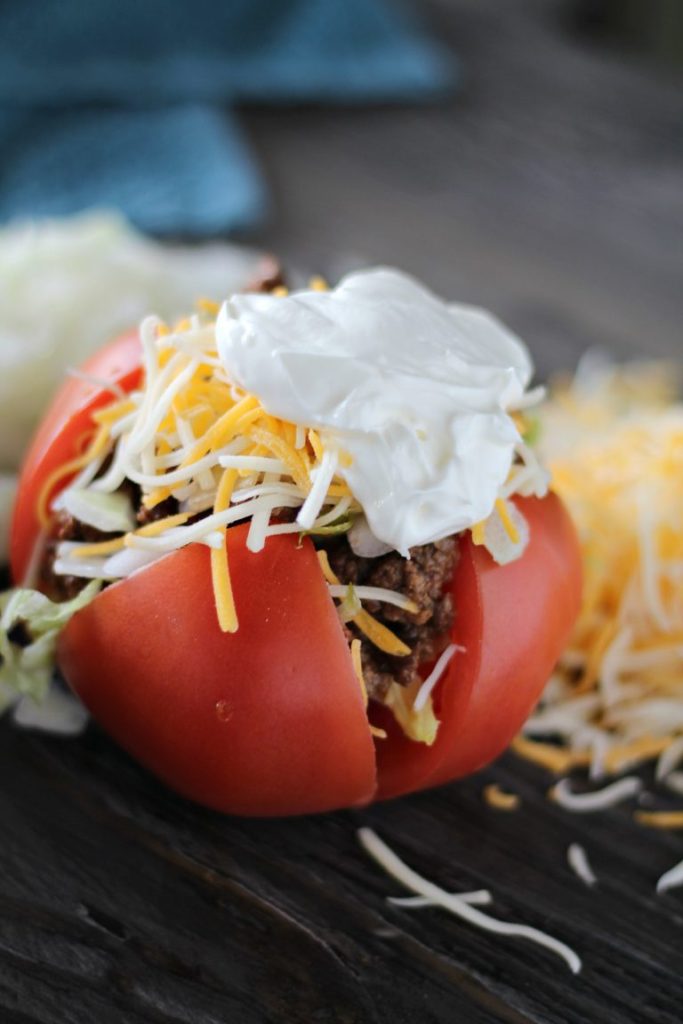 Taco stuffed tomatoes are delicious, deliver all the traditional flavor you crave, and make yummy use of seasonal produce. Saving money, savoring flavors- that's what I call a real recipe win with these tomato tacos! Get the recipe.
Think you know your way around a baked potato? These Twice Baked Tex Mex Taco Potatoes will have you thinking again, or well- twice. Stuffed with a creamy, taco seasoned meat & mashed potato mixture, they're loaded with your favorite Tex Mex fixin's for satisfying comfort food, perfect for a hearty dinner, but with a fun new spin. Get the recipe.
Poblano peppers stuffed with a blend of chicken and Mexican style cornbread. Get the recipe.
These Taco Stuffed Peppers are a low carb dinner that's ready in less than 30 minutes! They're filled with seasoned ground beef, black beans, and diced tomatoes. Top them with sour cream and even Doritos, Fritos, or Tortilla chips. Get the recipe.
If you've tried any of the 39 BEST RECIPES FOR TACO NIGHT, or any other recipe on the site, let me know in the comment section how it turned out, we love hearing from our readers! You can also follow along with me on PINTEREST, FACEBOOK, and INSTAGRAM to see more amazing recipes and whatever else we've got going on!