This healthier spin on traditional tacos is perfect for this time of year. Taco stuffed tomatoes are delicious, deliver all the traditional flavor you crave, and make yummy use of seasonal produce. Saving money, savoring flavors- that's what I call a real recipe win with these tomato tacos!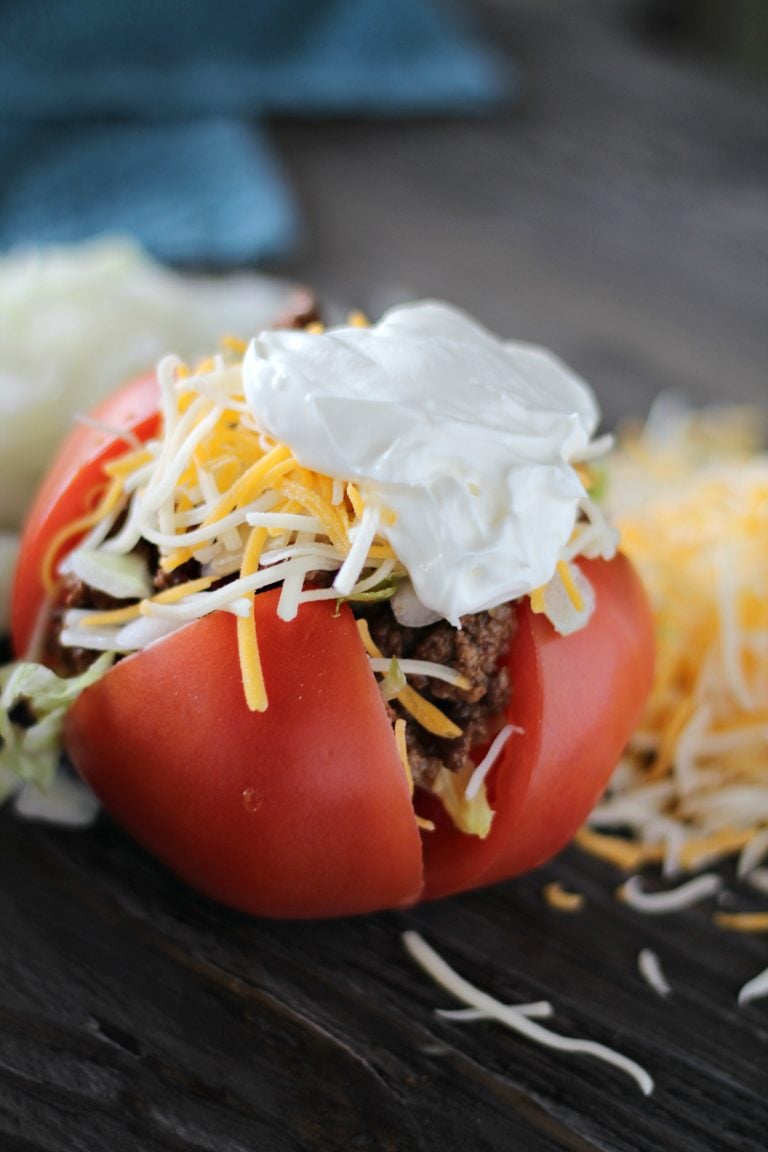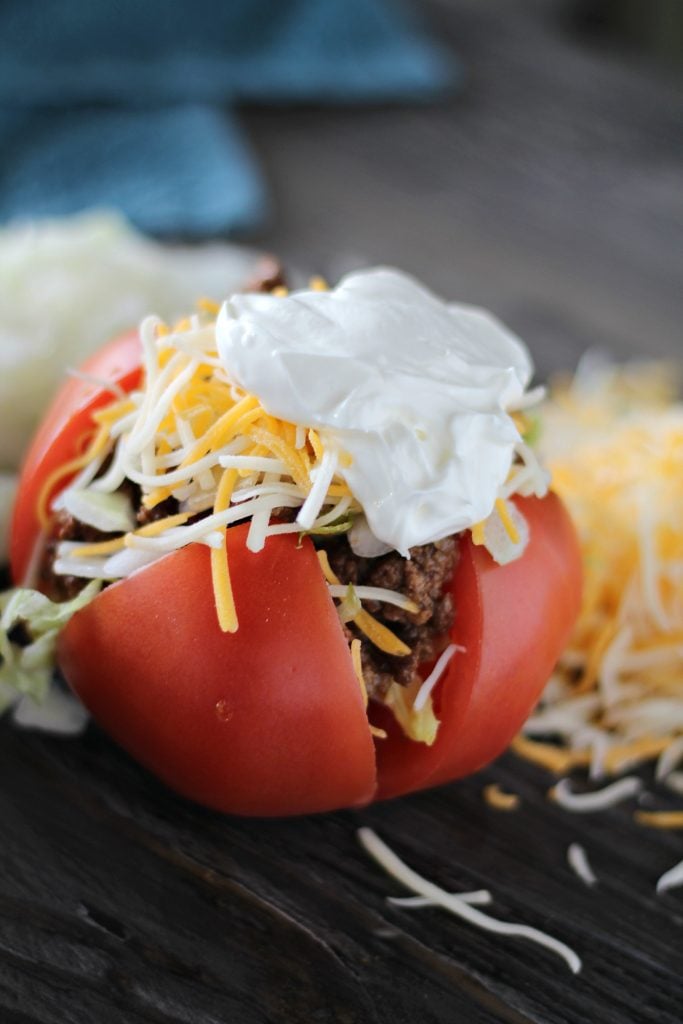 Summer's coming. It may not be here quite yet, but this record rain we've had plus the warm weather means fruits & veggies are already growing like weeds in central Virginia.
I was shocked to discover both local grocery stores I went to earlier this week both already had locally grown tomatoes on the produce shelves. Full grown, beautiful vine ripened tomatoes. It's a bit early in the season, but I wasn't going to complain.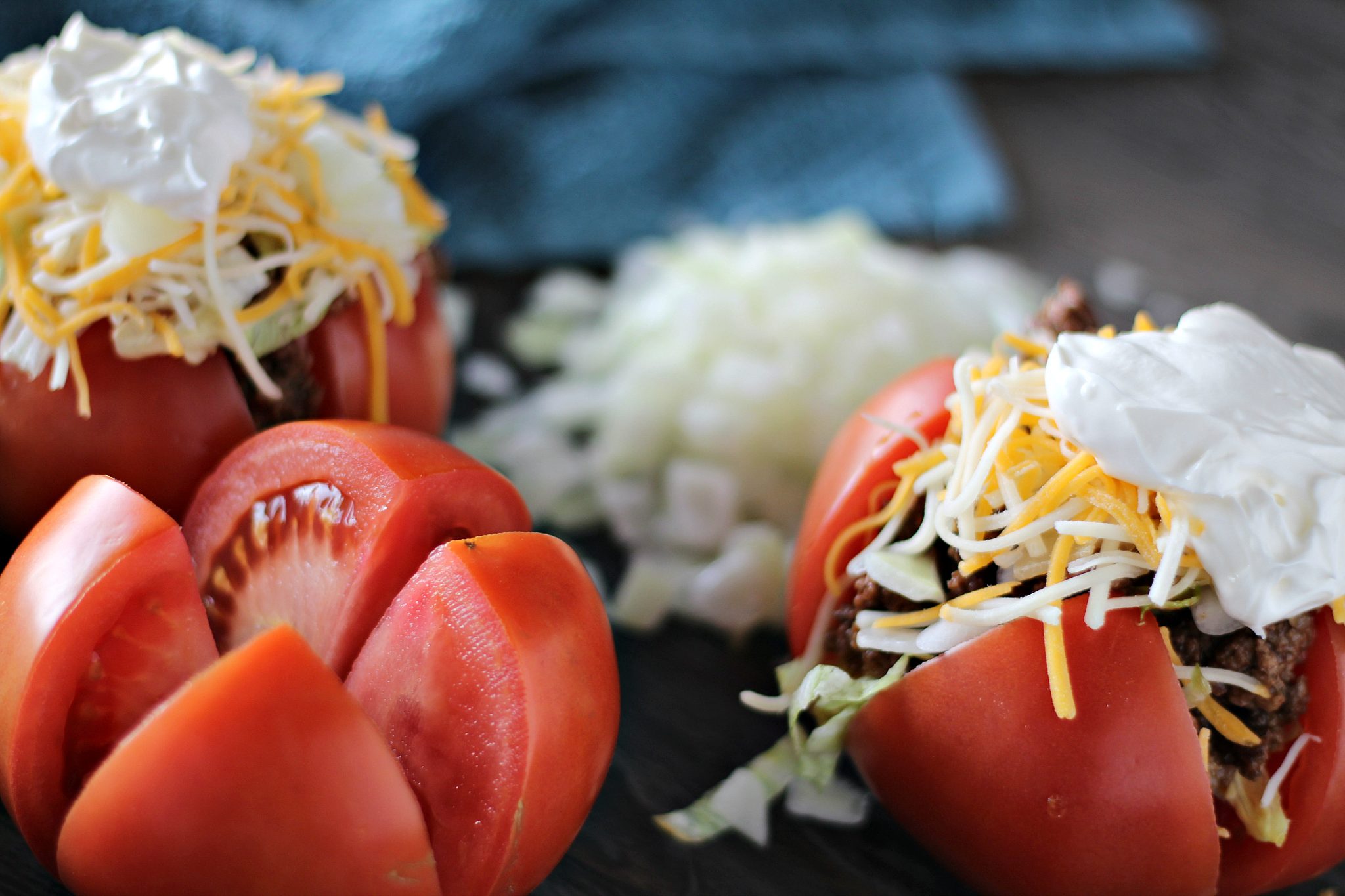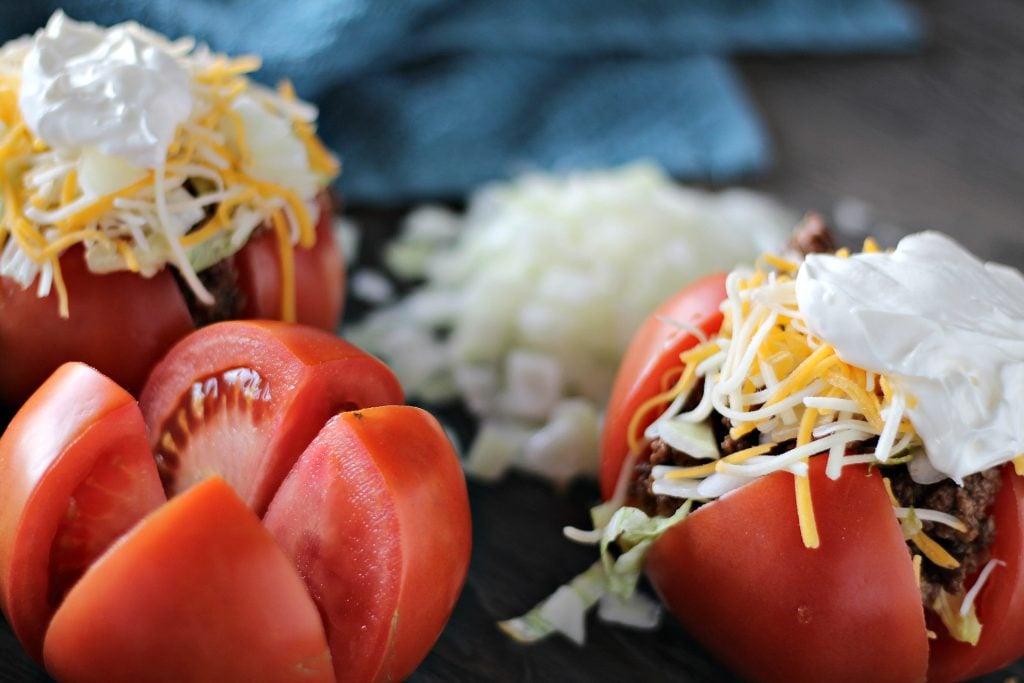 I love a good tomato. My own may be growing everyday in the garden, but for right now they're still tiny little green marbles. I was so happy to see them in the store already. And in abundance. They aren't the mealy mass produced kind I have to make due with in the colder months either.
Nope, these beauties were plump & juicy. Firm enough to handle anything I wanted to do with them, but their flesh still melted in my mouth. Any time I can enjoy a good tomato sandwich before the end of June is a good day. I couldn't just stop there though. I stocked up ready to enjoy several family favorites- especially these cheddar bacon ranch stuffed tomatoes & these tuna melt stuffed tomatoes.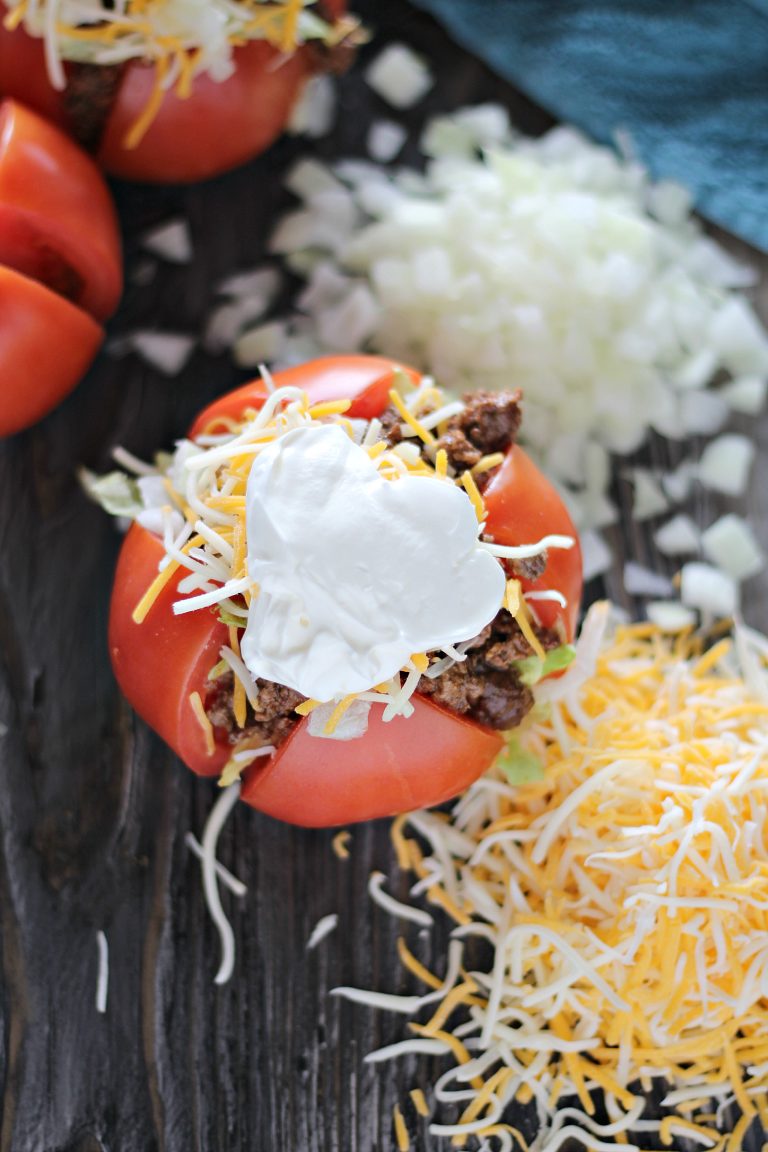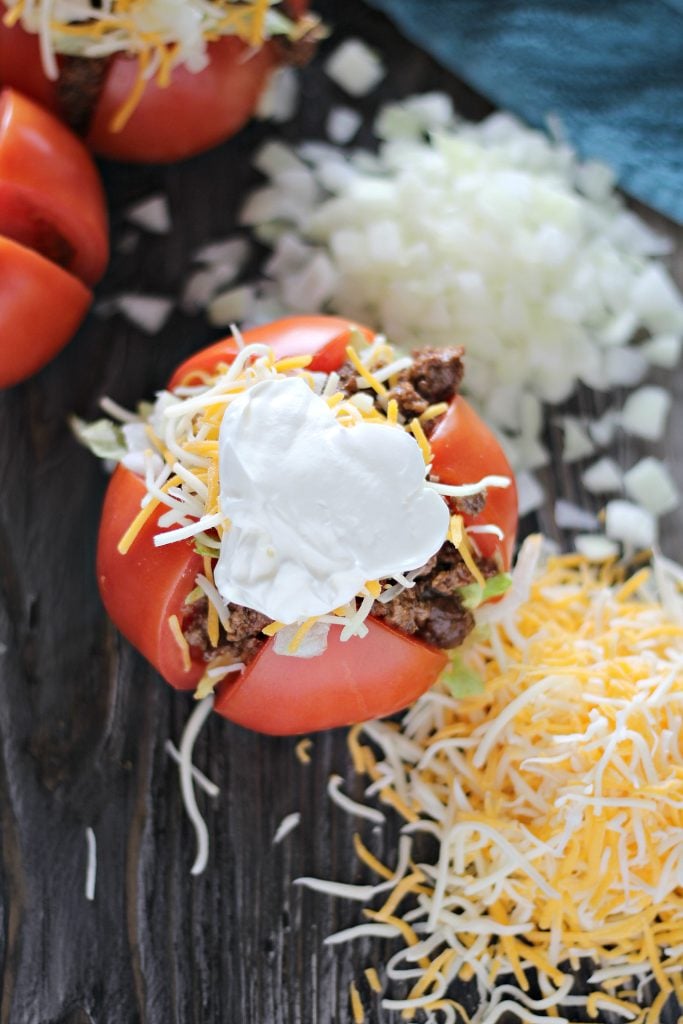 I love a good tomato sandwich anytime, lunch or dinner. It's a simple Southern staple, that's shockingly delicious. Considering how simple it is afterall. Like the stuffed tomatoes I mentioned earlier though, I need other options.
Simple ideas that really deliver the flavor, but without a lot of extra work- or in this case extra carbs.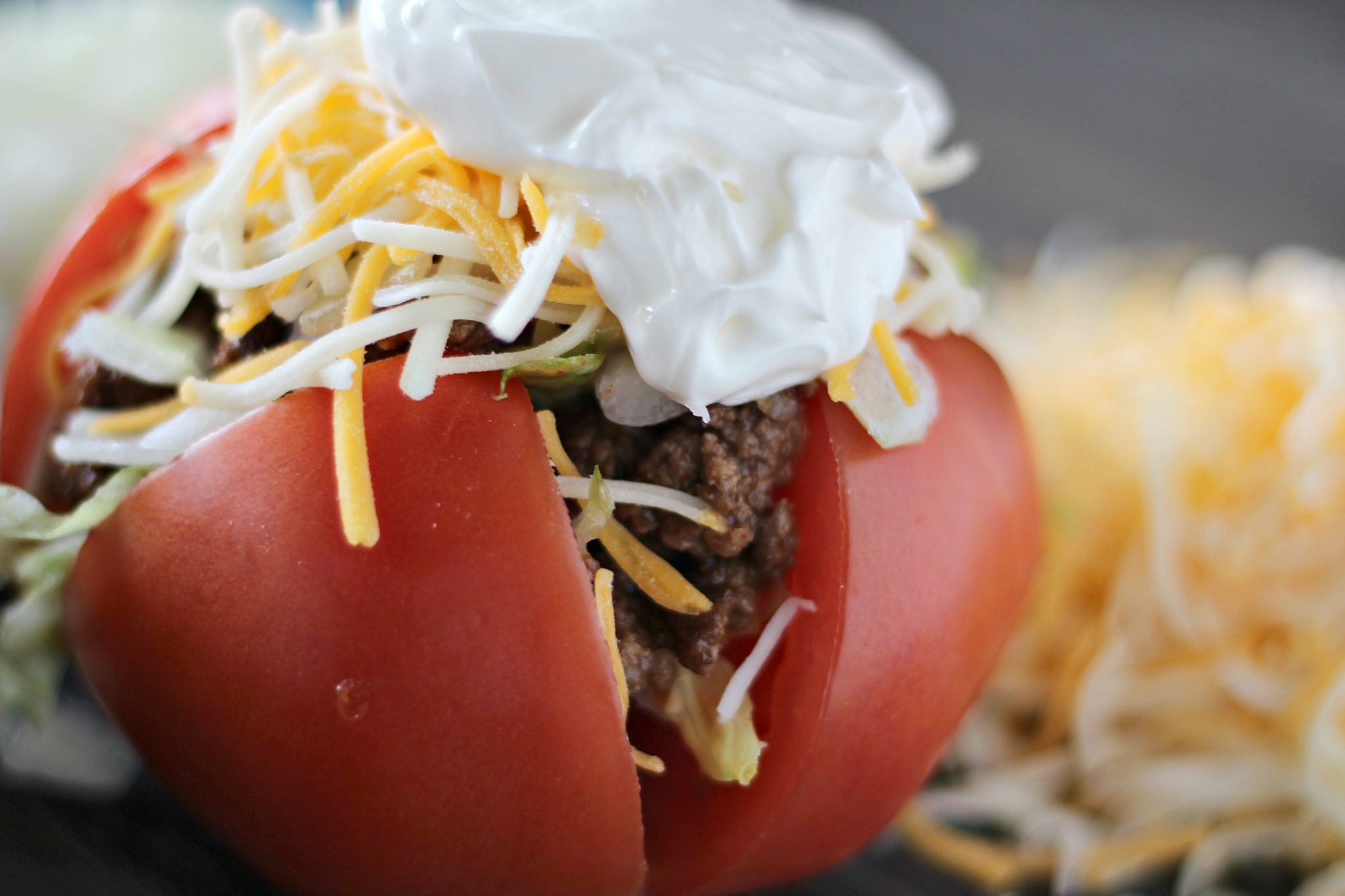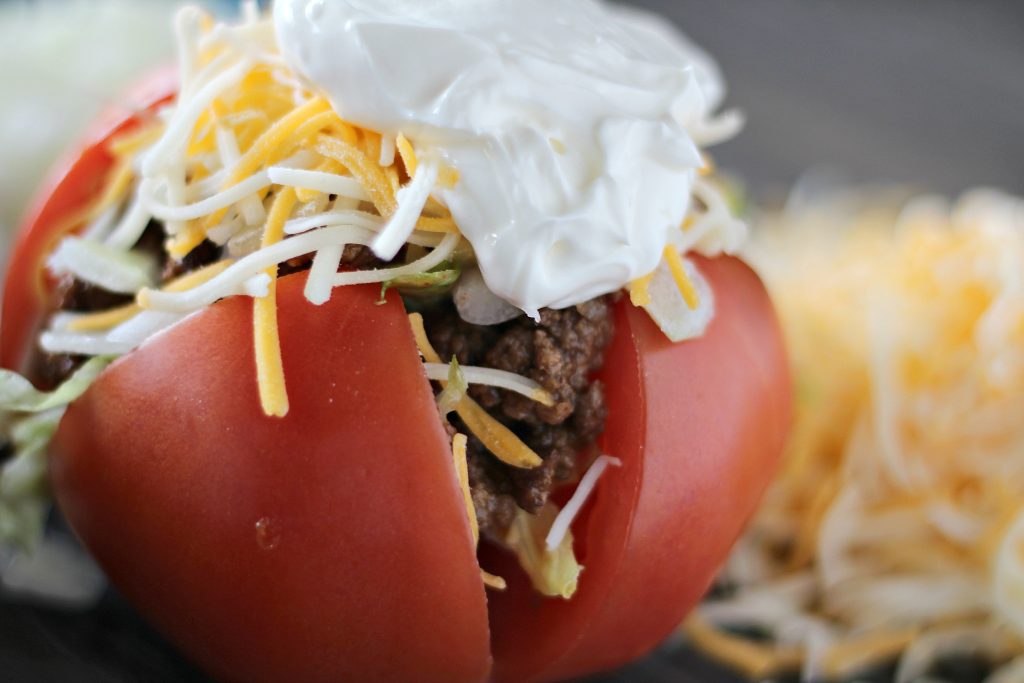 These taco stuffed tomatoes were just the thing. Super easy to throw together, and they made a really refreshing meal. Simple doesn't mean less satisfying.
Ingredients Needed For Taco Stuffed Tomatoes:
whole tomatoes
ground beef
taco seasoning
lettuce
onions
Mexican blend cheese
sour cream
See? Simple really is the keyword with these!
To get started, use a sharp pairing knife & carefully cut an 'x' into the top of each tomato. Cut down into the flesh enough that it can be gently pried apart, but without going too far down that you cut them completely or they fall apart. Next, brown your ground beef. When it's done, strain it, and add in the taco packet following the packet's instructions.
While the beef's cooking, spread your tomatoes out and fill the bottoms with shredded lettuce. Not the whole cavity, but enough so that the lettuce will act as a barrier and keep the good stuff firmly seated in the center of the tomatoes. Next, layer the filling in this order: taco meat, onion, and finished off with the shredded cheese. Top each tomato with a dollop of sour cream, and enjoy. A sprinkle of thinly sliced green onions on top is also delicious.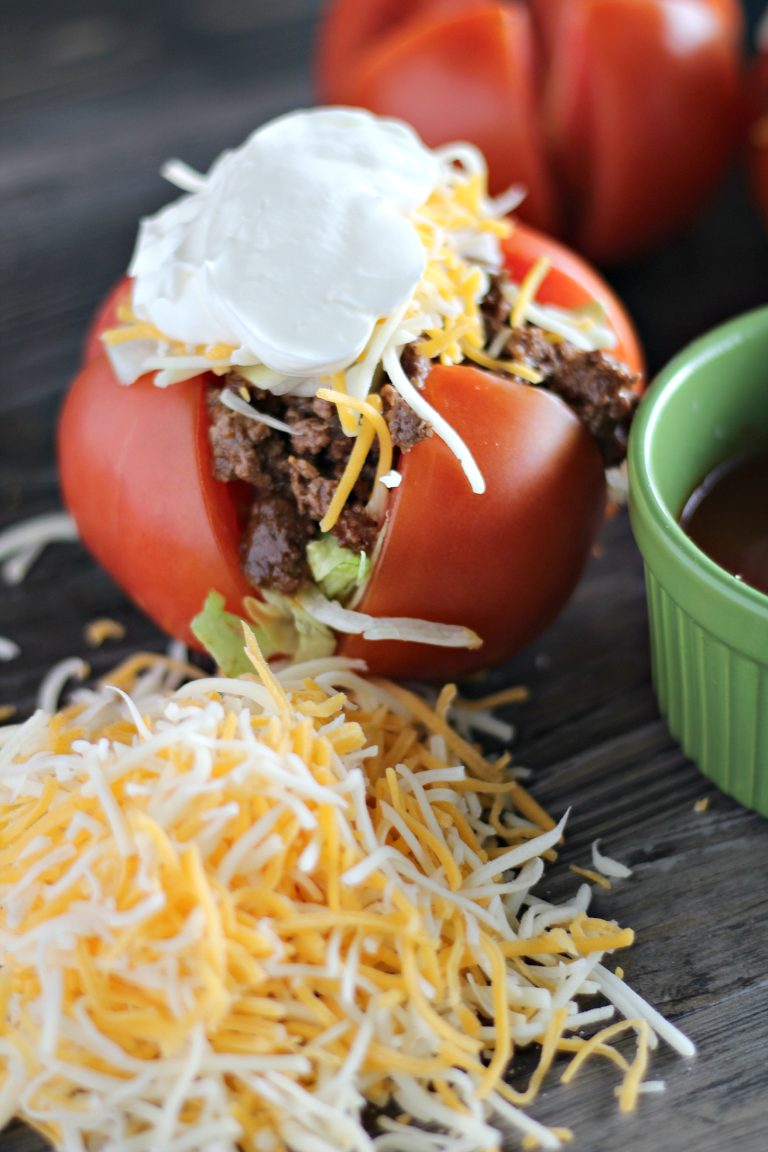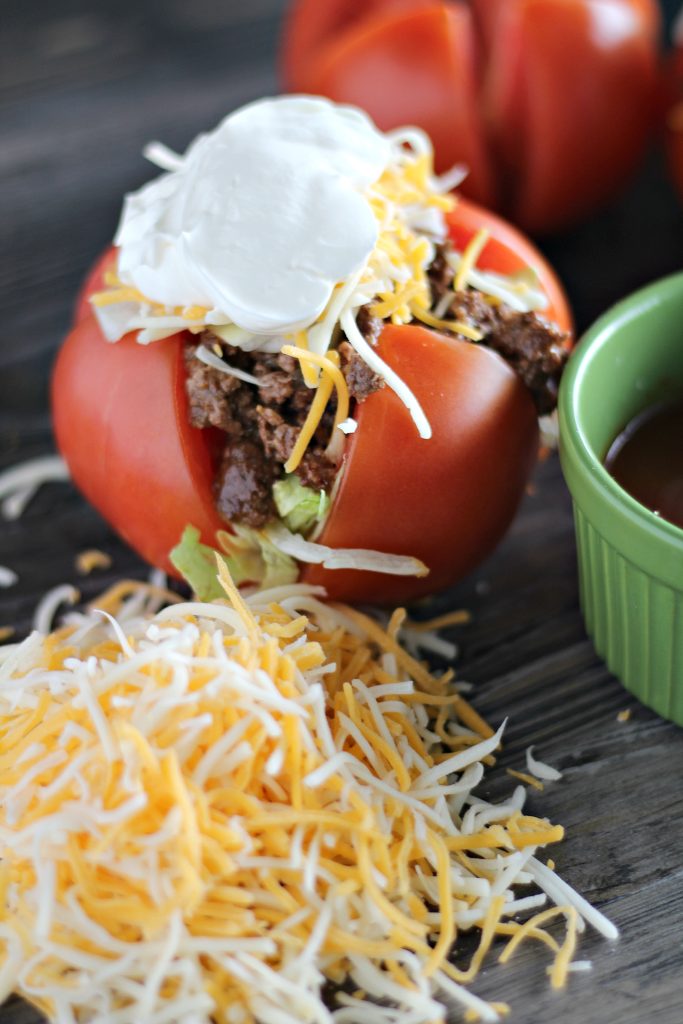 I think the sons were the most surprised when they dug in. While it was a meaty meal, it also featured tomatoes. That's a contested veggie in this house in all but certain circumstances. Loaded with all their taco favorites, they couldn't believe they weren't missing their crispy shells. If you didn't know it before, tomatoes make amazing vehicles for some of your favorite flavors.
Unlike bread, or crispy corn taco shells, this is a great way to get more vitamins & nutrients into a family meal. Plus, Summer's coming. Let's keep the heat outside where it belongs. Lighter meals also keep us from feeling weighed down, so we can still enjoy the backyard and sunshine after supper. Pair these with a side
Tips & Tricks For Making The Best Tomato Tacos:
Don't try to use small tomato varieties like cherry or Roma. You want large, fleshy tomatoes. I like heirloom varieties, but large single tomatoes also work well.
Despite the toppings we've listed in the recipe, taco stuffed tomatoes are easily customizable. Don't hesitate to experiment with your favorite taco toppings.
Tomatoes can be notoriously hard to cut. Use a sharp pairing knife to get precise cuts. A dull blade can get you hurt, and can also squish your tomato in the process.
We like raw onions on ours, but you can also cook them with the ground beef for more flavor, and less bite.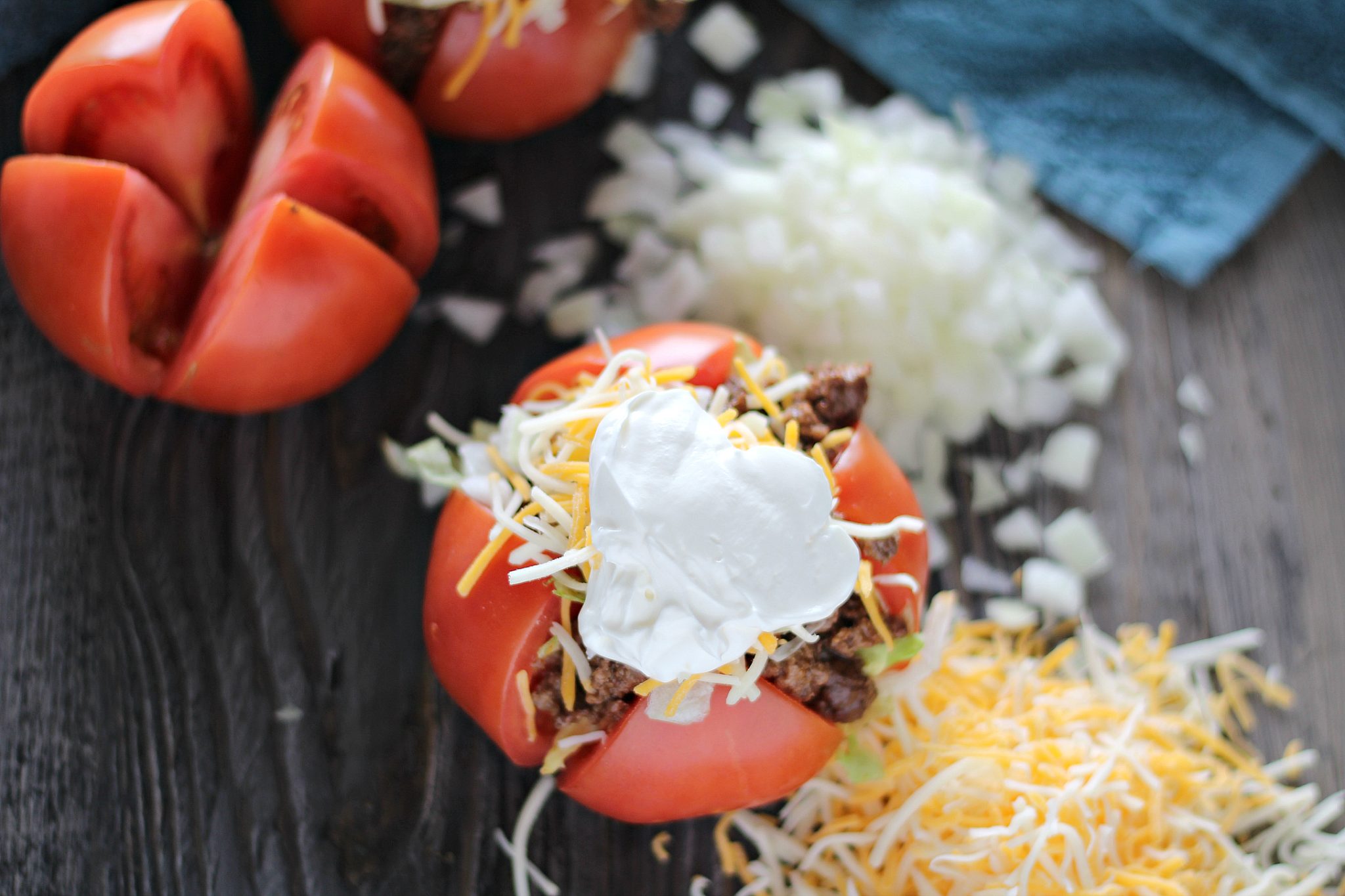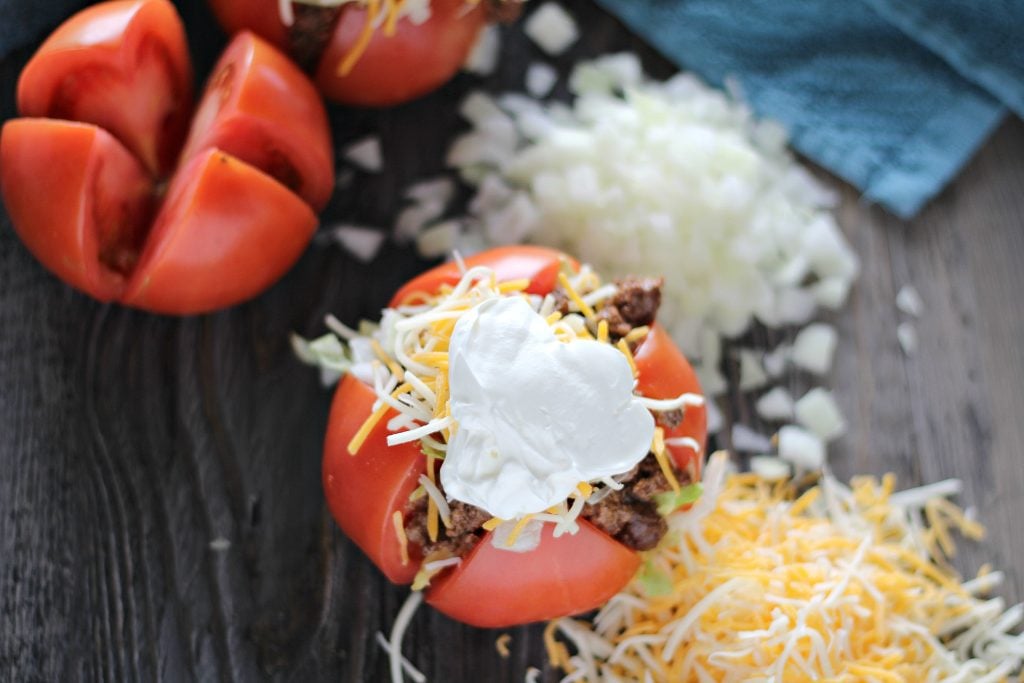 Quick & easy, stuffed taco tomatoes are bound to be the new cool food for Spring & Summer. All the things you love in a classic taco shell, but with a healthier juicier spin. What's not to love? They're a Tex Mex tomato lovers dream!
Other Delicious Ways To Enjoy Fresh Tomatoes:
If you've tried these TACO STUFFED TOMATOES, or any other recipe on the site, let me know in the comment section how it turned out, we love hearing from our readers! You can also follow along with me on PINTEREST, FACEBOOK, and INSTAGRAM to see more amazing recipes and whatever else we've got going on!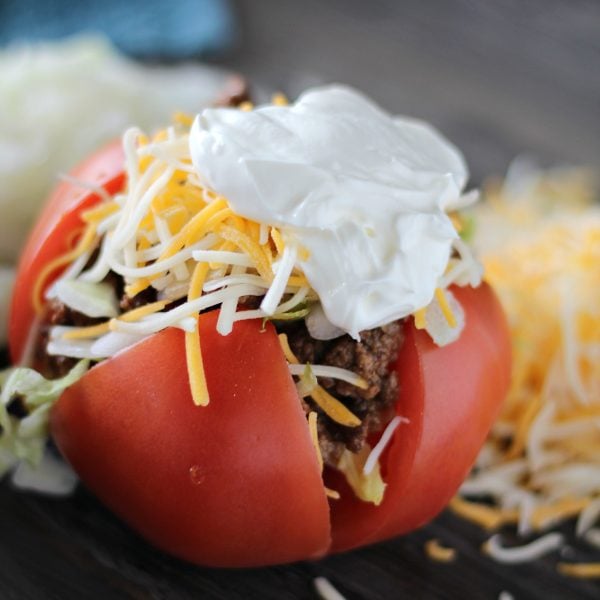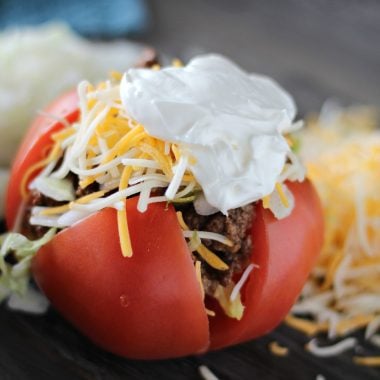 Taco Stuffed Tomatoes
A delicious lunch or light dinner, these healthier taco style stuffed tomatoes feature seasoned ground beef & white onion stuffed into juicy ripe red tomatoes and topped with shredded lettuce, cheese & sour cream.
Print
Pin
Rate
Ingredients
4

tomatoes

1

lb

ground beef

1

packet

Taco Seasoning

Shredded Lettuce

diced Onions

diced

Fiesta Mexican blend Shredded Cheese

Sour Cream

Taco Sauce

for dipping
Instructions
Start by cutting and "X" into the top of each tomato and gently pull them apart.

Brown you hamburger, and add in taco seasoning.

Fill the bottom of each tomato with lettuce.

Followed by taco meat, onion, and shredded cheese.

Top with sour cream.

Serve and enjoy!
Nutrition
Serving:
4
g
|
Calories:
326
kcal
|
Carbohydrates:
9
g
|
Protein:
20
g
|
Fat:
22
g
|
Saturated Fat:
8
g
|
Cholesterol:
80
mg
|
Sodium:
788
mg
|
Potassium:
597
mg
|
Fiber:
3
g
|
Sugar:
4
g
|
Vitamin A:
1845
IU
|
Vitamin C:
20.8
mg
|
Calcium:
33
mg
|
Iron:
3.1
mg