Tacos are life. Could they even possibly get any better? Yes, they can. These simple, but savory, Beer-Battered Fish Tacos with Cilantro Slaw are 100% proof of that.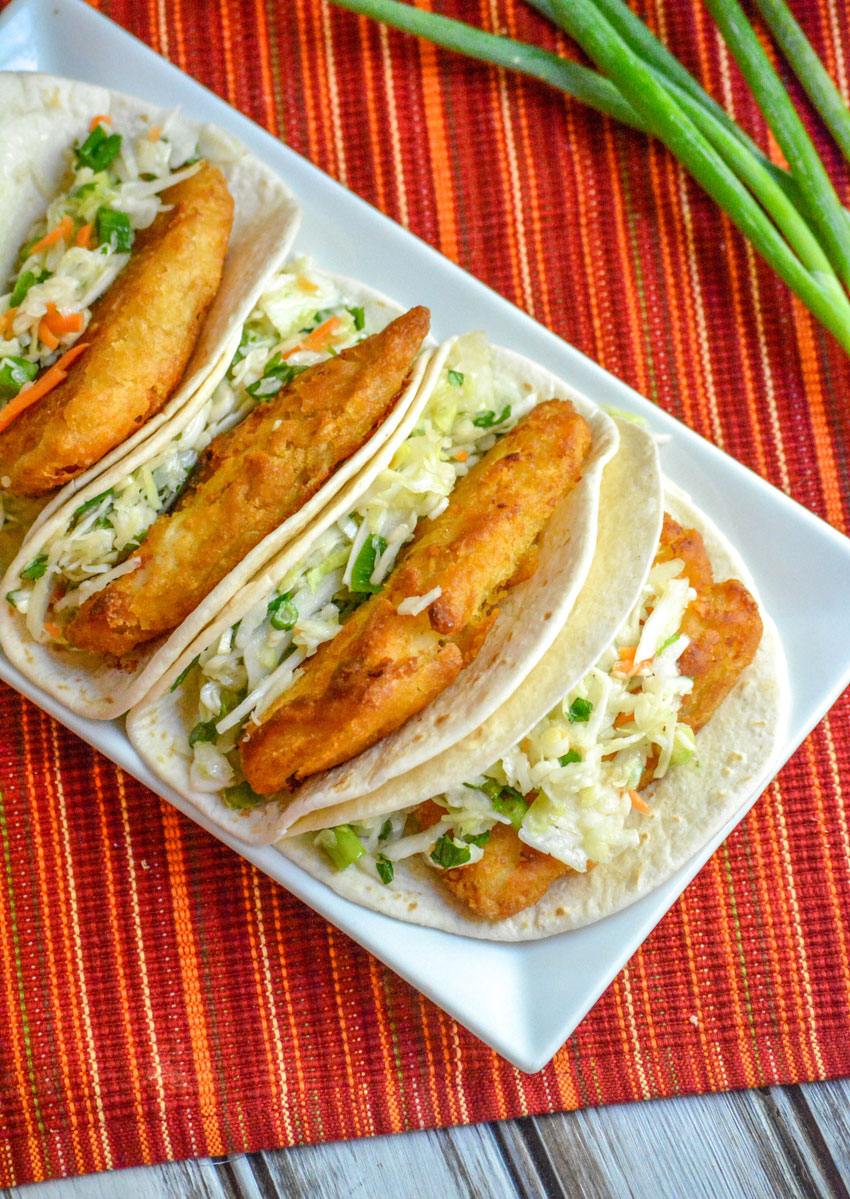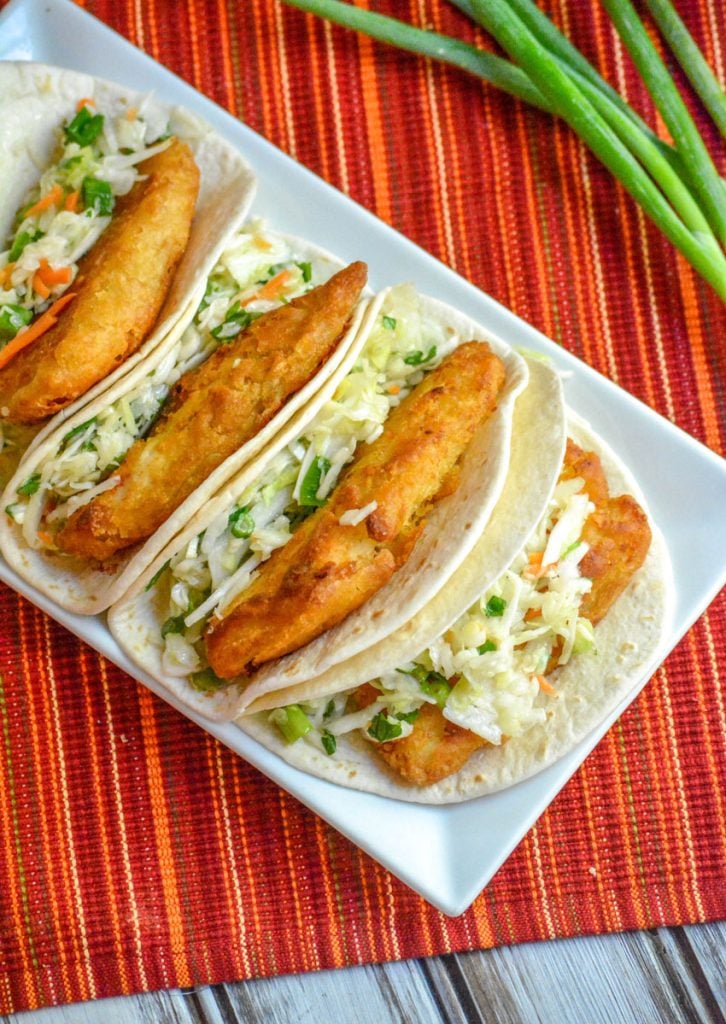 Who here loves a good taco? We sure do. Usually they're filled with seasoned ground beef. We've even gone as far as filling them with shredded pork, carnita-style, sloppy joe filling, and chicken and ranch. All mmm-mmm good, totally tasty ideas.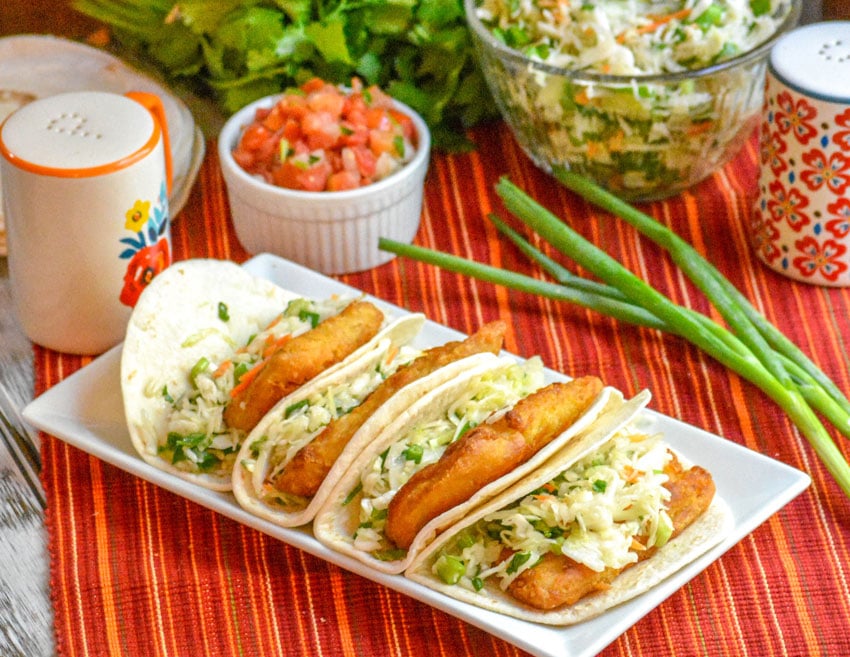 When I first heard about fish tacos though, I was a bit skeptical. I just couldn't picture it being nearly as good as anything we'd previously tried. I mean it's fish, on a taco, right?
That doesn't even sound appealing.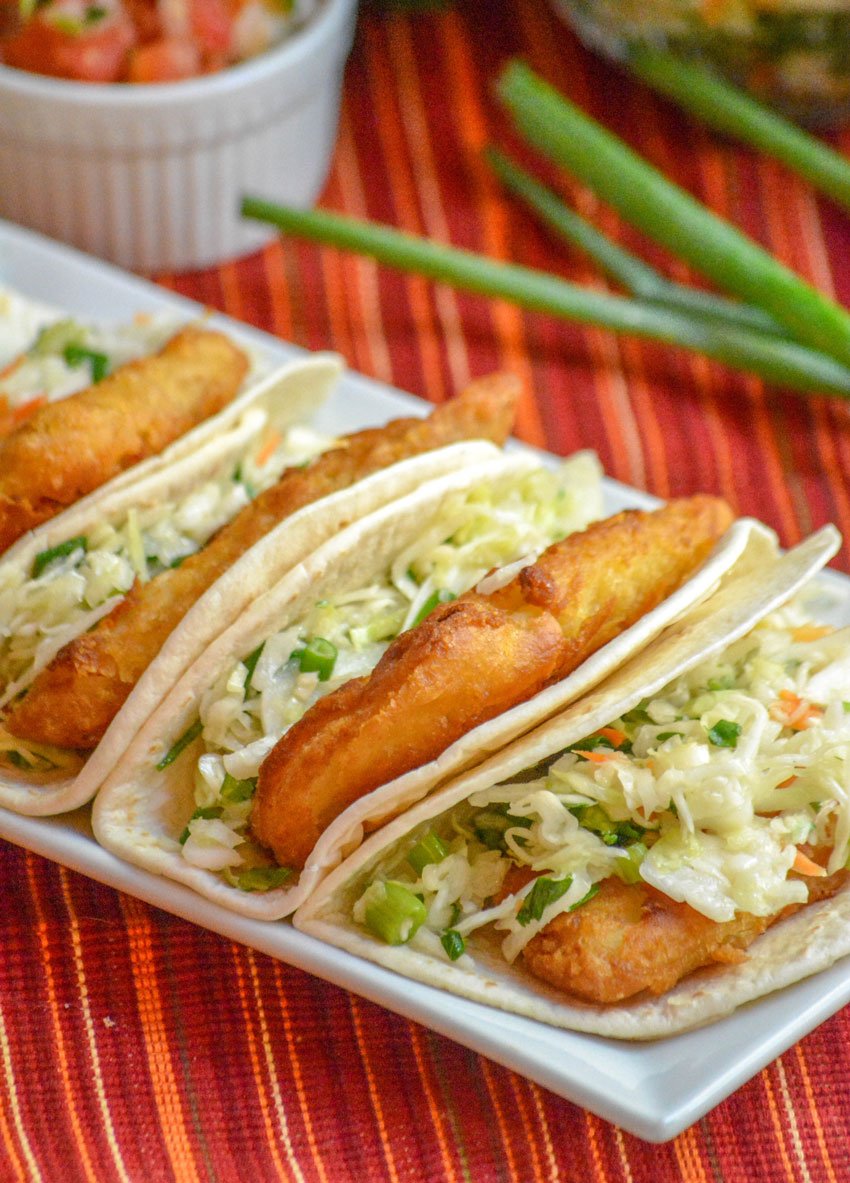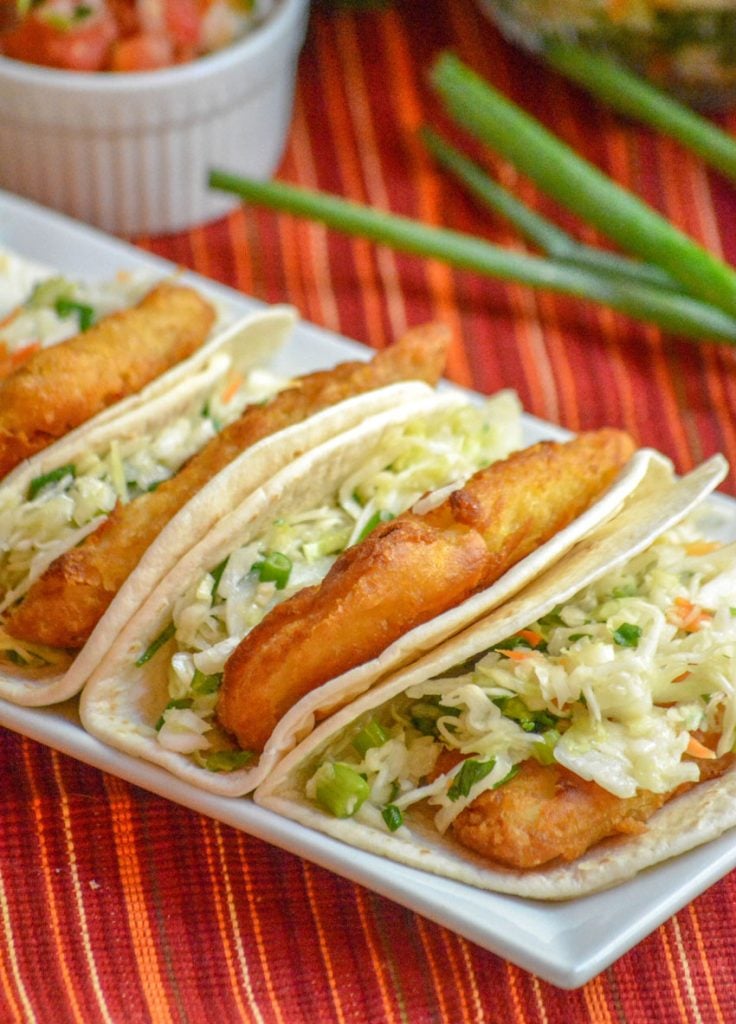 But then it transformed into crisp beer-battered fish, like from our much loved fish and chips, topped with the perfect tex-mex coleslaw, and I knew we were headed in the best possible direction.
Recipes like this one are what I live for. What my food-related dreams are made of. Yeah, I have more of those than I'd care to admit, but they do offer great inspiration.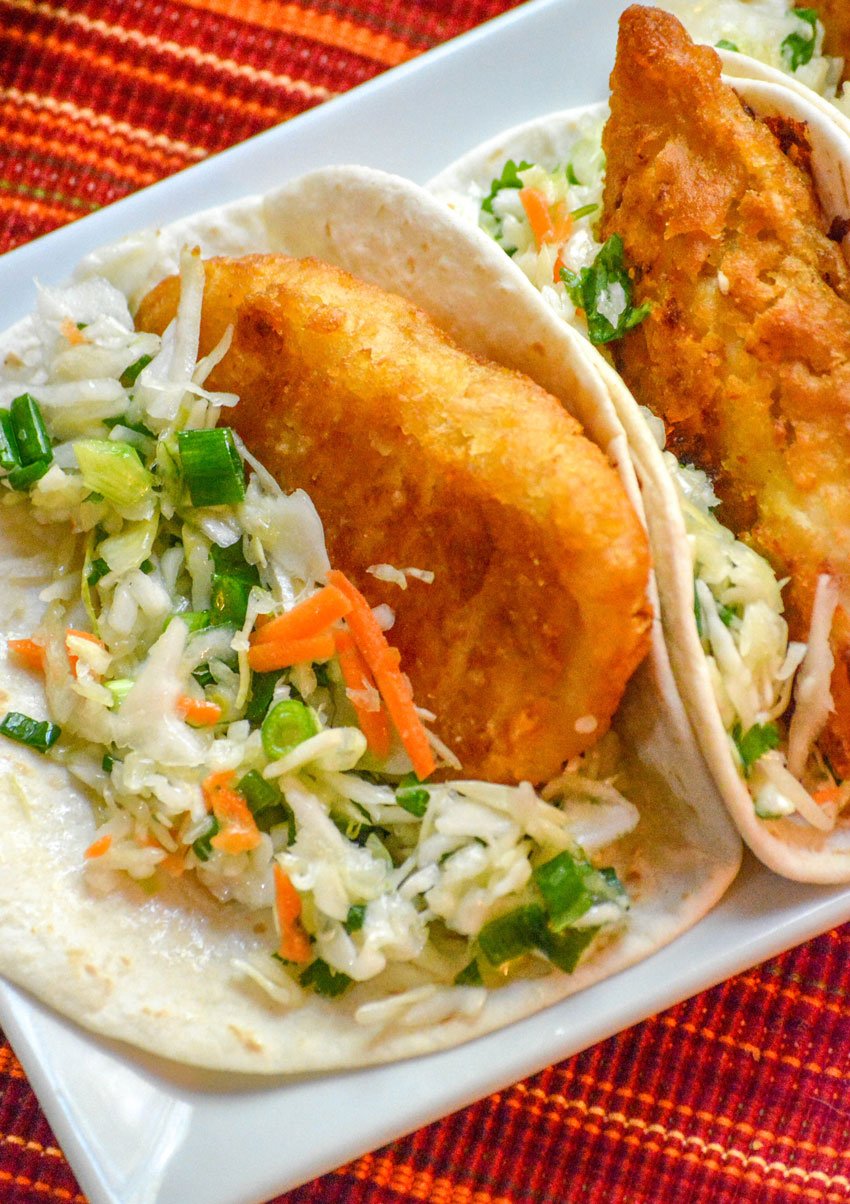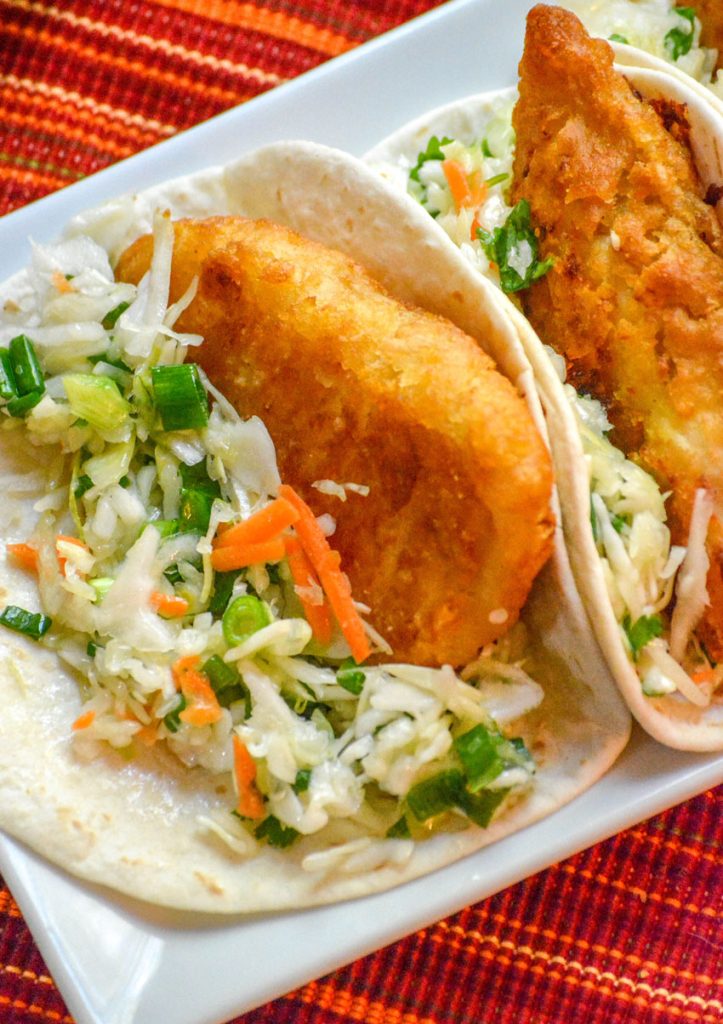 Crispy fish, crunchy slaw, all on a fresh warm flour tortilla. What's not to love? We love absolutely everything about these Beer-Battered Fish Tacos with Cilantro Slaw.
You're not beholden to flour tortillas either. Corn ones are just as tasty for these tacos, even a tad more authentic if I'm being honest. It's one of those things that happens to come down to personal preference.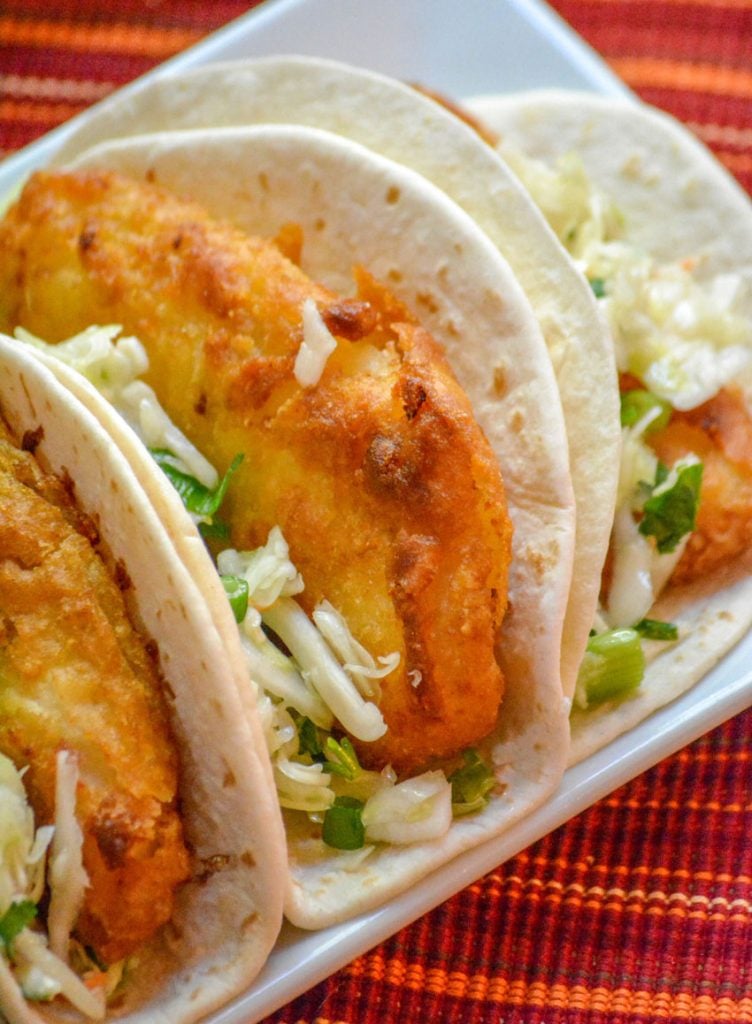 So how do you go from simple fillets of fish to crispy beer battered taco goodness, with a side of slaw that went from drab to fab? It's not nearly as complicated as it may seem.
The key to any good fish taco, is well- the fish. This gets it's magic from a simple, but flavorful beer infused batter. A bit of flour, some cornstarch, simple seasonings from a well stocked pantry, a cup of beer, and an egg are whipped together.
For this particular recipe, you want a firm flesh white fish- I suggest cod, but catfish also works well. They're patted dry, salted & peppered, given a light coat of flour before being given a luscious dip in our beer batter bath. After letting some of the excess batter drip off, the filets are fried in hot oil for 2-4 minutes, flipping halfway- until golden browned and cooked through. The cooked fish is then transferred to a paper towel lined plate or platter to drain off any excess oil.
Having a larger family, I often need to cook several filets per person. I mean, who can stop at a single taco? Fish or otherwise? Any my guys go ga-ga for these, which means I end up frying my fish in batches. To keep the already fried fish warm in the meantime (before ready to plate), I transfer them from the paper towels to a baking sheet and keep them in the oven on warm, just until ready to serve.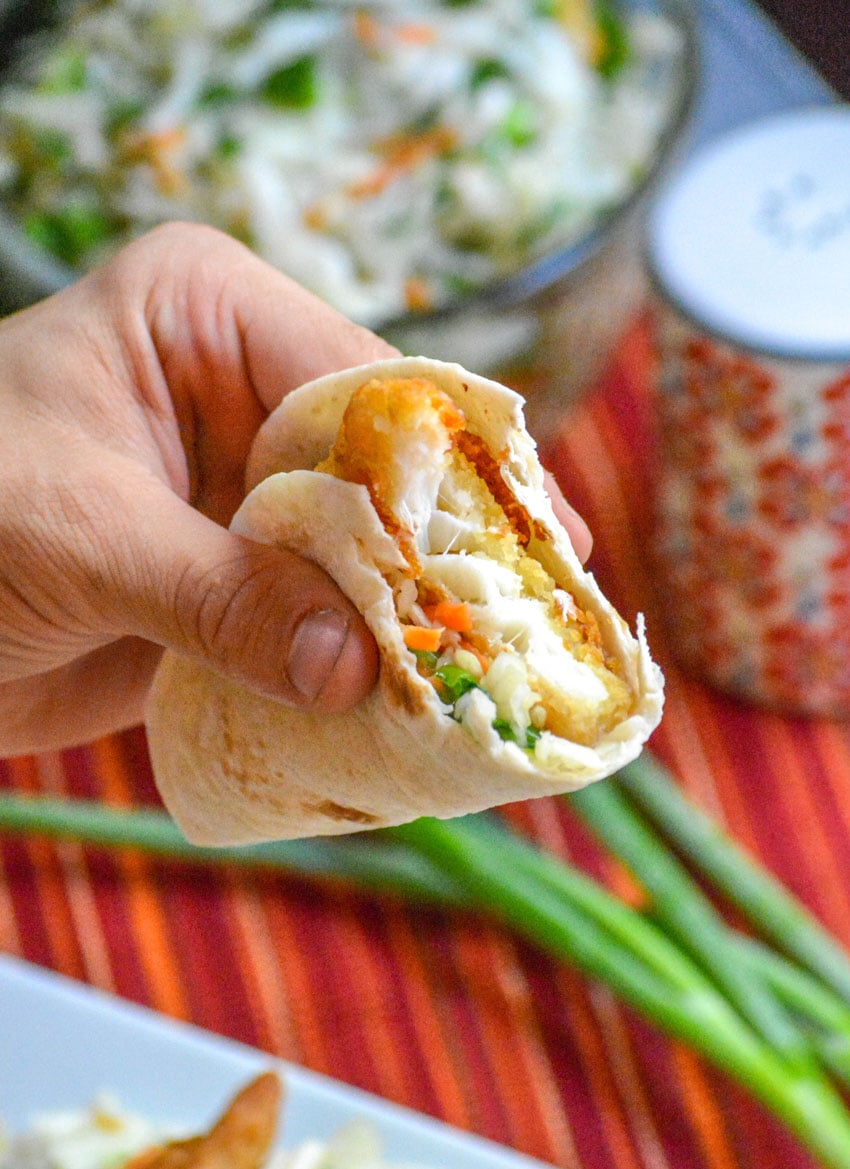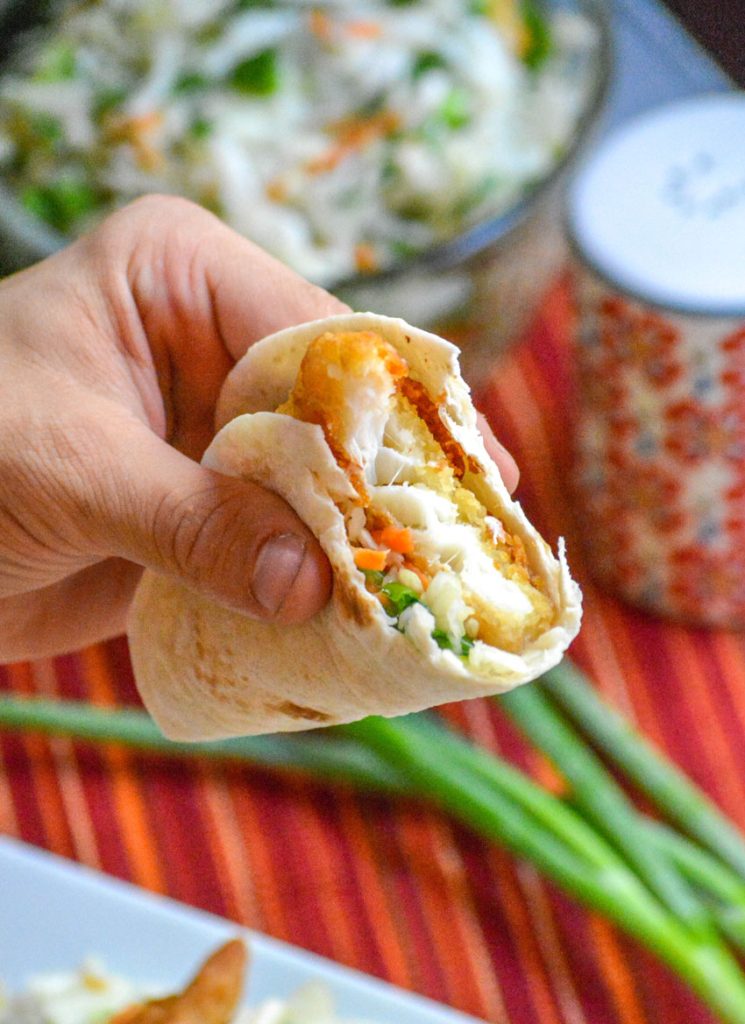 As I mentioned earlier, you can use either flour or tortillas here. Either way, I suggest warming the tortillas up before using them. However, if you're using corn tortillas- this step is absolutely essential, otherwise there's almost an 80% chance they will break or fall apart. There's no bigger bummer either than a broken shell that let's your taco stuffings fall out.
After you've cooked those gorgeous beer battered fish fillets, let them chill for a few in a warm oven where they will stay nice & warm, taco ready, and crisp. Now it's time to mix up your fresh cilantro lime slaw. Here's another instance where personal preference comes into play. If you want a warm slaw, which I like, you make it now, BUT if you prefer a chilled version or more time for flavors to marry- then I suggest making the slaw ahead of time, covering, and refrigerating until ready to use.
Whenever you plan to make and serve the cilantro lime slaw, it's the easiest thing to throw together. Get out a large-dish mixing bowl, we're tossing this so more space means less mess and less worrying about making one. Add the cabbage mix, cilantro, green onions, vinegar, oil, sugar, and salt. Toss until everything's good and combined. You can taste test if necessary, occasionally I feel the need to add more salt and a pinch of pepper to the mix.
Stuff a filet, or two, into each shell- this will totally depend on the size of your tortilla, and then top it with a heaping helping of the cilantro lime slaw before serving. If you're looking for a little something extra, a spoonful of pico de gallo also goes really well with these.
And there ya have it folks, Beer-Battered Fish Tacos with Cilantro Slaw. It's simple. It's amazing. It's the taco recipe all taco lovers have been waiting for.
Other Taco Themed Recipes You'll Also Enjoy: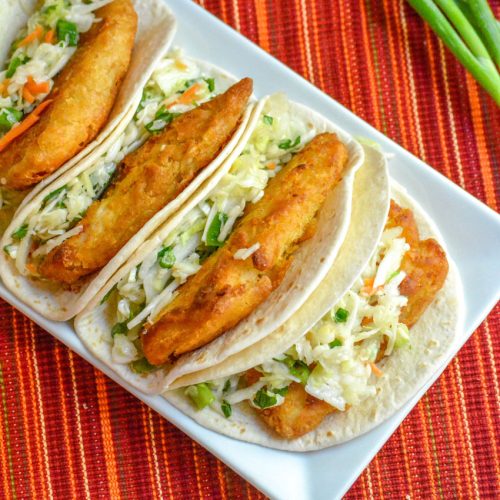 Beer-Battered Fish Tacos with Cilantro Slaw
A beer battered piece of fish, sandwiched in a flour taco with a saucy slaw.
Print
Pin
Rate
Ingredients
For the Beer Batter:

3/4

cup

all-purpose flour

1/4

cup

cornstarch

1

tablespoon

paprika

1

teaspoon

baking powder

1

cup

beer

1

egg

For the Fish:

2

lbs

fresh or frozen firm flesh white fish fillets

such as cod or catfish, cut into bite size strips

3/4

cup

all-purpose flour

salt and pepper

12

corn tortillas

For the Coleslaw Salad Topping:

4

cups

prepackaged coleslaw mix

or 4 cups shredded cabbage and carrot

1/2

cup

green onions

chopped

1/2

cup

fresh cilantro

chopped

3

tbsp

apple cider vinegar

2

tbsp

vegetable oil

1

tsp

sugar

1/2

tsp

salt
Instructions
In a bowl combine the flour, cornstarch, paprika and baking powder.

Add the beer and egg, and stir until the batter is evenly combined but still slightly lumpy.

For the Fish:

If using frozen fillets, Thaw out the fish. Pat the fillets dry using paper towels.

Sprinkle the fish with salt and pepper.

In a large skillet heat about 1-inch of oil, over medium heat.

Pour the other 3/4 cup of flour into a shallow dish or onto a plate. Working one peace at a time, put the fish pieces into the flour, turning to coat, and then shaking off any excess.

Dip the flour-coated fillets into the batter.

Fry the battered fish, about four pieces at a time, in the hot oil for 2 to 4 minutes or until crispy and golden, turning once halfway through frying time.

Transfer the fried fish onto a layer of paper towels to drain.

Keep the fried fish warm in the oven, on warm, while frying remaining fish.

Place the cooked fish into/onto heated corn tortillas.

Combine the cabbage mix, green onions, cilantro, vinegar, oil, sugar and salt in a bowl and toss to evenly coat/combine.

Cover and chill until ready to serve, or serve immediately topping each 'taco' with the preferred amount of slaw.