Penne alla vodka with ground beef is the grown up, homemade version of Hamburger Helper. This delicious pasta takes pasta with vodka sauce and adds ground beef for a hearty comforting dish with minimal fuss. This cozy dish makes the perfect cold weather dinner.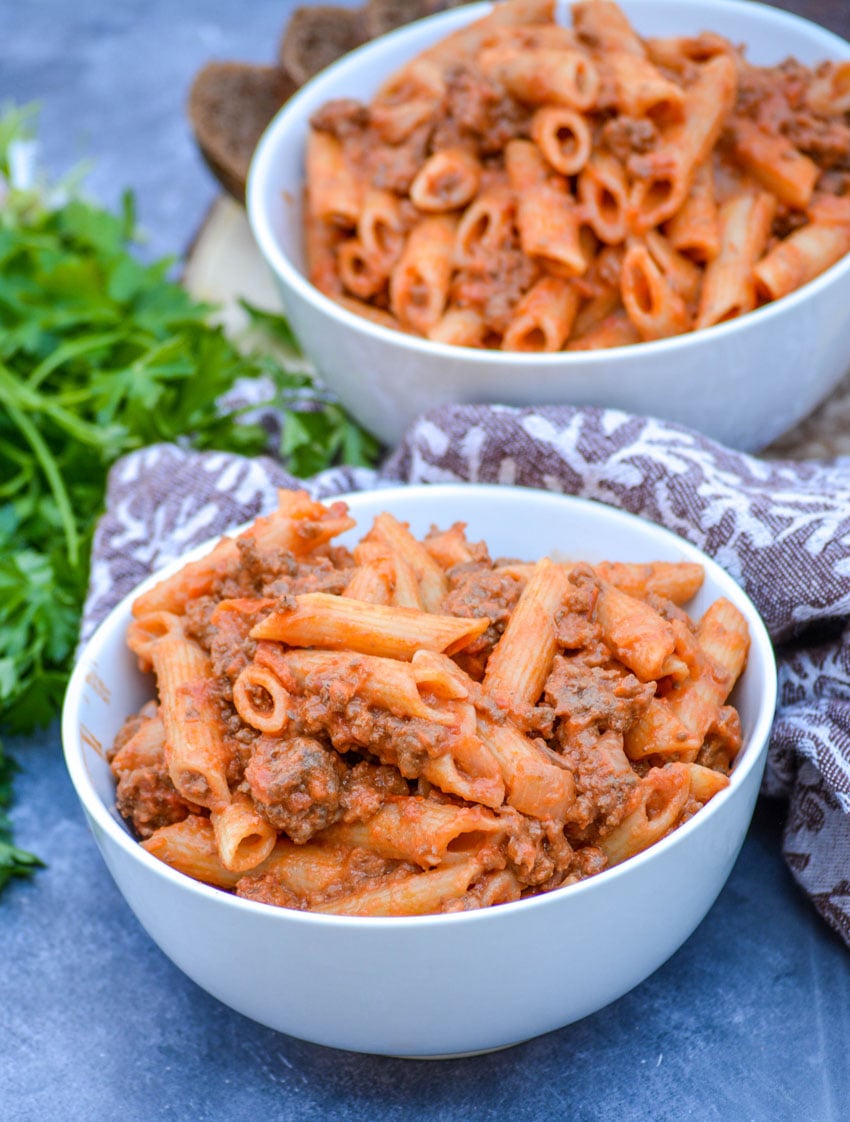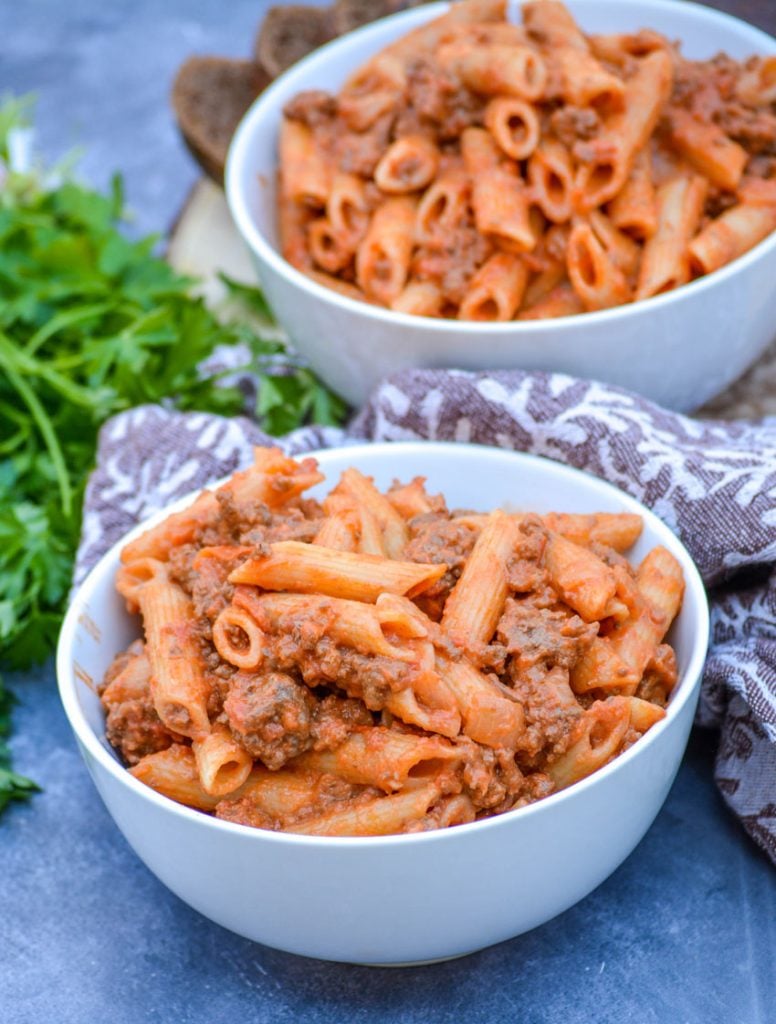 Growing up, I loved Hamburger Helper.
It just screams childhood comfort food doesn't it? And is there anything better than childhood comfort food?
Yes! Comfort food that takes a childhood classic and puts a grown up spin on it.
That's exactly what this penne alla vodka with ground beef does- puts a grown up spin on your childhood favorites.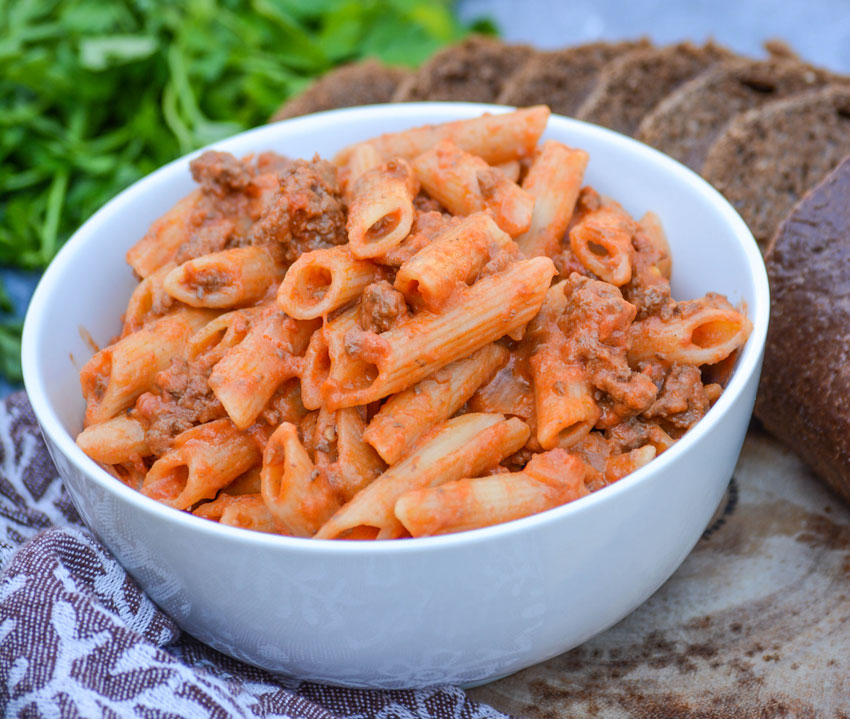 What is penne alla vodka?
Penne alla vodka is an Italian American pasta dish that became quite popular in the 1980s.
The dish combines penne with a creamy tomato sauce that's laced with vodka. It winds up being a similar sauce to my creamy tomato shrimp pasta with vodka added in.
My version of penne alla vodka adds ground beef to the dish so it is almost like a creamy beefy ziti.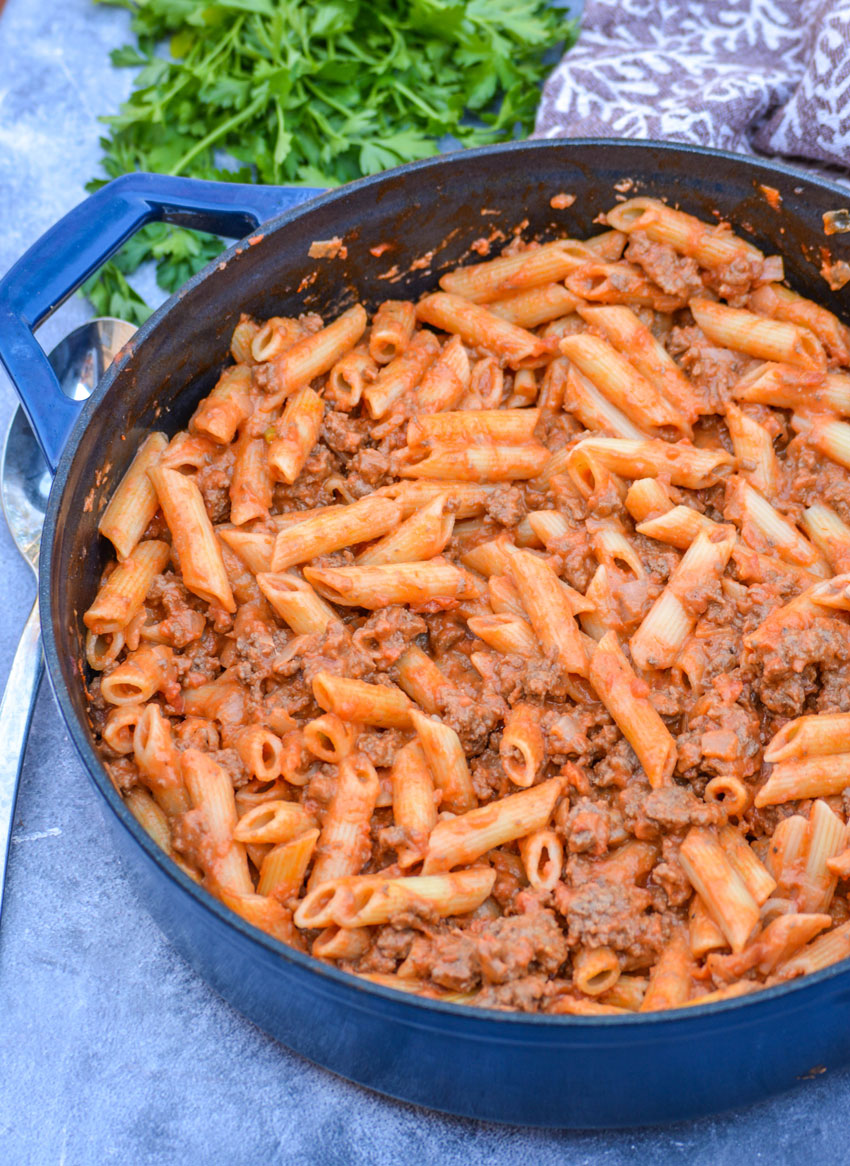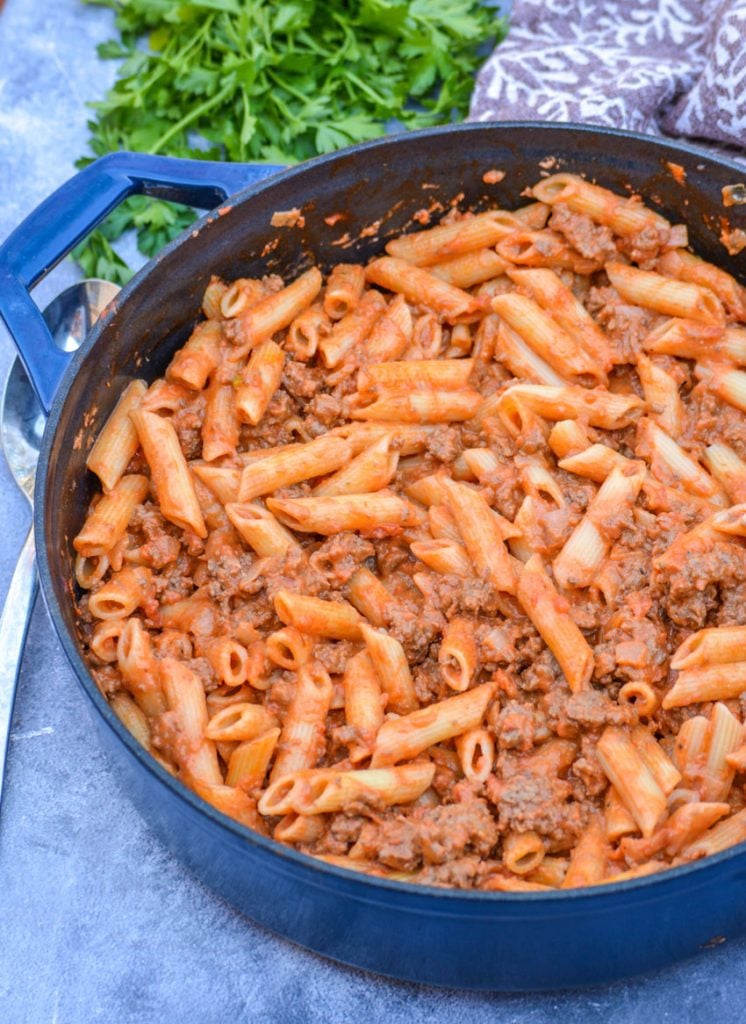 Making Penne Alla Vodka with Ground Beef
This is one of those dinners that is fool proof. You can put this together on your busiest day easily and it will taste fantastic in no time at all.
To make, heat a large pot over medium high heat with olive oil. Once the oil is hot, add the beef and season it with salt and pepper to taste.
Cook the beef in the hot oil until it is no longer pink, crumbling as it cooks.
Once the meat is browned through, strain the meat to get rid of any excess grease. Then you can return it to the pot.
Now you can stir in the tomatoes, vodka, onion and chili flakes. Turn the heat up to high and bring the mixture to a boil.
Keep stirring the sauce, allowing it to cook until it has reduced by half and thickened slightly.
To finish the sauce, add the cream and stir it into the sauce until it is completely combined. Now you can take the sauce of the heat.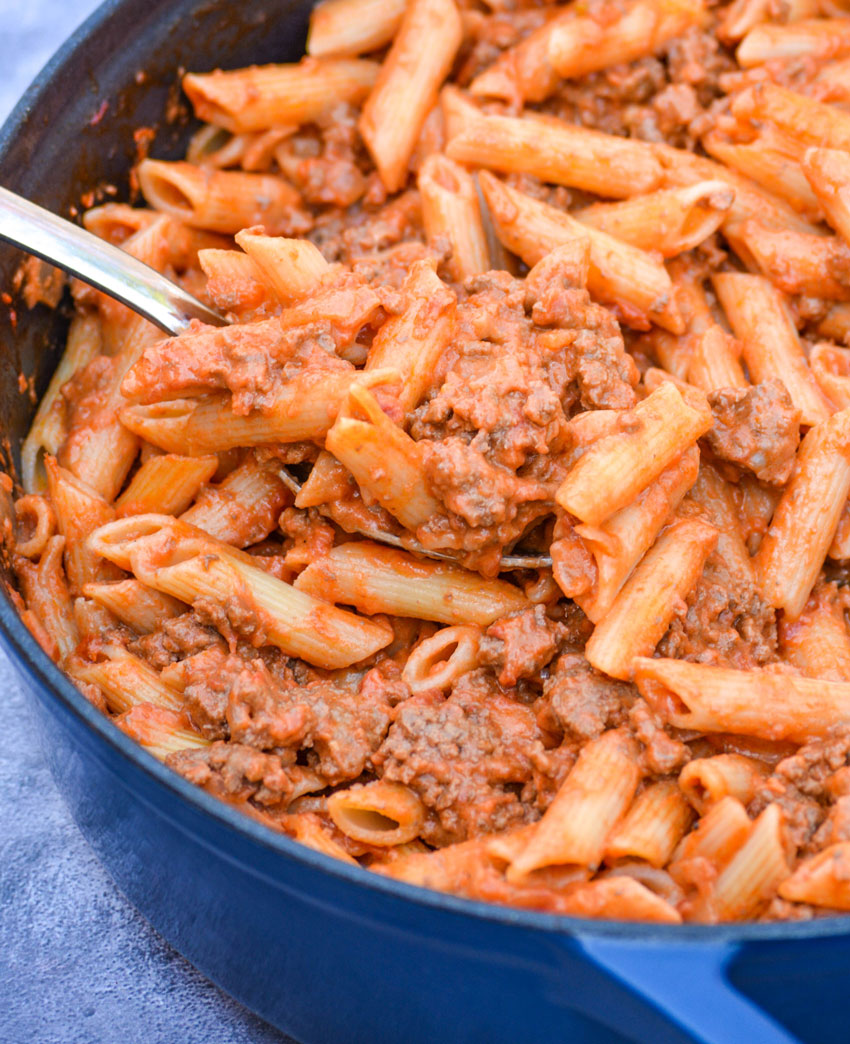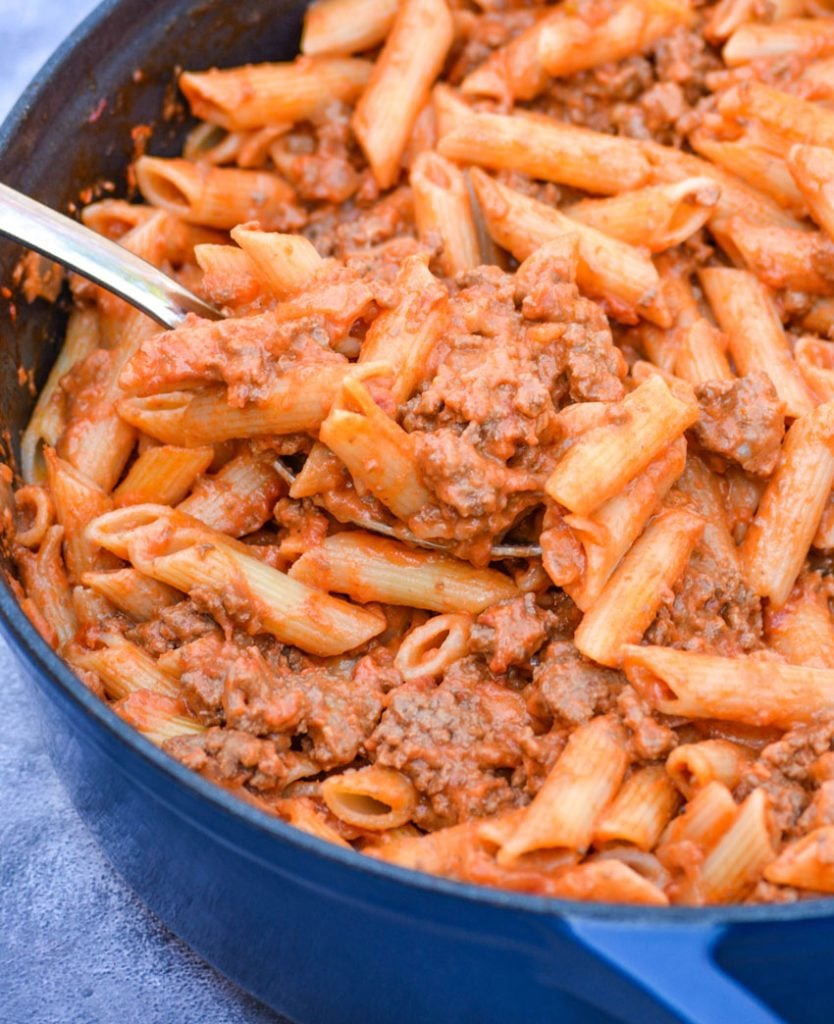 At this point, you're ready to add pasta. Just stir cooked pasta into the sauce until the sauce thickens a bit more and sticks to the pasta.
Sprinkle the pasta with Parmesan cheese and serve immediately.
Tips and Tricks for Making the Best Penne Alla Vodka
This pasta recipe is pretty easy but a few tips and tricks can help set you up for vodka sauce success.
First and foremost, make sure you aren't using flavored vodka! You want regular old vodka, not something with a fancy flavor like caramel or whatever else. Just vodka!
You can use whatever vodka is in your liquor cabinet, but if you're adding it to the grocery list- it doesn't need to be the expensive, top shelf stuff.
Make sure to strain the meat and use lean ground beef. Otherwise, the dish will feel very greasy and heavy because you will have both the beef fat and the heavy cream.
Don't skip letting the sauce cook down. The flavor will intensify and the texture of the sauce will be much better.
Not into heat? Skip the red pepper flakes for a mild flavor.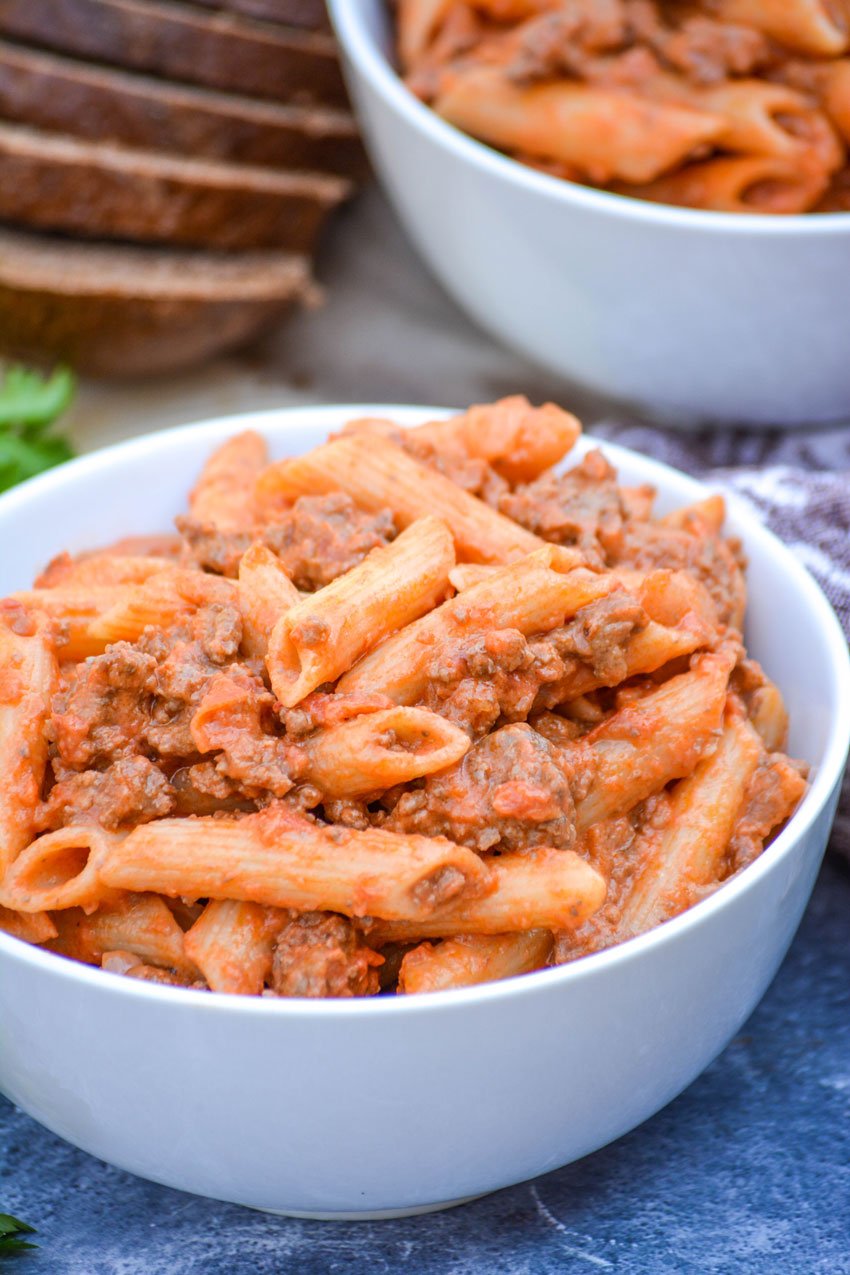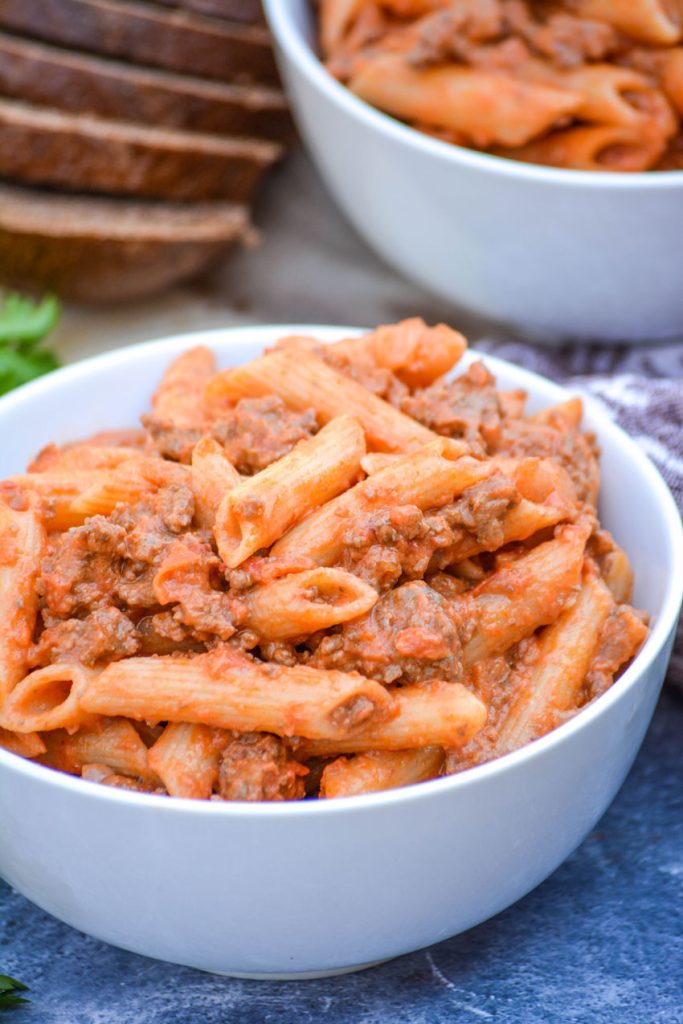 Can You Get Drunk Off Of Vodka Sauce?
Also, because I've had several people ask- NO, the short answer is you can't. Bottom line. This meal is not only safe to serve to children, but one they'll probably gobble up without complaint.
While it does use alcohol in the recipe, the actual alcohol is cooked off & rendered moot during the cooking process. All that's left behind is the tangy flavor that's adhered to & infused the pasta sauce at that point.
Technically, yes there will be the tiniest most minuscule amount of alcohol left in the dish. But it's like an essence, and such a small amount- it won't affect anyone: not kids, adults, or pregnant women.
I understand the concern though, I really do. You'll never actually get drunk eating a dish with vodka sauce in it, but you do have a healthy appreciation for the fact that at some point alcohol was involved.
And last but not least for our FAQ's section…
What Does The Vodka Actually Do In Penne Alla Vodka?
Adding alcohol to tomato based dishes is a common thing. In Italy. It's actually a very Italian thing.
And while I'm not a food scientist, I understand the gist of the reasons behind this cooking method.
The vodka in this vodka sauce recipe serves two functions: first as a flavor enhancer, and secondly as an all natural emulsifier.
The alcohol releases/leeches extra flavor from the tomatoes, making for a more aromatic sauce than you'd be able to get with just the tomato alone.
Cream, a natural fat, doesn't tend to do well under heat or with acids. Tomatoes are naturally very acidic, making them a tricky pairing.
Adding a little vodka to the mix acts as a natural stabilizer allowing the two to adhere to one another in a creamy, slightly tangy sauce without having to worry about curdling cream or separating during the cooking process.
There's nothing worse than curdled cream, bitter pasta sauce, or oily tomatoes. A simple vodka sauce is just the trick, and the perfect solution.
Other Ways to Serve Pasta & Sauce
This penne alla vodka with ground beef is my current favorite way to eat vodka sauce. Make it today and see why I love it so much.
Looking for other ways to serve the classic combination of pasta & sauce? Try these:
If you've tried these PENNE ALLA VODKA WITH GROUND BEEF, or any other recipe on the site, let me know in the comment section how it turned out, we love hearing from our readers! You can also follow along with me on PINTEREST, FACEBOOK, and INSTAGRAM to see more amazing recipes and whatever else we've got going on!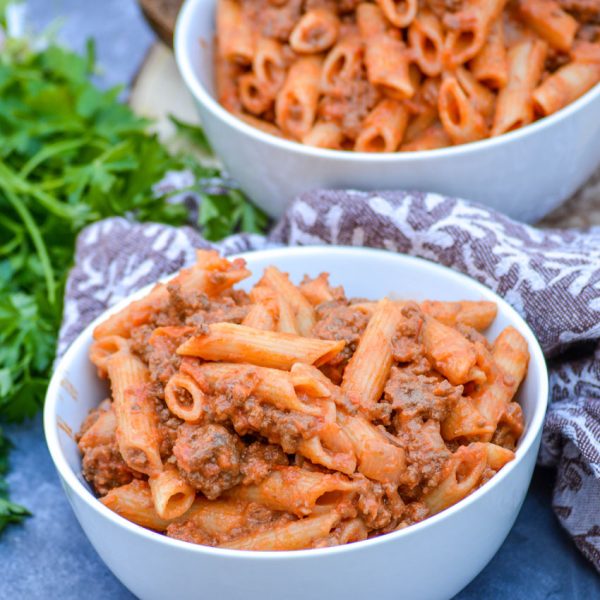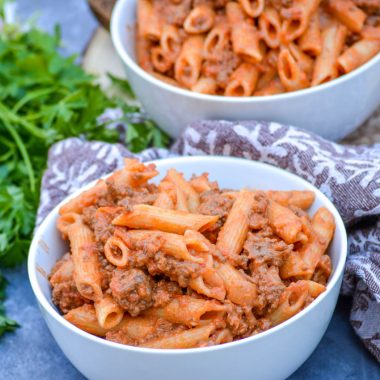 Penna Alla Vodka with Ground Beef
Tender pasta is cooked in a simple homemade vodka sauce with crumbled ground beef. It's a delicious, indulgent one pot meal. This dish reminds me of the hamburger helper I loved as a kid, but with a much improved almost gourmet finish. It makes a a great main meal for weekday dinner times, and is also a great option for serving to guests.
Print
Pin
Rate
Ingredients
2

tbsp

olive oil

1

large

white onion

diced

1

lb

lean ground beef

salt & pepper

to taste

1

28 oz can

crushed tomatoes

1/2

cup

vodka

1/4

tsp

red chili flakes

1/2

cup

heavy whipping cream

4

cups

cooked penne pasta

shredded Parmesan cheese

for garnish, optional
Instructions
In a large pot over medium high heat, heat the olive oil. Add the onions to the pot, and saute until soft. Add the beef to the hot oil. Season with salt & pepper, to taste.

Cook the beef, stirring and crumbling as it cooks, until it's completely browned- no pink remaining. Strain the meat, removing all excess grease, and return it to the pot.

Stir in the tomatoes, vodka, and chili flakes until evenly incorporated. Turn the heat to high, and bring the mixture to a boil. Stir the sauce until it's reduced by half, and slightly thickened.

Whisk in the cream until the sauce is smooth & it's evenly combined. Remove the pot from heat.

Stir the cooked pasta into the pot and toss it in the sauce until the sauce has thickened slightly and begins to stick to the pasta.

Sprinkle the still hot pasta dish with the shredded Parmesan cheese, and allow it to melt slightly. Ladle the pasta onto plates and serve immediately.
Nutrition
Calories:
359
kcal
|
Carbohydrates:
20
g
|
Protein:
20
g
|
Fat:
16
g
|
Saturated Fat:
7
g
|
Cholesterol:
74
mg
|
Sodium:
61
mg
|
Potassium:
338
mg
|
Fiber:
1
g
|
Sugar:
1
g
|
Vitamin A:
316
IU
|
Vitamin C:
2
mg
|
Calcium:
29
mg
|
Iron:
3
mg