Southwestern egg roll dip is a creamy appetizer that can be thrown together on a whim. Paired with crispy, fried wonton chips it tastes just like a deconstructed Southwestern egg roll. It's full of meat and vegetables, making it a perfect dippable option for a snack, lunch, or even a light dinner.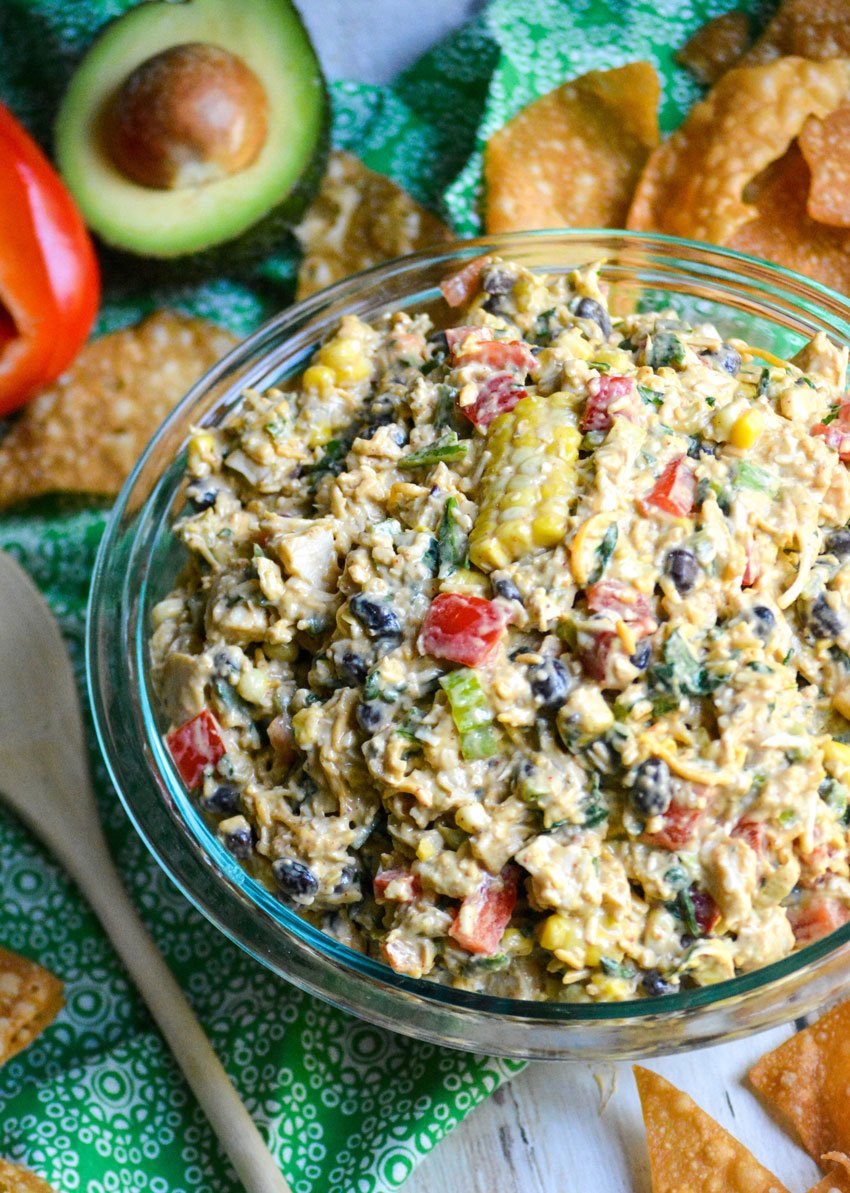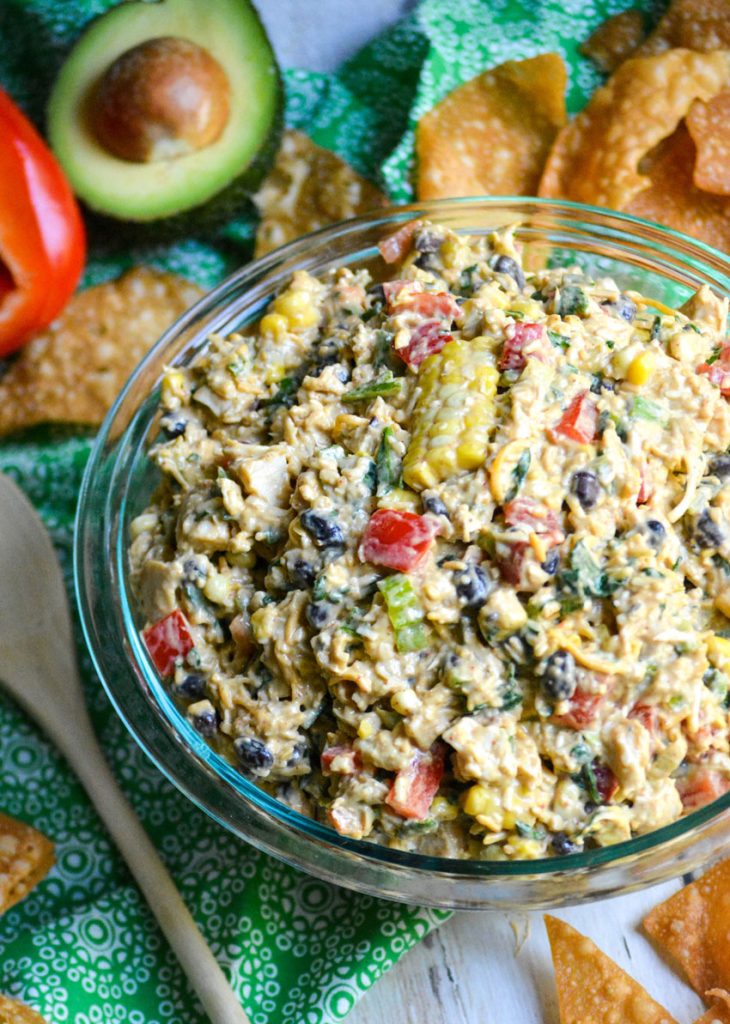 Sometimes days are just hard.
Sometimes I just get in a funk and don't have the mental or physical energy to cook a whole meal.
Dinner still has to be made and served though.
You know, because hungry children and all.
So what's a busy Mom to do?!
That's where snack suppers come in to save the day.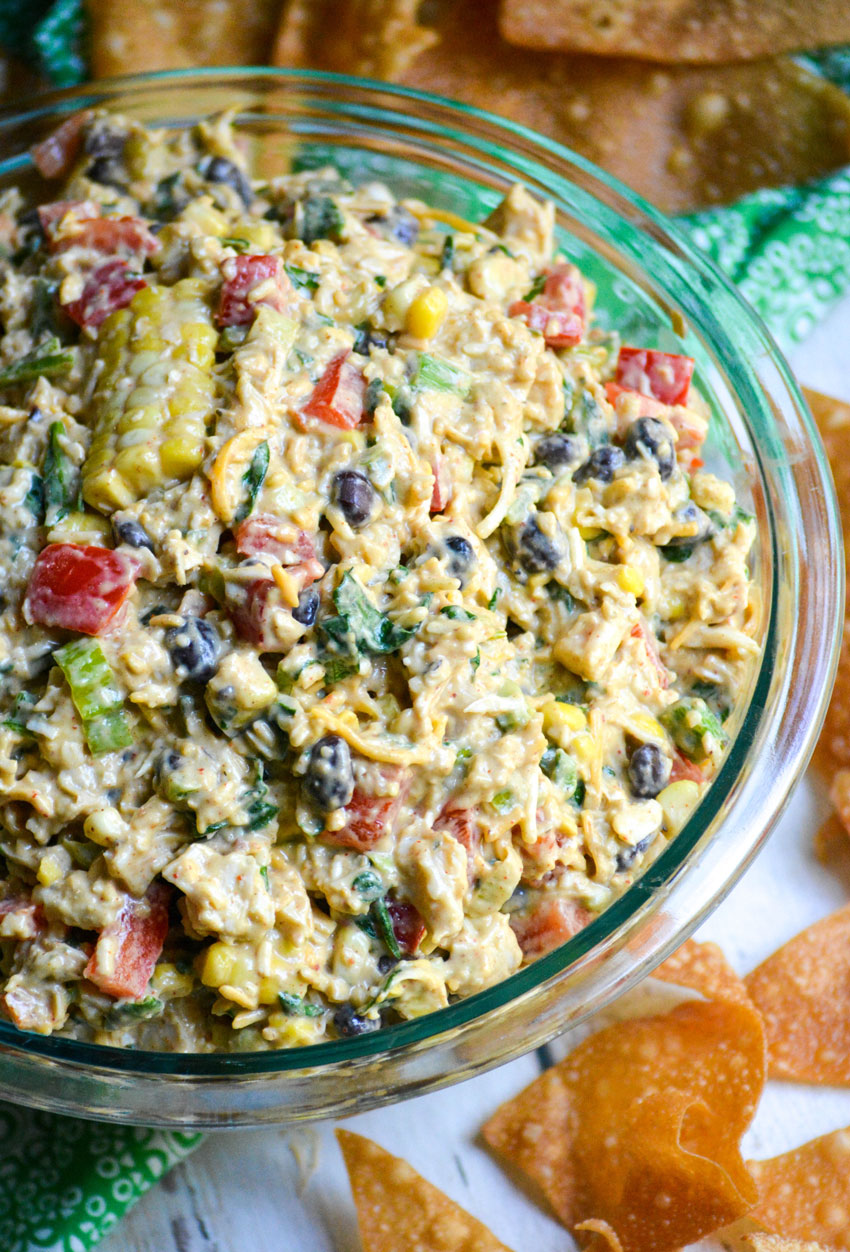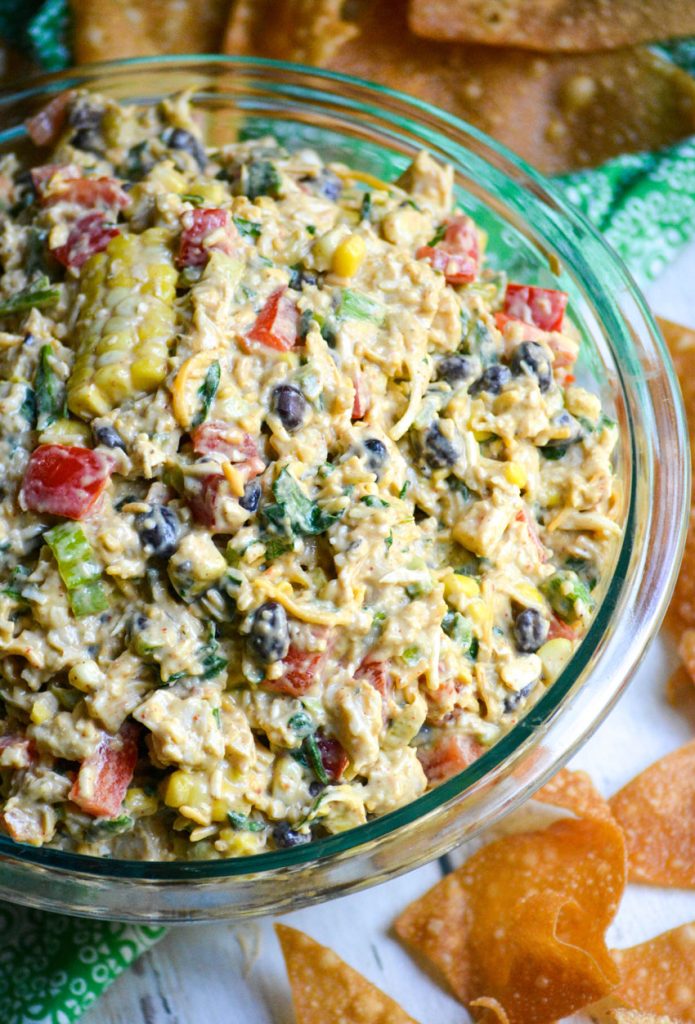 Snack suppers were famous in my house growing up, and something we all looked forward to.
Even a nutritious dinner, served in snackable form was super exciting.
It made dinner time feel like a little party for no reason other than 'just because'.
Luckily, my own kids have always gotten just as excited for snack suppers.
Makes my job so much easier on evening's where I feel burnt out and don't want to even look at my stove.
Dippable options are one of my favorite options for light suppers.
This Southwestern egg roll dip is at the top of my list!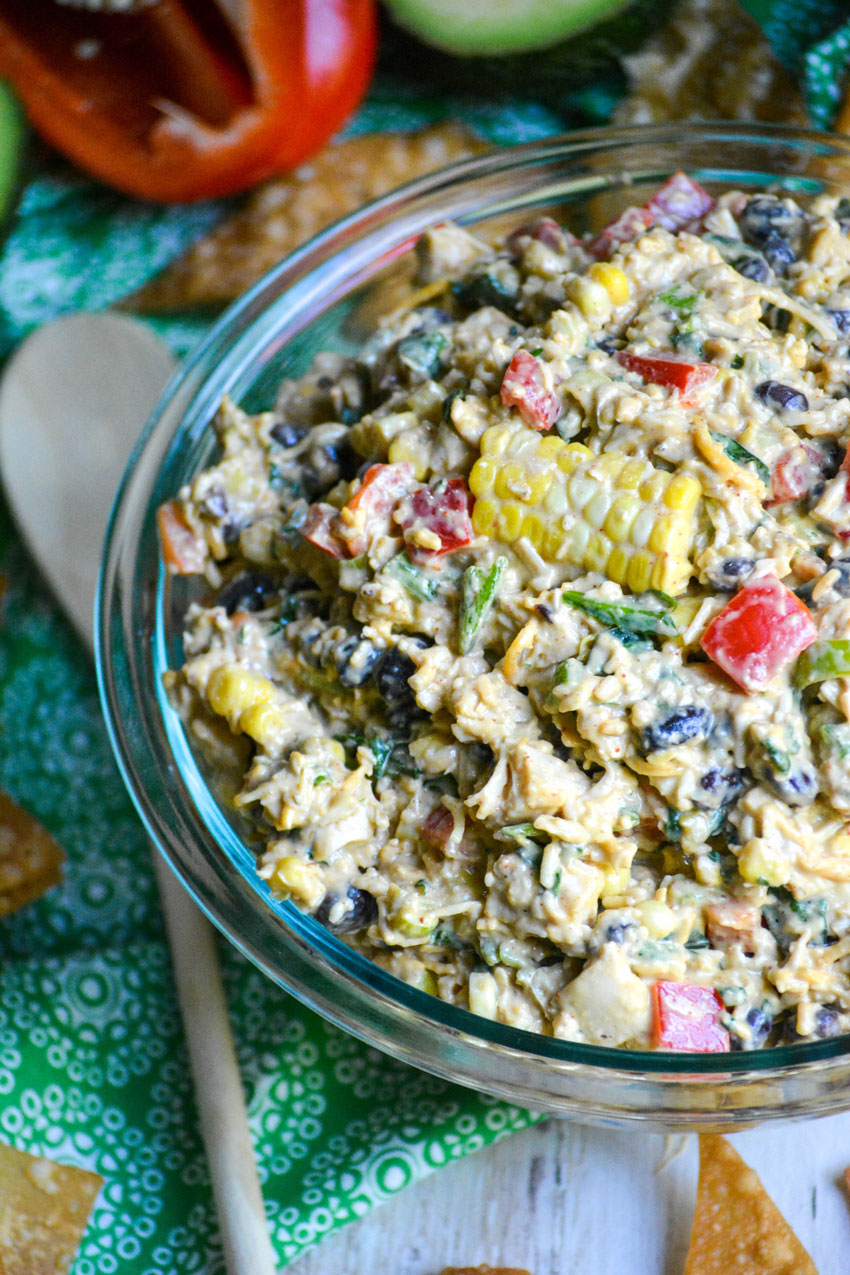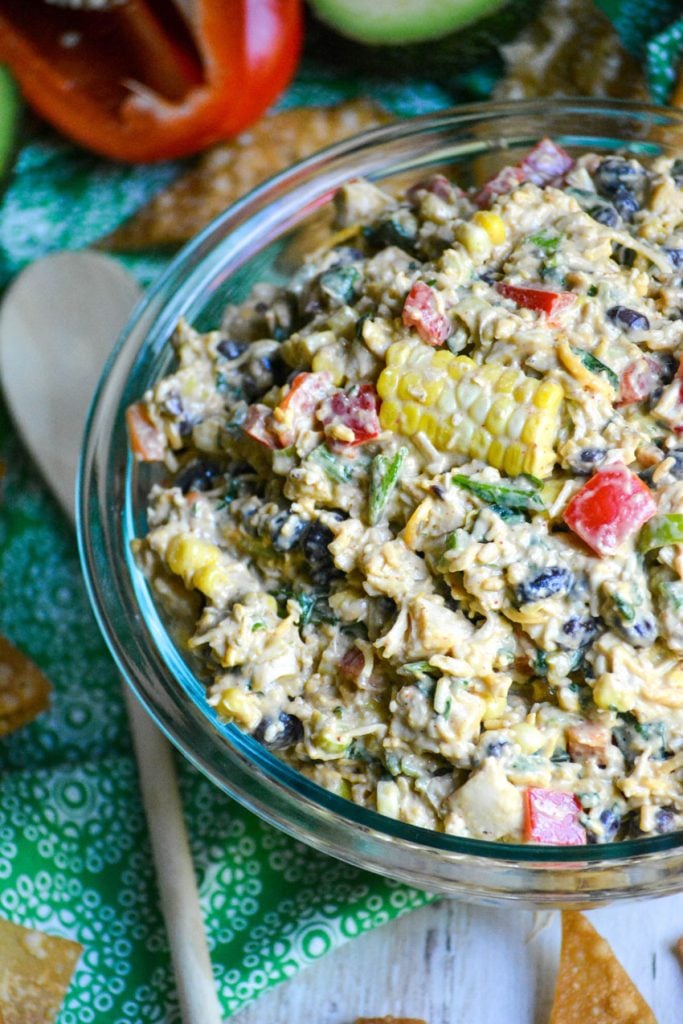 What's In A Southwestern Egg Roll?
Have you ever had a Southwestern-style egg roll?
They're so good, and for the most part they're not too bad for you calorie-wise.
Typically the filling includes chicken and a variety of veggies.
For our copycat filling you'll need:
cooked chicken – a cooked chicken breast that's chopped or shredded works, also this is a great way to use up leftover rotisserie chicken
corn – frozen corn, thawed but you can also use drained canned corn kernels
black beans – drained & rinsed
bell pepper – any sweet variety of bell pepper will do
cheese – a Mexican or Fiesta blend is recommended, but a shredded cheddar alone will also work
green onions
spinach – fresh baby spinach adds protein as well as filler, making it a great way to get in some extra veggies
jalapeno – this is optional if heat/spice is an issue
wonton wrappers
Originally we had to go to our local Chilis to enjoy them, but then we began making them at home, using tiny tortillas.
The tortillas were good, but they didn't bake up or fry up quite like I wanted them too.
Which is why we decided this appetizer made so much more sense as a dip, with a sturdy egg roll-esque chip to pair with it.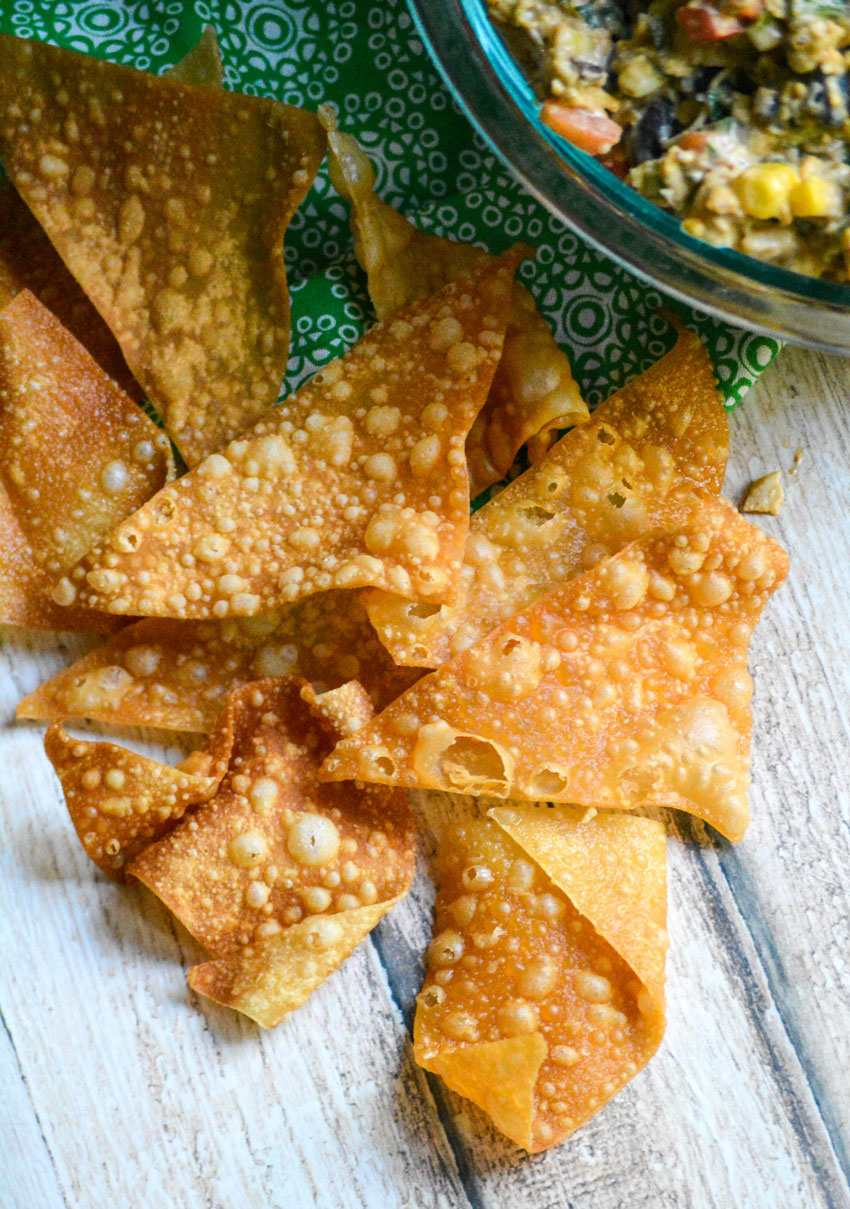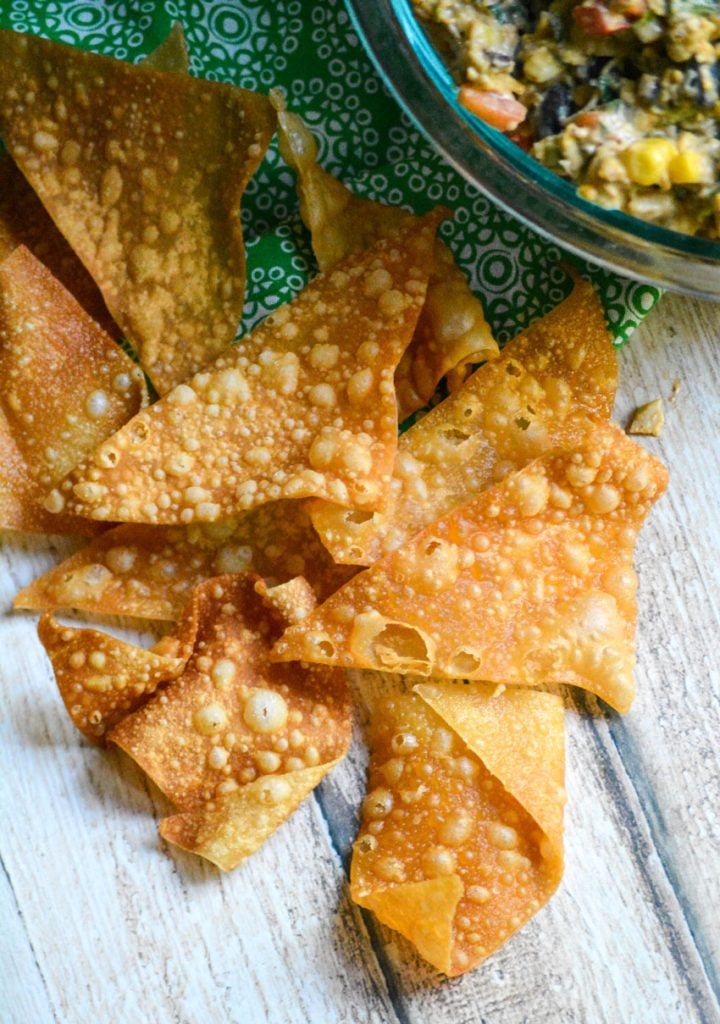 Making Wonton Chips
Have you ever worked with egg roll or wonton wrappers?
Once you've opened the package, you've got days at most to use the rest before they go bad.
Using up extras as chips is one of my favorite ways to prevent any waste.
Plus, they're a perfect vessel for rich creamy dips, just take this crab rangoon dip for example.
Turning your wonton wrappers into chips couldn't be any easier too.
Start by using a sharp knife to quarter the stacked wrappers, making diagonal cuts, and being careful to avoid any fingers.
You can use a frying machine, or add your oil to a heavy bottomed pot like a Dutch oven.
You'll only need a couple inches of oil.
Heat it over medium high heat, just until the oil's hot.
Once it's hot, carefully add in the triangular 'chips' and fry them just until golden brown on both sides.
They will fry quickly once the oil's hot, so watch them carefully.
As soon as they're done, use a stainless steel skimmer to remove the chips from the hot oil.
Transfer them to a layer of waiting paper towels to allow excess grease to drain off.
Repeat in batches until all the wonton wrappers have been fried into chips, and then turn the heat off and leave the oil to cool.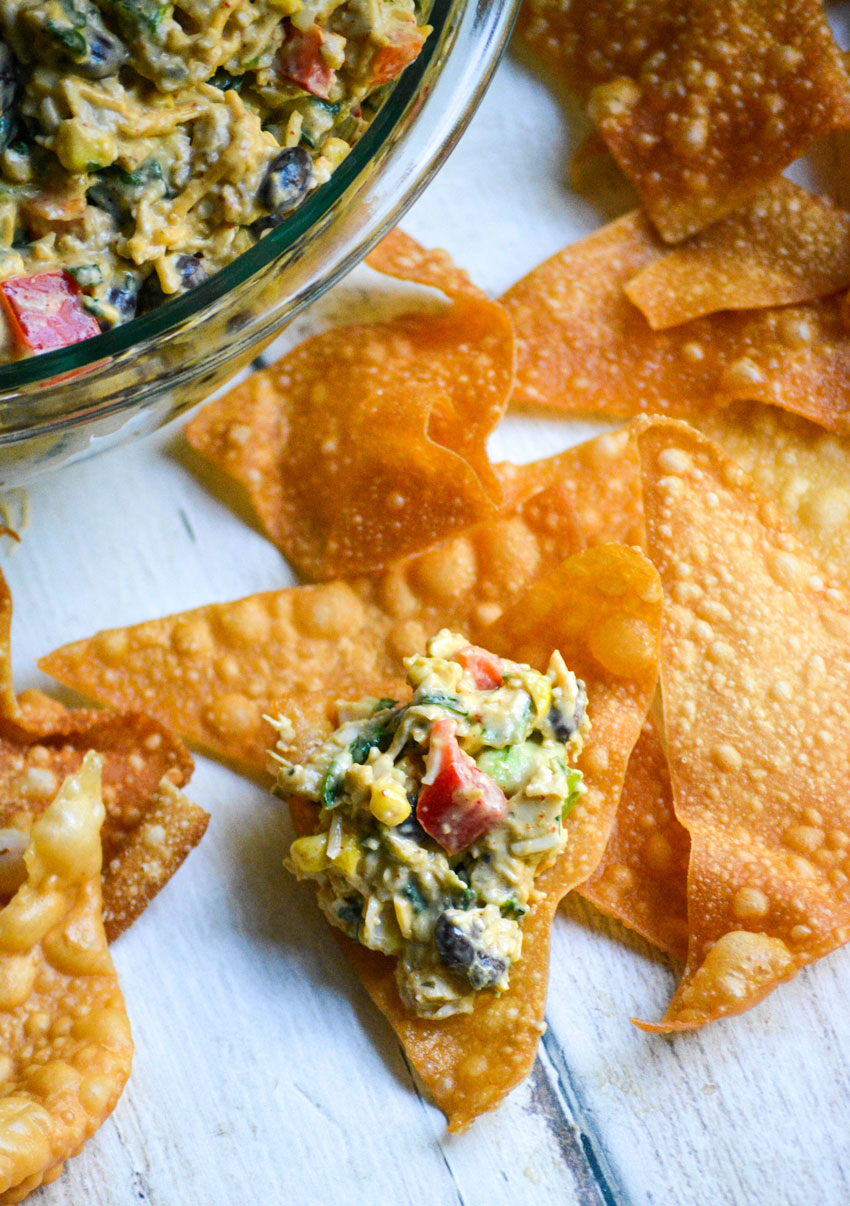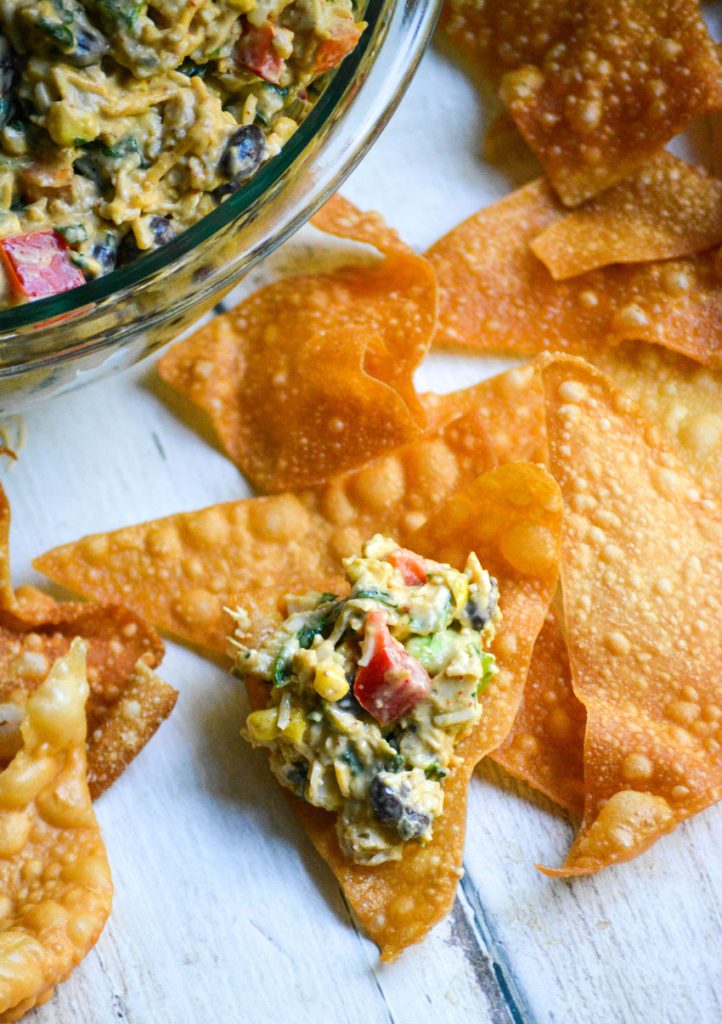 Mixing The Dip
While the wonton chips are cooling, it's the perfect time to whip up the Southerwestern egg roll dip.
It comes together in just minutes!
To a large mixing bowl add the chicken, corn, beans, peppers, onion, spinach, and cheese.
Gently stir everything together until evenly combined. Set this mixture aside.
In a separate, smaller bowl it's time to mix up the dressing.
Whisk together the ranch dressing, lemon juice, and seasonings until they're all evenly combined and the mixture's smooth.
Add the dressing to the large mixing bowl, using a spatula to scrape down the sides so every bit gets added to the chicken & veggie mix.
Stir together until evenly combined.
Voila- you've got the best egg roll dip with an infusion of Southwestern flavors!
And it is good, so good even, that when we ran out of chips the sons were scarfing it down by the spoonful.
I didn't say a word.
Who am I to complain about the greedily grabbing up all those extra veggies?!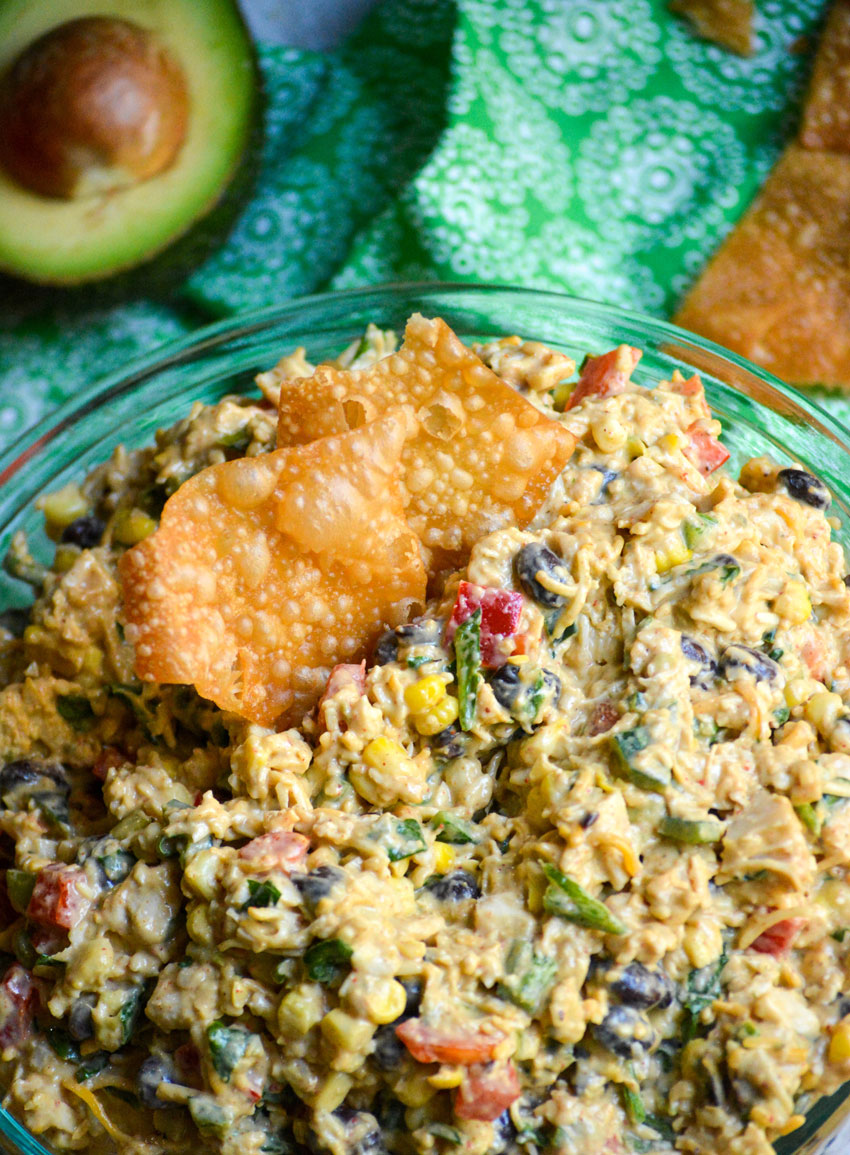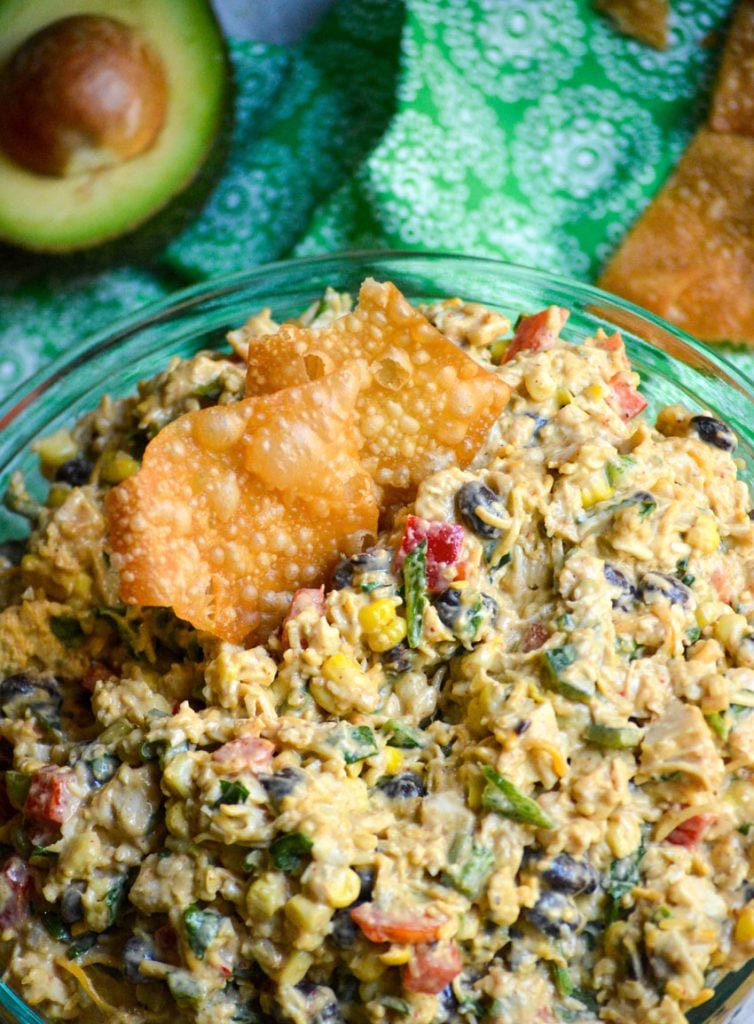 How To Serve
You have options on how to serve this egg roll dip.
I do adore a recipe that gives me options!
You ca serve it straight out of the bowl, or you can cover it and refrigerate for a couple of hours until chilled.
We can't resist and have no self control, so it's almost always straight out of the bowl for us.
As far as presentation goes, you can set it out in a pretty bowl surrounded by the wonton chips.
This is my favorite way to present it as part of my appetizer table for parties and game day get togethers.
If a finger food style is more to your liking, then have the wonton chips set out on platters and top each with a small dollop of the egg roll dip.
Either way, you can't go wrong and your guests won't be disappointed.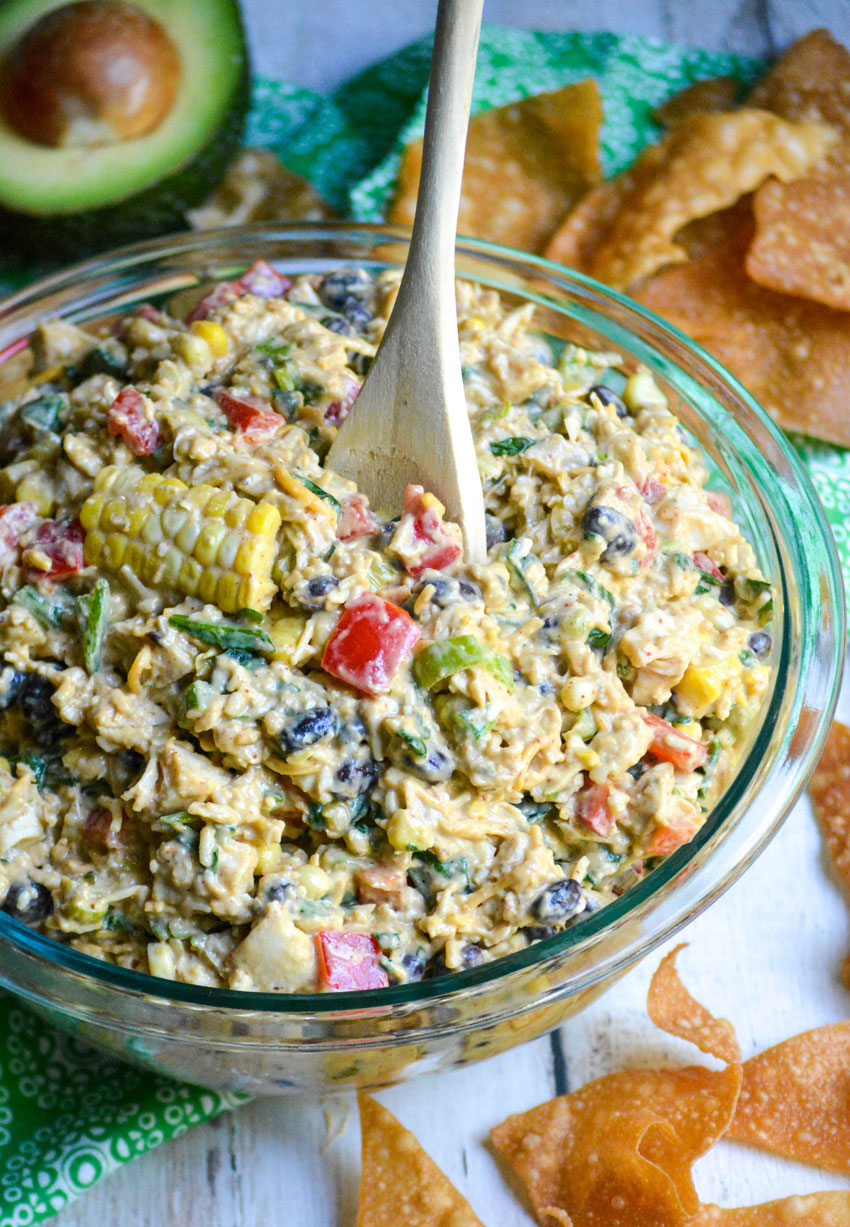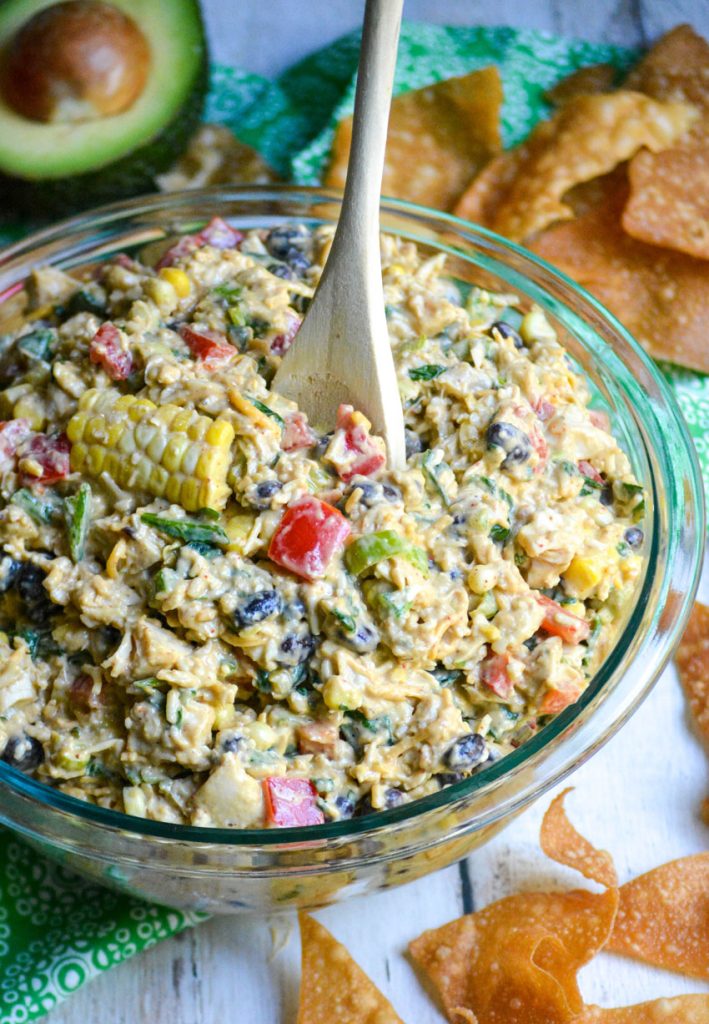 East meets (south)West in this funky Tex-Mex, inside out, version of an egg roll.
Its simple, fun and a great way to use up leftovers, especially if you're like us and you've got a half a can of black beans here, a quarter cup of diced peppers there, etc.
Other Hearty Dips To Try
If you've tried this SOUTHWESTERN EGG ROLL DIP WITH WONTON CHIPS, or any other recipe on my site, let me know in the comment section how it turned out, we love hearing from our readers! You can also follow along with me on PINTEREST, FACEBOOK, and INSTAGRAM to see more amazing recipes and whatever else we've got going on!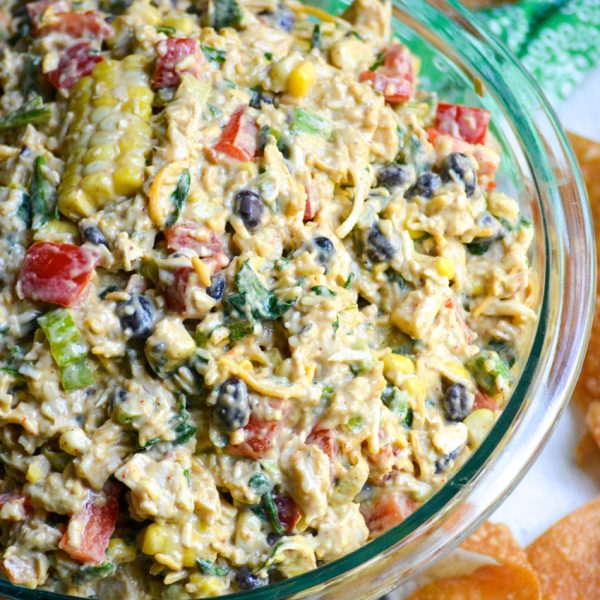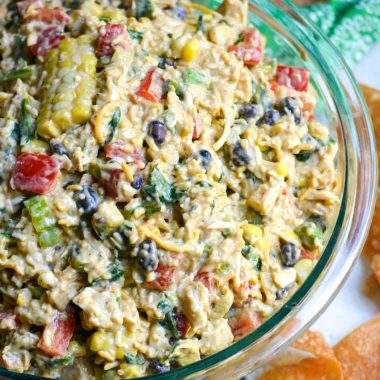 Southwestern Egg Roll Dip with Wonton Chips
Southwestern egg roll dip is a creamy appetizer that can be thrown together on a whim. Paired with crispy, fried wonton chips it tastes just like a deconstructed Southwestern egg roll. It's full of meat and vegetables, making it a perfect dippable option for a snack, lunch, or even a light dinner.
Print
Pin
Rate
Ingredients
1

chicken breast

cooked, then either diced or shredded

3/4

– 1 cup frozen corn

thawed

1/2

can black beans

drained and rinsed

1/2

red bell pepper

finely chopped

1/2

cup

shredded Mexican blend cheese

2

green onions

thinly sliced and then diced

1/2

cup

fresh baby spinach

diced

1

jalapeno

seeded and diced

package of wonton wrappers

3/4

cup

ranch dressing

the juice of 1 lemon or lime

your choice

pinch

of cayenne

1

tsp

cumin

1

tsp

chili powder

1/2

avocado

mashed

salt and pepper

to taste

oil for frying
Instructions
In a large bowl, mix together the chicken, corn, beans, peppers, green onion, spinach, and cheese until roughly combined.

In a separate bowl combine the ranch dressing, the lemon or lime juice, cumin, chili powder, cayenne, salt and pepper stirring until an evenly incorporated dressing forms.

Mix the mashed avocado in with the dressing, whisking until evenly incorporated, and then pour the finished dressing over the veggie mixture.

Heat vegetable oil in a pan over med/hi heat.

Cut a stack (your desired amount) of wonton squares in half diagonally, forming triangular shaped 'chips'. Fry the chips a few minutes on each side until golden brown.

Serve the veggie/dressing mix as a dip in a bowl, with the egg roll chips on the side, or scoop out a bit of the dip onto each chip for easy grab and go bite sized snacks.
Nutrition
Calories:
125
kcal
|
Carbohydrates:
3
g
|
Protein:
6
g
|
Fat:
10
g
|
Saturated Fat:
2
g
|
Cholesterol:
20
mg
|
Sodium:
228
mg
|
Potassium:
153
mg
|
Fiber:
1
g
|
Sugar:
1
g
|
Vitamin A:
405
IU
|
Vitamin C:
10
mg
|
Calcium:
64
mg
|
Iron:
1
mg
pictures & post updated on 1/11/2021
recipe adapted from The Lilypad Cottage