If you need a quick & easy meal, meatball quesadillas are just the thing. This tasty Italian spin on crispy, cheese stuffed tortillas is a yummy way to use up leftover meatballs and 100% picky eater approved!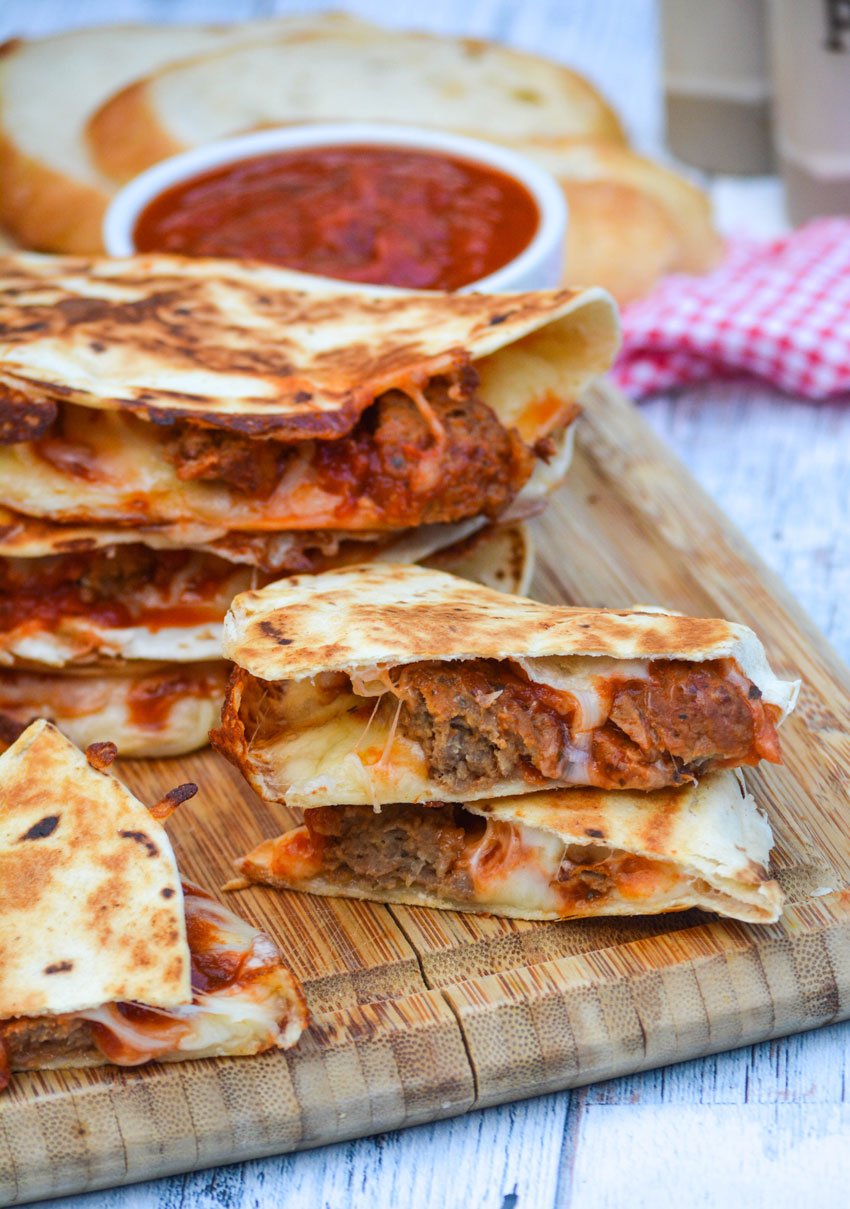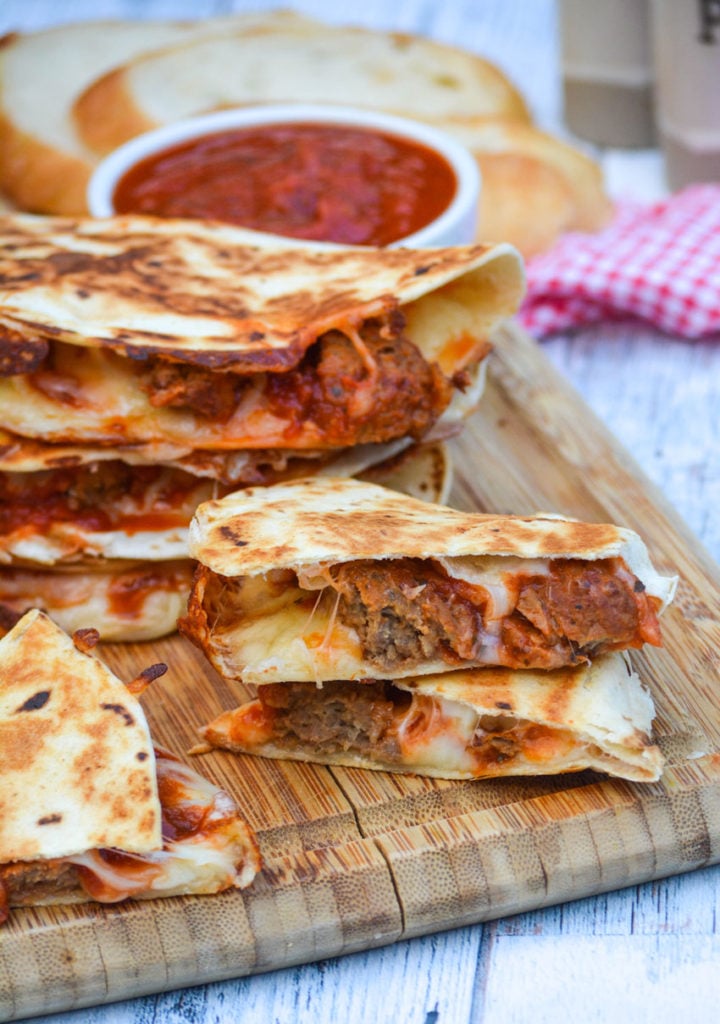 Meatballs are a quintessential ingredient to so many recipes in our family.
I mean there were several years where one of the sons would only eat a full meal if meatballs were some sort of component.
Back then, I didn't complain. I just wanted him to eat, and fed is best.
I got real familiar with them though, especially what all they could go in and what all I could make with them.
Especially the leftovers.
And there were always leftover meatballs. Not that any of us ever really complained about that!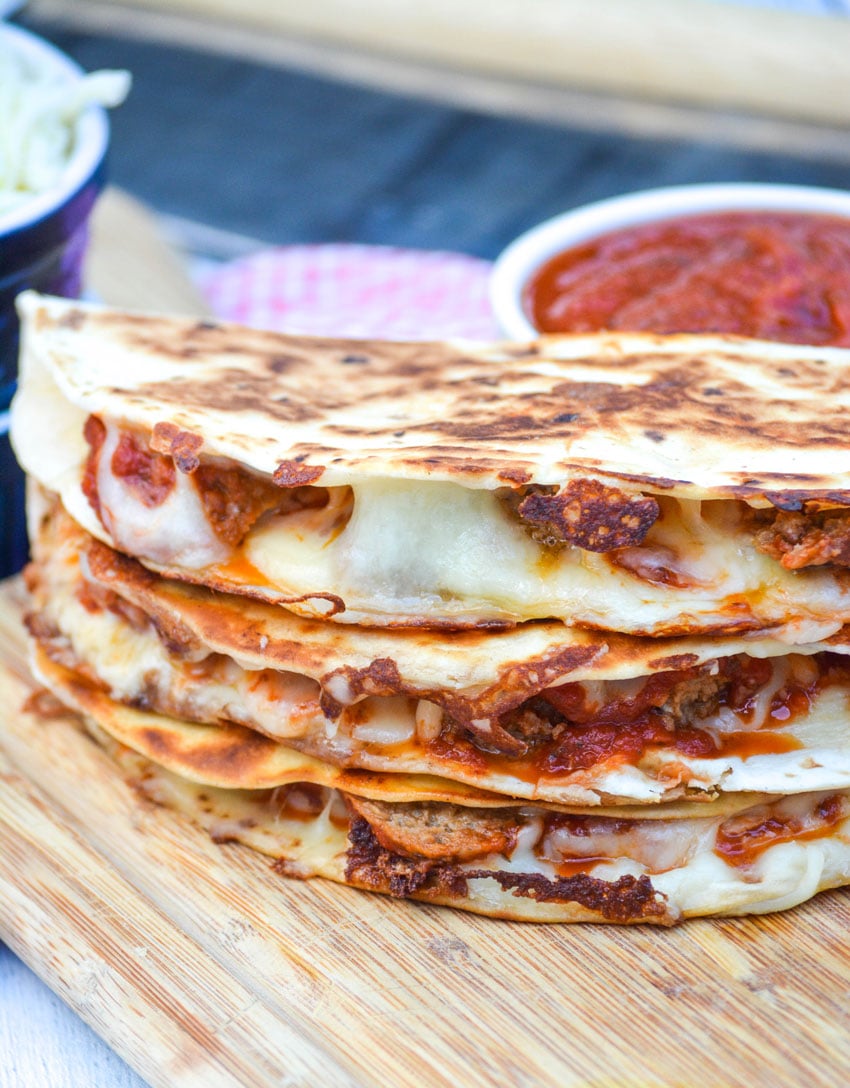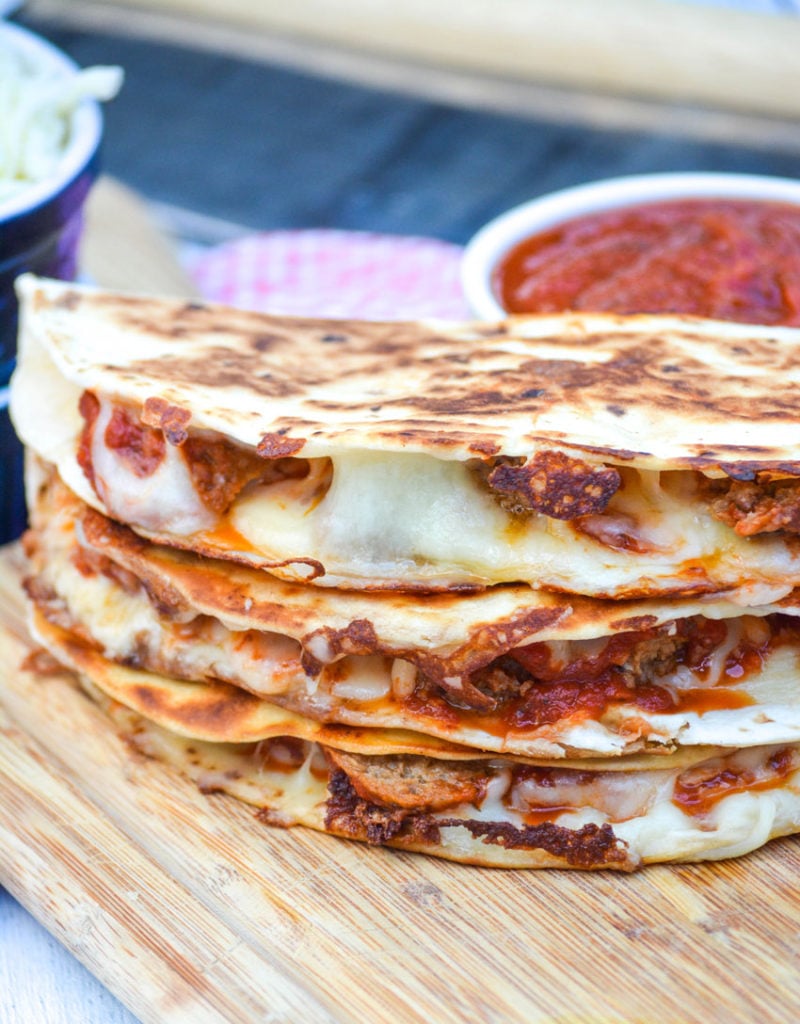 What You Can Make With Leftover Meatballs
Quesadillas were also always a hit with my pickiest eaters. I mean, melted cheesy goodness? Obviously that was gonna be a win.
We've had leftover spaghetti grilled cheese, and we all love spaghetti and meatball sub sandwiches, so I figured a quesadilla with an Italian filling using some of those leftover meatballs couldn't turn out too bad – and went full steam ahead.
It wasn't a stroke of genius more like obvious that I was destined to combine the two.
Meatball quesadillas were stupidly simple, and a stroke of genius if I do say so myself.
Lunch or dinner, this was one meal I knew all my kids would happily scarf down.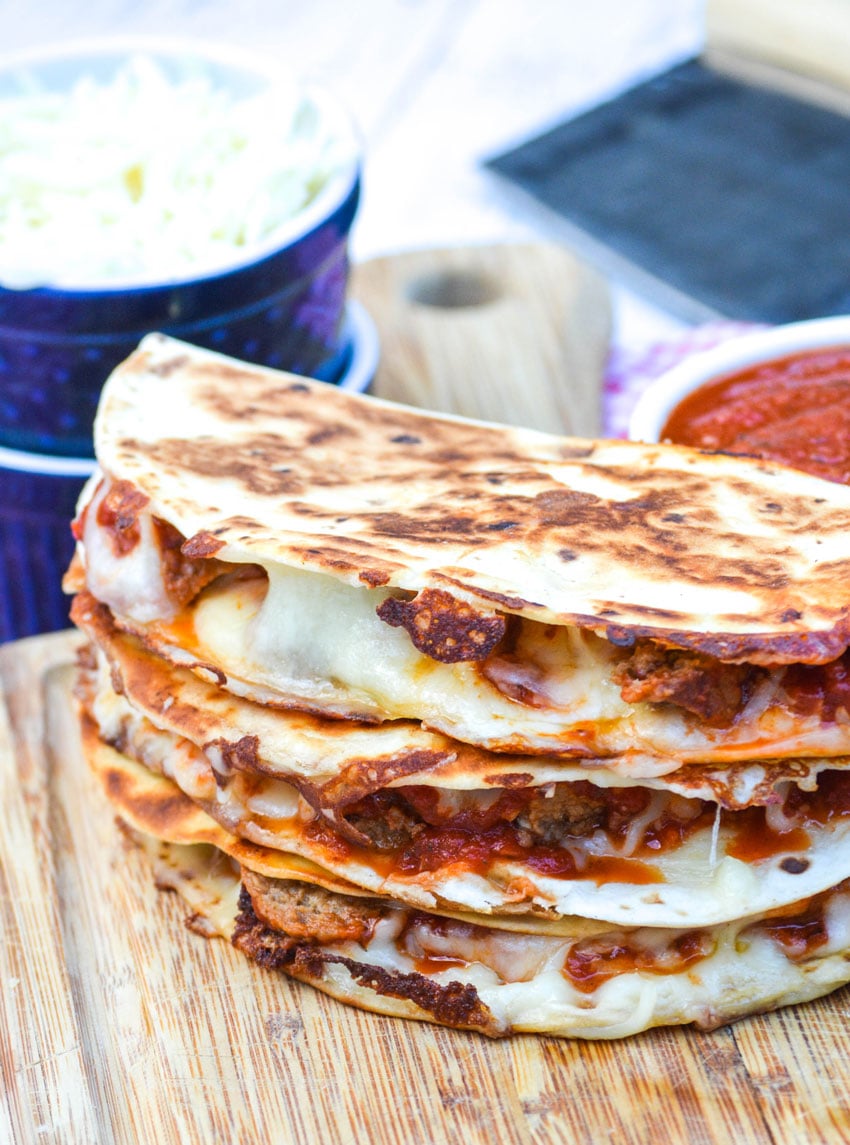 Ingredients Needed
Like any great quick and easy meal, the ingredient list for these quesadillas with an Italian spin is super simple!
You'll need:
Meatballs – You can use frozen meatballs or homemade, as long as they're cooked before including in the recipe.
Sauce – Use a sauce you enjoy since the flavor will be pronounced. You can use spaghetti or marinara sauce.
Cheese – This recipe calls for shredded mozzarella cheese. The store bought kind or freshly grated will both work equally well.
Tortillas – Flour tortillas are a must, although the actual size doesn't really matter. Do not try using corn tortillas in this recipe.
How To Make
Only a few simple steps stand between you and these supremely delicious cheesy meatball quesadillas. Let's get started!
Start by spraying a large non stick skillet with non stick cooking spray, then set the skillet over medium heat.
Add a single tortilla to the pan, but only half way, allowing the other half of the tortilla to drape over the edge of the pan.
There are no exact measurements to the filling, measure with your heart. However, you'll need to judge what your stuffed quesadillas can support during flipping based on their size.
Sprinkle a bit of shredded mozzarella over the half of the tortilla in the pan. Over that place several cooked meatball halves.
Drizzle a bit of sauce evenly out over the meatballs, and then sprinkle with more shredded mozzarella.
Fold the second half of the tortilla over, closing it. Both ends should be even, even when stuffed. Using a spatula, gently move the quesadilla into the center of the pan.
Once the cheese has begun to melt and the tortilla crisp, carefully flip the quesadilla to finish cooking.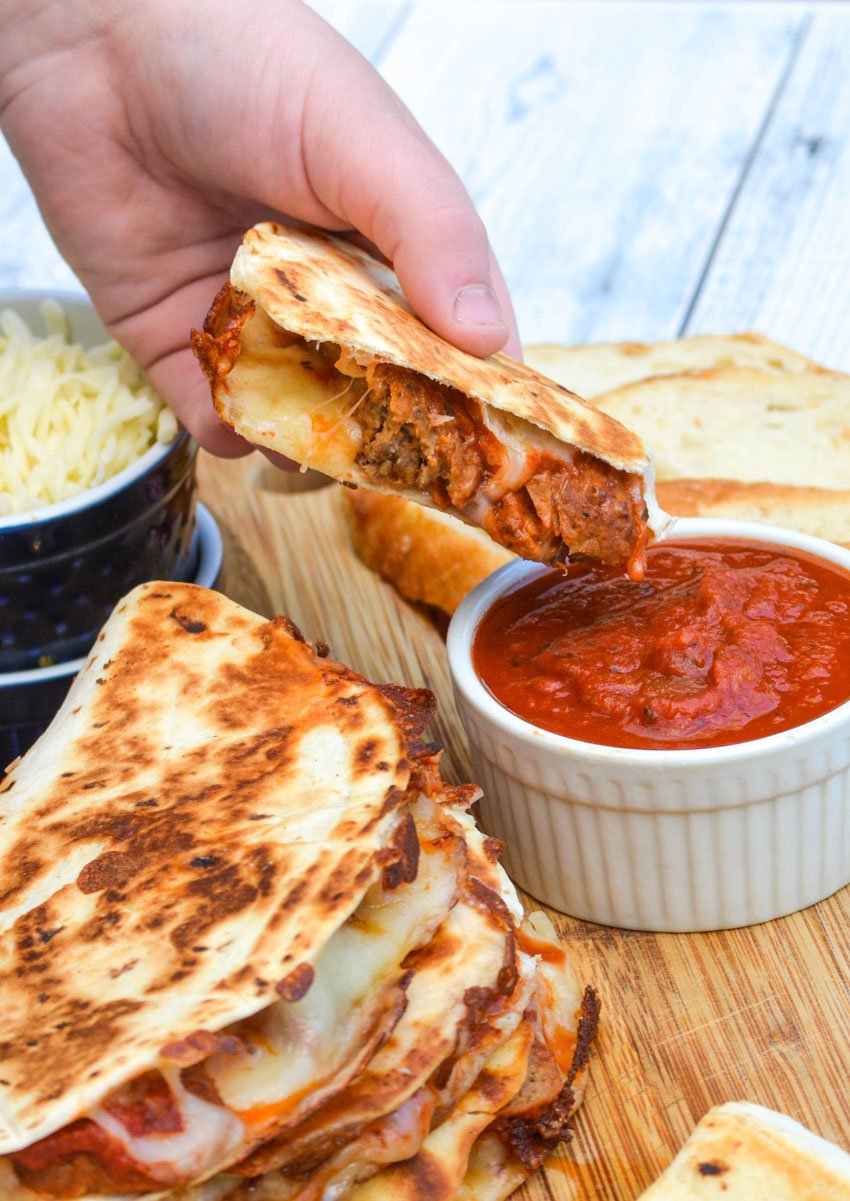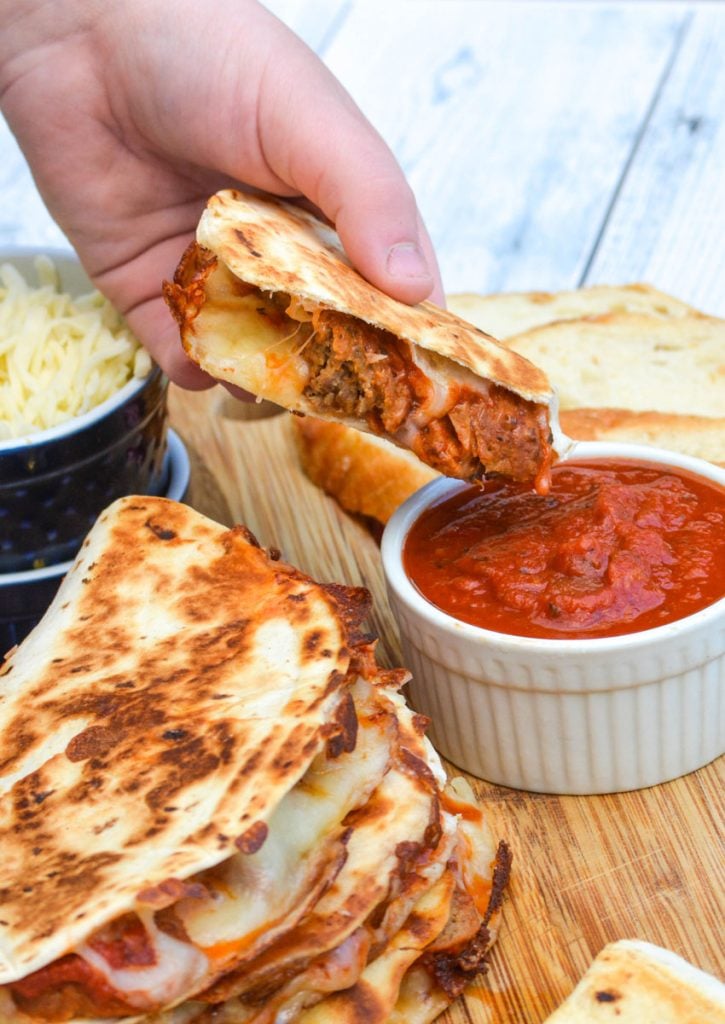 How To Flip A Quesadilla
I've been making quesadillas for years, but flipping one isn't all that easy- especially if it's your first try.
There's basically two options to ensure success.
First, use two sturdy spatulas and with one holding either side flip the whole quesadilla.
Alternatively, slide a sturdy spatula under the crisp side of the quesadilla, lift it up, and flip the pan to rest on top of the uncooked side of the quesadilla. Set everything down so it's now turned right side up. Boom, no mess!
This is the method I recommend using, although use an oven mitt as the pan handle may be hot.
Continue cooking your quesadilla just until the cheese is melty and the other side is also a gorgeous golden brown.
Transfer the cooked meatball quesadilla to a waiting plate or cutting board, and continue cooking until all the quesadillas are done.
While waiting for the rest of the quesadillas to finish cooking, keep the finished ones tented with foil to keep the crispy but still warm.
What To Serve with Meatball Quesadillas
These quesadillas are easy to whip up, and they're pretty hearty all by themselves but when you've got a family to feed you still need to turn a stellar entrée into a whole meal.
I tend to keep things simple, especially when making something easy like quesadillas. You can never go wrong by pairing them with a side salad.
If I need a more filling meal, I take this recipe back to it's roots & pair with with a savory pasta. Creamy garlic shells, alfredo pasta, or even a cold pasta salad like this spinach dip version all fit the bill nicely.
If you prefer a vegetable (if you can get your kids to eat a veggie lol), then I recommend froof-ing a can of green beans with Grandma's easy canned green bean recipe.
For a totally fun meal, serve pasta chips on the side!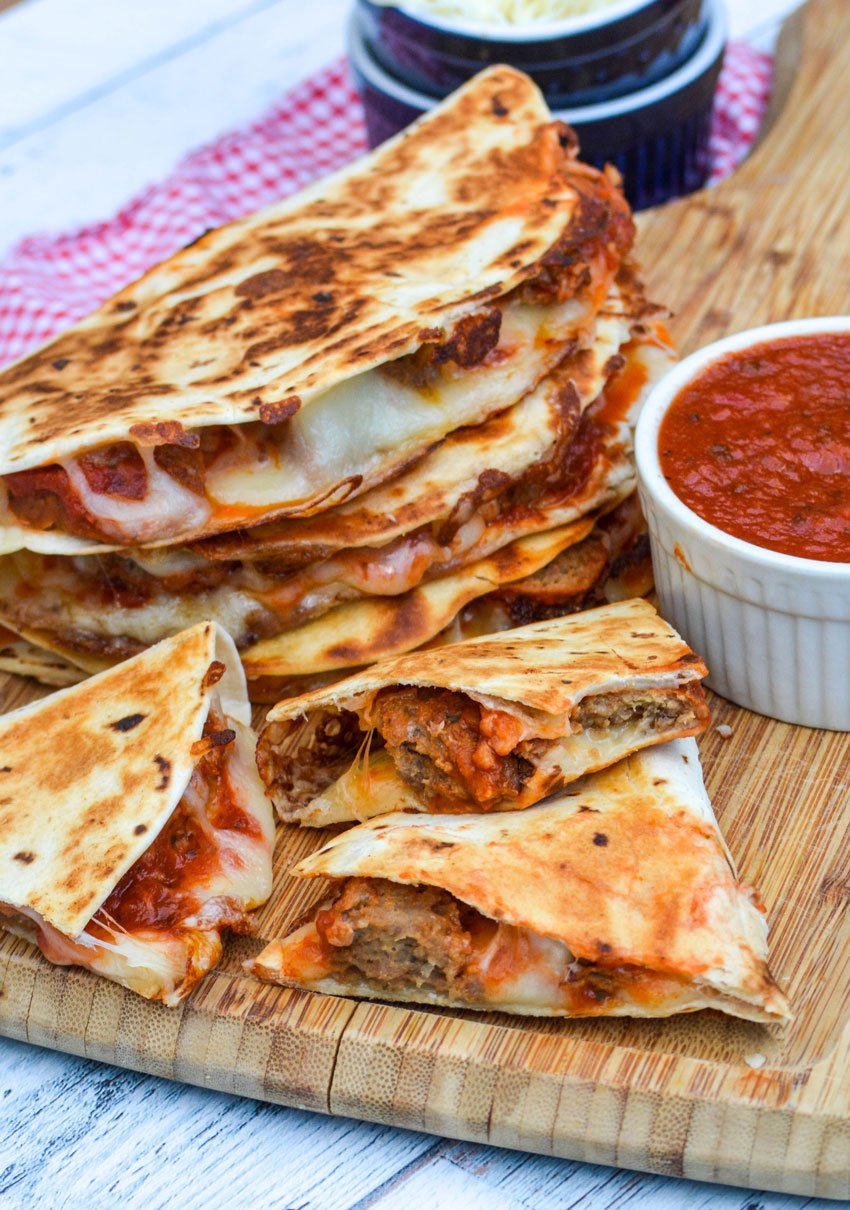 TIPS & TRICKS
Don't skip the cooking spray! While your skillet may be non stick itself (mine have often seen better days) once that cheese starts melting any bits that ooze out will want to stick like glue to your pan. This will make flipping a challenge, and can also lead to tearing.
Use whatever spaghetti style sauce you like! Remember that will be one of the predominant flavors, so picking one you enjoy is key. Chunky or smooth doesn't really matter.
Use whatever size flour tortillas you feel comfortable with. I've made this with everything from burrito size (pictured) to soft taco. All that changes is some filling adjustments, and careful flipping.
Be careful not to add too much sauce. You don't want more sauce than cheese- they're quesadillas after all, and we want them nice & crisp NOT soggy.
These little things were so good. Lip smackin, no talking cause you're too busy chewing kinda good.
Whether you're looking for a game day appetizer, or an entree, you can't go wrong with a meatball stuffed quesadilla.
Just look at that crispy shell, oozing with melted mozzarella?!
Other Savory Quesadilla Ideas To Try
Looking for other fun spins on the traditional cheese quesadilla? Give one of these recipes a try:
If you've tried this MEATBALL QUESADILLAS, or any other recipe on my site, let me know in the comment section how it turned out, we love hearing from our readers! You can also follow along with me on PINTEREST, FACEBOOK, and INSTAGRAM to see more amazing recipes and whatever else we've got going on!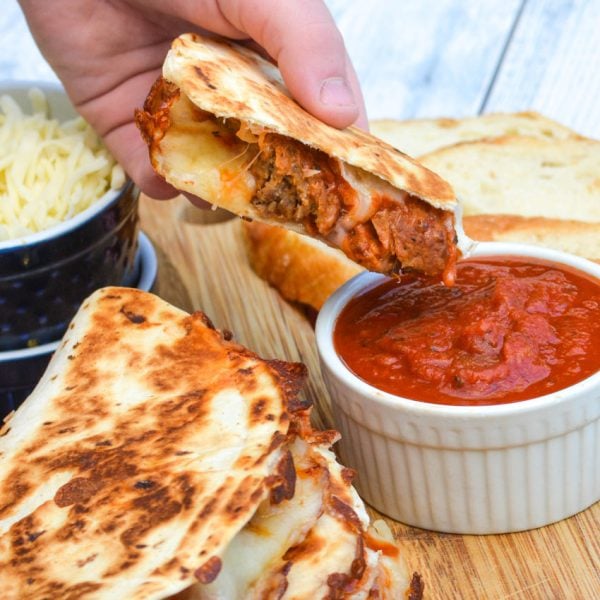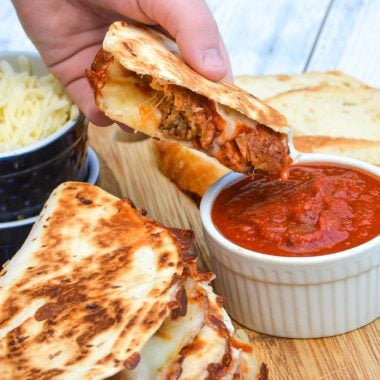 Meatball Quesadillas
If you need a quick & easy meal, meatball quesadillas are just the thing. This tasty Italian spin on crispy, cheese stuffed tortillas is a yummy way to use up leftover meatballs and 100% picky eater approved!
Print
Pin
Rate
Ingredients
1 14

oz

bag frozen meatballs

thawed and cut in half

1 24

oz

jar spaghetti sauce

any flavor

2-3

cups

shredded mozzarella cheese

10

+ flour tortillas
Instructions
Spray a skillet with non-stick cooking spray.

Place a tortilla half-way into the pan. Just allow the other half to drape over the edge.

Sprinkle half of the tortilla with cheese, then place the meatball halves randomly all over the cheese.

Spoon the spaghetti sauce over top, maybe two tablespoons per quesadilla.

Sprinkle with more cheese.

Fold the second half of the tortilla over top of the filling, closing it.

Heat on medium until the bottom of the tortilla gets crispy and the cheese on the bottom layer is nice and melted.

Carefully, and using spatulas (I use two: one to hold it closed and another to flip) flip the quesadilla onto it's other side, cooking (again) until the tortilla is nice and crisp on that side and the cheese is melted.

Remove the cooked quesadilla to a plate, and continue cooking more quesadillas as needed. Use a pizza cutter to cut it into slices (easier for little AND big hands to eat).

Repeat until you've made enough and serve the cut quesadillas with a side of marinara sauce, or just enjoy them as is.
Nutrition
Calories:
286
kcal
|
Carbohydrates:
20
g
|
Protein:
15
g
|
Fat:
16
g
|
Saturated Fat:
7
g
|
Polyunsaturated Fat:
1
g
|
Monounsaturated Fat:
7
g
|
Cholesterol:
48
mg
|
Sodium:
741
mg
|
Potassium:
420
mg
|
Fiber:
2
g
|
Sugar:
5
g
|
Vitamin A:
461
IU
|
Vitamin C:
5
mg
|
Calcium:
160
mg
|
Iron:
2
mg