Green beans don't have to be freshly snapped to be chock full of flavor, or appropriate for Holiday dinners. Grandma's Canned Green Beans are so good, I'm proud to serve them at my table any dinner of the year. It helps that they're also secretly easy enough for even busy weeknights too!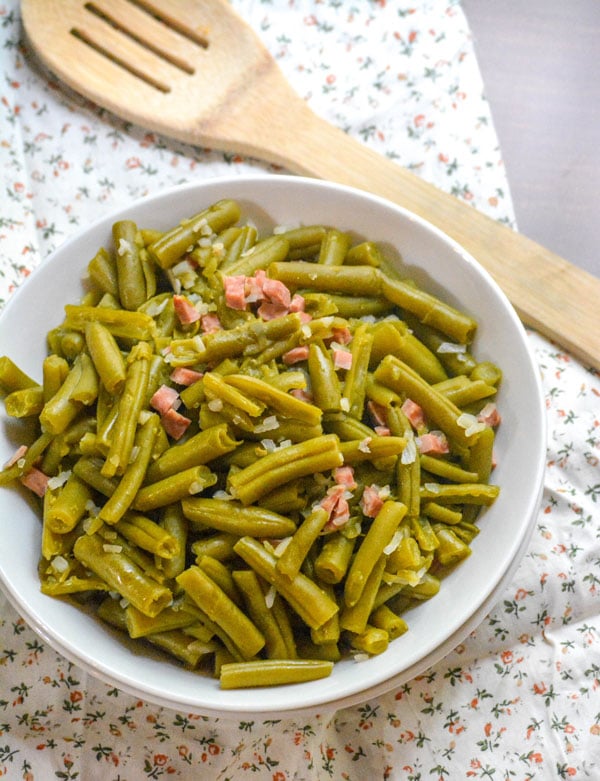 Growing up, I thought my Grandma was a magical cook. Nobody could beat her in the kitchen, well nobody except my Mom, but that's different- she learned from the best.
She made things I'd never even heard of elsewhere, that were family treasures for us. For example, her Cheesy Broccoli Souffle Casserole.
If that wasn't gracing the table at an extended family dinner, then either something was seriously wrong (like dire straights wrong), or there was about to be a riot.
She was just that good at what she did. It was her life long's work, and legacy.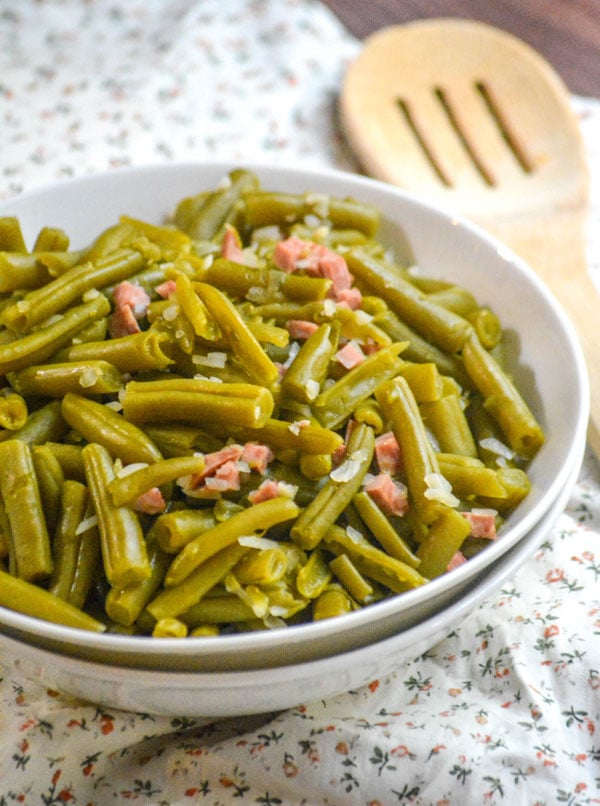 Let me put it to you like this, she serve canned green beans with dinner- often. You know, you've got your protein, and then a couple veggies on the side. But she froof-ed everything.
To the point where, in my newly minted married life, I opened a can of green beans, heated and served it- and was horrified that while still tasty, it wasn't my Grandma's Canned Green Beans.
It was down right embarrassing, at that point.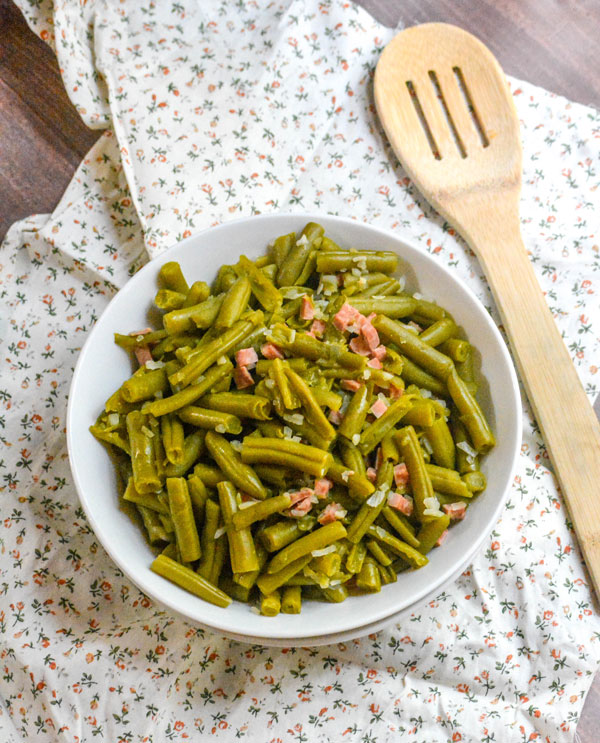 Now that I know my way a round a kitchen (without Grandma's helping hand), I have discovered her secrets.
There were a lot of things uncovered when she passed, with her overflowing recipe box handed down. This wasn't one of them though.
This recipe for Grandma's Canned Green Beans was a total mission of self discovery. But ya girl had her heart set on it, and figure it out I did! And, it only took three tries, lol.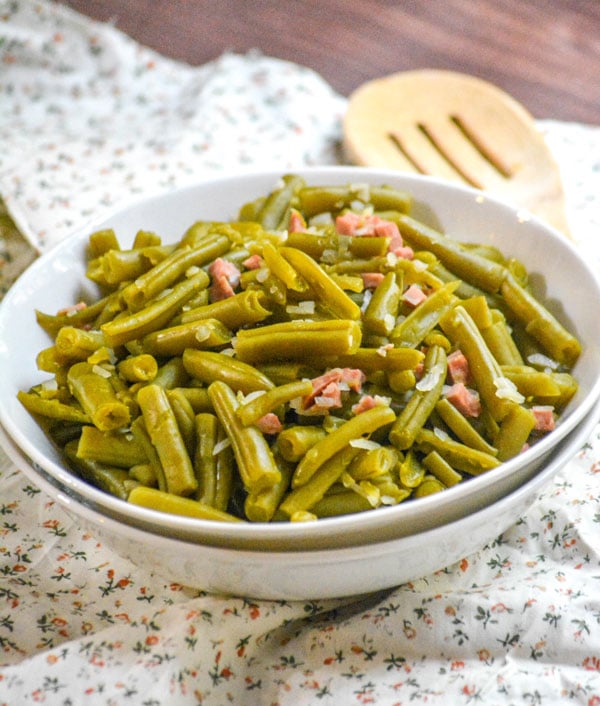 Grandma's Canned Green Beans take undrained cut green beans and dump them straight into a soup pot. Added to that's a heapin' helpin' of chopped ham, dehydrated onion, garlic powder, salt & pepper.
Chicken broth is added for a real flavor infusion that the beans soak right on up when slow simmered for 30 minutes to an hour.
The result is a side dish that is simple to prepare, but packed with yummy flavor in every single bit of beans. It's a struggle not to shovel 'em in by the forkful!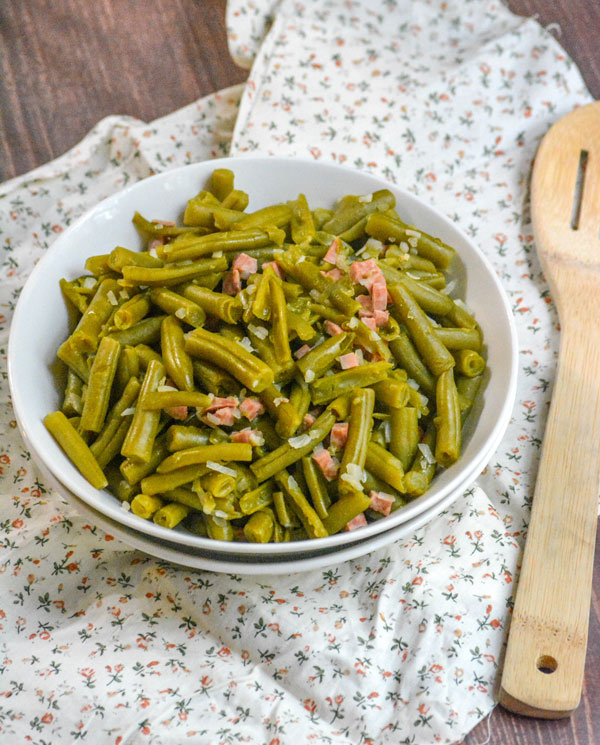 These beans are easy to prepare, making them ideal for pretty much any occasion. Either a busy weeknight when they can cook while you throw a meat in the oven to go with them, or even a traditional holiday.
They make a great addition to dinner, that don't take up any of that much sought after oven space.
Don't have chicken broth on hand? Vegetable broth also works just as well. You can also opt to leave out the meat completely at that point, and turn it into a tasty vegetarian side dish if that fits your lifestyle or family better.
Are you a fan of meal prepping? I often will make a double batch of these on a Sunday evening, store them in tupper ware in the refrigerator and pull them out for several dinners during the week. Just reheat and go!
Any brand of cut green beans will work, but you'll want to avoid string beans, French-style, or Italian cut green beans. This is one of those cases, where plain old boring cut canned beans works best.
We love saving leftover Christmas ham just to make these, but if you don't have any chopped ham on hand- ham hocks will work just as well. Even deli ham will work in a pinch.
My husband even likes it when I save the leftover crisp bacon from breakfast, chop it up, and swap that for the ham altogether for a nice change of pace.
These really are very forgiving, easy to adapt to your own tastes and kitchen, and virtually fool proof.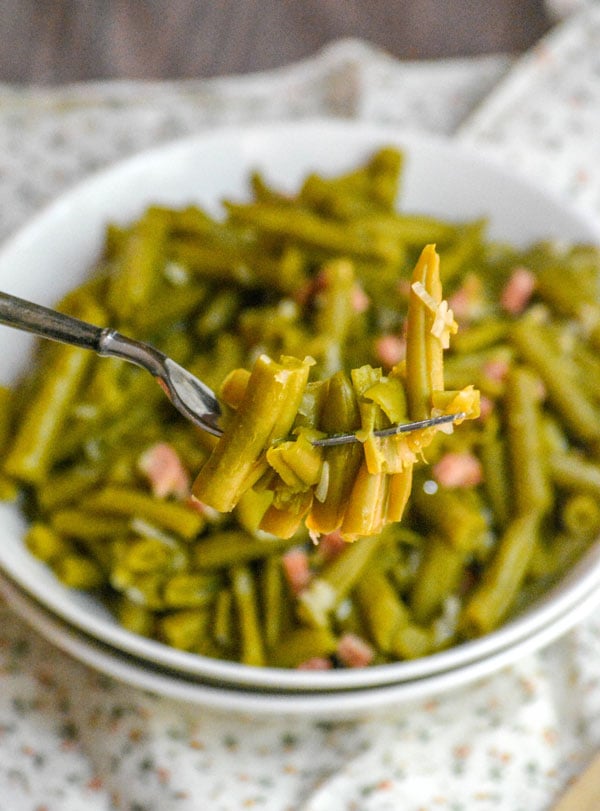 Get your veggie on the dinner table, and actually into your kids without any complaints, and no fuss on your part. Grandma's Canned Green Beans are one heirloom recipe that always delivers on every level, whatever the occasion.
How To Fix Canned Green Beans In The Crockpot
Even though they're super easy to fix on the stove top, sometimes that isn't the best option for me. It could be because I'm busy, short on burner space, or because I am fixing a large meal and need at least one thing to cook itself without my watchful eye.
When that's the case I throw all the ingredients into the bowl of my slow cooker, give everything one good stir, put the lid back on and let my Grandma's canned green bean recipe slow cook for 2-3 hours.
Sometimes I need to adjust the seasonings, adding a little bit more salt or pepper, but otherwise they're ready to serve & enjoy when the timer's done.
Other Green Bean Ideas You Might Also Enjoy:
If you've tried GRANDMA'S CANNED GREEN BEANS, or any other recipe on the site, let me know in the comment section how it turned out, we love hearing from our readers! You can also follow along with me on PINTEREST, FACEBOOK, and INSTAGRAM to see more amazing recipes and whatever else we've got going on!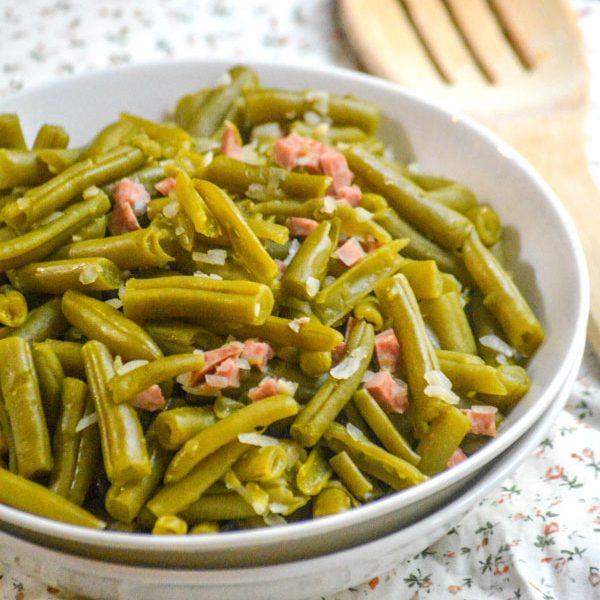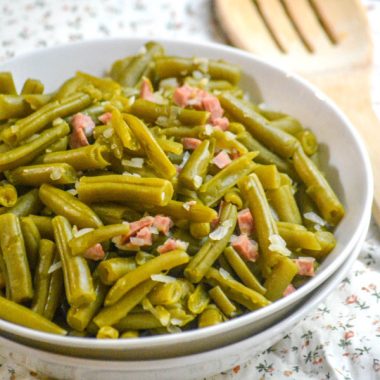 Grandma's Canned Green Beans
Grandma knew the simple secrets to take canned beans from drab to fab, enough that this easy side dish wows any crowd.
Print
Pin
Rate
Ingredients
1

50 oz can

cut green beans, undrained

2

cups

chicken broth

1

cup

chopped, cubed, or diced ham

2

tbsp

dried chopped onion

generous pinch

garlic powder

salt & pepper, to taste
Instructions
Add all of the ingredients to a stock pot. Stir them to combine.

Bring the mixture to a rolling boil, reduce the heat to a simmer. Let the beans simmer for 30 minutes, to one hour, uncovered & stirring occasionally.

Using a slotted spoon, transfer the beans to a serving dish and serve immediately, or scoop them directly from the pot onto waiting individual plates.
Nutrition
Calories:
30
kcal
|
Carbohydrates:
2
g
|
Protein:
4
g
|
Fat:
1
g
|
Saturated Fat:
1
g
|
Cholesterol:
10
mg
|
Sodium:
535
mg
|
Potassium:
90
mg
|
Fiber:
1
g
|
Sugar:
1
g
|
Vitamin C:
7
mg
|
Calcium:
9
mg
|
Iron:
1
mg