Love cheeseburgers? Love quesadillas? Then you're going to love their beautiful, yummy union in this quick and easy recipe. That juicy, cheesy burger you've been craving is now sandwiched in between two layers of crisp, golden tortillas. Cheeseburger Quesadillas are delectable, dip-able hybrid you're going to want again and again.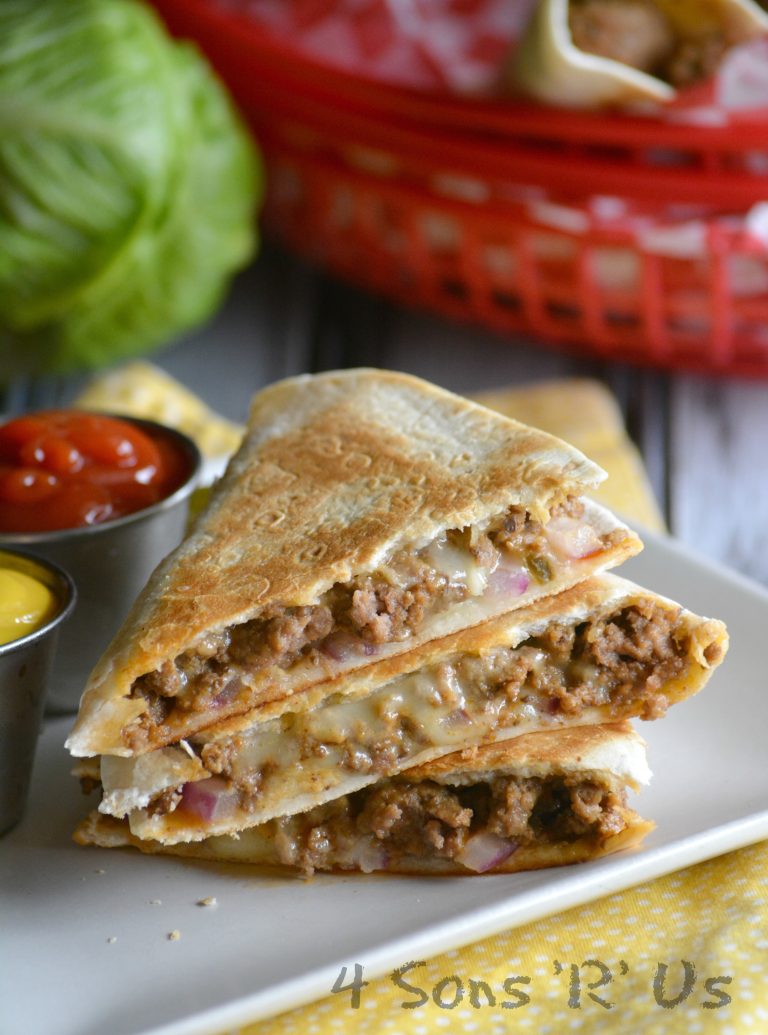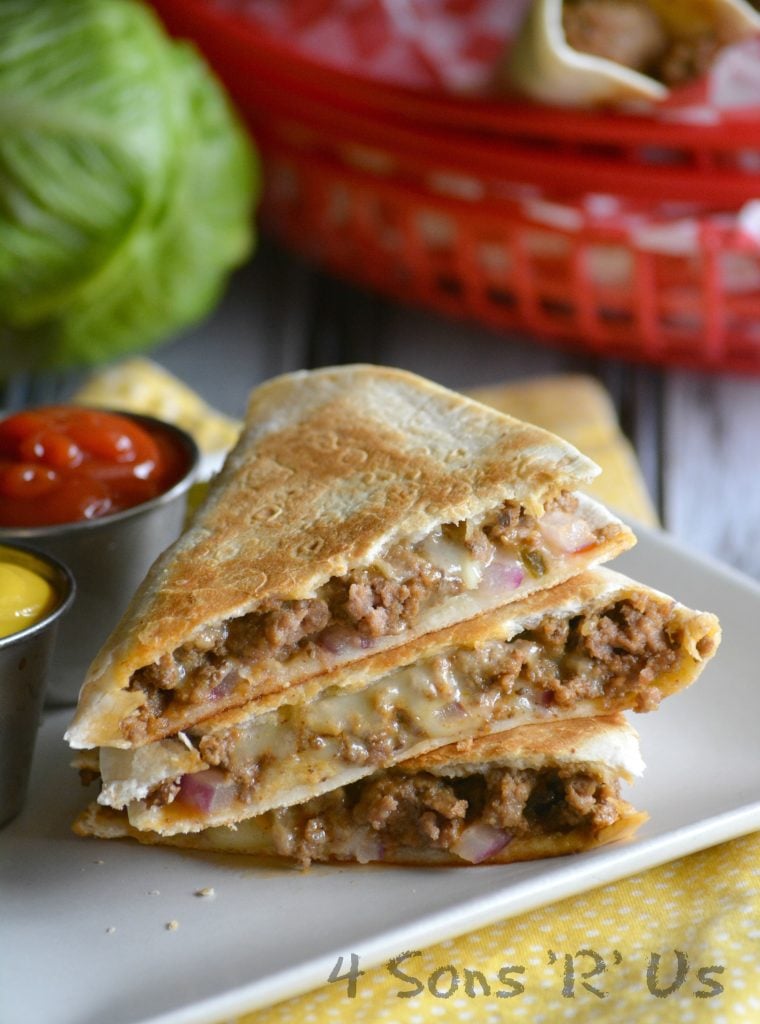 A good grilled cheese sandwich is a simple staple everyone should know how to make. It was one of the first things we taught the sons how to make.
Since then, we've expanded– coming up with some pretty solid ideas along the way. We've done Tex Mex, Chicken & Broccoli, White Pizza, even Mac N Cheese.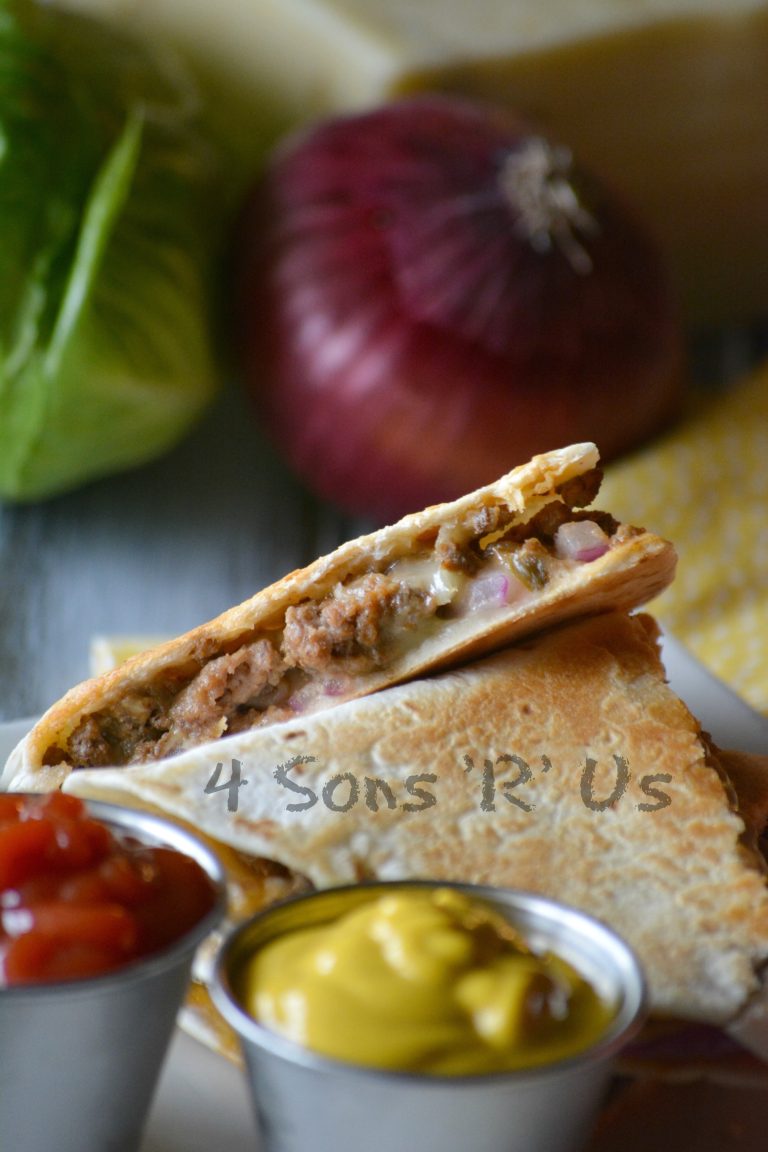 Quesadillas are the Tex Mex equivalent, but instead of a luscious layer of creamy cheese sandwiched between two crisp pieces of toast– it's sandwiched between a crisp flour tortilla. It was a simple step to teach them the same technique and apply it.
The sons have been hooked on quesadillas ever since. Not a big surprise– who doesn't appreciate a good change up to the daily sandwich regime come lunch time?
This Mom also loves that it's something they can make themselves, especially on busy days.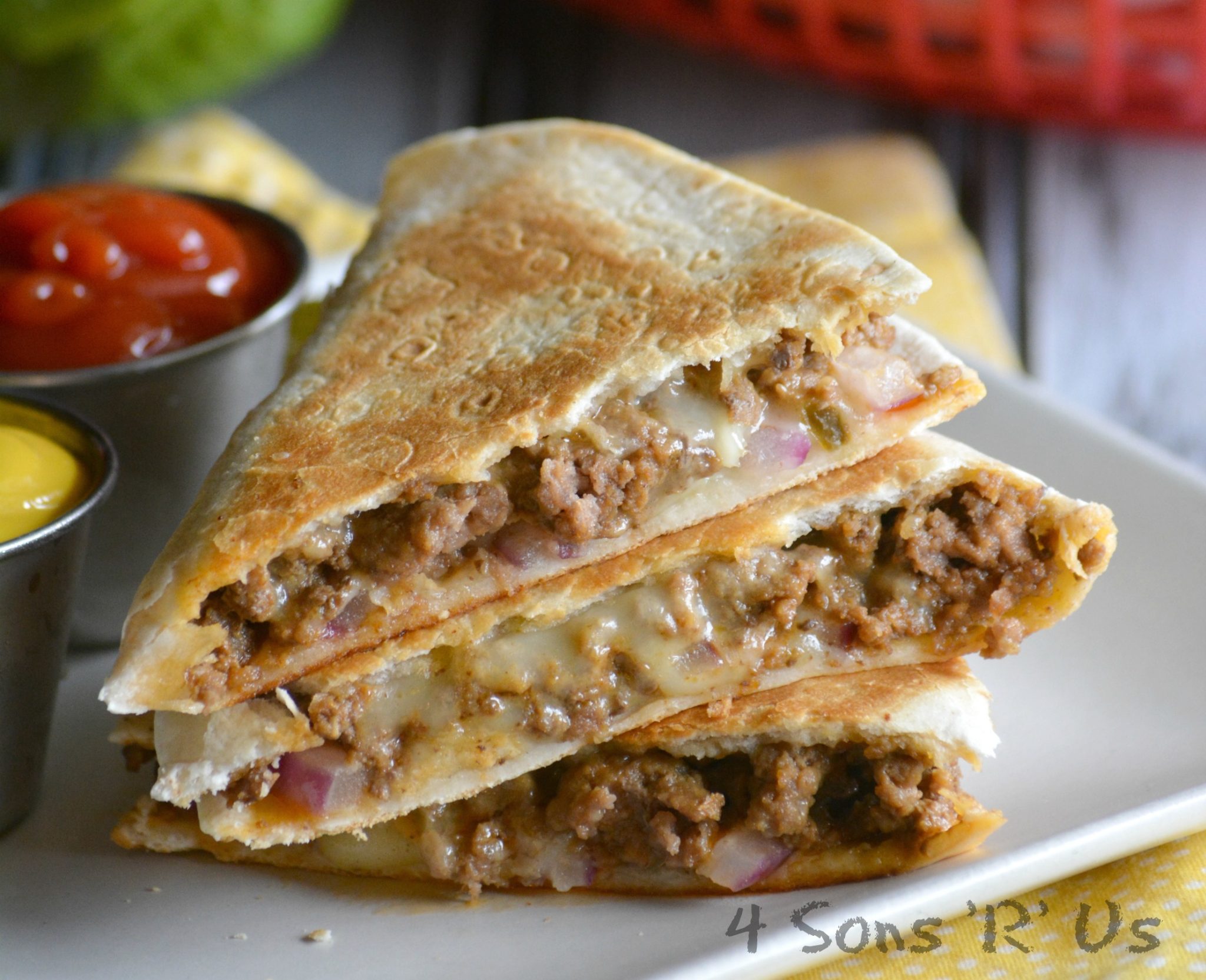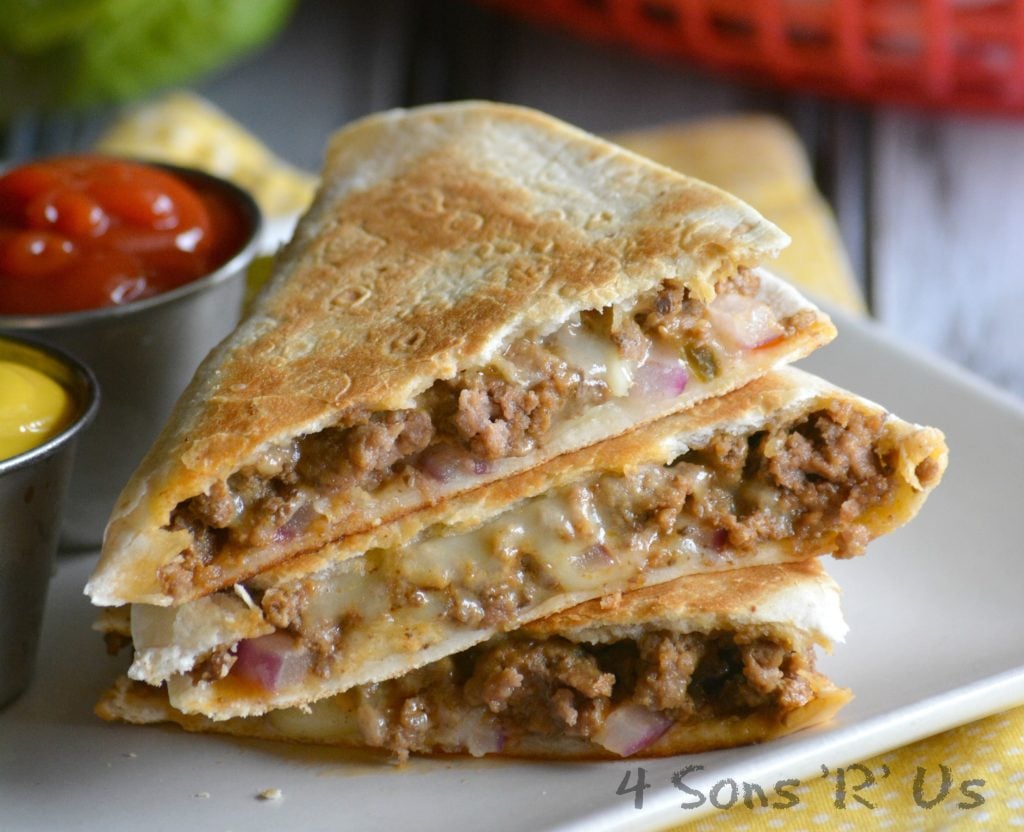 Like we've done with it's American cousin, it was all too obvious it'd be only a matter of time before we began experimenting with creative filling ideas.
I mean do you always have bread or buns on hand? Because I sure don't.
Sometimes though, despite the lack of fluffy carbs to stuff with heady ideas of hearty meat and cheese combinations– I still really want to enjoy a juicy burger. The teens too!
Hellllllo you lovely little flour tortilla you, way to save our day!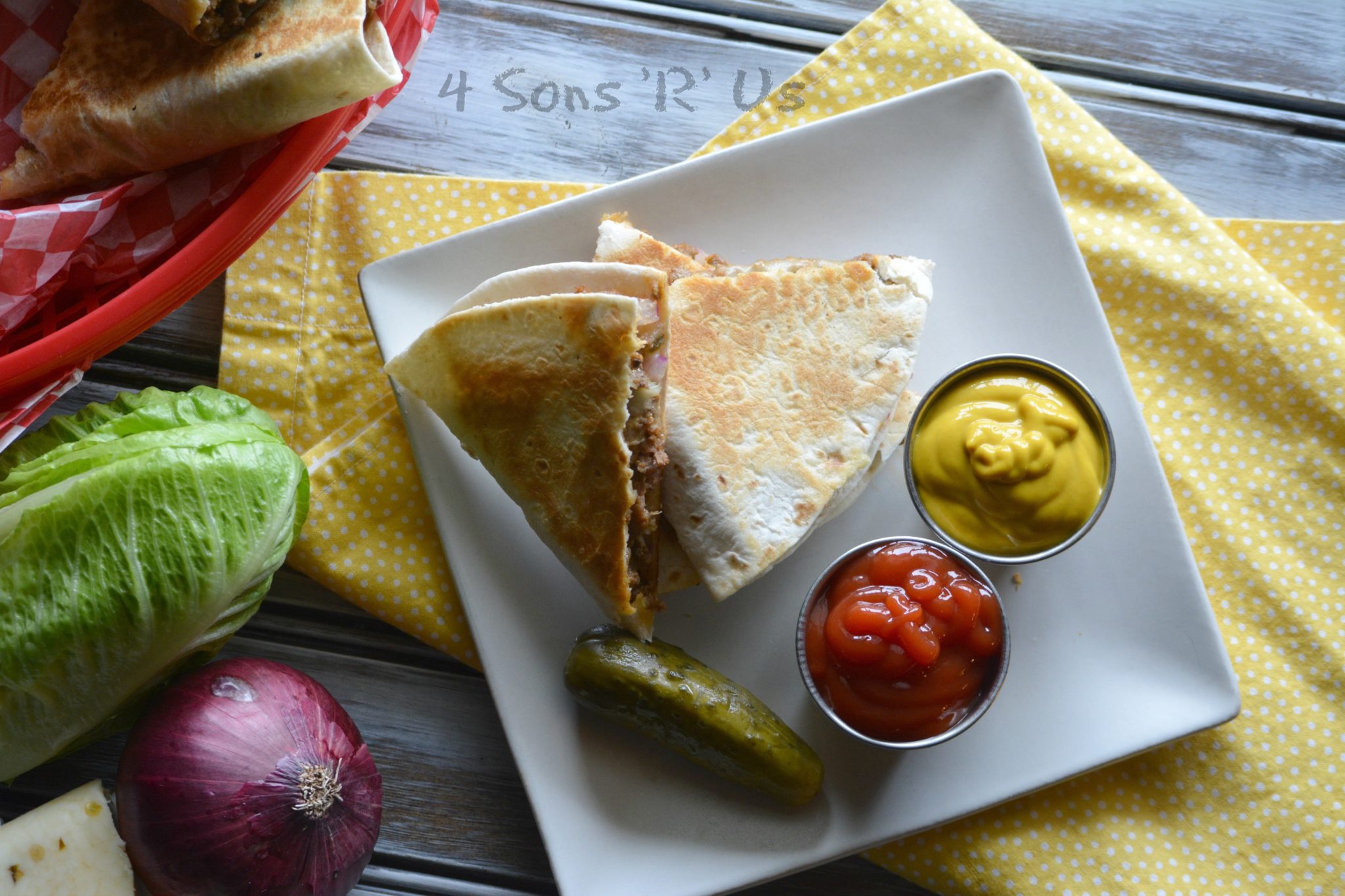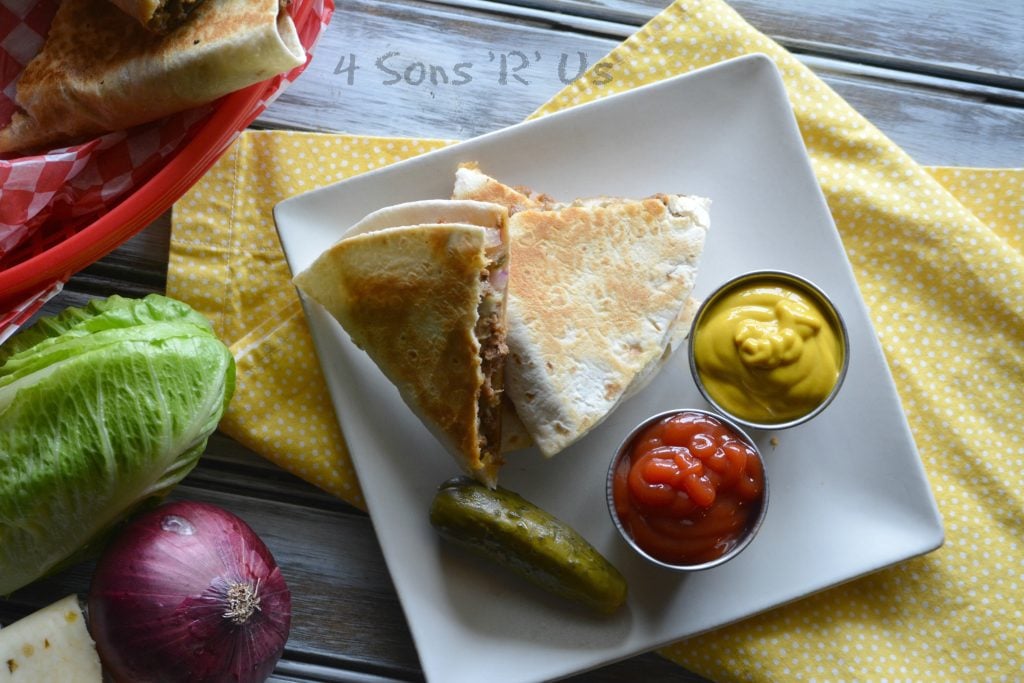 Stuffed with sweet red onion, juicy seasoned hamburger meat, and melted cheese that'll leave you salivating over the 'pull' between slices– Cheeseburger Quesadillas are the perfect comfort food hybrid.
Plate them up with your favorite burger toppings and serve 'em with a smile.
If you've tried these CHEESEBURGER QUESADILLAS, or any other recipe on my site, let me know in the comment section how it turned out, we love hearing from our readers! You can also follow along with me on PINTEREST, FACEBOOK, and INSTAGRAM to see more amazing recipes and whatever else we've got going on!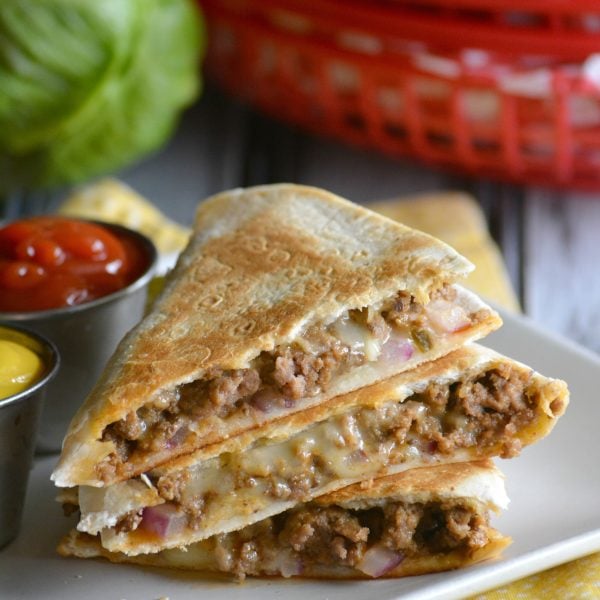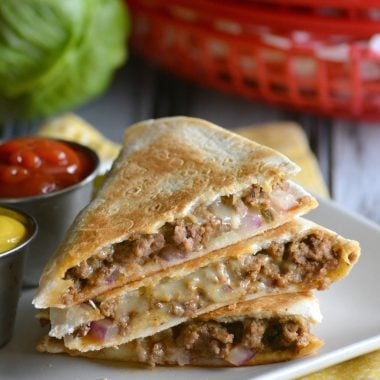 Cheeseburger Quesadillas
All the same burger flavors you love are now sandwiched between two layers of crisp tortillas for a yummy sandwich that's full of flavor, but with less carbs and less mess.
Print
Pin
Rate
Ingredients
1

lb

Ground beef

1/4

cup

diced red onion

3

tbsp

ketchup

2

tbsp

mustard

1

tbsp

dill pickle relish

optional

1/2-1

tbsp

Worcestershire sauce

salt & pepper

to taste

shredded cheddar

or pepper jack, cheese

4

burrito-sized flour tortillas
Instructions
In a large skillet over medium-high, cook the ground beef until completely browned.

Drain the beef and then return it to the skillet. Add in the red onion, ketchup, mustard, dill pickled relish, and Worcestershire sauce. Stir the mixture together until evenly combined. Salt and pepper the mixture, to taste, and let it cook just until heated through.

Lay the tortillas out flat. Sprinkle some of the shredded cheese evenly out over one half of each tortilla. Spread 1/4 of the seasoned ground beef overtop of the cheese. Sprinkle another layer of cheese. Fold over the other half of the tortilla to close.

Spray a large skillet with non-stick spray and heat over medium heat.

Carefully transfer one of the filled until golden brown and crispy on one side, then flip and cook until golden brown on the other side.

Transfer the cooked quesadilla to a cutting board to cool, and repeat the previous steps until all of them are cooked and cooled.

Use a pizza cutter or sharp knife to cut them int wedges before serving.

Serve with ketchup and mustard for dipping, and with any other burger toppings you like.
Nutrition
Calories:
316
kcal
|
Carbohydrates:
6
g
|
Protein:
20
g
|
Fat:
23
g
|
Saturated Fat:
9
g
|
Cholesterol:
81
mg
|
Sodium:
339
mg
|
Potassium:
388
mg
|
Fiber:
1
g
|
Sugar:
3
g
|
Vitamin A:
65
IU
|
Vitamin C:
2
mg
|
Calcium:
25
mg
|
Iron:
3
mg