Making the best meatballs doesn't have to be an all day affair with my easy recipe. This shortcut recipe gives you the most delicious, flavor packed meatballs with a fraction of the time, work, and ingredients. Baked stuffing meatballs are easy enough for a busy weeknight and delicious enough to please my Italian father in law and keep my whole family begging for them.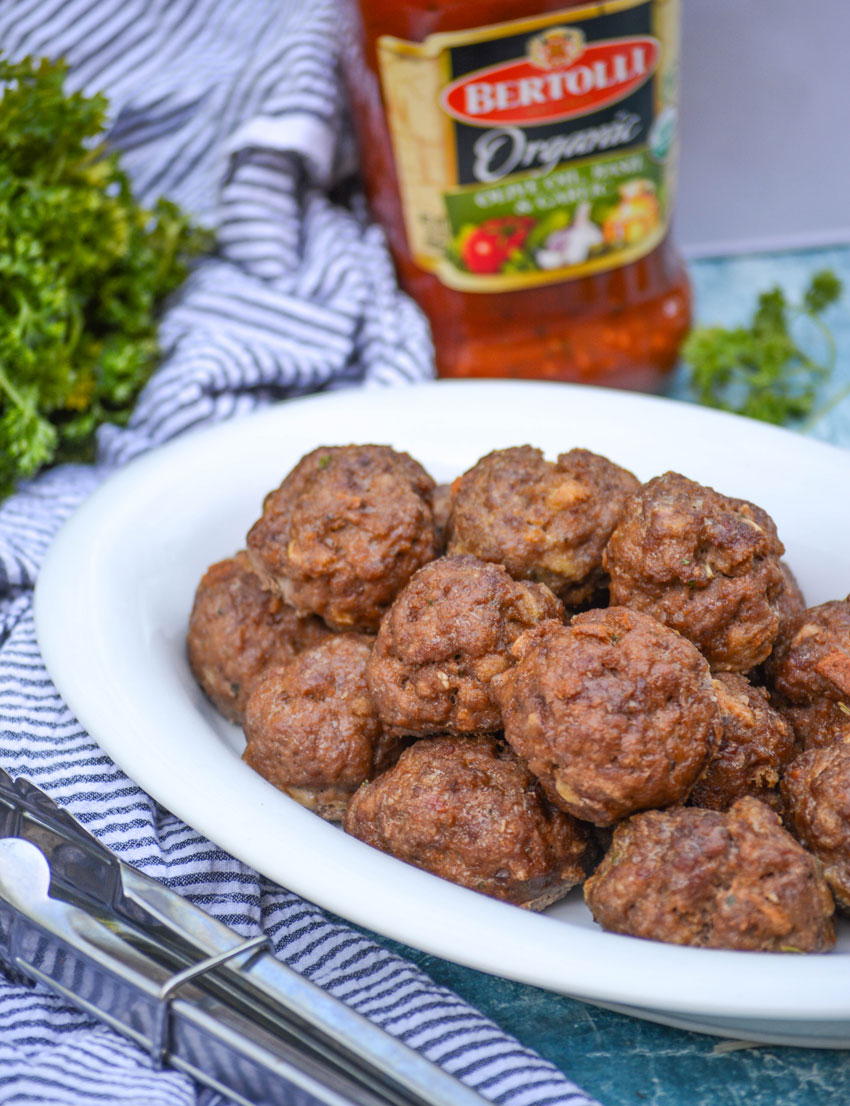 Everyone has a meatball recipe, they claim is the best. I'm no different.
While I won't go so far as to say that my meatballs are the best meatballs in the whole world, I will say that this stuffing meatball recipe is my go to meatball recipe and absolutely the best for me.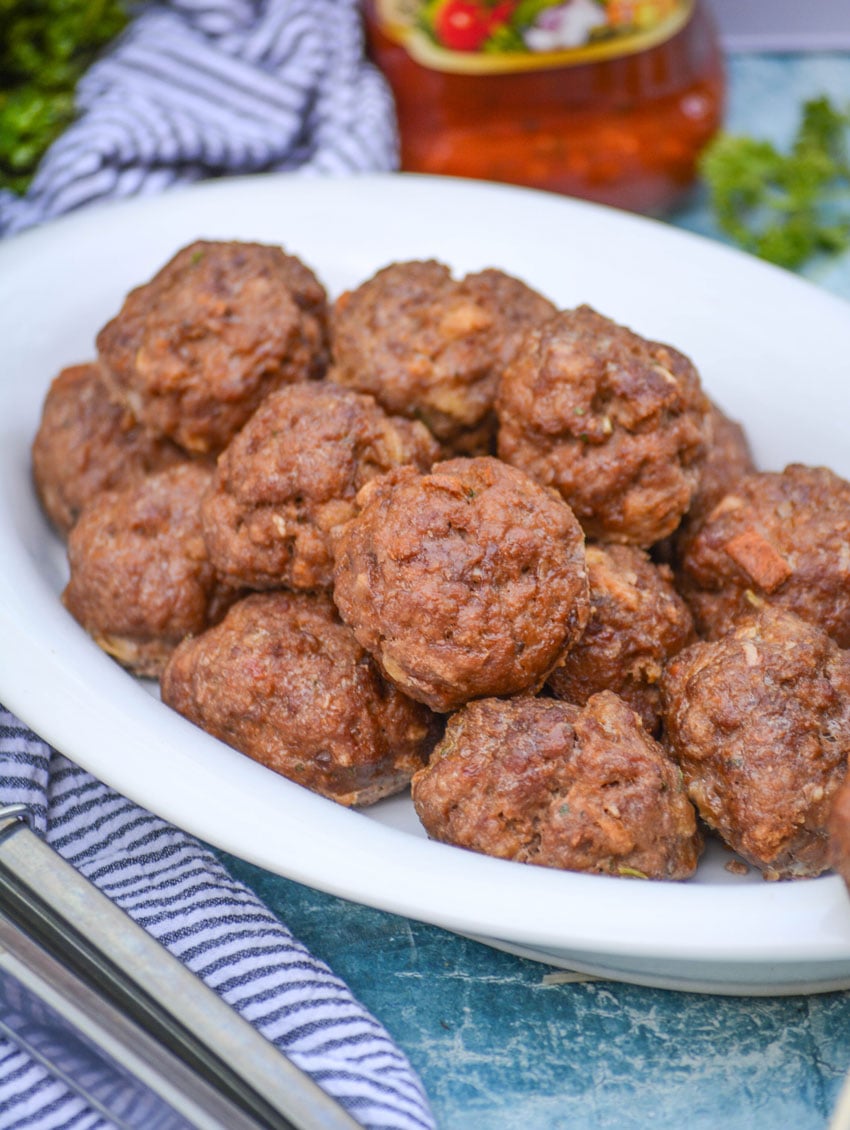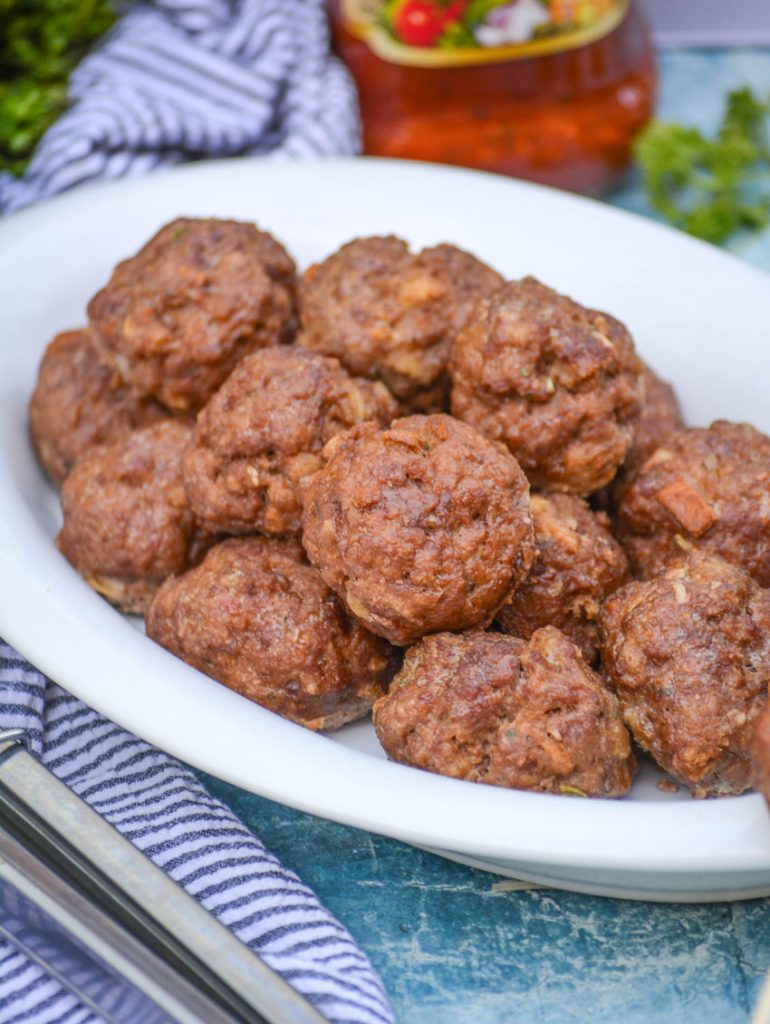 Why Are Baked Stuffing Meatballs So Great?
Because they are so versatile!
I almost always choose this recipe as a base for anything with meatballs because while these meatballs are chock full of flavor, the flavor goes well with almost any other meatball variation you can think of.
They are amazing with marinara sauce and even taste delicious as the meatball base in my crockpot Hawaiian meatballs.
Because they are so easy!
I know, I know! An easy meatball recipe! Who would have thought that such a thing existed?
I've watched my Italian father in law make his family recipe meatballs since I got married. They're good, but there are so many steps and so many ingredients.
It's a lengthy, day long process. Ain't nobody got time for that, at least not in this house. This meatballs recipe is so easy, I can have them mixed, shaped, and baked in well under 30 minutes.
Everybody's got at least 30 minutes at some point in the day, right? And there are only a few ingredients, including a secret ingredient that makes this time saving meatball recipe possible.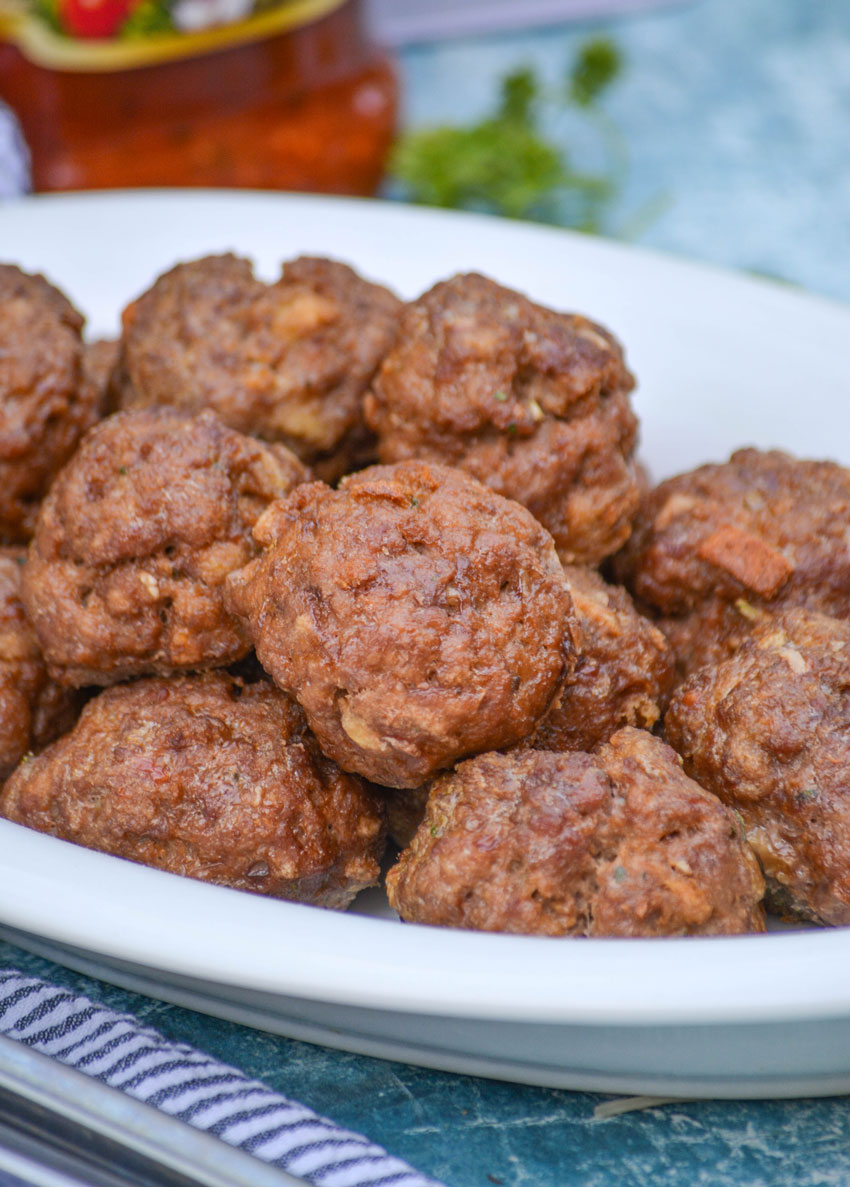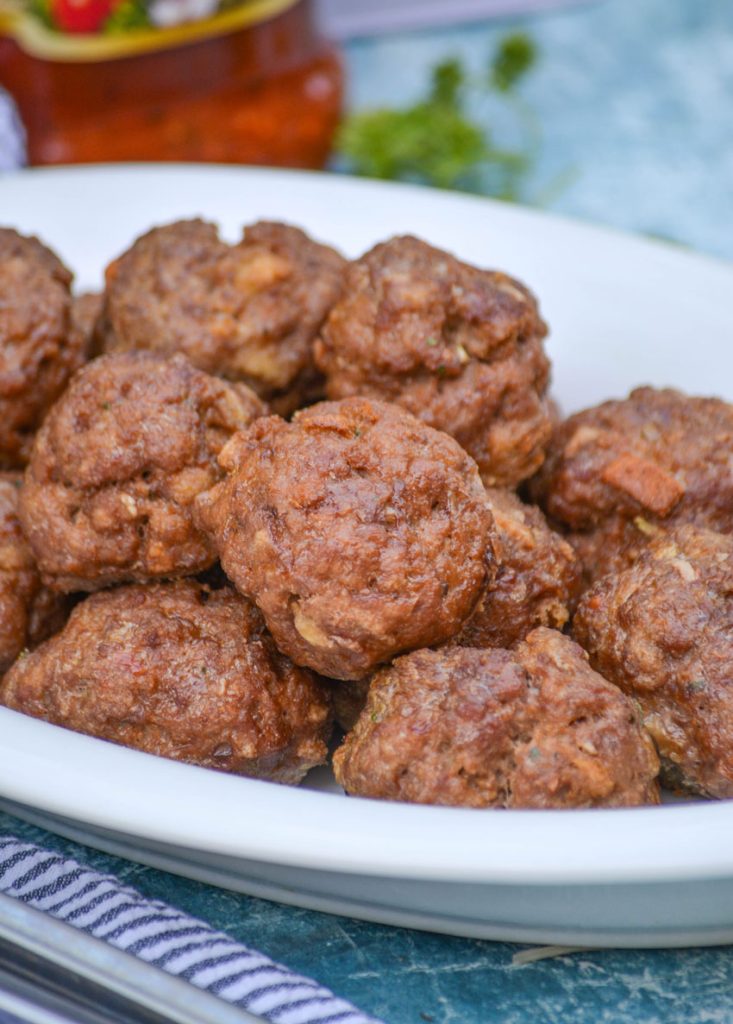 The Secret Ingredient!
Would you believe the key to these perfectly flavored, juicy meatballs is stuffing mix? Yes, the boxed kind. The same stuffing mix you'd serve with chicken is the key to these delicious meatballs.
Because the stuffing mix comes seasoned with the perfect blend of herbs, you don't need to worry about over or under seasoning your meat. The stuffing adds body along with the flavor, allowing the meatballs to stay deliciously moist. Plus, the stuffing mix keeps the meatballs from being overly dense.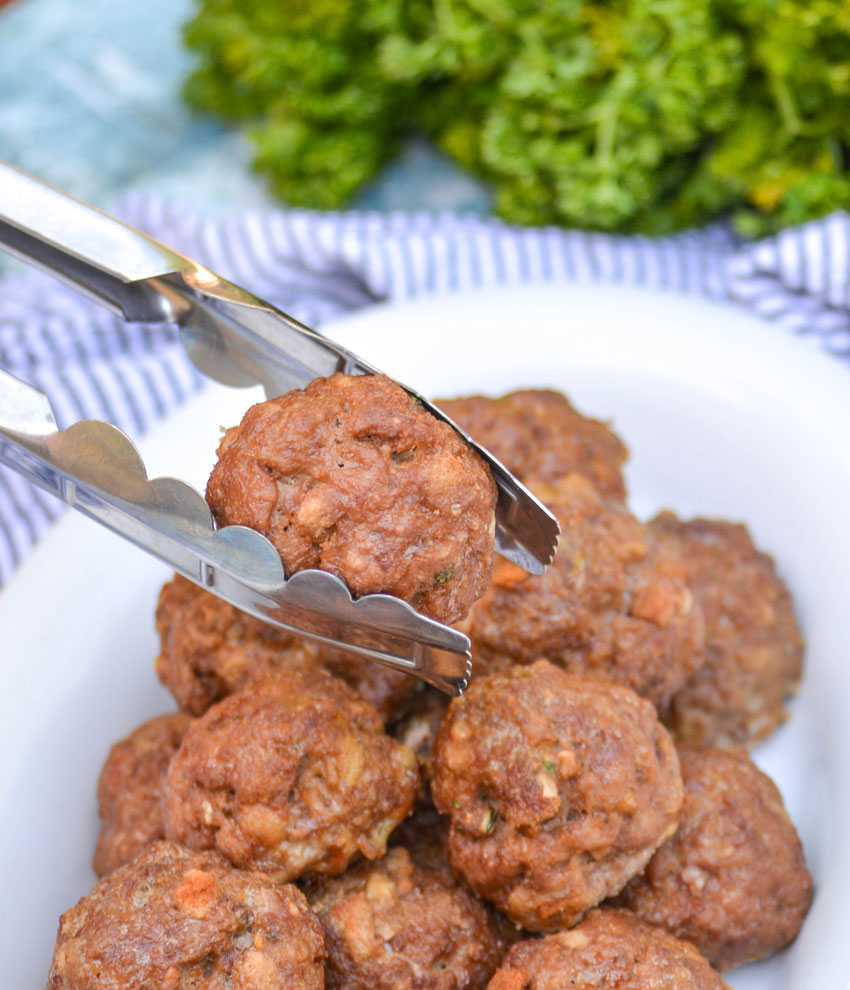 The only 4 ingredients you need for stuffing meatballs
Instead of my father in law's lengthy list of ingredients, you only need 4 ingredients to make these delicious meatballs. And I bet you keep them all in stock in your kitchen. To make this easy meatball recipe you need:
ground beef
a package of chicken flavored stuffing mix
water
eggs
That's it! No herbs, nothing complicated. Easy, simple. Just like the best food should be. Tasty without being complicated so you can make it without being a slave to the kitchen.
Water Versus Milk in Meatballs
I know, reading the ingredients and seeing water not milk probably shocked you. But trust me on this, the water works with the stuffing mix to make these meatballs unbelievably tender.
With more than a full cup of water in the recipe, you may think it's too much water, but just watch what happens when you mix the ingredients together. You'll find the water plumps up the stuffing mixture and allows the stuffing to absorb all the juices from the meat.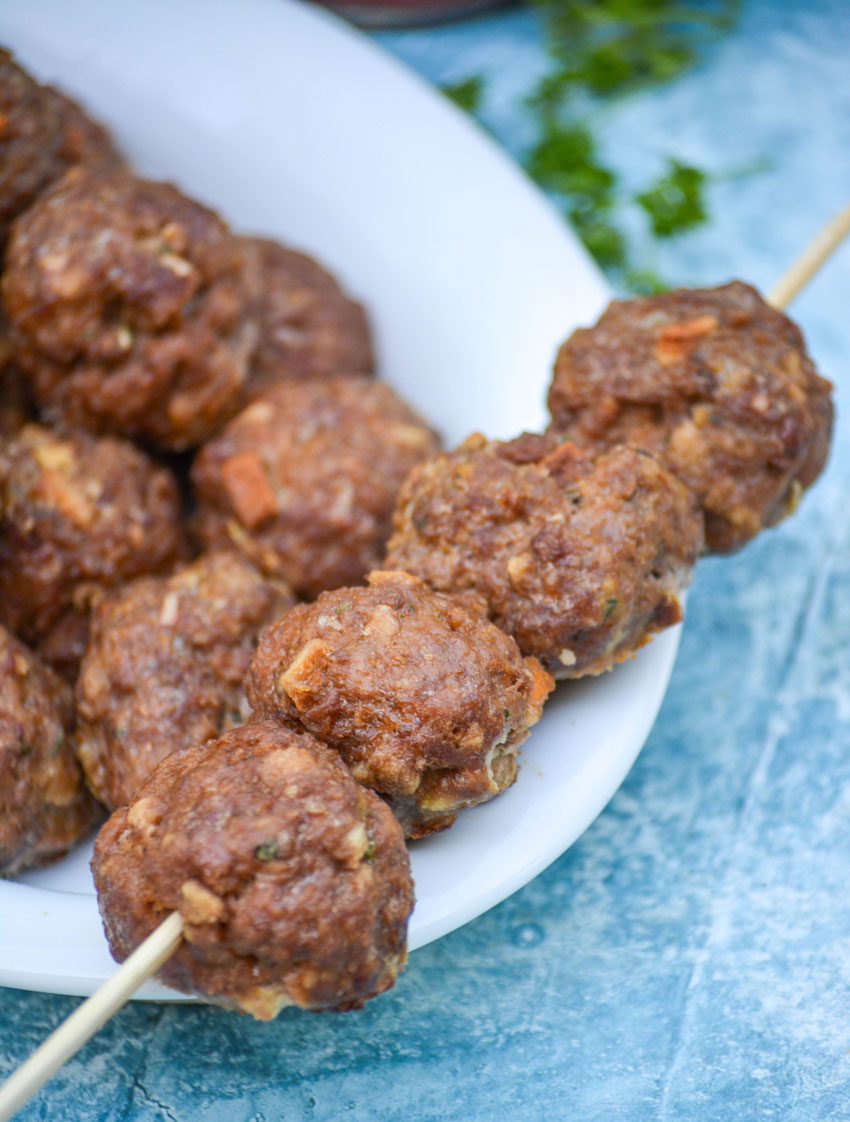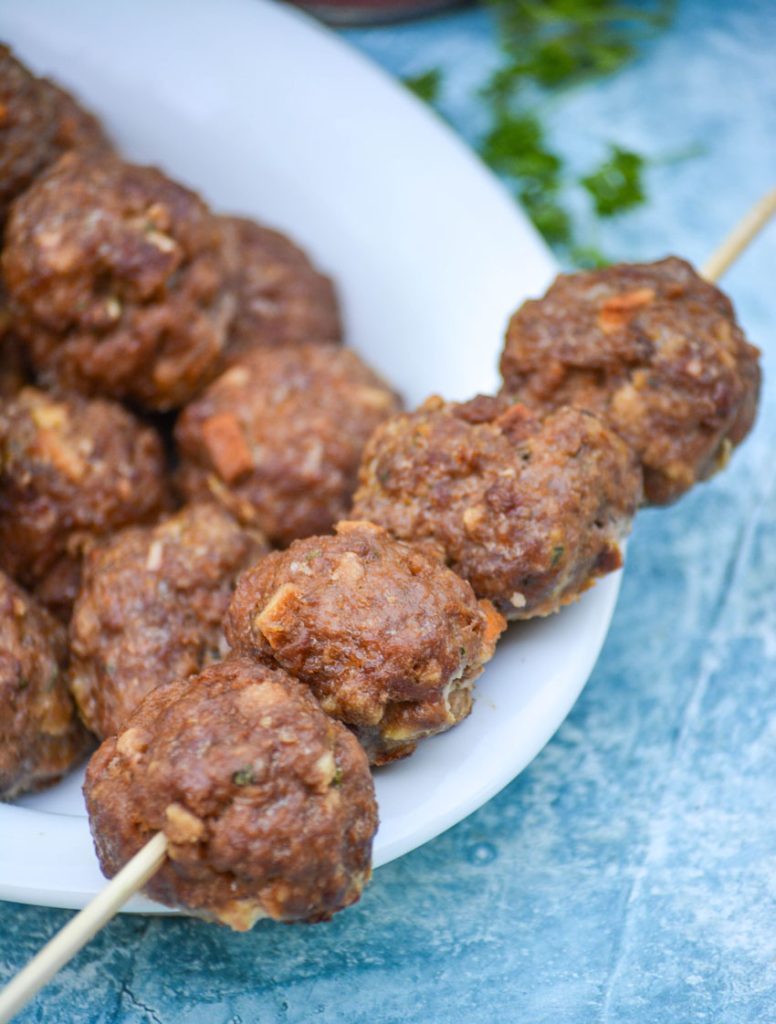 The most tender meatballs are baked not fried!
Yes, my father in law swears by frying his meatballs, but these meatballs get baked in a 400 degree oven. This method is so much less work than frying the meatballs on the stove or even slow cooking them directly in sauce, which we do sometimes when I make our favorite marinara sauce.
After you mix the 4 ingredients together, start forming the ingredients into meatballs. As you go, place each meatball on a prepared sheet pan lined with foil and sprayed with nonstick spray.
Once the trays are full, just put them in the preheated oven and let them cook. They only need 16 to 18 minutes until they are done and ready to serve!
And, added bonus, because you aren't frying them in lots of oil, Livestrong notes that baking them will save you a few calories. Meaning, you can eat them with more pasta or add more cheese and not feel even one little bit bad about it.
Serving Suggestions:
Freeze Them for Later
I love to freeze these meatballs by loosely packing them in big zip locking freezer bags. Then I just lay the full bags flat in the freezer and make sure the meatballs aren't sticking together. They'll keep for up to 3 months.
When I'm ready to use them, I take a bag out of the freezer and defrost it for a few hours in the fridge before I use it however I plan on using it. And let me tell you, the possibilities for these meatballs are endless!
Recipe Suggestions
Obviously, first and foremost, we love them with homemade marinara sauce over spaghetti for classic spaghetti and meatballs. But they are also delicious in so many other things.
We love to use them in soup. They are the perfect meatball to add in my spaghetti and meatball soup or to my curried tortellini and meatball soup. And they would add great flavor to any Italian wedding soup recipe out there.
Then there's meatball subs and sandwiches. You could do use these in my pesto alfredo meatballs subs, my meatball sub sandwich casserole, garlic bread meatball subs, French onion meatball subs, and meatball quesadillas.
And have you ever made a meatball casserole? You could add these to a cheesy meatball and shell casserole or my Italian wedding soup skillet for hearty comforting dinners.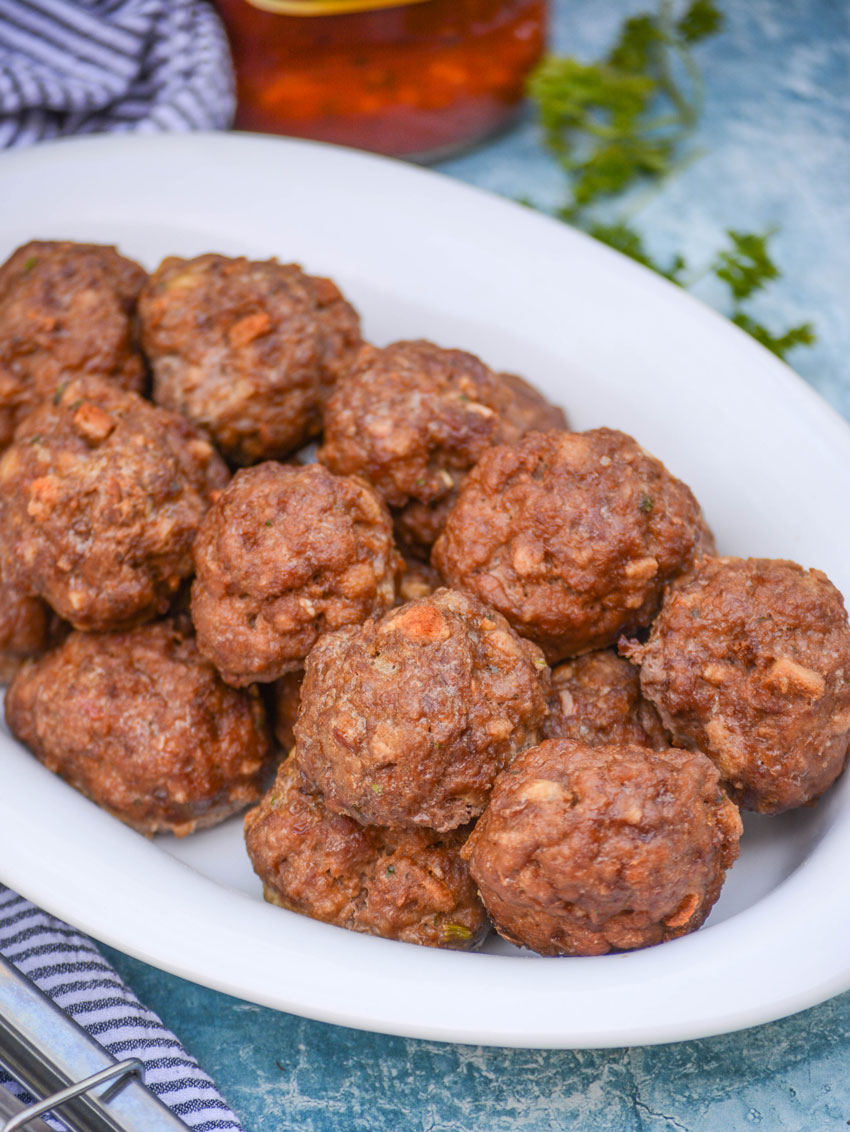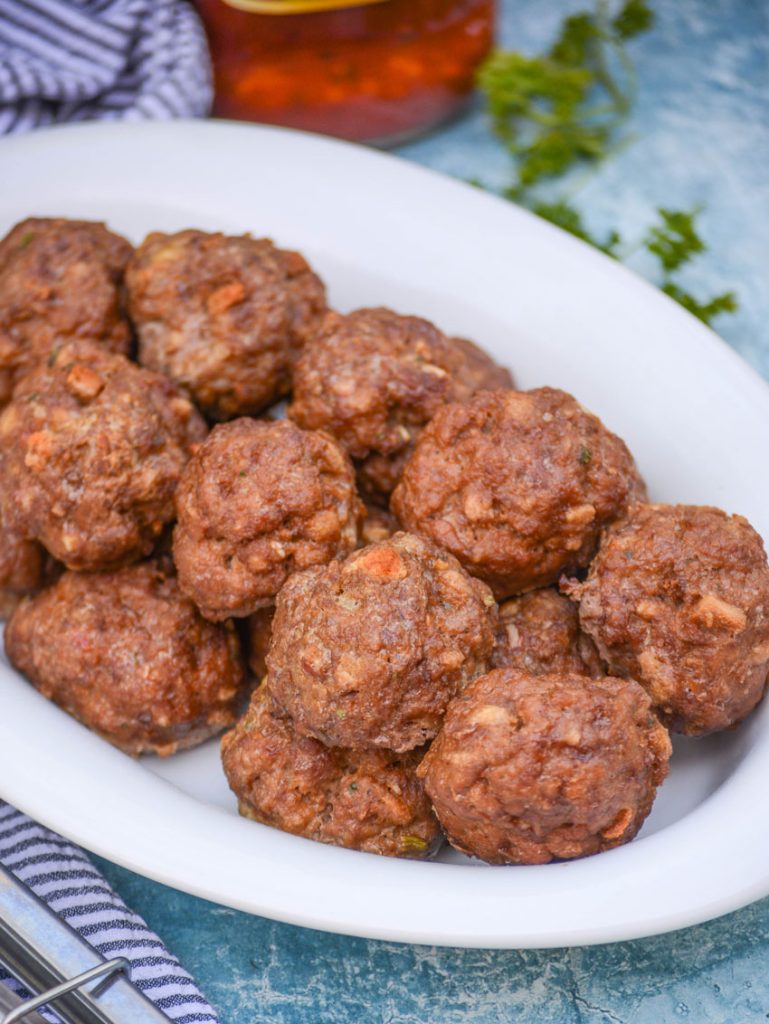 However you serve them up, you and your family will likely agree that these are the best meatballs. And I'm sure because they are so tasty and easy, you'll be making them over and over again!
If you've tried these BAKED STUFFING MEATBALLS or any other recipe on the site, let me know in the comment section how it turned out, we love hearing from our readers! You can also follow along with me on PINTEREST, FACEBOOK, and INSTAGRAM to see more amazing recipes and whatever else we've got going on!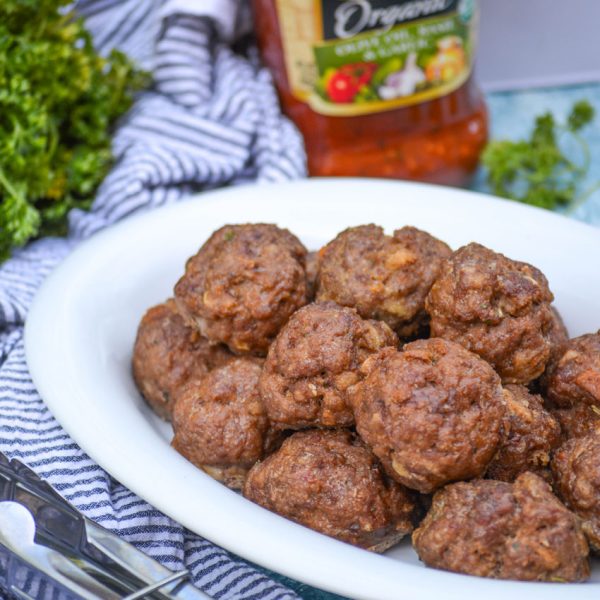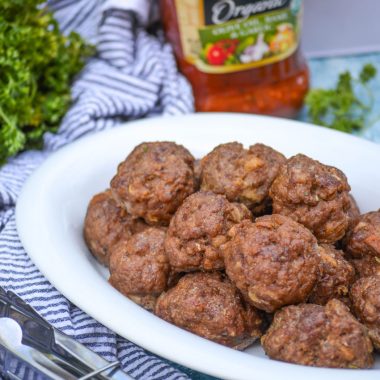 Ingredients
2

lbs

lean ground beef

1 6

oz

pkg chicken flavored stuffing mix

1 1/4

cups

of water

2

eggs
Instructions
Heat your oven to 400 degrees.

Line two baking pans with foil (this makes for no-fuss cleanup later). Spray the foil with non-stick cooking spray.

In a large bowl mix all the ingredients (I find by hand is besuntil fully incorporated.

Shape the meat mixture into about 32, 1 1/2 inch, balls (about 1/4 cup meat per baland placing them in the prepared pans as you go.

Bake the meatballs for 16-18 minutes, or until completely cooked. No pink meat for us.

Remove from the oven and, if using immediately, add the meatballs into your recipe. Otherwise allow them to cool completely and follow freezing instructions.
Notes
To freeze: loosely pack the meatballs in zip-locking freezer bags. When freezing, make sure to lay the bags flat so the meatballs freeze individually without sticking/clumping together. They can be stored frozen for up to 3 months. To use, allow them to thaw in the refrigerator for several hours or overnight before hand.