A robust homemade marinara sauce slow cooks its way to perfection and tastes better than any expensive store bought sauce. This easy crock pot marinara sauce can be made in a big batch so you always have some on hand to dunk mozzarella sticks into or top your favorite pasta with.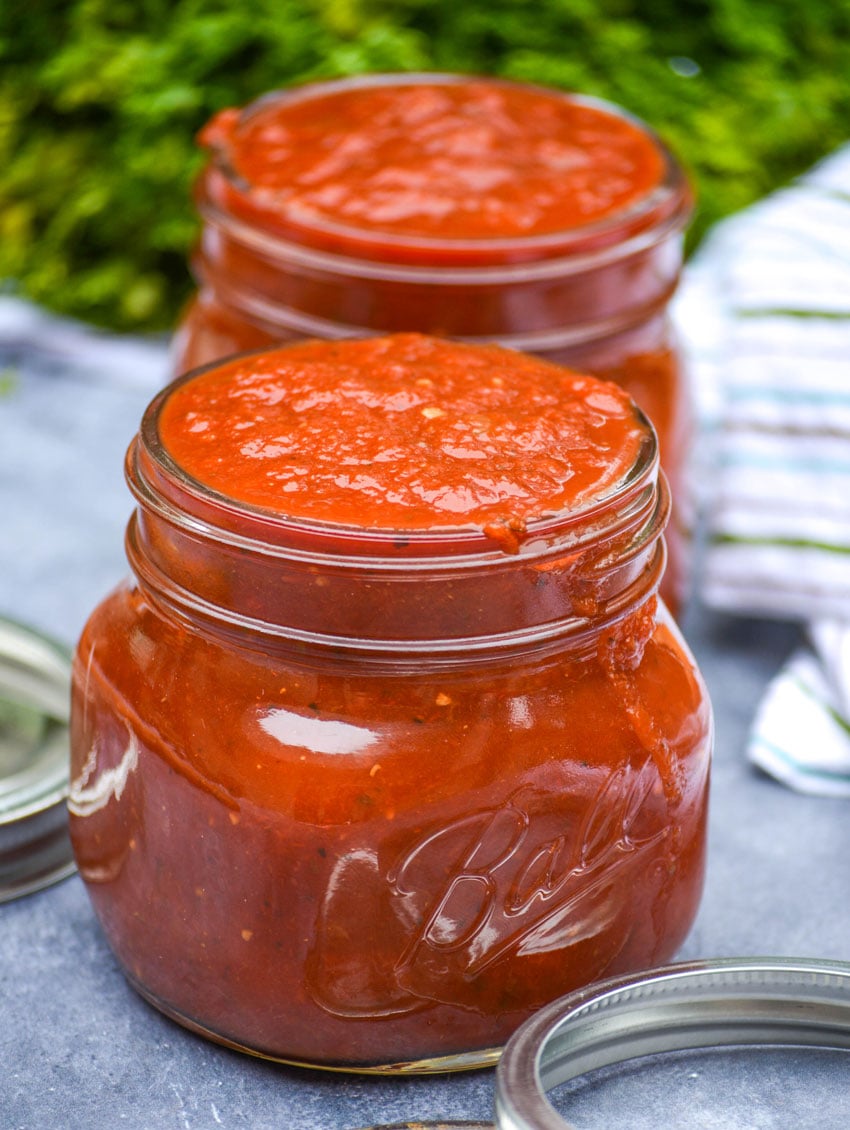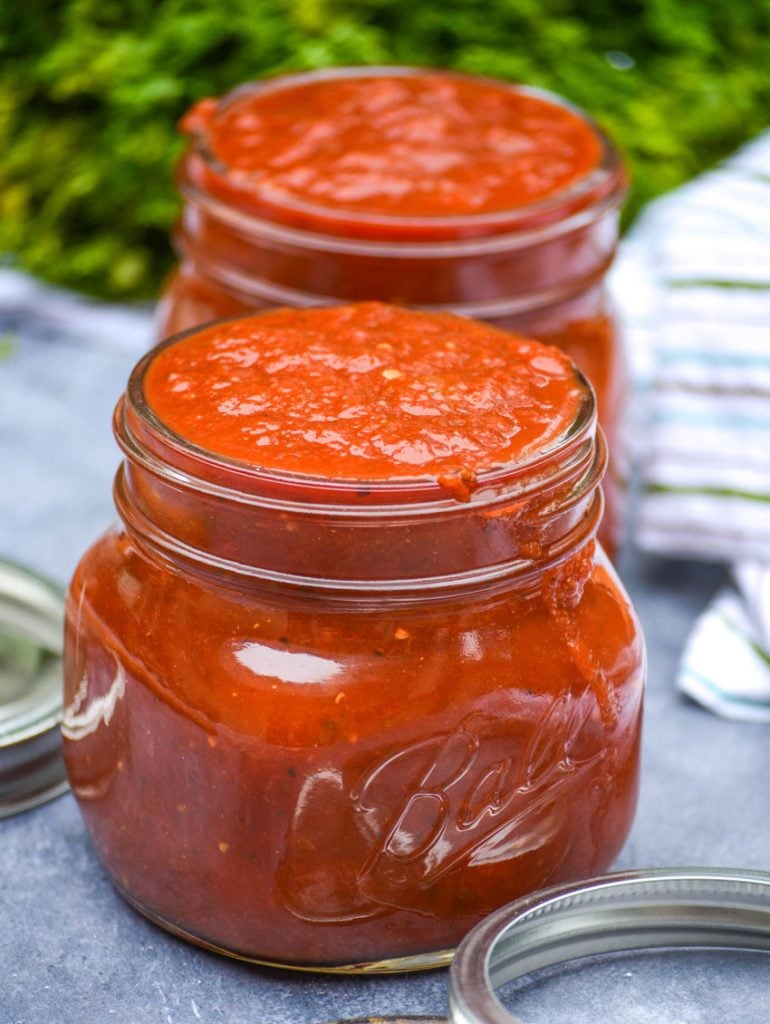 Marinara sauce is a must have in this house. We just can't eat some things without the sweet, tangy sauce.
There were many years when buying expensive jarred marinara sauce was just out of our grocery budget.
I tried to substitute less expensive items like tomato sauce for marinara sauce but it always felt like we were missing out.
This easy marinara makes a huge amount of sauce that will tantalize your taste buds while keeping your wallet happy by costing less to make than one small jar of store bought sauce.
What is marinara sauce anyway?
All marinara sauce is tomato sauce but not all tomato sauce is marinara sauce.
Marinara sauce, aka mariner's sauce in Italian, originated in Naples in the 1700s.
No one quite knows how it developed or why Italians called it mariners sauce.
Although according to The Daily Meal, some people believe in it's most basic form, marinara sauce is made of crushed San Marzano tomatoes, garlic, olive oil, and a sprinkle of chili flakes.
However, many varieties of marinara sauce exist with all kinds of additions to them like romano or Parmesan cheese, onions, and so many other flavorings.
Generally, marinara sauce may be a bit chunkier than other kinds of sauces because the tomatoes are crushed not pureed.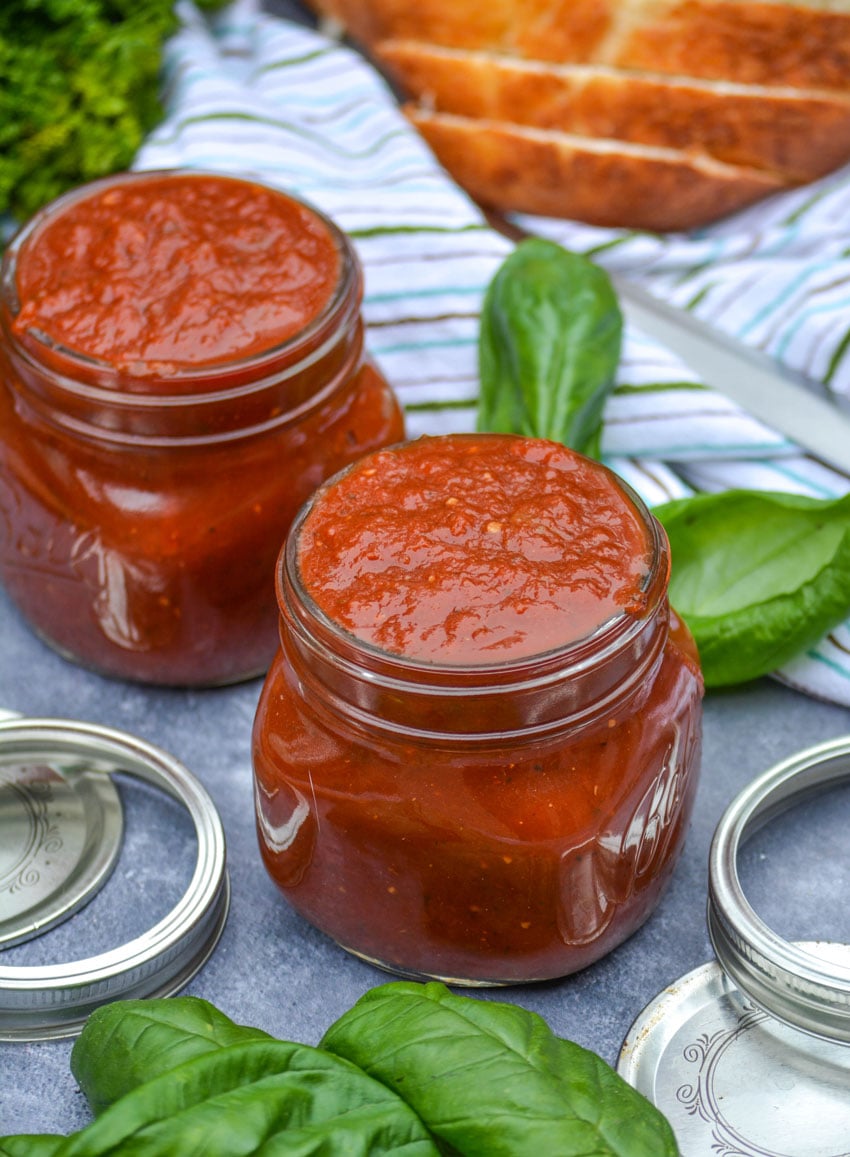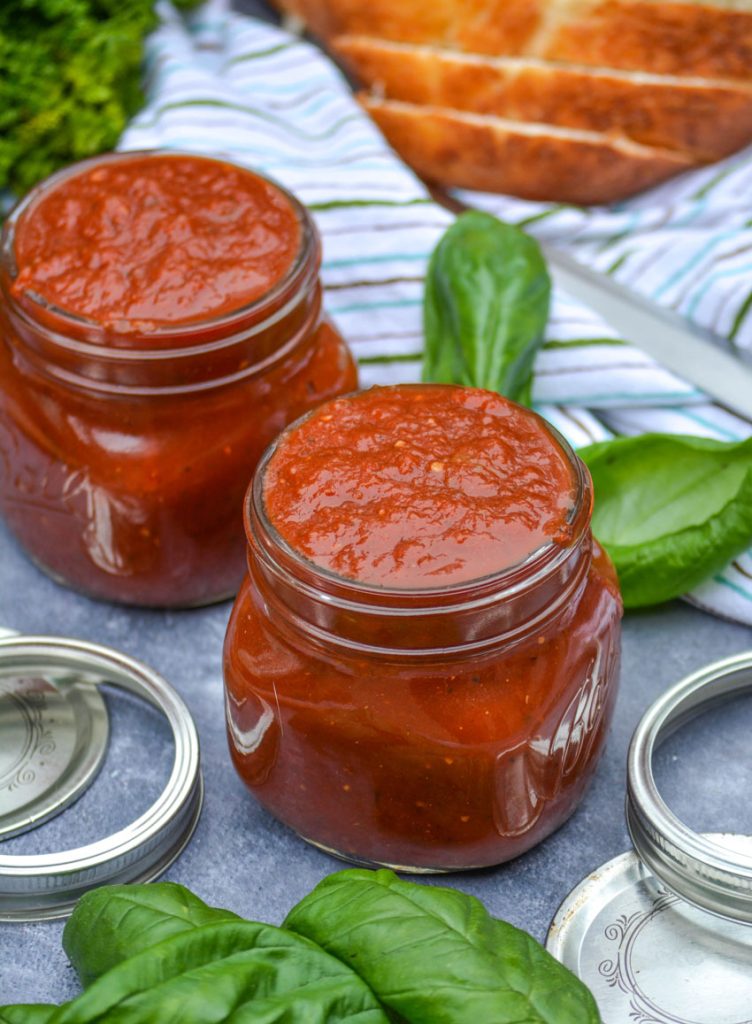 What ingredients are key for the best flavor in marinara sauce?
With its complex taste, many people think that marinara sauce has a long list of ingredients.
But really, you only need a few key ingredients to make a killer marinara sauce.
First up, tomatoes.
Most marinara sauce recipes use sweet San Marzano tomatoes or plum tomatoes.
I find they can be a bit challenging to find depending on where you shop so my sauce uses canned crushed tomatoes and mimics the sweet flavor of the sweet tomatoes with a touch of brown sugar and balsamic vinegar.
Which brings us to the next series of ingredients in this marinara sauce.
I'm using several ingredients to add a touch of sweetness, namely, brown sugar and balsamic as I mentioned before, and a yellow onion.
There are so many varieties of onions to choose from, but yellow onions have the touch of sharpness that white onions have with so much more sweetness.
I prefer this complexity of flavor over a white onion or even over the sweet onions.
Now for the seasonings.
You can use so many different seasonings in marinara sauce.
I'm totally omitting the traditional chili flakes to take the heat out.
Instead, I'm adding a bite with a bite of garlic and then using dried basil and oregano.
Both of these seasonings are a must for me in marinara sauce.
I finish off the flavor profile with some bay leaves.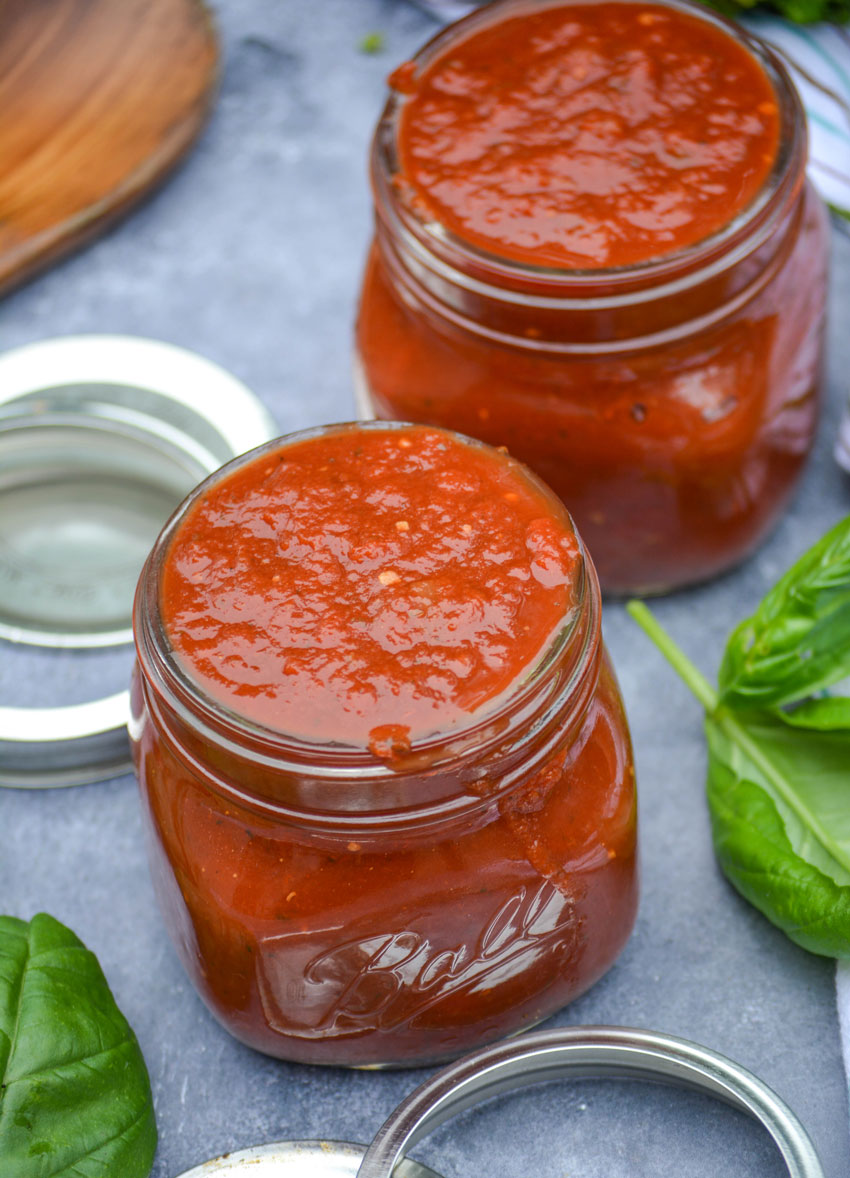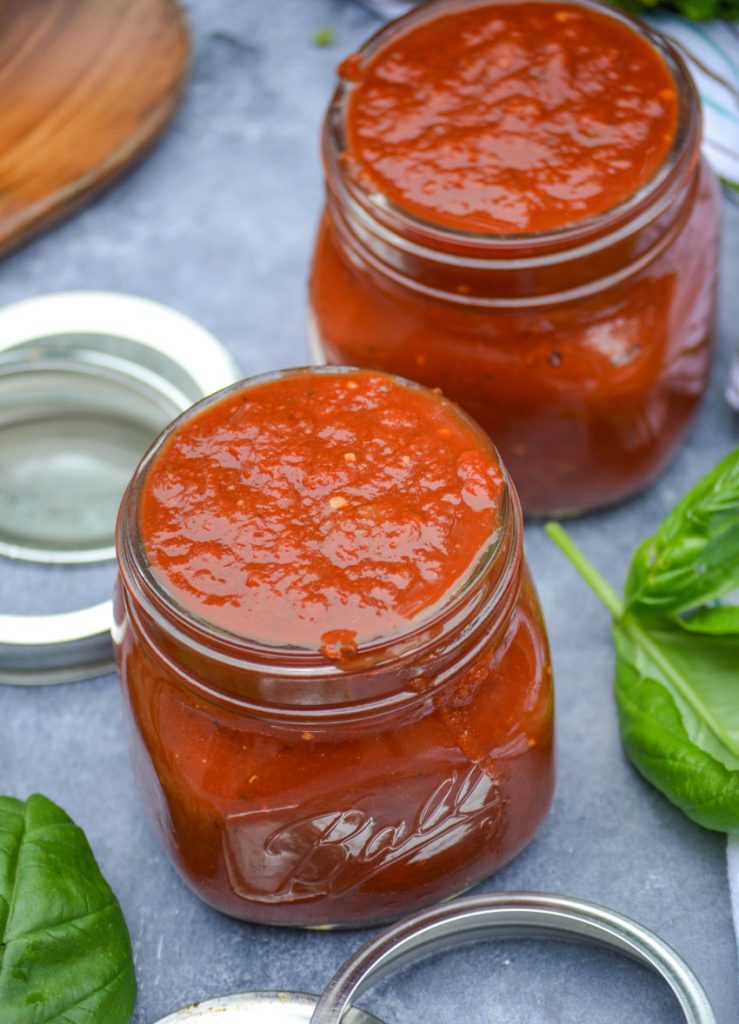 Dried herbs or fresh herbs for red sauce?
Honestly it depends on how you make the sauce.
This recipe is slow cooked in a crock pot for 8 to 10 hours.
Fresh herbs don't hold up with that kind of cooking.
In fact, fresh basil can turn bitter when you cook it in the slow cooker for that long.
According to Fine Cooking, the slow cooker is the perfect cooking environment to really allow the flavors of the dried herbs to develop.
If you'd like to add some fresh basil or parsley to this marinara sauce, do it right before you serve it rather than while the sauce is cooking.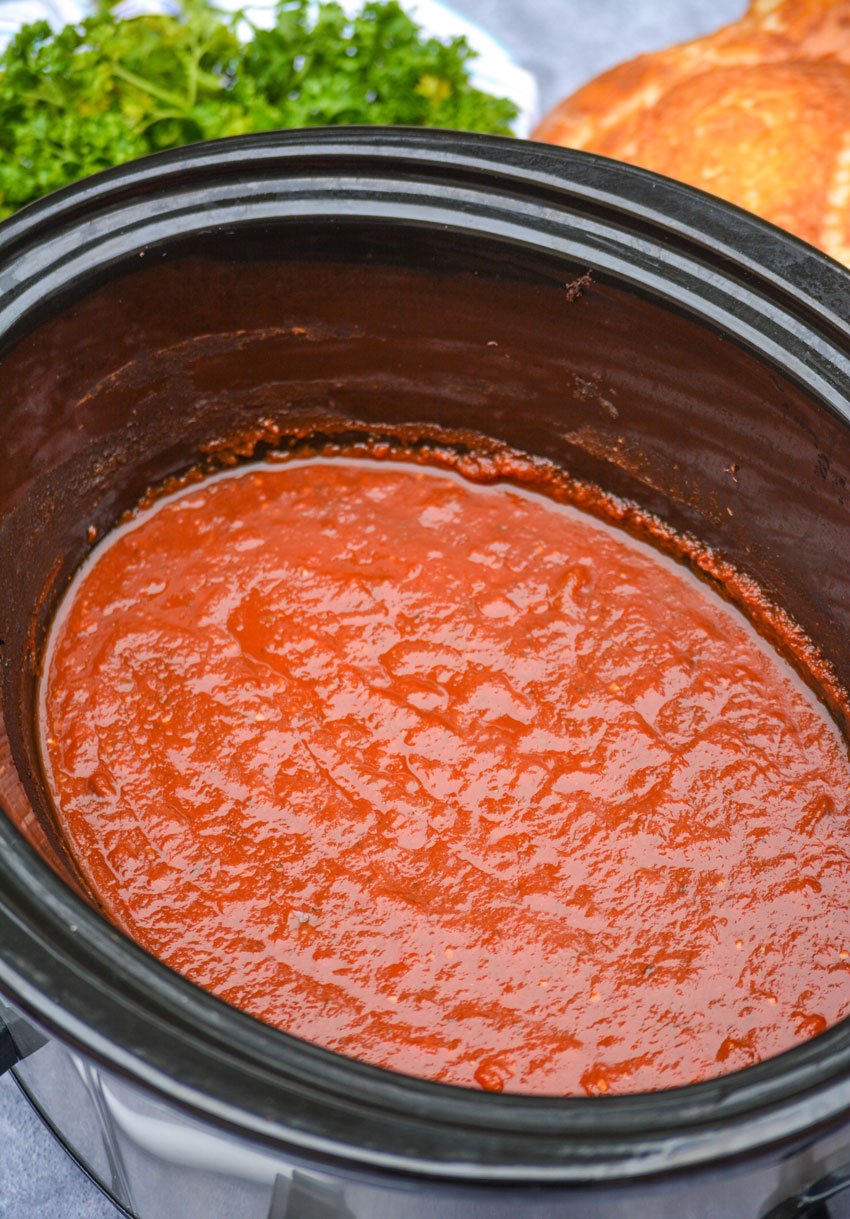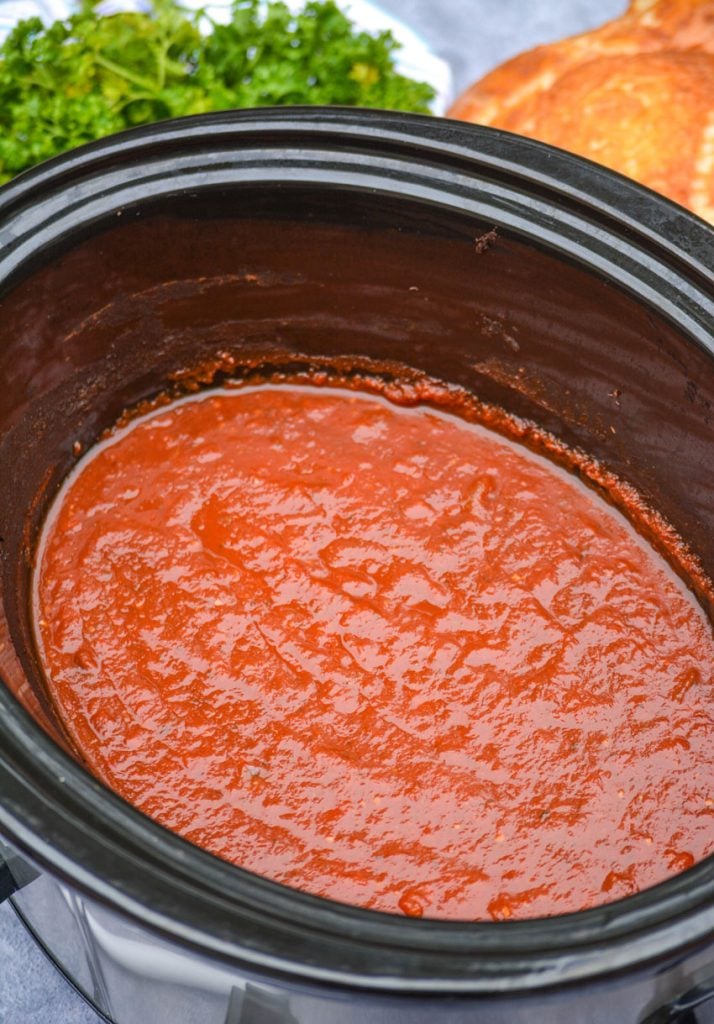 Why should I make marinara sauce in a slow cooker?
Because it saves you time and makes for a robust, hearty sauce with a fully developed flavor.
Many marinara sauces come together quickly on the stove top.
While the total cook time may be less for other sauces, they require a little more hands on time than this sauce.
For example, if you were to make this sauce on the stove top, I'd recommend that you soften the chopped onions first before adding the tomatoes.
While that may only take you an extra few minutes, that's extra time that you are standing in front of the stove cooking instead of living your life and doing other things.
Heck, you can even put this sauce on to cook right before bed and sleep while it cooks.
It couldn't be any easier!
Not only does making marinara sauce in a slow cooker take away from the time you have to spend babysitting your food, but it also makes cooking this sauce so easy while adding to the delicious complex flavor of the sauce.
You just need to chop the onion and then add all of the sauce ingredients to the crock pot. That's it!
Then you turn it on low and let it do its thing for 8 hours.
The sugars in the sauce will caramelize and the herbs will bloom and flavor the sauce perfectly.
Speaking of caramelizing, don't be surprised that the sauce going in looks much different than the sauce coming out.
Going in the ingredients will blend together into a bright red sauce.
As the sugars break down and caramelize during the cooking process, the homemade marinara sauce will lose some of its luster becoming deeper & darker in color.
What it's losing in vivid color though, it's gaining in flavor!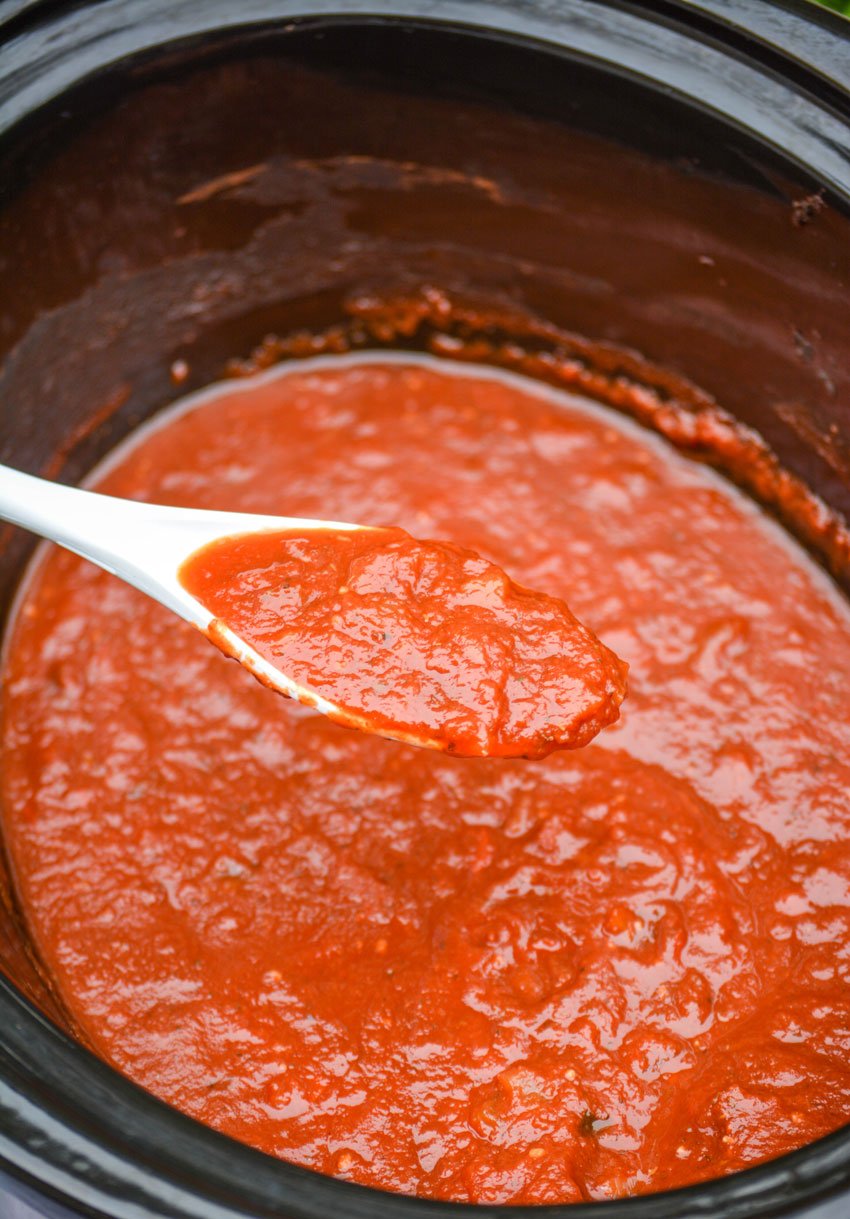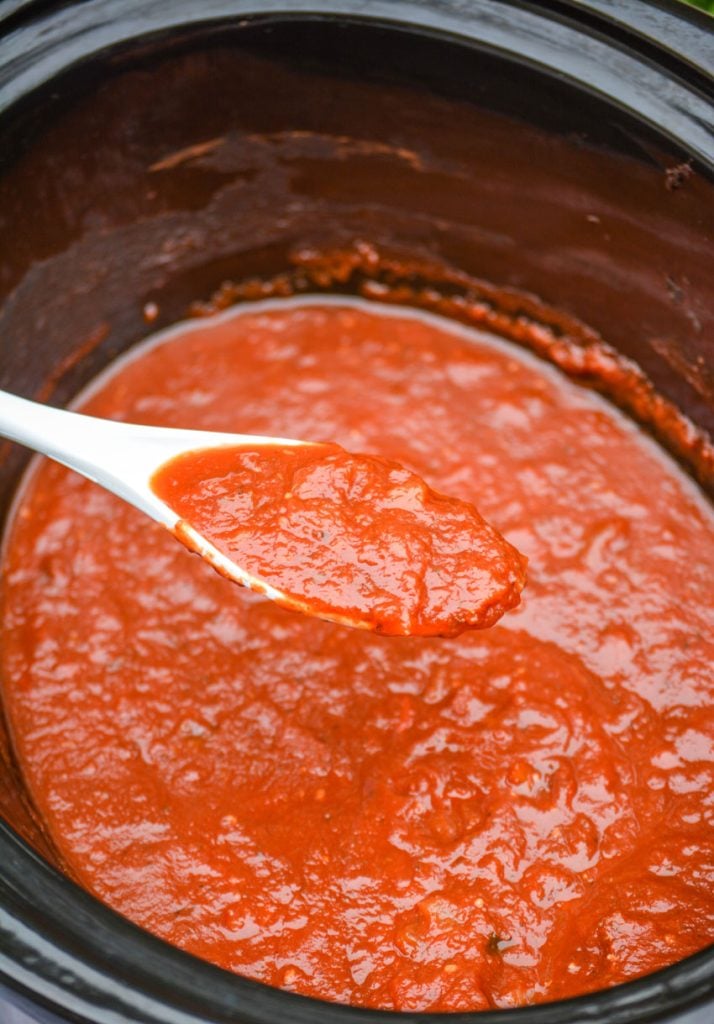 How To Use Marinara Sauce
I love this marinara sauce as is.
It's a basic, classic sauce that you can serve so many ways.
For example you could:
Plus you can use this homemade slow cooker marinara sauce in any recipe that calls for tomato sauce.
I like to make this sauce ahead of time and use it in my chicken parmesan casserole.
And you definitely can't go wrong serving it with spaghetti and the best homemade meatballs!
Not only are you able to serve this sauce as is in so many different ways but you can also really customize it to suit your tastes.
You could:
add chicken and chopped veggies like sweet peppers for chicken cacciatore
slow cook beef in the sauce for a delicious slow cooked meat sauce
vary the herbs or add the red pepper flakes for a spicier sauce
skip or add more garlic to suit your taste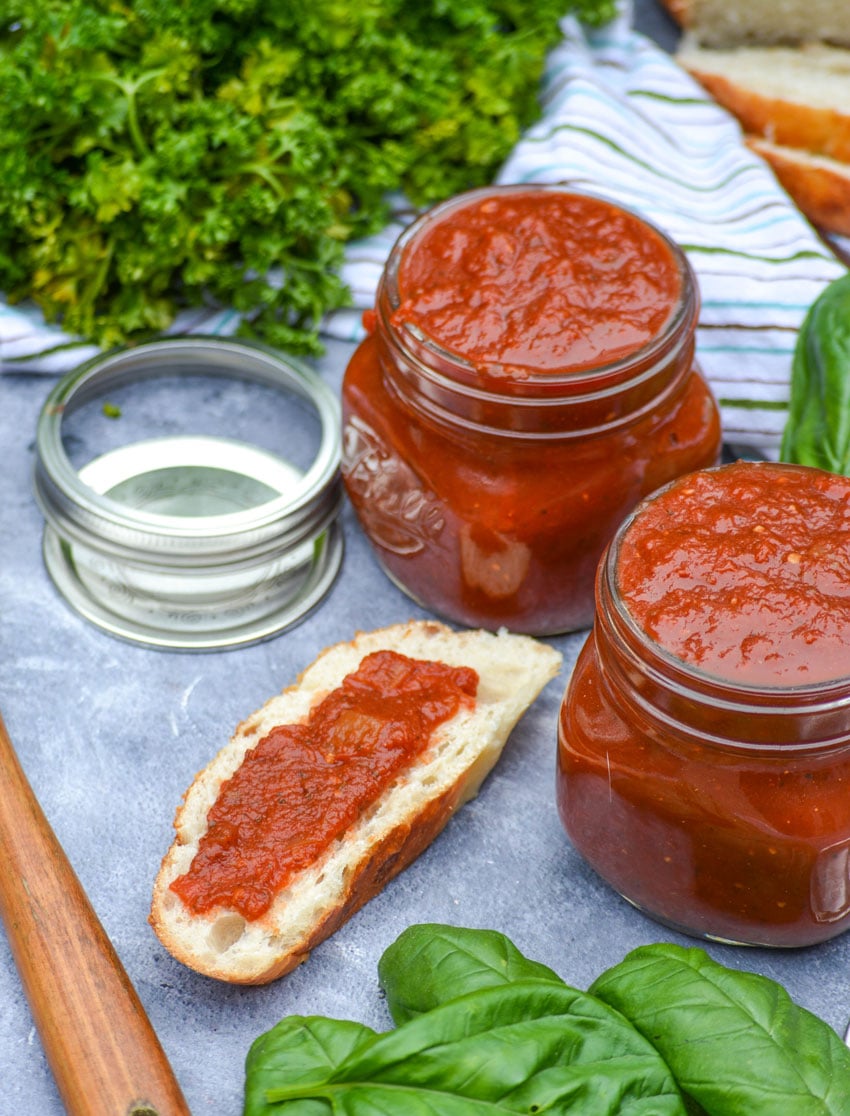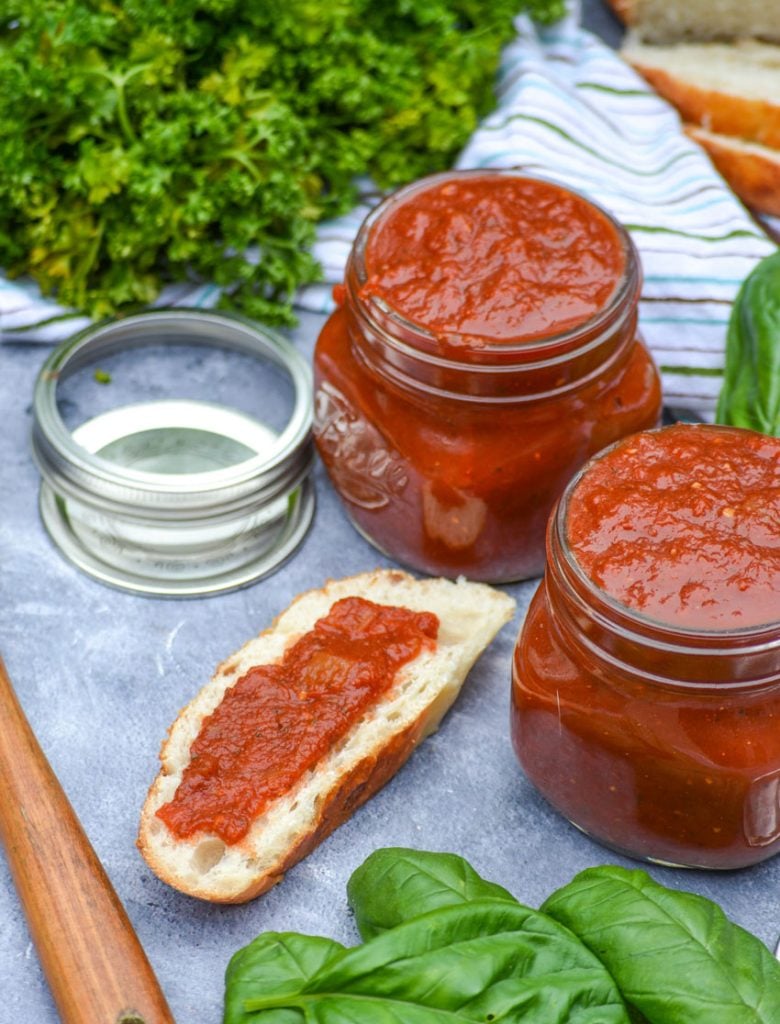 Storing the Homemade Marinara Sauce
This makes such a big batch of sauce, I often use some right away and then I store the rest.
You can can the sauce or you can freeze it.
The sauce will last for 4 to 6 months in the freezer.
To store it in the freezer, just pour it in a freezer safe container after cooking and put in the freezer.
When you want to unfreeze the marinara sauce, put it in the refrigerator the night before you intend to use it.
Then, when it's defrosted, just heat and eat.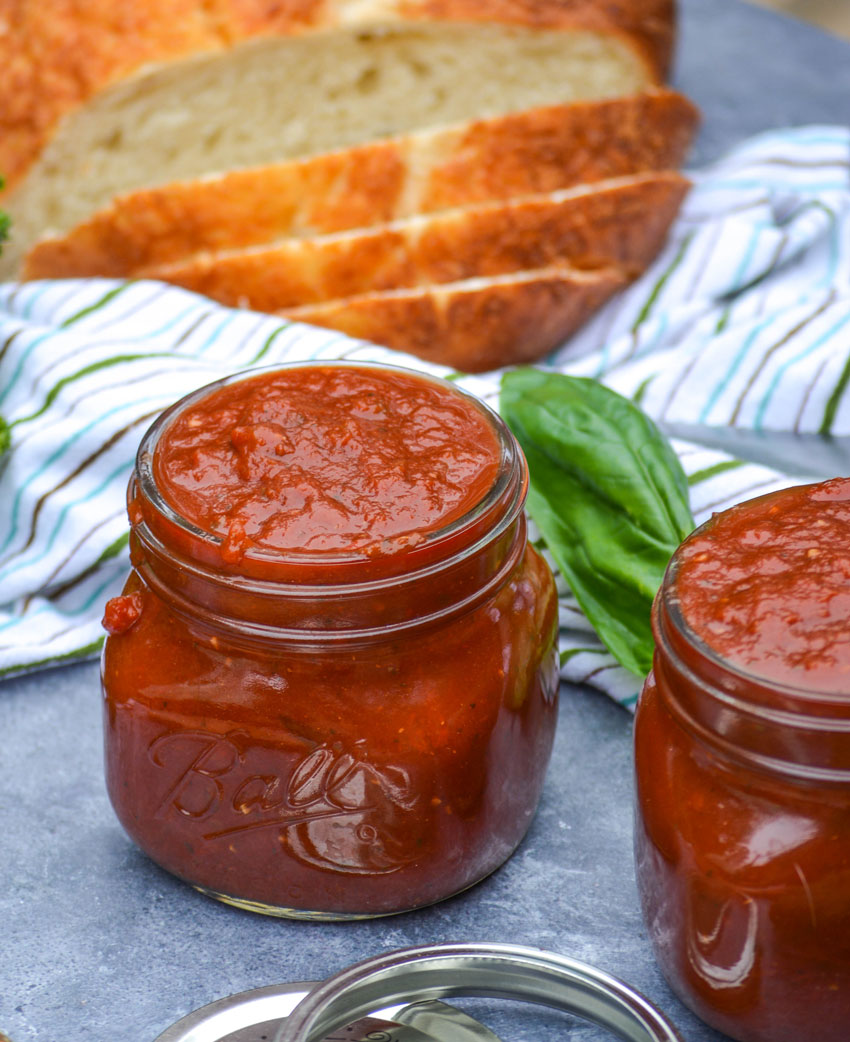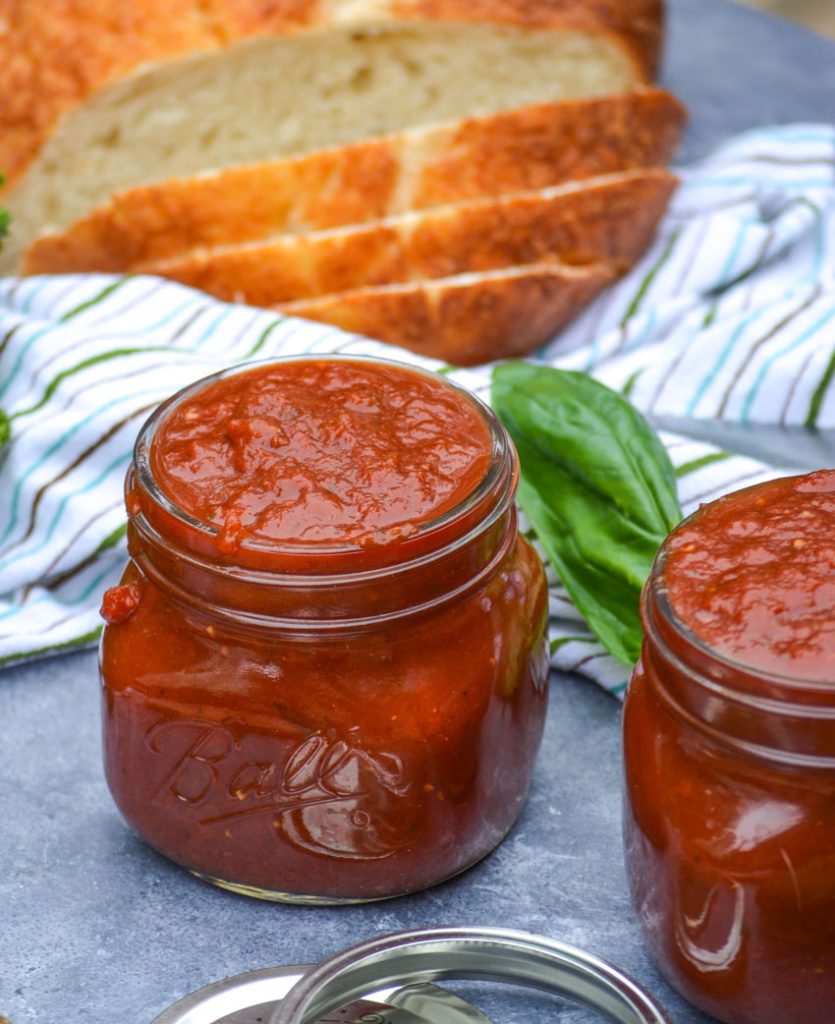 Then you're ready to enjoy this delicious slow cooked homemade marinara sauce anytime!
Other Homemade Sauces To Try
If you enjoy making easy, homemade versions of different sauces- give one of these recipes a try.
They're all easy enough to be called 'effortless' and full of flavor.
If you've tried this HOMEMADE MARINARA SAUCE, or any other recipe on my site, let me know in the comment section how it turned out, we love hearing from our readers! You can also follow along with me on PINTEREST, FACEBOOK, and INSTAGRAM to see more amazing recipes and whatever else we've got going on!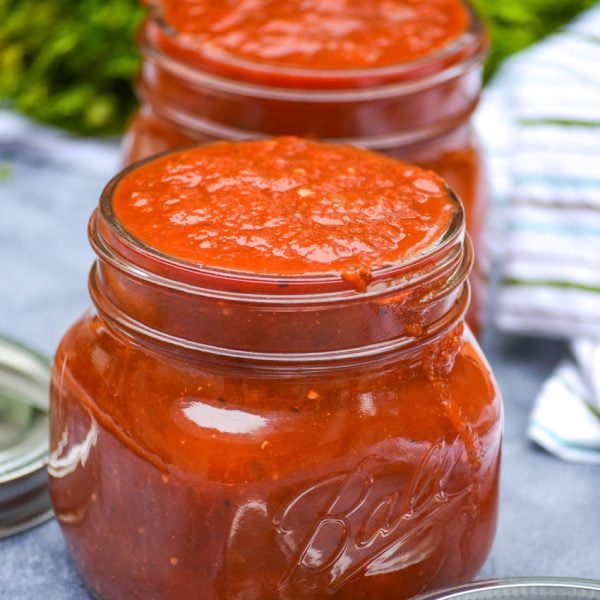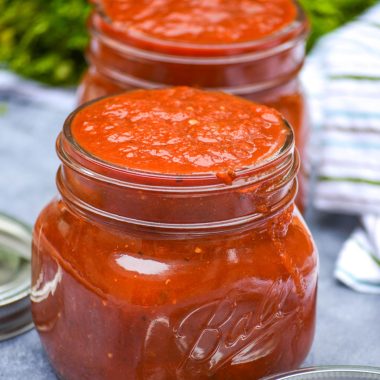 Homemade Marinara Sauce
A rich, robust marinara sauce- this one's simple enough for any home cook to throw together in the bowl of their slow cooker.
Print
Pin
Rate
Ingredients
2 28

oz

cans of crushed tomatoes

1 6

oz

can tomato paste

1/2

cup

of water

1

medium yellow onion

diced

1/2

tbsp

garlic

minced

1

tbsp

balsamic vinegar

1

tbsp

brown sugar*

2

bay leaves

1

tbsp

dried basil

1/2

tbsp

dried oregano

salt and pepper

to taste
Instructions
Add all ingredients to your crockpot and stir well.

Cook on low for 8-10 hours, or overnight. If your crockpot is not airtight or notoriously dries things out, you may want to add more water as a precaution.

Remove the lid, stir well. Remove the bay leaves, and enjoy!
Notes
*I make my own brown sugar. To make your own brown sugar simply combine 1 cup granulated sugar with 1 1/2 tbsp molasses and stir until evenly mixed. I give mine a quick spin in my food processor.
Don't be alarmed when your sauce is done if it's bright red color has become darker and browner. You want this. It lets your know that it's cooked and that the sugars in the sauce have caramelized.
Nutrition
Serving:
8
g
|
Calories:
70
kcal
|
Carbohydrates:
16
g
|
Protein:
3
g
|
Fat:
1
g
|
Saturated Fat:
1
g
|
Sodium:
339
mg
|
Potassium:
590
mg
|
Fiber:
4
g
|
Sugar:
10
g
|
Vitamin A:
607
IU
|
Vitamin C:
16
mg
|
Calcium:
59
mg
|
Iron:
3
mg