Bacon wrapped smoked pickles are easy to throw together, and the best new way to serve pickles at parties & get togethers. The flavors of wood smoke, bacon & barbecue, and dill blend together seamlessly in these pickle fries to create an epic appetizer that will 'wow' any crowd!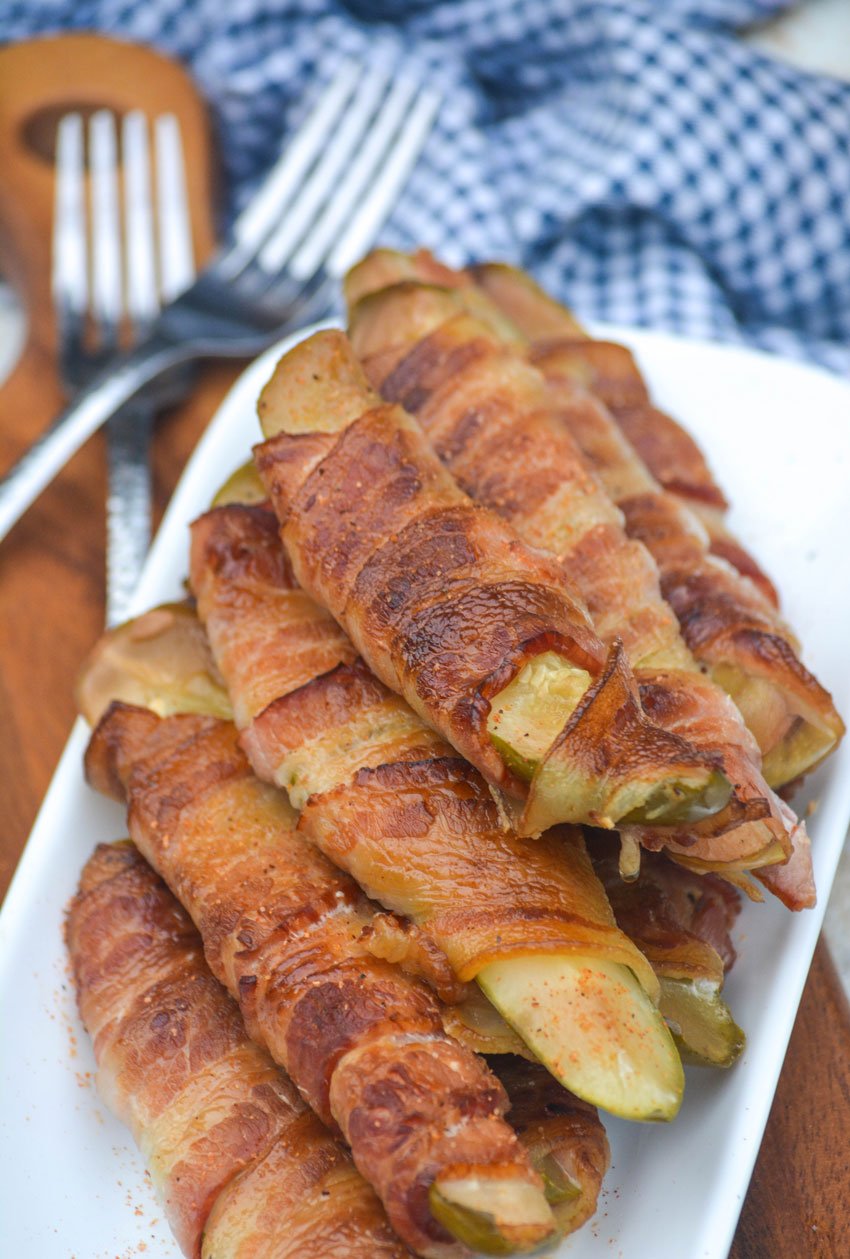 Pickles are just about one of my family's most favorite things ever.
I can't explain it, but we all agree- those briny bad boys are always a good time.
They make a perfect appetizer or snack, and we've even been known to crush a whole jar and call it dinner on a hot Summer evening by the pool.
With just how much we love them it wasn't really a stretch for us to want to find out other things we could do with them, or recipes to use them in.
We also adore our electric smoker, and pretty much anything we can put in it, which meant these bacon wrapped smoked pickles were a match made in heaven for us!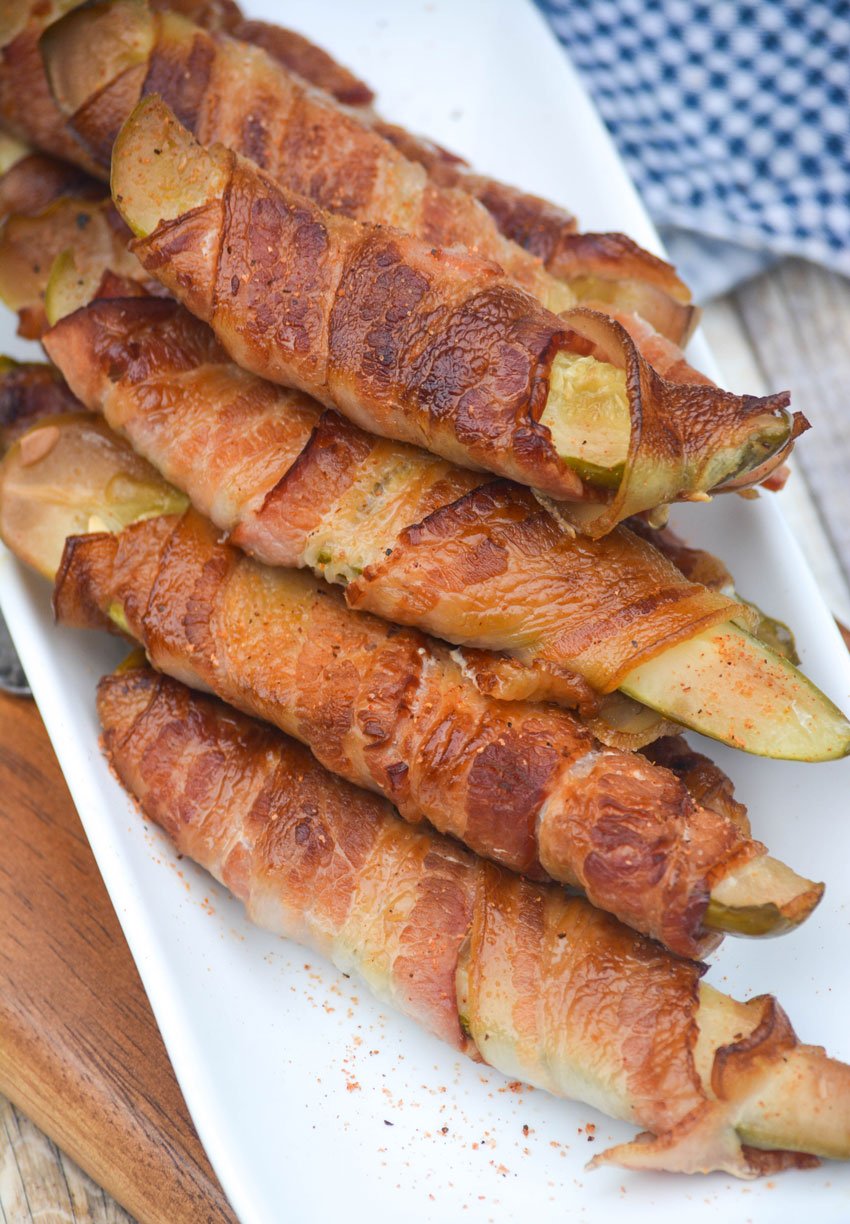 Ingredients Needed To Make Smoked Pickle Fries
The ingredient list for this epic appetizer couldn't be any simpler, which is just another reason I adore them.
To make them you'll need: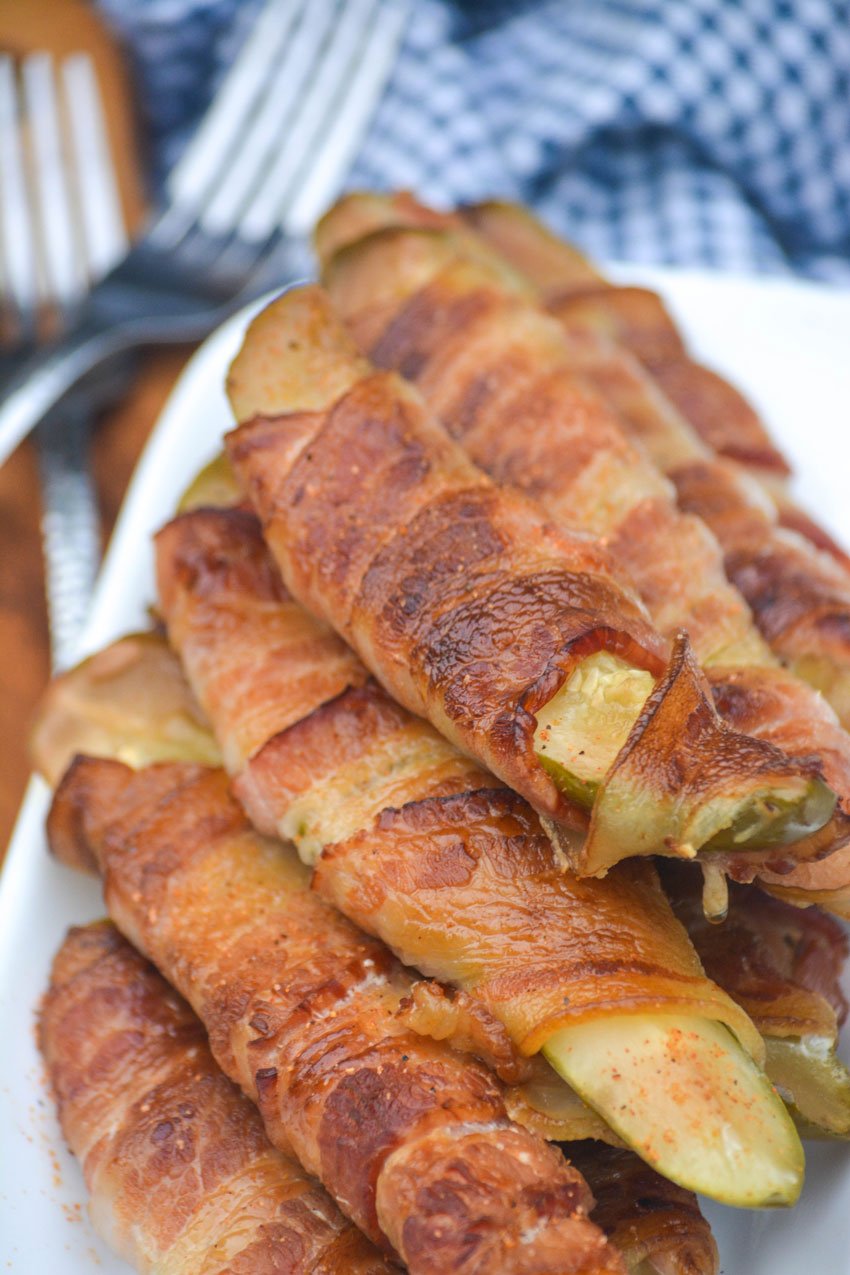 How To Make Bacon Wrapped Pickles, Step By Step
While I love a good appetizer, I love these smoked pickles in particular because of just how easy they are to make.
Start by wrapping your pickle spears in sliced of bacon. One slice to one spear, wrap it around and then tuck the final end under the wrapped bacon to secure it closed.
Transfer the bacon wrapped pickles to a 9×13″ disposable aluminum pan. Repeating until all the pickles have been wrapped in bacon.
If you're worried your bacon ends aren't tucked well and may come undone, you can secure them with toothpicks. Just be sure to remove them before serving to prevent any painful accidents.
Lightly sprinkle barbecue rub evenly out over the pickle spears.
I used roughly two tablespoons of rub for the whole tray. You can use more, or less, to fit your personal preference but I wouldn't over do it. You want it to give a subtle flavor and not be overpowering.
This next part is optional, but something I almost always tend to do. Poke a couple holes in the bottom of the center of your aluminum pan.
Then add the tray of bacon wrapped pickles to the smoker, and on the rack directly below add another in tact disposable pan.
While this step isn't 100% necessary, I have found that allowing the bacon grease to drip off leads to crispier pickle fries. And crispier bacon, crispier fries is always going to be better in my book.
Smoke the pickles at 280F for an hour and twenty minutes.
When the time's elapsed, carefully remove the smoked pickle fries from the smoker. The juices will be HOT, as will the pan. Be sure to use pot holders and be careful not to allow any juices to run off and hit your skin.
You could slid the pan onto a rimmed baking sheet to make for an easier and safer transfer.
Let them rest for at least 5, but preferably more like 10 minutes before serving. That way they're still warm, but not hot enough to burn when bitten into.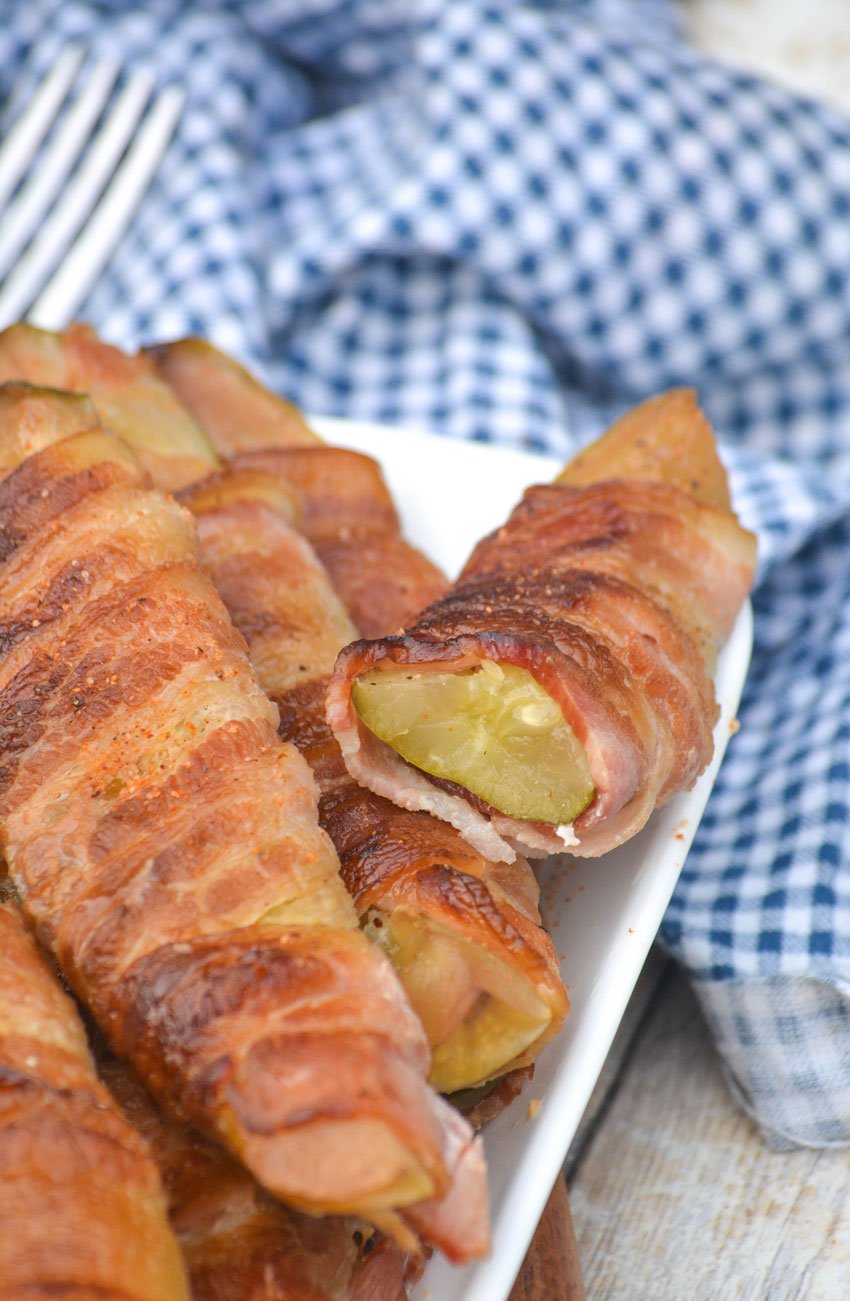 Storing
Smoked pickles with bacon don't store well. Sadly, the bacon gets soggy and unappetizing.
Therefore, I only make these as needed and I try not to make too many, planning enough for whatever crowd I'm serving.
Best Dips For Smoked Pickle Fries
Like any other 'fry', we have to have pair them with a dipping sauce- or two or three if I'm being honest. We love options!
Some of our favorites include:
What Pickles Are Best For Smoking?
There's technically no right or wrong pickle to smoke, although I highly recommend using the dill variety and not something on the sweeter side.
After smoking pickles for several years though, we have found that not all pickles yield the bright & snappy results we like.
While shelf stable pickles are great, they tend to remain soggier after smoking and can become leathery.
I highly recommend using a fresher, crisper variety such as Claussen or any other dill pickle that's required to be stored cold.
How To Make Pickle Poppers
If you love jalapeno poppers, then I highly recommend taking some easy extra steps to turn these bacon wrapped smoked pickles into pickle poppers.
First, you're going to use halved dill pickles instead of spears.
Use a spoon to lightly hollow each half out into a shallow boat.
Spread 1-2 tablespoons of softened cream cheese in the pickle center, then wrap the pickles with bacon as instructed and proceed with the remainder of the recipe.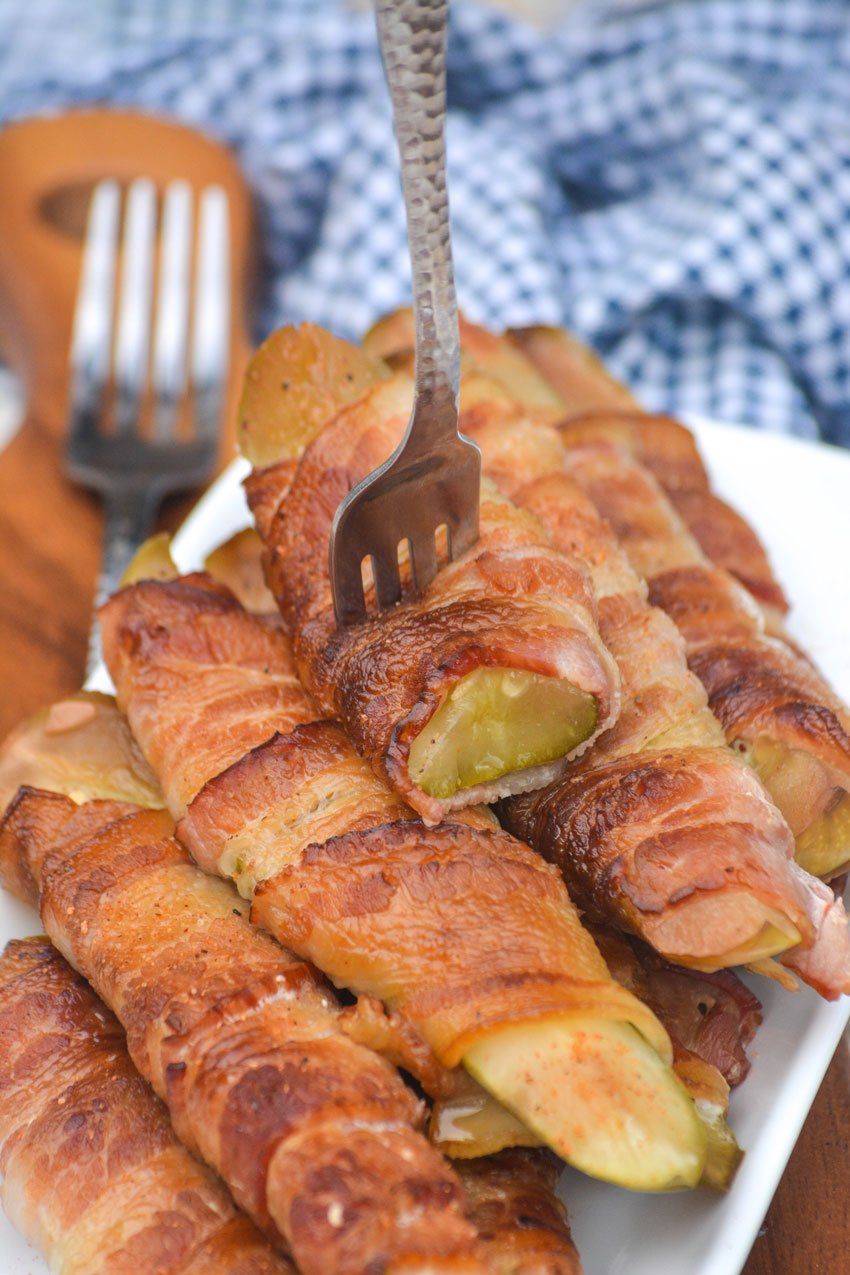 TIPS & TRICKS FOR THE BEST SMOKED PICKLES WITH BACON
Other Smoked Appetizers To Try
Smoked pickles are easy to throw together, but a fun new way to serve pickles at parties & get togethers.
The flavors or wood smoke, bacon & barbecue, and dill pickle blend together seamlessly to create an epic appetizer that will 'wow' any crowd!
Looking for other smoked appetizers to serve? These are some of our favorites:
If you've tried these BACON WRAPPED SMOKED PICKLES, or any other recipe on my site, let me know in the comment section how it turned out, we love hearing from our readers! You can also follow along with me on PINTEREST, FACEBOOK, and INSTAGRAM to see more amazing recipes and whatever else we've got going on!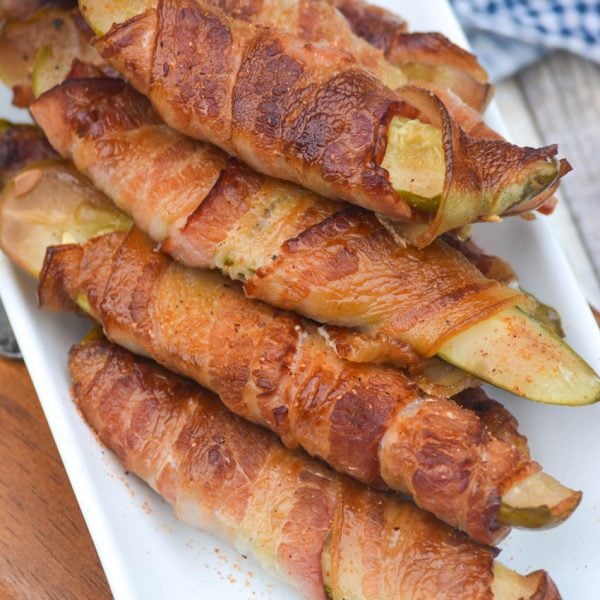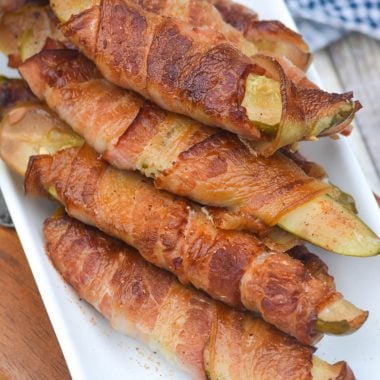 Smoked Bacon Wrapped Pickles
Bacon wrapped smoked pickles are easy to throw together, and the best new way to serve pickles at parties & get togethers. The flavors of wood smoke, bacon & barbecue, and dill blend together seamlessly in these pickle fries to create an epic appetizer that will 'wow' any crowd!
Print
Pin
Rate
Ingredients
12

dill pickle spears

12

slices

bacon

1-2

tbsp

BBQ rub
Instructions
Using a knife, poke a couple slits into the bottom of a disposable aluminum pan. Set aside.

Wrap a pickle spear with a slice of bacon, tucking the last end under to secure.

Place the wrapped pickle into the prepared disposable aluminum pan. Repeat for the remaining pickles.

Lightly sprinkle rub on top of the wrapped pickles.

Add the pickle pan to the smoker with an empty, uncut pan on the rack directly beneath it to catch the bacon grease.

Smoke at 280° for 1 hour and 20 minutes.

Carefully remove the smoked bacon wrapped pickle pan from the smoker- juices will be HOT!

Allow the pickles to rest for 5-10 minutes before serving.

Serve with ranch and/or barbecue sauce for dipping.
Notes
Bes sure to use regular bacon, and not a thick cut variety. Thick cut bacon will not crisp up during smoking, and by the time it eventually takes to crisp it will be wrapped around pickle leather.
For the absolutely crispiest bacon, you'll want to smoke these pickles directly on the wrack. In this case you'll want to secure the ends of the bacon with toothpicks, in case of sticking when done. Use tongs to remove.
Use crisp, refrigerated pickles for the best results. Homemade pickles work great too!
Don't use a heavy wood like mesquite or hickory- stick to lighter fruit woods for the best flavor infusion that doesn't overwhelm like apple, cherry, or peach wood chips.
Love a good bloody mary? Thread bacon wrapped pickles onto a metal skewer before smoking & add one to your favorite cocktail once cooled. You can stick wooden skewers in them after they've smoked and cooled, but I have found doing it ahead of cooking to be the easiest method.
Do you like making and serving charcuterie boards for get togethers? Add smoked pickles to the mix for an epic treat guests will love.
Nutrition
Calories:
201
kcal
|
Carbohydrates:
4
g
|
Protein:
6
g
|
Fat:
18
g
|
Saturated Fat:
6
g
|
Polyunsaturated Fat:
3
g
|
Monounsaturated Fat:
8
g
|
Trans Fat:
0.1
g
|
Cholesterol:
29
mg
|
Sodium:
1342
mg
|
Potassium:
237
mg
|
Fiber:
1
g
|
Sugar:
2
g
|
Vitamin A:
272
IU
|
Vitamin C:
3
mg
|
Calcium:
79
mg
|
Iron:
1
mg