Dips are my favorite appetizer because they're so convenient to whip up even at the last minute, and appropriate for just about any occasion. This creamy dill dip recipe is a refreshing sour cream based dip flavored with herbs & simple seasonings. Paired with simple dipping options it makes an outstanding option for parties & get-togethers, or even a simple snack.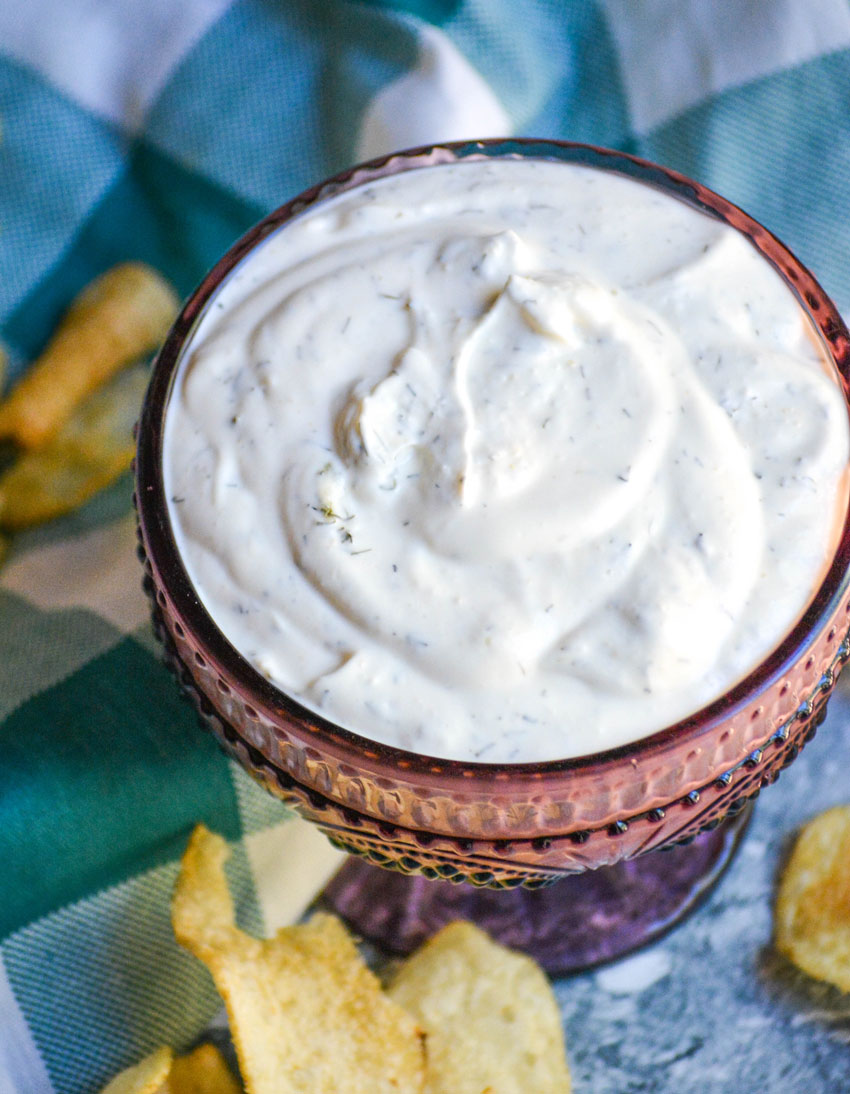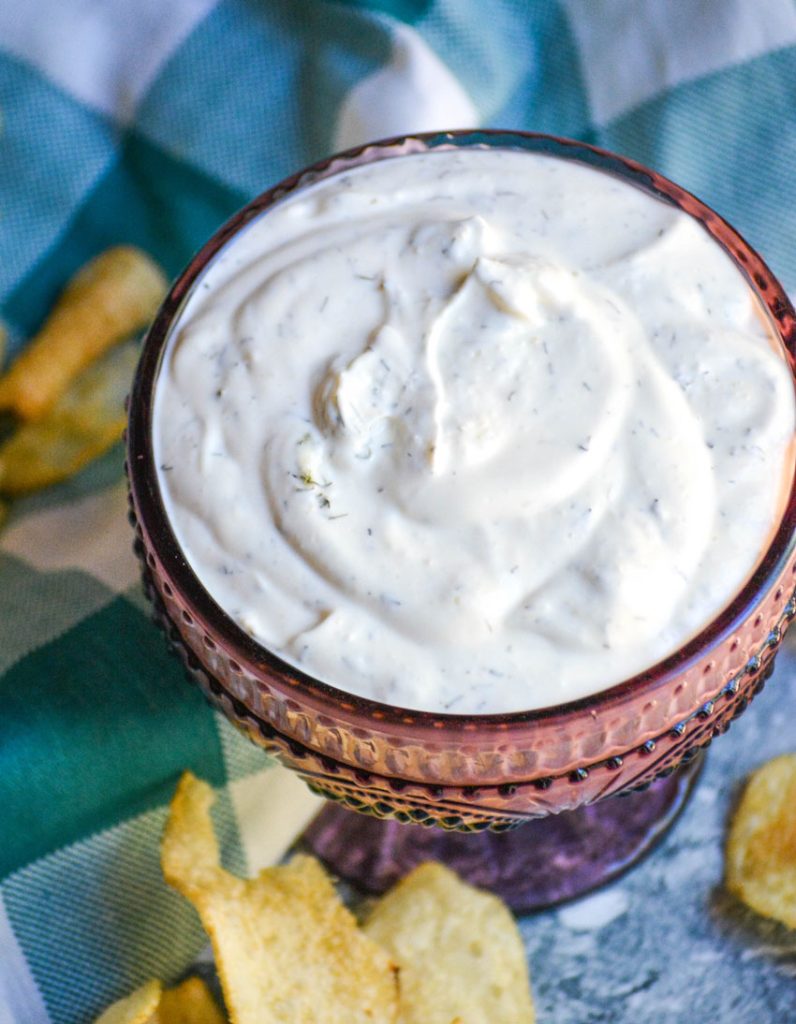 Over the years, I've come to find that, in the summer, there's nothing better for a light lunch or snack than some garden-fresh veggies.
This Delicious Dill Dip is the perfect refreshing compliment for them.
Even better, I like the sneaky little way it has of getting my kids to eat every last nutritious bite of good-for-them 'green-stuff.'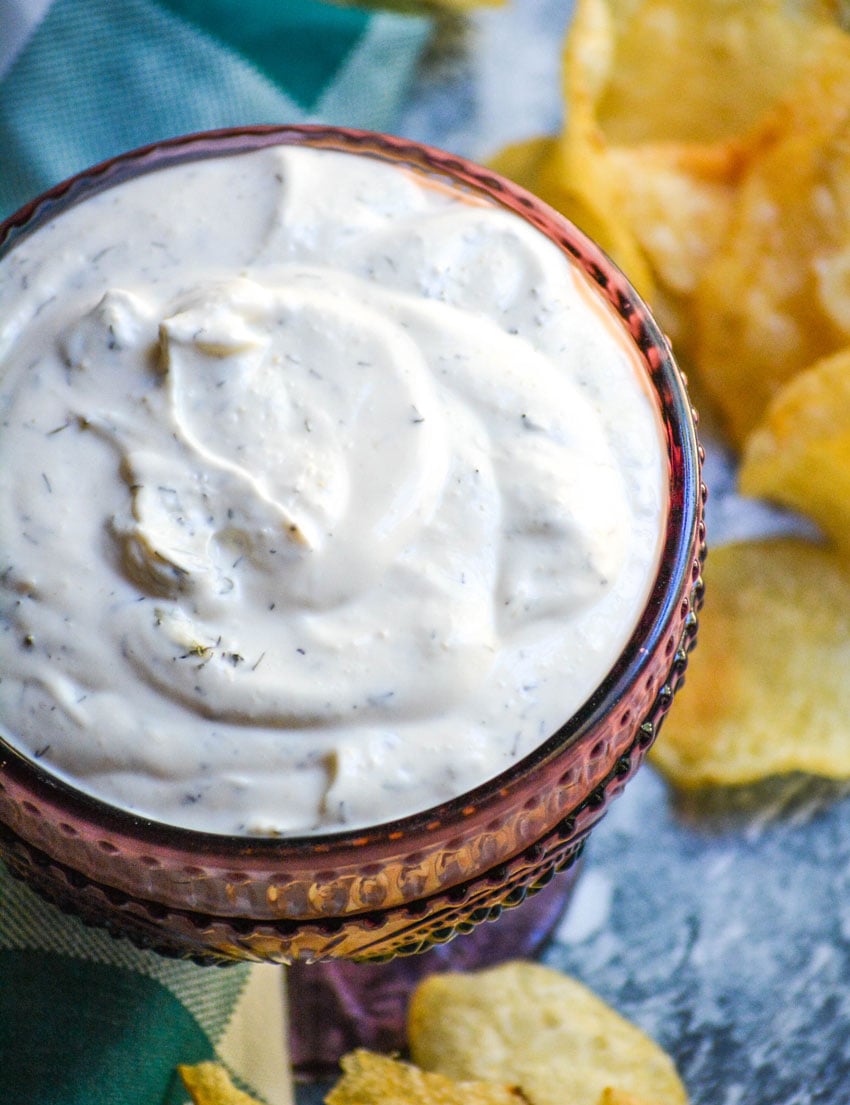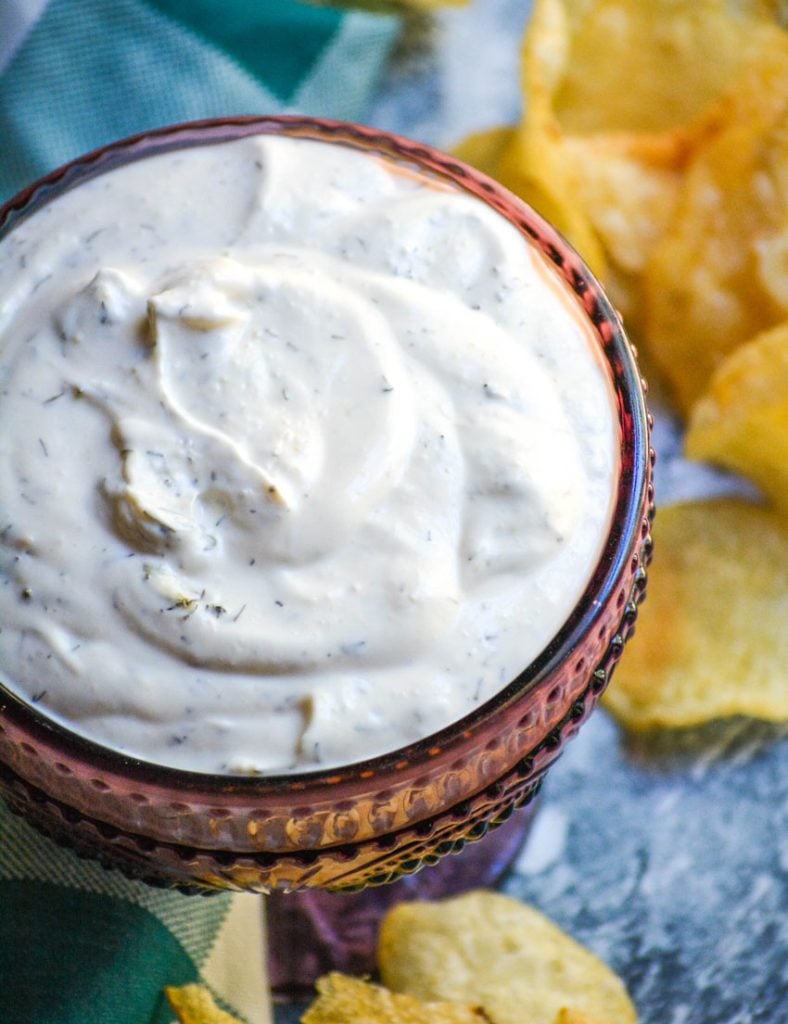 I'm not sure who is more surprised, myself or my boys, when we discover a veggie plate can be emptied, and left without even a stray crumb of broccoli, quite that quickly. Never ceases to amaze us.
However, even if you're on the fence about how tasty raw, fresh veggies actually might be, could be… they do make the perfect edible spoon to get dip from bowl to mouth.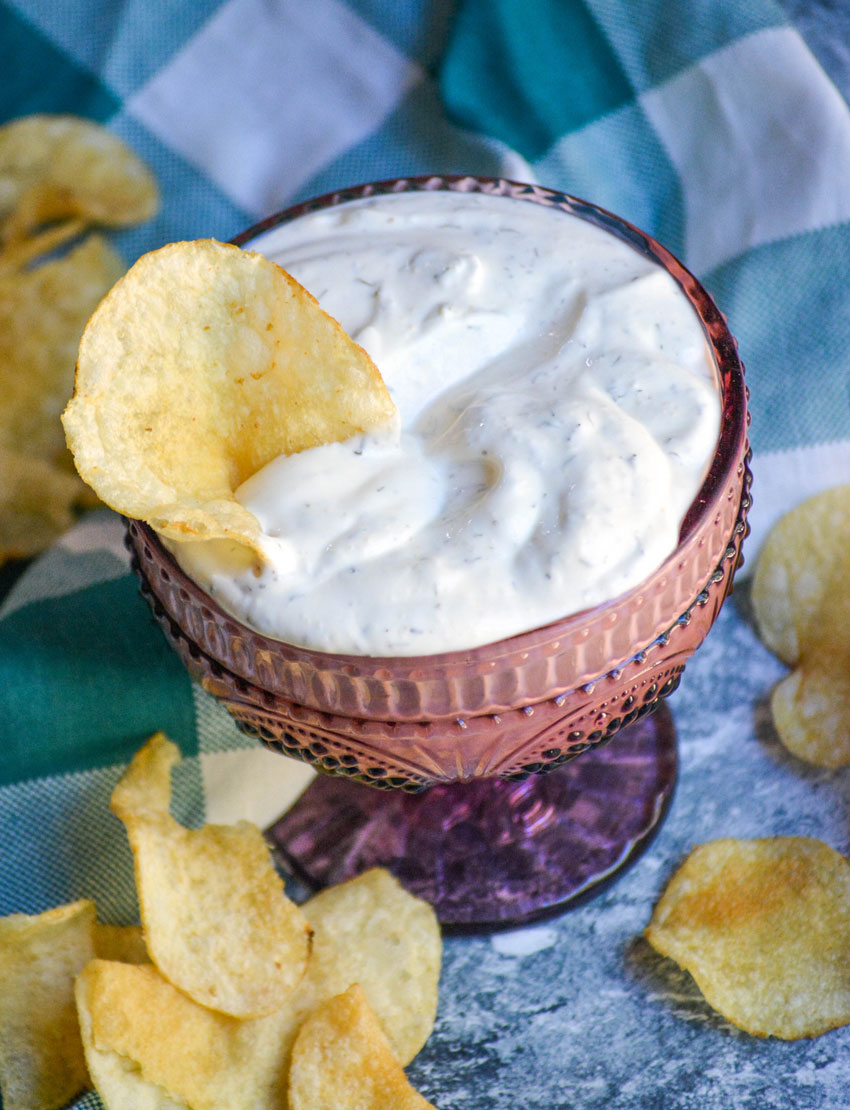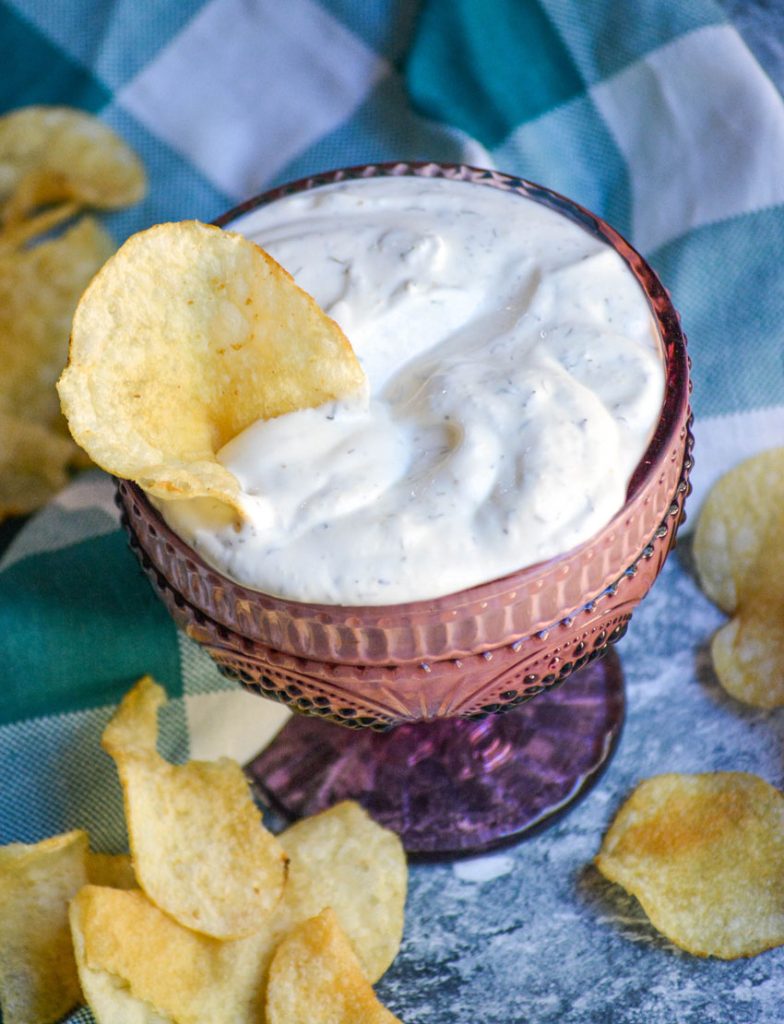 Technically, you don't even have to eat the veggies, but it might be more 'socially acceptable' than just digging into said dip with a spoon. And it's that good.
You'll consider it. I've just got to make sure I keep that tid-bit under-wraps.
You know, in the interest of trying to teach good-manners, and all those other sorts of life-lessons Moms must met out.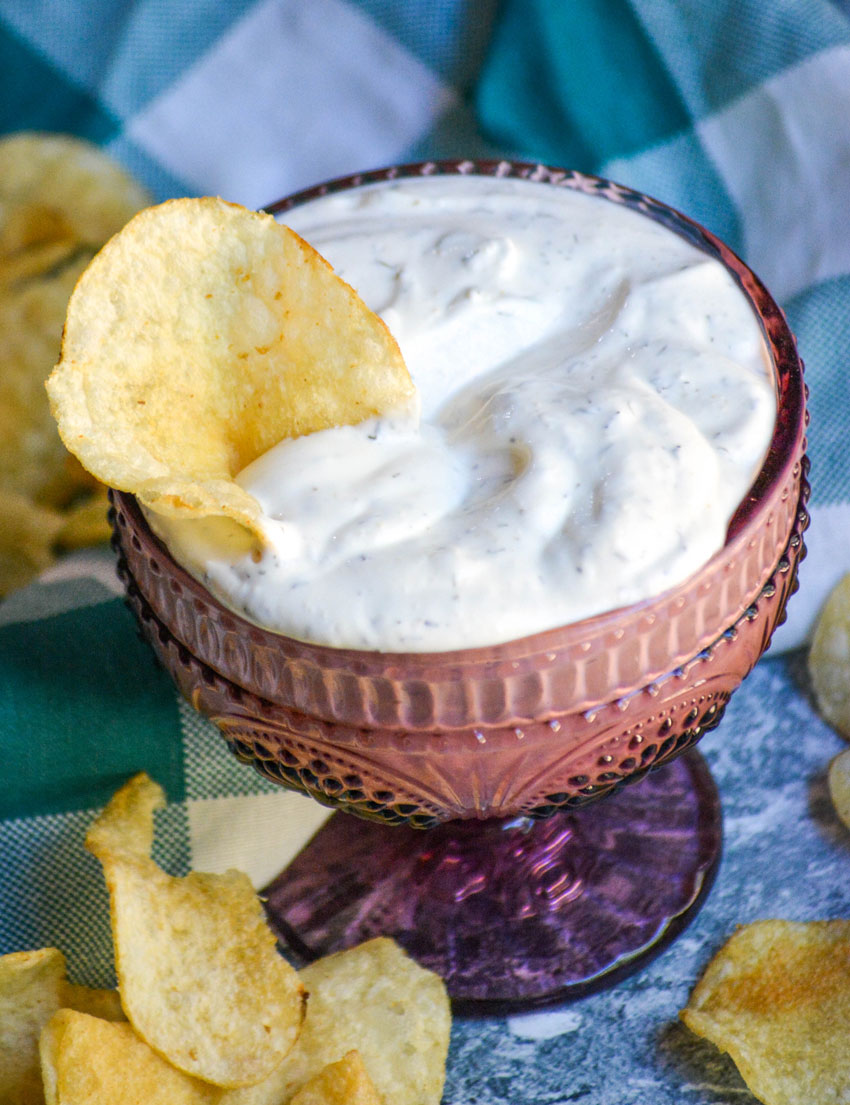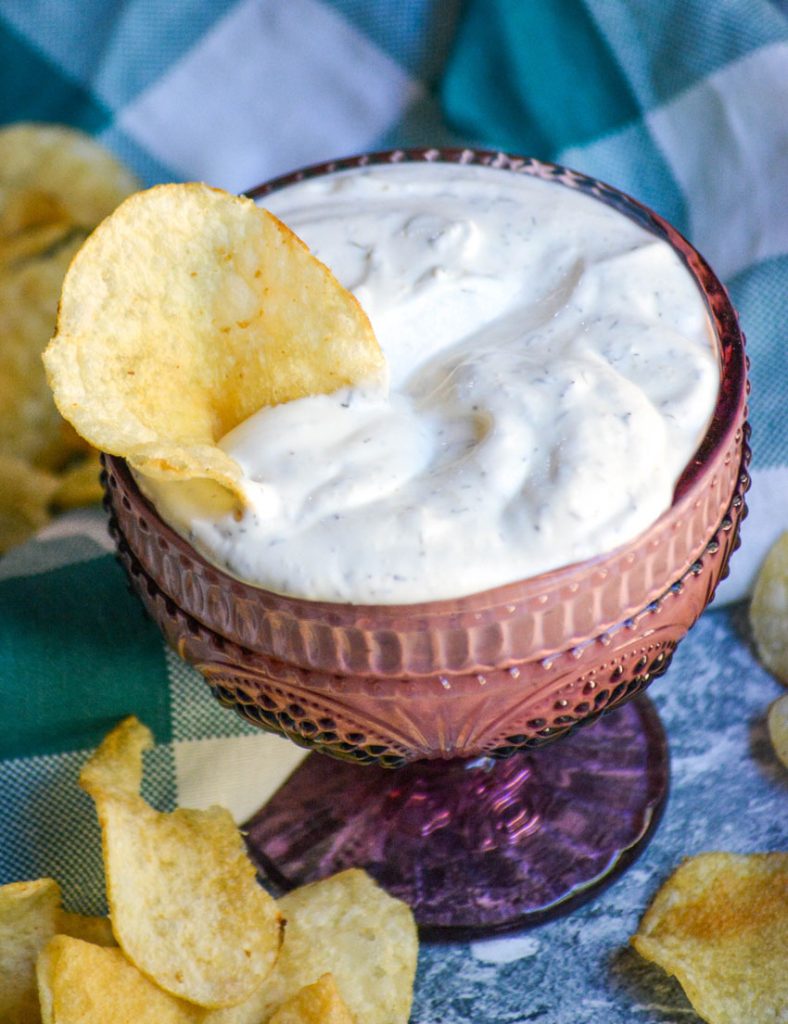 Because the slightest crinkling, crackling of a bag of potato chips has all my guys running to the kitchen.
Not just because they want a chip either mind you, but because they're begging me to whip up a bowl of this creamy dill dip.
And it's so simple, so easy that I find it hard to say no.
I mean how often is it they come to me with realistic requests these days??
Luckily, for me and hopefully for you too now, this will always be a sure thing snack request we can grant.
Making A Simple Sour Cream Dip- It's Easier Than You'd Think
I love sour cream based dips for this very reason.
They're easy to whip up at the last minute, and 9 times out of 10- I've already got all the necessary ingredients on hand.
Seriously, they're a personal favorite of mine- and any get together or party I host features at least one or two!
For this particular dill dip recipe, you need sour cream (the base), mayonnaise (hello extra creamy richness), some simple seasonings, and a little lemon juice for a bright, tangy finish.
Sour cream, even with the mayo, is such a blank canvas- it really is all about the seasonings.
They're what gives it depth and flavor, and basically what makes the dip the magical appetizer it is.
The blend consists of dried dill weed, onion powder, garlic powder, and a pinch of salt.
All of the ingredients are whisked together, transferred to a pretty serving dish, and voila- the party dip is done.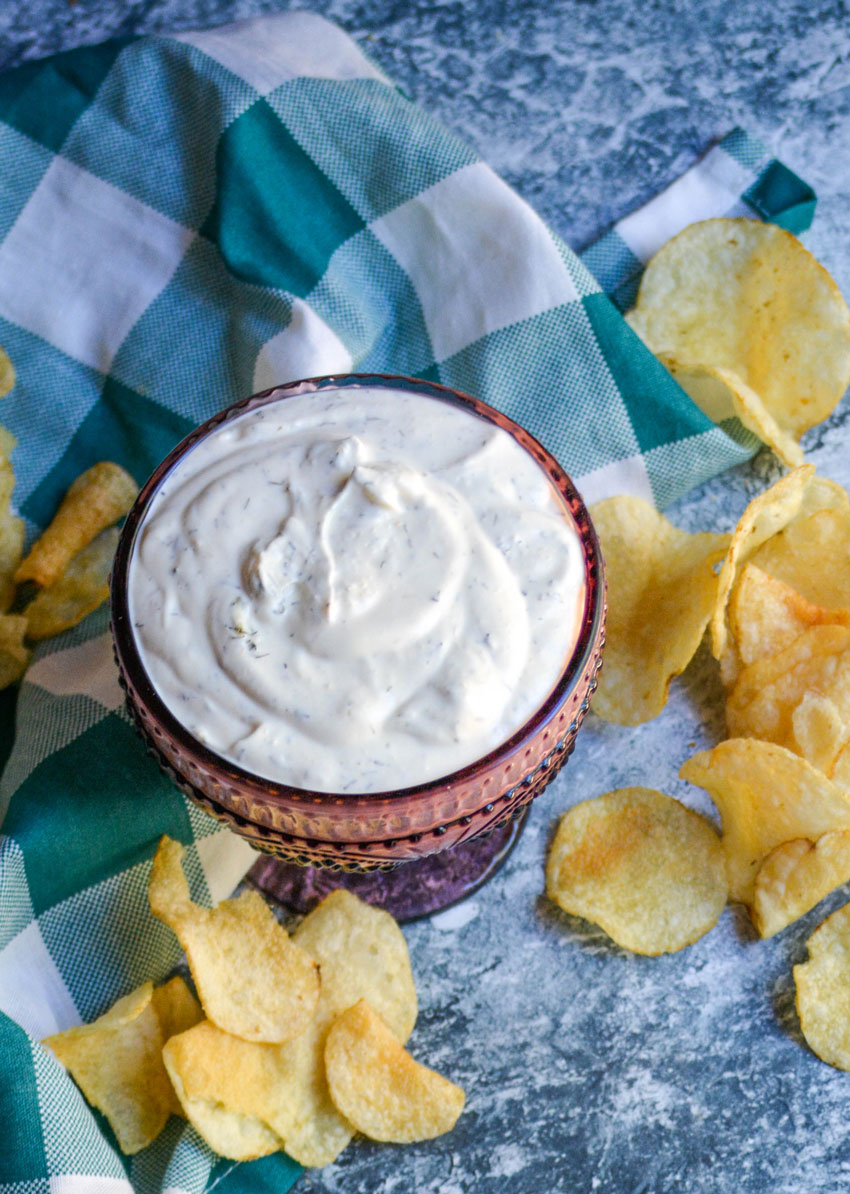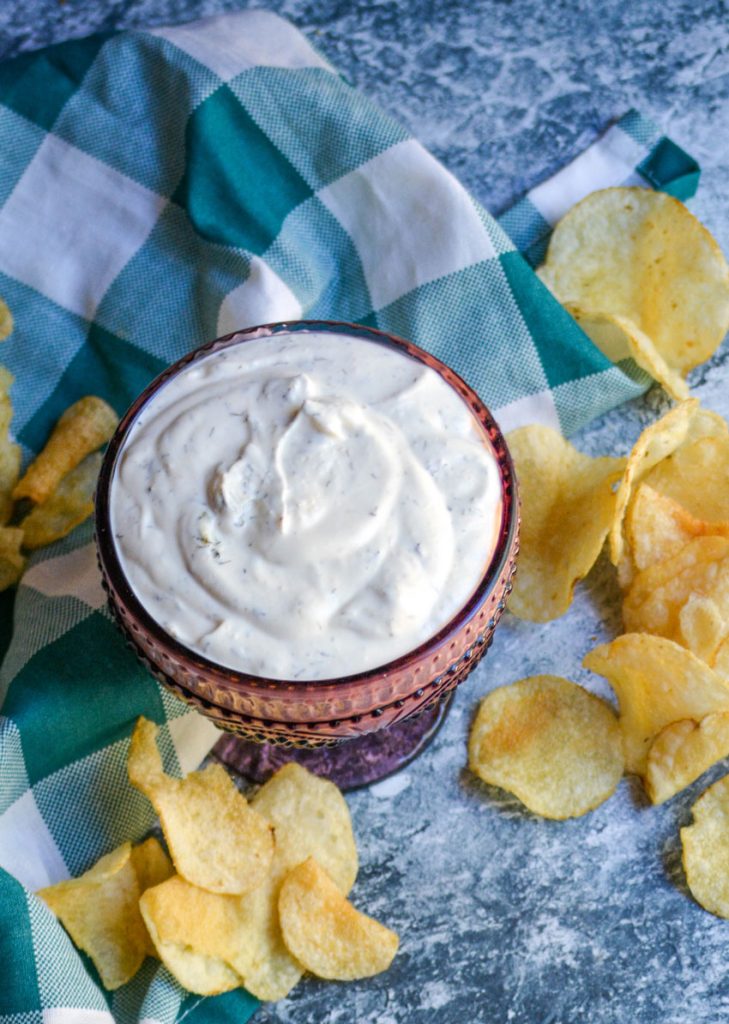 What To Serve This Creamy Dill Dip With- It's All About Having Options
This dip is so rich and creamy, I almost always find myself having to stop myself from licking it straight off the stirring spoon.
I'm not even kidding, and only mildly embarrassed. It's that good.
Since I'm usually making it to serve with guests, eating it by the spoonful is just a teensy bit impractical.
Therefor, I need to serve it with other (more socially acceptable) serving options. The edible kind.
Naturally, plain potato chips are always one of my go to options. The same can be said for pretzels. They're both great options, but there's more out there.
Think thinly sliced crusty French baguettes. Melba toasts. Even crisp veggies are a perfect option.
Think carrot sticks, celery stalks, even broccoli florets and juicy grape tomatoes.
Go nuts- the possibilities are pretty much endless. Except don't really go nuts and try to pair it with nuts- that wouldn't be such a tasty combination. Just saying.
We've even been known to whip it up to serve as a topping for our baked potatoes and as a side with a juicy grilled steak.
Warm Vs Chilled- When To Serve Dill Dip
This dip can be served as is as soon as it's whipped up. It will still be somewhat 'chilled' since your sour cream and mayo are both coming out of the refrigerator.
That's one of the things I love best about it, how quick it is to fix and get on the table even at the last minute.
However, it can also be made up to a day ahead of time and refrigerated until you're ready to set out your spread.
I highly recommend this option if you have the time and (frankly the patience & self control).
Magical things happen when the herbs & seasoning are allowed to sit and the flavors to deepen & merry during it's chill time.
Moral of the story- it's really good right out of the gate, but it's an even more flavorful experience when allowed to deepen and 'chill'.
Looking For More Dip Ideas? Other Sour Cream Based Dips We Love
If you've tried this DELICIOUS DILL DIP, or any other recipe on the site, let me know in the comment section how it turned out, we love hearing from our readers! You can also follow along with me on PINTEREST, FACEBOOK, and INSTAGRAM to see more amazing recipes and whatever else we've got going on.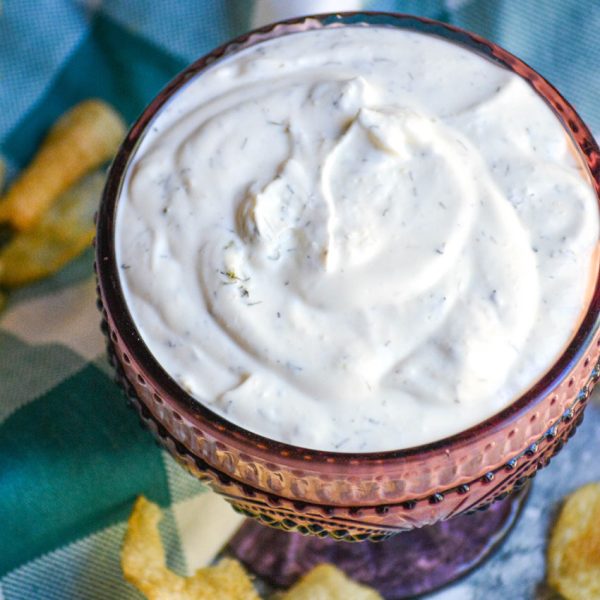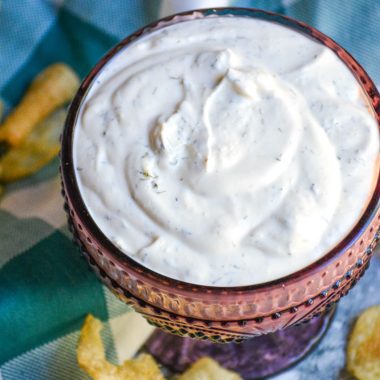 Delicious Dill Dip
This creamy sour cream based dip is bright & flavorful, infused with dill and other simple seasonings. It makes a great dip, or even a topping for things like steak and baked potatoes.
Print
Pin
Rate
Ingredients
1

cup

sour cream

1

cup

mayonnaise

2

tsp

dried dill weed

1

tsp

onion powder

1

tsp

garlic powder

1

tbsp

lemon juice

1/2

tsp

salt
Instructions
In a medium bowl, combine all ingredients. Mix well.

Chill for at least one hour before serving.

Serve with fresh veggies, slices of crusty bread, crackers, or pretzels.
Nutrition
Calories:
332
kcal
|
Carbohydrates:
2
g
|
Protein:
1
g
|
Fat:
36
g
|
Saturated Fat:
9
g
|
Cholesterol:
36
mg
|
Sodium:
463
mg
|
Potassium:
79
mg
|
Fiber:
1
g
|
Sugar:
2
g
|
Vitamin A:
283
IU
|
Vitamin C:
1
mg
|
Calcium:
51
mg
|
Iron:
1
mg