Smoked queso dip kicks regular cheese dip a big notch with tons of flavor. This recipe features a silky smooth cheese base, spicy jalapeno and sausage and delicious smoky flavor from cooking.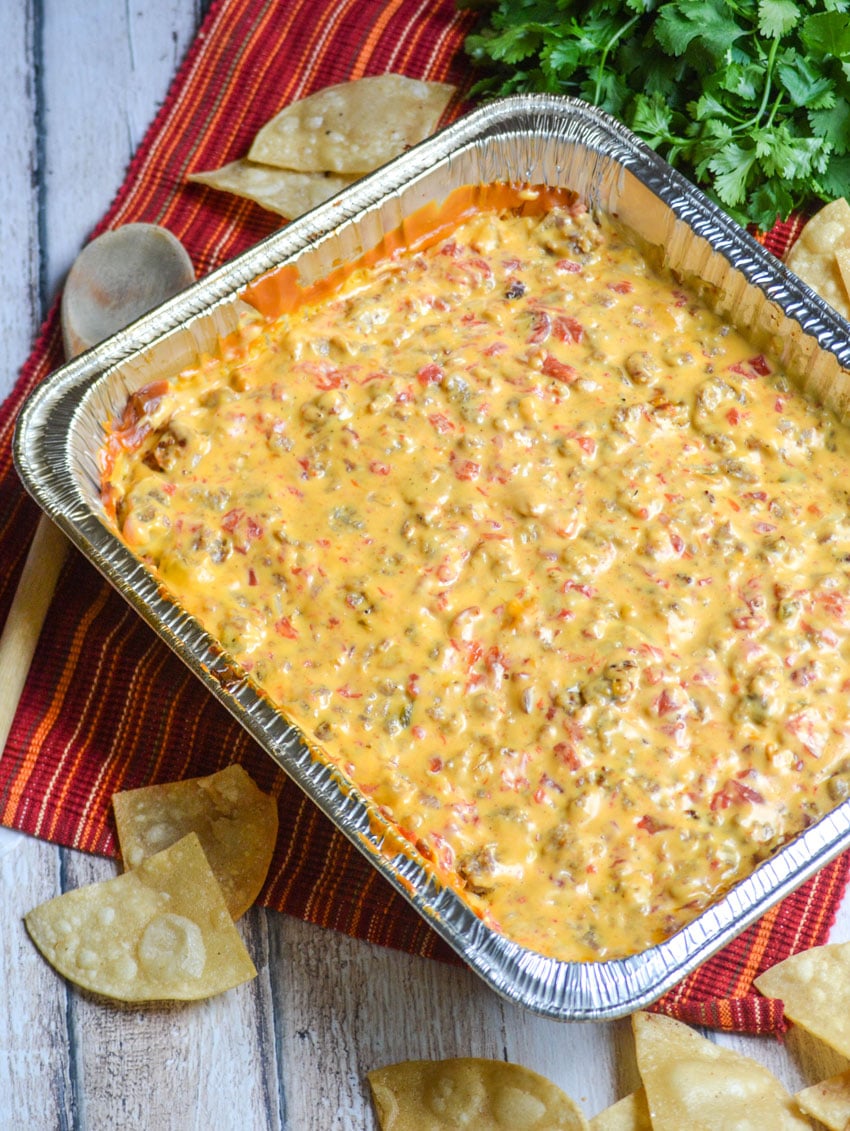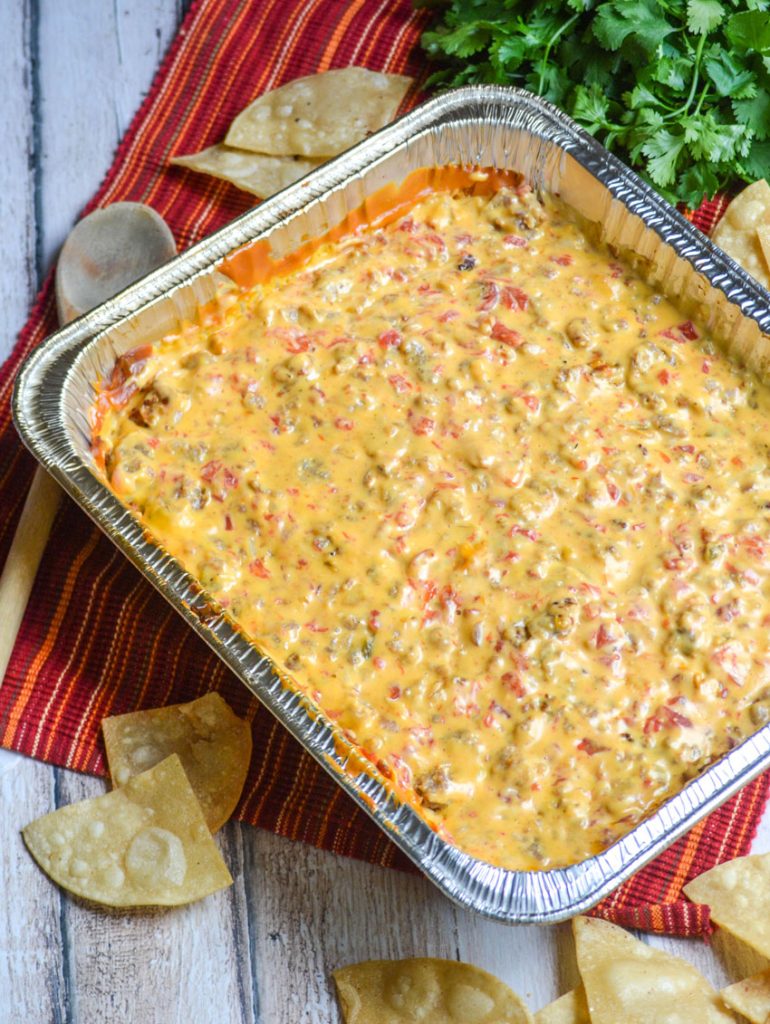 If you want to show me you love me, bring me cheese.
It's really that simple.
If you really love me a lot, bring me luscious cheese full of flavor that's perfect to dunk tortilla chips into.
And that is exactly what this smoked queso is.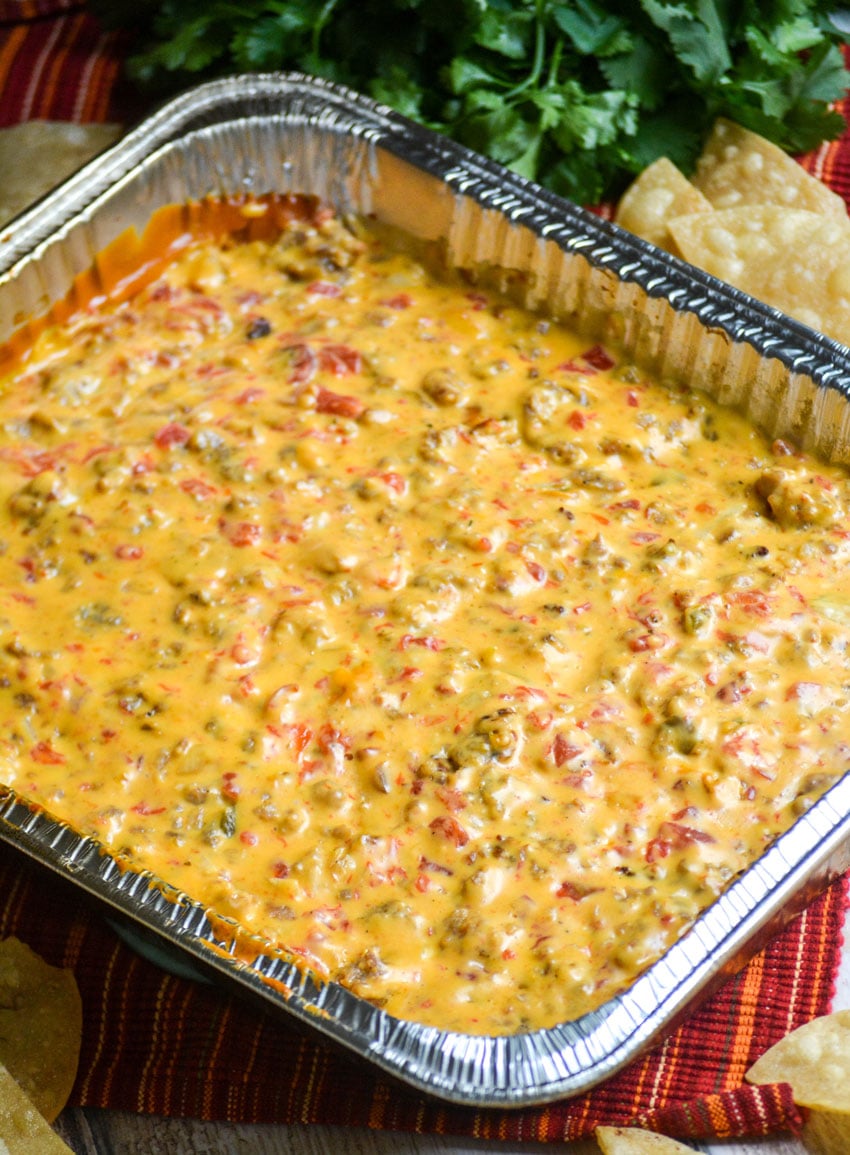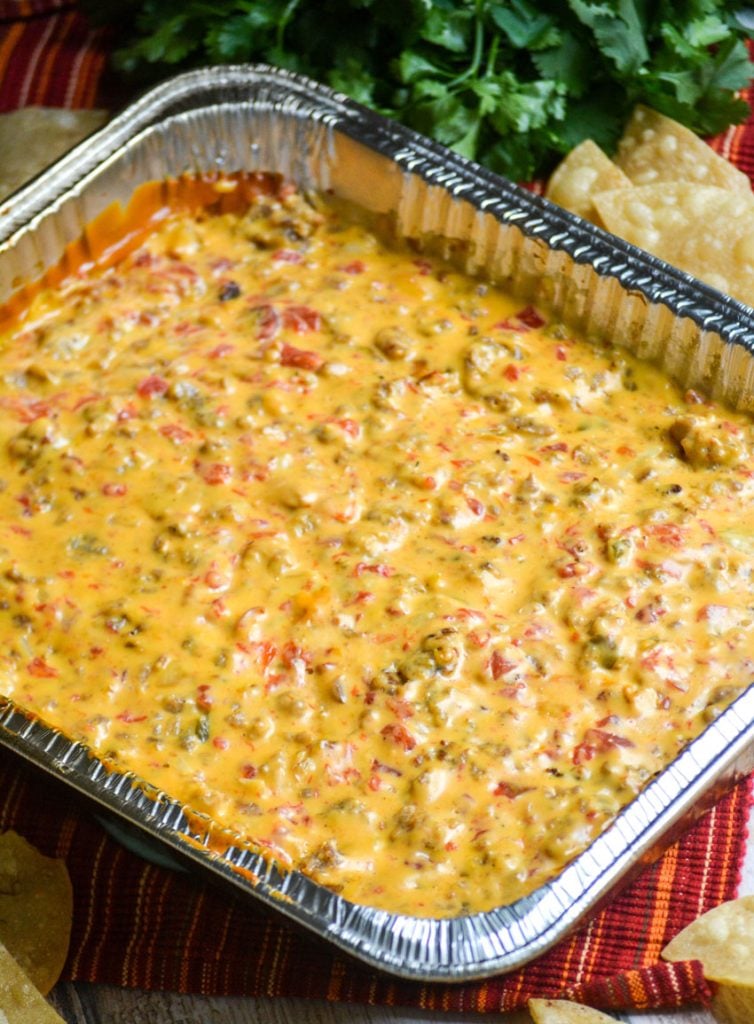 Why smoke queso?
Traditional queso recipes are prepared on the stove top or sometimes in a slow cooker. And that does the job for sure.
But smoking anything adds an extra layer of big flavor and that's exactly what it does to this dip: adds tons of smoky flavor.
And smoked cheese is a delicious thing.
While you can sometimes find smoked cheese in the store, it can be hard to find and smoking this will give you that same flavor.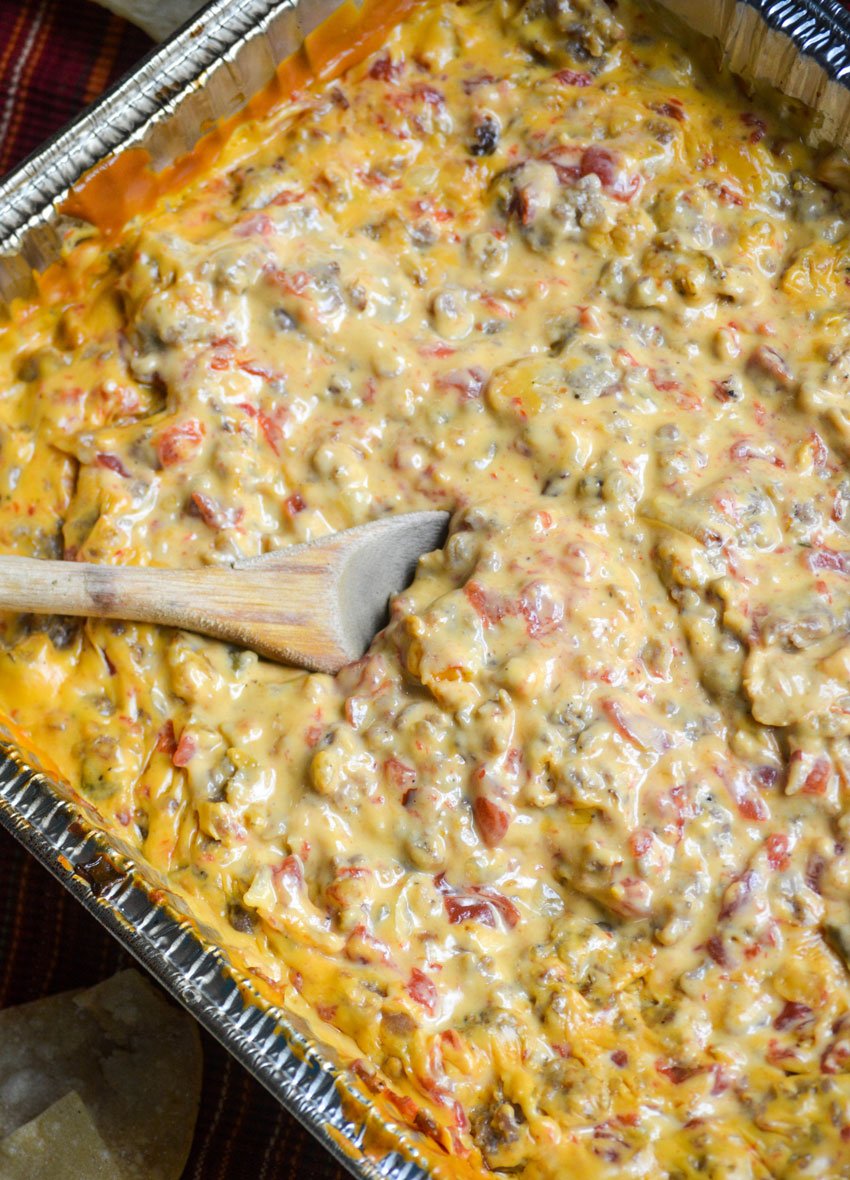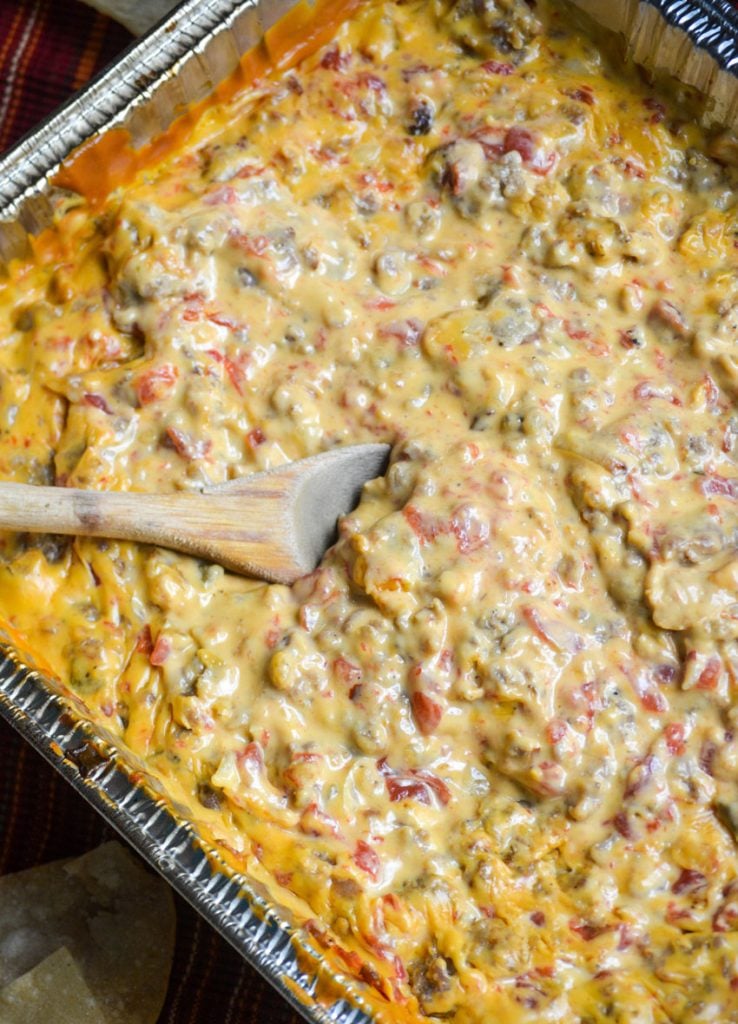 How to Make This Dip
This recipe couldn't be easier to make!
Just add all of the ingredients to a disposable 9×13 aluminum pan.
Then smoke at 250 degrees for 2 hours, stirring after an hour.
When the time is up, use pot holders to carefully take the pan out of the smoker.
Stir the dip again until it is smooth.
What Can You Dip In Hot Cheese Dip?
Serve hot with plenty of chips for dunking. Fresh chips are the absolutely best!
Other options include freshly sliced baguettes, toasted bread, bread sticks, and obviously store bought tortilla chips.
Think of it kinda like fondue. If you'd dunk it in that (and enjoy it), you can dunk it in this.
If you need a less carb loaded dipping option, sweet pepper slices make a great choice.
Lightly steamed broccoli is also a great alternative.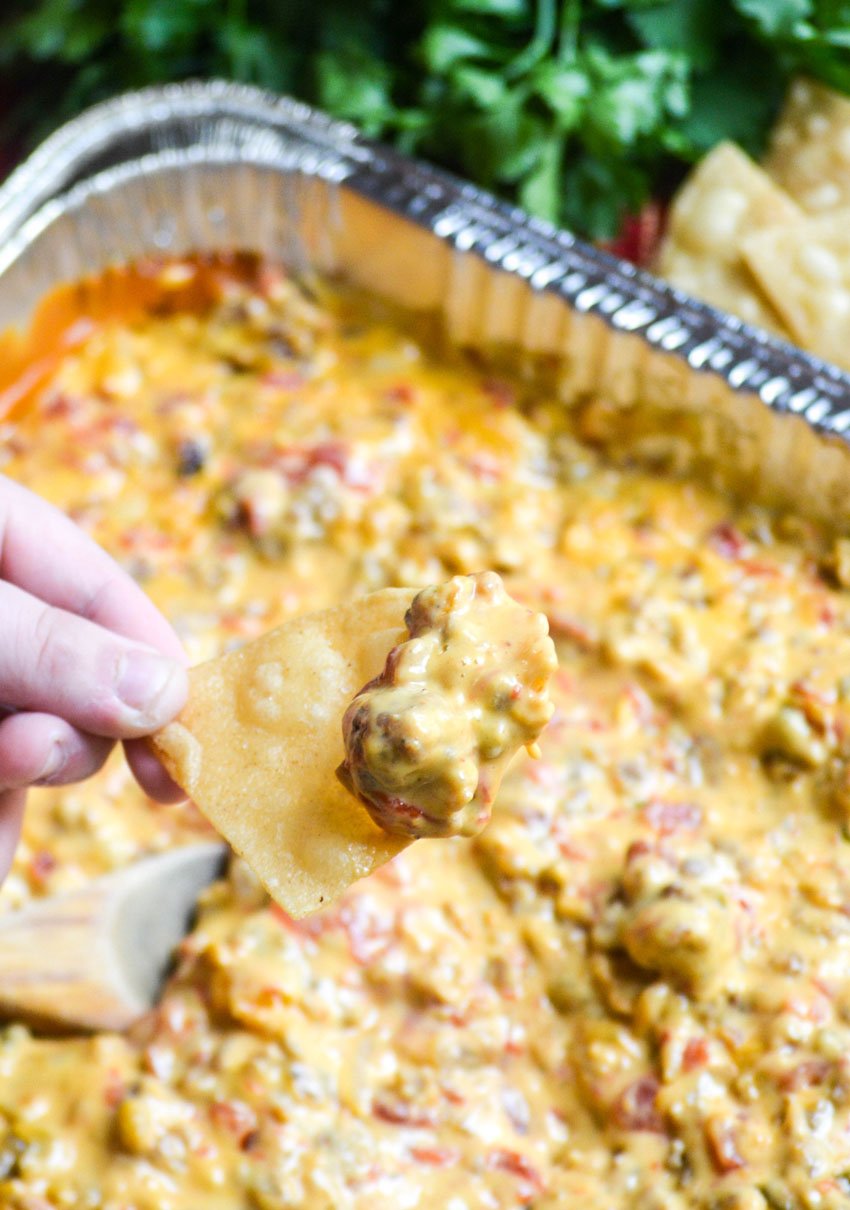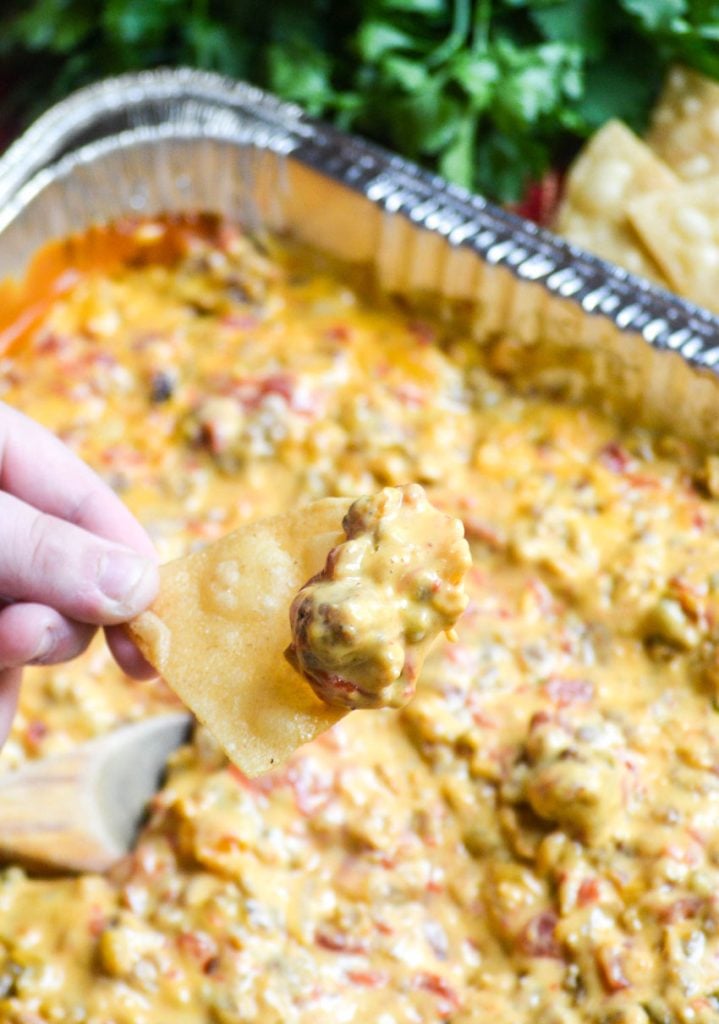 Making Homemade Corn Tortilla Chips
Tortilla chips really do pair perfectly with this queso dip.
And while I am no stranger to store bought brands (there's always a bag in my pantry), homemade chips really set this dip apart.
If you have the time.
Luckily, whipping up a batch of fresh tortilla chips is super quick & easy.
You'll need roughly a dozen corn tortillas.
Doesn't matter if they're fresh, or slightly stale and maybe even on their last leg.
Homemade chips are a great option for giving old tortillas new life.
Cut the stack into four even quarters, this will give you about 48 chips.
If you want more, you can cut the tortilla stack into 6 smaller triangles instead. This will yield about 72 chips.
Heat canola, or vegetable, oil in a large heavy bottomed pot.
Heat the oil until a small piece of tortilla dropped in the oil sizzles (about 350 degrees).
It takes some time to heat up, but we tend to find the best success with our oil heated just a tick under medium heat.
Once the oil's ready- carefully add a handful of tortilla triangles to the hot oil. Make sure to stir them to prevent them from sticking together.
Let the chips cook for 1-2 minutes, until golden brown and bubbly.
Color isn't always the best indicator- look for them to be firm, and no longer pliable.
Use a slotted spatula to remove them from the pot and transfer them to a waiting stack of paper towels to drain off the excess oil.
Repeat until all the chips have been cooked & drained.
Raise the heat slightly if on subsequent batches the chips aren't frying the same.
Be Very Careful when working with hot oil, or things that have just come out of hot oil to avoid getting burned.
The oil will stay hot long after you're done using it.
My suggestion is use potholders to carefully move the pot to one of the stove's back burners where it can rest until the oil has completely cooled.
Tips and Tricks
Making this is so easy, but these tips and tricks will help make this the most delicious queso recipe ever.
If you prefer, you can smoke a bulb of garlic as you cook the dip. Then peel and mash several cloves with a fork and then stir them in the dip before serving.
Chorizo makes a delicious sub for the hot sausage.
We used a blend of hickory & pecan chips, but any should work as long as they're not a super strong flavor like mesquite.
The queso will look really brown on top before each stirring from the smoke. Stir and incorporate the film into the dip, It will melt right in and incorporate the smoked flavor.
We used regular velveeta cheese in this recipe, but their queso blanco style will also work and turn out just as tasty.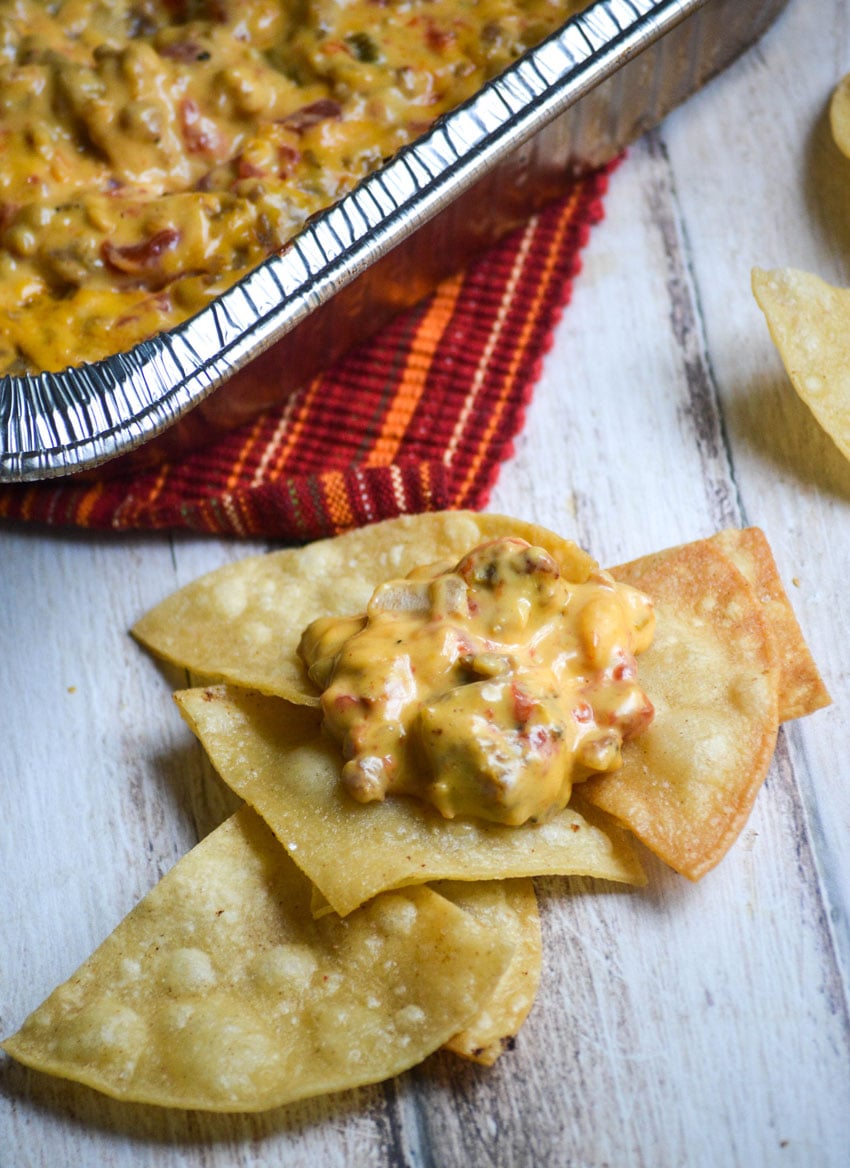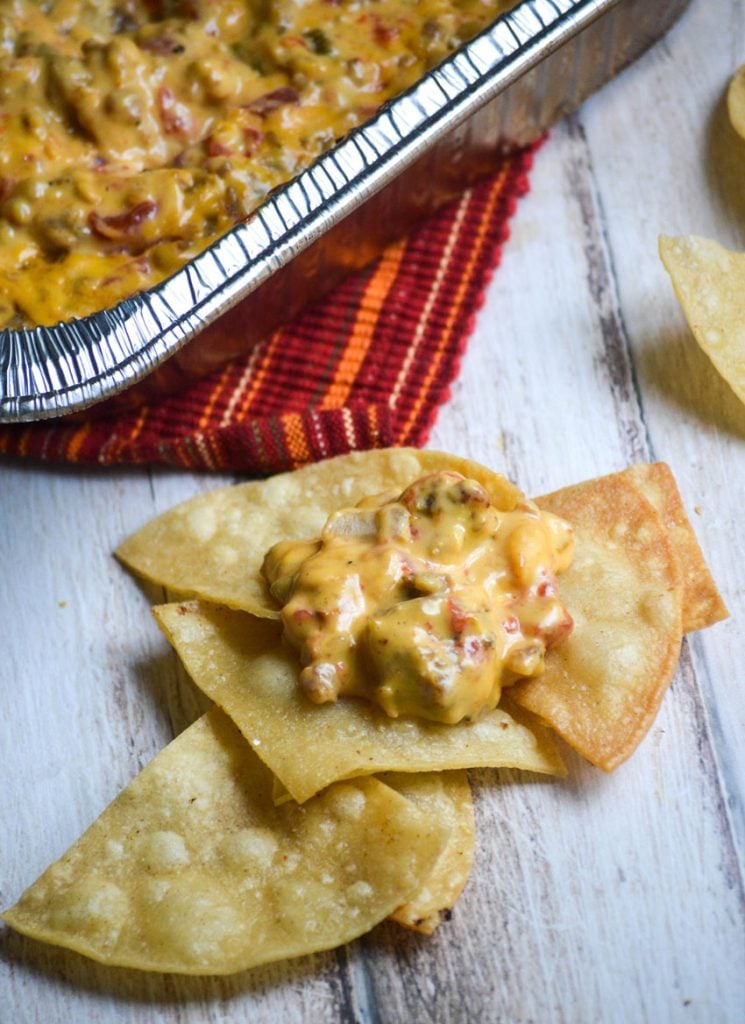 What To Do With Leftover Queso?
Chips and cheese are a match made in Heaven, and they make a great appetizer or snack.
The biggest question I get though is what happens when the party's over?
What to do with that leftover queso dip then so that it doesn't go to waste?
Here's some ideas:
Drizzle over steamed broccoli in lou of a plain cheese sauce
Serve over a baked potato for a light meal or a zesty side dish
Depending on how much dip you have left, stir in 1-2 cans of drained & rinsed kidney or black beans to turn it into a cheesy Tex Mex side dish
Add cooked ground beef or rotisserie chicken + some cooked pasta for an extra meaty simple supper.
Other Cheese Dips You Might Love
This smoked queso is a Summer time favorite in our house. Make some the next time you fire up your smoker and watch it disappear!
Looking for other cheese dips? Here are a few favorites:
Looking for other queso style dips to make at home? This restaurant style white queso dip is a hot, creamy Mexican style cheese dip that's perfect for serving with fresh, warm tortilla chips.
Want to pair this with something cooler, like a zesty salsa? This smoked salsa recipe is the perfect thing for an award winning snack or appetizer combination for any backyard party or barbecue.
If you've tried this SMOKED QUESO DIP, or any other recipe on my site, let me know in the comment section how it turned out, we love hearing from our readers! You can also follow along with me on PINTEREST, FACEBOOK, and INSTAGRAM to see more amazing recipes and whatever else we've got going on!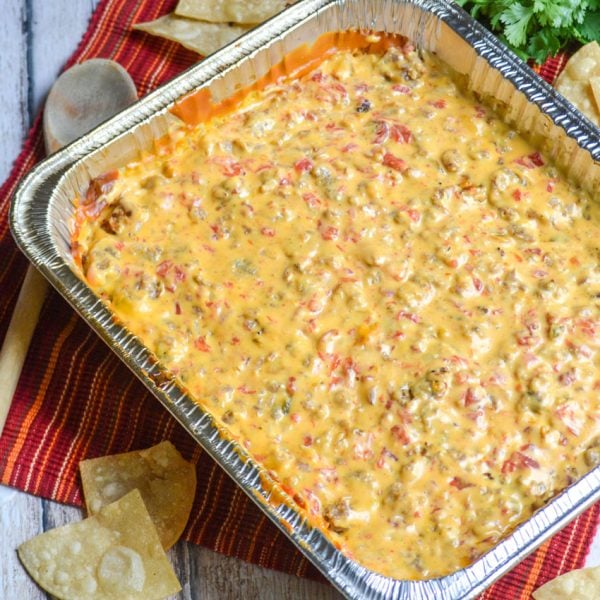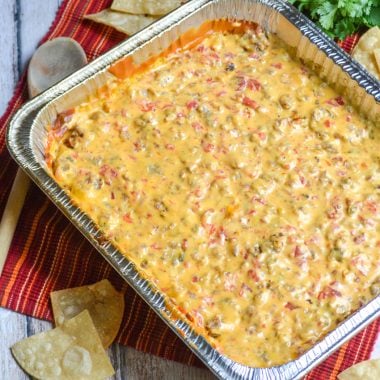 Smoked Queso Dip
Smoked queso dip kicks regular cheese dip a big notch with tons of flavor. This recipe features a silky smooth cheese base, spicy jalapeno and sausage and delicious smoky flavor from cooking.
Print
Pin
Rate
Ingredients
1

lb

spicy ground sausage

browned & strained of grease

1

jalapeno

seeded & diced, optional

1/2

large

white onion

diced

32 oz

block

Velveeta cheese

cubed

2

cans

diced tomatoes with green chilies

drained

1

tbsp

minced garlic
Instructions
Add all of the ingredients to a (disposable) 9x13" aluminum pan.

Smoke at 250 degrees for 2 hours. Stir the queso 1/2 way through cooking.

Use pot holders to carefully remove the pan from the smoker.

Stir the dip a final time until everything's smooth and evenly combined.

Serve immediately, with chips for dipping.
Notes
Queso, especially this velveeta cheese based dip, begin to harden & congeal rather quickly. To keep it smooth & creamy for longer serving, transfer it to a slow cooker and leave it covered on the warm setting.
Nutrition
Calories:
239
kcal
|
Carbohydrates:
10
g
|
Protein:
17
g
|
Fat:
15
g
|
Saturated Fat:
7
g
|
Cholesterol:
47
mg
|
Sodium:
1157
mg
|
Potassium:
394
mg
|
Fiber:
1
g
|
Sugar:
7
g
|
Vitamin A:
691
IU
|
Vitamin C:
7
mg
|
Calcium:
369
mg
|
Iron:
1
mg