A good dip recipe is a must have for any host, and our Montreal Steak Seasoning Dip recipe doesn't disappoint. It's the dip you pull out of your pocket that is surprisingly simple, but still steals the show- every time. Who knew your familys' favorite steak seasoning and sour cream could pair up to make such a special sauce.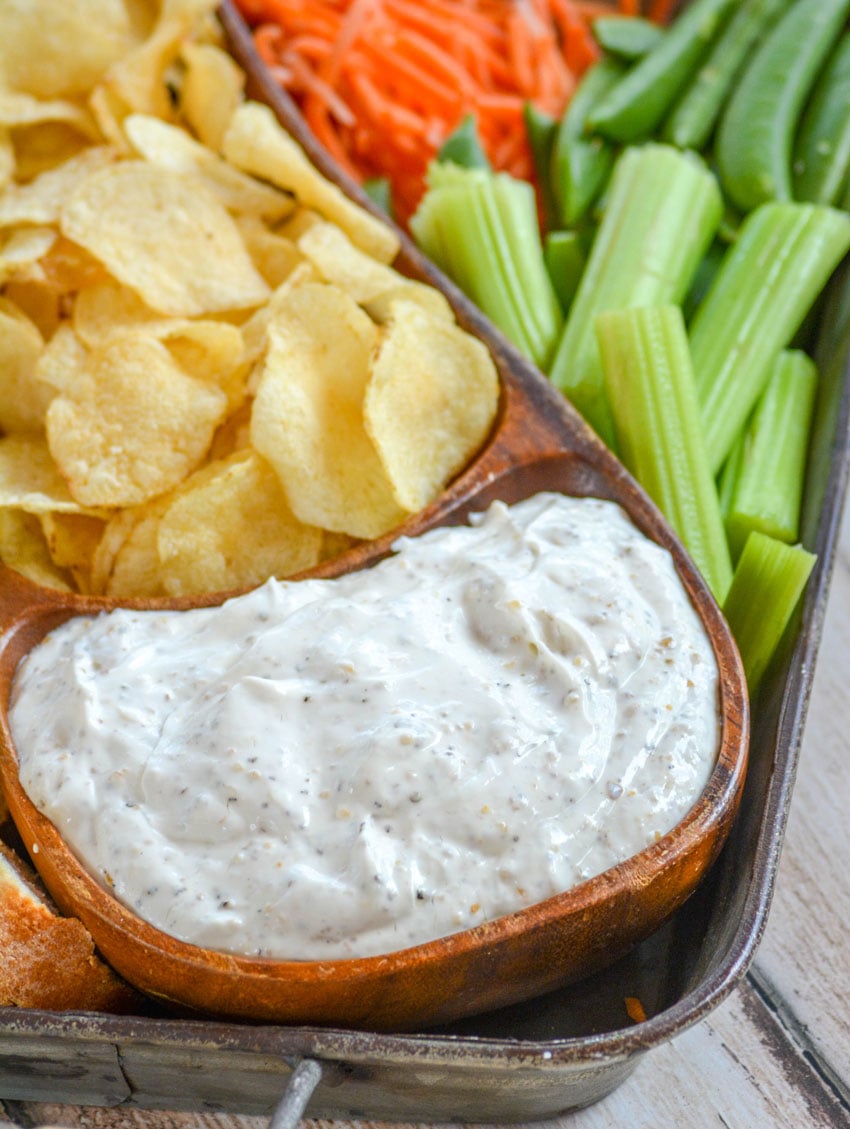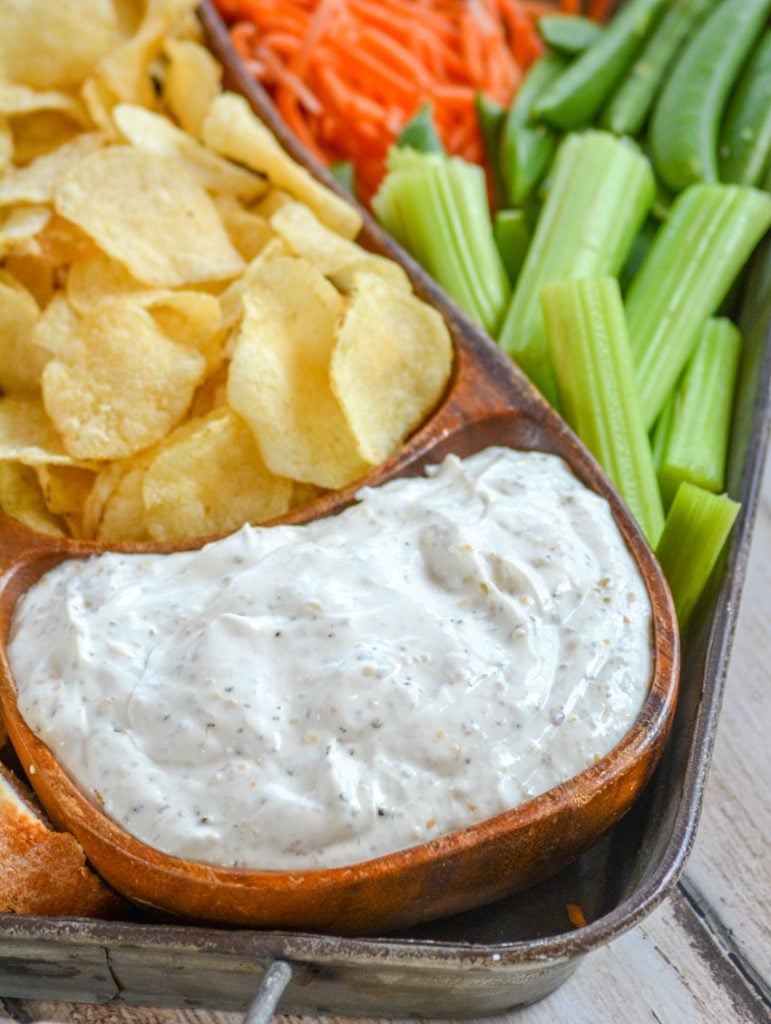 After spending an hour looking for a pair of red pliers that somehow ended up hiding in plan sight on my front lawn- I no longer wonder how these things happen.
They just do, and to anyone. More often than I'll ever admit too.
Makes sense when I think about how DB Cooper was able to escape and avoid detection.
Equally unsurprising to me now, how spices go deep undercover in my spice cabinet.
Oh, you thought you had an extra thing of pumpkin spice?
Maybe it was cumin.
Or in this case, a packet of ranch dressing powder.
You vividly remember buying a back up. Think again, Janet.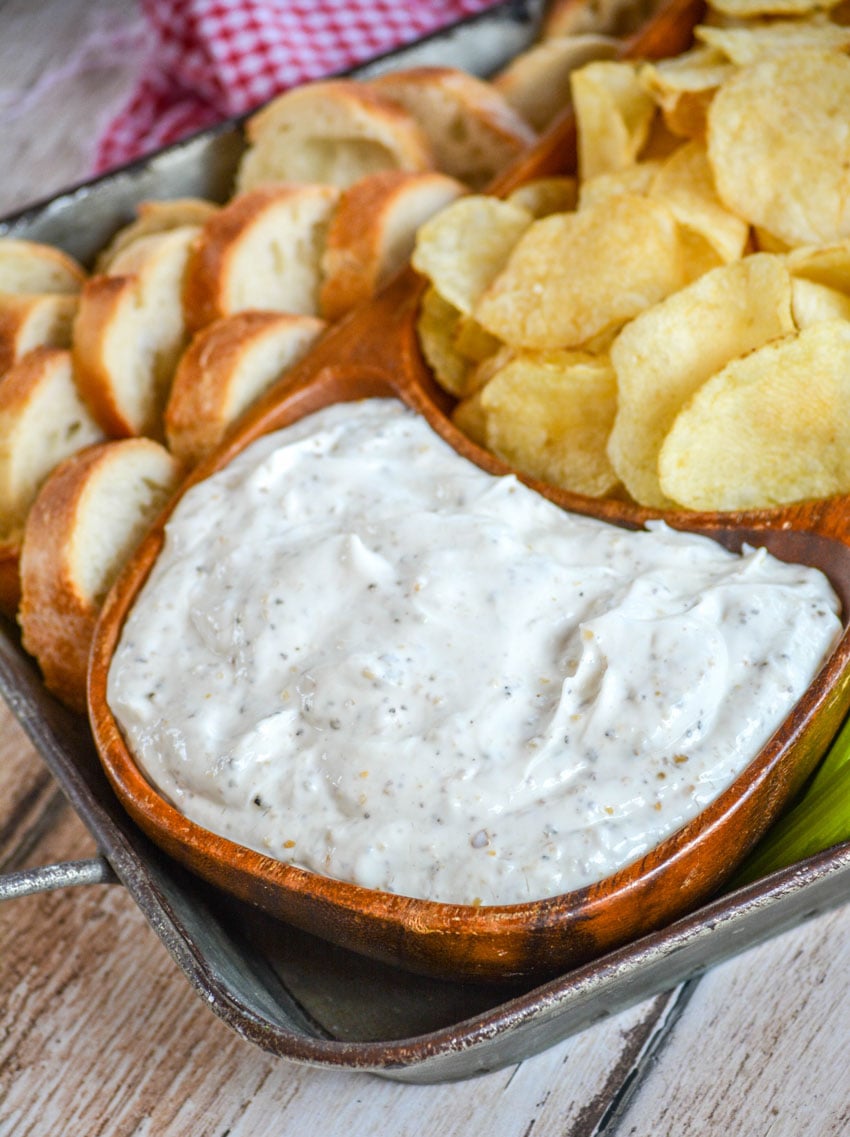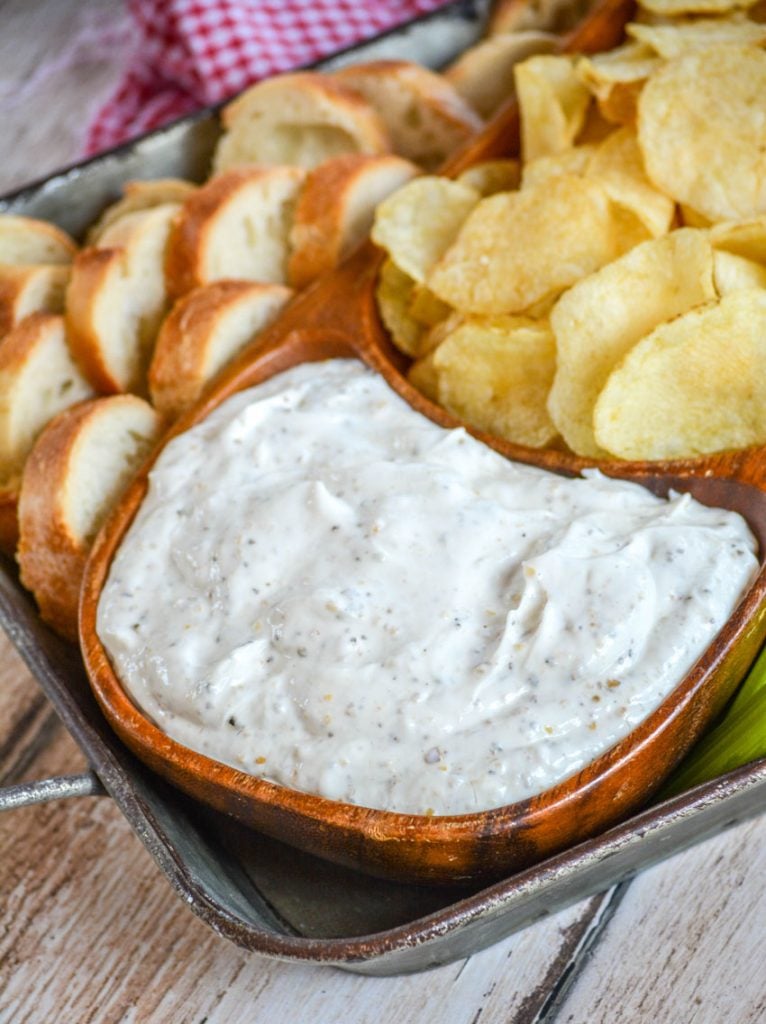 Except I knew good and well that it was in there.
What's a girl to do then?
I really don't want to rip everything out to hunt that sucker down.
I cook a lot, and my spice cabinet is fully stocked.
That's a lot of spices, and a lot of work. And let's face it, I'll be the only one putting them all back.
Yeah, no thanks.
Substitutions have been made for far less important reasons, I'm sure.
Mysteriously, the pack of bacon I knew I'd bought earlier in the week was missing.
After grilling all my guilty guys, I knew that was not an option.
Which meant neither of my go to dips were an option: cheddar bacon ranch dip & creamy bacon horseradish dip.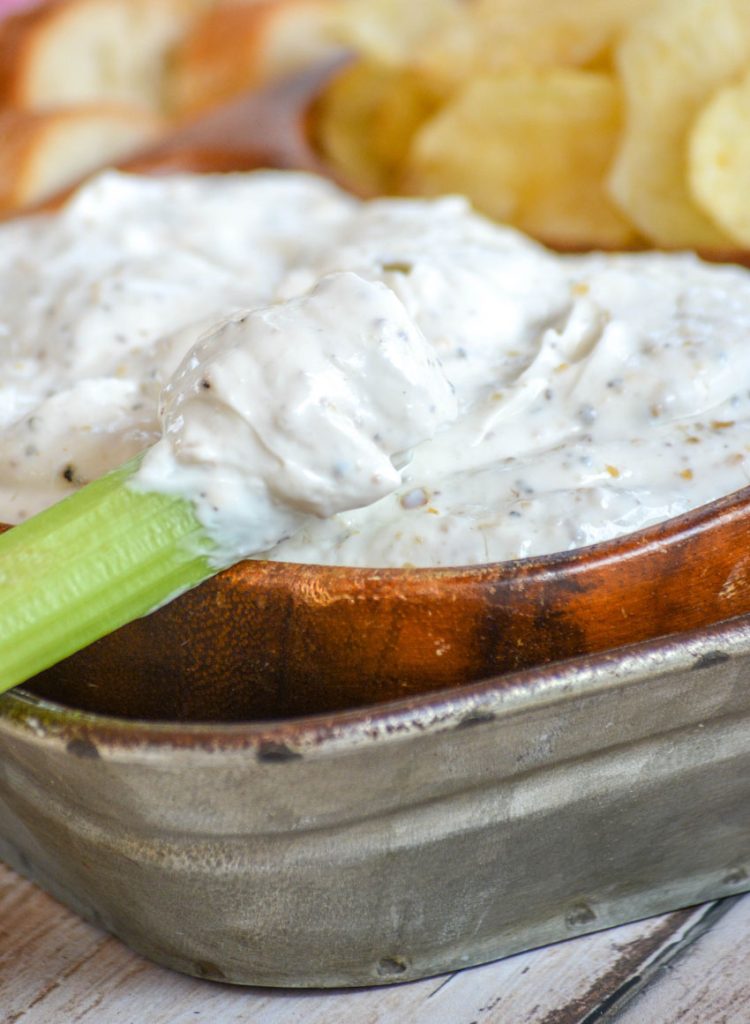 What was I going to do??
I had people coming over and dip needed to be made.
Not just any dip either. Really good, guaranteed to please dip.
We were grilling out & for me a cool, creamy chilled dip is a must as far as appetizers go.
My sour cream base was in the refrigerator chilled & ready to go. I just needed the mix-ins.
I'd mentioned we were grilling. Steaks for the adults, burgers for the kids.
All liberally seasoned with Mccormick's Montreal Steak Seasoning.
My trusted, Costco sized container of which was sitting on the edge of the kitchen counter still.
I couldn't help but keep staring at it.
After the third time it caught my eye, I shrugged my shoulders and took it as a sign.
Fate, divine intervention, whatever you'd call it- I went with it.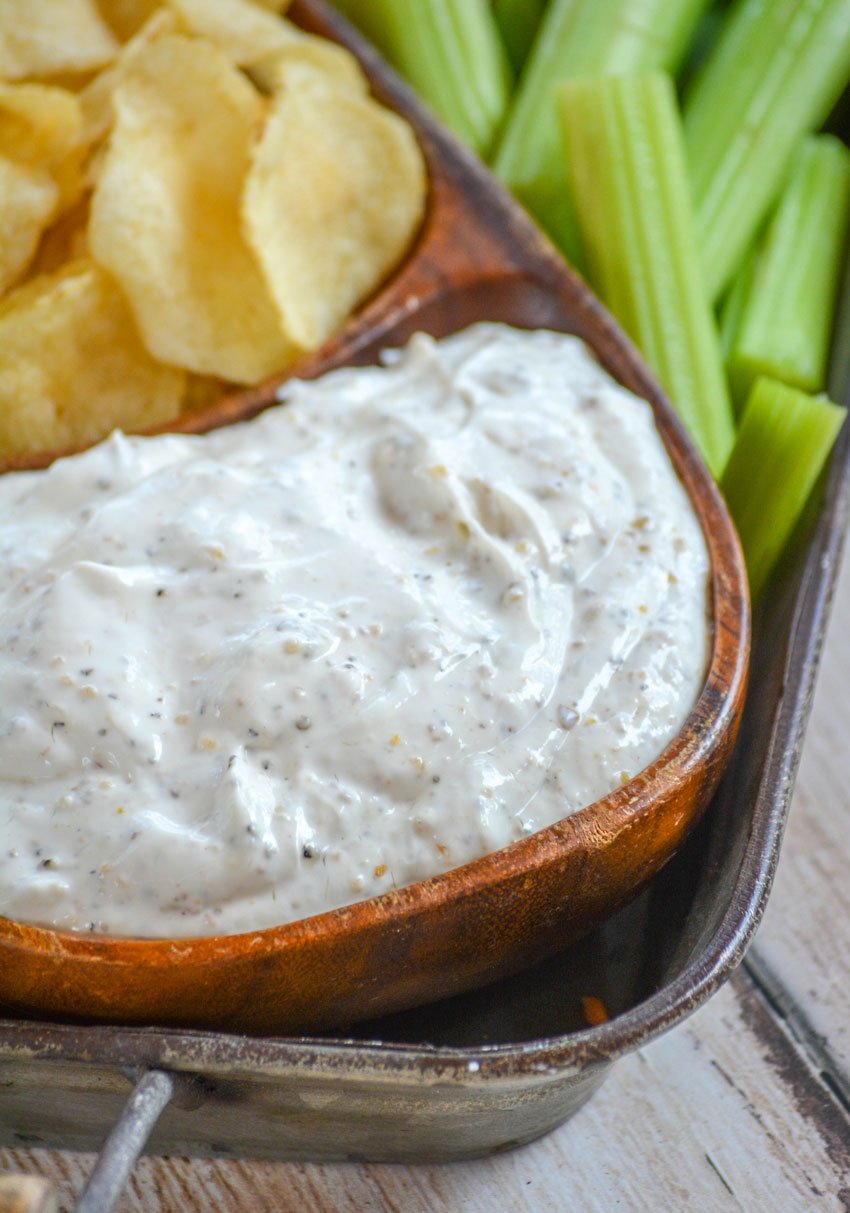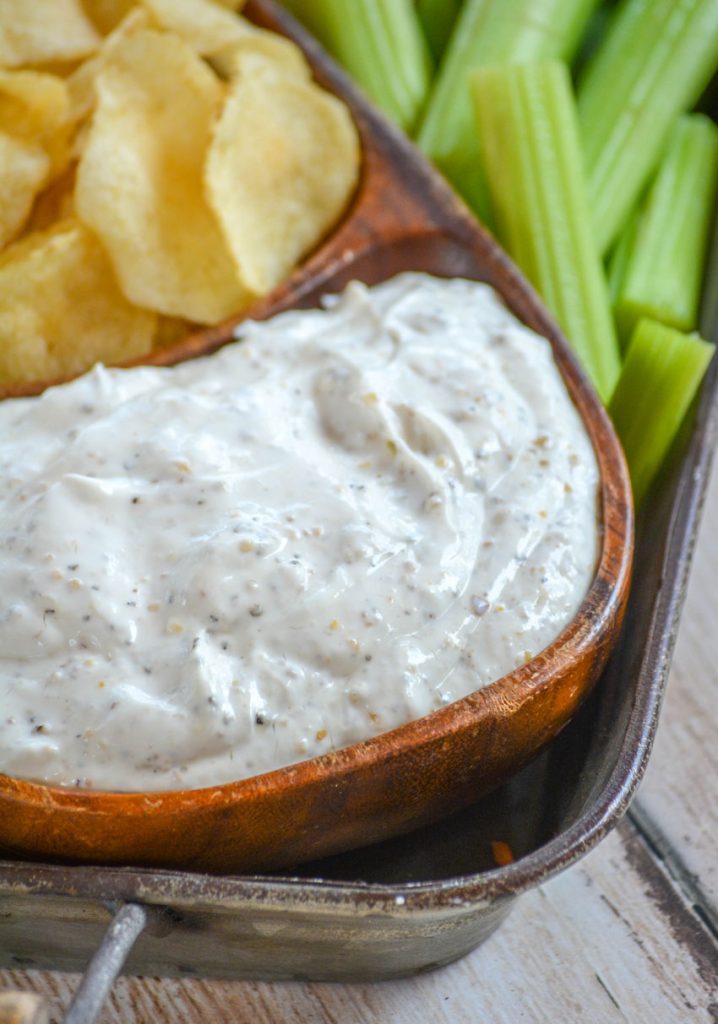 My Grandma swore by the stuff, so I already knew you could do so much more with it than just season meat on the grill.
How about turning it into a dip…
Not so much turning it into, as incorporating it into.
That's the story of how this Montreal Steak Seasoning Dip came to be. It was a delicious day indeed.
It's also since become one of my go-to dips, rounding out the trio.
I love that it's super simple to whip up, and only needs a couple ingredients I'm always guaranteed to have handy.
Ingredients Needed To Make Montreal Steak Seasoning Dip:
sour cream
Montreal steak seasoning
garlic powder
Worcestershire sauce
It really doesn't get any simpler than that. Just four ingredients!
This dip is always a hit at whatever event we serve it at. You can't go wrong.
You can't choose a bad thing to serve it with either.
Chips, crisp veggies, crackers, even thin slices of a baguette all work beautifully.
They each taste great too!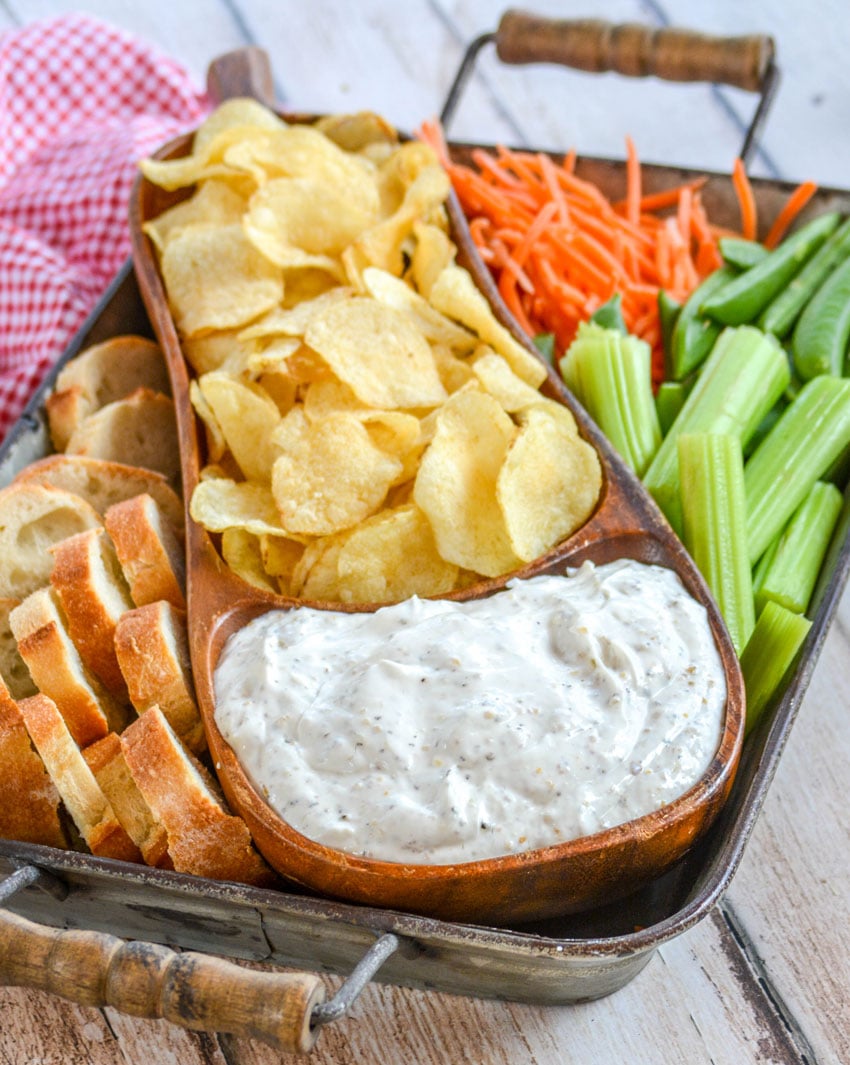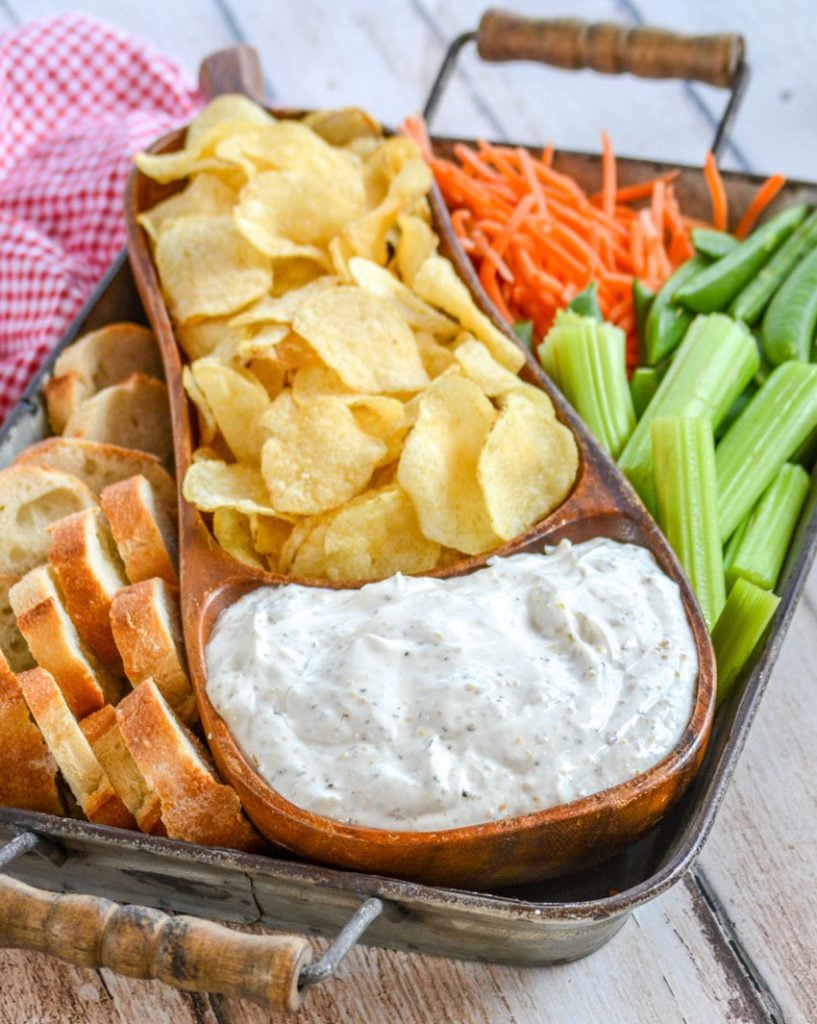 This dip is just as simple to whip up.
It does require some significant chilling time, 8 hours or overnight.
That's to allow the coarse salt in the dip to break down and be absorbed.
If you don't have that kind of time then I'd suggest just cutting back on the steak seasoning by 1/2 tablespoon.
Mix all of the ingredients together in a mixing bowl, whisking until smooth. Chill the mixture overnight and serve when ready.
Tips & Tricks For This Recipe:
I'm not usually picky about versions of a product, but in this recipe I 100 % recommend using full fat sour cream. Yes, I know it's more calories- but it doesn't separate overnight. Also, it takes on the flavors better and enhances them.
Montreal steak seasoning is naturally salty. While chilling the sour cream absorbs a lot of the salt, so it's not as sharp. I'd still recommend a lower sodium potato chip if that's what you're choosing to pair it with. The same goes if serving with crackers.
While I love this as a dip, it also doubles as a delicious topping for baked potatoes. Seriously, it takes them from drab to fab in seconds.
The recipe calls for Worcestershire sauce, a personal favorite of mine. If you don't like it, don't add it- it's totally optional.
This dip is thick, so opt for a thicker chip if you don't want a bunch of broken pieces in the dip bowl. Same goes for the veggies. Snow peas, baby carrots, & celery sticks all work well.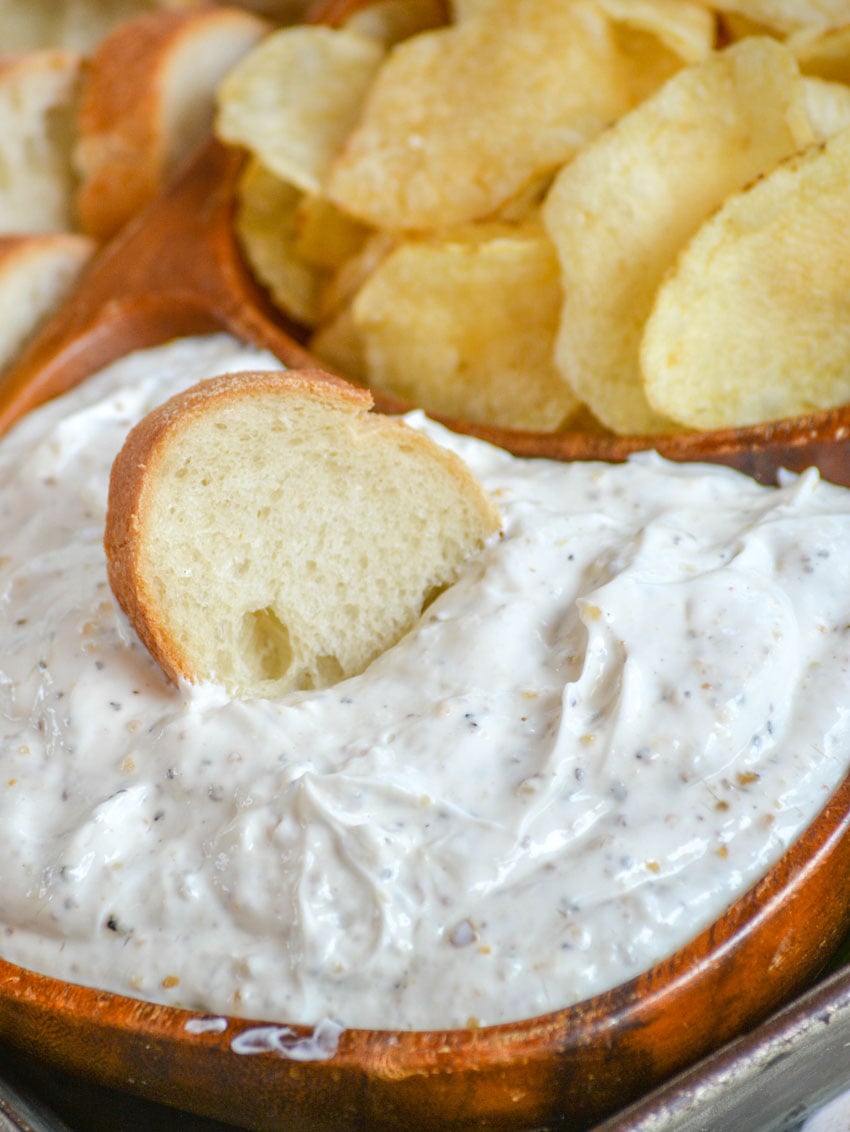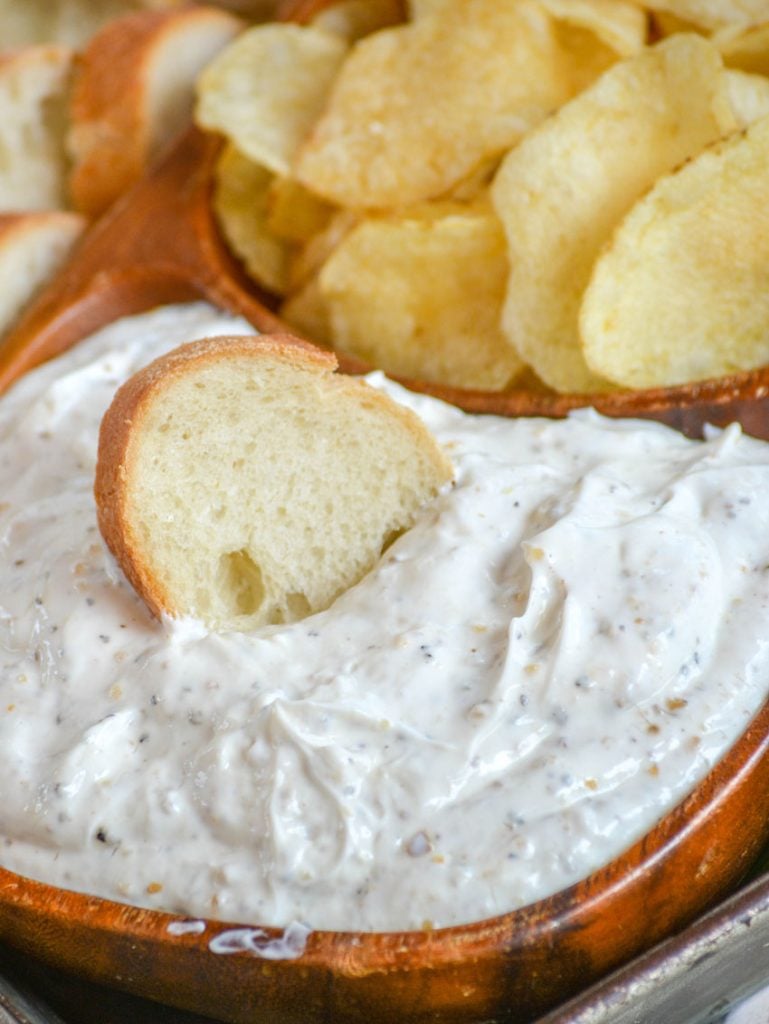 When you need a creamy chilled dip to offer as a tasty appetizer at your next cookout, this Montreal steak seasoning dip is there for you.
It's simple, it's chock full of bold flavors- whatever you choose to serve it with it's going to be a hit.
One thing's for sure, Grandma knew her stuff.
This dip is guaranteed to get tongues wagging and to have the Montreal steak seasoning fans standing up and shouting amen!
Other Seasoned Sour Cream Dips To Serve:
If you've tried this MONTREAL STEAK SEASONING DIP, or any other recipe on the site, let me know in the comment section how it turned out, we love hearing from our readers! You can also follow along with me on PINTEREST, FACEBOOK, and INSTAGRAM to see more amazing recipes and whatever else we've got going on!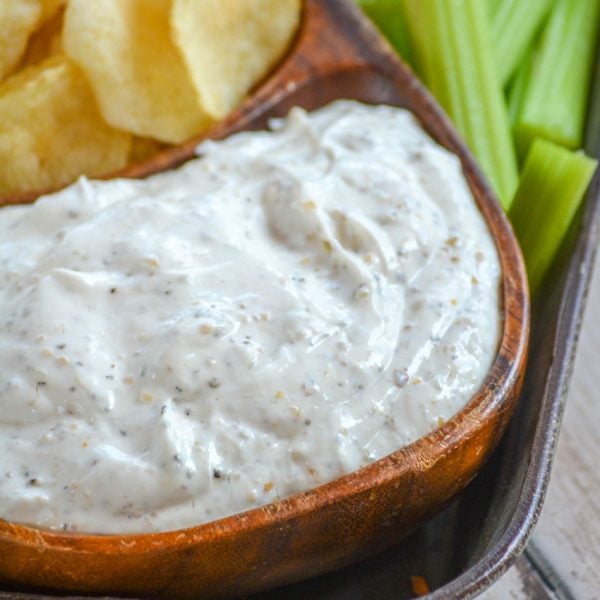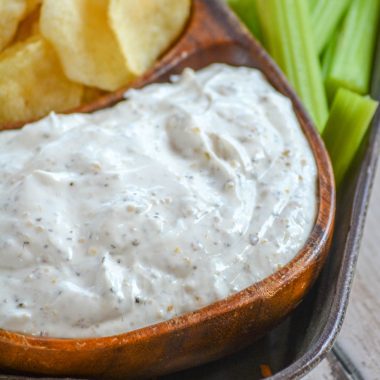 Montreal Steak Seasoning Dip
A simple sour cream based dip, this chilled version features bold flavor with the help of Montreal steak seasoning, garlic, & Worcestershire sauce.
Print
Pin
Rate
Ingredients
2

heaping cups

sour cream

1 1/2-2

tbsp

Montreal steak seasoning

1

tsp

garlic powder

dash

Worcestershire

optional
Instructions
In a medium sized mixing bowl, stir together all the ingredients until the dip's evenly combined.

Transfer the dip to an airtight container & chill for at least two hours, but up to overnight.

Serve with crisp options, like chips or veggies.
Nutrition
Calories:
2
kcal
|
Carbohydrates:
1
g
|
Protein:
1
g
|
Fat:
1
g
|
Saturated Fat:
1
g
|
Cholesterol:
1
mg
|
Sodium:
1
mg
|
Potassium:
5
mg
|
Fiber:
1
g
|
Sugar:
1
g
|
Vitamin A:
10
IU
|
Calcium:
4
mg
|
Iron:
0.1
mg