Ice cream is great, but it's always better when it's turned into a thick, creamy milkshake and infused with your favorite candy pieces. This rich, silky smooth Butterfinger Candy Milkshake is just the ticket for easy dessert enjoyment.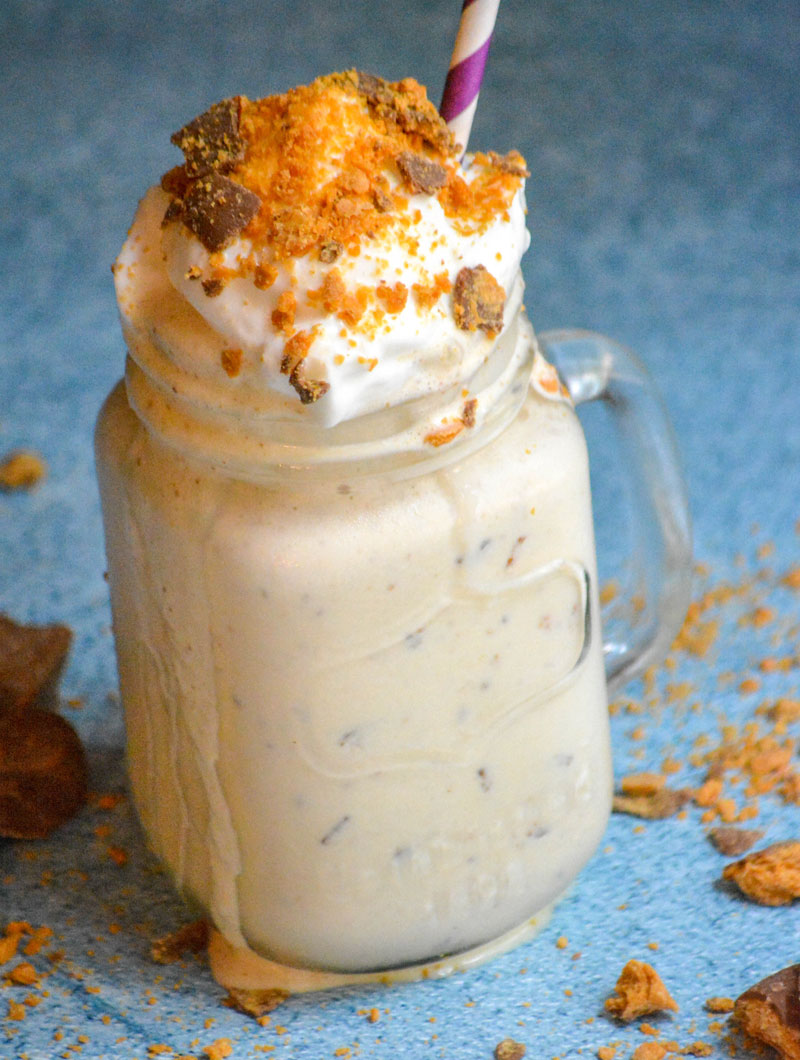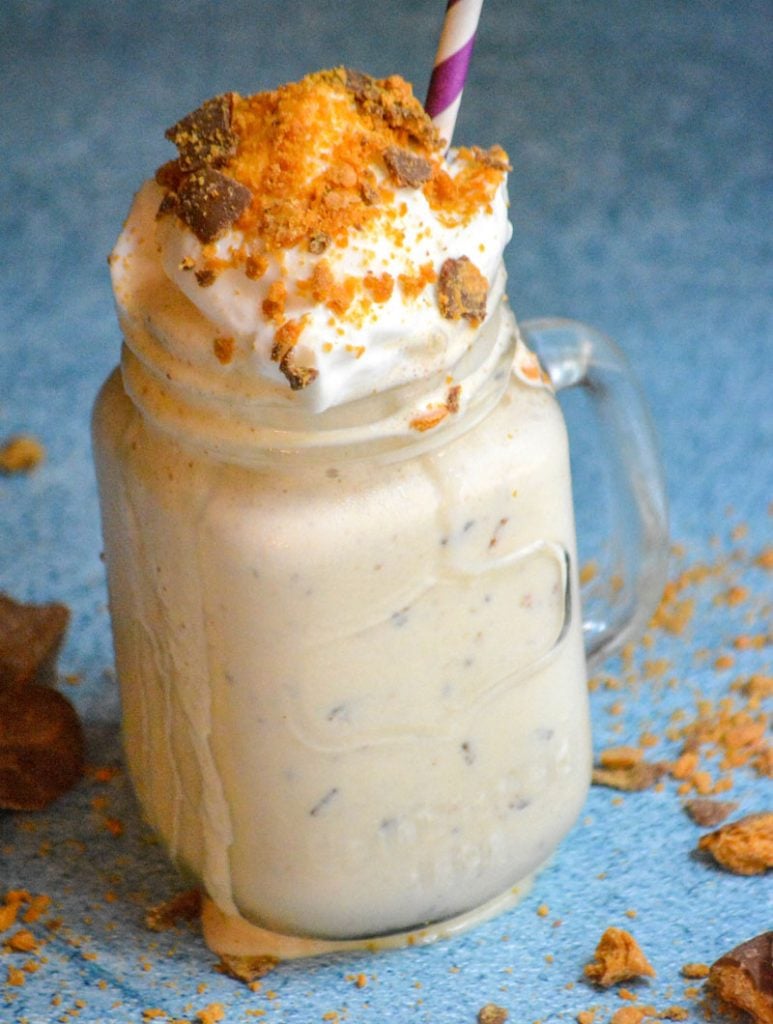 Candy season is upon us. Whether you're buying it to stock your bowls, or waiting until the grocery stores to put those beautiful bags on clearance, your sweet tooth will still be rewarded.
Even before we get down to the dregs of our kids' candy, there's one undeniable truth.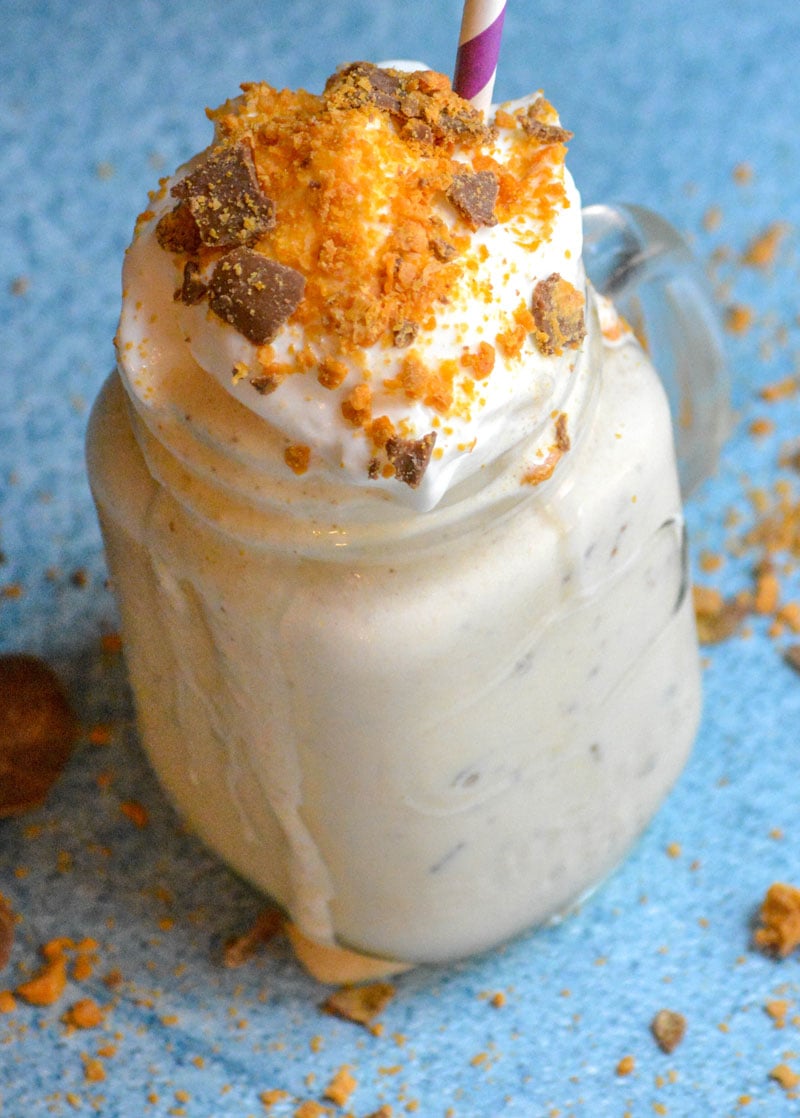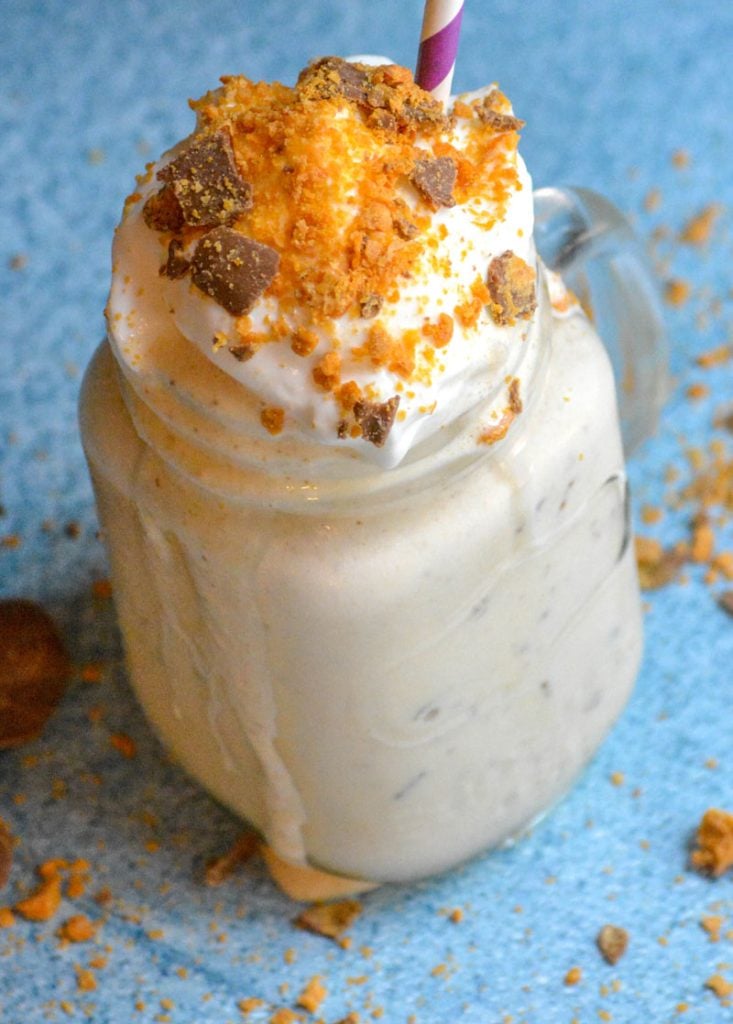 We've all been caught raiding our kids' candy bags over the years. Sneaking our favorite chews out of them, figuring out a way to wheedle a couple more bits out later on.
Then there's all those sugary sweet leftovers. The ones your kids don't want. By that point, even you're candied out and left trying to figure out what to do with them exactly.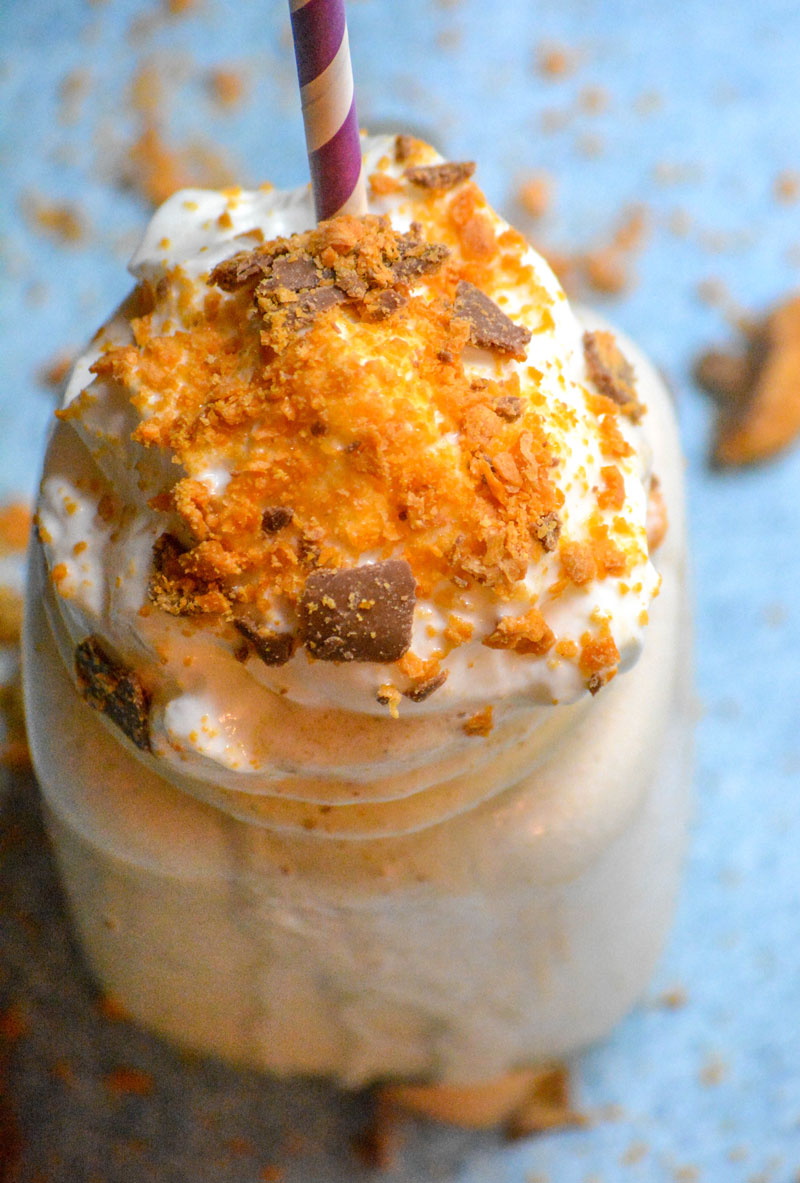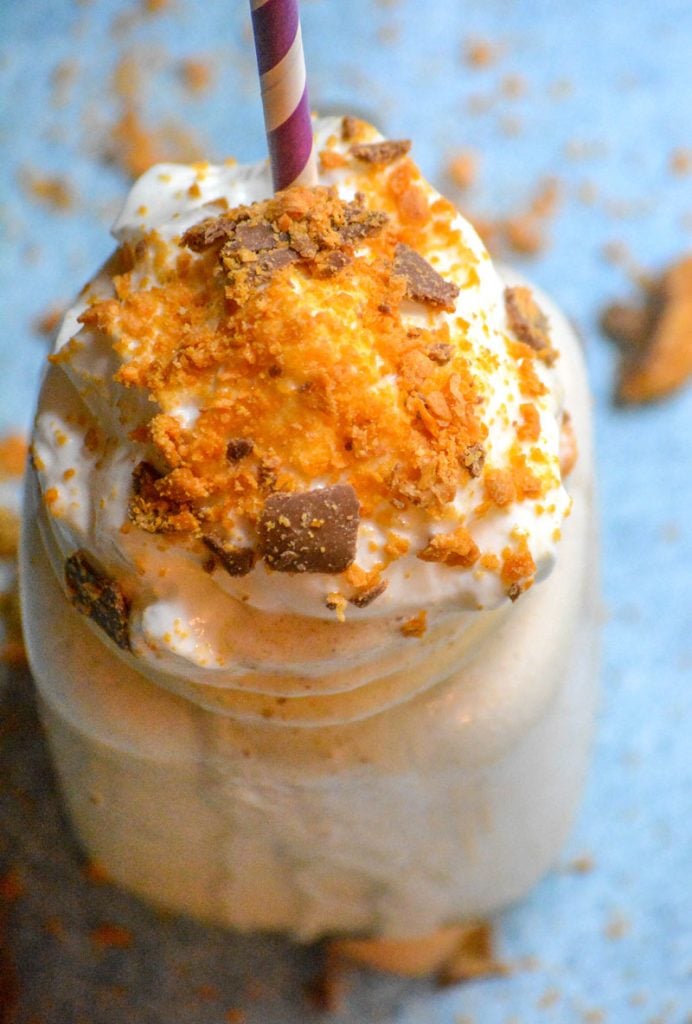 They always end up being the same things too. Either Bit O Honeys or the little vanilla Tootsie Rolls. And then the butterfingers.
I don't know what exactly it is about those things- but I love them! Lucky for me, too, at least until I've reached my limit. I don't have a sweet tooth where I can just pop one after the other, but one bite- a little goes a long way, and they're amazing. So what to do with them now, what to do…
Fun fact, all I craved when pregnant with you youngest son was Butterfinger Blizzards from Dairy Queen. My husband missed getting me there by like a two minute marker the night before we were due to deliver in the hospital the next morning.
Needless to say, there will never be another occasion in my life where I crave a Butterfinger Candy Milkshake, and leave it up to another person. Ever.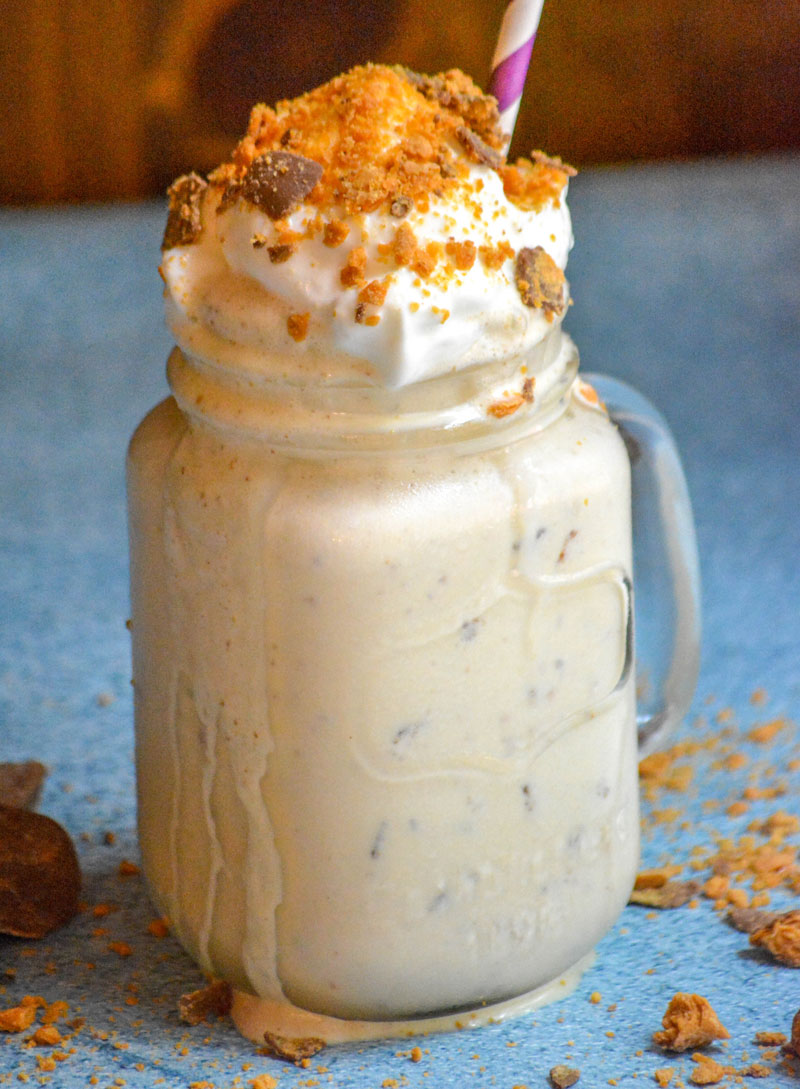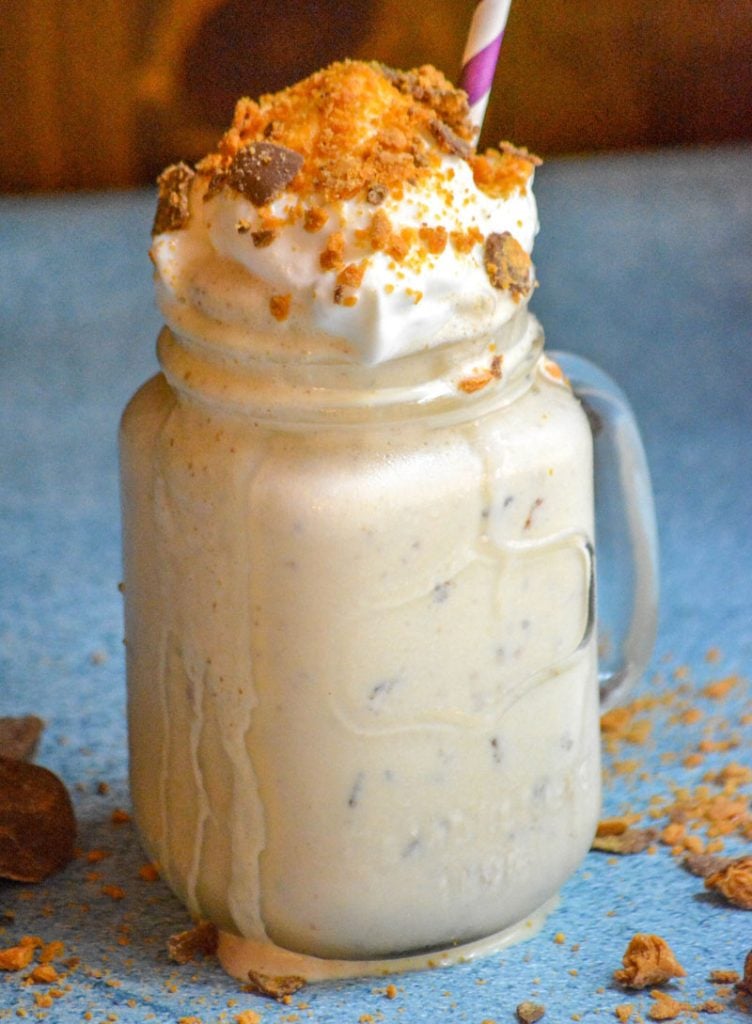 Naturally, I learned to make my own version- this creamy, yummy Buttferfinger Candy Milkshake.
Our recipe calls for full size candy bars, but (as the rest of the post suggests) you can easily sub the fun size versions found at Halloween.
Quality vanilla ice cream and whole milk are churned together in a blender. You can use whatever blender you like, I prefer my Ninja. Once whipped and creamy, the candy bar pieces are added in and pulsed- just until mixed, but NOT pulverized.
The milkshakes are then poured into waiting glasses, topped with a dollop of whipped cream, and sprinkled generously with Butterfinger candy bar crumbs before serving. It's the milkshake meant to sate any sweet tooth, and also a perfect way to use up those Halloween candy leftovers.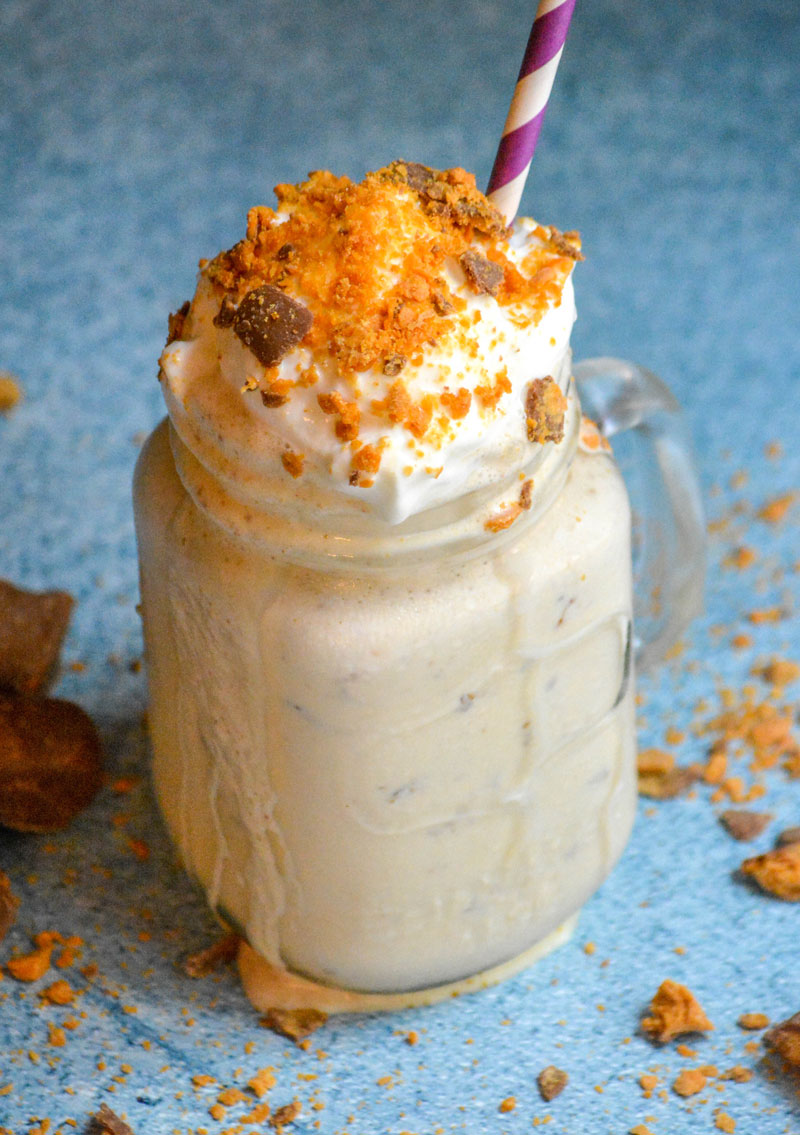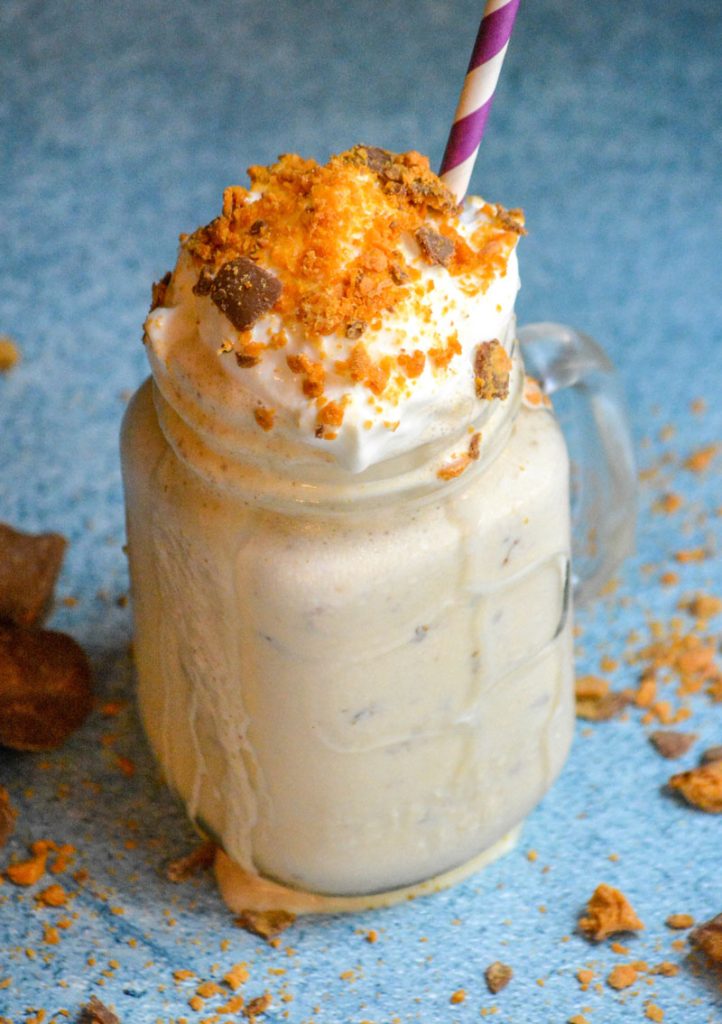 Whatever your lurch, whether being inundated with candy after a holiday, or it's the night before you go into the hospital to deliver- never miss your fix again with our Butterfinger Candy Milkshakes.
Other Milkshake Inspired Treats You Might Also Enjoy: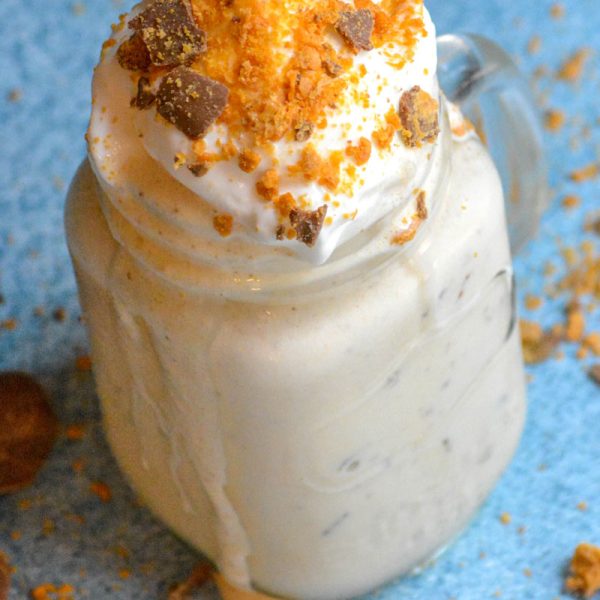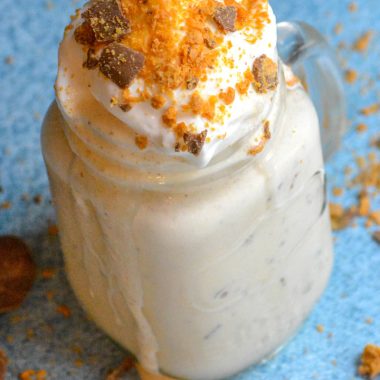 Butterfinger Candy Milkshake
A delicious , thick & creamy milkshake studded with butterfinger candy bits- it's the best way to enjoy candied ice cream.
Print
Pin
Rate
Ingredients
4

cups

quality vanilla ice cream

1

cup

whole milk

2

full size butterfinger candy bars, broken into little pieces

whipped cream, optional

butterfinger crumbs for topping, optional
Instructions
Add the ice cream and milk to a blender, and blend on high until thick & creamy. Add the candy bar pieces, and pulse until they're blended and incorporated. Avoid over mixing, because you do want some candy chunks in there.

Pour the milkshakes into prepared glasses. Top with whipped cream (if desired), and sprinkle candy crumbs evenly out over top. Serve immediately.
Nutrition
Calories:
448
kcal
|
Carbohydrates:
56
g
|
Protein:
8
g
|
Fat:
22
g
|
Saturated Fat:
13
g
|
Trans Fat:
1
g
|
Cholesterol:
64
mg
|
Sodium:
201
mg
|
Potassium:
409
mg
|
Fiber:
2
g
|
Sugar:
45
g
|
Vitamin A:
655
IU
|
Vitamin C:
1
mg
|
Calcium:
249
mg
|
Iron:
1
mg