All the flavor you love in a full sized cheeseburger, these fun sliders make for perfect finger food that kids love. They're perfect for lunch or dinner, easily customizable, and great for entertaining a crowd especially when grilling season is over.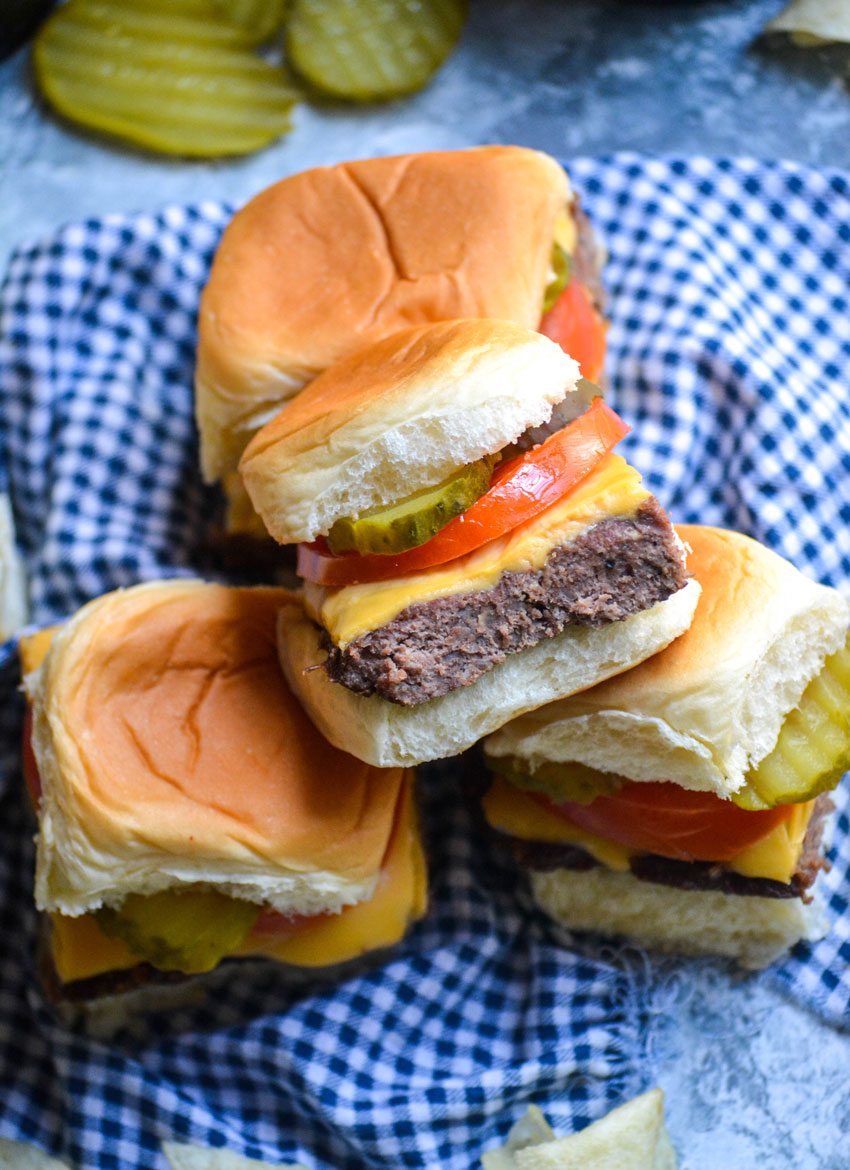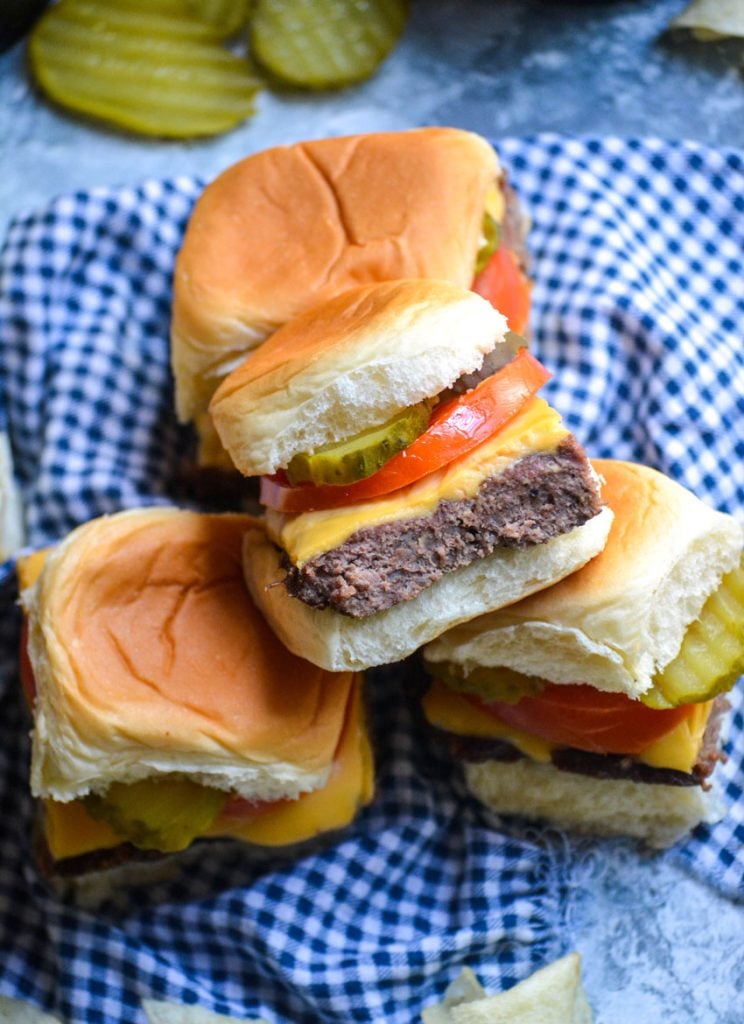 I'm definitely a foodie at heart. I come from a long ling of women who love good food, and I'm pretty sure I've done my job of instilling that same feeling in my boys.
While normal sized food is always great, there's just something about food in miniature I can't help but adore. It's cute and fun.
Not to mention, with four growing boys, growing teenage boys who inhale food like vacuums, it's often a whole lot less messy. With those things combined, sliders are a huge hit with this mom.
Still, it was a wee bit time consuming to have to shape each petite patty by hand. Then I stumbled on this genius kitchen life-hack, and BAM! My mind was blown, y'all.
This easy cheeseburger sliders recipe, literally, is for making the world's easiest sliders ever. Ever.
It's a perfect recipe for virtually any occasion, and one I use all the time.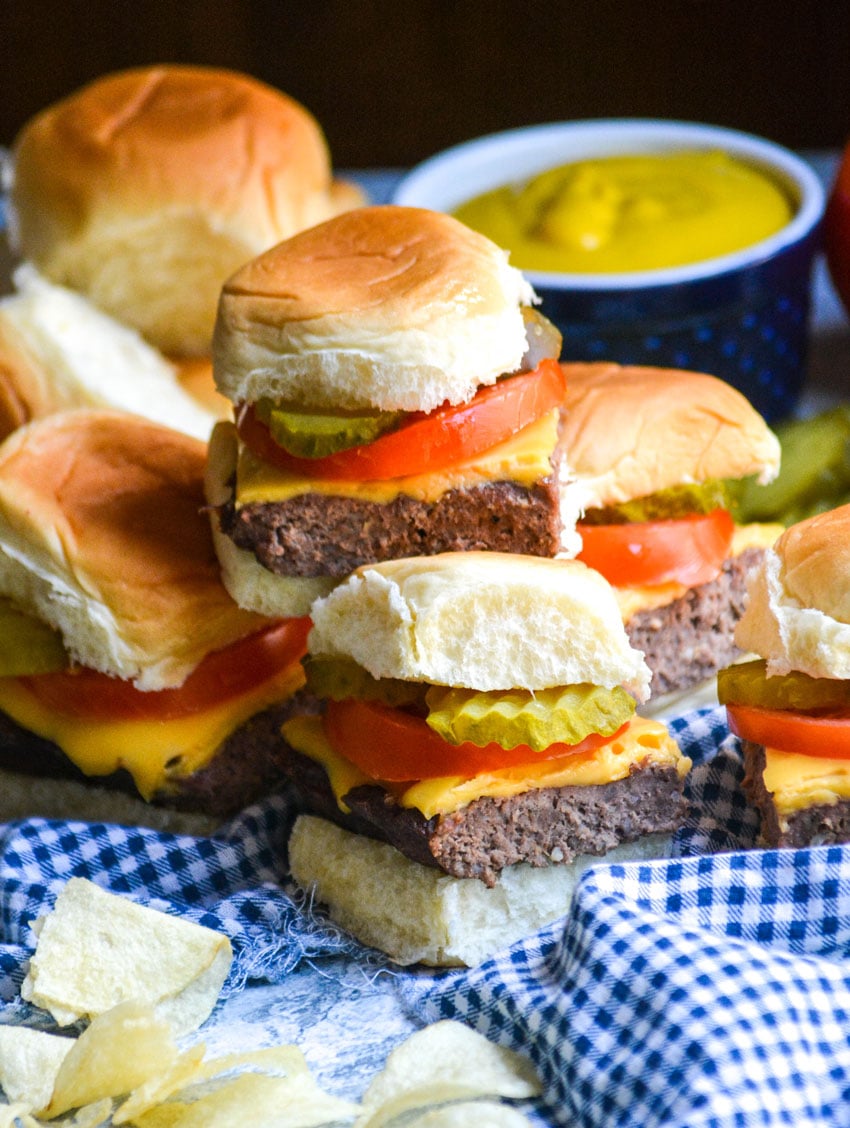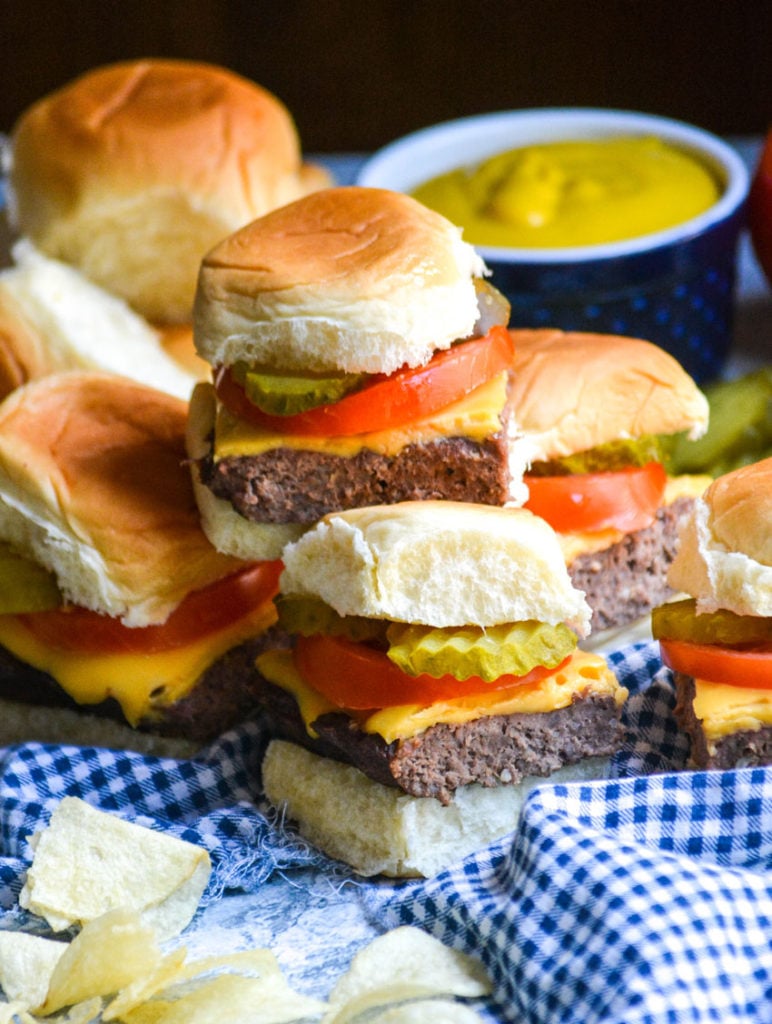 Ingredients Needed
The ingredients needed for these easy sliders are so simple, you probably have most of them on hand on any given day!
You'll need:
ground beef – Because the beef cooks in a single dish, I HIGHLY recommend using lean ground beef. You won't lose any flavor, but you will save time and energy by not having to save your cooked meat from swimming in grease.
bread crumbs – I like using seasoned bread crumbs in this since it adds in a bit of extra flavor; however, plain bread crumbs will also work. The main function of the bread crumbs is to help bind the meat mixture together.
onion – Chopped white, or yellow, onions taste best in this recipe.
salt
dinner rolls – I like using sweet Hawaiian style rolls for this recipe, but slider buns will also work.
cheese – The old school, plain sliced American cheese, y'all! It melts perfectly.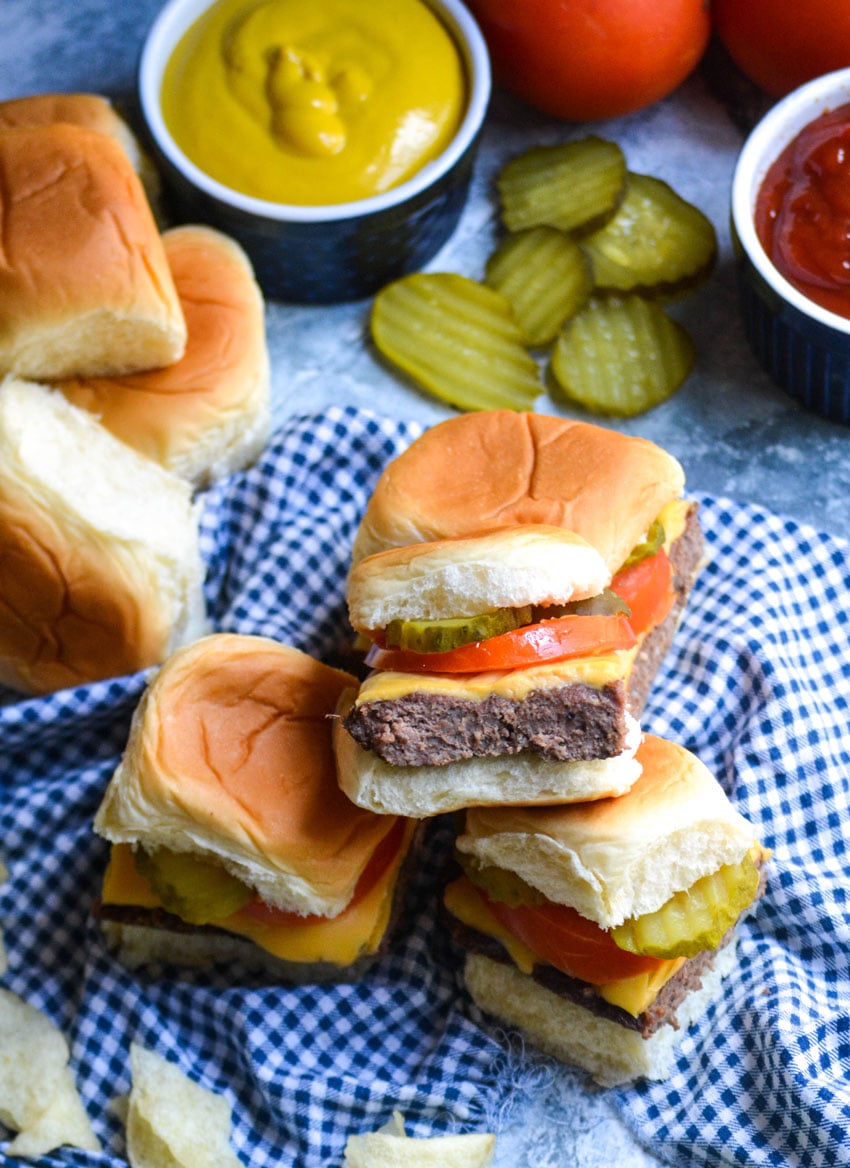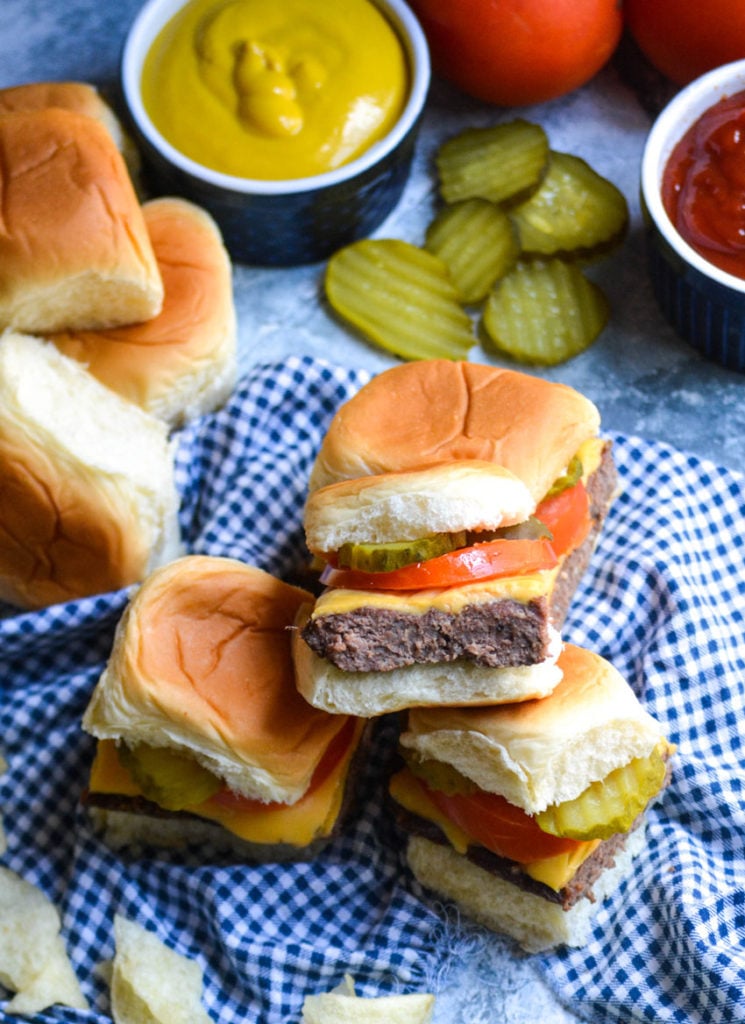 How To Make Cheeseburger Sliders In The Oven
I wasn't kidding when I said these were the easiest sliders ever. They're super simple to make and assemble, making the perfect for any occasion.
Plus they're fun finger food the whole family can agree on!
To get started, add the ground beef, bread crumbs, onion, and salt to a large mixing bowl. Sometimes I add in a generous pinch of Montreal steak seasoning and/or a dash of Worcestershire or hot sauce for a little extra flavor in the meat.
Mix everything together until evenly combined. You can do this using a sturdy wooden spoon, or the old fashioned way- with two clean hands.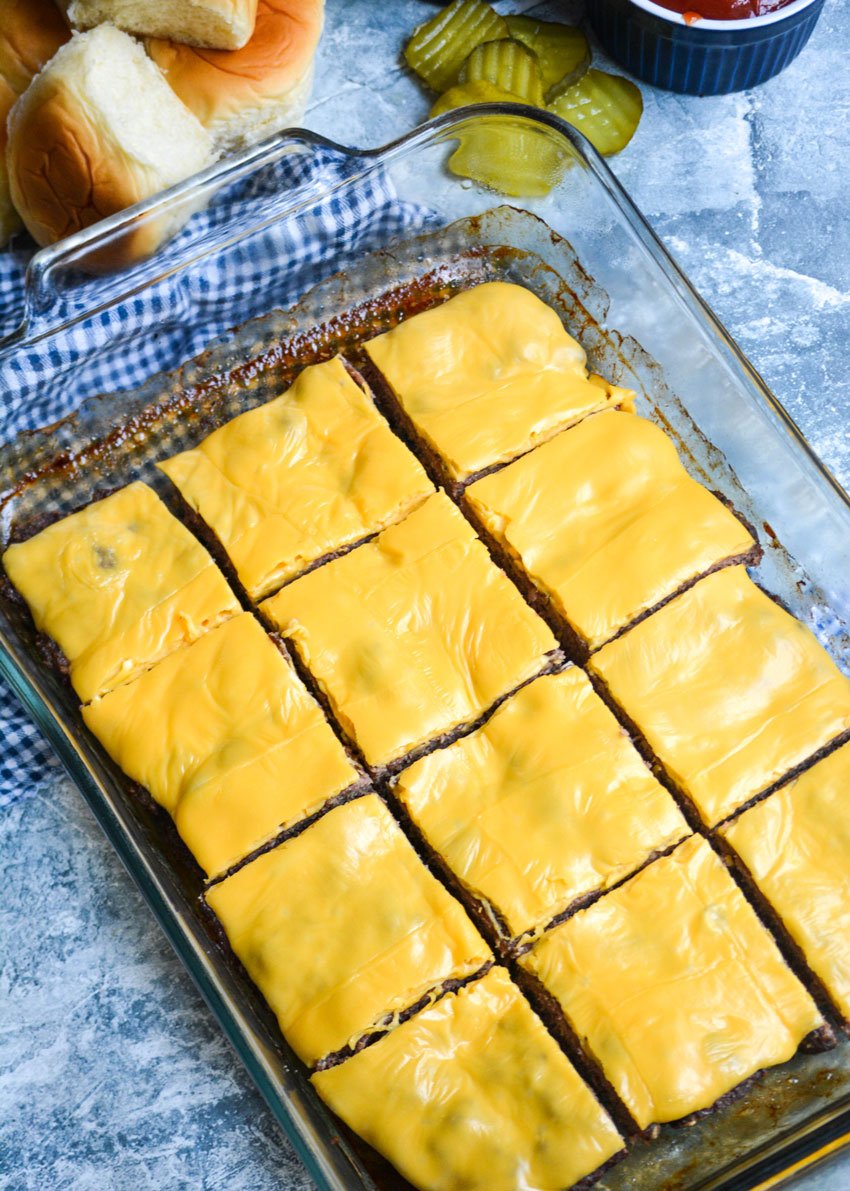 Once the beef mixture's evenly combined, transfer it into a 9×13″ glass baking dish that's been sprayed with non stick cooking spray. The spray isn't essential to the meat cooking successfully, so you can omit it if you'd prefer- BUT it does make clean up a breeze!
Press the meat mixture out evenly into one mostly even, flat layer in the dish. Press it evenly out to all the edges.
Using a fork, poke holes all over the pressed patty, just like you would into a pizza crust before baking it. You can't have too many holes. This will allow the steam & juices to escape during the cooking process while helping the meat maintain it's shape as much as possible.
Bake the beef at 400 degrees for 30 minutes. Carefully remove the cooked meat from the oven, and drain off the excess grease.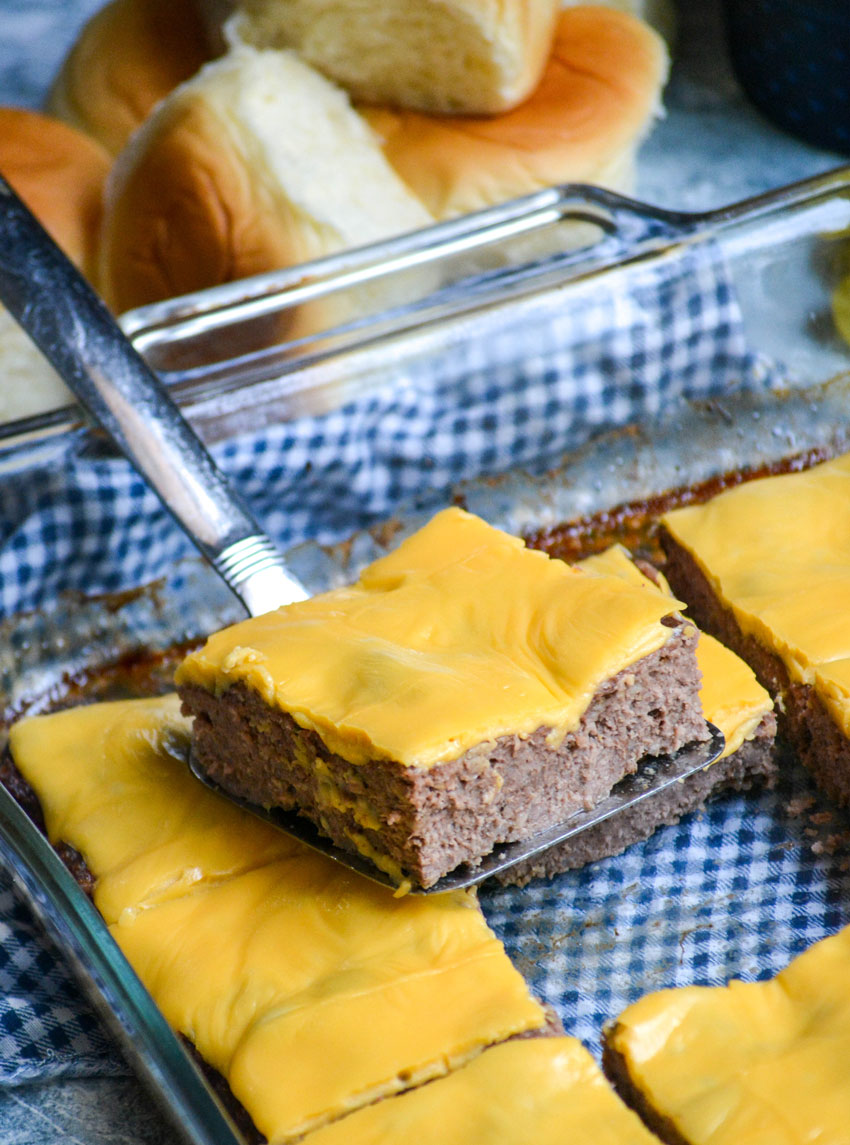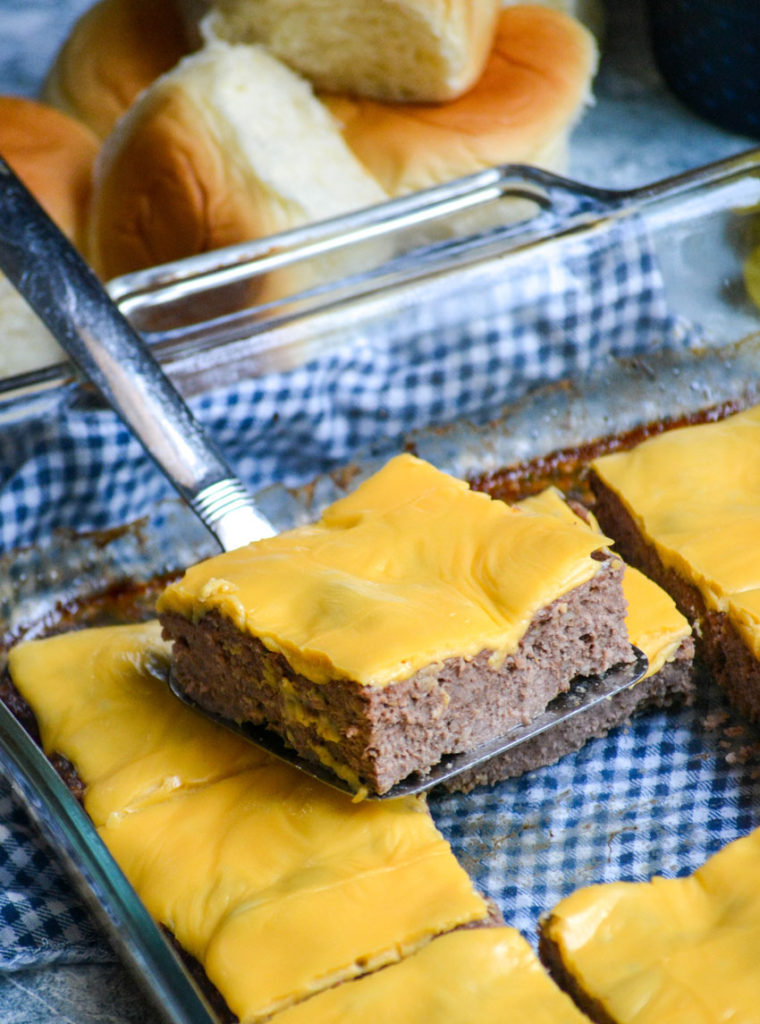 Evenly layer the sliced cheese over the top of the beef patty, and return the dish to the oven for another 2 minutes. Just until the cheese has nicely melted.
Remove the dish from the oven, and allow it to cool for at least 5-10 minutes. You want it to remain warm, but not hot enough to the touch to burn.
Using a sharp knife, or a sturdy spatula, cut the meat patty into 2 inch squares. Place these in the slider buns, and top with your desired toppings or serve them alongside.
Make It A Burger Bar!
Whether I'm serving these on a busy week night for a family dinner, or at a birthday party for guests- these cheeseburger sliders are no mess, no fuss and super easy.
And since they're basically delicious burgers in miniature, they wouldn't be complete without all the fixings that usually go with any decent burger.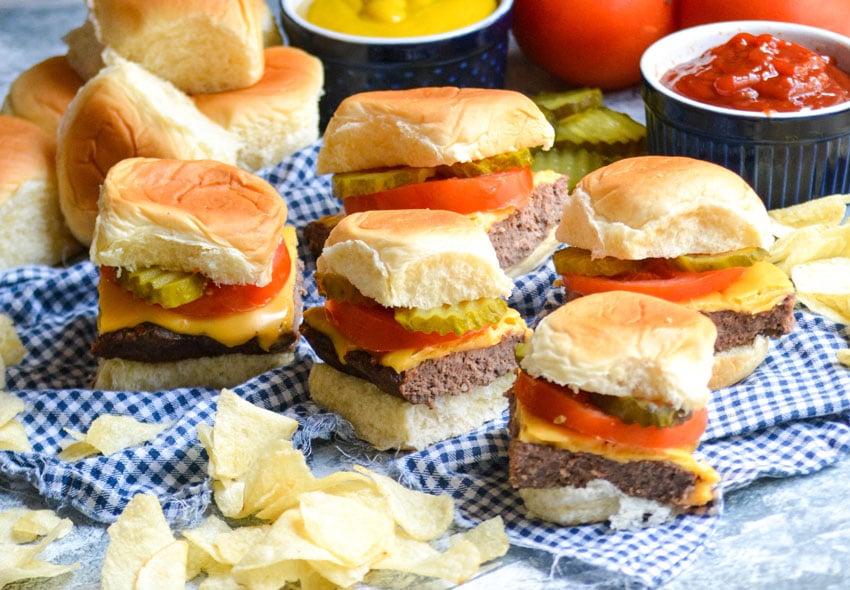 I enjoy setting things out in various bowls and small serving dishes and turning it into toppings style 'bar', albeit on my kitchen table.
Essentials and favorites always include:
Condiments – ketchup, mustard, mayo, horseradish sauce, blue cheese dressing, etc
Veggies – tomatoes, leaf lettuce, sliced red onions, pickles
Dress-Up options – everybody enjoys a glow up, and our sliders aren't any different: bacon, avocado, a variety of sliced cheeses, sauteed mushrooms, caramelized onions. This is where you can have fun & really play with your options, especially if serving these for a party instead of a regular meal.
What Sides Pair Well With Cheeseburger Sliders?
My kids favorite is obviously french fries, potato wedges, and/or tater tots. Onion rings being a close second. If onion rings are your thing, I highly recommend these bloomin' onion bites.
In addition to the obvious carbs, I do like to offer some more nutritious options. I often try to keep things simple with a salad bowl for the family. We like this BLT version, and my kids also enjoy this simple spinach salad.
Other great options are canned veggies, pasta salads, potato salads, or even mac & cheese.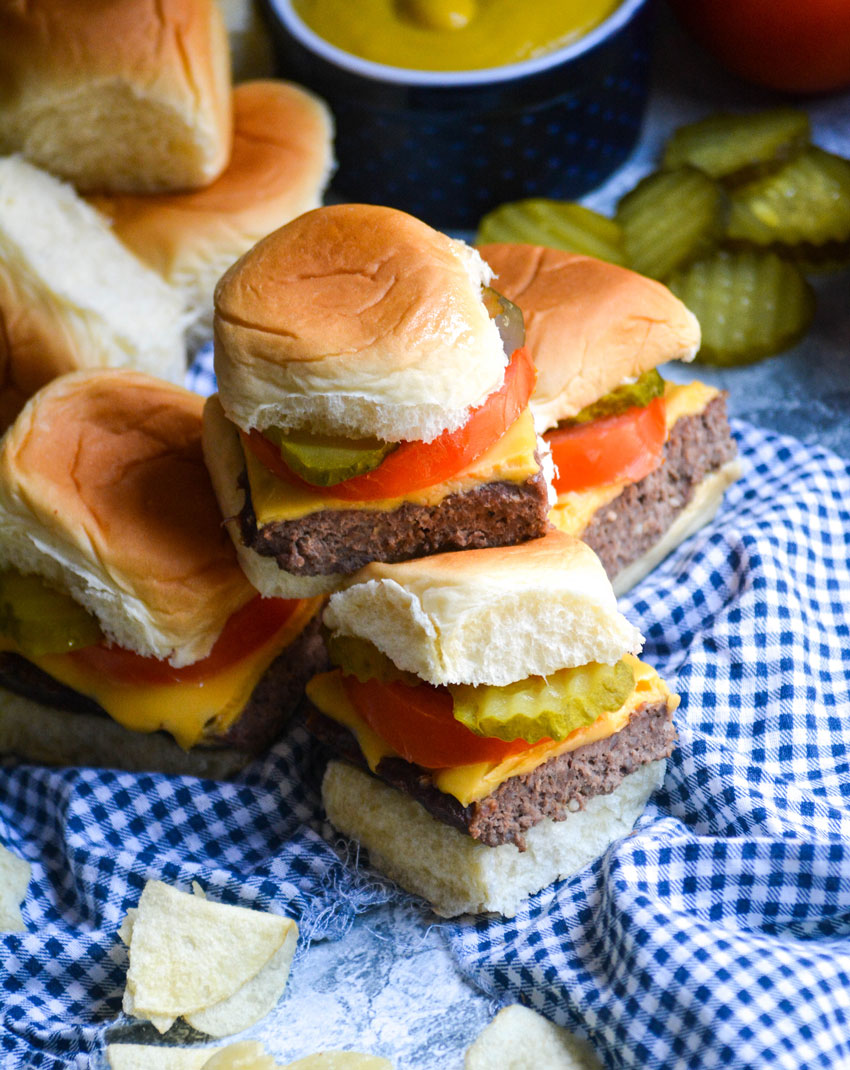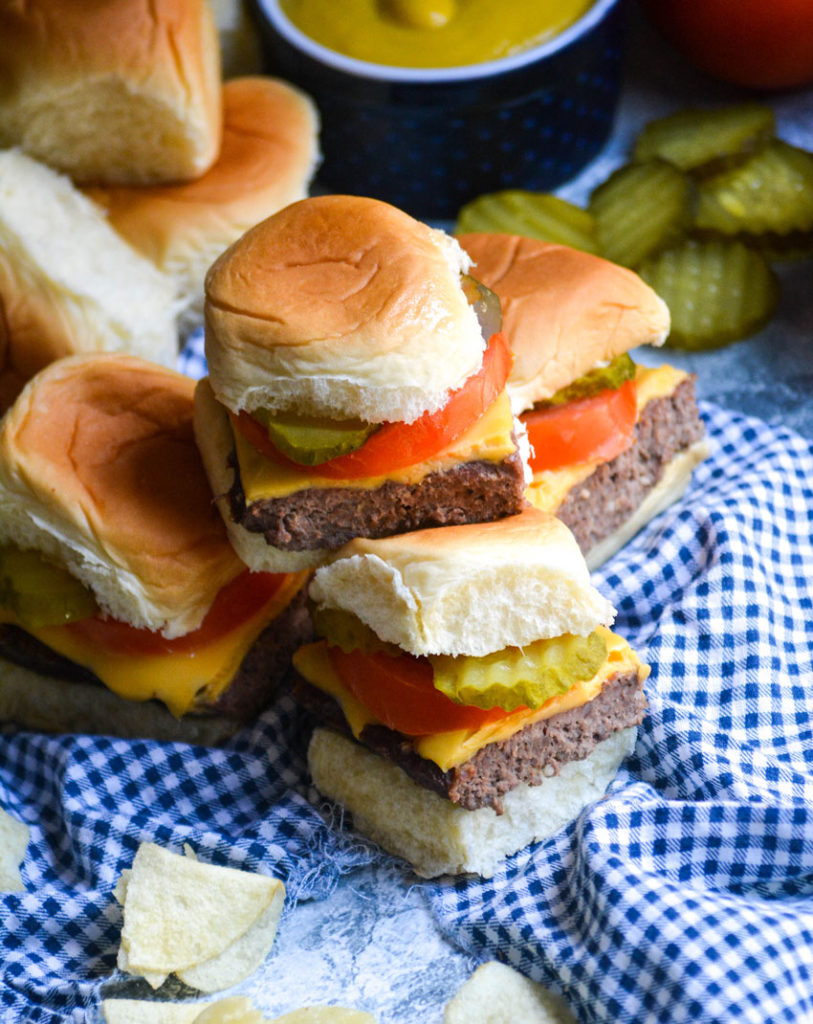 Other Slider Recipes To Try
Whether you're planning a party, a potluck, or just a the family meals for the week- these mini cheeseburgers are a fun recipe your crowd will all enjoy. Grab one, or two, and enjoy watching everyone gobble them up!
While these easy cheeseburger sliders are a family favorite, we have plenty of other slider recipes we love just as much!
These include:
If you've tried this EASY CHEESEBURGER SLIDERS recipe, or any other recipe on my site, let me know in the comment section how it turned out, we love hearing from our readers! You can also follow along with me on PINTEREST, FACEBOOK, and INSTAGRAM to see more amazing recipes and whatever else we've got going on!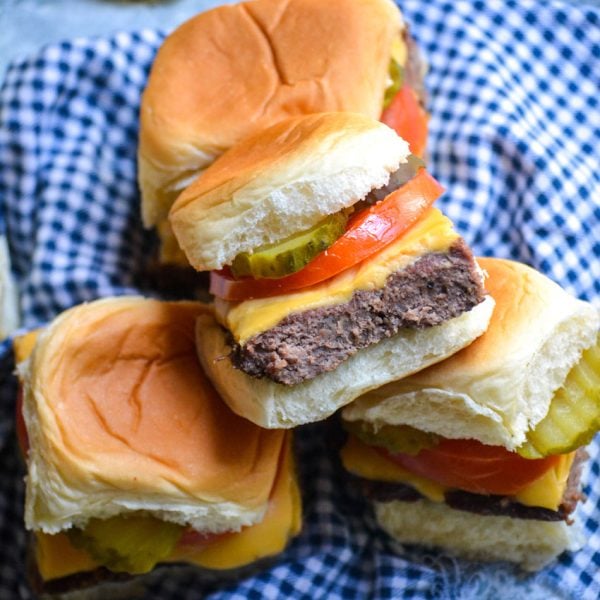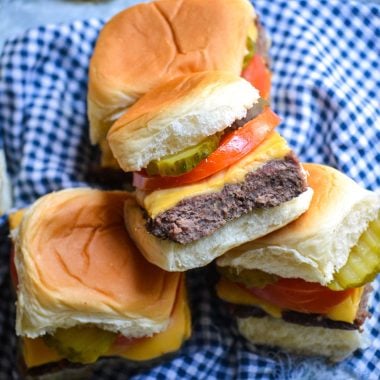 Easy Cheeseburger Sliders
All the flavor you love in a full sized cheeseburger, these fun sliders make for perfect finger food that kids love. They're perfect for lunch or dinner, and great for entertaining a crowd especially when grilling season is over.
Print
Pin
Rate
Ingredients
1 1/2

lbs

lean ground sirloin

1/4

cup

seasoned bread crumbs

3/4

cup

chopped onions

1/2

teaspoon

salt

1

pkg

sweet Hawaiian rolls

6

slices

cheddar or American cheese
Instructions
Heat oven to 400 degrees. In a bowl, combine beef, bread crumbs, onion, and salt. Gently press mixture into a 9-by-13-inch pan so that it makes one large patty of even thickness. Use the tines of a fork to poke holes throughout the meat.

Bake for 30 minutes. As it bakes, the meat will shrink away from the sides and liquid will accumulate around the edges of pan.When fully cooked, remove the pan from oven (keep oven turned on) and carefully drain off the liquid.

Top the meat with an even layer of sliced cheese; return pan to oven for about 2 minutes or until the cheese melts. Remove from the oven and allow to rest for a few minutes.

Cut into 2-inch squares (or the size of the buns used), making 12 mini- hamburgers. Serve with dill pickle slices and ketchup.
Nutrition
Calories:
305
kcal
|
Carbohydrates:
6
g
|
Protein:
27
g
|
Fat:
18
g
|
Saturated Fat:
8
g
|
Cholesterol:
95
mg
|
Sodium:
688
mg
|
Potassium:
432
mg
|
Fiber:
1
g
|
Sugar:
2
g
|
Vitamin A:
208
IU
|
Vitamin C:
1
mg
|
Calcium:
247
mg
|
Iron:
3
mg