French fries are one of our family's favorite sides. Add a little bit of cheese to crisp oven roasted fries made from fresh potatoes? Well, that's a recipe for down home, Southern style crispy oven baked cheese fries just like Grandma used to make. We've skipped the cast iron skillet and oil, and opted for a sheet pan and high heat, but kept all that melted cheese topping!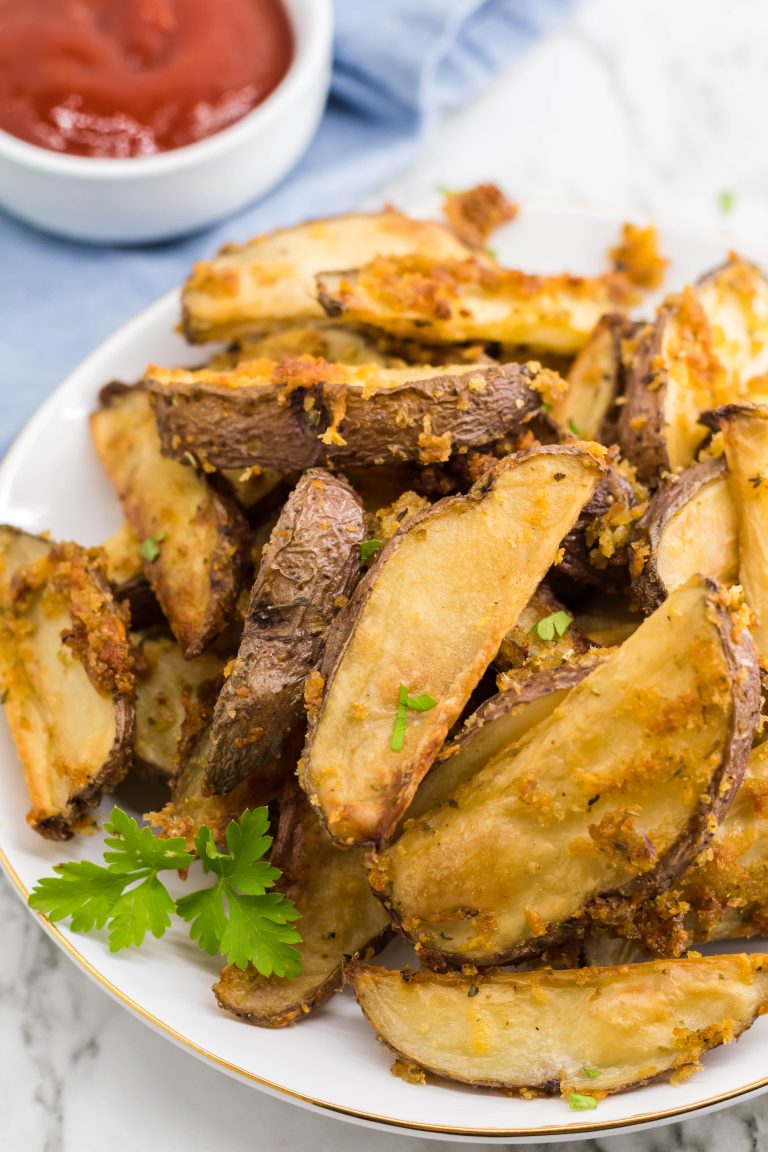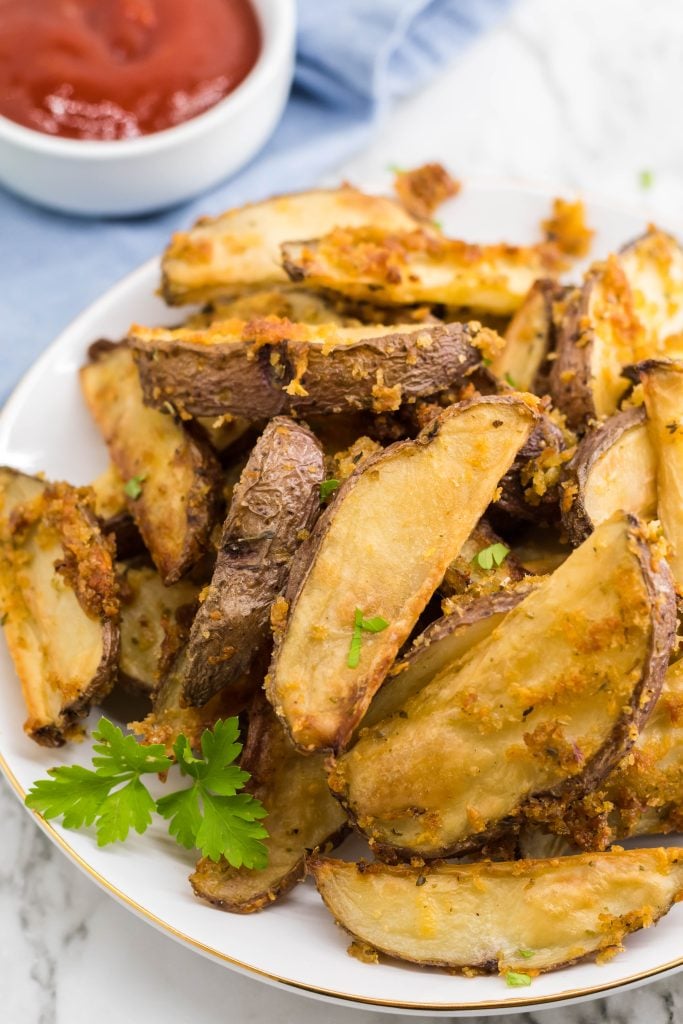 So I have a thing for french fries. But not just ANY fries.
You can't just hand off a limp strip of under-cooked potato and call it a french fry.
I'm talking about crispy, and I mean crisp, fries are my thaaang.
Specifically the ones that manage to be the best of crispy on the outside and super soft inside, at the same time, and homemade with lots of love.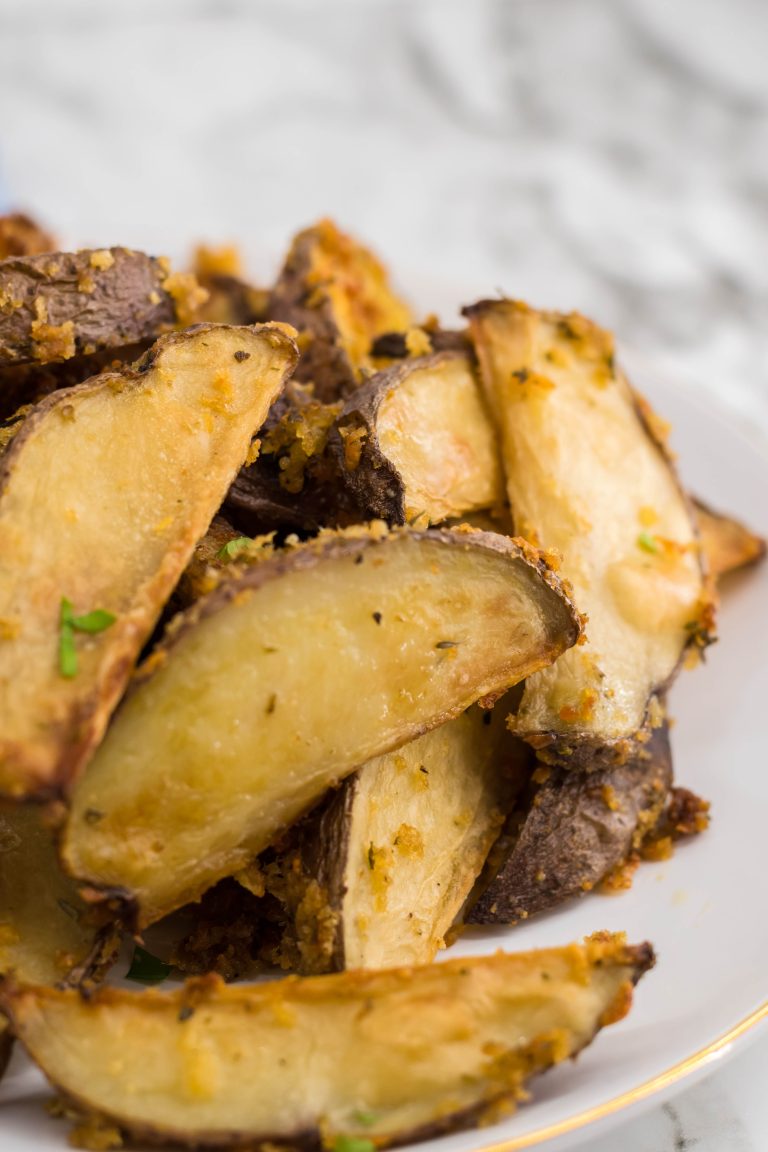 Like these incredible crispy baked cheese fries right here.
So finger-lickin'-good!
They're like the new and improved potato wedges. The 2.0 version or something.
And they're so easy too!
Like I could do it in my sleep over and over and nail it every time.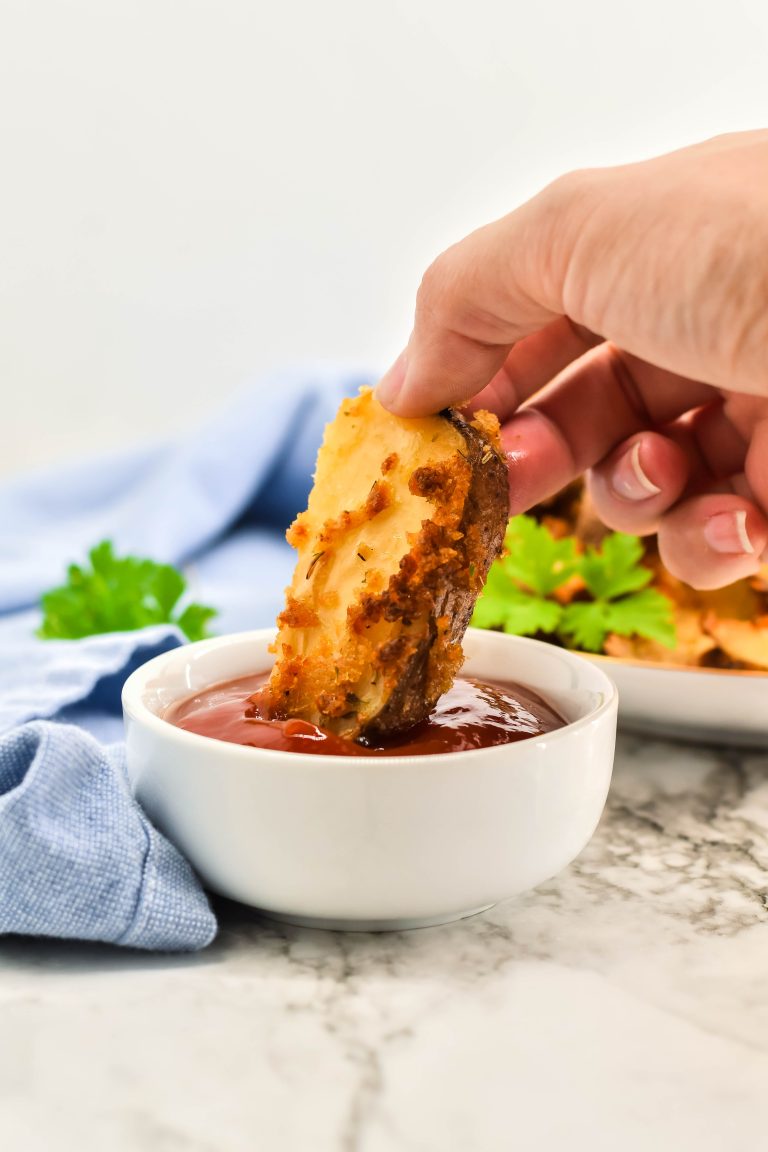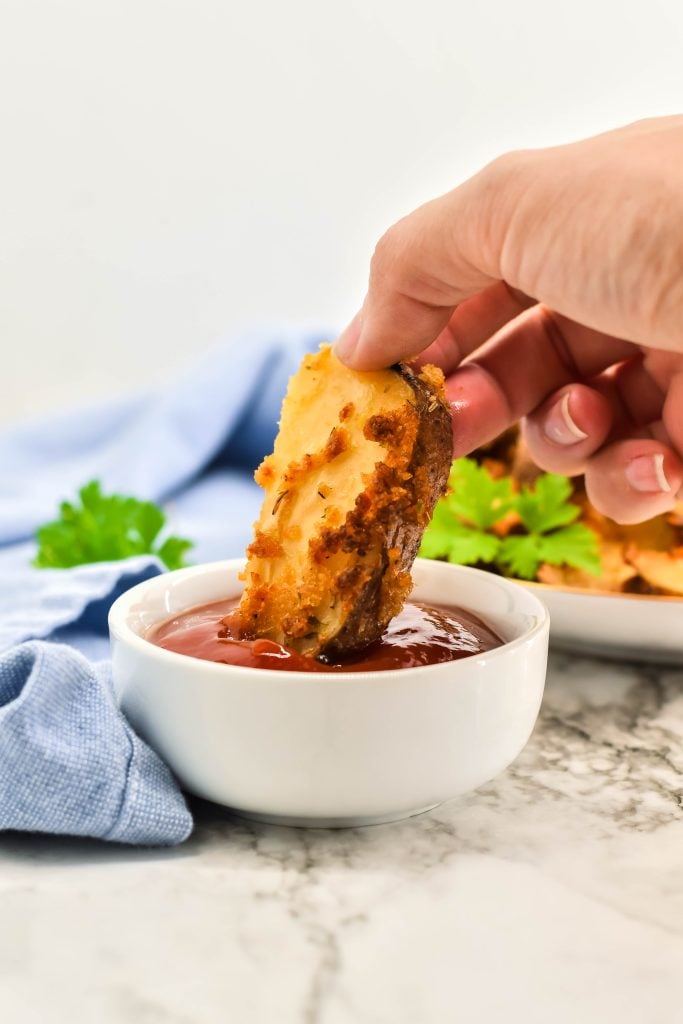 How To Make French Fries Crispy Without Using Oil
And guess what?
My particular favorite (and the most surprising) thing about them? It's that these oven baked fries are actually super crispy and yet they aren't fried.
I mean, I know that because I made them, but somebody taste testing them? They wouldn't ever even guess!
Kick your frying pan to the curb, or at the very least give it a rest when the next craving for crispy potatoes hits.
The jury's in and everyone agrees, you do not need a pot and a vat of fatty oil for crisp potatoes.
These crisp cheese fries are baked in the oven, roasted to perfection, until they are delightfully crisp & crunchy on the outside and still perfectly tender inside under that crust.
Baked until they taste fried, but aren't.
Baking Crisp Fries
I know I said we skipped the oil, and we did- for the most part. We skipped the overly fatty oil needed for deep frying.
Like any other vegetable though, in order to get crisp under high heat, our fries are going to need some sort of limited fatty coating.
In line with making better choices, this recipe uses extra virgin olive oil instead- and not all that much.
Washed and scrubbed potatoes are tossed in a mixing bowl with only 1/4 cup of olive oil, plus your chosen seasonings.
Tossed together until everything's evenly combined, the potatoes are then spread out over a prepared baking sheet.
In an even layer, careful to avoid overlapping.
Bake the oven fries at 400 degrees for 30-40 minutes, or until they're golden and crispy.
That's it, y'all.
That's literally the secret to healthier, oven baked fries. Or potato wedges, depending on how far South you are.
But that's a debate for another day!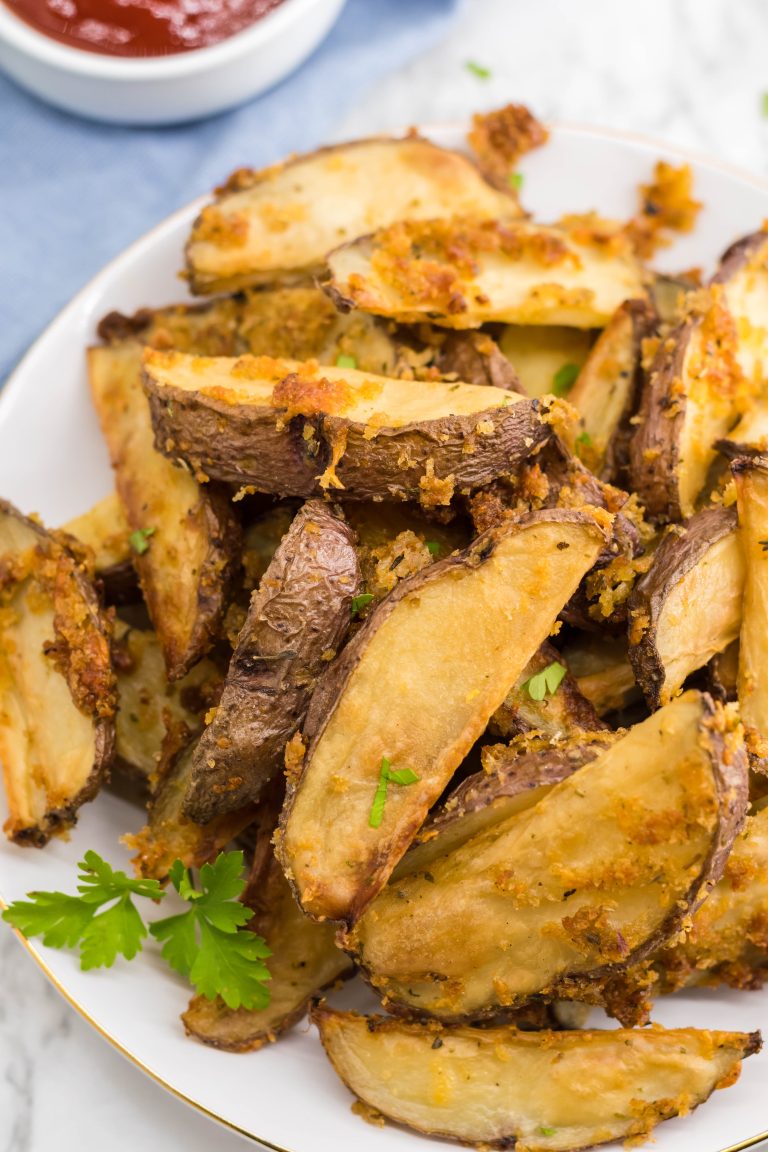 The Secret Is In The Seasoning
We didn't want just an fries though, or an oven baked fries- we wanted oven baked cheese fries.
While the name does imply that the cheese is a big factor in how yummy they are, it's not all that's important.
When it comes down to it, like anything else that starts with a potato, how well it turns out all comes down to the seasoning used.
For this baked cheese fry recipe we used a combination of onion powder, garlic powder, and Italian seasoning. Simple, but very flavorful on potatoes.
Instead of just topping it with melted cheese, we combined the cheese in the mixing bowl with the seasonings, and threw in some crispy panko bread crumbs for added crunch.
Not only does it add flavor, it gives it some texture, and since we tossed it all together it helped ensure a more even coating than simply melteing some cheese on top.
It's so disappointing when only the top fries are cheesy!
Mix it all together, that's the secret to this recipe's success.
What Potatoes Make The Best Fries
When going for crispy potatoes, you want a high starch variety.
My favorites include russet, Yukon gold, or Idaho potatoes.
You want to avoid waxy varieties like red or white. These have a high water volume.
That water will cook out as steam during baking, and steam equals soggy, sad potatoes.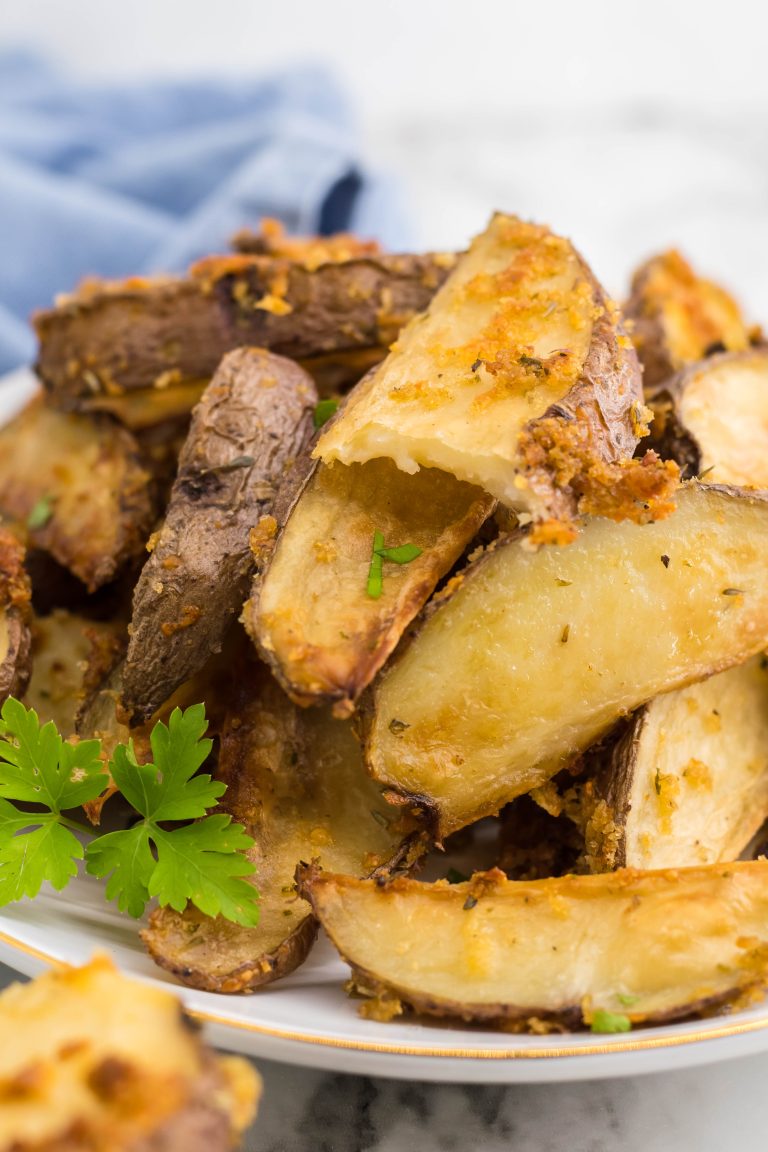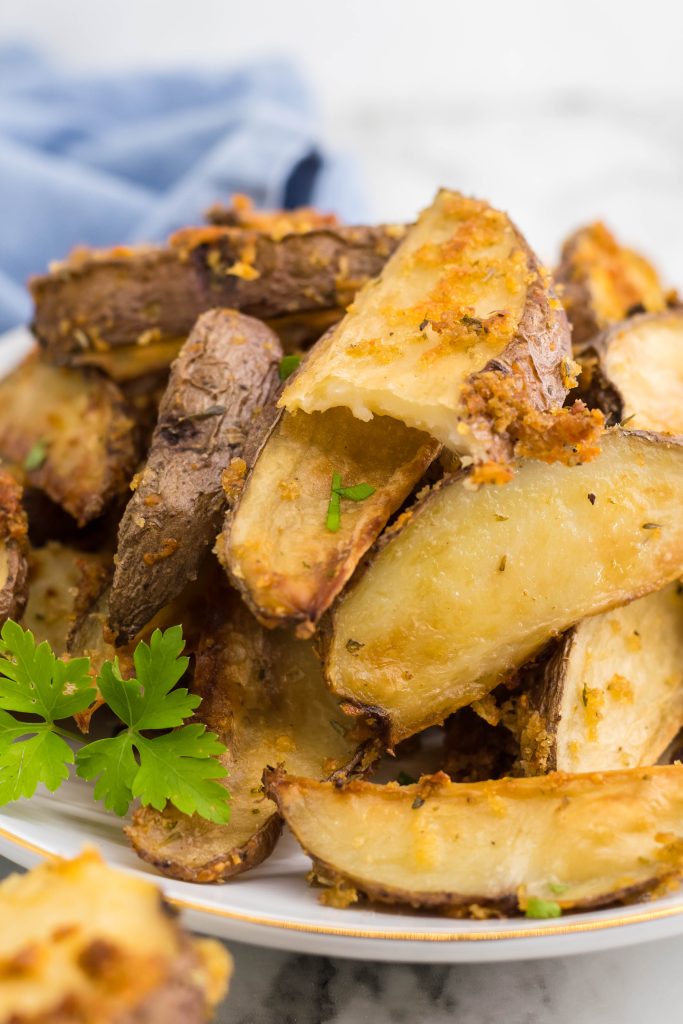 TIPS & TRICKS For The Best Baked Fries
Making baked cheese fries isn't hard, but there are some simple steps that will take yours from good to great.
Dry you potatoes after washing- and then dry them again! I can't express this enough, pat them dry and try not to leave any moisture behind.
Preheat your baking pan in the oven – this way when you're ready to add the potatoes, the crisping begins immediately. Of course, be careful not to accidentally touch the hot pan with bare hands.
Do not over crowd the pan – Just don't do it. Trust me on this. Spread those suckers out in an even layer. You want them crisp, not steamed. It's ok to use two pans in need be.
Several readers have shared that they've found the best crisping success with par-boiling the potatoes and then completely drying before seasoning and baking.
I haven't tried this method, but if that's more to your liking it is an option.
I've never met a potato I didn't love, but a healthier potato that I won't have to feel as guilty about enjoying? Sign me up!
That's exactly what you get with these simple, but scrumptious crispy oven baked cheese fries.
Pair them with your next hamburger or hot dog for supper, or just make a sheet pan full and share them with the family while watching some foot ball. They're easy enough, and perfect for virtually any occasion.
Other Ways To Make & Enjoy Crispy Potatoes
If you've tried these CRISPY OVEN BAKED CHEESE FRIES, or any other recipe on the site, let me know in the comment section how it turned out, we love hearing from our readers! You can also follow along with me on PINTEREST, FACEBOOK, and INSTAGRAM to see more amazing recipes and whatever else we've got going on!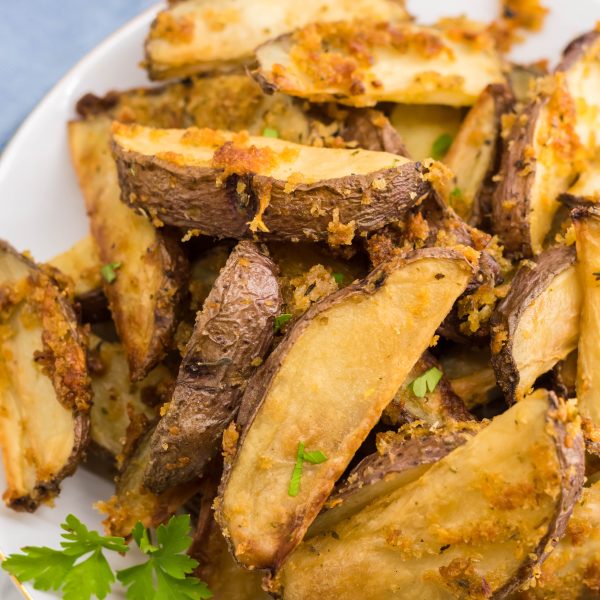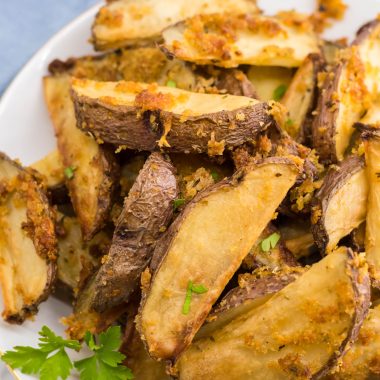 Oven Baked Cheese Fries
These are Southern style crispy oven baked cheese fries just like Grandma used to make. We've skipped the cast iron skillet and oil, and opted for a sheet pan and high heat, but kept all that melted cheese topping!
Print
Pin
Rate
Ingredients
6

medium russet potatoes

scrubbed with the skin left on and any bad parts removed

1/4

cup

olive oil

1/2

cup

Panko bread crumbs

3/4

cup

your favorite grated cheese

we prefer a sharp cheddar but Parmesan would also work really well

1/2

tsp

onion powder

1/2

tsp

garlic powder

1

tbsp

Italian seasoning
Instructions
Cut potatoes into wedges and put the cut wedges into a large bowl.

Add the olive oil, bread crumbs, grated cheese, and seasonings to the bowl with the potatoes.

Gently toss everything together until all wedges are evenly coated.

Lay the prepped potatoes out onto a baking sheet covered with aluminum foil (dull side up), parchment paper, or a silpat.

Bake at 400 degrees for 30 to 40 minutes, or until they're golden brown and crispy.

Cool for a few minutes before serving.
Nutrition
Calories:
197
kcal
|
Carbohydrates:
26
g
|
Protein:
5
g
|
Fat:
8
g
|
Saturated Fat:
3
g
|
Cholesterol:
9
mg
|
Sodium:
81
mg
|
Potassium:
553
mg
|
Fiber:
2
g
|
Sugar:
1
g
|
Vitamin A:
93
IU
|
Vitamin C:
7
mg
|
Calcium:
91
mg
|
Iron:
2
mg
recipe originally published 4/16/15