This meal is everything you love about a classic BLT sandwich, except without the bread and in a bowl, with extra goodies added in. Tossed with an easy homemade balsamic vinaigrette dressing and mixed with salty crumbled feta- this BLT salad bowl recipe makes a healthy lunch or dinner that will leave you full, without weighing you down with guilt.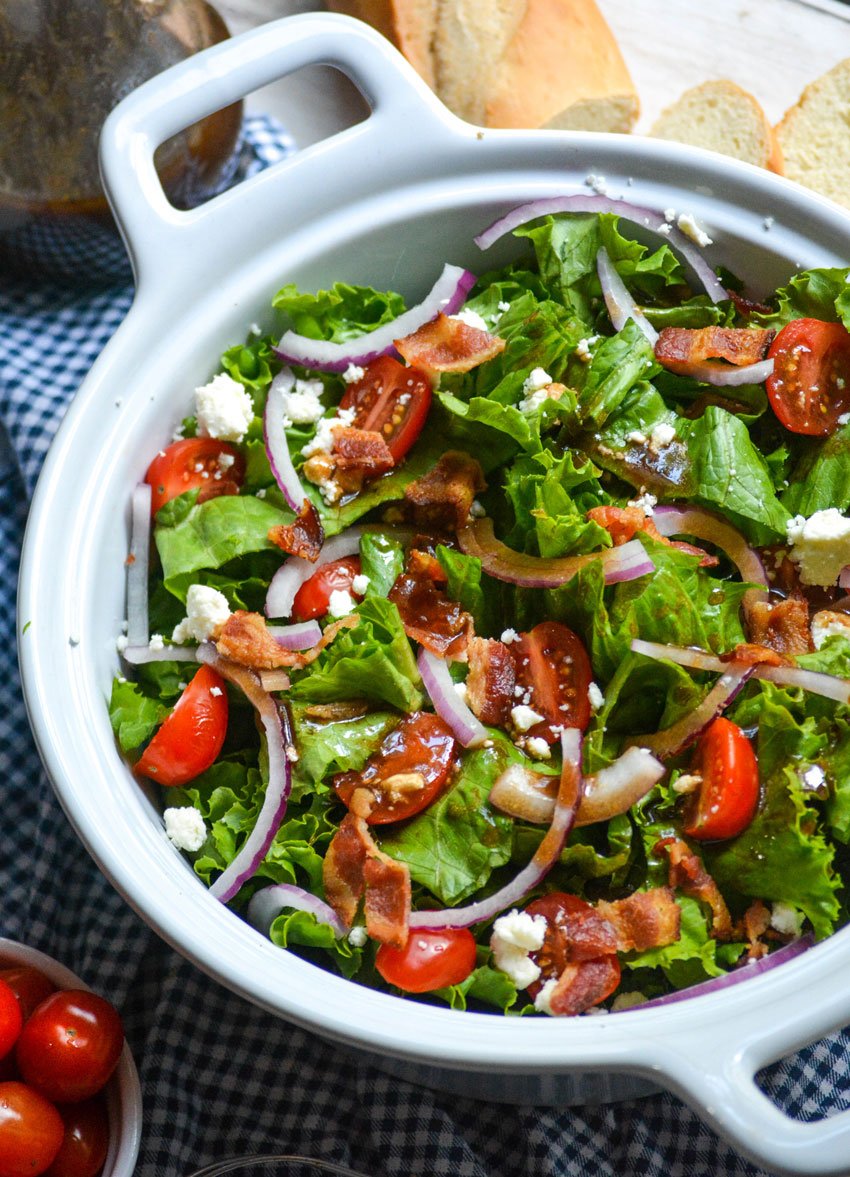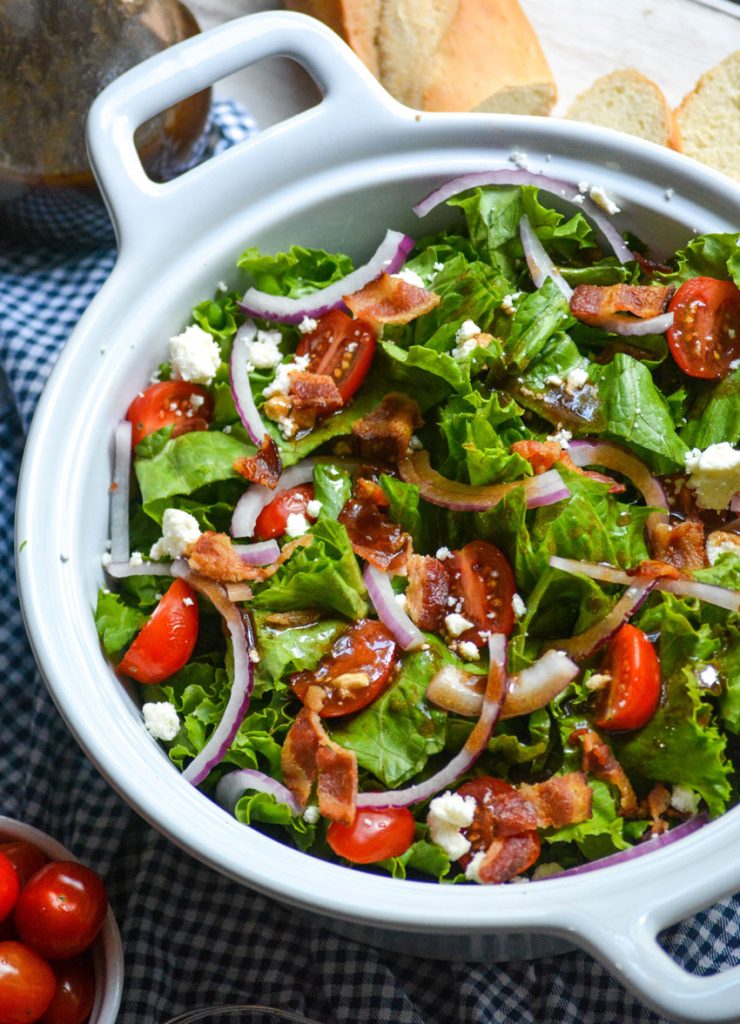 The youngest son has eaten 'salad' since almost the first day he could eat table food. And by salad, I meant plain chopped lettuce devoid of any fixin's or toppings, or dressing of any kind.
In the years since, his love for lettuce in a bowl has only grown and if it's on a bed of green leaves, he's game to try it.
Thankfully, since he's regressed with almost all other green veggies, except for (oddly enough) raw broccoli. More on that another day.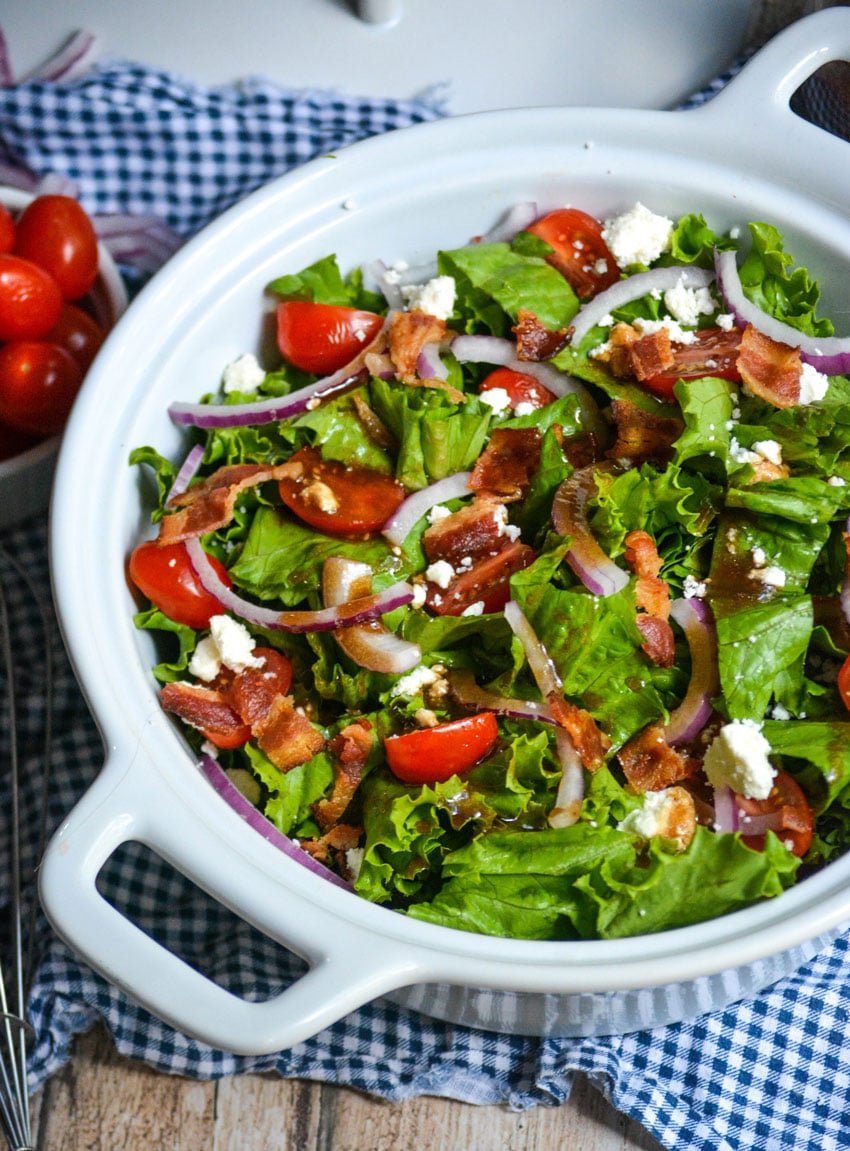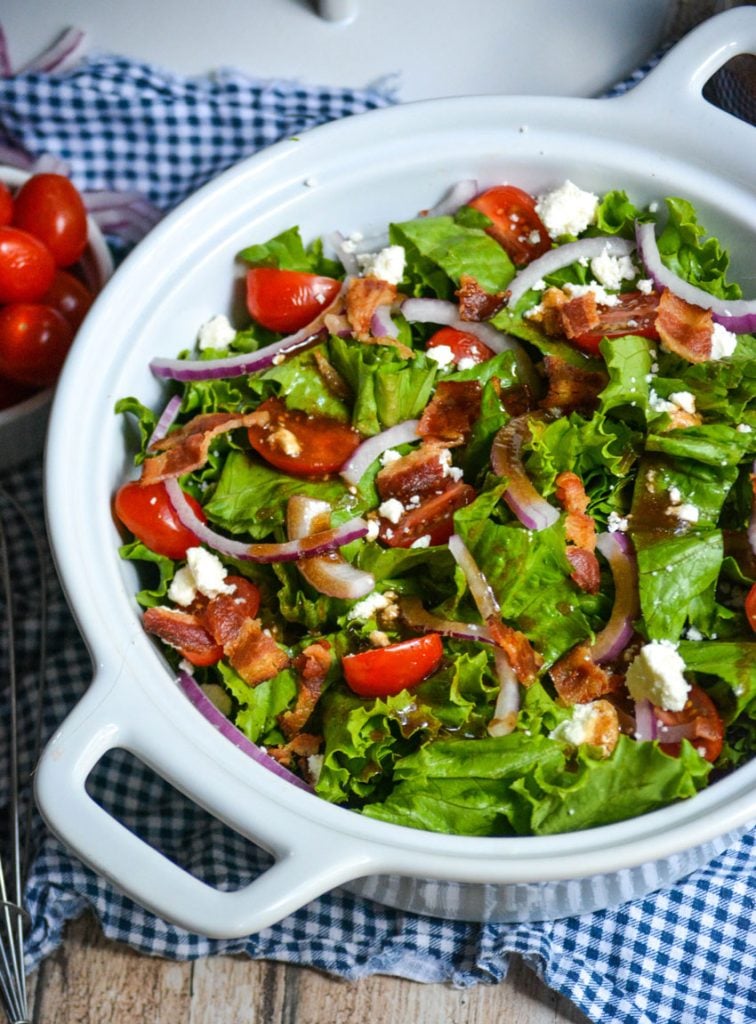 He's also the polar opposite of his father, who steadfastly refused, despite all intervention and incentives, to touch a leafy green until he was 25 or so.
Who knows why, but he (the Hubs) woke up one day with a craving for salad that would not abate. Let there be light. Hallelujah, the man will finally eat something good for him.
I can even serve him a big old bowl now, an all in one meal salad, and he won't even complain.
My, my … How things have changed. And why wouldn't they with bowls full of goodness like this BLT salad bowl on the menu?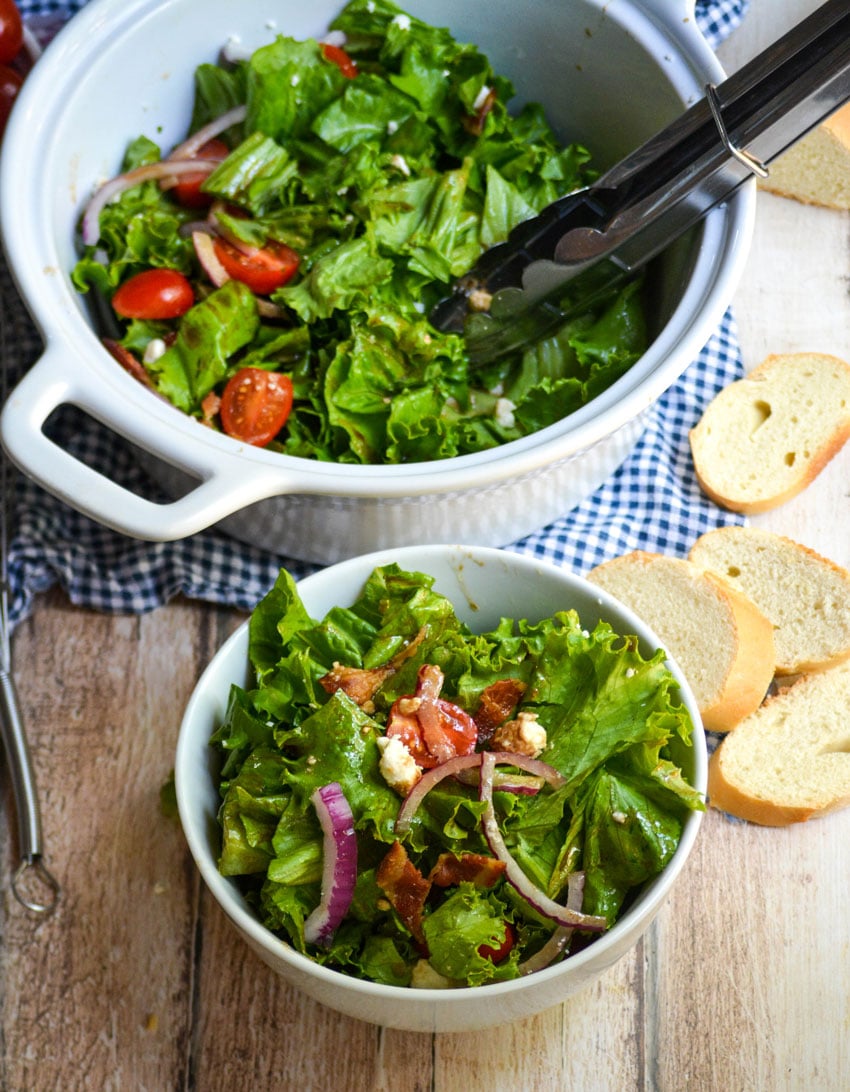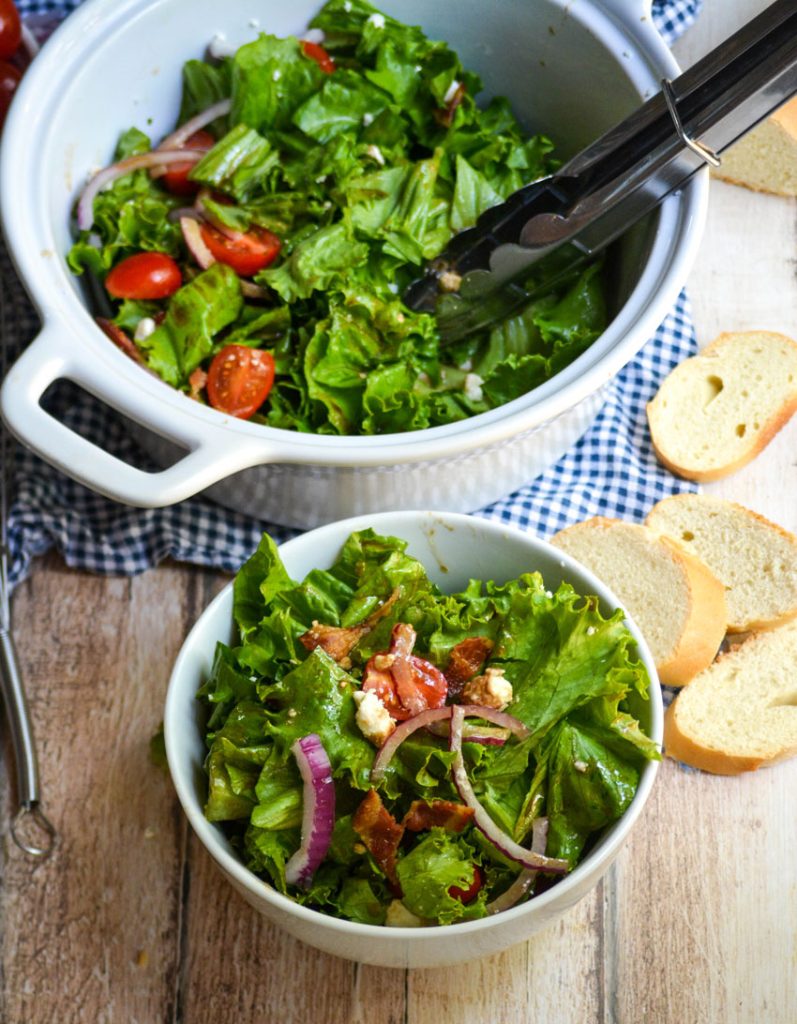 This meal is everything you love about a classic BLT sandwich, except without the bread and in a bowl, with extra goodies added in.
It's bright. It's cheery. And dare I say… Summery?
Loaded with veggies, a little bit of creamy, salty feta, and laden with a light vinaigrette- this bacon lettuce & tomato themed salad is a healthier option and packed full of more vitamins that are sure to fill you up without missing little things like the toasted bread or the mayo.
If that doesn't put a huge smile on your face, well then I don't know what will!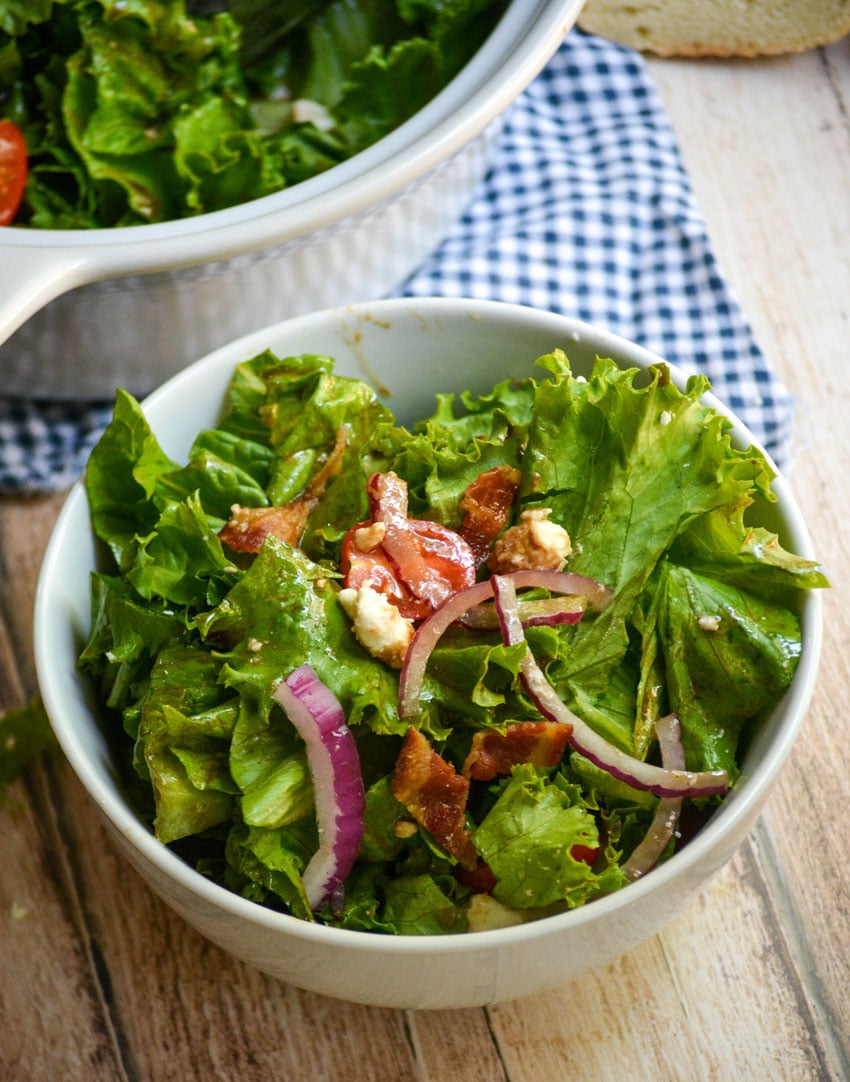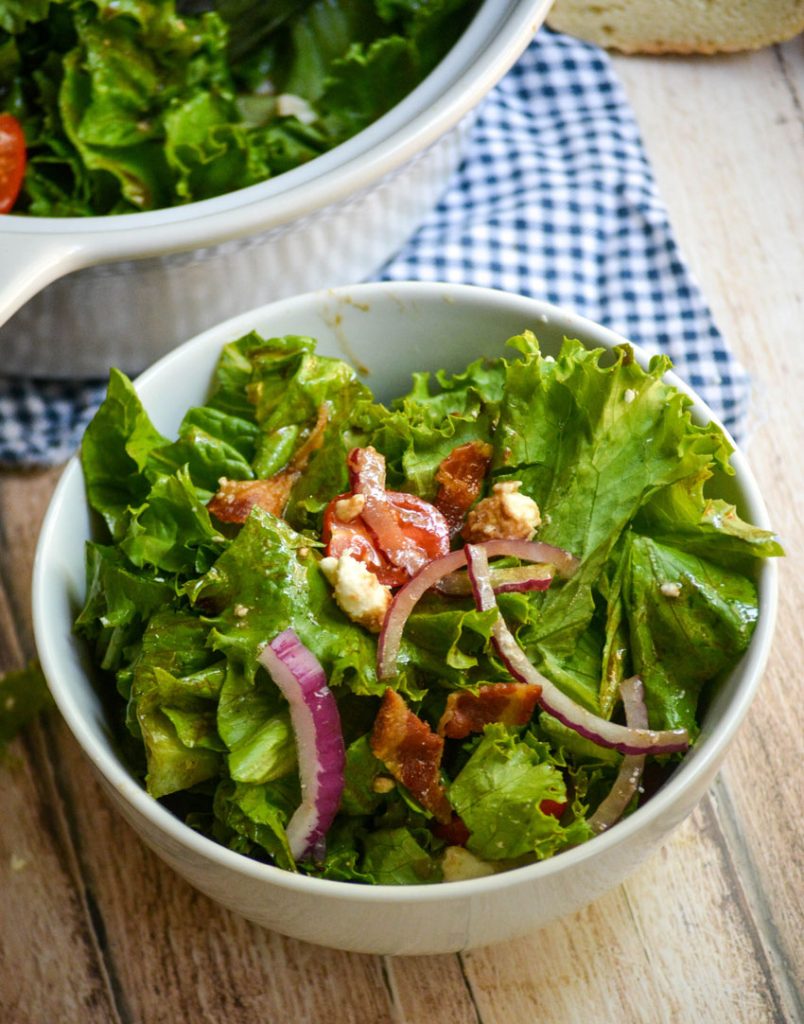 I know salad's tend to have a stigma, but trust me when I tell you- they don't have to be boring! This blt-themed salad bowl recipe is anything but, and it's a great way to get some extra veggies in.
What Goes Into Making A Bacon Lettuce & Tomato Salad?
Usually when we're talking this type of 'salad' the base is mostly pasta, but not this time. Instead we've got a bevvy of naturally flavorful, lower carb options.
leaf lettuce
grape tomatoes
cilantro leaves
red onion
bacon
feta cheese
You can also include things like cucumber and even avocado. Extra veggies make it heartier, and the avocado's creaminess can lend itself to making this mayo-less salad recipe even creamier.
With all those good-for-you ingredients soaking up a savory homemade balsamic vinaigrette, it makes for a filling lunch or even dinner.
How To Make A Simple Balsamic Vinaigrette- It's Easy & Tastes So Much Better Than Store-bought
You only need a couple basic ingredients, and you're well on your way to enjoying this homemade salad dressing.
olive oil
vinegar
yellow mustard
lemon juice
salt
That's it- just five easy ingredients. Everything's whisked together in a mixing bowl until smooth. Then the dressing's ready to be served, or used as instructed in this salad.
If you end up wanting to make a double batch, store whatever unused dressing you have in an airtight container- I recommend a mason jar. Refrigerate it for up to a week, and just shake vigorously before using.
If you're worried about this salad not being enough for a truly satisfying supper, we love adding some grilled chicken cut into strips. Keeps the overall 'healthy' feel, without sacrificing any flavor and incorporates a good bit of extra protein.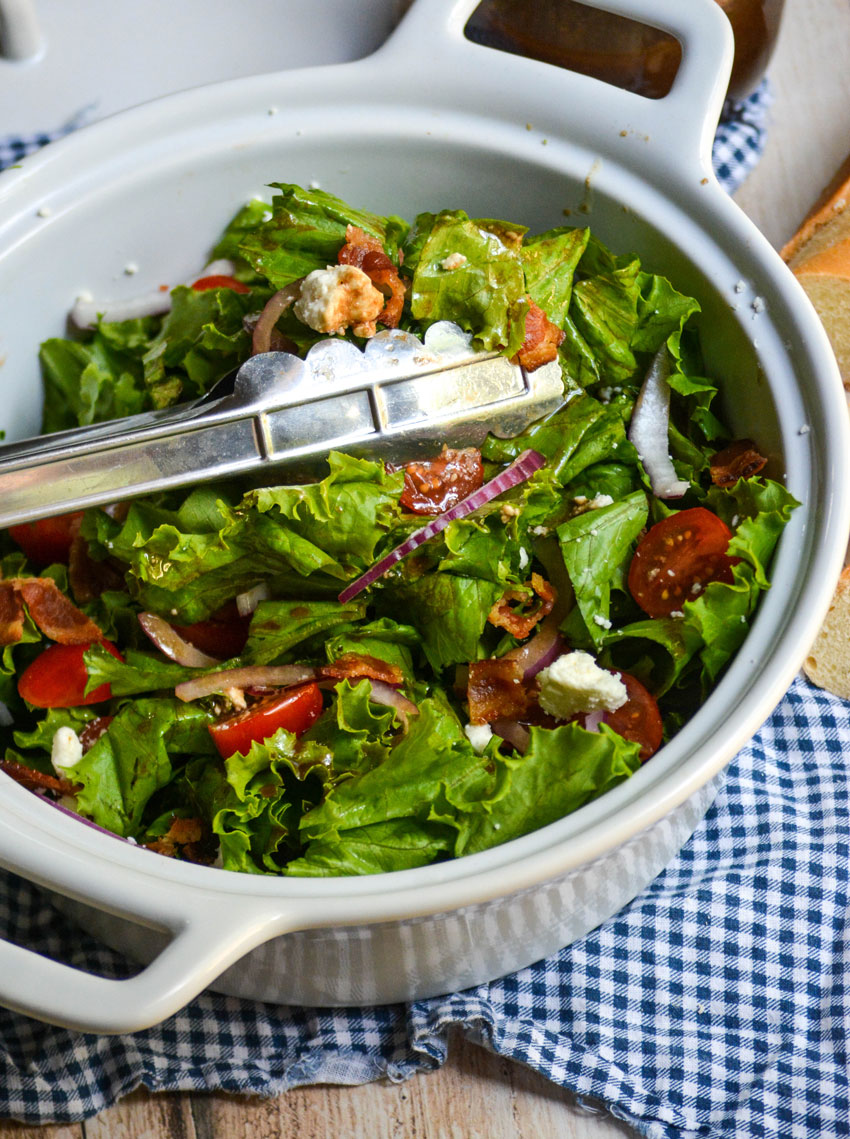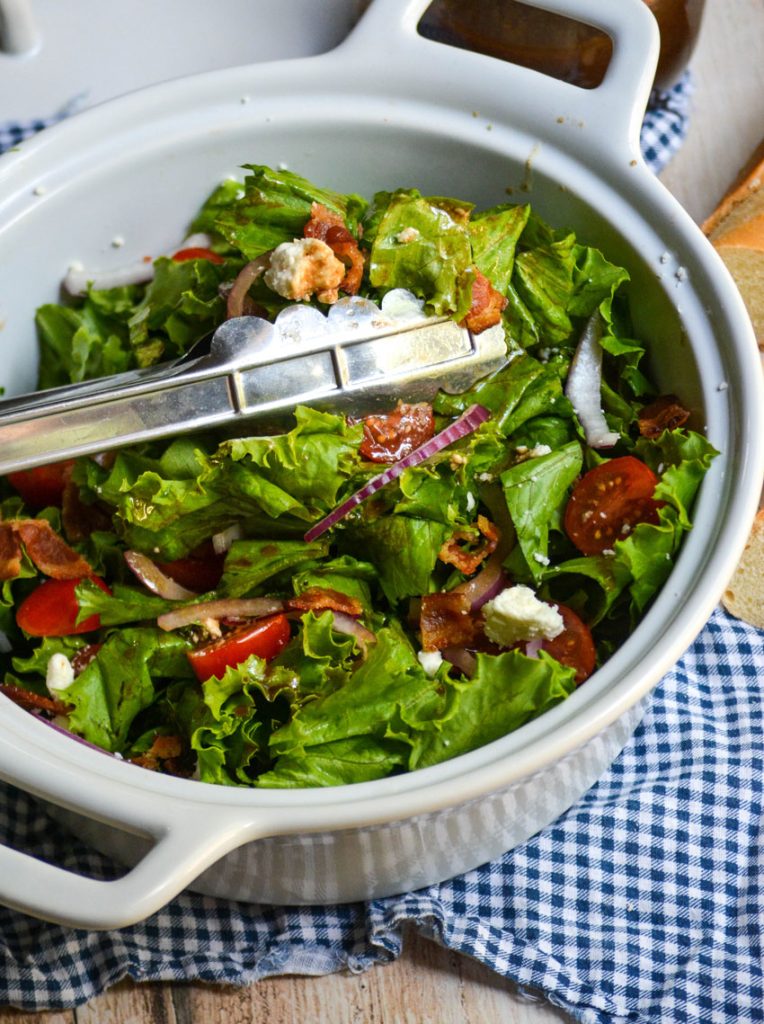 TIPS & TRICKS For Customizing This Salad Bowl Recipe For You:
You can use whatever combination of lettuce you love. We enjoy the soft buttery texture of leaf lettuce with just a bit of crunch from some romaine.
Don't have time for prepping and chopping lettuce? Keep it simple and grab bagged already washed & chopped mixed salad greens from the grocery store to use when prepping these salad bowls.
As mentioned earlier, grilled chicken makes a great addition to this salad for extra protein. Chopped ham & even chopped steak are great ideas to if you need a meatier meal.
Really going to miss the toast that goes along with a classic blt sandwich? Chop a piece or two of toast into bite sized pieces, shake off any excess crumbs, and top your salad bowls with them like you would croutons.
Other Savory Salad Ideas To Try:
I'm never one to turn this particular salad away. It's on my particular short list of all time favorites, probably because it includes my trio of favorite things- bacon, lettuce, & juicy tomatoes.
However, I've been told change is good. If you're in the mood to try something new, we've got a couple other savory salad options that are definitely worth giving a try!
If you want an especially fun twist on the classic salad, you're going to need to try the Hubs favorite- the Pittsburgh salad. It's everything you crave in a solid salad, but topped with grilled chicken and crispy french fries. It's a regional specialty, and truly tasty if you give it a try!
If you've tried this BLT SALAD BOWL, or any other recipe on the site, let me know in the comment section how it turned out, we love hearing from our readers! You can also follow along with me on PINTEREST, FACEBOOK, and INSTAGRAM to see more amazing recipes and whatever else we've got going on!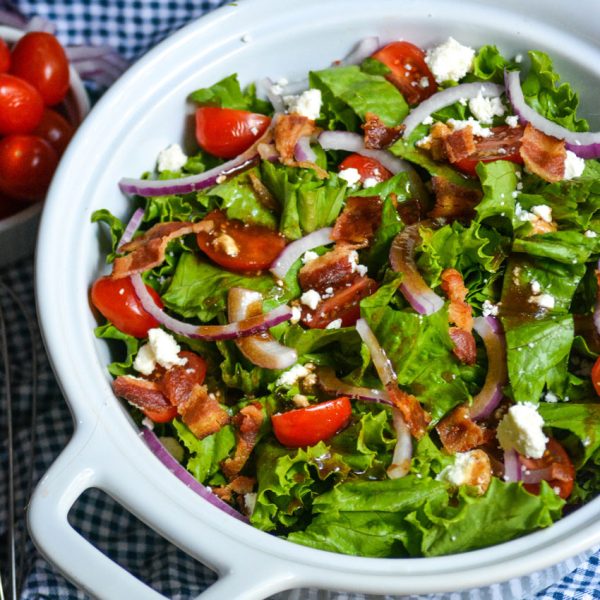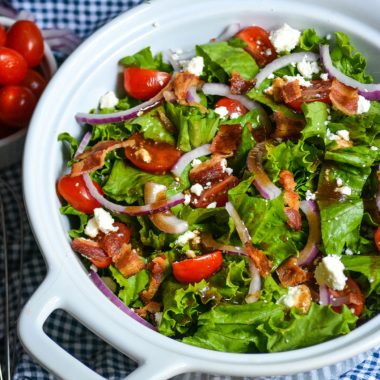 BLT Salad Bowl
This meal is everything you love about a classic BLT sandwich, except without the bread and in a bowl, with extra goodies added in.
Print
Pin
Rate
Ingredients
2

handfuls of leaf lettuce and 1 romaine heart

2

handfuls of grape tomatoes

loosely packed 1/4 cup of cilantro leaves

1/2

red onion

half a cucumber

optional

1

large avocado

optional

4-6

slices

of bacon

Half a handful of feta cheese
For The Balsamic Mustard Vinaigrette
3

oz

olive oil

1.5

oz

balsamic vinegar

1

tsp

yellow mustard

1 1/2

tsp

lemon juice

pinch

of salt
Instructions
Either in a skillet, or in the oven, cook your bacon until it's cooked and crisp. While the bacon is cooking, roughly chop everything else up into bite-sized squares.

Add all the salad ingredients into a large bowl, including the cooled, crumbled bacon. Gently toss to evenly combine. Crumble the feta cheese over top.

In a small bowl, add the vinaigrette ingredients. Whisk them together until smooth. Drizzle the dressing over-top the prepared salad.

Serve immediately.
Notes
If you prefer your salads with extra dressing, you may want to double this vinaigrette recipe.
Nutrition
Calories:
809
kcal
|
Carbohydrates:
27
g
|
Protein:
13
g
|
Fat:
75
g
|
Saturated Fat:
14
g
|
Cholesterol:
29
mg
|
Sodium:
435
mg
|
Potassium:
1377
mg
|
Fiber:
12
g
|
Sugar:
8
g
|
Vitamin A:
26946
IU
|
Vitamin C:
49
mg
|
Calcium:
154
mg
|
Iron:
4
mg
originally posted on February 9, 2016