Some might scoff at the idea of sandwiches for dinner, but these hearty chicken parmesan sliders are a tasty new spin on the beloved classic. With just a handful of ingredients and a slow cooker, you can have an easy meal ready with minimal effort involved. They make a great appetizer or main course perfect for parties, tailgates, potlucks, or family suppers.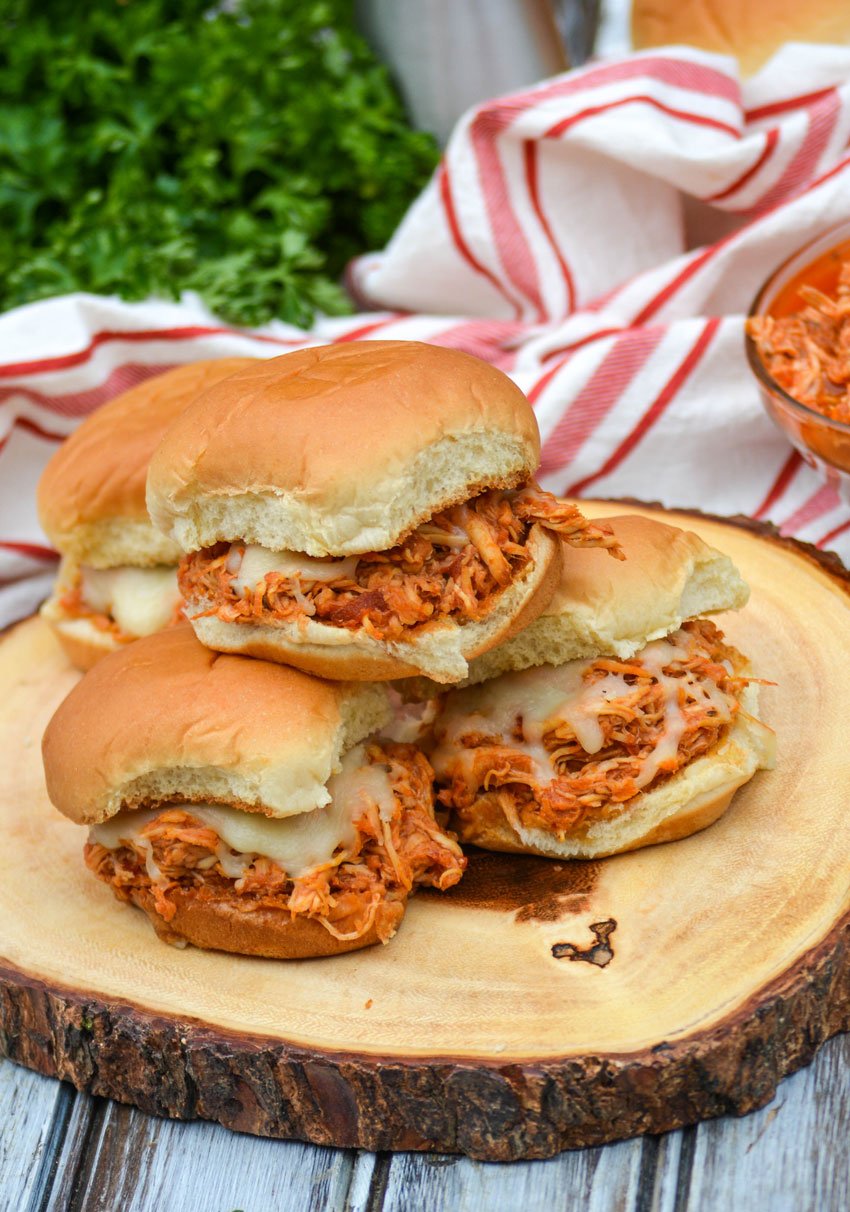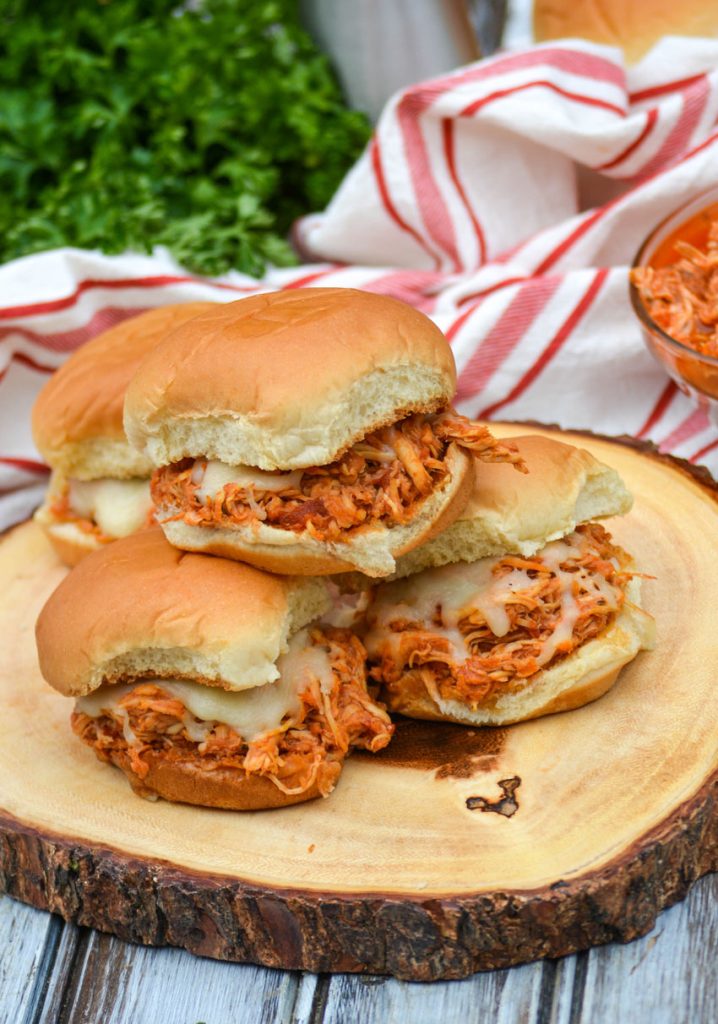 I can't stop. I won't stop.
No, I'm not trying to be Miley. I don't want to get anywhere near Robin Thicke. I would much rather make a yummy slider sandwich than twerk.
Seriously, though. I can't seem to get enough of sliders recently. I don't know if it's the whole 'mini' thing that's got me hooked, or just a refreshing change. I'm guessing a bit of both.
In either case, I've been recreating every new slider recipe I have found, and am on a mission to try them all.
One recipe at a time of course, like the easiest cheeseburger sliders ever , delicious tuna melt sliders, and the always fun chicken and waffle sliders.
And you know how much I adore a new spin on an old favorite, so these crockpot chicken parmesan sliders were destined to make it onto my menu.
Even better? The taste was phenomenal, and truly did justice to the classic flavors of chicken parm but now in easily enjoyable finger food form.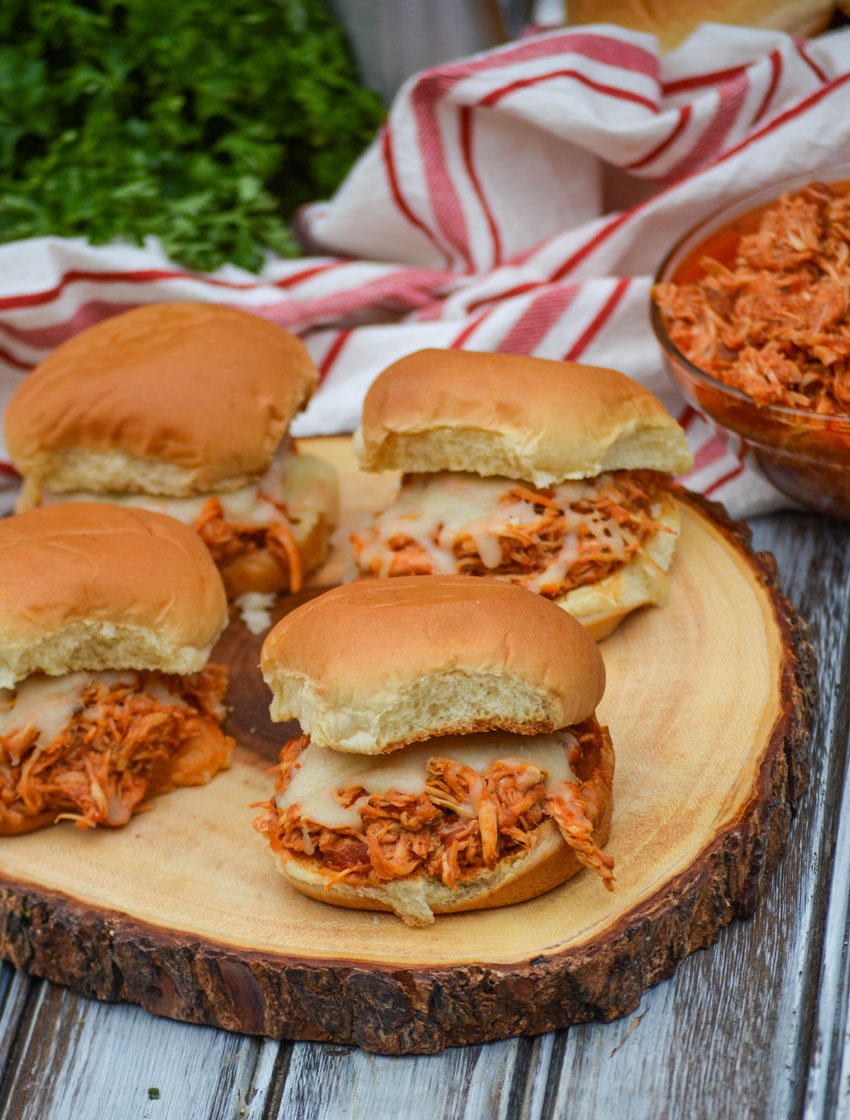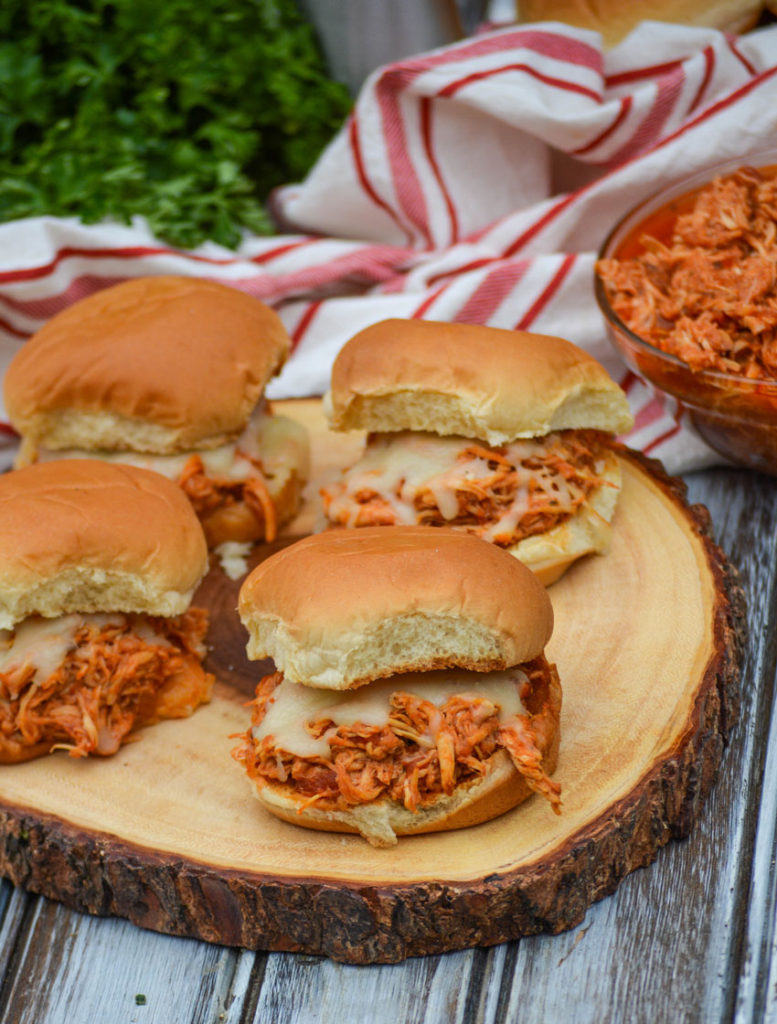 Ingredients Needed
This crockpot recipe uses minimal ingredients, which automatically makes it a hit in my home-cook recipe book!
With only 6 ingredients, it's perfect for a quick and easy dinner when you want to shop your freezer & pantry for an easy meal.
chicken breasts – I recommend boneless, skinless breasts here & trimmed of excess/visible fat.
spaghetti sauce – you can use your favorite brand, chunky vs. smooth, just make sure it's one you enjoy as this is the flavor that will heavily shine through.
garlic – You'll need minced garlic, but it's totally up to you if you use store-bought minced garlic or prefer to finely chop some fresh cloves.
seasonings – This recipe uses a mixture of onion powder, salt, & freshly cracked black pepper for additional flavoring.
mozzarella cheese – Shredded mozzarella, store bought or freshly grated will both work in this recipe.
buns – You'll need slider sized buns for these finger food sandwiches, I like the King's Hawaiian sweet slider buns- but you can use whatever brand you prefer.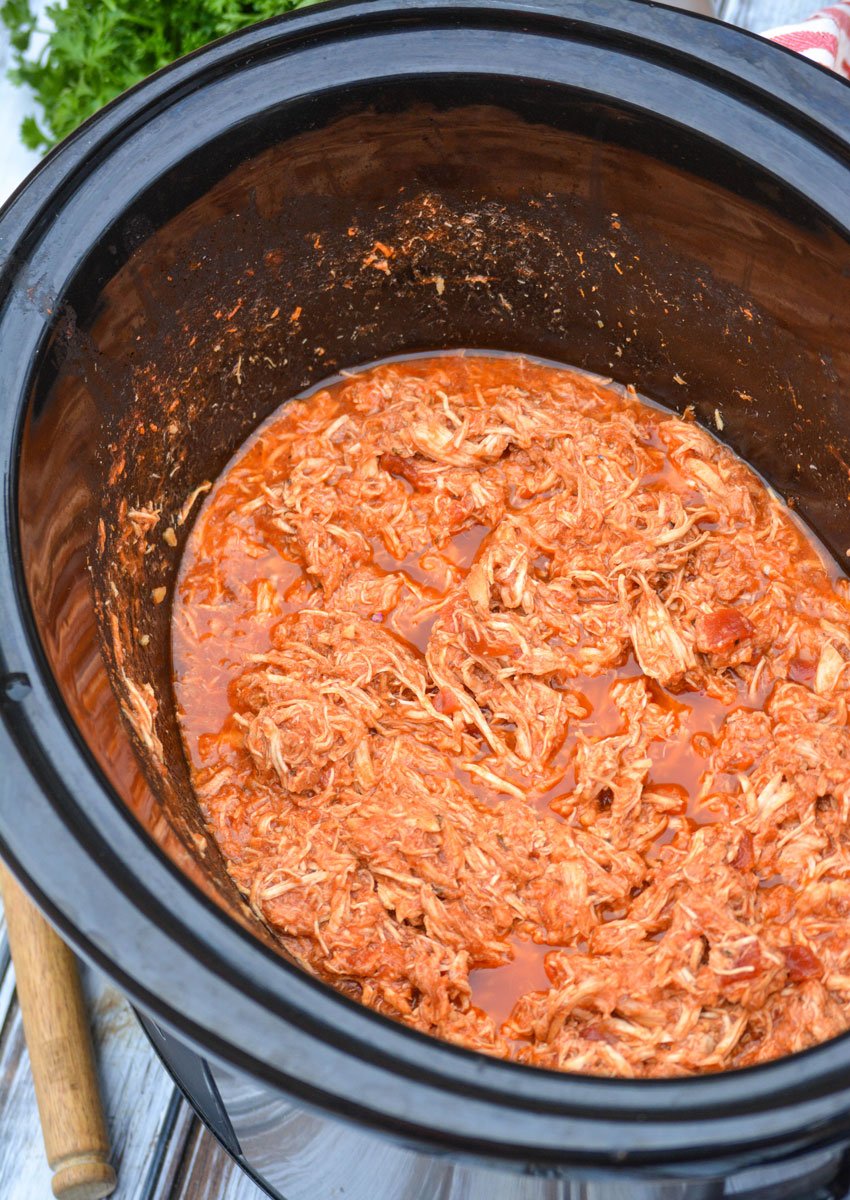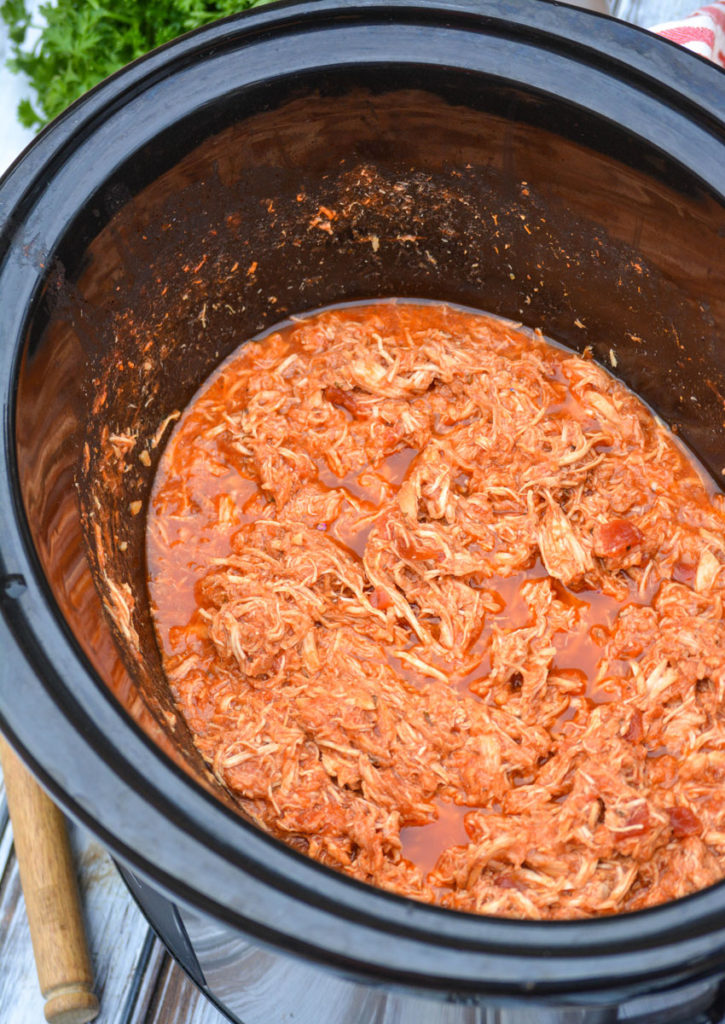 How To Make
These chicken parmesan sliders are seriously easy to make. It's basically a dump and go meal for your crockpot where you sit back and let it do all the work for you!
Add the chicken breasts to the bottom of the crock of your slow cooker.
Pour all of the spaghetti sauce out evenly overtop of the chicken, and then the seasonings. If you're sensitive to salt, you can wait until the recipe's complete before tasting and seasoning to your desired degree.
Cover the crockpot with it's lid, and set it to cook on low heat for 6-8 hours or high heat for 3-4 hours. The chicken should be tender and cooked through when the timer goes off, or when a meat thermometer inserted into the center reads 165 degrees.
The chicken should be so tender, it's ready to fall apart which makes shredding it a breeze. You can use meat claws or two forks, whichever method you prefer, for shredding the cooked chicken.
You can shred the chicken right there in the crock, or you can use a pair of tongs to transfer the breasts to a cutting board, shred, and then return to the pot.
Shred and then stir the chicken and sauce together until evenly combined. Cover the chicken mixture so that it stays warm until ready to serve.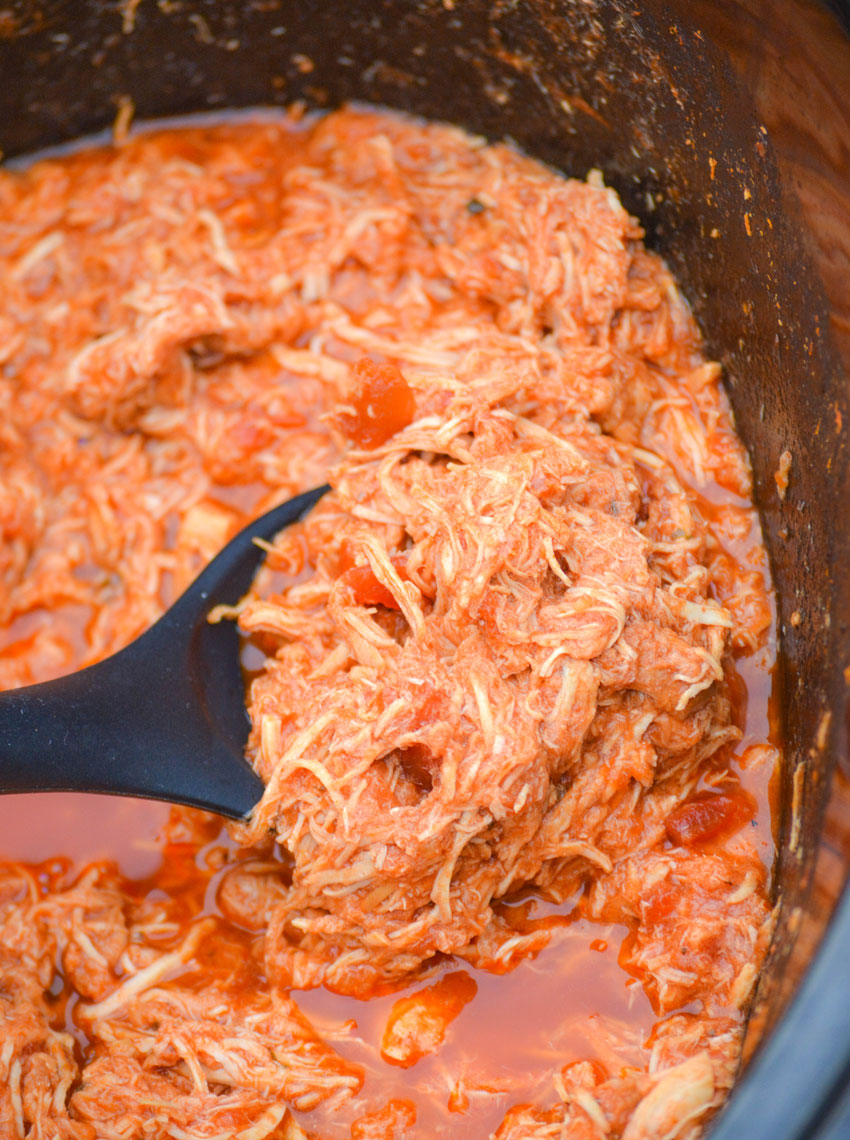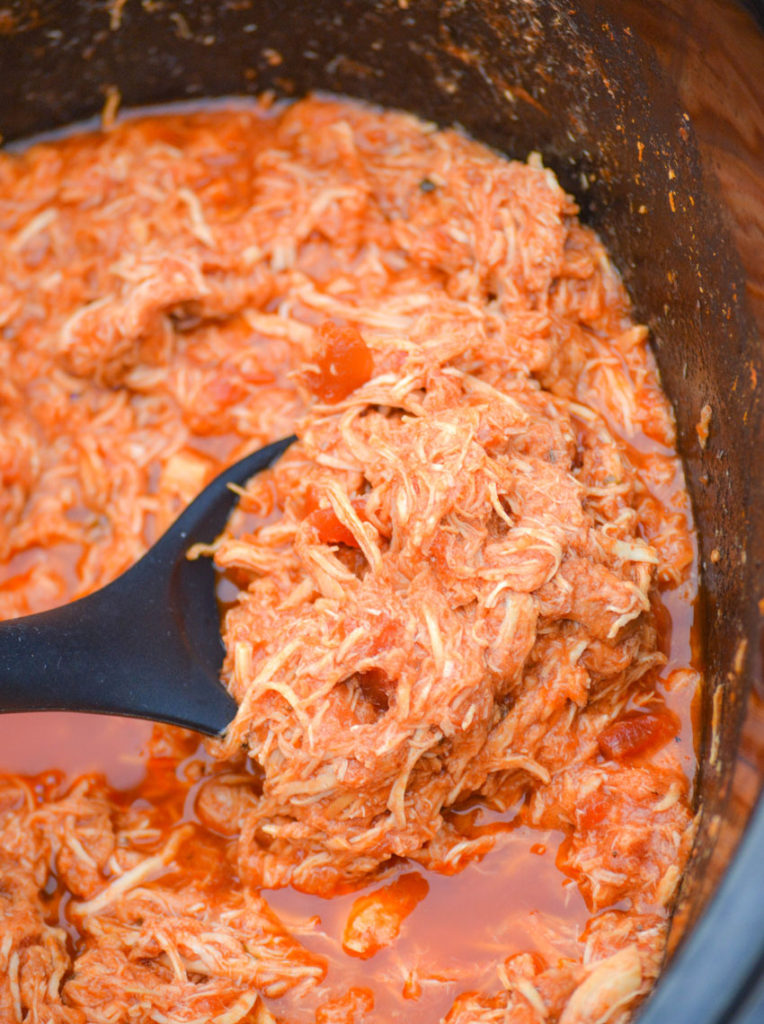 Lightly toast the halved/opened buns on a pan in the oven under the broiler, but watch them carefully to prevent over browning or burning. This can happen fast, so again- stay close and keep a watchful eye.
Set the top halves of the buns aside. Top each bottom bun with a generous spoonful of the sauced chicken mixture until all have been covered.
Sprinkle the shredded mozzarella cheese evenly out over all of the chicken topped buns. Return them to the oven and broil, again watching closely, until the cheese has melted, possibly turning golden brown in spots.
Remove the hot sandwiches from the oven, and add the tops to the chicken parmesan sliders to close them.
These delicious sliders are then ready to plate and serve however you'd like.
Add them to individual plates for a meal, or a serving tray to bring out for guests at parties, tailgates, and potlucks.
Making It A Meal
While these might initially sound like an appetizer, I tend to make them more for an easy dinner on busy worknights. Even without the pasta that traditionally accompanies chicken parmesan, these sliders are easy to fluff into a simple meal.
When all else fails, pair these with a simple side salad. You can't go wrong!
Lettuce & dressing is all you need, or include your favorite salad fixings. This spinach salad is also easy to throw together.
Sandwiches & salads are a tried & true combination almost everyone can agree on.
Prefer to serve your chicken sliders with a veggie on the side? Grab a can of green beans & turn them into something special in a few minutes with my Grandma's canned green bean recipe.
Steamed broccoli is another easy veggie that pairs perfectly with these sliders.
Finally, for those nights when you truly just need something quick the kids will eat, pair this with some cheesy carb loaded goodness like our Instant Pot shells & cheese.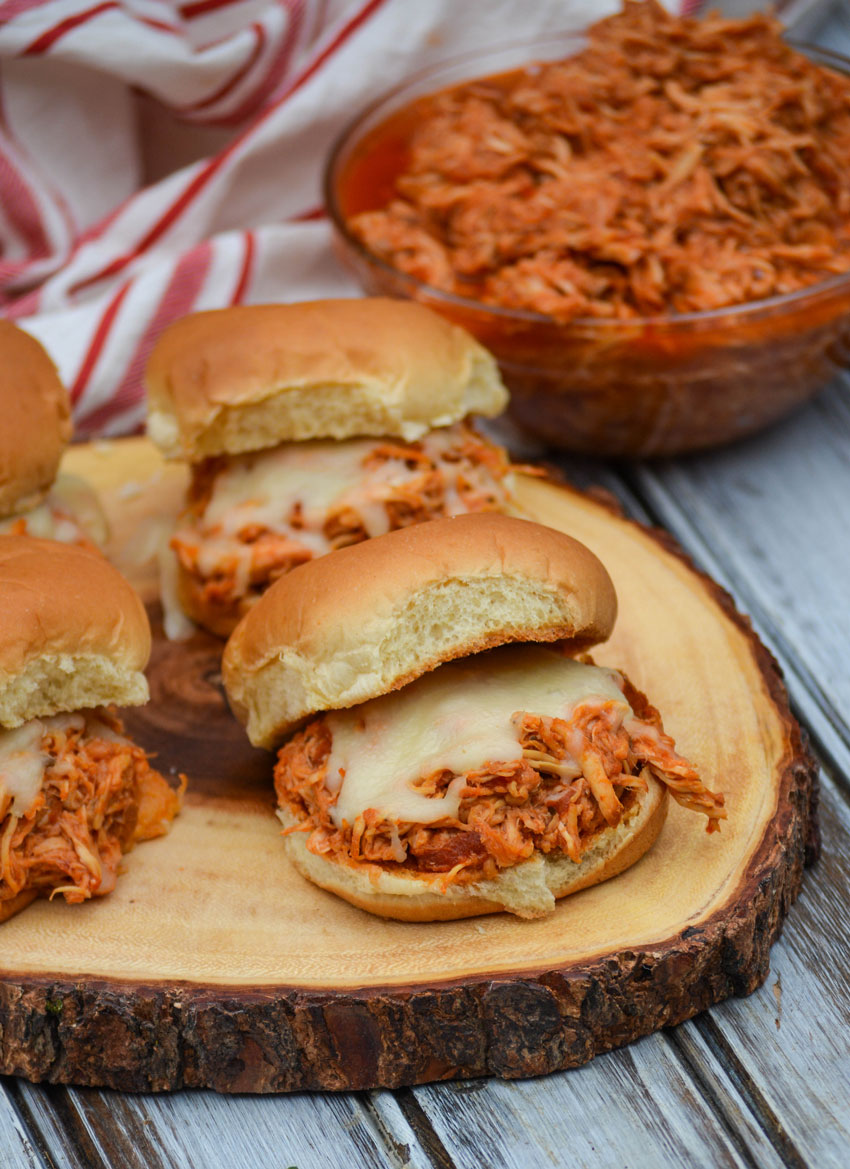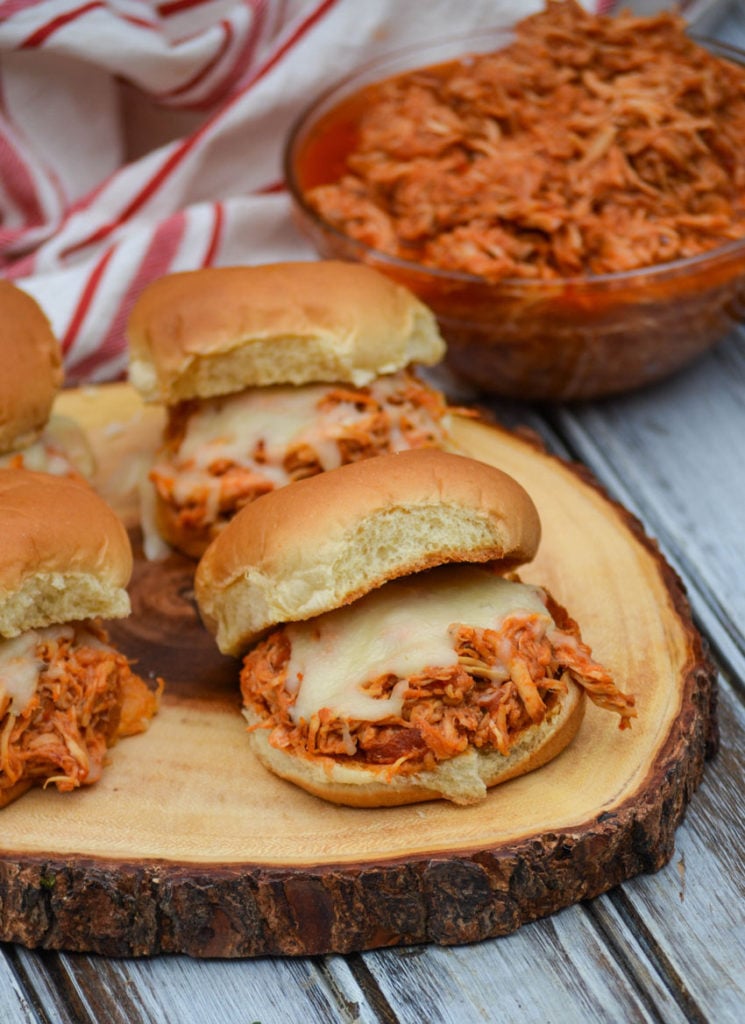 Can You Store These?
If you happen to have any leftover sliders, I don't recommend storing them as they tend to get soggy without any real way to crisp them back up.
However, if you have any of the sauced shredded chicken mixture leftover- that can aboslutely be saved & stored to make more sliders at a later date.
Transfer it into a ziplocking bag and it will keep in the refrigerator up to 3 days, or the freezer for up to 3 months. Just thaw, and reheat when ready to enjoy again.
Tips & Tricks
Nothing should stick to the bottom of the pot, but I like to go ahead and give mine a spritz with nonstick cooking spray before beginning to prevent sauce from sticking to the sides and to help make cleanup a breeze.
Don't have chicken breasts handy? Boneless chicken thighs will also work. Remove the skin (if they have any), and trim excess fat before using. Some swear dark meat ends up more tender anyway.
Looking for a way to give the leftovers new life? This saucy chicken mixture can also be served over warm, cooked pasta before being topped with shredded cheese and broiled to perfection.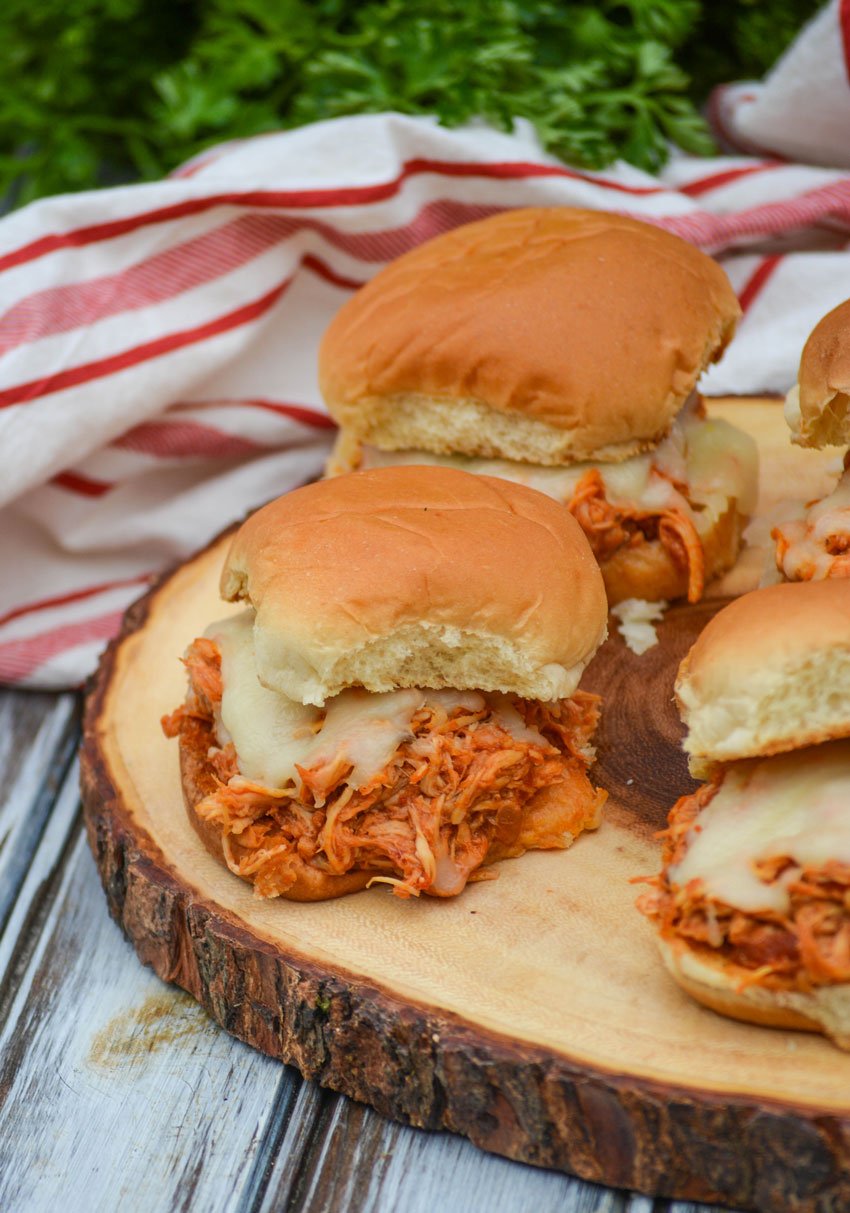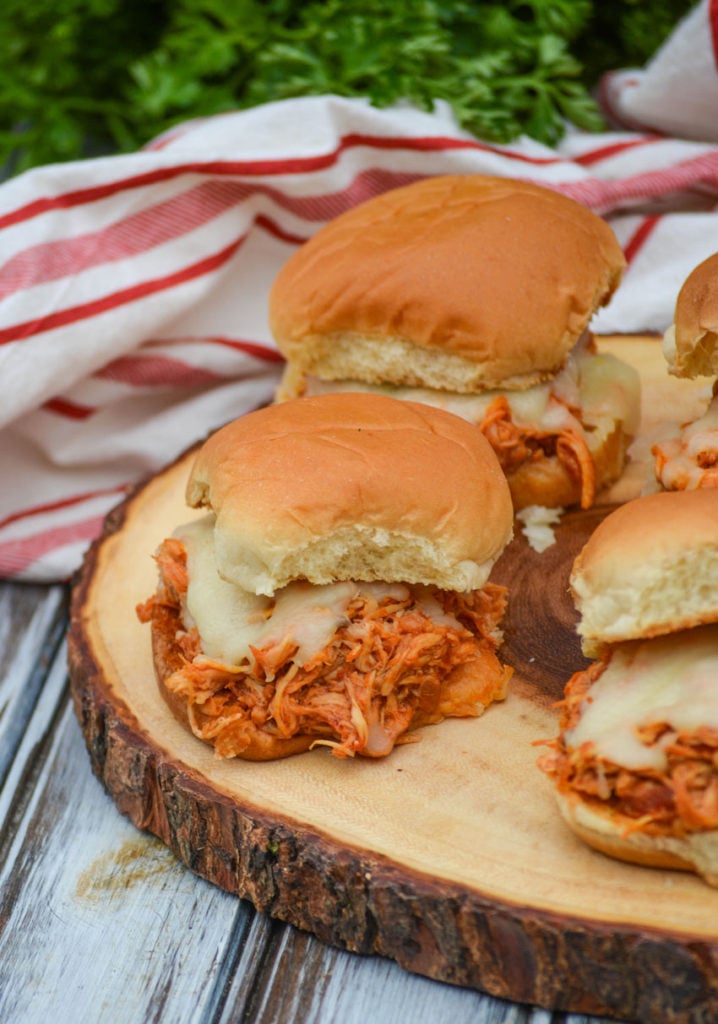 Other Crockpot Chicken Sandwich Recipes To Try
These petite, slightly varied, versions of the classic dish have all the tried and true flavors of Chicken Parmesan, but without all the work. These chicken parmesan sliders are perfect for a party, a dinner, or even for a lazy weekend lunch.
Whatever the occasion & however you choose to enjoy them, they're sure to score a spot on your list of family favorite recipes.
If you've tried these CHICKEN PARMESAN SLIDERS or any other recipe on the site, let me know in the comment section how it turned out, we love hearing from our readers! You can also follow along with me on PINTEREST, FACEBOOK, and INSTAGRAM to see more amazing recipes and whatever else we've got going on!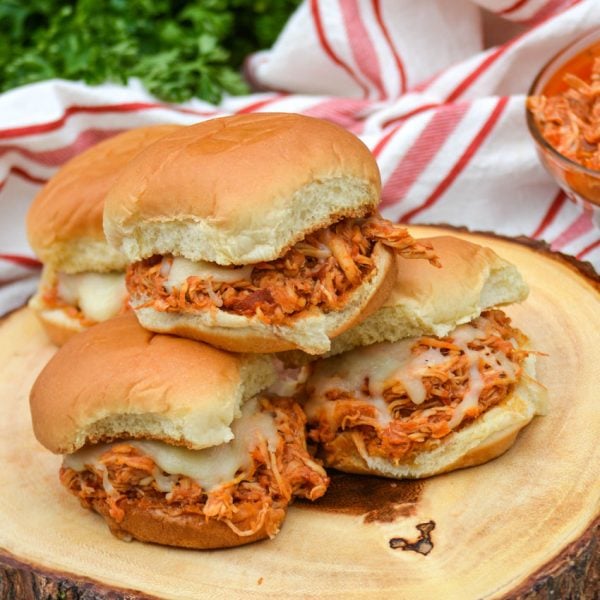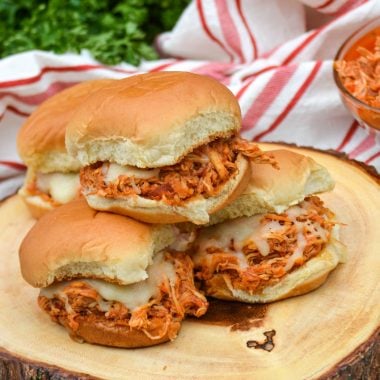 Crockpot Chicken Parmesan Sliders
Some might scoff at the idea of sandwiches for dinner, but these hearty chicken parmesan sliders are a tasty new spin on the beloved classic. With just a handful of ingredients and a slow cooker, you can have an easy meal ready with minimal effort involved. They make a great appetizer or main course perfect for parties, tailgates, potlucks, or family suppers.
Print
Pin
Rate
Ingredients
3

large boneless

skinless chicken breasts (can use frozen)

1 28

oz

jar spaghetti sauce

1

tbsp

minced garlic

1/4

tsp

onion powder

salt & pepper

to taste

1

cup

shredded mozzarella cheese

slider buns
Instructions
Add the chicken breasts to the bottom of a crock pot. Pour the spaghetti sauce evenly out overtop. Sprinkle the seasonings out overtop.

Cook on LOW for 6-8 hours, or HIGH for 4.

Using two forks, or a pair of meat claws, shred the cooked chicken and stir until evenly combined with the sauce.

Lightly toast the buns under the broiler, watch carefully to prevent burning. Top the toasted buns with some of the sauced, shredded chicken and a bit of shredded mozzarella cheese.

Place the chicken sandwiches under the broiler to melt cheese. Watch carefully to prevent burning.
Nutrition
Calories:
285
kcal
|
Carbohydrates:
37
g
|
Protein:
20
g
|
Fat:
6
g
|
Saturated Fat:
2
g
|
Trans Fat:
1
g
|
Cholesterol:
44
mg
|
Sodium:
483
mg
|
Potassium:
446
mg
|
Fiber:
4
g
|
Sugar:
8
g
|
Vitamin A:
377
IU
|
Vitamin C:
6
mg
|
Calcium:
109
mg
|
Iron:
3
mg
recipe adapted from Plain Chicken
pictures & post updated July 18, 2021