Pork that's slowly roasted in the crock pot until it's so tender it falls apart is then mixed with a sweet and tangy balsamic vinegar & honey barbecue sauce, making for a crowd-pleasing platter of pulled pork sliders. Not only are these great party appetizers- they also make for a filling lunch or supper, and the left overs are just as yummy.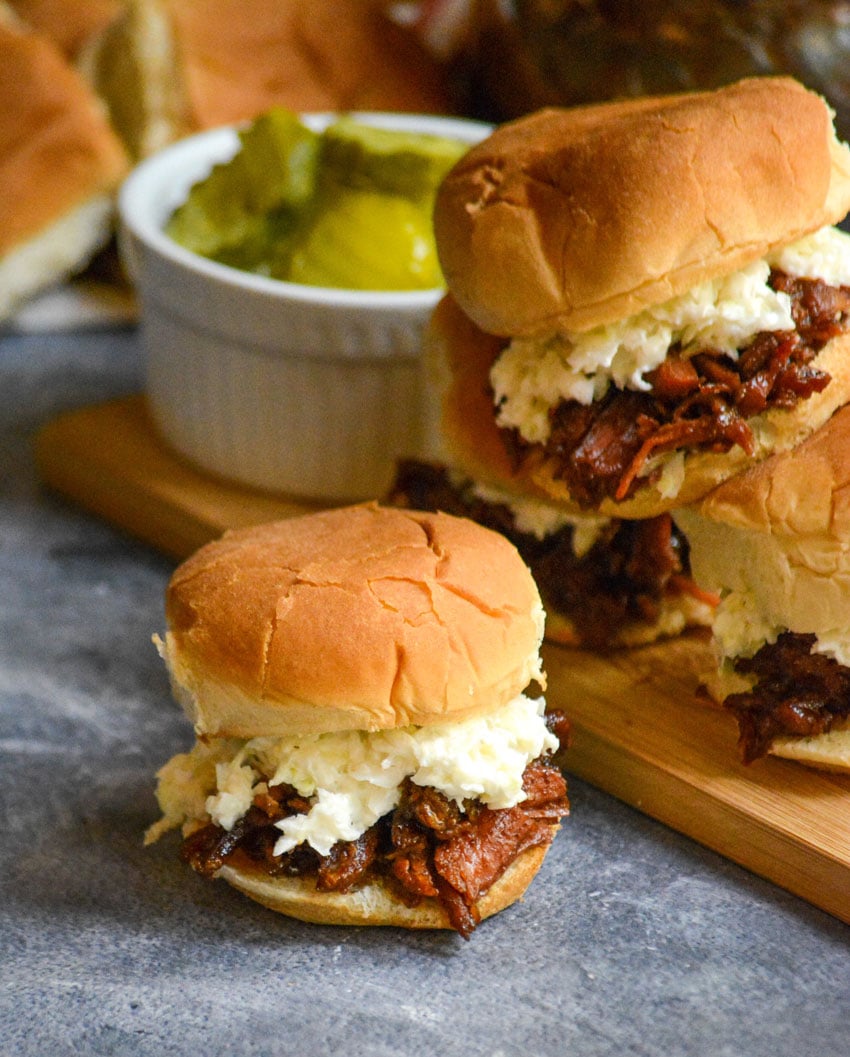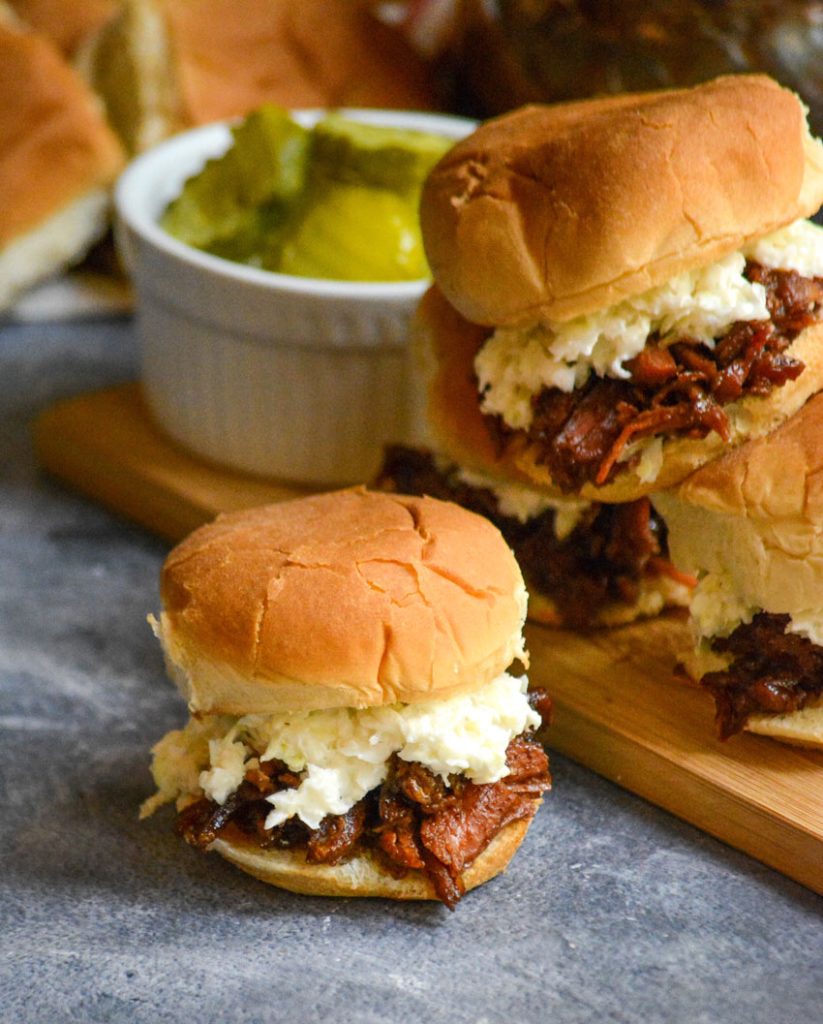 With so many kids, and six peoples busy schedules in the mix- easy meal options are a must have for me and my sanity.
Finger-style foods are always a hit in my house.
When is miniature food not fun?!
They're also easy to plate, and serve. Another bonus for this busy Mom.
All of these things come together to make sliders one of my favorite options for lunches and dinners.
These balsamic vinegar & honey pulled pork sliders are just my latest favorite in my ever expanding slider sandwiches repertoire.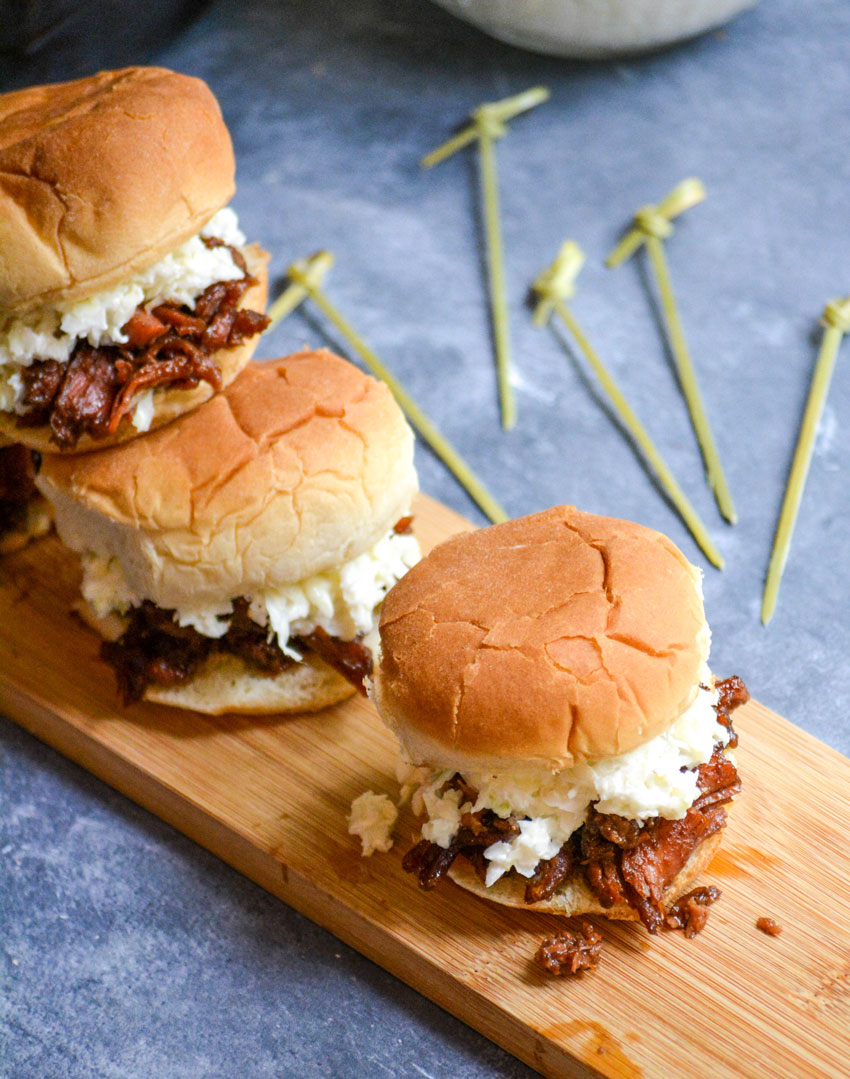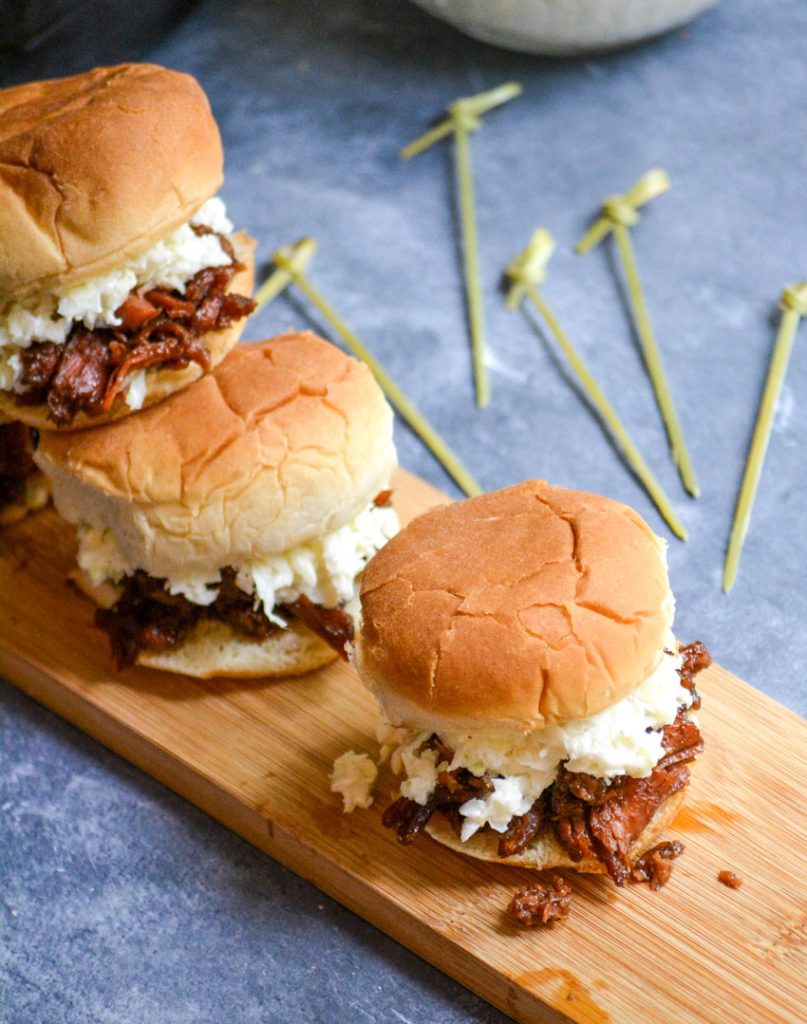 Ingredients Needed
I know, I know, the name makes them sound pretty fancy, but they couldn't be any easier.
The ingredient list may seem rather lengthy, but none of them are anything truly fancy.
Most of the ingredients are seasonings that blend together to make this barbecue's sweet & savory sauce.
boneless pork shoulder (butt)
onion
bell pepper
thyme
rosemary
chicken broth
balsamic vinegar
ketchup
brown sugar
honey
Worcestershire sauce
Dijon mustard
garlic
salt & pepper
Additional ingredients are needed such as sliders buns, and coleslaw (which is optional).
I'm a self proclaimed pickl-aholic, andI highly recommend some crisp dill slices for these pulled pork sliders, but even they are optional too.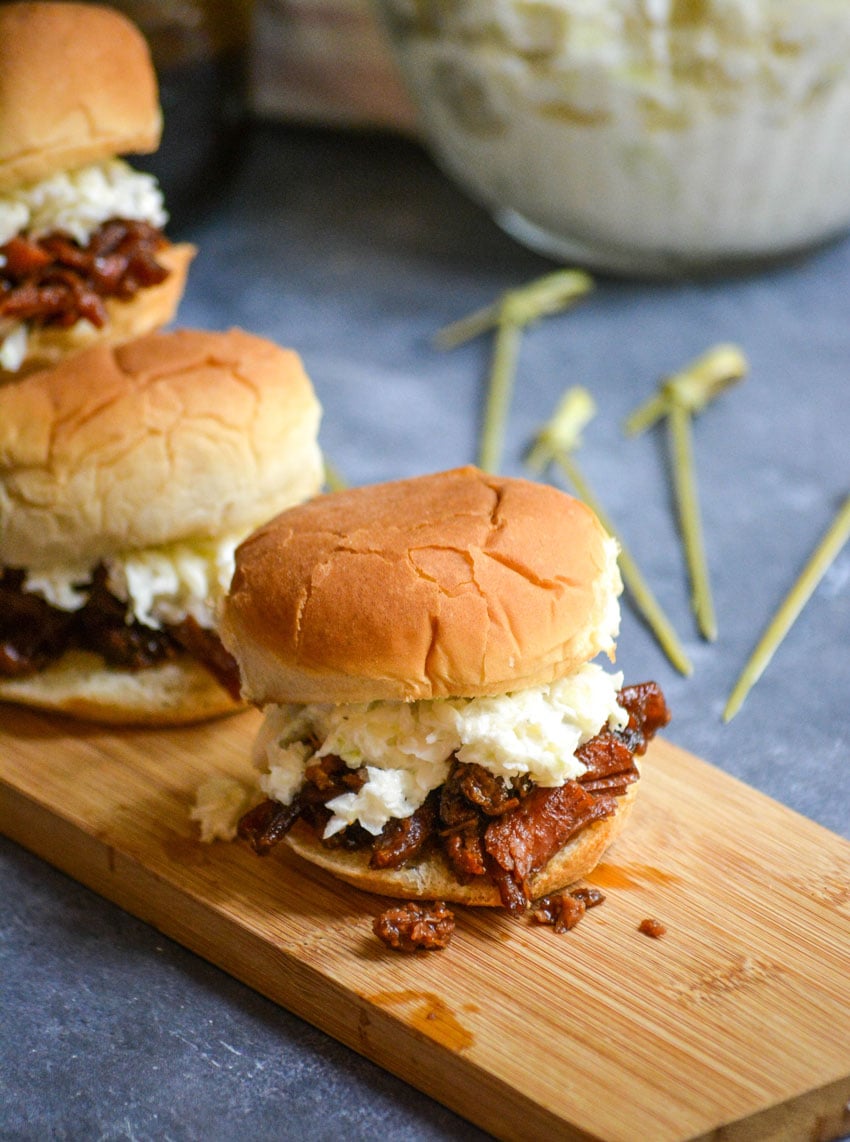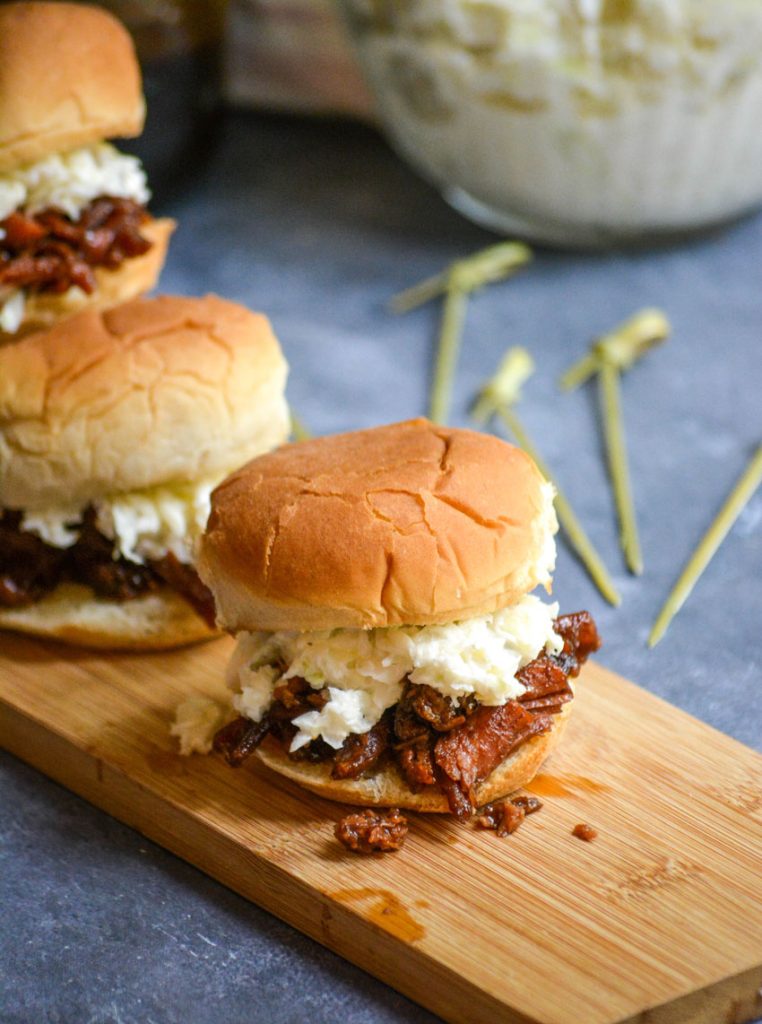 What Is A Pork Shoulder & Is That The Only Type Of Pork I Can Use?
So while the cut of meat we're referring to is technically a part of a pork's shoulder, it's most commonly referred to as a pork butt or Boston butt.
No, it isn't an actual butt or come from the back end of a pig. I'm not entirely sure where or why it ended up with that nick name.
There is also such a thing as a pork shoulder, commonly referred to as a picnic roast. While you can use either in this recipe, we definitely recommend sticking with the butt if you can.
While both cuts come from a pig's shoulder, the butt is a cut from higher up on the leg. Thus it's more meat with intramuscular marbling and fat.
This makes it ideal for slow cooking, whether in the oven or the crockpot.
As it cooks that fat will render down, coming out as juices, but flavoring every bit of meat and also tenderizing it the entire time.
You can use a pork shoulder, or a pork butt- but if you have a choice, then I highly recommend opting for the later.
Both will make good barbecue, but the butt barbecue is incomparably tender.
If neither a pork butt, or shoulder is an option- then there's still one last piece of pork I'd suggest as a substitute. The pork loin.
It's simple, and it's another affordable cut. It will also get the job done.
While pork butt tends to practically fall apart with minimal encouragement, you may need to use two forks or even meat claws to shred the other two cuts of meat.
Nothing wrong with it, just a little bit of extra work involved.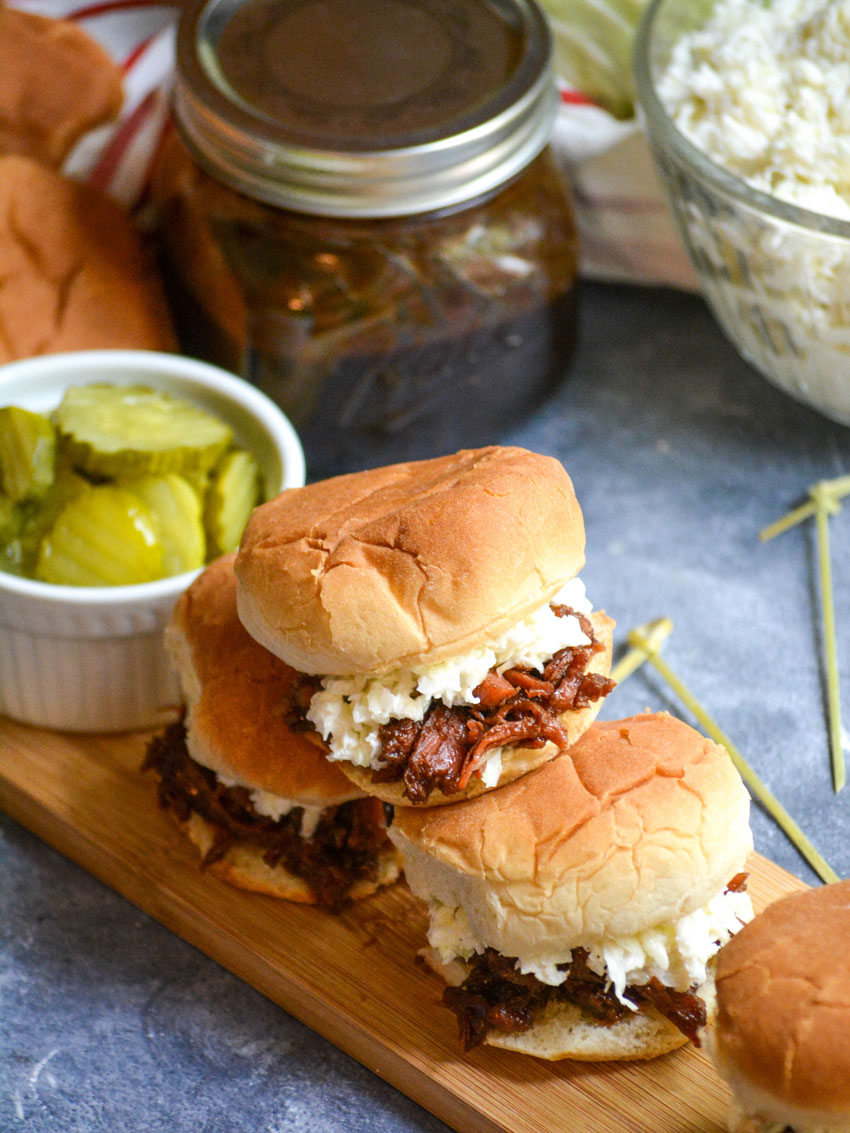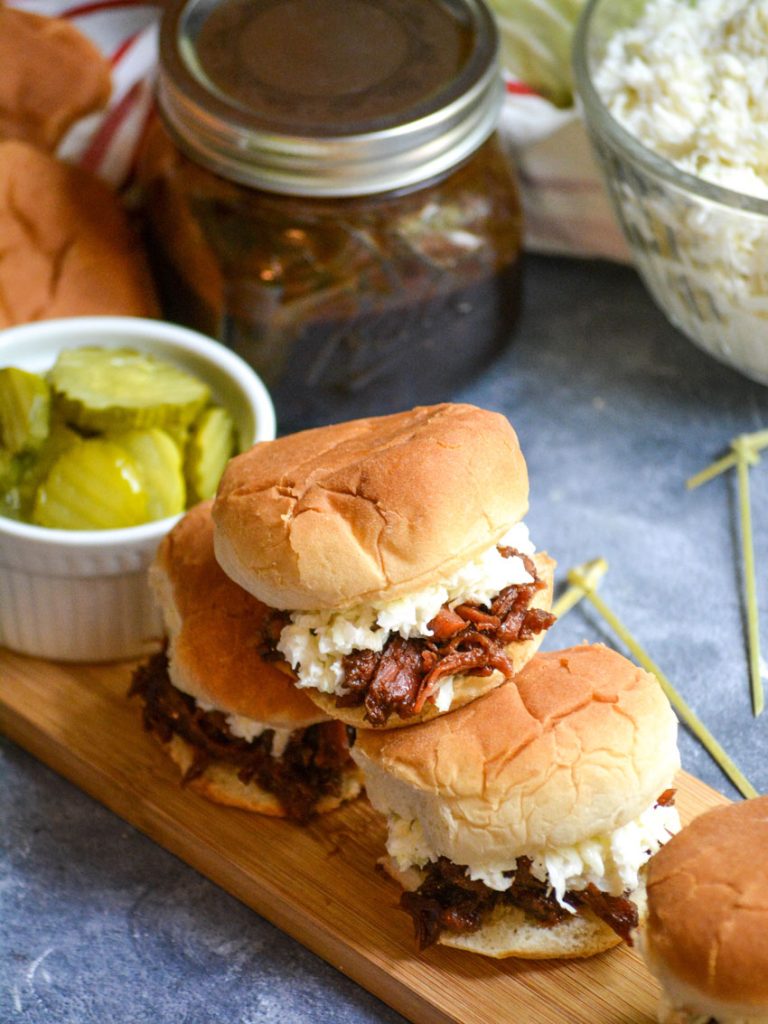 Making Crockpot Pulled Pork Barbecue
While this barbecue recipe is very simple, it does have two distinct parts- preparing the pork, and making the sauce.
Preparing The Pork Butt
First, you can start by removing any excess fat from the pork butt. Some is ok, but we don't want a ton.
A sharp knife will easily cut away the fat for easy removal.
Add the prepared pork to the bowl of a crockpot, trimming to fit if needed, fat side up.
To the bowl of the crockpot so that they surround the pork, add the chopped white onion & green bell pepper.
Sprinkle thyme and rosemary evenly out over the veggies.
Pour chicken broth into the crockpot, cover with lid, and cook the pork on low for 9-10 hours- or high for 4 1/2 – 5 hours.
Balsamic Vinegar & Honey Based Barbecue Sauce
Any barbecue can only be as good as it's sauce, and this one is a real award winner packing a perfect punch of flavor.
Tangy balsamic vinegar and sweet honey come together with more traditional ingredients like Worcestershire sauce, ketchup, brown sugar, Dijon mustard, and minced garlic to create a delicious vinegar-based barbecue sauce that is hard to beat.
Whisk all of those ingredients together in a small mixing bowl, just until evenly combined.
Pour all of the ingredients into a medium sized sauce pan, and bring to a boil then reduce heat to bring the sauce down to a simmer.
You can mix the ingredients together in the sauce pan, but I prefer adding them post-mixing. It's really just personal preference for this bit.
Let the sauce simmer, uncovered, for 15-20 minutes, or until thickened while stirring occasionally.
A good rule of thumb is the sauce is thickened when it coats the back of a wooden spoon. Remove the sauce from heat, and set aside.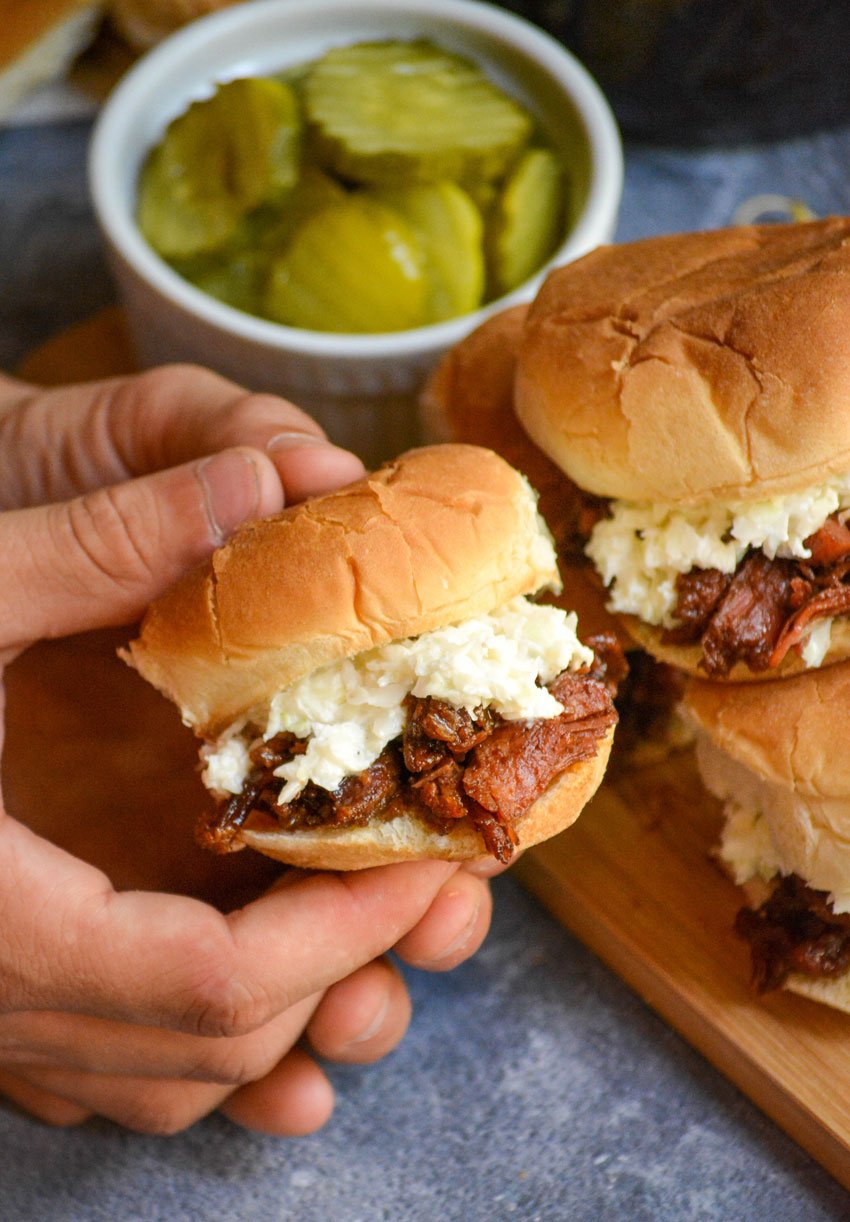 Finishing Touches- Bringing The Homemade Barbecue Sauce & Pulled Pork Together
Let the pork cook during the day and when it's done it's a snap to mix in the homemade barbecue sauce.
They pair perfectly together, and are easy to combine in under 30 minutes after you arrive home on a busy evening.
Carefully remove the hot, cooked pork from the bowl of the crock pot to a waiting cutting board.
I like to keep paper towels on hand in case any juices want to run rampant and try to escape the sides of my cutting board.
This is especially helpful when my hands are mostly preoccupied with shredding hot pork.
Shred the meat using your preferred method.
If I want authentic pulled pork mouth feel, I use meat claws. However, before I had meat claws I used two forks- worked the same, but made my arms feel like they were going to fall off.
Alternatively, you can use a stand mixer to quickly & conveniently shred the meat.
Using a slotted spoon, scoop out the cooked veggies- transfer them to a waiting bowl. Discard any juices left in the crock.
Add the meat & veggies back into the crockpot, then pour the homemade barbecue sauce evenly out overtop. Give everything a stir to evenly combine.
Cover with the lid, and cook an additional hour on the low setting.
This slow cooking method makes them a perfect option for any day, including those busy weekday meals.
This balsamic & honey barbecue is so good, I have the hardest time not eating it straight out of the crock.
Seriously, y'all- it takes finger lickin' good to a whole new level.
It's the perfect thing for stuffing onto slider buns, because a little bit goes a long way.
You can't go wrong here, not with these easy pulled pork sliders!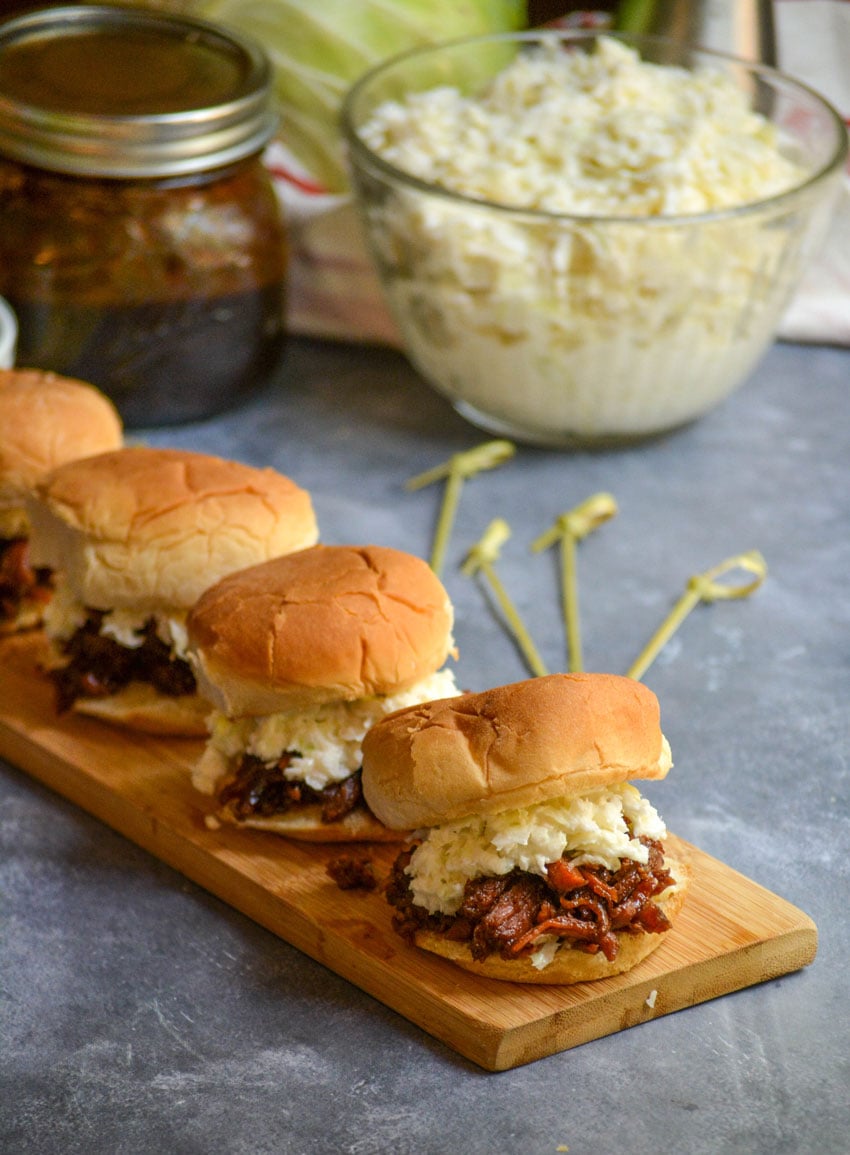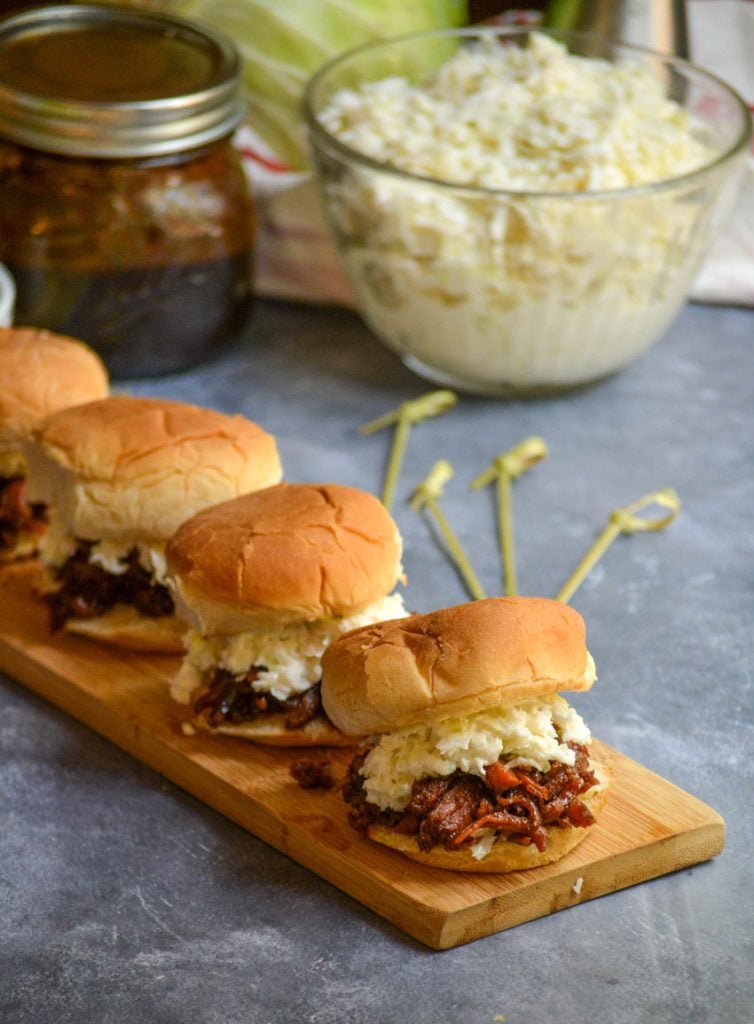 Got leftovers? This freezes beautifully to save for a later meal.
Or you could always make up an entire batch, portion it out into serving sizes, and instead of serving- freeze that if you're looking to have meals stocked on stand-by.
However you choose to serve it, you can never go wrong with slow cooked pulled pork tossed in a rich homemade barbecue sauce.
Making it miniature with slider buns, well that's only half the fun!
Flesh it out with your favorite toppings, and you've got a recipe that is perfect for lunch, picnics, potlucks, dinners- and even can serve as an appetizer.
That's what I call multi-tasking!
Ideas For Using Leftover Barbecue
While we love barbecue, we almost always have leftovers. Most of the time I just freeze the leftover pulled pork and wait until inspiration, or another busy night strikes.
When that's not an option, I throw it into one of these other easy recipe ideas:
If you've tried these BALSAMIC VINEGAR & HONEY PULLED PORK SLIDERS, or any other recipe on the site, let me know in the comment section how it turned out, we love hearing from our readers! You can also follow along with me on PINTEREST, FACEBOOK, and INSTAGRAM to see more amazing recipes and whatever else we've got going on!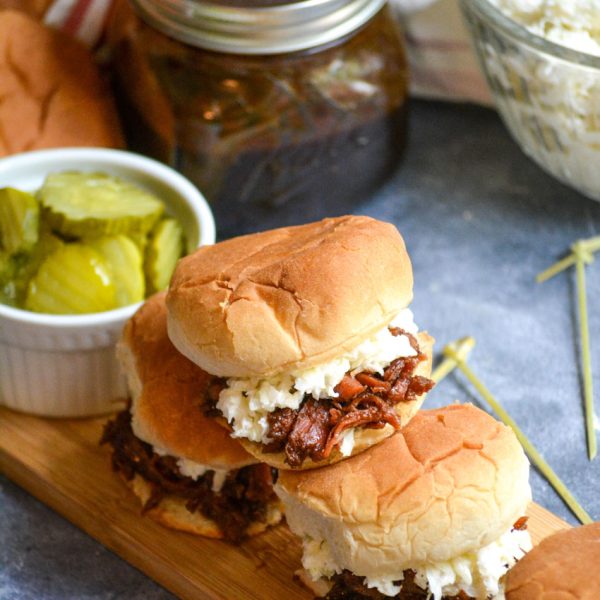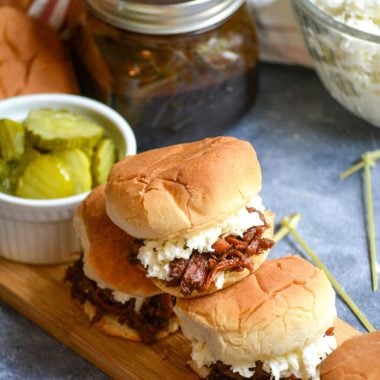 Balsamic Vinegar & Honey Pulled Pork Sliders
Pork that's slowly roasted in the crock pot until it's so tender it falls apart, and is then mixed with a sweet and tangy balsamic vinegar & honey barbecue sauce, makes for a crowd-pleasing platter of pulled pork sliders. Not only are these great party appetizers- they also make for a filling lunch or supper, and the left overs are just as yummy.
Print
Pin
Rate
Ingredients
2 1/2

pound

boneless pork shoulder roast

1

cup

chopped onion

1 large

3/4

cup

chopped green sweet pepper

1 medium

1

tsp

crushed dried thyme

1/2

tsp

crushed dried rosemary

1/2

cup

chicken broth

1

cup

balsamic vinegar

3/4

cup

ketchup

1/3

cup

packed brown sugar

1/4

cup

honey

1

tbsp

Worcestershire

1

tbsp

Dijon mustard

2

tsp

minced garlic

1/2

tsp

pepper

1/4

tsp

salt

20

slider buns

coleslaw

optional

sliced sweet or dill pickles

optional
Instructions
First remove any excess fat from the meat. Place the trimmed meat in the crock pot, cutting to fit if necessary. Add in the onion and pepper, and sprinkle the vegetables and meat with the thyme and rosemary. Pour broth over the meat.

Cover and cook on low for 9 to 10 hours or on high for 4 1/2 to 5 hours.

Meanwhile, we'll be making the bbq sauce. Combine vinegar, ketchup, brown sugar, honey, Worcestershire sauce, mustard, garlic, black pepper, and salt in a medium sauce pan. Bring to a boil, then reduce heat to a simmer. Let the sauce simmer, uncovered, for 20 to 25 minutes, or until slightly thickened, while stirring occasionally.

Transfer meat to a cutting board. Use two forks to pull meat apart into shreds, discarding any fat, or use a stand mixer to do the job for you. Strain the peppers and onions and discard the liquid. Return shredded meat and vegetables to the crock pot. Stir in barbecue sauce until fully incorporated. Cover and cook for 1 more hour on low.
Nutrition
Calories:
357
kcal
|
Carbohydrates:
49
g
|
Protein:
26
g
|
Fat:
5
g
|
Saturated Fat:
1
g
|
Cholesterol:
57
mg
|
Sodium:
307
mg
|
Potassium:
495
mg
|
Fiber:
3
g
|
Sugar:
23
g
|
Vitamin A:
111
IU
|
Vitamin C:
10
mg
|
Calcium:
69
mg
|
Iron:
3
mg
recipe adapted from Better Homes and Gardens