There are standard appetizers at every restaurant and we all have ones we look forward too- fried dill pickles are one of my personal favorites. Not just any pickles though, thinly sliced dill pickles. Marinated to infuse them with flavor, these crispy fried pickles are encased in a golden brown crispy crackling coating. Served with a bit of creamy ranch on the side, these dill pickle chips are the ultimate snack & appetizer!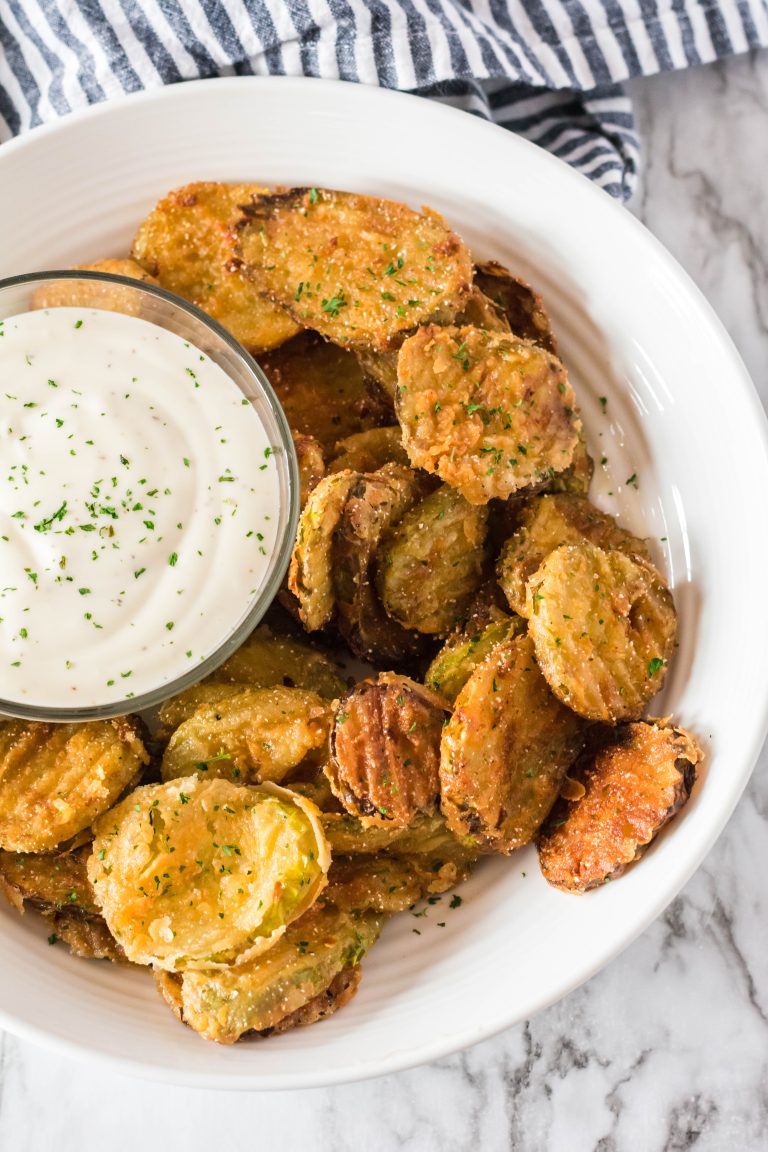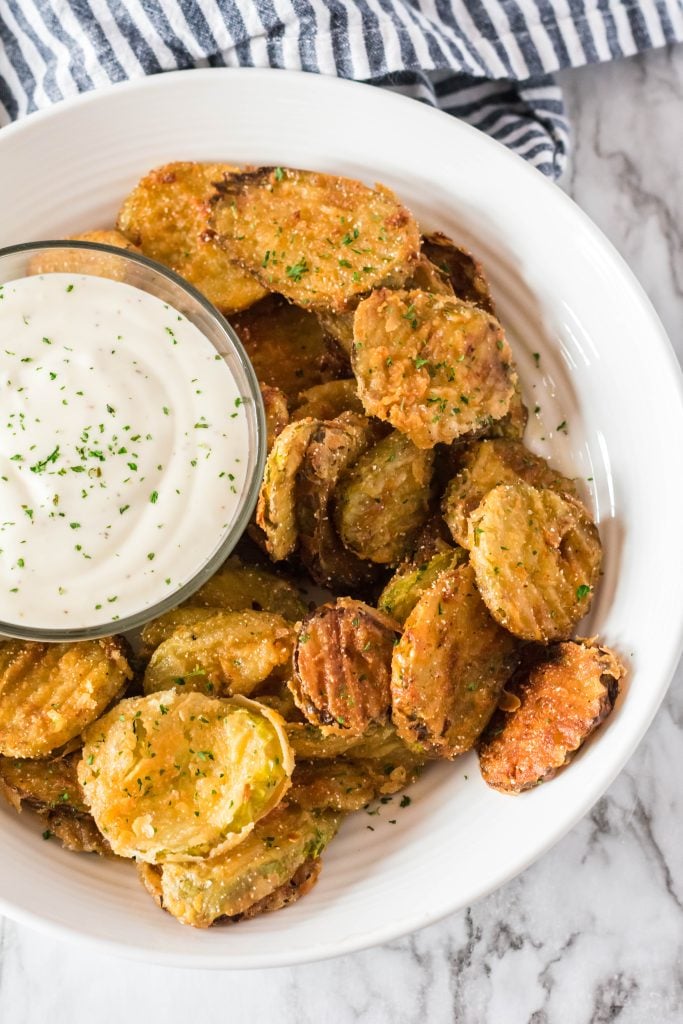 It's that time again!
Super Bowl Sunday is almost hear.
The excitement in my house is palpable.
Not only do the sons look forward to a good game, but they can't wait to see what eats & treats Mom will make.
I look forward to the commercials, they look forward to the food.
A family favorite for game day, or really any gathering we have, is homemade dill pickle chips.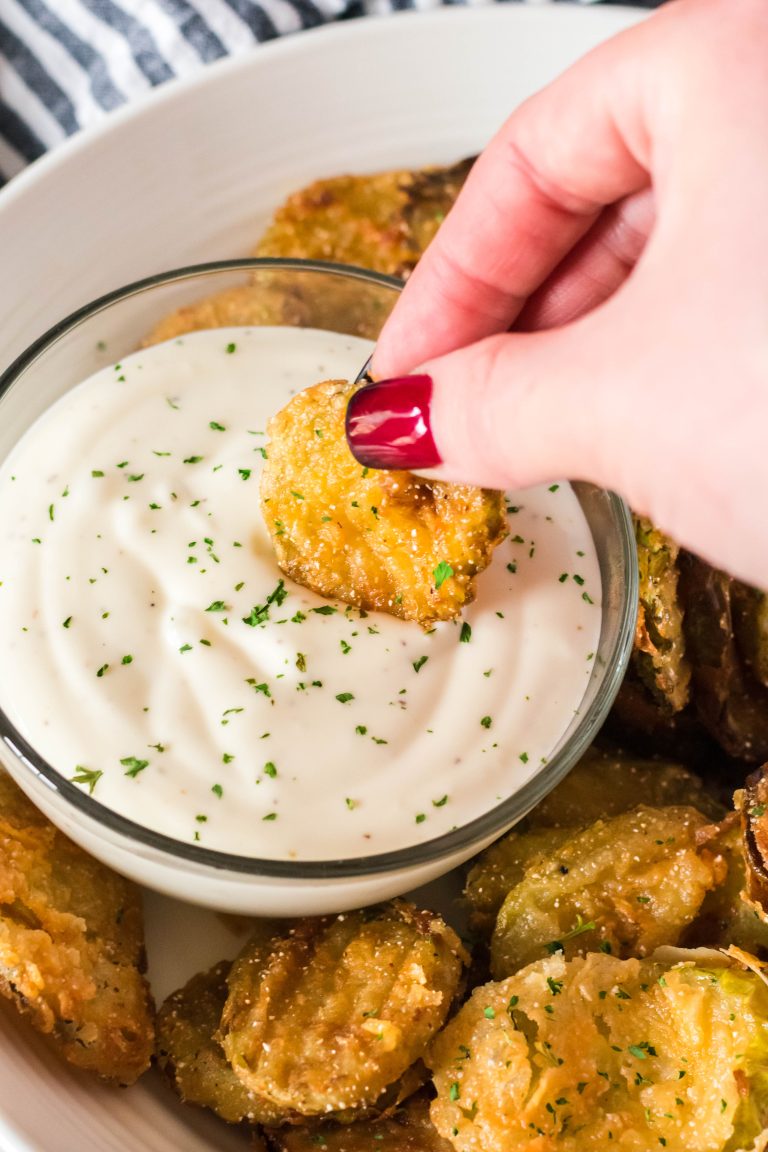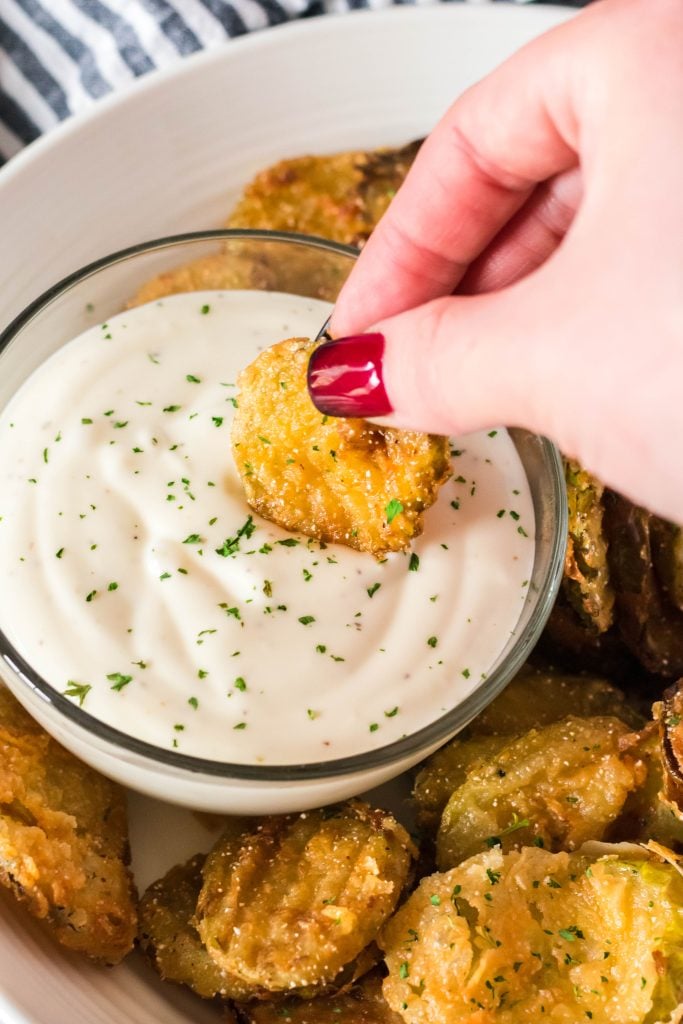 I've never gone wrong serving them at a get-together whether it's for a group of men sporting jerseys, high-fiving & belly-bumping in between plays, or even relatives visiting from out of town.
My father loves these so much it's the only thing he actually requests as part of his Father's Day dinner.
Best of all, these are sooo much cheaper than ordering them from a restaurant or buying them in the frozen food section and they taste better than both other options, too.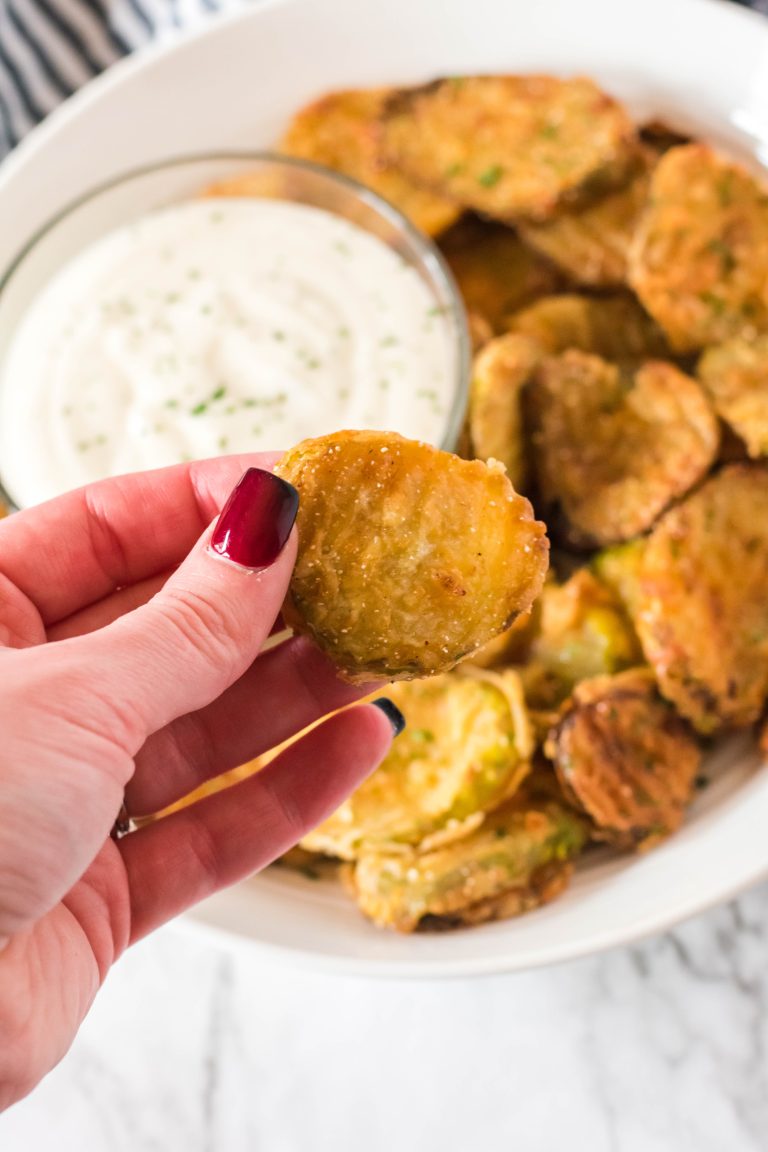 Now don't get me wrong, there's a couple places we frequent that have really mastered their fried pickle game.
But this busy & frugal Mama isn't always about that.
I mean there's the time involved in going out- I have to put on my face & then there's the fact that I have to put on real clothes.
And that's not even considering getting the kids presentable, attitudes adjusted, and a basic manner revue for each one.
As I mentioned, the most obvious (more convenient) alternative is a quick stop by my grocery store's frozen food aisle, but those always disappoint in the end.
Even when following the instructions to the letter- they're never crisp enough in the breading department, and my pickles almost always end up soggy.
I just can't accept or enjoy that result.


Better From Scratch- How To Prepare The Best Dill Pickle Chips
The only really satisfying option in the end is to make them from scratch at home.
And while this recipe does involve a teensy bit of planning & prep work- it's just a simple to whip up, but with the all time best results!
First let's start with the fry mix.
This isn't your ordinary flour coating y'all. This one's special seasoned.
Do not skip the ingredients listed to make the magical mix.
We've included exact measurements based on what you may have stocked in your pantry to achieve the perfect results.
Branching out on your own will still (probably) result in fried pickles, but it's doubtful the coating will fluff up and puff out as intended.
Trust me on this!
Also, to make things easier- mix the fry mix up in a large mixing bowl. This will be handy later on.
The other secret? Marinating.
Aren't all the best things left to soak up all the flavor before cooking?? The key here is the same.
The batter's great, and an integral part- but the flavor needs to come from the pickles and that literally means allowing them to brine in a special sauce.
You start with your basic jar of pickle slices. So good on there own, but they're about to get even better.
Drain it. Drain it completely, leaving the slices in the jar.
To the jar, you add a mixture of hot sauce, buttermilk, and garlic powder.
Swill it around just enough to roughly mix, and then you cap it & let your pickles soak it all up for AT LEAST thirty minutes.
You can also let them marinate overnight in the refrigerator. Sometimes I find that a more convenient option.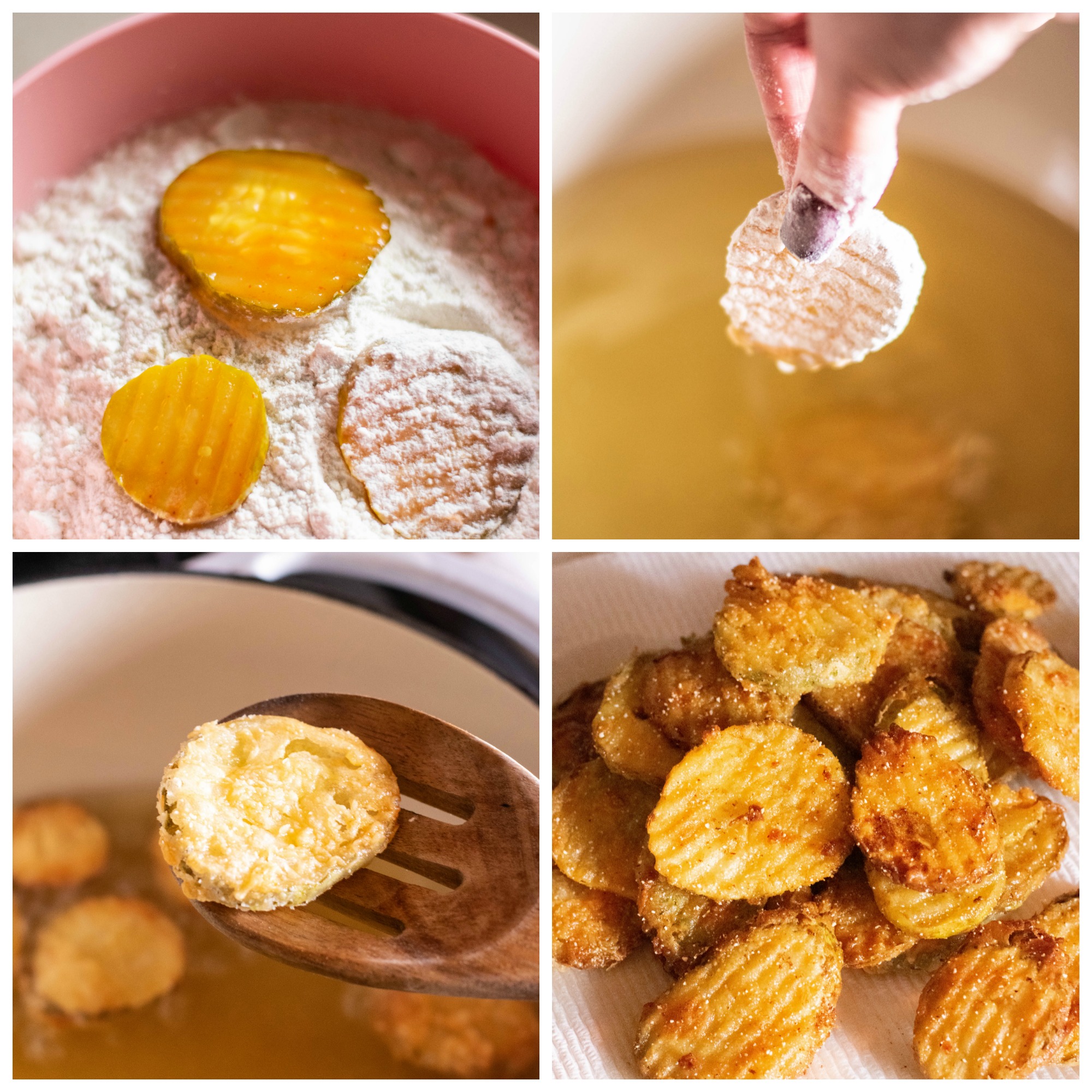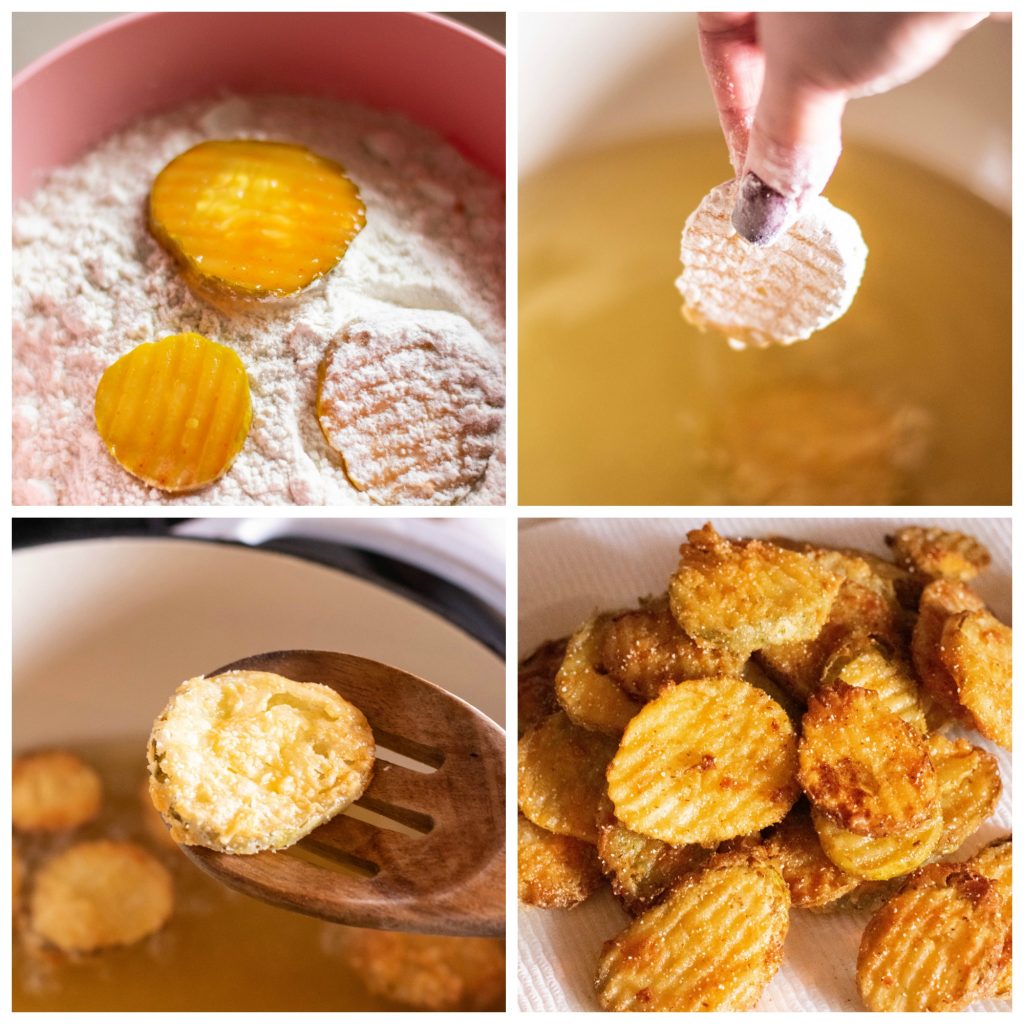 Cooking With Hot Oil- How To Make The Best Deep Fried Pickles
The first, and most important step, is to prep your oil.
I recommend using a Dutch oven. If you don't have one, another heavy bottomed stock style pot is best.
They're not 100 % necessary, but they help with safety and they more evenly heat and maintain the oil temperature.
This is important for cooking, and can be the difference in under-cooked/over-cooked even burnt results.
Add the oil to your pot, or your fryer (if you have one), and allow it to heat to 350 degrees.
If you aren't familiar with frying, then I really suggest you use a thermometer in your pot that's designed to measure oil heat. It takes all the guess work out of it!
While the oil is heating, drain the pickles completely.
I just up-end mine into a large strainer and let them sit for a few minutes- just until all liquid has visibly stopped leaking. Hose out the sink, and set the pickles aside.
Add all of the pickles to the fry mix. Toss them all to coat.
Toss more than once if you have too, and separate any stuck together bits. You want them all evenly coated.
Then use a slotted spoon to remove the dusted pickles from the mixing bowl.
Working in batches, shake off any excess and transfer them to a strainer.
Once they're all in there, shake the strainer again to remove any remaining excess of powdered coating.
Working in small batches, like 5-6 pickles each, deep fry them until 'puffed' and golden brown.
Use a slotted spoon to remove them from the hot oil, and transfer them to a plate lined with paper towels to allow the excess grease to drain off.
Again, this is another step you don't won't to skip.
This draining of grease leads to crisper pickle chips. Nobody wants soggy chips.
Repeat until all your pickle chips are fried & drained.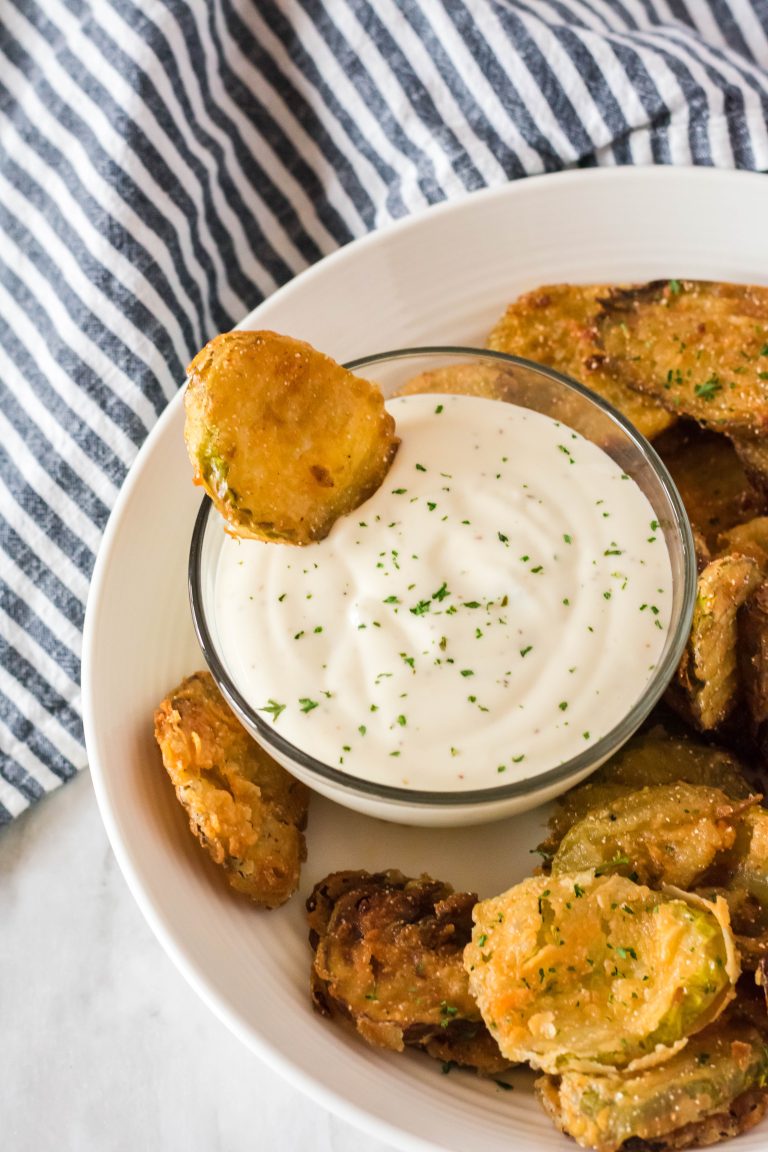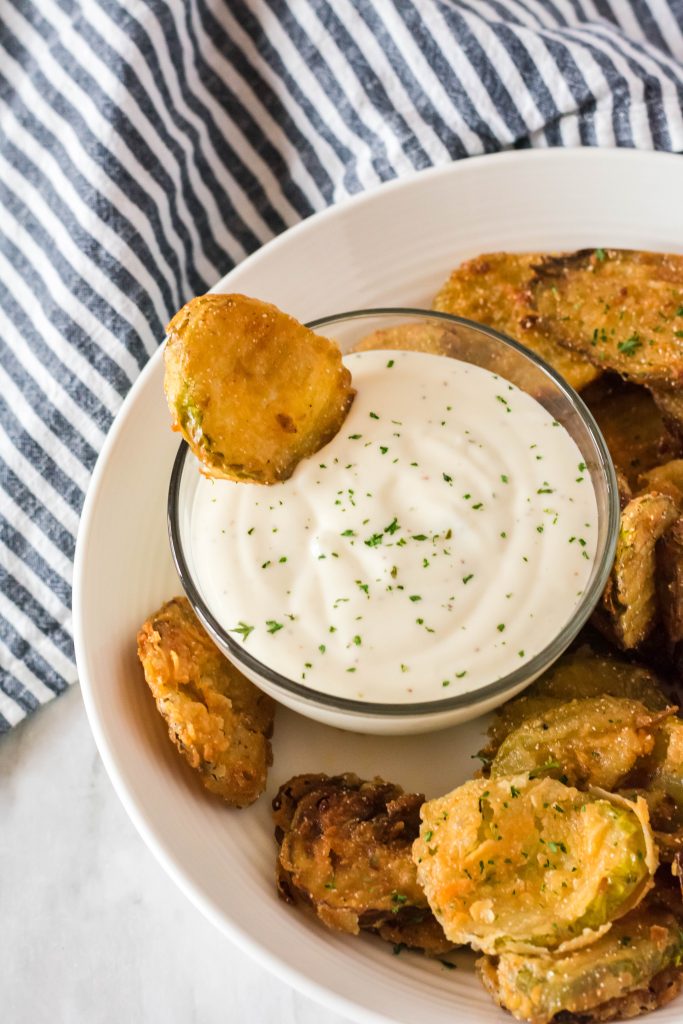 Dill pickle chips are the best appetizer or snack option around for anyone who loves dill pickles.
Tangy pickles infused with a bit of bite are encased in a crispy golden brown coating.
Paired with some creamy ranch dressing for dipping- it's a match made in pickled heaven!
Other Dill Pickle Ideas You Might Also Enjoy
If you've tried these DILL PICKLE CHIPS, or any other recipe on the site, let me know in the comment section how it turned out, we love hearing from our readers! You can also follow along with me on PINTEREST, FACEBOOK, and INSTAGRAM to see more amazing recipes and whatever else we've got going on!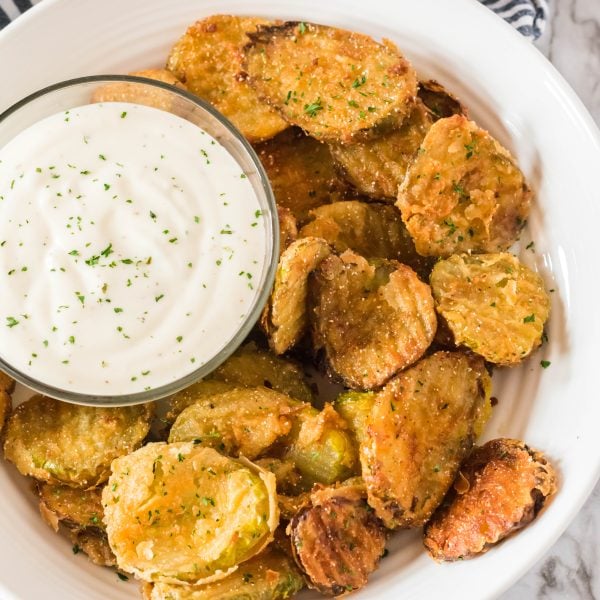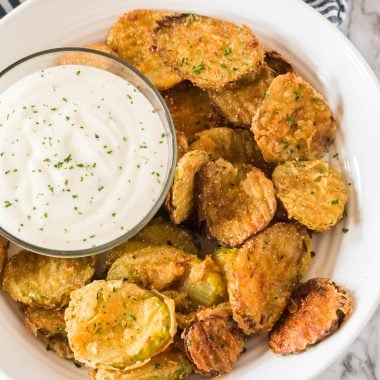 Dill Pickle Chips
Tangy pickles infused with a bit of bite are encased in a crispy golden brown coating. Paired with some creamy ranch dressing for dipping- it's a match made in pickled heaven! Dill pickle chips are the best appetizer or snack option around for anyone who loves dill pickles.
Print
Pin
Rate
Ingredients
For The Pickles
1 24

oz

jar Kosher dill pickle slices

1

tsp

garlic powder

1/2

cup

Louisiana hot sauce

1/2

cup

buttermilk

peanut oil

for frying

2

cups

Fry Mix

recipe listed below
For The Fry Mix
6

cups

self-rising flour

or 6 cups all purpose flour + 3 tbsp baking powder + 1 1/2 tsp salt

1

cup

self-rising cornmeal

or 3/4 cup & 3 tbsp white cornmeal + 1 tbsp baking powder + 1/2 tsp salt

1

tsp

salt

1

tsp

pepper
Instructions
To Make The Fry Mix
Add Fry Mix ingredients to a large bowl and stir until evenly combined.
To Make The Deep Fried Pickles
Drain the juice from the pickle jar and refill the jar with the garlic powder, hot sauce, and buttermilk. Marinate the pickles for at least 30 minutes.

In a large pot or fryer over medium-high heat, heat the oil to 350 degrees. Drain the pickles. Put the fry mix in a large mixing bowl, and toss the pickles to coat thoroughly. Shake off the excess mix by tossing lightly in a strainer and deep fry the pickles in small batches for 3 to 5 minutes.

When golden brown, remove the pickles from the oil with a clean strainer or slotted metal spoon and place on paper towels to drain off any excess oil.

Serve immediately.
Nutrition
Calories:
438
kcal
|
Carbohydrates:
86
g
|
Protein:
14
g
|
Fat:
3
g
|
Saturated Fat:
1
g
|
Cholesterol:
2
mg
|
Sodium:
1481
mg
|
Potassium:
286
mg
|
Fiber:
5
g
|
Sugar:
3
g
|
Vitamin A:
211
IU
|
Vitamin C:
12
mg
|
Calcium:
69
mg
|
Iron:
2
mg