A crispy treat with a briny, sweet surprise hidden inside- these Fried Olives with Garlic Aioli are the perfect finger food for your next gathering.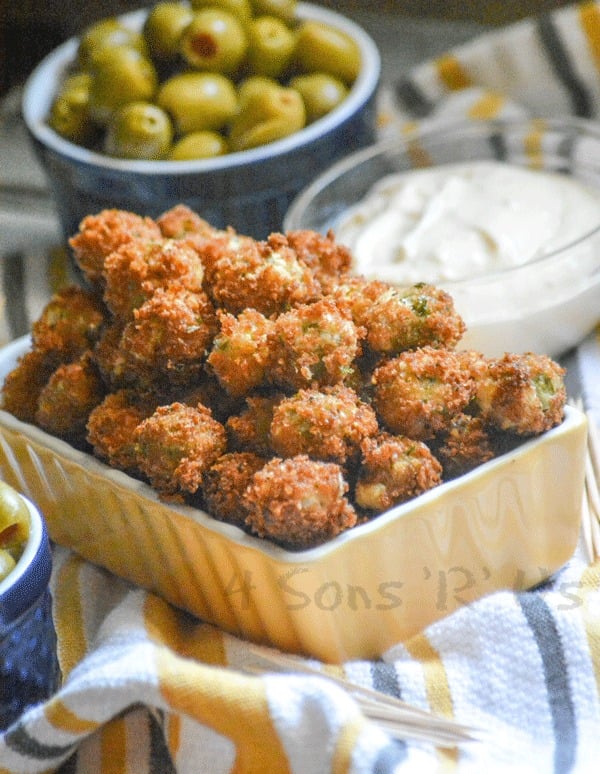 Growing up I hated cucumbers. Turns out 30 years later, still totally loathe them.
That probably explains there almost total absence on this blog. I mean I've got a handful of cucumber recipes because two of the sons like them, and they're cheap seasonally.
By a few, I mean 6. 6 recipes total that involve cucumbers. I counted.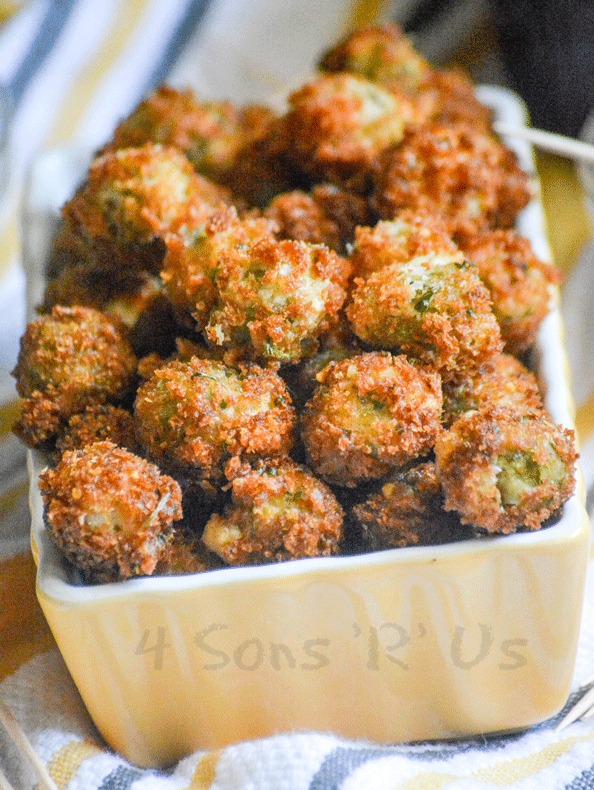 Actually that seems a little bit sad now that I think about it.
Not the counting, my discriminatory policy toward a specific vegetable. I'll try to do better in the future.
The sons' will thank me, at least half of them anyway. Hopefully a few of you will too.
Wanna know something odd? I adore pickles. Crazy, right?
All things pickle too. I add them to my tuna salad. I put them on every burger and sandwich, basically only drawing the line at pb&j's. I even accept them from my kids when they disgustedly strip them from their fast food burgers.
Maybe adore wasn't a strong enough choice of word.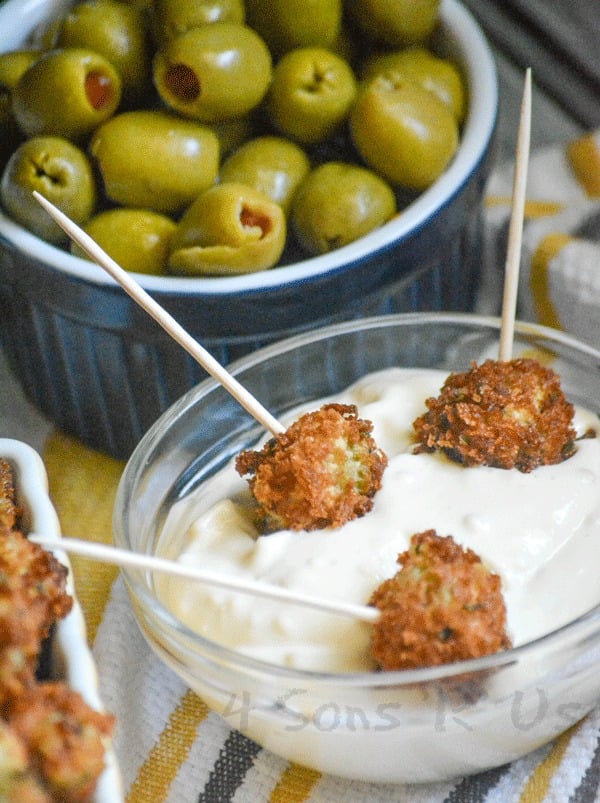 I love them. So much so that whenever we go out I have to have the fried pickles if they're on the menu. I will judge you accordingly based on their crispness, type of pickle used, and over all quality.
I never thought I'd crave a fried appetizer more than the classic mozzarella stick. Boy was I wrong.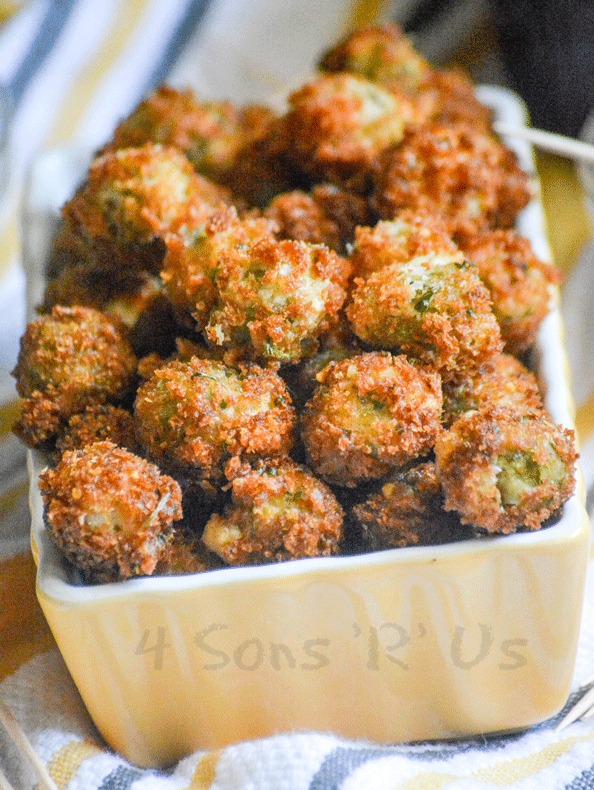 If we're having guests for card night or game day. You can bet my spread includes them homemade and still warm from the frying pan.
My Dad loves them so much he even special requests them for Father's Day dinners.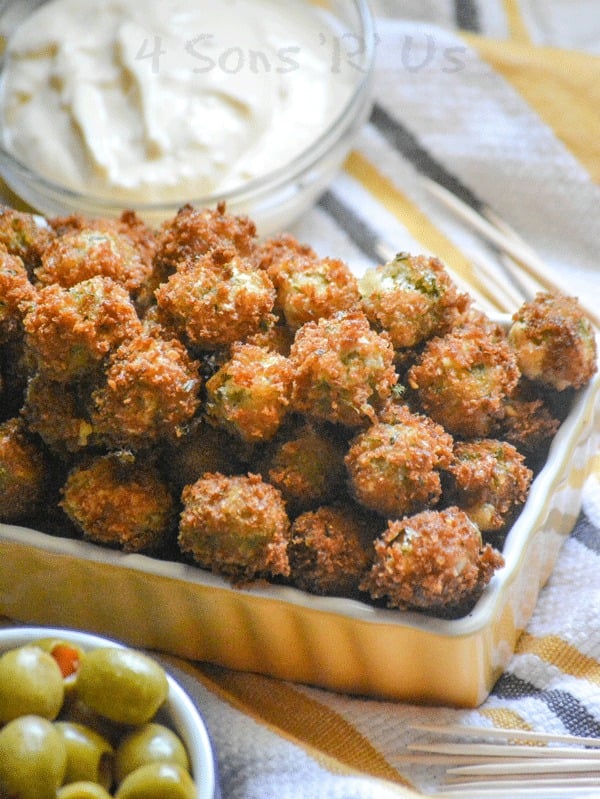 However, I've manage to find a new fried finger food that I love almost as much. They're both super yummy and easily addictive, but I feel like Fried Pickles will always win by just a hair.
Fried Olives, specifically Fried Olives with Garlic Aioli. And I couldn't wait to share them with y'all!!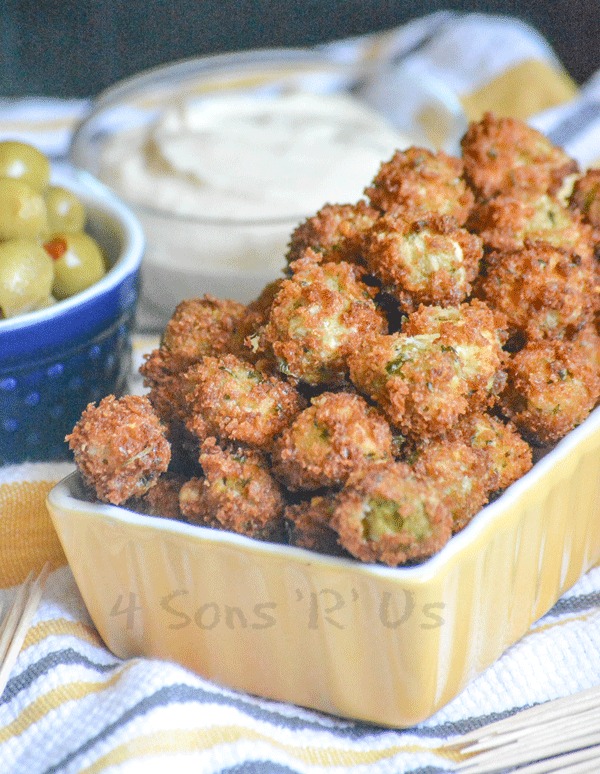 There's nothing quite like the briny taste of olives stuffed with plump pimentos, breaded and fried to a crisp finish. It's the perfect flavor and texture pairing. These Fried Olives with Garlic Aioli are the most snack-able thing I've ever known.
Good all by themselves, but dipped into the creamy garlic aoili? There's no politely stopping at a handful. They're like a savory candy that you just can't stop eating.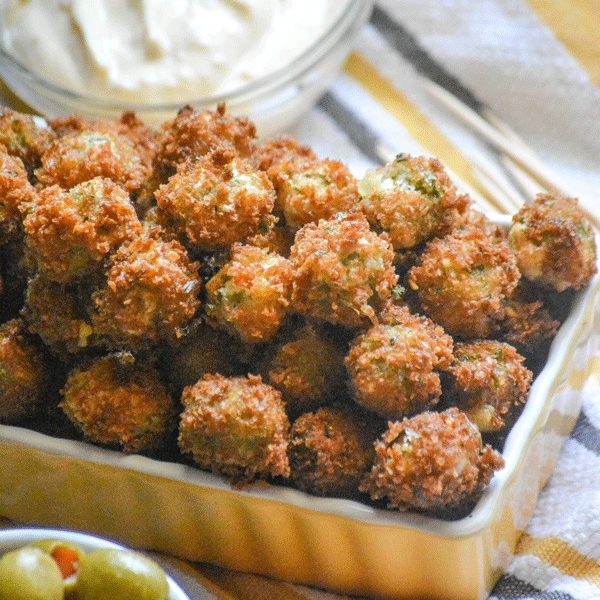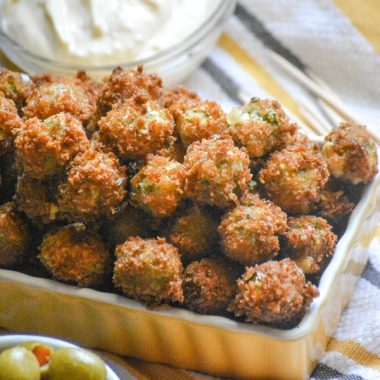 Fried Olives with Garlic Aioli
A crispy new twist on a favorite cocktail party finger food, paired with a zesty aioli for dipping- for the ultimate party treat.
Print
Pin
Rate
Ingredients
For The Fried Olives
1

5 1/2 oz

jar of small pimento stuffed olives

1/2

cup

panko bread crumbs

1/2

cup

flour

1

egg

beaten

canola oil, for frying
For The Garlic Aioli
1/3

cup

mayonnaise

1

scant tbsp

lemon juice

1

heaping tbsp

minced garlic

salt & pepper, to taste
Instructions
To Make The Aioli
Mix all the ingredients together. Chill before serving.
To Make The Fried Olives
Heat a couple of inches of canola oil in a dutch oven until it reaches 325-350 degrees on a thermometer.

Separate the flour and bread crumbs out onto flat plates. The egg into a small bowl.

Dredge the olives in the flour, and then into the beaten egg or buttermilk.

Roll them around in the breadcrumbs until evenly coated.

Working in batches, fry the olives in the hot oil, just until they are golden brown.

Remove the fried olives to a paper towel lined plate to absorb the excess oil.

Serve warm, with the aioli.