A crisp Panko breading that's been tossed with gumbo file, salt, and pepper, coat every one of these crispy deviled eggs. Piped with a smooth Cajun spiced filling, they're then sprinkled with smooth smoked paprika for the full effect. Our Cajun Style Fried Deviled Eggs are the real deal when it comes to finger foods or appetizers.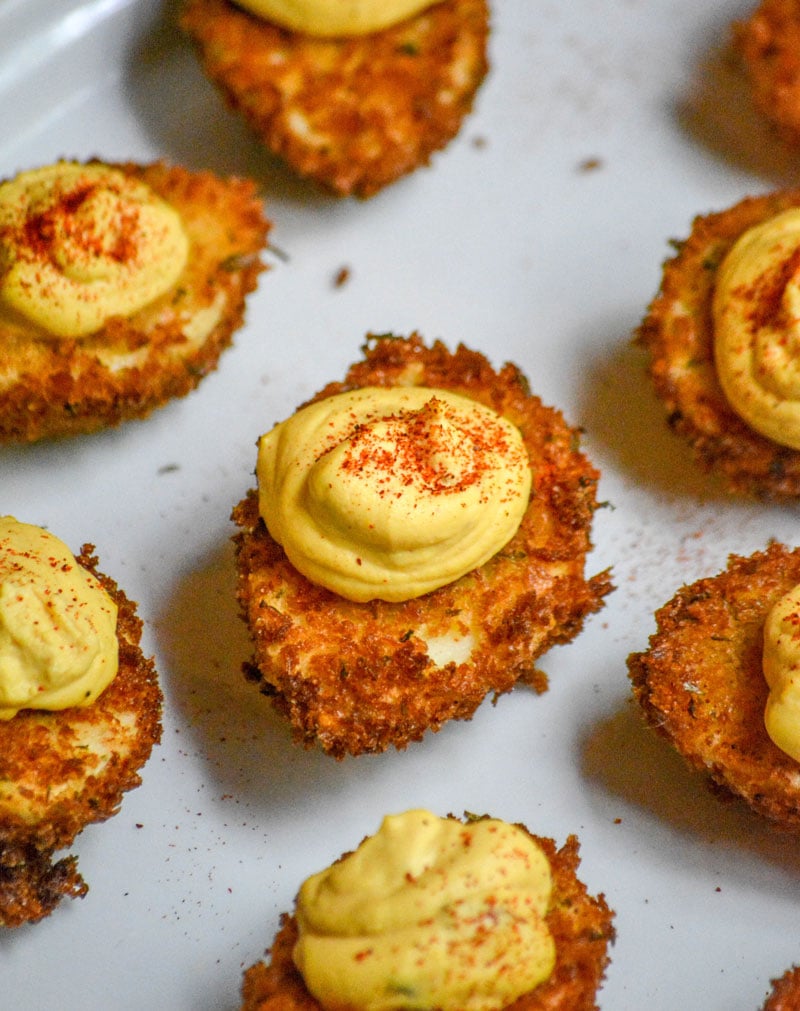 The crazy Christmas train may have left the station for this year, but appetizer/finger food season is engaged and we're heading into it full steam ahead.
With New Year's Eve parties, Super Bowl Sunday, and Easter right around the corner- we don't have time to slow our roll.
Not that I really want to either. There's some crazy good things rollin' out of our kitchen these days, and I can't wait to share them all with you guys.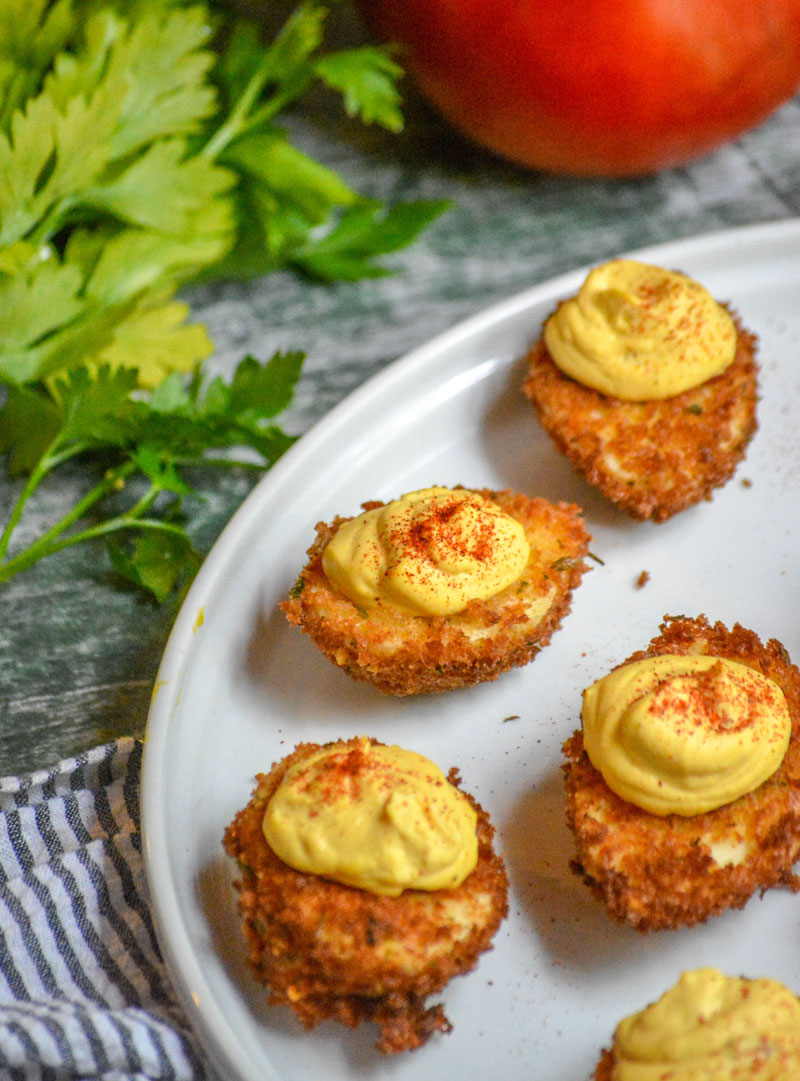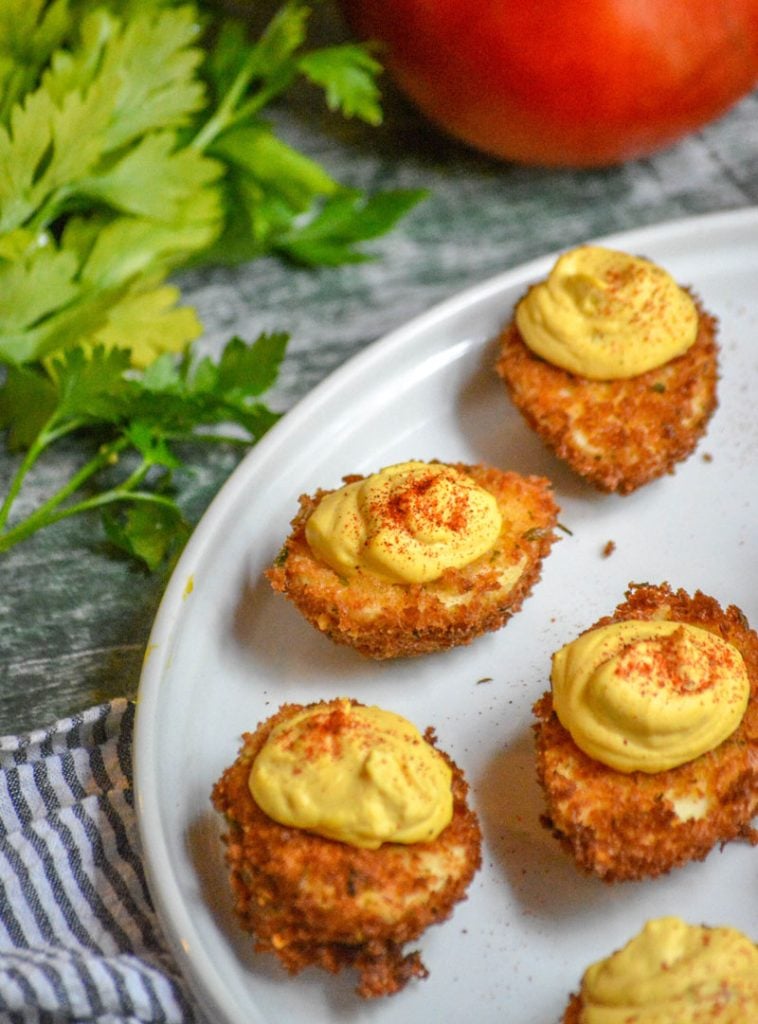 We eat a lot of eggs in general, but at least a third of our egg consumption is in the form of the infamous deviled variety.
They have always been a part of almost every party, celebration, and potluck spread we've ever had or held.
You'd better make room on your plate the first time down the line, or when they're passed in your direction too. Those suckers go fast!
Traditionally the family matriarch is always in charge of bringing' the eggs- my Mom.
But sometimes I get a hankering' for that creamy egg concoction, and I can't wait until the next big event.
Naturally, I decided to give it the old college try.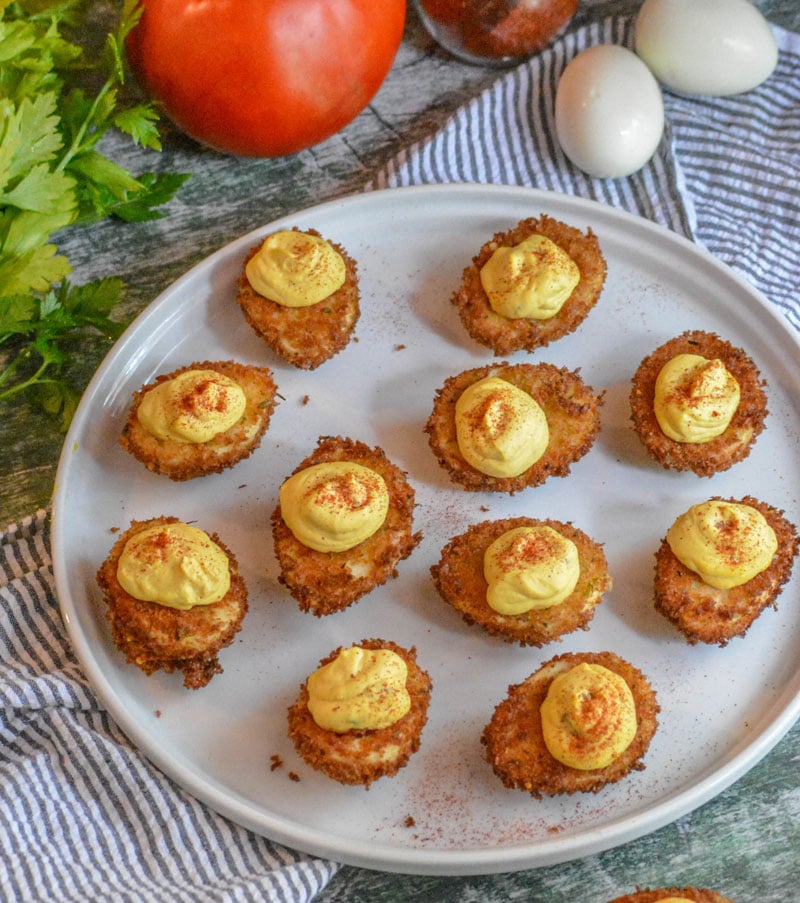 I knew I couldn't come close to replicating my Mom's version. I wasn't even gonna try.
If I'd told my guys we were having deviled eggs, and the result was anything but spot on- ohhh boy, would there have been some put out boys. I'd probably be pretty sad myself.
Plus, as with many family heirloom recipes, Mom doesn't use a recipe. It's one pf those 'eyeball it' things.
So, I'll wait until she's ready to show me- the odd 20 times or so, until I can eyeball it on my own.
In the mean time, I've set about discovering other finger-licking, drool-worthy ways to whip up the tasty treat.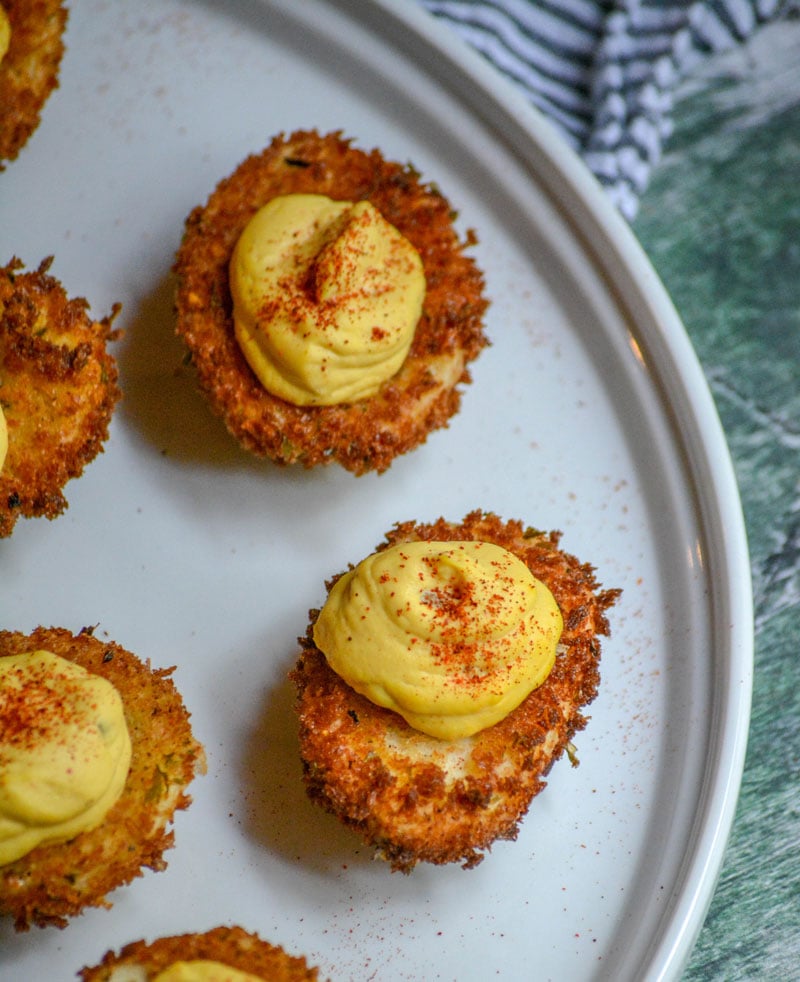 During all my research, I kept hearing about 'fried' deviled eggs. I'd never heard of something of the likes before.
It kinda reminded me of the infamous state fair food you hear about every year. I wasn't too far off base with this assumption either.
If you love deviled eggs as much as we do, I'm telling you not to shy away from the fried version. Even better? Add some Cajun flavor & spice to create these Cajun Style Fried Deviled Eggs.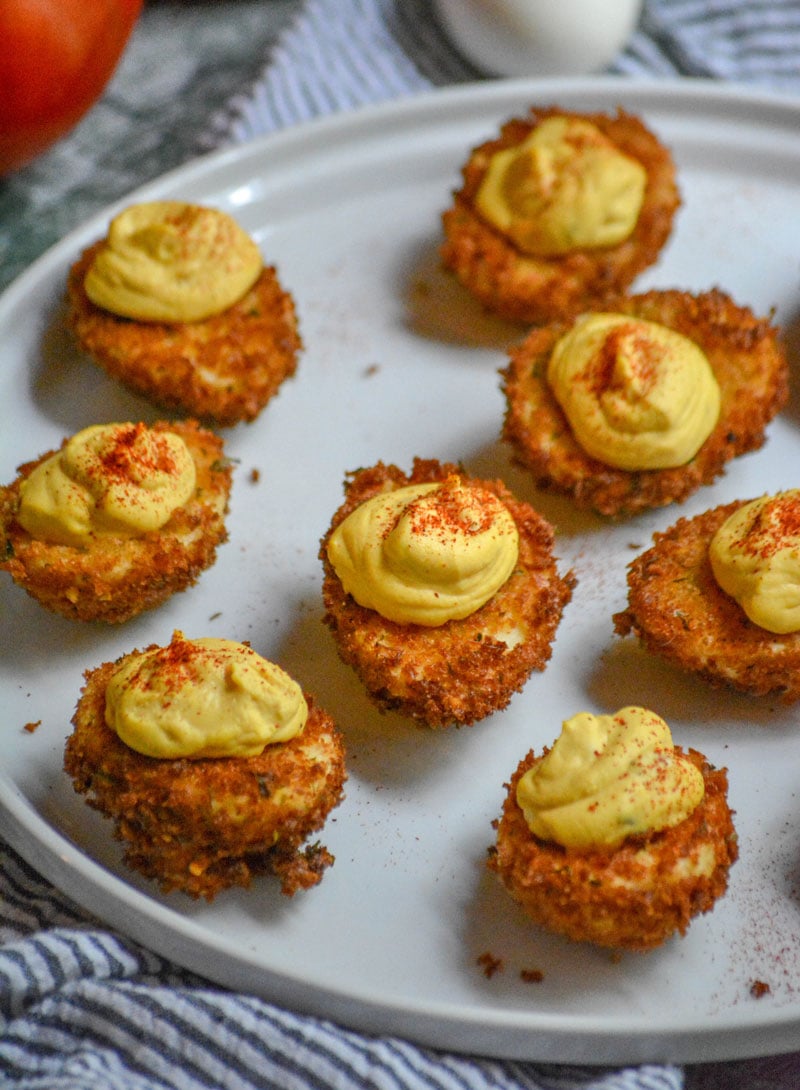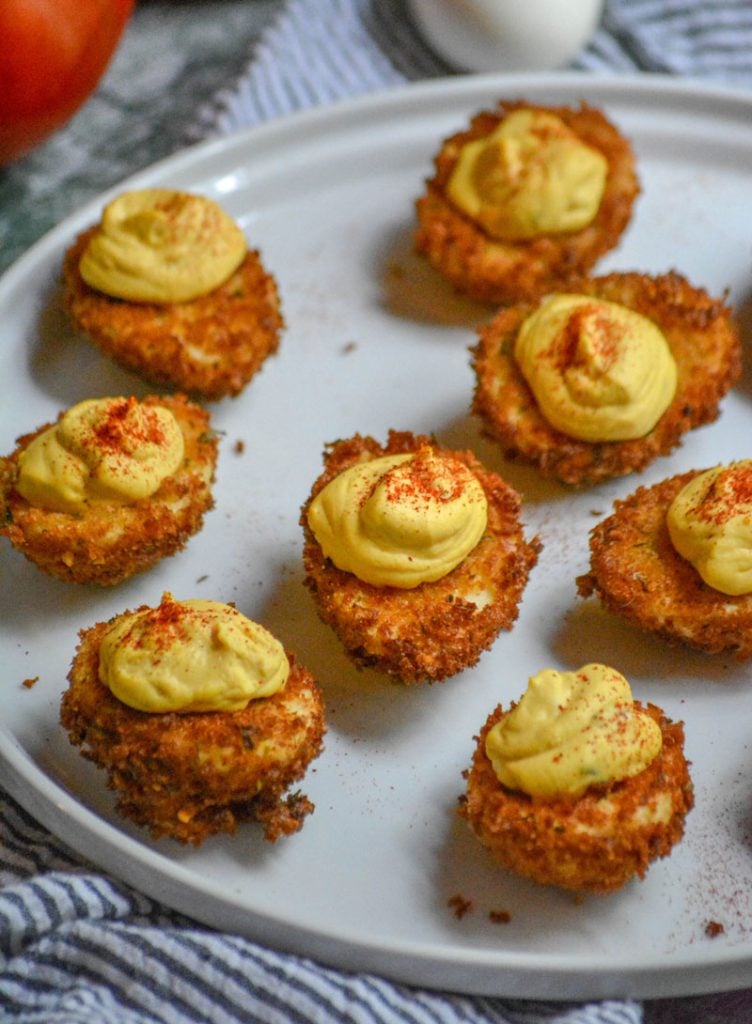 I was surprised once I got down to its, just how easy these deep fried eggs were to make.
Hard boiled eggs are carefully peeled, sliced in half, and the yolks are transferred to a mixing bowl while the whites are set on a serving tray or plate.
To the mixing bowl, a mixture of mayonnaise, dill pickle relish, yellow mustard, Cajun seasoning, and hot sauce are added. It's then whipped together until completely smooth.
Cover it with foil and refrigerate until ready to be used.
In separate shallow baking dishes flour, and beaten eggs are added.
Then Panko bread crumbs, gumbo file seasoning, a bit of salt, and some freshly ground pepper are tossed together until evenly combined. Add this to another shallow baking dish.
Now working in an assembly line fashion, dredge the egg white in the flour, followed by the eggs, and finally into the bread crumb mixture to evenly coat.
Pack the breadcrumbs a bit to ensure they stick, if needed. Transfer the breaded egg whites to a plate to wait on stand by.
Add canola oil to a heavy bottomed pot until it's 2-3 inches high. Heat the oil until a thermometer reads 350 degrees.
Use a slotted spoon to add the breaded eggs to the pot. I tend to work in batches of four.
Fry on each side for a total of 2-3 minutes, or until the breading is crisp and golden brown. Remove the deep fried eggs to a paper towel lined plate to drain any excess grease. Repeat until all the eggs have been fried.
Transfer the yolk mixture to a gallon sized ziplock bag. Twist it closed, forcing the mixture down to one corner.
Snip off a bit, and pipe the mixture into the fried egg cavities. Arrange the eggs onto a serving plate, and sprinkle with smoked paprika before serving.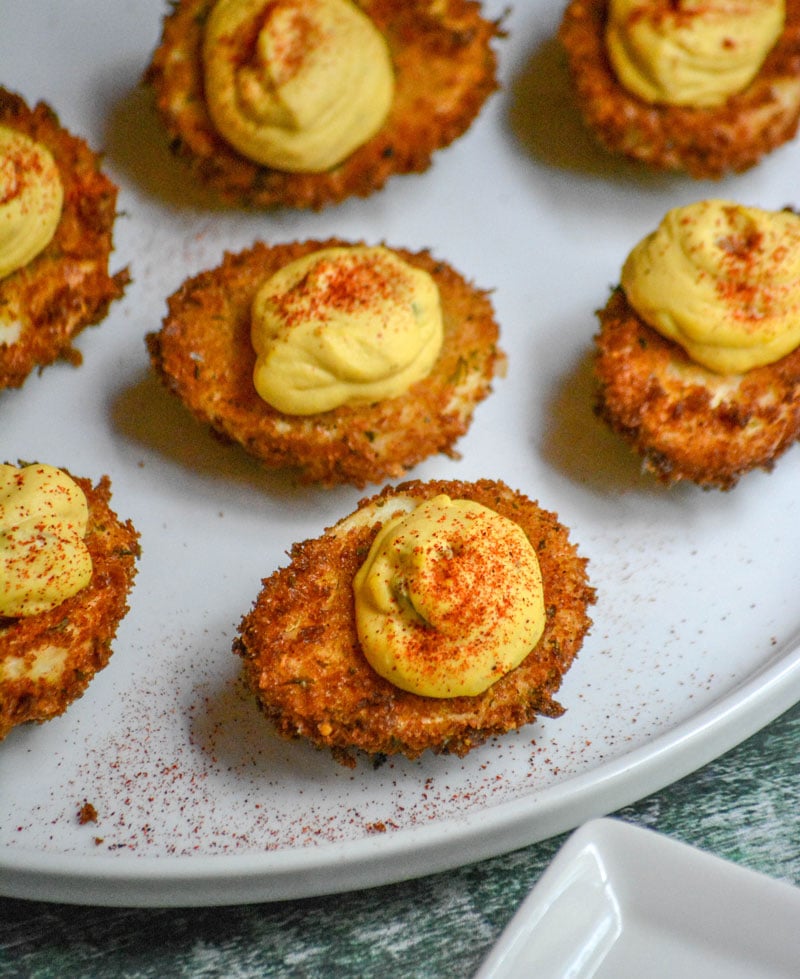 Hop on board the flavor train when planning your next party menu, by adding these Cajun Style Fried Deviled Eggs to the list.
They'll be the hit of whatever gathering they're served at, and officially have you labeled as the hostess with the best deviled egg recipe ever.
Other Deviled Egg Recipes You Might Also Enjoy:
If you've tried these CAJUN STYLE FRIED DEVILED EGGS, or any other recipe on the site, let me know in the comment section how it turned out, we love hearing from our readers! You can also follow along with me on PINTEREST, FACEBOOK, and INSTAGRAM to see more amazing recipes and whatever else we've got going on!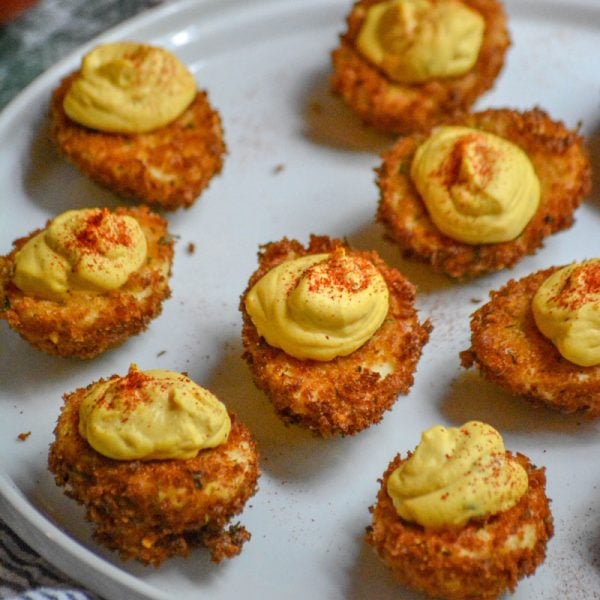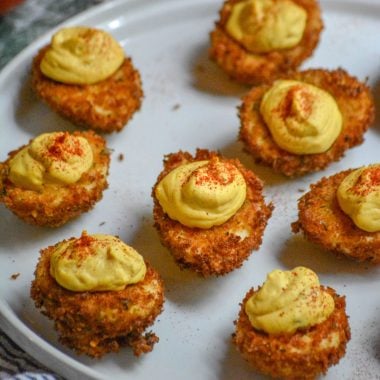 Cajun Style Fried Deviled Eggs
Classic deviled eggs have been upgraded- given a fried egg white, gumbo file infused coating and filled with a seasoned yolk mixture- making them the ultimate Cajun flavored finger food.
Print
Pin
Rate
Ingredients
For The Filling
12

hard boiled eggs, peeled & halved lengthwise

2

tbsp

mayonnaise

1 1/2

tbsp

dill pickle relish

2

tsp

yellow mustard

1- 1 1/2

tsp

Cajun seasoning

2-3

dashes

hot sauce
For The Breading
1 1/2

cups

flour

2

large

eggs, beaten

2

cups

Panko bread crumbs

2 1/2

tsp

gumbo file powder

salt & pepper, to taste
Instructions
Separate the yolks from the eggs, transferring the yolks to a medium sized mixing bowl. Stir in the mayonnaise, relish, mustard, Cajun seasoning and hot sauce. whisk everything together until evenly combined and smooth. Cover, and refrigerate until ready to use.

To a separate medium mixing bowl, add the Panko bread crumbs, the gumbo file powder, and the salt & pepper. Toss together until evenly incorporated.

Coat the egg whites in flour, shaking off any excess. Dunk them in the beaten eggs. Then coat them in the breading mixture, packing the crumbs-as necessary- to coat.

Fill a heavy bottomed pot with canola oil until it's 2-3 inches high. Heat until a thermometer reaches 350 degrees.

Add the egg whites, working in batches of 4, and fry for 2 minutes per side- or until they're golden brown and crispy. Remove them to a paper towel lined plate to drain any excess grease. Repeat until all the egg whites are fried.

Pipe the creamy yolk mixture into each fried egg. Sprinkle them with a bit of smoked paprika, and serve.
Nutrition
Calories:
103
kcal
|
Carbohydrates:
10
g
|
Protein:
5
g
|
Fat:
4
g
|
Saturated Fat:
1
g
|
Cholesterol:
111
mg
|
Sodium:
97
mg
|
Potassium:
61
mg
|
Fiber:
1
g
|
Sugar:
1
g
|
Vitamin A:
258
IU
|
Calcium:
26
mg
|
Iron:
1
mg