Sandwiches don't have to be simple to be scrumptious. In fact, the right sandwich can be an entire meal unto itself. Sandwiched between two slices of hearty bread, this creamy dill pickle tuna salad makes an amazing lunch that will leave tongues wagging- and guests begging for seconds!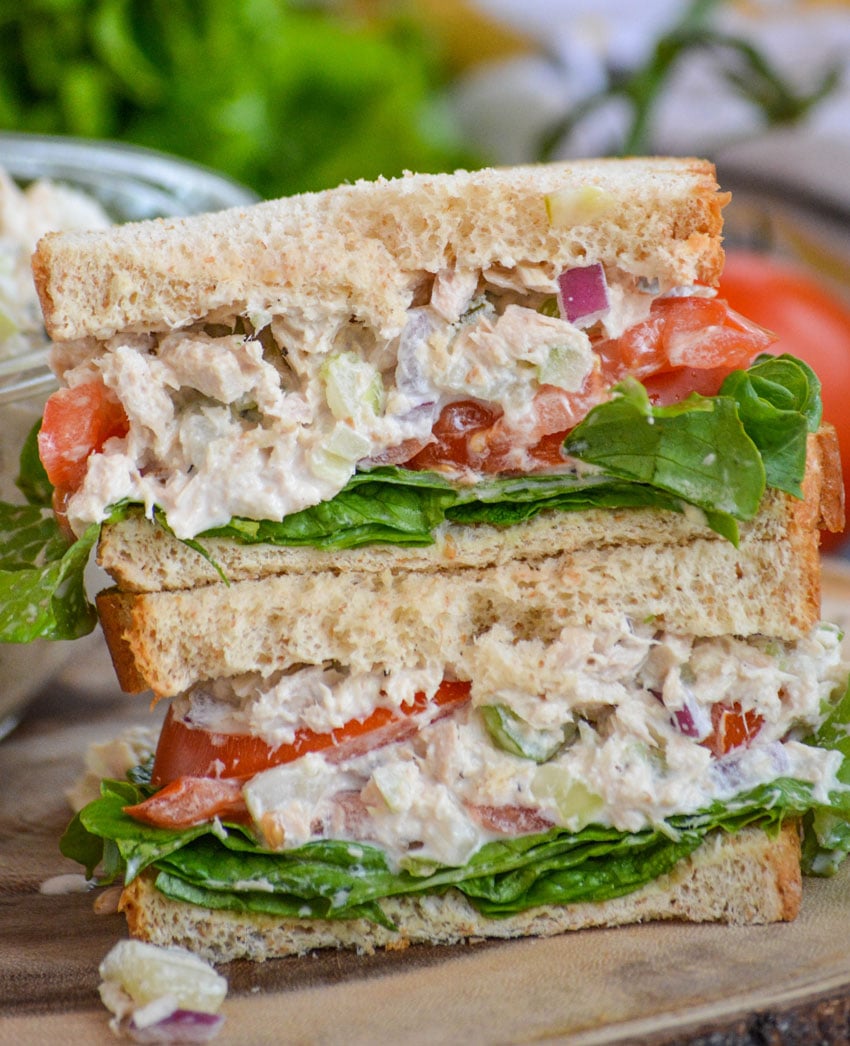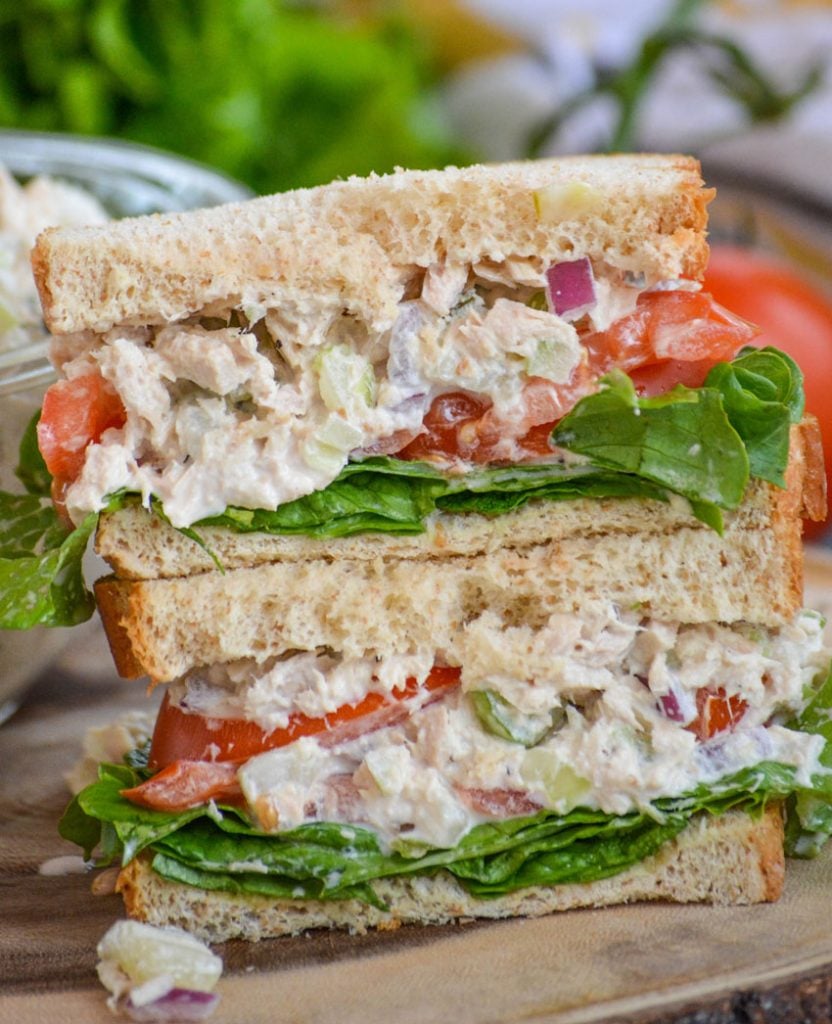 Sandwiches are something we eat all year round here. Typically, it's of the brown bag variety. Most of the year we're packing lunches, which means we keep things pretty simple.
During the Summer months though is when I get to be a little more creative with it. I don't have to be worried about them arriving safely in a little ziplocking bag. Or squishing, or leaking, or getting mushy. You get the gist.
Sandwiches can become whole meals around here in the Summer. Like a delicious dill pickle & vidalia onion grilled cheese sandwich. Or even this chicken caesar club style sub sandwich.
Meat, no meat, we can get pretty serious about our sandwiches when given the chance.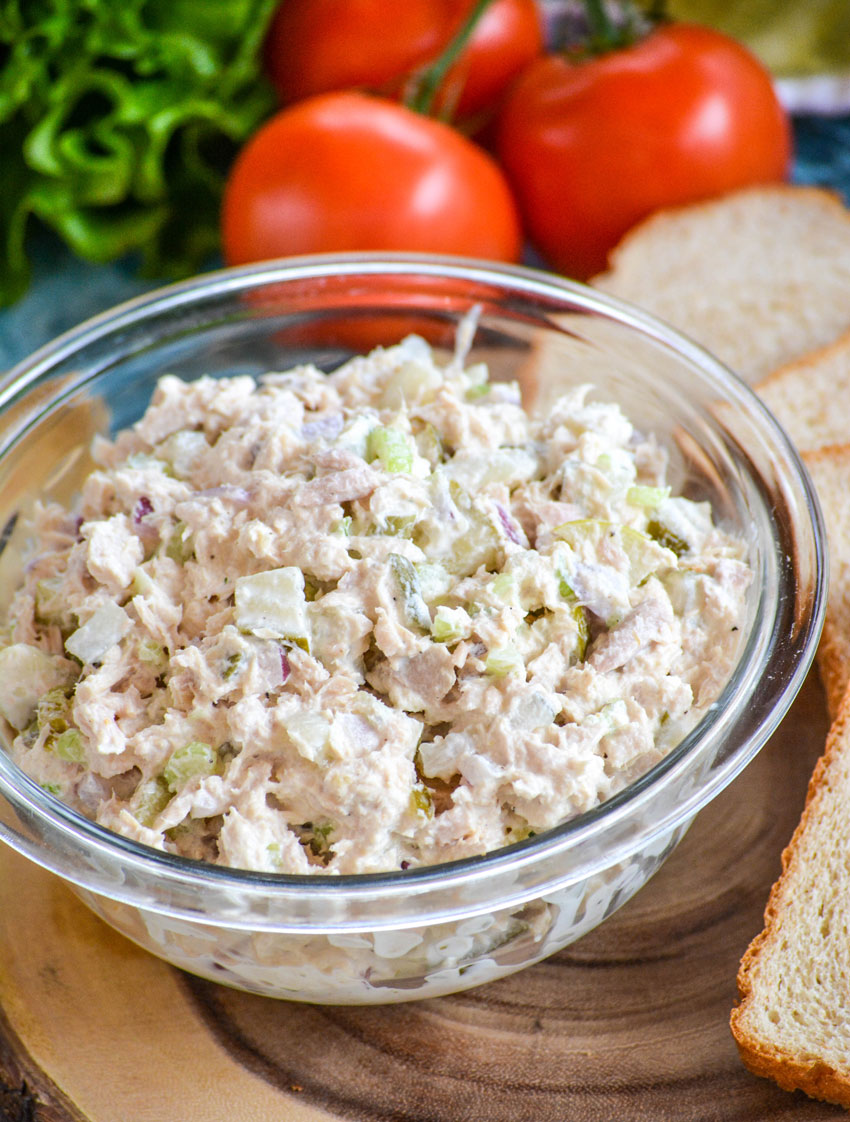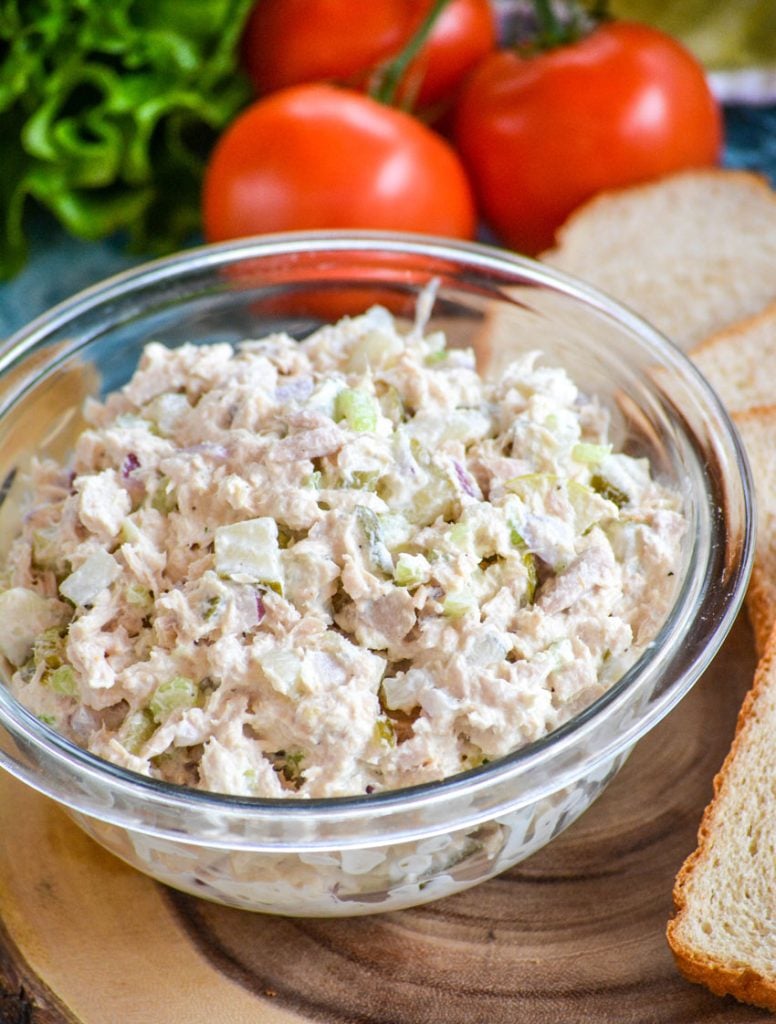 While we're no stranger to, and never opposed to cold cuts at lunch time, they just aren't that filling to me.
Of course, I know you can pile them high on hearty bread and with toppings- my guys would all probably disagree. But I really like sandwiches that can be considered a 'meal' with very little additional work.
It's for this very reason that I love chicken & tuna salads. They're extremely easy to dress up, and they can take on so many different flavor profiles. Just take these two different versions for example, our Tex Mex chicken salad, and this spinach & tomato tuna salad.
Both delicious on their own, but we've actually swapped the proteins in both recipes and they're just as yummy.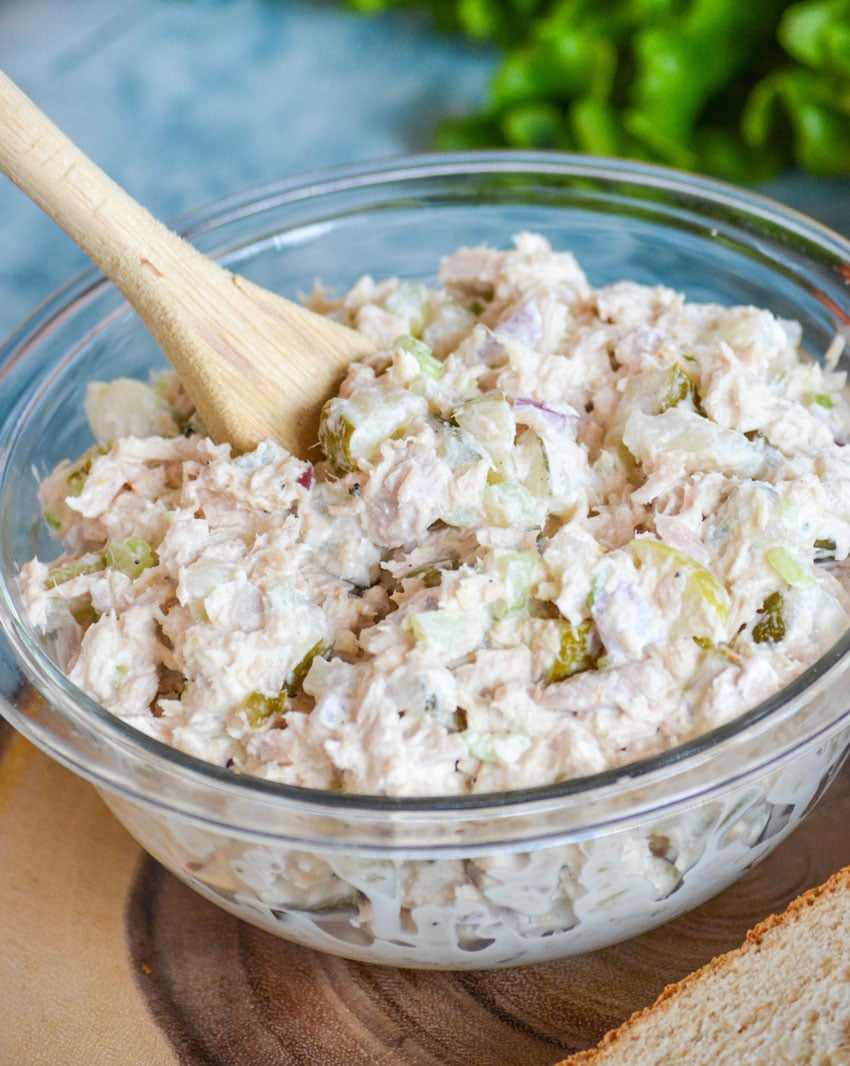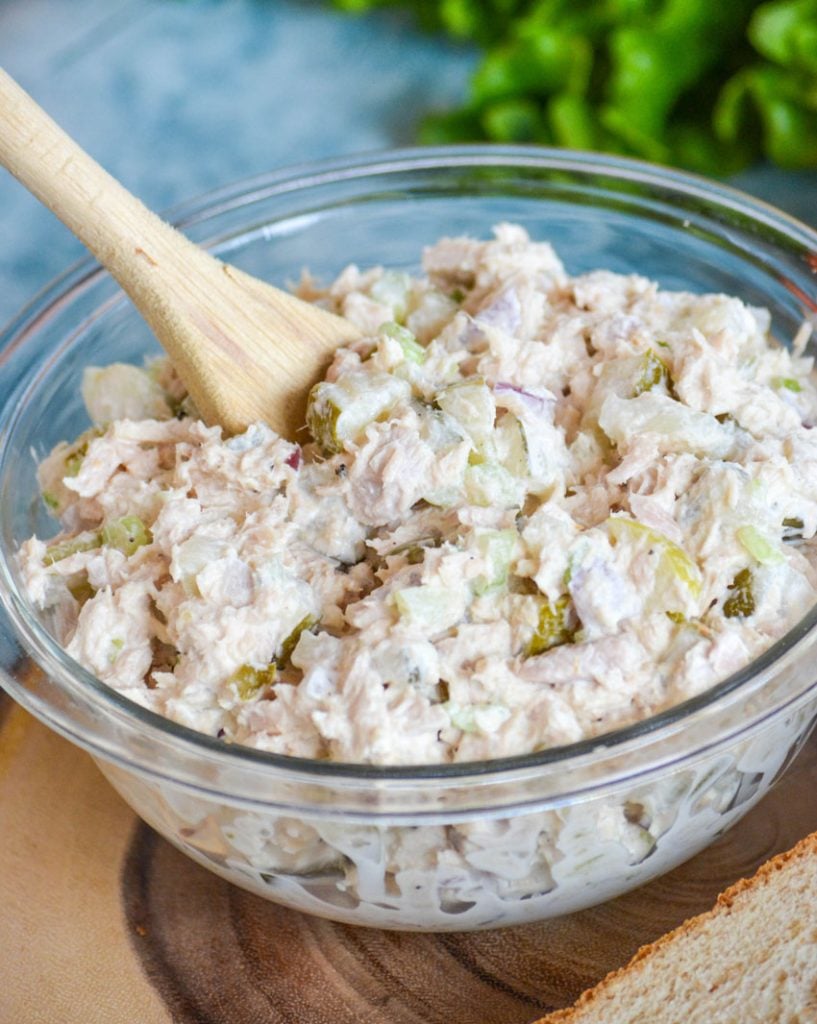 This dill pickle tuna salad is by far our family's new favorite. Not all of them even like pickles either. Some are staunchly against them!
It's one of the reasons I think this tuna salad's so magical. The dill pickle relish is obvious to any pickle lover, but subtle enough that someone not attuned to the taste can totally appreciate the flavor without being overwhelmed by it.
Other than that, the ingredients are pretty traditional and by themselves nothing particularly special. When combined and allowed to meld together? That's when the magic happens!
INGREDIENTS NEEDED FOR DILL PICKLE TUNA SALAD:
canned tuna
dill pickles
pickle juice
celery
red onion
garlic powder
mustard powder
mayonnaise
Told ya, nothing too complicated. But together, they really do combine into something special. So, how exactly does that magic happen?
HOW TO MAKE DILL PICKLE TUNA SALAD:
Open the cans of tuna, and transfer the tuna to a waiting colander. Let the tuna drain completely. Use a fork to flake it apart.
Transfer the tuna to a large mixing bowl, and toss it together with the remaining ingredients- except for the mayo.
Add the mayo, stirring until completely incorporated. Taste the tuna salad, and salt & pepper it to your taste.
Cover the tuna salad tightly to seal, and refrigerate for an hour to chill before serving.
It really is that simple. In an hour you can turn a couple of cans of otherwise unassuming tuna fish into something truly tasty.
You can eat the canned tuna salad as soon as it's mixed, but I really do recommend giving it the advised chill time. It tastes very different warm vs. properly chilled when the flavors have had time to develop & blend together.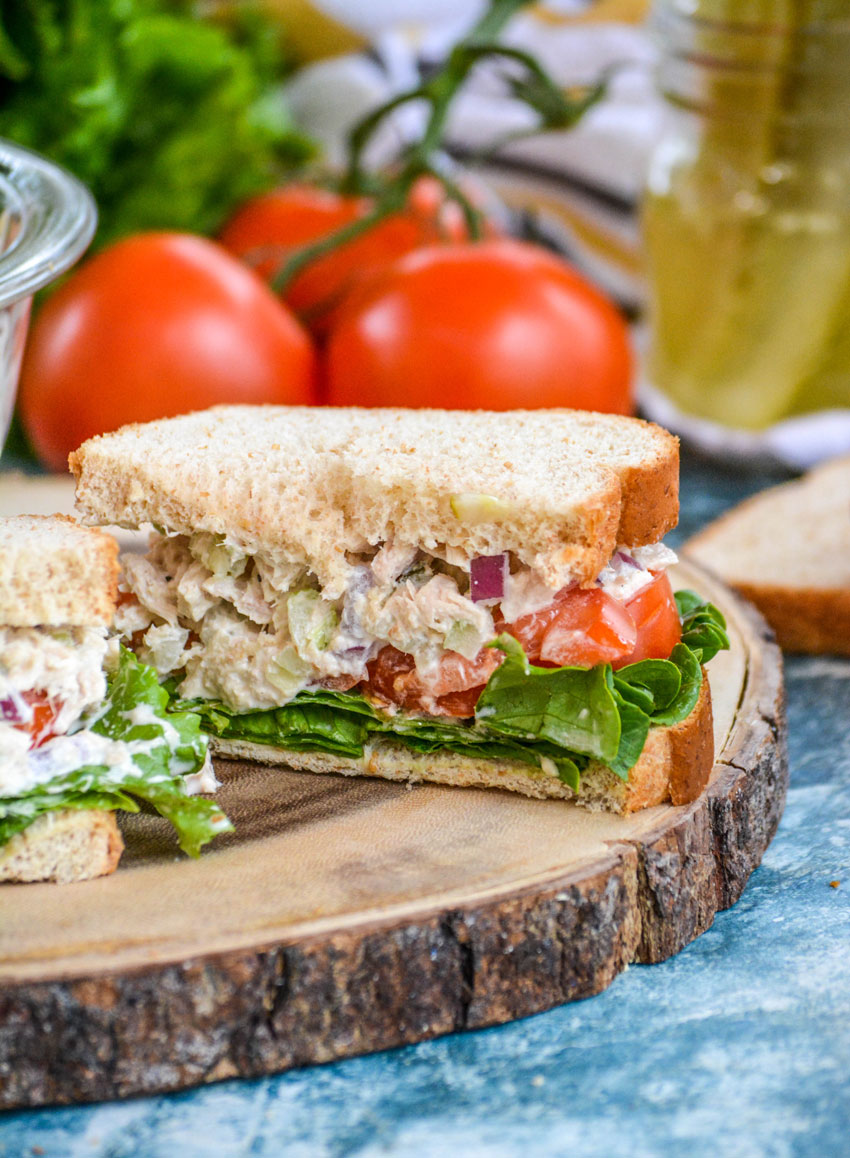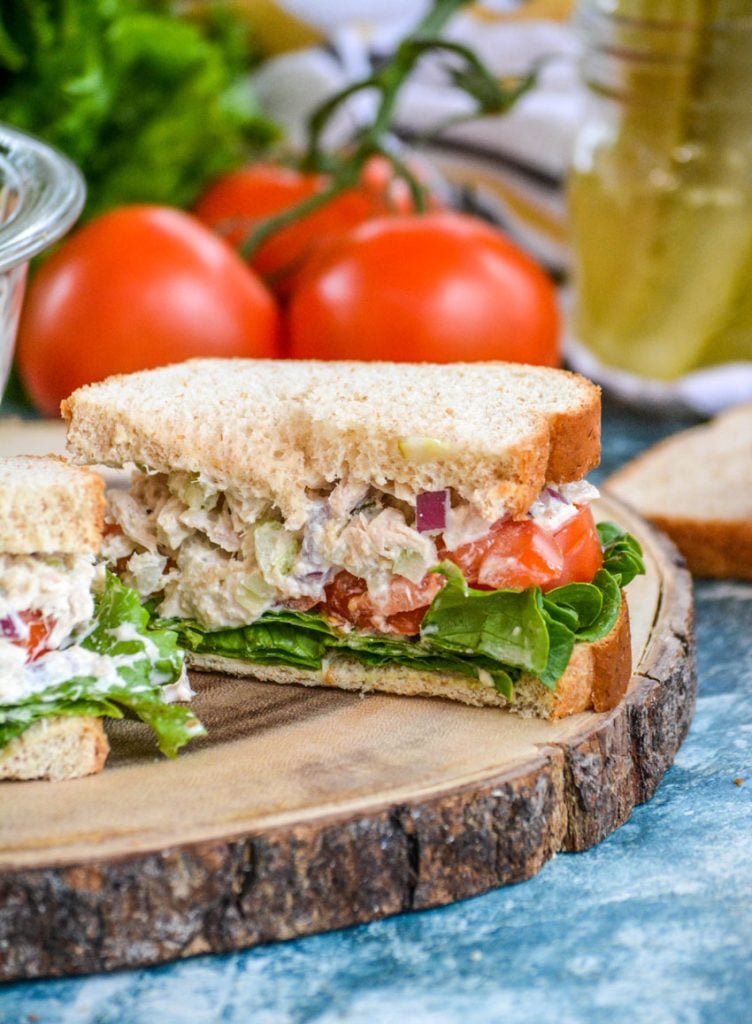 Now it's time to serve this tasty tuna salad, and you've got options to consider!
WHAT GOES WELL WITH TUNA SALAD?
This is a multi part question, and answer. The first part being, what're the best ways to serve this dill pickle tuna salad?
My personal favorite way is sandwiched between two slices of hearty mult-grain bread- the kind with actual oats and/or seeds in it. So much yum in every single bite!
If I'm not using a grainy bread, then either white or wheat both work well but toasted because I love that crunch in each bite.
If you're on a low carb diet, or perhaps looking for a gluten free option- lettuce leaves make a perfect substitution for sandwich bread. Both crisp romaine, and tender green leaf lettuce I'd highly recommend. You can even shred them up in a bowl, and top your 'salad' with a scoop of this tuna salad in place of a traditional dressing.
In that same vein, this also works well as a protein packed dip. Paired with celery sticks & carrots sticks, our kids gobble it up.
What goes well with this as far as sides? I highly recommend something salty. Pretzels & chips both make good options, even french fries! What I wouldn't suggest though is another mayo based salad.
Stay away from serving it with pasta or potato salads. Instead, this simple tomato cucumber feta salad is a vinaigrette-based salad that would pair perfectly as a side dish. Another option is this easy Asian cucumber salad.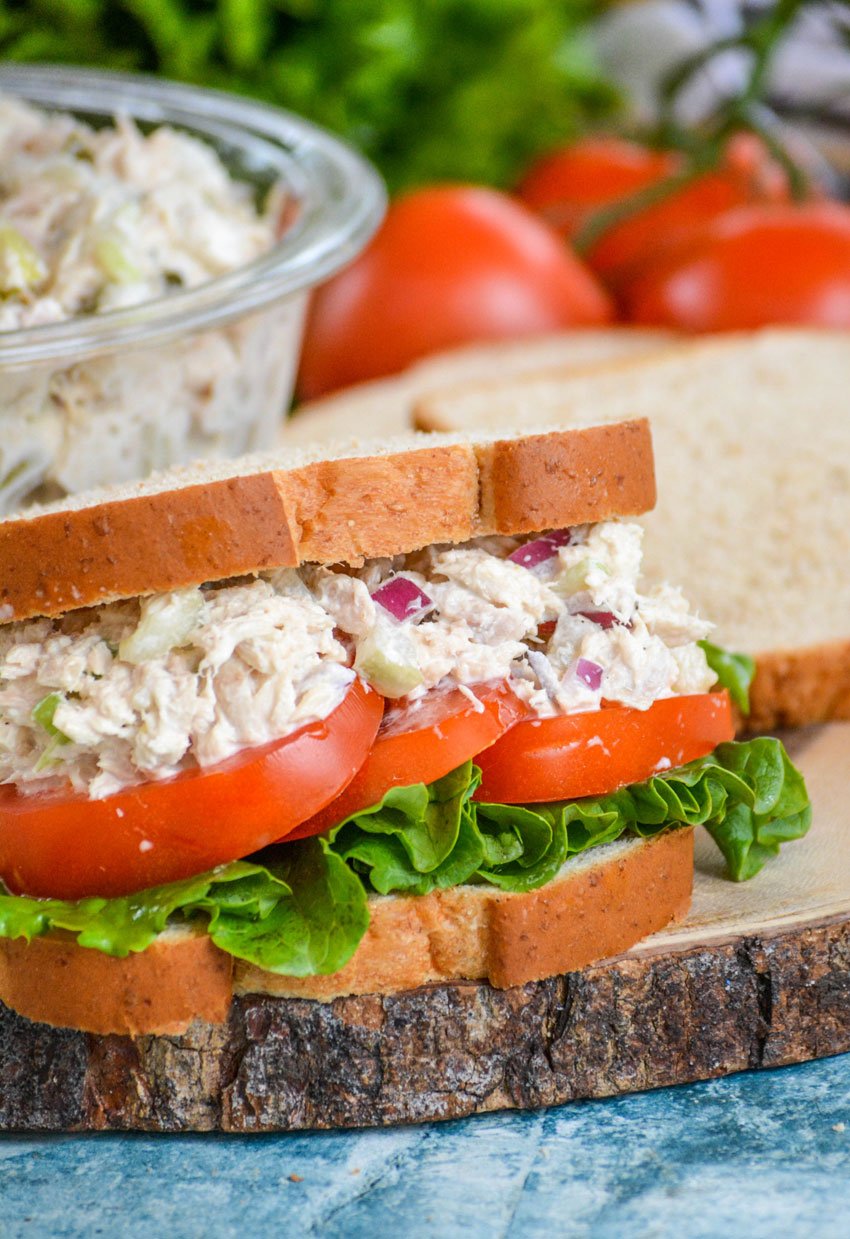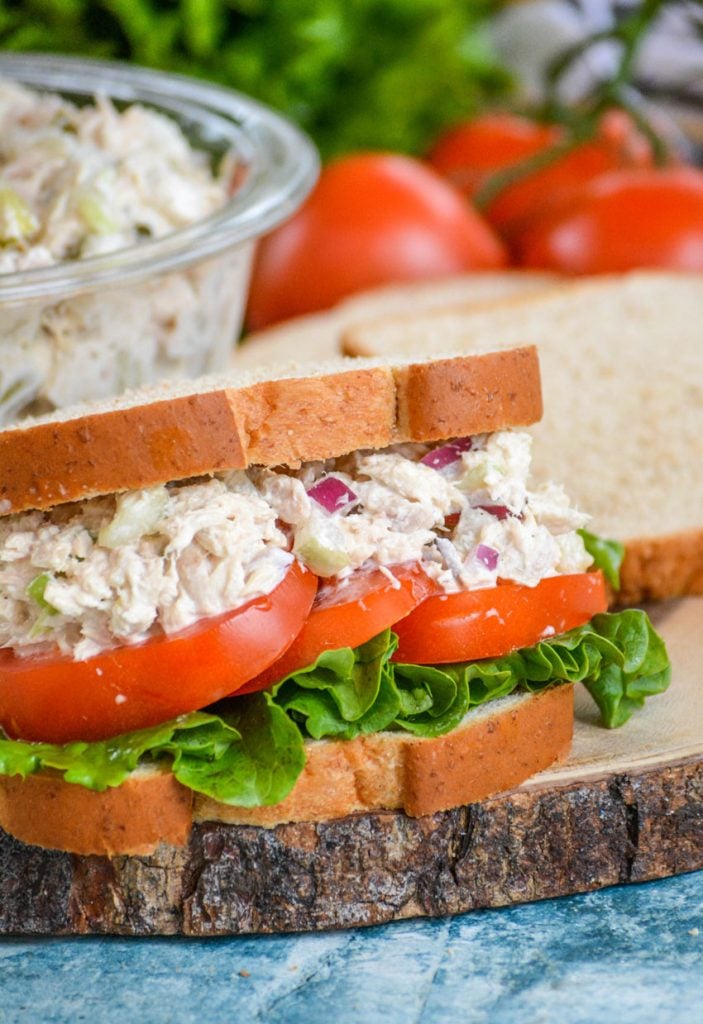 IS TUNA SALAD BAD FOR YOU?
This is another common question we're often asked. Tuna itself is a healthier item, and not inherently bad for you. So tuna salad isn't necessarily bad for you either. What is bad for you, at least in large quantities, is mayonnaise.
To keep dill pickle tuna salad as a healthier option, we've tried to watch the amount of mayo mixed in. We've kept it creamy, but skipped any overkill.
Most people don't realize it, but mayo is often loaded with hidden salt. Another way to make it healthier, if not using homemade is to use a better for you store-bought mayo. If that's not an option ( let's face it I'm not trading my favorite mayo for anything) then skip adding extra salt to the tuna salad itself & when serving.
TIPS & TRICKS FOR MAKING THE BEST DILL PICKLE TUNA SALAD:
Do not be tempted to swap miracle whip for mayonnaise in this recipe, not matter how much you may like the stuff. It doesn't work in this dish. Period. Save yourself the frustration & disappointment.
Don't have dill pickles & pickle juice on hand? Dill pickle relish will also work in a pinch. Don't use the same ratio though, as the relish is more liquid laden and will make the salad soggy if too much is added.
You can use any canned tuna, but for best results I recommend the higher quality albacore & one packed in water not oil.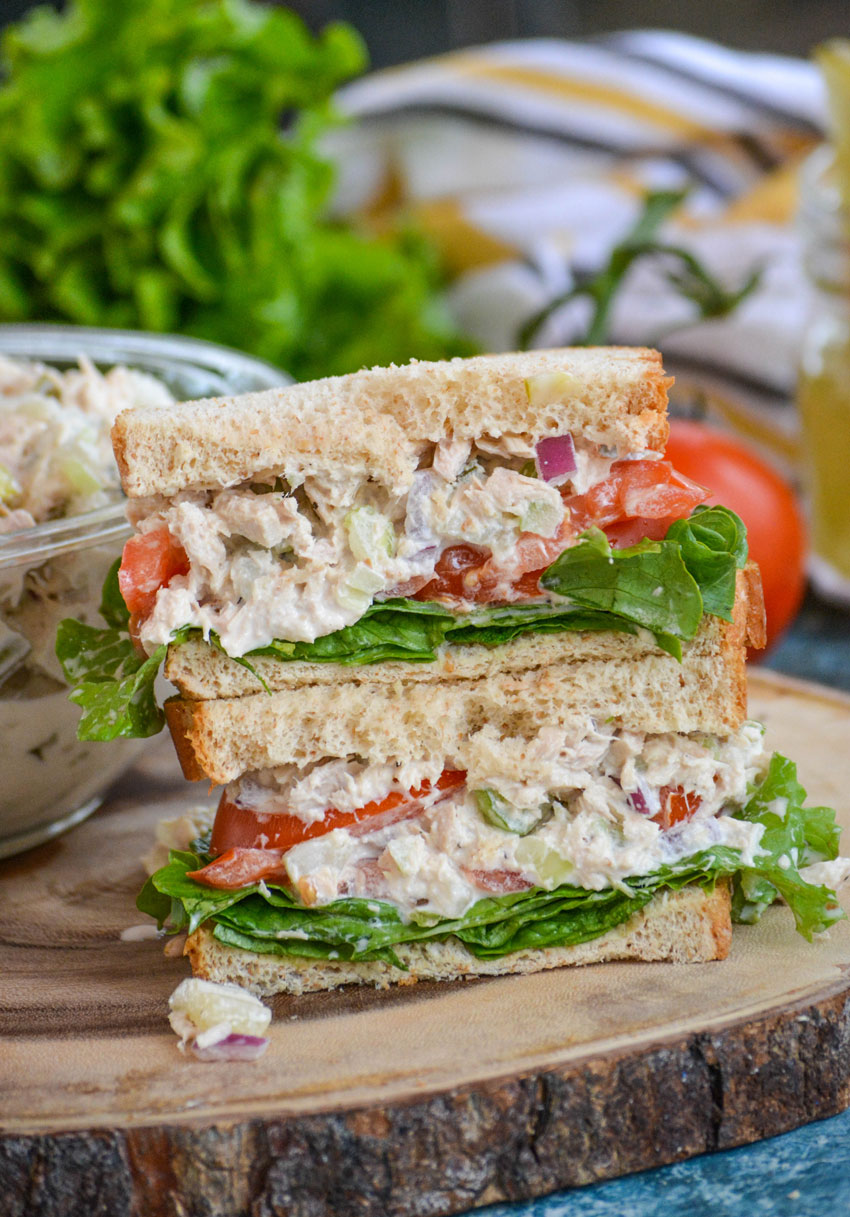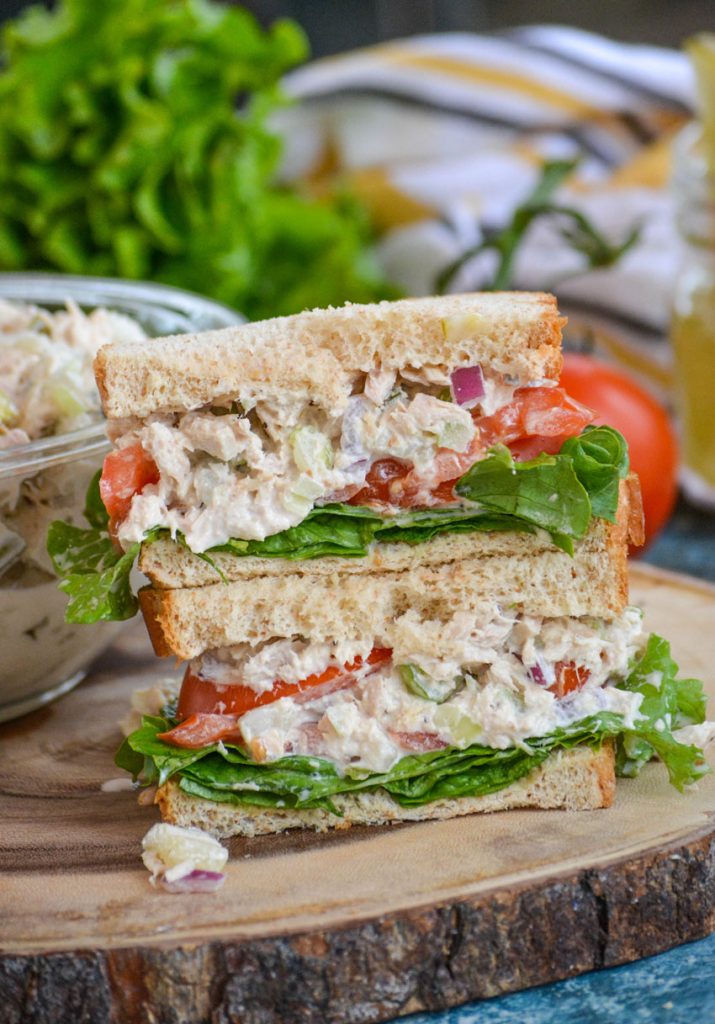 HOW LONG CAN I STORE TUNA SALAD FOR?
Dill pickle tuna salad can be safely store in an airtight container for up to 3 days in the refrigerator. When ready to serve, give everything a very good stir and go from there.
Some readers have said they have had success storing it up to five days, but I've found it separates too much for my taste.
This tasty dill pickle tuna salad is a fresh, tasty take on the classic lunch salad. It's as delicious as it is versatile- don't walk, run to the kitchen and make this recipe. However you choose to serve it, it will be perfect for your next party, picnic, or potluck!
Other Tasty Tuna Ideas To Try:
If you've tried this DILL PICKLE TUNA SALAD, or any other recipe on my site, let me know in the comment section how it turned out, we love hearing from our readers! You can also follow along with me on PINTEREST, FACEBOOK, and INSTAGRAM to see more amazing recipes and whatever else we've got going on!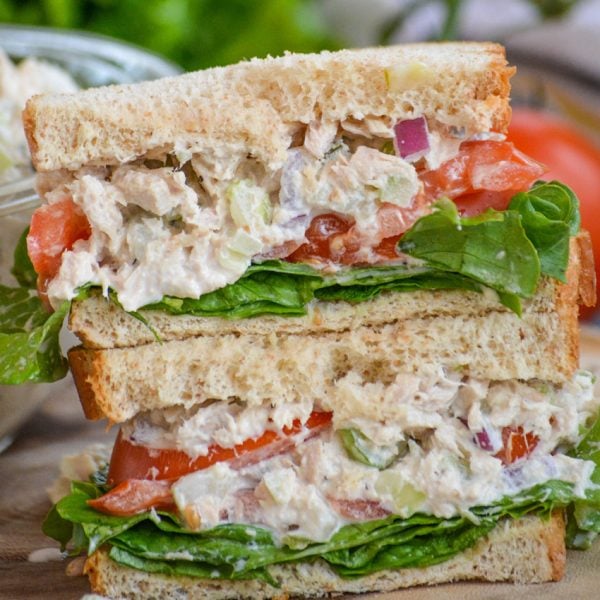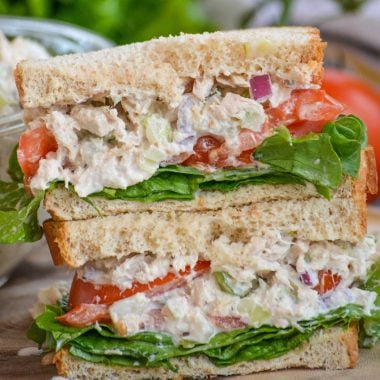 Dill Pickle Tuna Salad
A hearty tuna salad, this one was made special for dill pickle lovers. It's creamy, it's delicious, and makes a hearty sandwich or a delicious dip for a lighter lunch.
Print
Pin
Rate
Ingredients
3

cans

albacore tuna packed in water

1

cup

chopped dill pickles

2

tbsp

pickle juice

1/2

cup

diced celery

1/4

cup

diced red onion

1/2

tsp

garlic powder

1/2

tsp

mustard powder

1

cup

mayonnaise

salt & pepper

to taste
Instructions
Open the cans of tuna, and transfer all the tuna to a waiting colander in the sink. Let it drain thoroughly.

When the tuna's fully drained, use a fork to flake it all apart until it's got a fine texture.

Transfer the flaked fish to a large mixing bowl. Stir in all of the remaining ingredients, except for the mayo. Stir everything together until evenly combined.

Add the mayo, stirring until completely incorporated. Salt & pepper the tuna salad, to taste.

Cover the tuna salad, and chill for at least an hour before serving.
Notes
This dill pickle tuna salad can be sealed & safely stored in your refrigerator for up to 3 days.
Nutrition
Calories:
374
kcal
|
Carbohydrates:
2
g
|
Protein:
21
g
|
Fat:
31
g
|
Saturated Fat:
5
g
|
Cholesterol:
52
mg
|
Sodium:
851
mg
|
Potassium:
265
mg
|
Fiber:
1
g
|
Sugar:
1
g
|
Vitamin A:
123
IU
|
Vitamin C:
1
mg
|
Calcium:
28
mg
|
Iron:
1
mg