Fried banana peppers are crispy, crunchy snacking perfection. Tangy pickled banana pepper rings are coated in a seasoned flour mixture & fried until golden brown and perfectly crisped. They're a perfect addition to parties, game day menus, or anytime you just need a solid snack fix.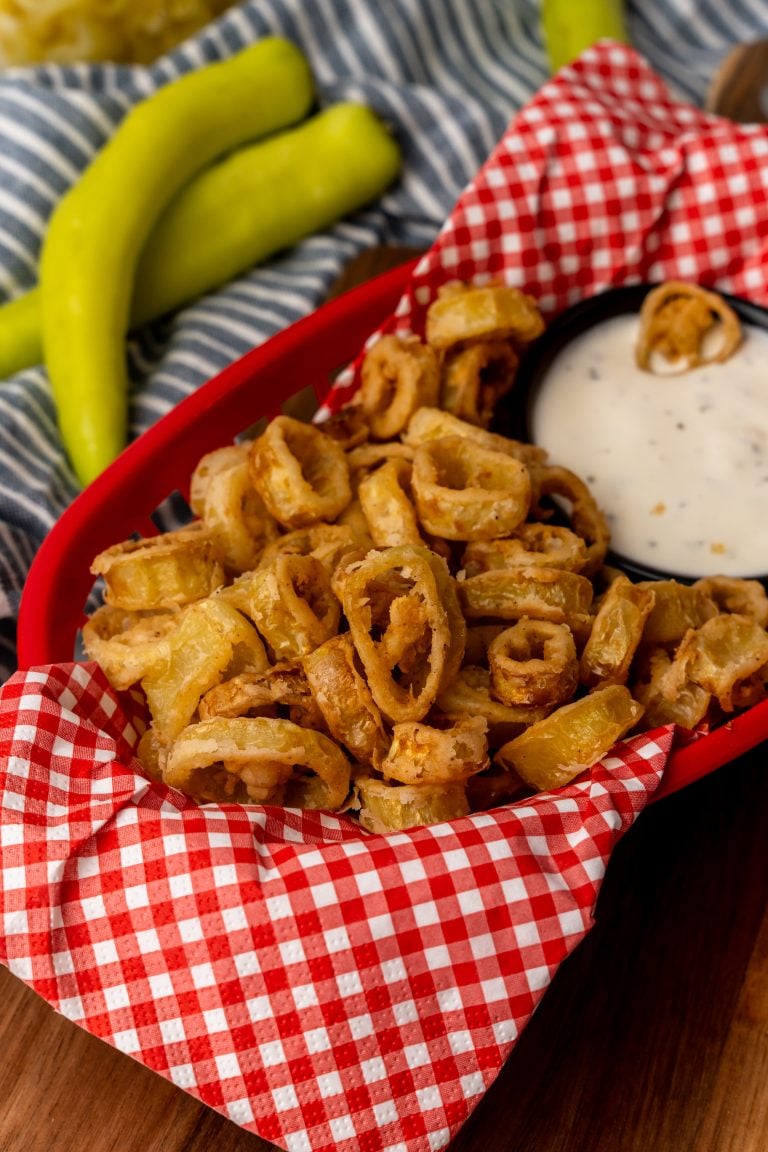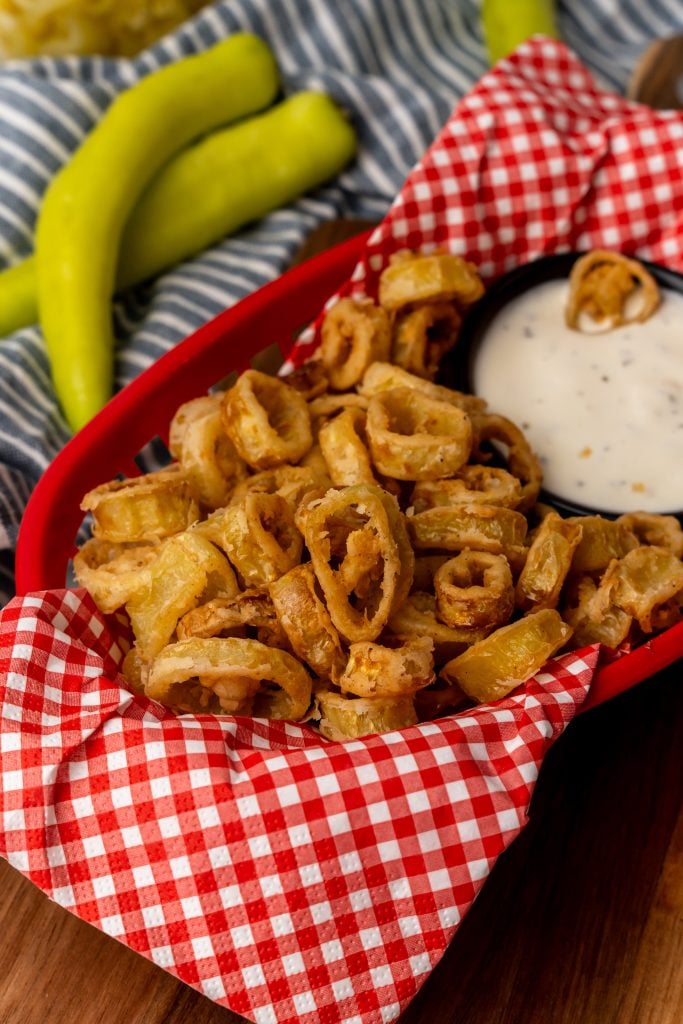 Whatever season it is, my household is always all about the apps.
As in appetizers.
Whether it's game day in the Fall or Winter, or warmer Summer weather when we'd rather munch on a snack supper than a full meal.
We all tend to have our favorites- including (but not limited too!) Deviled Eggs, Bloomin Onion Bites, and Toasted Ravioli. Pretty much standard, traditional appetizer ideas.
One that we love that isn't so main stream is these deep fried banana peppers.
They're tangy on the inside, with the perfect crispy crunch on the outside making them a perfect appetizer for satisfying snacking.
It's a similar concept to fried pickles, and a great way to use up seasonal produce if you use homemade pickled banana peppers.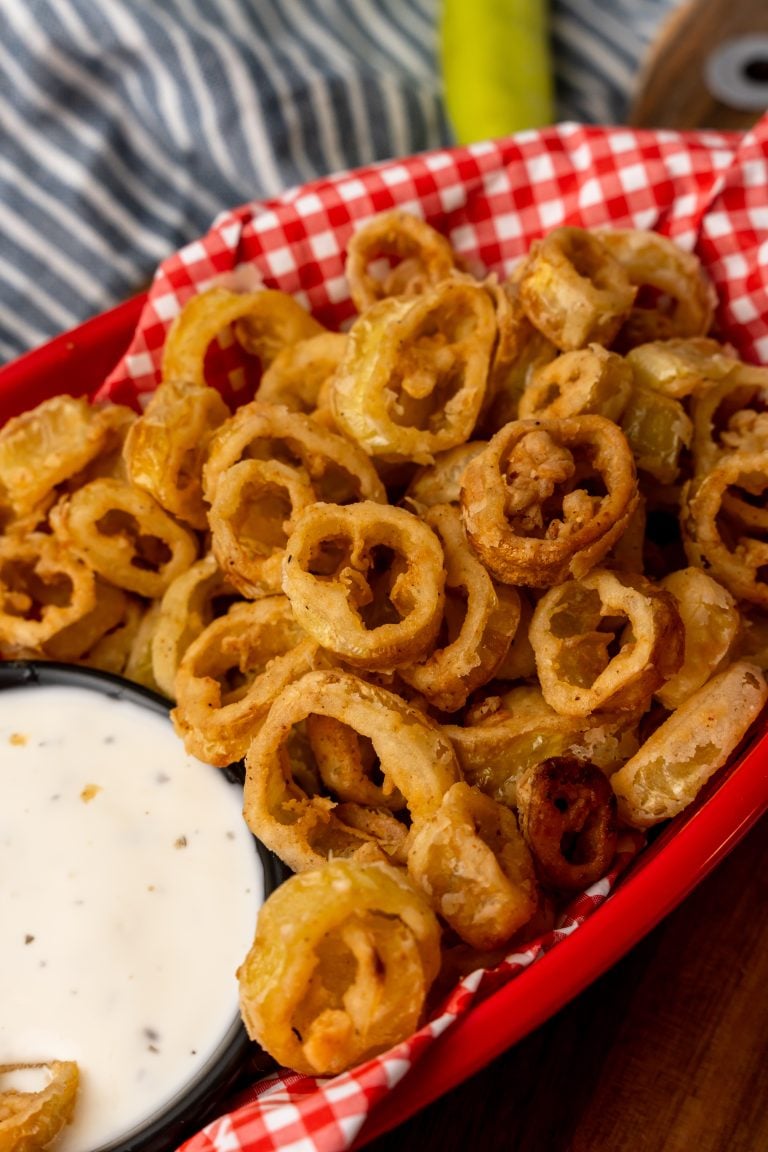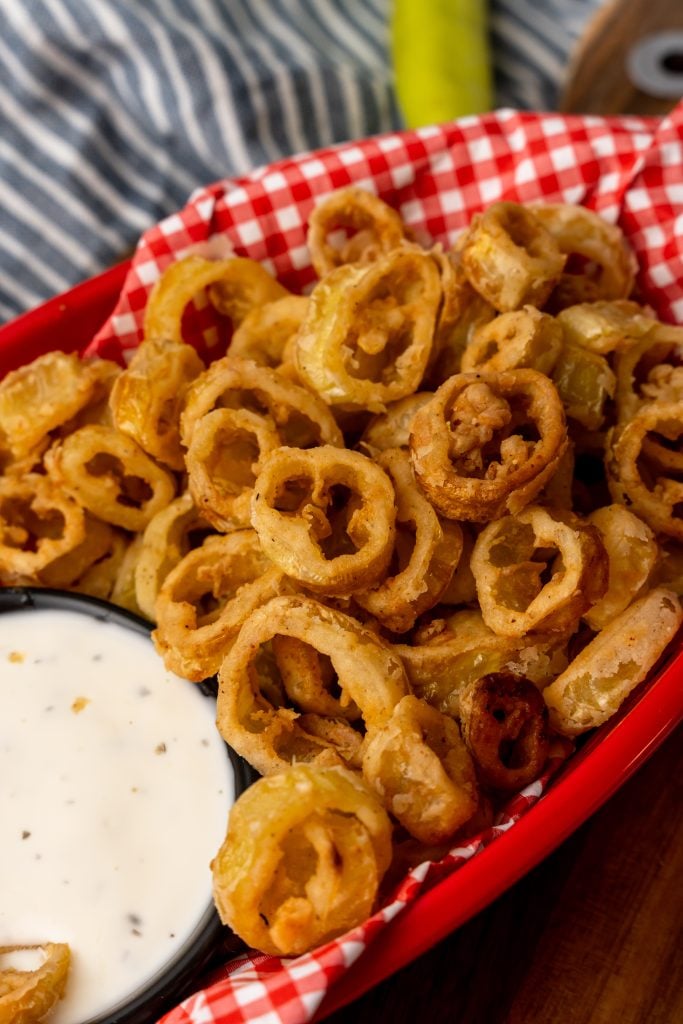 What Do Fried Banana Peppers Taste Like?
Worried you won't like them? Again, they're similar to fried pickles in that you've got a tangy, pickled veggie in a crispy seasoned golden brown coating.
The frying process takes away some of the tartness of the pickled banana peppers, but leaves you with something like a potato chips thicker cousin.
Try them and I'm sure you'll agree, they're a deliciously pop-able snack that's bound to be your new obsession.
Ingredients Needed
Like all the best appetizer recipes- you only need a few ingredients to get these going.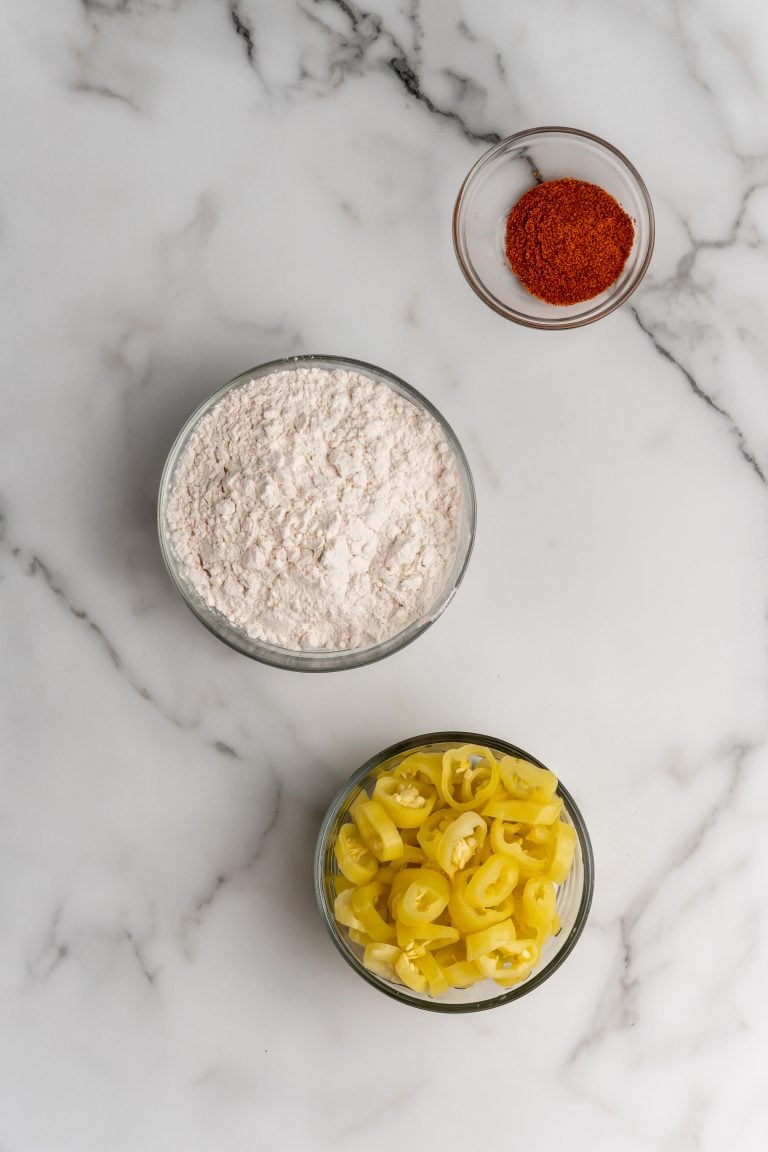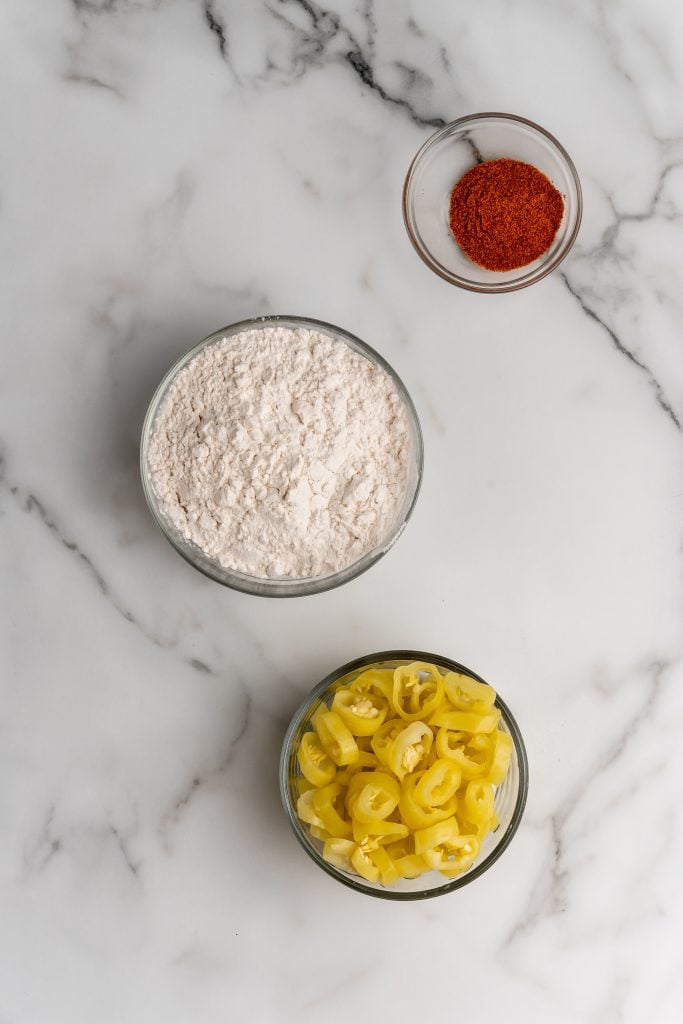 You'll need:
Pickled Banana Peppers – You can use store bought or homemade pickled peppers, but they will need to be well drained.
Flour – Plain all purpose flour
Seasoned Salt – Use seasoned salt, any brand will work. Seasoned salt has other seasonings in it, making it a one stop shop for flavoring the flour coating.
I love a short ingredient list!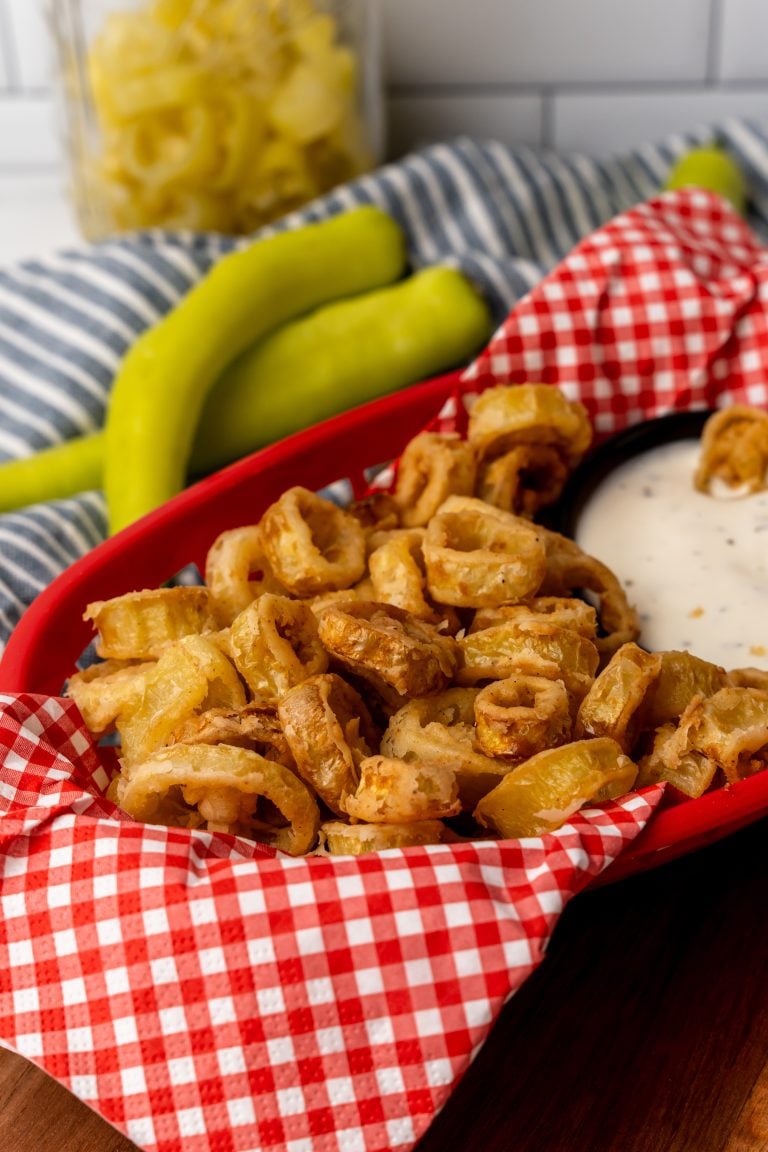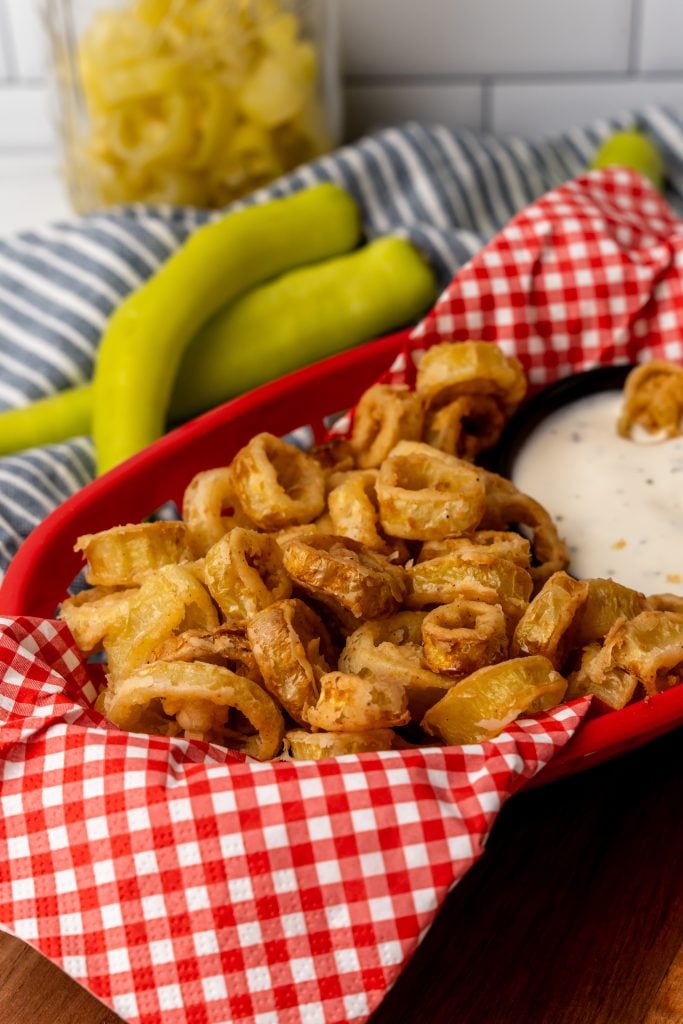 How To Make The Best Fried Banana Peppers
Easy recipes are always a hit in my house, especially when a snack attack hits, and these fried pepper bites are both quick and easy to make.
I recommend starting with a little bit of set up.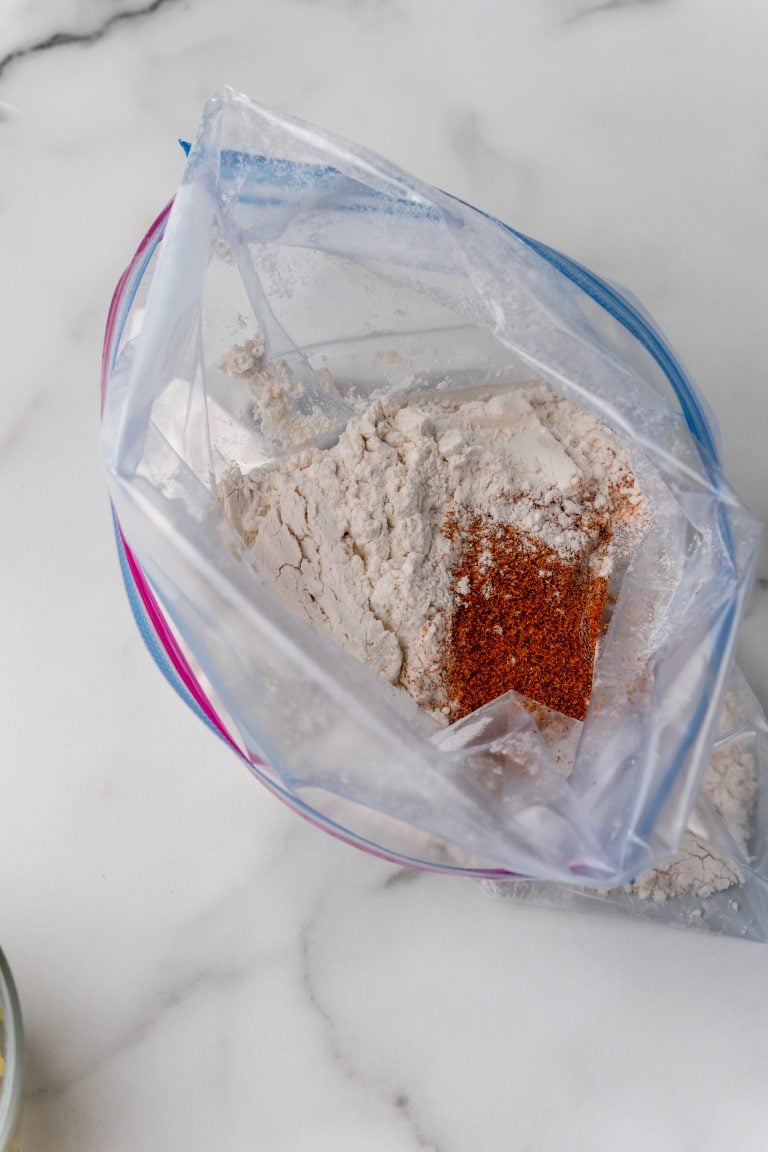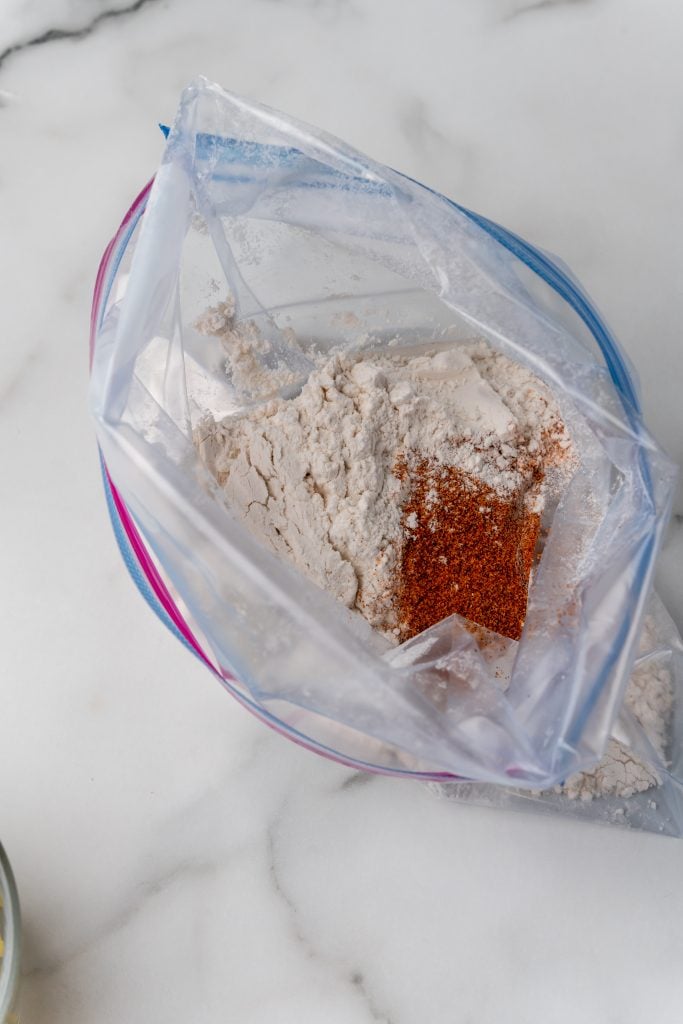 First, add canola oil to a heavy bottomed skillet until it's about an inch deep. Heat this to 350 degrees F. You can use a candy thermometer to gauge the temperature of your heating oil, if needed.
The general rule of thumb is the oil's hot & ready when it's shimmery on top.
While the oil's heating cover a large, rimmed baking sheet with a layer of paper towels. This isn't 100% essential, but does make cleanup a breeze later on.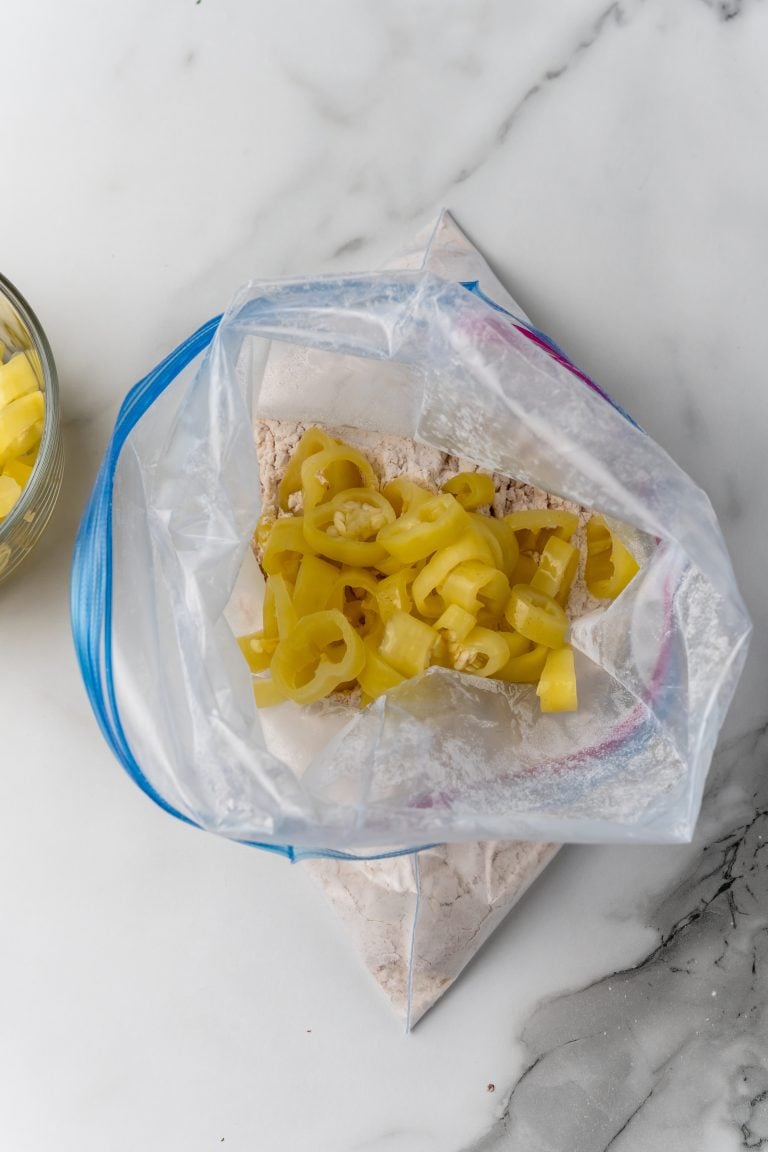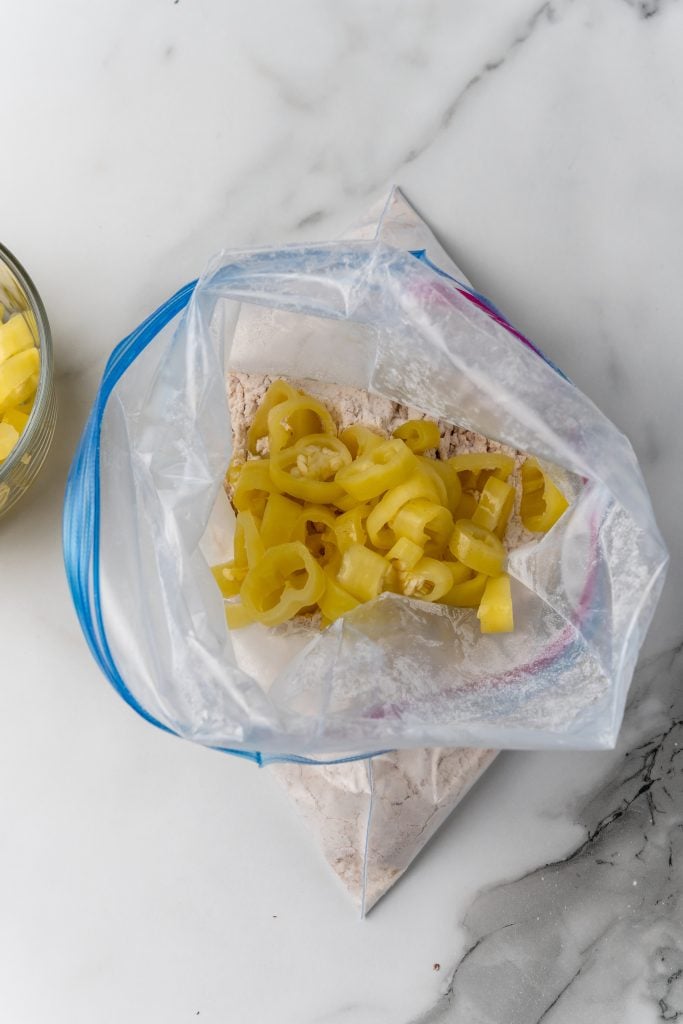 Set two wire cooling wracks on top of the paper towels- side by side. Set this aside.
Now it's time to prepare the peppers for frying.
Add both the flour and salt to a large ziplocking freezer bag. Seal the bag, and give it a good shake or two to evenly mix the two together.
Open the bag and add in the well drained banana pepper rings.
Again close the bag, making sure it's sealed. Give everything a good shake, shake, shake until all the peppers are evenly coated.
Your oil should be hot and ready at this point.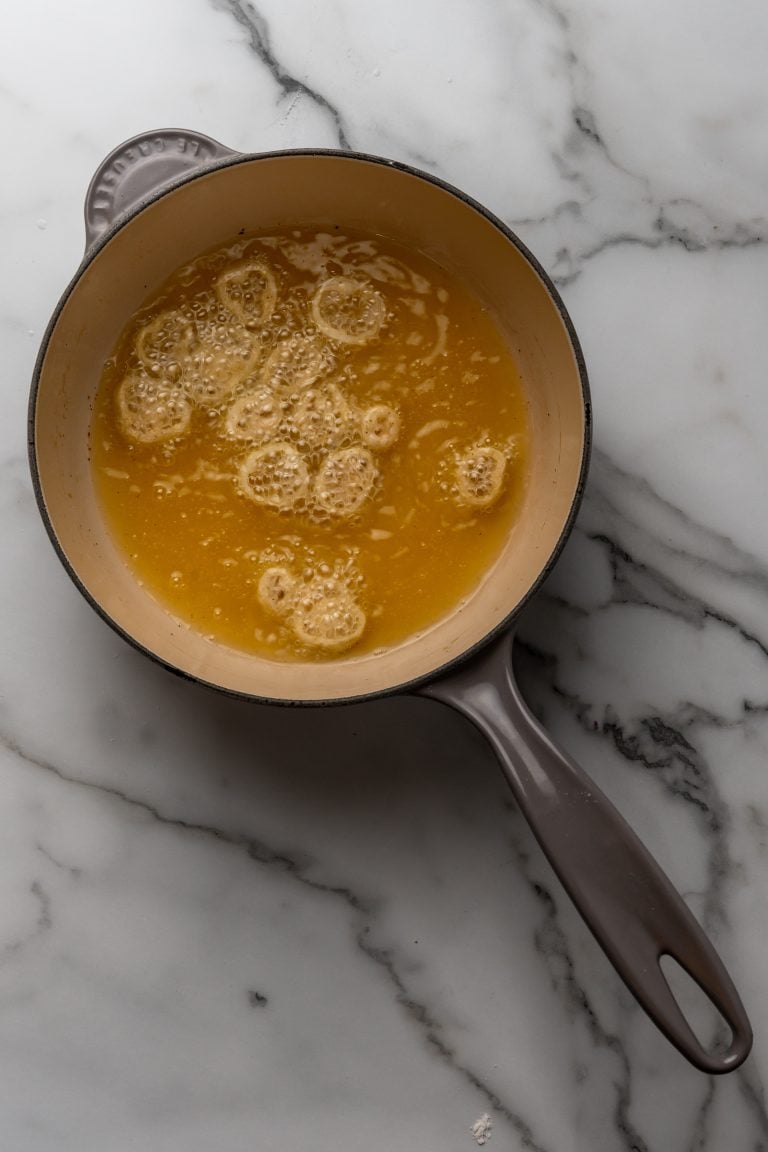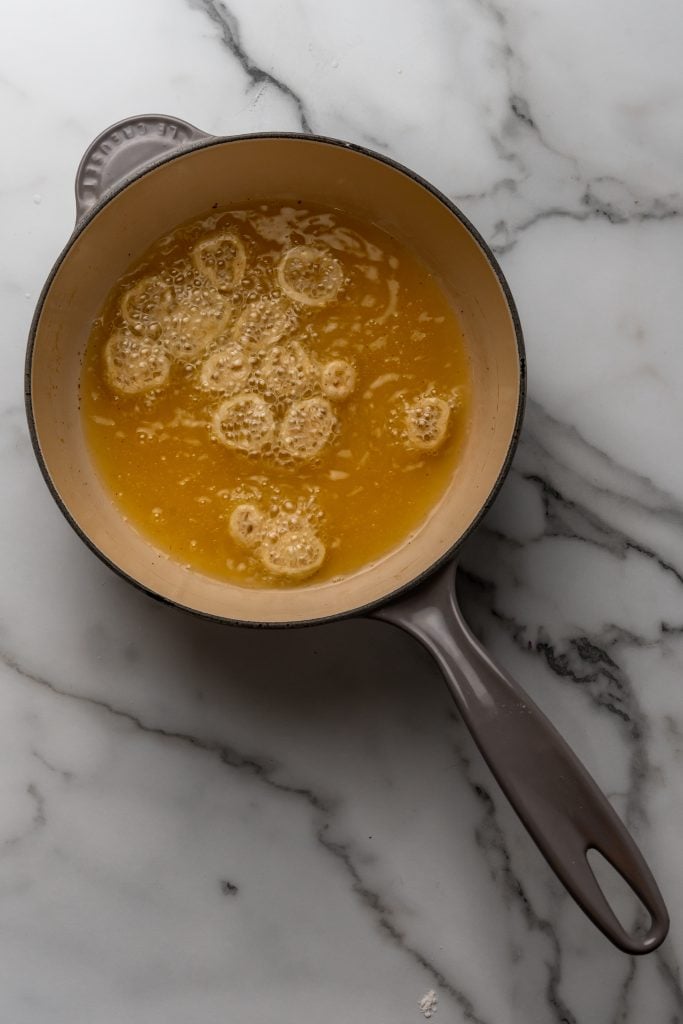 If you aren't using a thermometer and want to be sure it's ready, add one pepper ring to the oil. If it begins to bubbly and fry- you're ready to go.
You could also use a deep fryer, if that makes you more comfortable.
Do not add all of the coated peppers to the hot pot at once! This could result in it boiling up and over.
It will also crowd them, and they won't all get golden brown and crispy. Nobody wants soggy fried peppers.
Instead, work in batches. Start with a third of the peppers, add them to the hot oil and fry until golden brown and crispy on the outside. Turn them to carefully, as needed, to fry on all sides.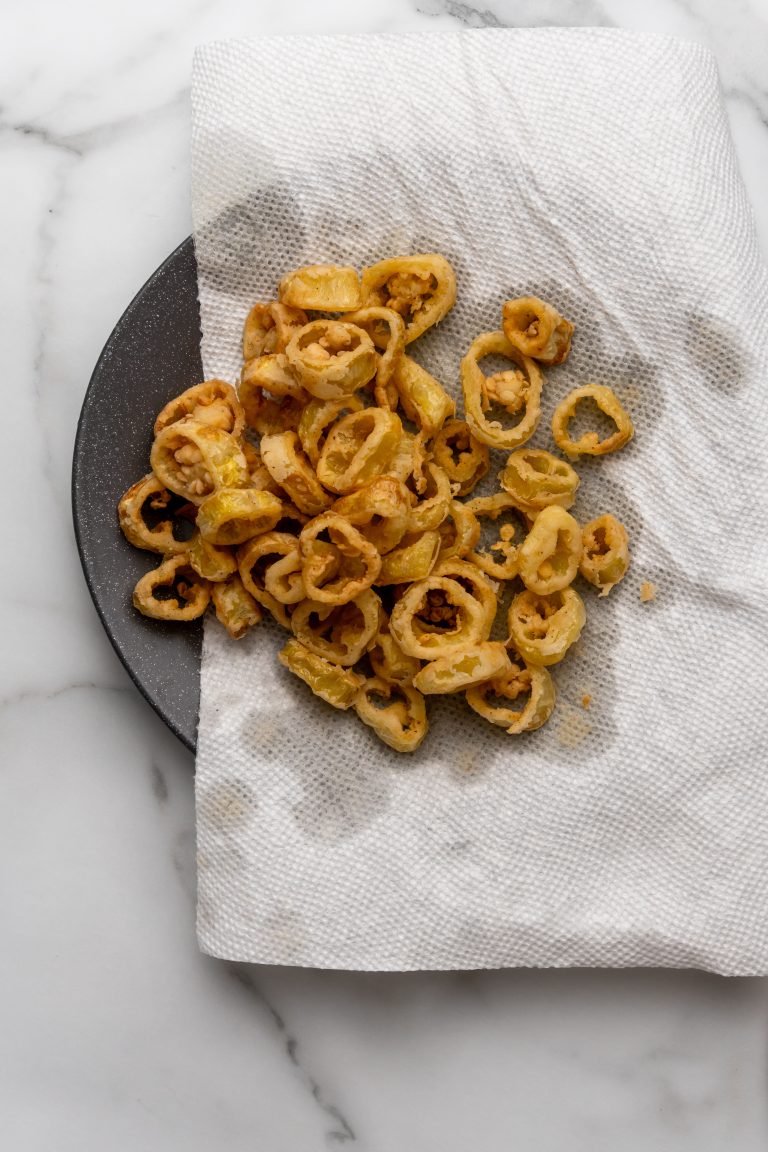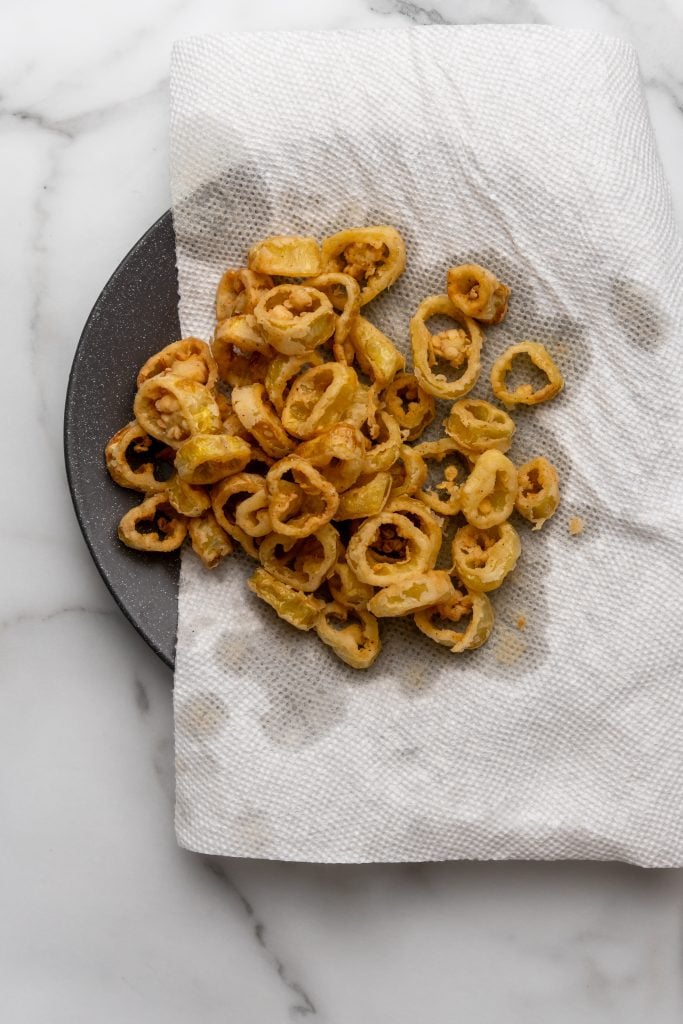 Carefully & quickly remove your fried peppers from teh hot oil using a large slotted spoon or strainer spoon.
Transfer them to the prepared wire racks, and spread out in an even layer so they can evenly drain off excess grease.
Repeat in another two batches until all the fried banana peppers are cooked and spread out on the wire racks.
Let the crispy pepper bites cool. You want them to be just warm to the touch, but not hot- this will prevent you from biting into one and the hot juices burning your mouth.
Serve them and enjoy with whatever dipping sauce you like. We HIGHLY recommend a good ranch dressing as the perfect pairing.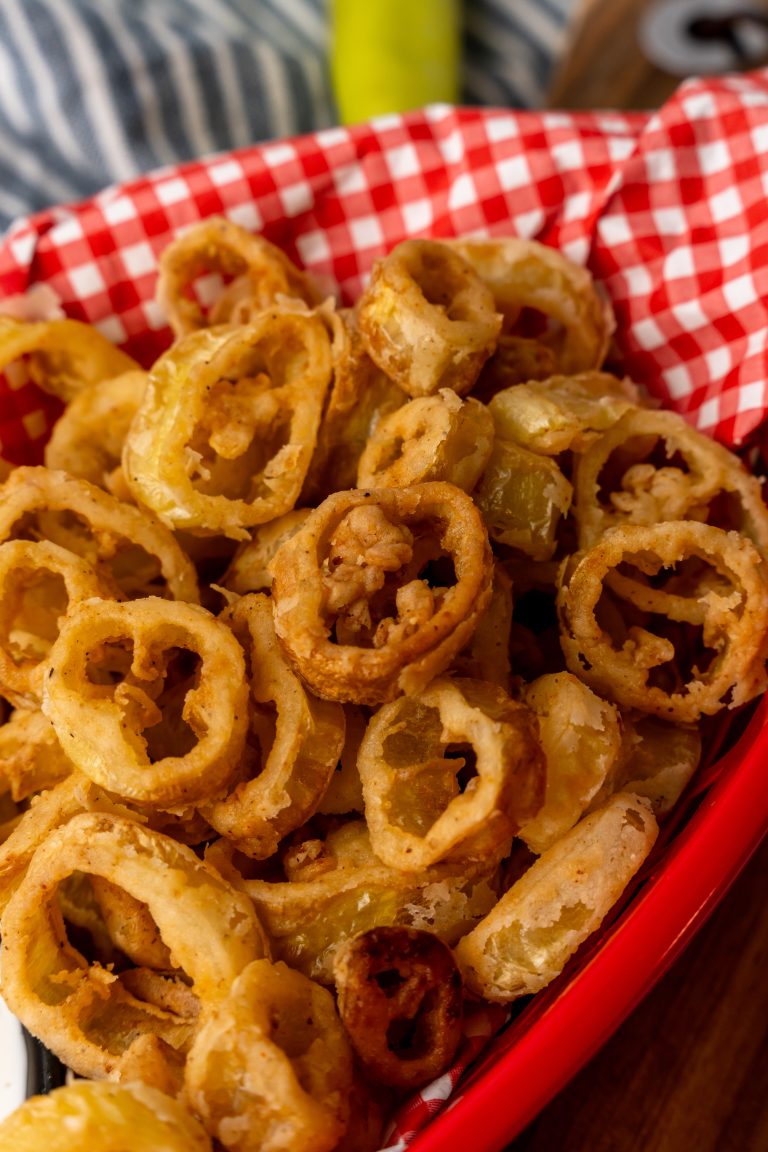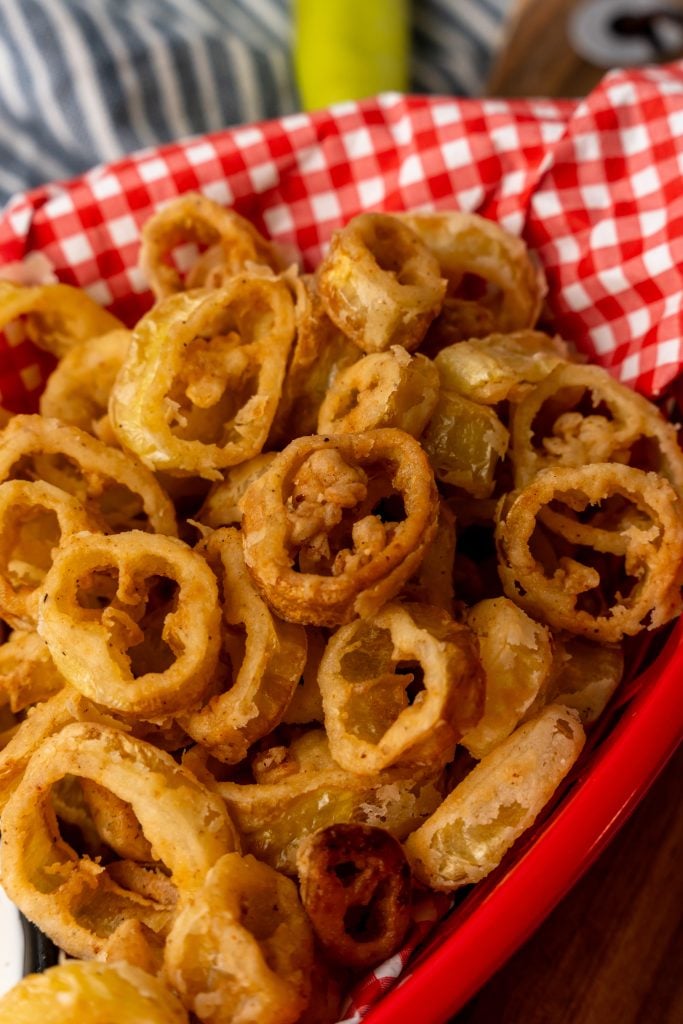 Storing & Reheating
As with most fried things, these don't keep particularly well. The longer they sit, the soggier the breading will eventually become.
If you have extras you want to save, wrap them in paper towels and then store them in a fresh ziplocking bag. Refrigerate them, and plan to use them up the following day.
To reheat you can use a microwave, or an air fryer. The air fryer will give you the best results, and the crispiest leftovers.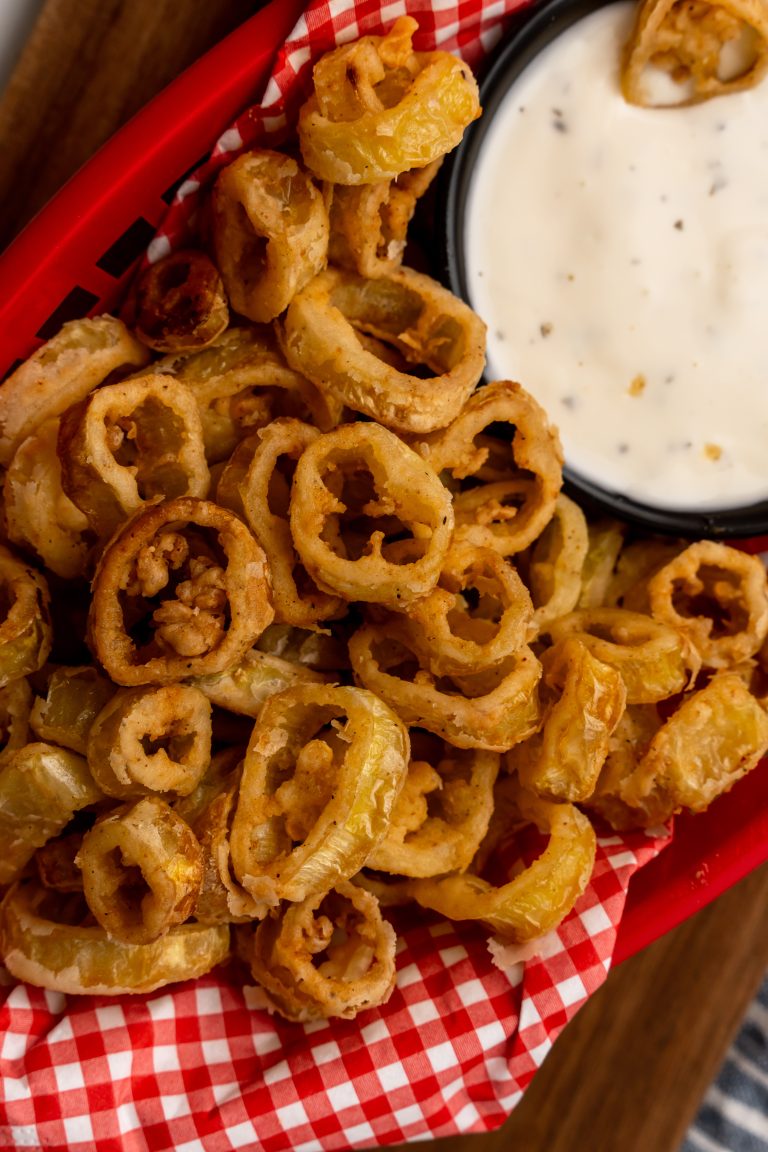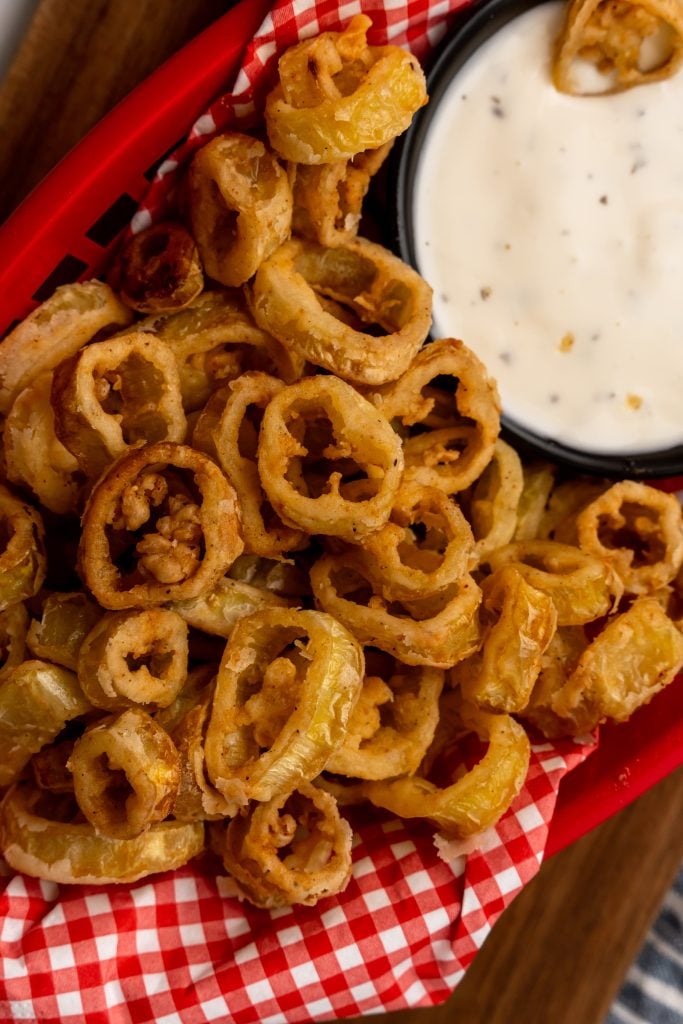 What's The Best Oil To Use For Deep Frying?
While we recommend canola oil, both vegetable oil and peanut oil will also work well for this recipe.
All three have high smoke points, making them ideal for deep frying.
DO NOT try to use olive oil or avocado oil.
How To Use Fried Banana Peppers
We eat ours just like potato chips, serve them in a big bowl with a side of ranch for dipping.
There are other great uses for fried banana peppers too!
Topping for hamburgers & hot dogs
In place of croutons on your salad
As a garnish for chili & certain soups
Topper for nachos & tacos
On subs & sandwiches
There's so many delicious possibilities. Get creative!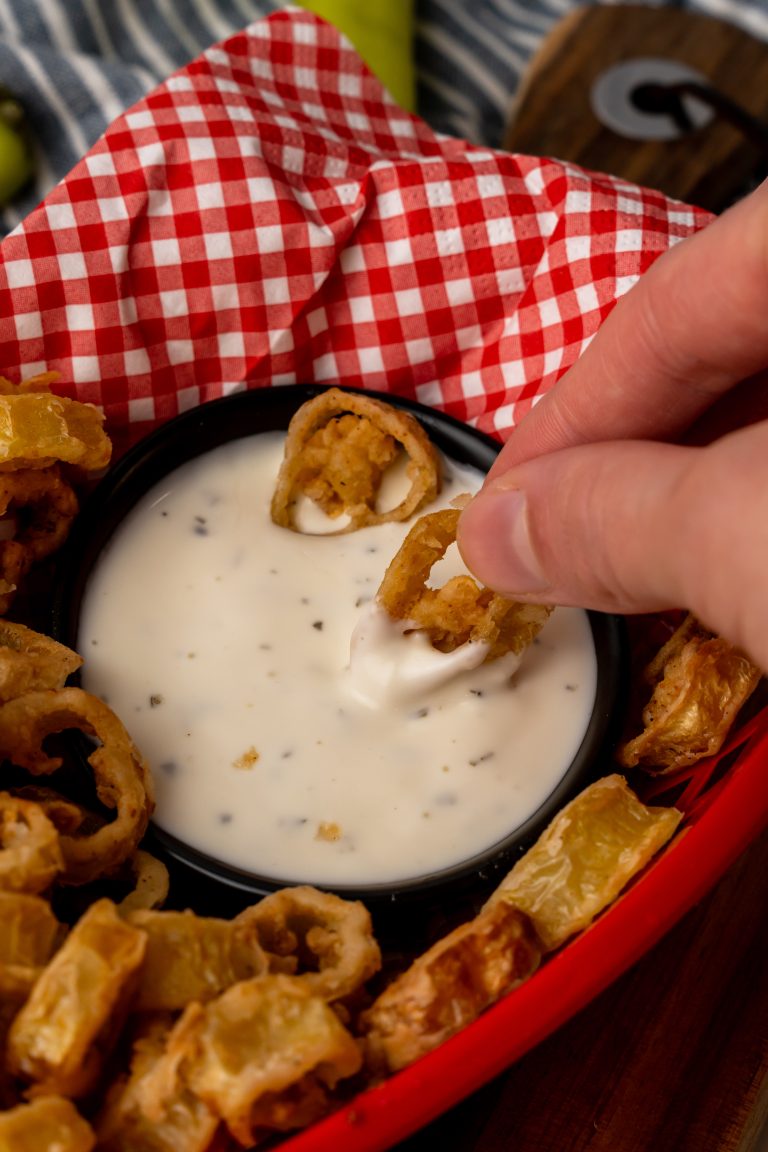 TIPS & TRICKS For Making The Best Fried Banana Peppers
Allow the peppers to drain completely- I like to let mine sit in a strainer in the sink for 15 minutes.
Do not skip the draining of the peppers, or rush this step! Juices left behind can pop and cause hot oil to splatter during frying.
If you don't have time to let the pickled peppers sit and drain. Strain them, and them transfer them to a layer of paper towels. Change the paper towels until all the liquid has been wicked away.
Fry them in 2-4 batches, so as not to overcrowd the pan.
Other Tasty Ways To Enjoy Banana Peppers
If you're looking for the next big thing to hit the snacking world, these fried banana peppers are it! They're fried to crispy, crunchy perfection and a great option anytime of the year.
This is the recipe to pull out anytime of the year when you need an appetizer or snack that you can serve and enjoy yourself and even for guests.
Looking for other recipes that feature banana peppers? Check these out:
If you've tried these FRIED BANANA PEPPERS, or any other recipe on my site, let me know in the comment section how it turned out, we love hearing from our readers! You can also follow along with me on PINTEREST, FACEBOOK, and INSTAGRAM to see more amazing recipes and whatever else we've got going on!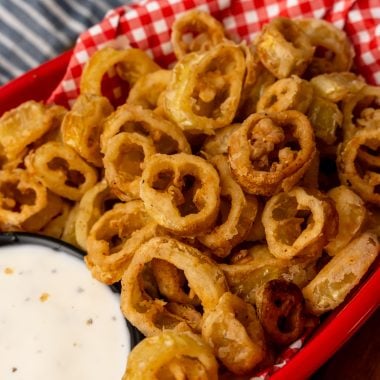 Fried Banana Peppers
Fried banana peppers are crispy, crunchy snacking perfection. Tangy pickled banana pepper rings are coated in a seasoned flour mixture & fried until golden brown and perfectly crisped. They're a perfect addition to parties, game day menus, or anytime you just need a solid snack fix.
Print
Pin
Rate
Instructions
Heat about 1-inch of canola oil to 350℉.

Cover a rimmed baking sheet with a layer of paper towels, then set two wire racks on top of the towels- side by side. Set aside.

In a large ziplock-ing bag add both the flour and salt. Seal the bag to close, and give it a good shake to evenly combine the two.

Add the well drained peppers to the flour mixture, seal the bag, and shake to coat the peppers.

Working in batches, add the peppers to the hot oil and fry until crispy.

When golden brown, use a strainer spoon and carefully transfer the fried peppers to the wire rack to cool and drain off excess grease.

Repeat until all the peppers are fried, serve warm with dipping sauce of choice.
Nutrition
Calories:
398
kcal
|
Carbohydrates:
14
g
|
Protein:
2
g
|
Fat:
38
g
|
Saturated Fat:
3
g
|
Polyunsaturated Fat:
11
g
|
Monounsaturated Fat:
24
g
|
Trans Fat:
0.1
g
|
Sodium:
587
mg
|
Potassium:
123
mg
|
Fiber:
2
g
|
Sugar:
1
g
|
Vitamin A:
141
IU
|
Vitamin C:
34
mg
|
Calcium:
8
mg
|
Iron:
1
mg