Sandwiches don't have to be just for brown bags at lunch time. They also don't have to be super simple. Up your lunch game with these savory Dill Pickle & Vidalia Onion Grilled Cheese Sandwich. It's a flavor profile you can't help but love together, sandwiches between two slices of buttery golden brown bread crusts.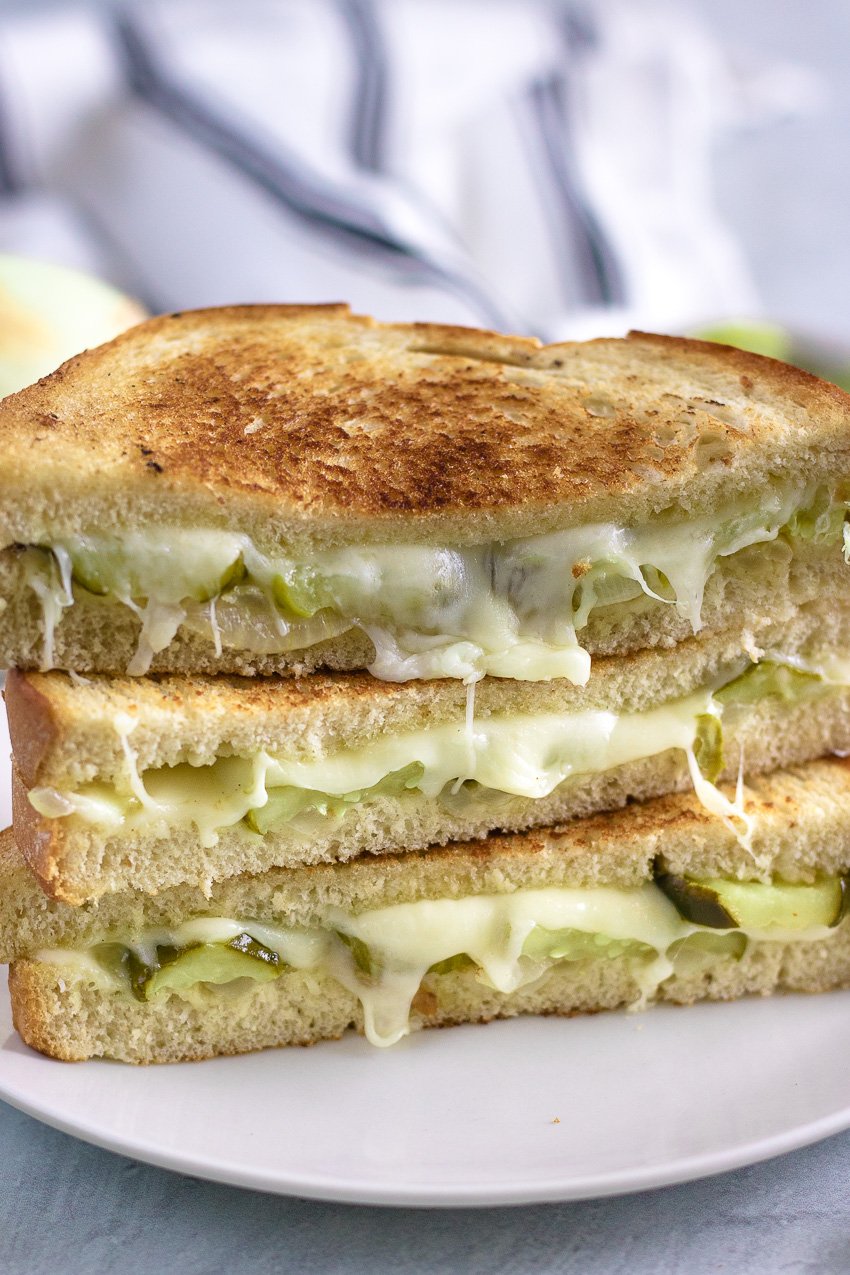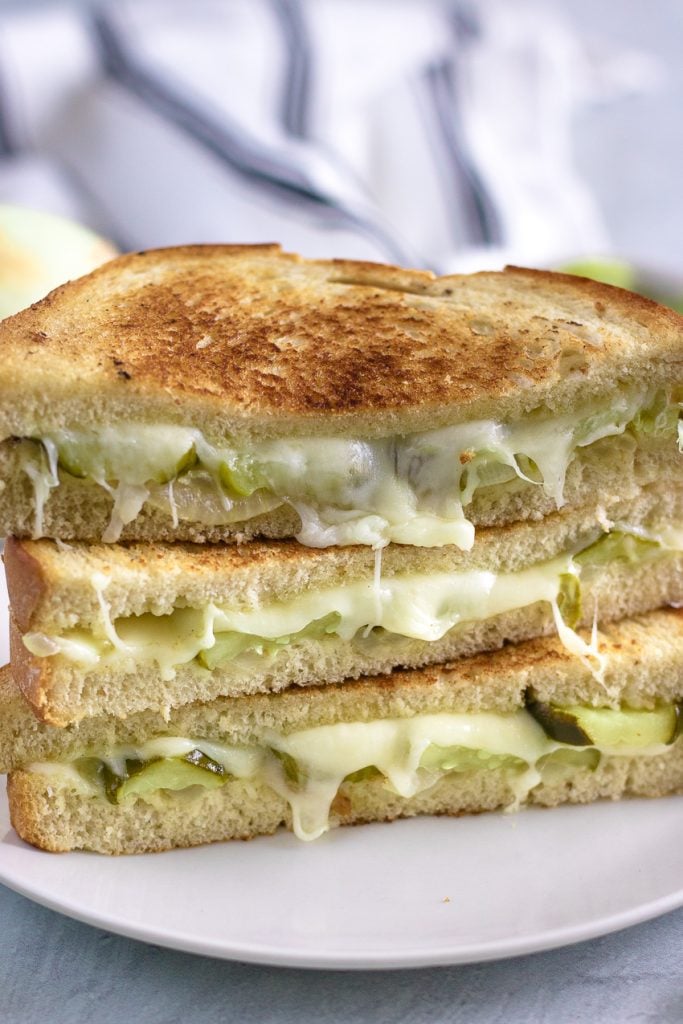 Grilled cheese is a staple in our home. It's also perfect for pretty much any occasion. Tonight for example, I really didn't feel like cooking dinner. The youngest son sweetly asked if I'd make him a grilled cheese for supper. It's a particular favorite of his, and mine because of how simple & how easy it is to throw together. That's a parenting win!
Does it get any more perfect than that too? Melty cheese sandwiched between two sliced of golden brown, crispy fried bread. That sounds like a dream to me. A quick easy meal that's comfort food in every single bite! Pair it with a small bowl of simple soup, and I've got a simple dinner on the table in under 10 minutes. That's meal time magic right there. The kid's happy, and so's this Mama.
While I love our plain ol' grilled cheese, you know I can't leave it at just that. We've found plenty of ways over the years to spice it up, playing around with different ingredients, combinations, etc. A couple examples being our white pizza grilled cheese (cheese, cheese, +more cheese), Tex Mex grilled cheese, and even our ground beef philly cheesesteak version. Grilled cheese in any form can't ever be wrong, right?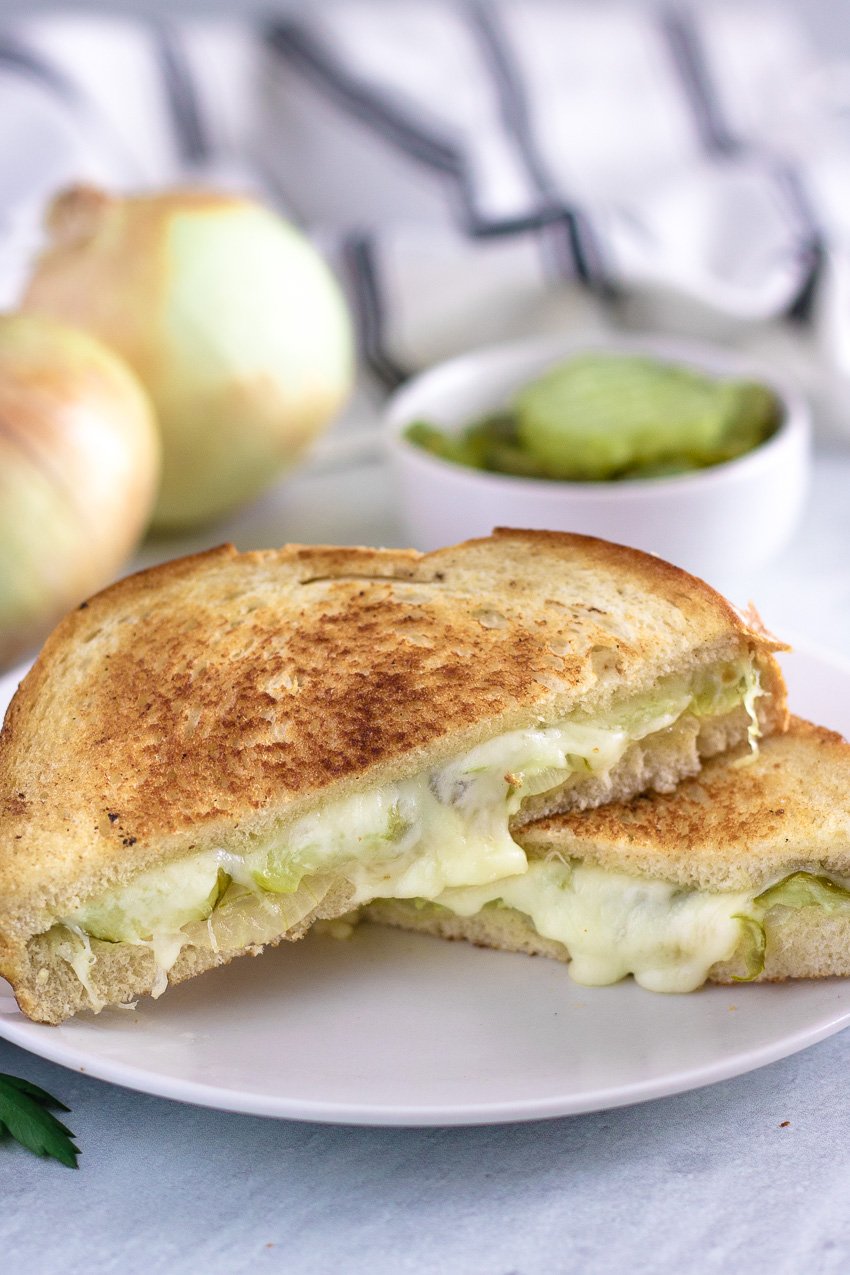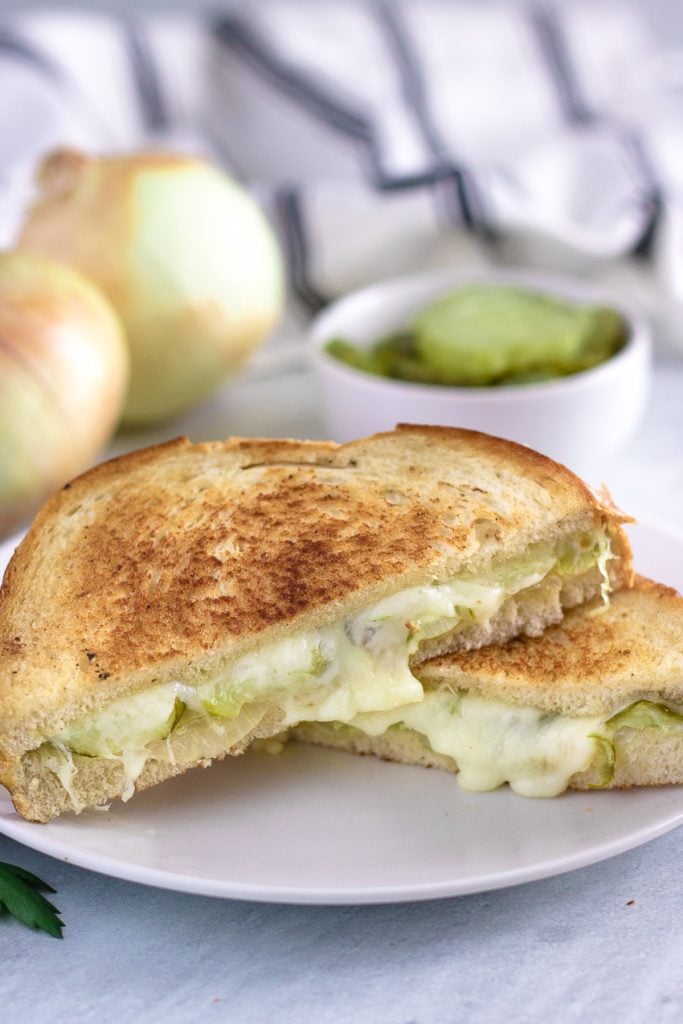 Pickles seem to be all the rage right now. Like pickle all the things, and pickles in all the things. I'm looking at you my pickle loving friends! (Don't forget to check out our dill pickle chicken salad while you're here.) I, for one, love pickles- so I'm all for this movement. Or is it a trend?
I am only really a fan of dill pickles though. The sweet variety can be kicked to the curb for all I care. I put those things (pickles) on just about everything. My grilled cheese being no exception. Boy, was that a genius idea!
To be fair, the idea wasn't all mine- at least not originally. Someone somewhere took to a post of mine and related what a magical idea peanut butter, pickles, and mayo are. I consider myself a try-er of all things, or at least I force myself to try all things in my older age. This was just one I couldn't get behind. My much more adventurous sons offered to try it for me instead. It was met with a resounding 'nope'. Still they did seem to like the combo of pickles and mayo. From that the inklings of this dill pickle sandwich were born.
Plus, if you think about it, pickles are almost always universally served on the side with sandwiches. Why not skip a step, and just put them in the sandwich?
Ingredients Needed:
dill pickle chips
sourdough bread slices
butter
sliced white cheddar
Vidalia onion
How To Make Dill Pickle Grilled Cheese Sandwiches:
Butter the outside of each slice with one tablespoon of soft butter. Spread it out evenly.
Melt the last bit of butter in a sturdy skillet over medium heat. Saute the onions just until tender; set aside.
Add a slice of bread to the skillet, buttered slice down.
Quickly top it with a slice of white cheese, dill pickle chips, and onions.
Top with the second slice of cheese, and then the remaining piece of bread- buttered side up.
Cook the sandwich until one side of the bread's golden brown, flip and continue cooking until the other side's crisp, browned, & the cheese is melted.
Slice & serve.
Get a load of that cheese pull! Gooey, melted cheese is an essential to any quality grilled cheese sandwich. Anything less would be sad & disappointing. The type of cheese you choose to use will affect this outcome, so choose wisely. Not all white cheddar cheeses are made the same. I prefer using slices when making any grilled cheese. It's convenient, and also results in better coverage. Plus slices almost always melt better.
I like to get a good sliced white cheddar from the deli at my local grocer. If that's not an option, I look for pre sliced in the upper end meat & cheese section. If all else fails, the Kraft white American slices will work in a pinch. They taste pretty good too in this recipe.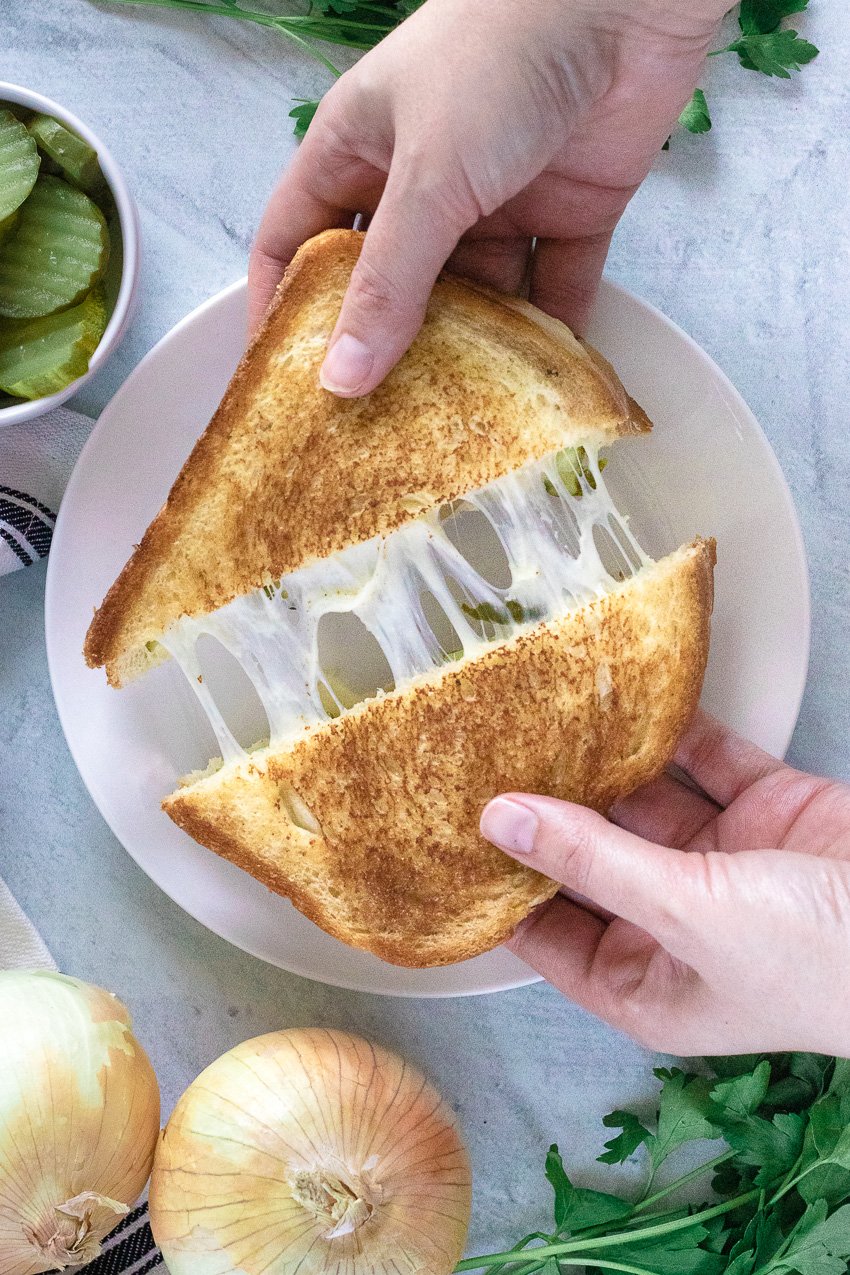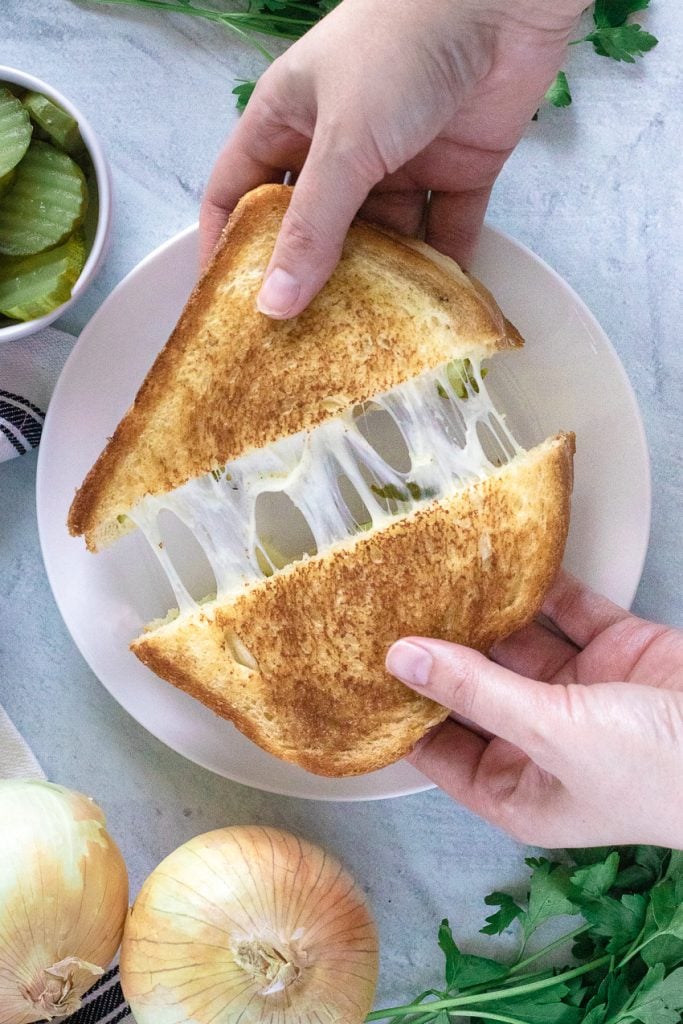 While this Dill Pickle & Vidalia Onion Grilled Cheese Sandwich is pretty straight forward, there's a lot of room for options. Little choices that will add up to the best possible result. Just like we talked about cheese choices earlier, now it's time to talk bread. You can totally use plain ol' sliced sandwich bread, and it will be good. If you want a great grilled cheese, I almost always suggest swapping that for a denser sour dough. It yields the perfect crisp, golden browned but still soft and chewy crust I've found. Consistently.
The onions however, are a little easier. I suggest vidalias are they're my preferred sweet onion. Maybe it's a Southern thing? However, all veggies have a growing season. Onions included. If you can't find them, or don't want to pay high prices because they aren't in season yet- I don't blame you. You can sub virtually any other brand of sweet white onion. Just don't tell my Grandma I told you that. She'd roll over in her grave!
The same goes for the pickles, any variety of dill pickle will work. Whether it's the dill hamburger chip styles, or a whole Vlassic that you've sliced yourself. I myself am partial to the always refrigerated, super crisp Claussen variety. What I can tell you, is that any other flavor of pickle will not work in this grilled cheese recipe. Do not try it, save yourself the trouble- learn from my mistakes.
Last but not least, the butter. Butter goes hand in hand with grilled cheese. Or does it? I know I grew up eating grilled cheese sandwiches with my Mom & Grandma smearing the outsides with softened butter. They crisped up perfectly in the family's trusty cast iron skillet. I still use butter as my crisping agent in this grilled cheese sandwich recipe. I've since discovered another trick that works just as well. Mayonnaise. Yep, I meant to type that. Mayonnaise. Very, very little in the thinnest layer possible on the outsides of the bread. It will yield an equally perfect outer crust. This is great for those rare times I happen to be out of butter, or if I'm counting calories.
Now that we've got all that down, let's review (just in case)! We want to enjoy the best Dill Pickle & Vidalia Onion Grilled Cheese Sandwich possible after all.
TIPS & TRICKS:
Any sliced bread will work, but a hearty sour dough is the best for that perfect golden grilled cheese crust. If the kids are picky, no worries! Make there's with the regular lunch stuff, and save the fancier bread choice for the adults.
A quality sliced white cheddar is key to a great melt. Look in your deli for one to be sliced for you, or a pre sliced package. If you can't find what you're looking for, talk to the person behind the counter. Their basic knowledge will be great at guiding you in the right direction.
Brand doesn't really matter, but flavor does. Dill flavored pickles are the only pickles for this particular sandwich recipe.
No butter? No worries. Mayo (not Miracle whip!) works great as a substitute when very thinly spread on the outsides of the bread slices.
If you can't find vidalia onions, you can successfully swap any other sweet white or yellow onion. Just make sure it's a 'sweet' variety before using.
You add the sliced onions to the sandwich as is, but I prefer to saute mine first. There's less of a bite, and a more buttery caramelized texture.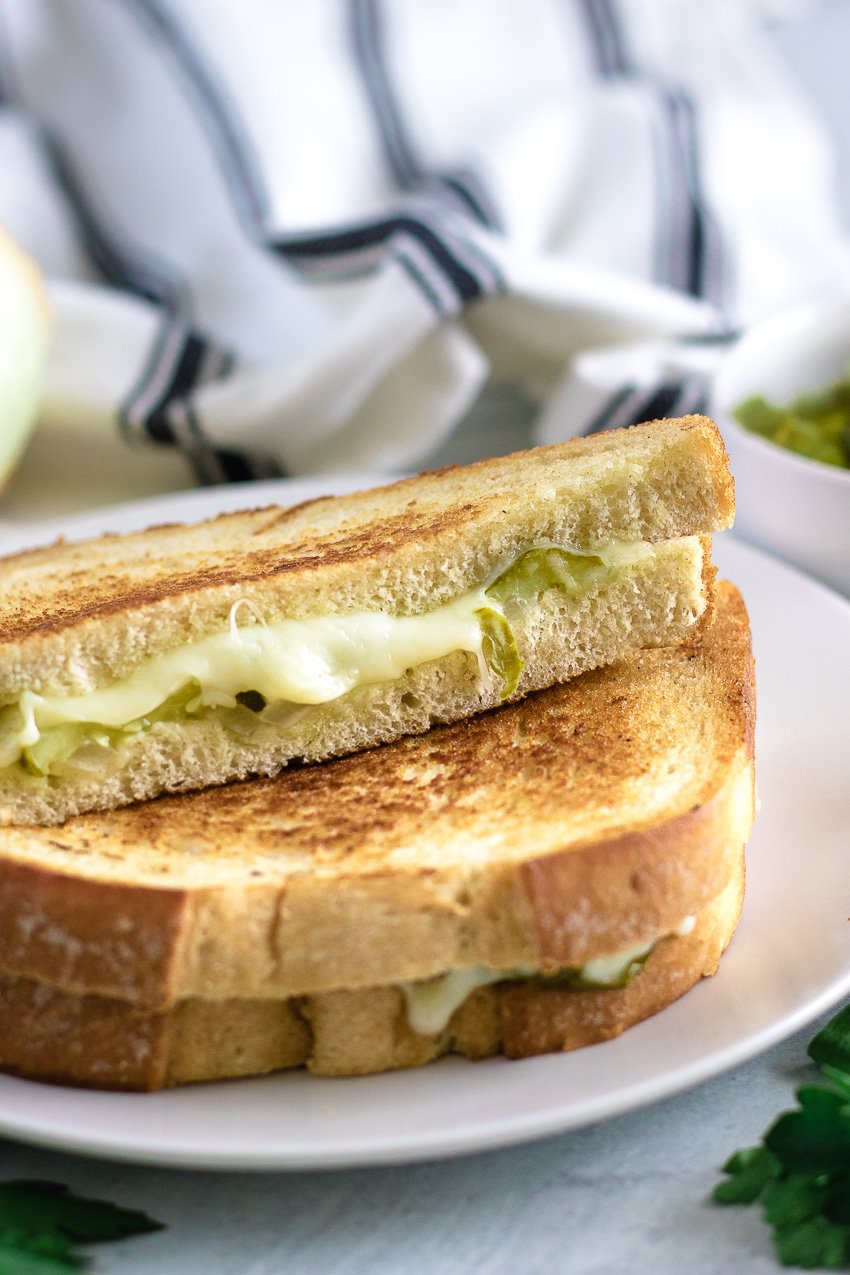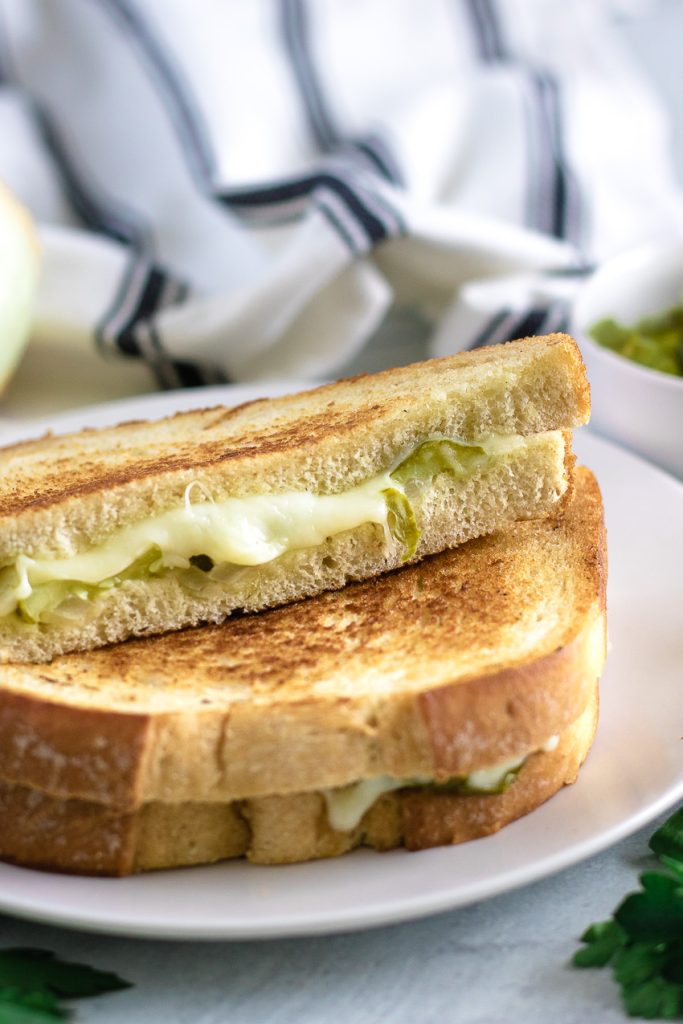 Love them or hate them, pickles are everywhere these days. We love them, so we're not complaining. Instead of serving them on the side, we decided to go ahead and just throw them right on in the sandwich. This savory Dill Pickle & Vidalia Onion Grilled Cheese Sandwich was the delicious result.
Other Yummy Grilled Cheese Ideas To Try:
And for an extra fun treat for the family, give this Rainbow Grilled Cheese a go!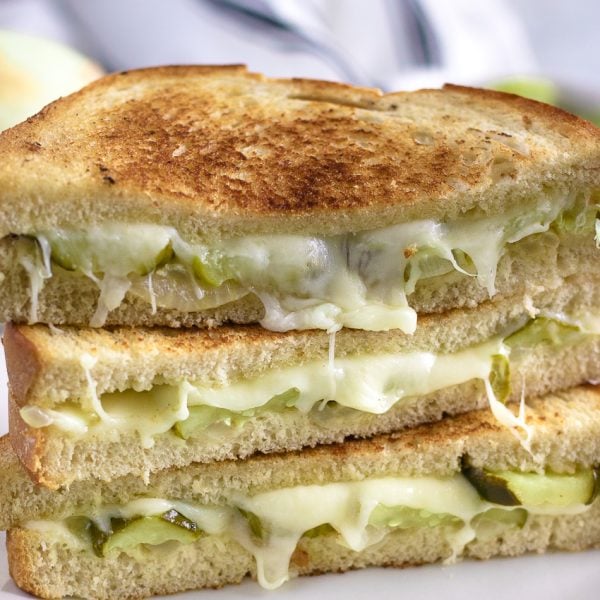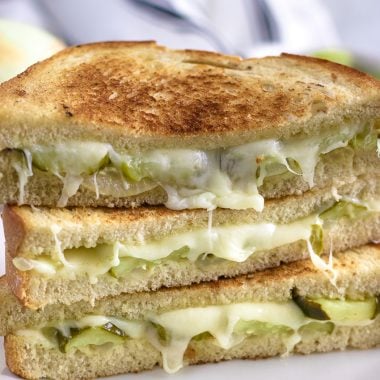 Dill Pickle & Vidalia Onion Grilled Cheese Sandwich
A classic grilled cheese, this golden brown sandwich features tangy dill pickles slices, caramelized onions, and ooey, gooey melted white cheddar in between two thick slices of bread.
Print
Pin
Rate
Ingredients
3

tbsp

butter

softened

2

slices

bread

2

slices

white cheddar cheese

1

dill pickle

sliced

1/3

cup

thinly sliced sweet vidalia onion
Instructions
Divide the butter into tablespoons. Spread one on each slice of bread on the designated 'outer' side. Reserve the last tablespoon of butter.

Melt the remaining tablespoon in a cast iron skillet. Saute the onions in the butter until tender, and just starting to caramelize. Remove them from the skillet, and set aside.

Place one buttered slice of bread down into the skillet. Top with one sliced of cheddar cheese, the pickles, the sliced onions, the remaining slice of cheese. Close it with the second slice of bread, butter side up.

Cook the sandwich over medium low heat, for 2-3 minutes or until the bottom side's golden brown & the cheese has begun to melt. Carefully flip the sandwich, and cook another 2-3 minutes until the other side's also golden brown, crisp, and the cheeses are thoroughly melted.

Remove the sandwich from the skillet. Slice & serve.
Notes
As written, the recipe is for creating one sandwich. It easily doubles, triples, quadruples etc to feed a hungry crowd.
Nutrition
Calories:
707
kcal
|
Carbohydrates:
34
g
|
Protein:
21
g
|
Fat:
55
g
|
Saturated Fat:
34
g
|
Cholesterol:
150
mg
|
Sodium:
1516
mg
|
Potassium:
280
mg
|
Fiber:
4
g
|
Sugar:
7
g
|
Vitamin A:
1745
IU
|
Vitamin C:
2.6
mg
|
Calcium:
529
mg
|
Iron:
2.6
mg