This chicken salad is ultra creamy, and the sauce has real pickle juice stirred right on in. Chunks of rotisserie chicken, diced crisp dill pickle pieces, and a mild garlicky tang from freshly sliced green onions, this is Dill Pickle Chicken Salad makes the definition of a hearty Summer sandwich supper.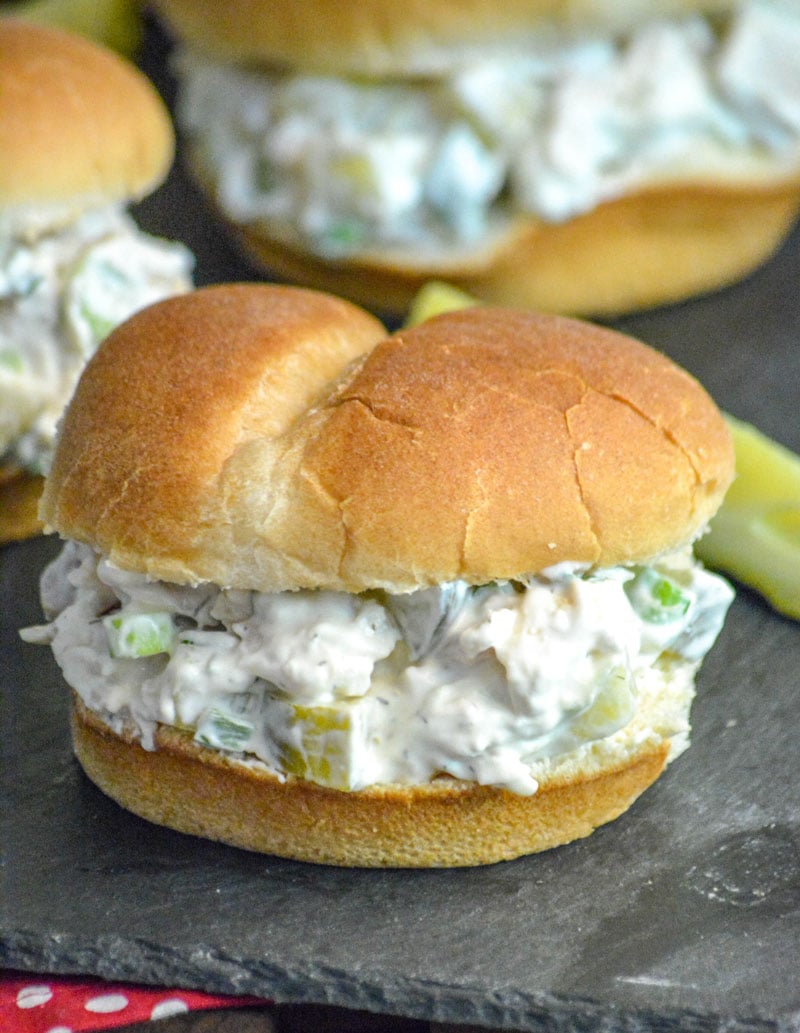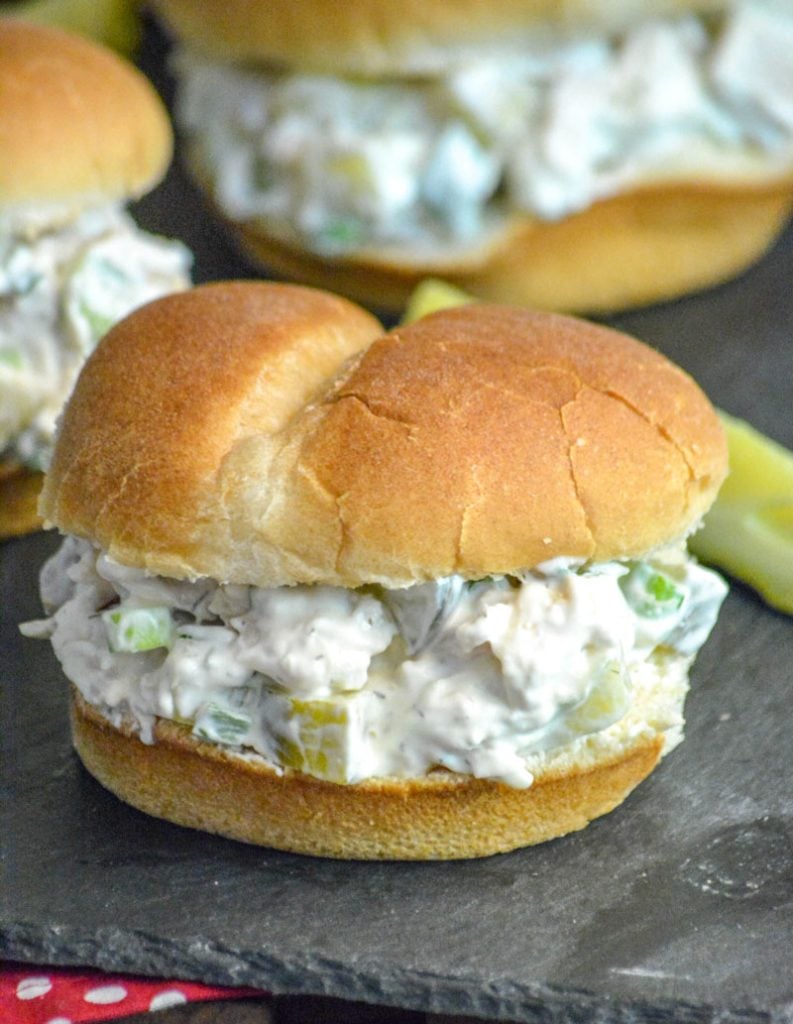 Sandwiches seem to reign supreme in the warm weather months. Not that I'm complaining. I totally get it too.
They're light enough that they don't/won't weigh you down, but still filling. There's also 1,000,000 + different possible flavor combinations. The sky's the limit. Or should that be the refrigerator? Hmmm…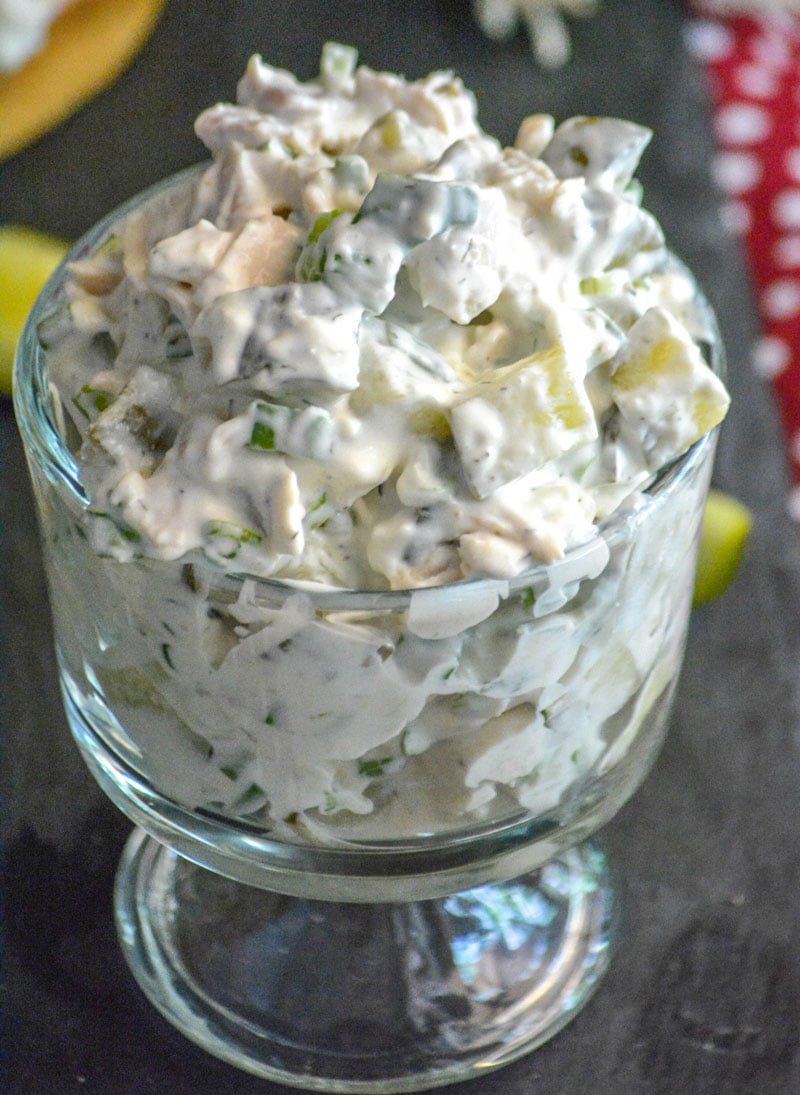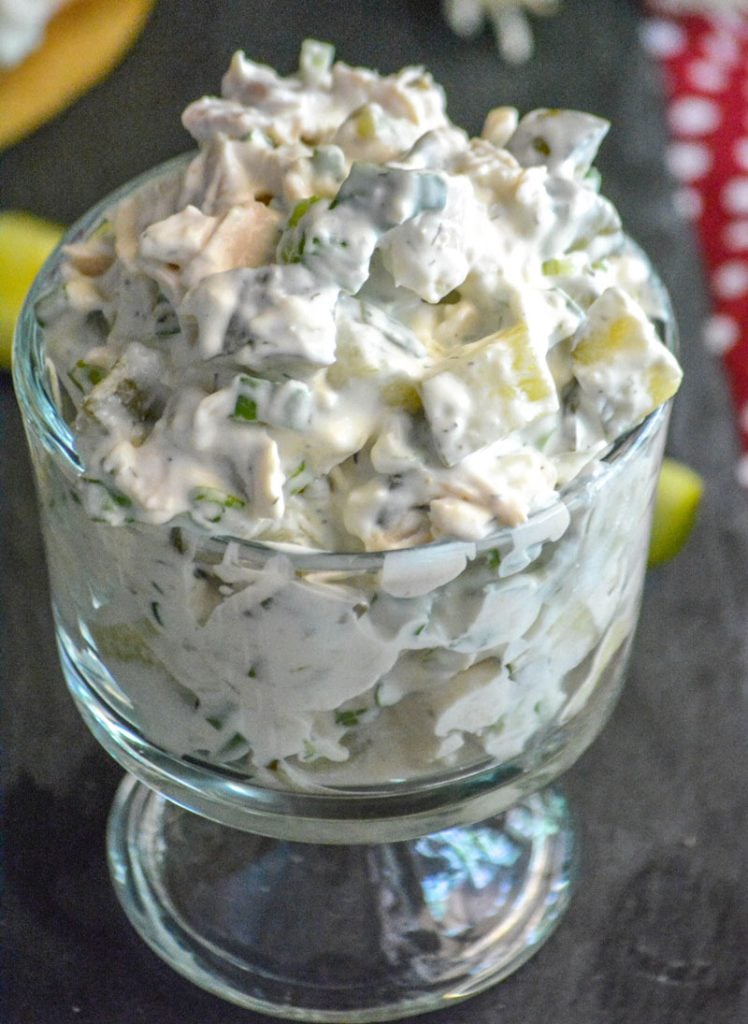 Either way, it's a win-win.
They're yummy, they're easy, they're legit finger food, they make hardly any mess, and require even less work.
Sandwiches for lunch, sandwiches for dinner y'all. It happens around here guys, and not one bit of me is ashamed to admit it.
I mean as long as I don't slap a PB & J or a grilled cheese with only a single slice in the middle on a plate and call it dinner, my guys are happy to have a sandwich as the main part of their evening meal.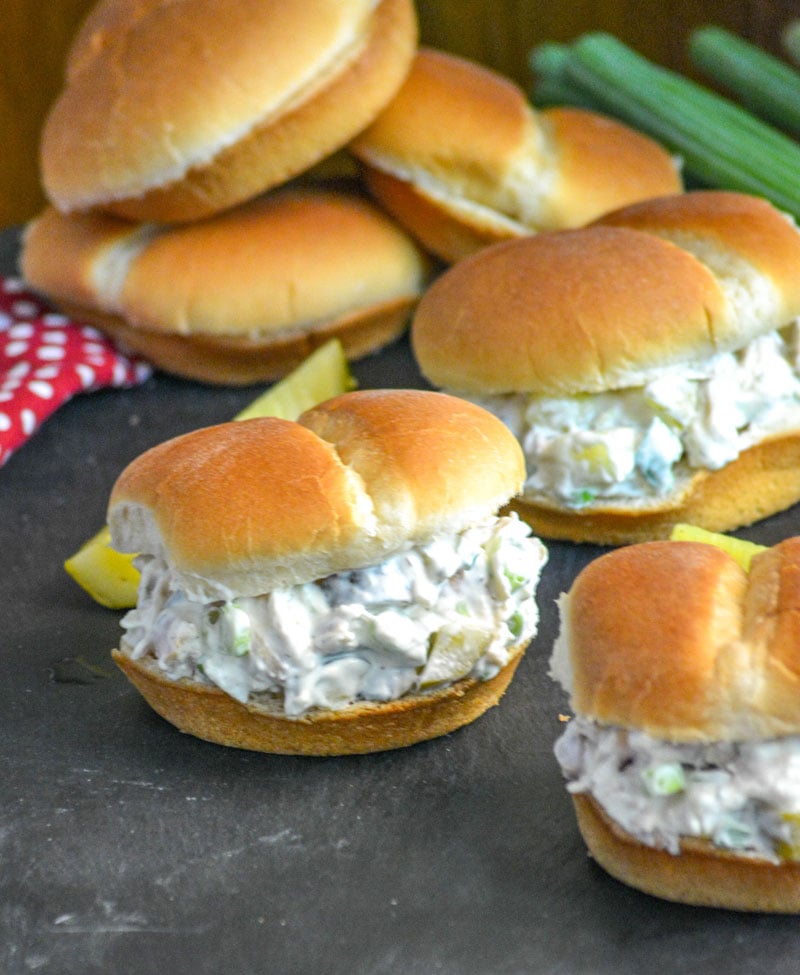 They're my kinda people for a reason!
I'm not one to keep things boring though, or even to make anything I consider 'boring'. A fact my guys know all to well, which is probably where a lot of their sandwich-for-supper faith comes in if I actually think about it.
Take for example our Chicken Caesar Club Style Sub Sandwich, Chicken Bacon Ranch Subs, Bacon Alfredo Spinach Beer Battered Fish Filet Sandwiches, or even this Ham & Pimento Cheese Bundt Pan Sub Sandwich.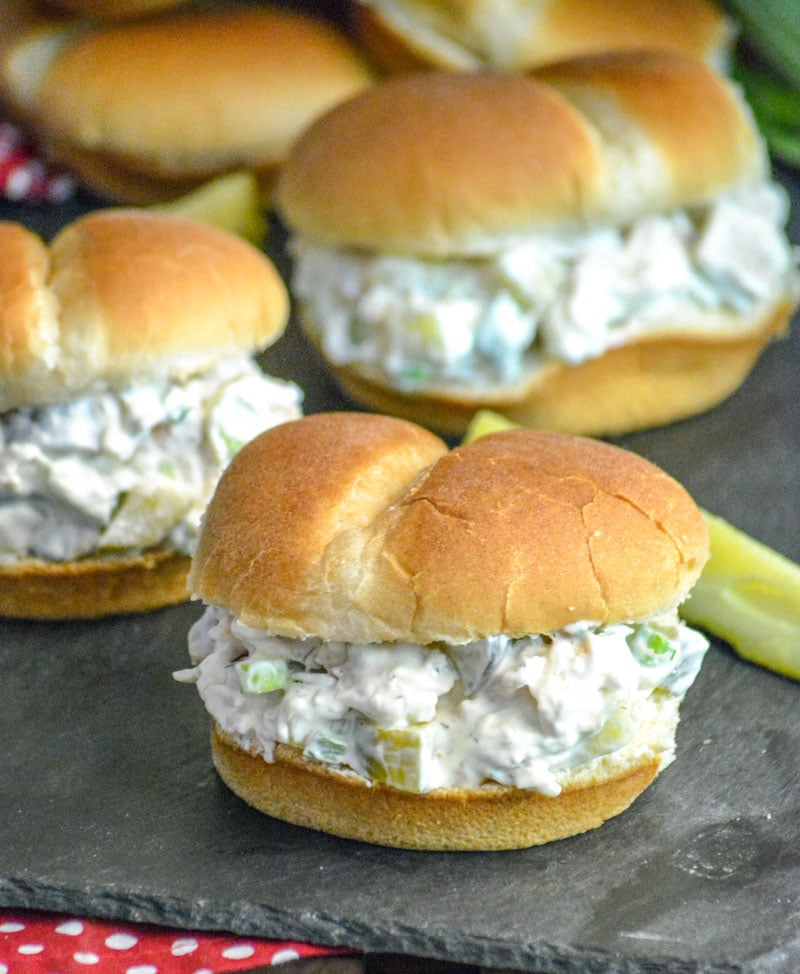 My all-time favorite meal-ish sandwich to make though is always some variation on chicken salad. It's hearty, it's usually creamy, and it's always delicious.
Over the years we've tried all kinds of different variations with a multitude of mix-ins. We've done cranberry walnut, pesto & sun dried tomato, curry with grapes & pecans, even a Tex Mex version. All of which are searchable here on the site.
Each one has been good enough to earn itself a card in the family recipe box.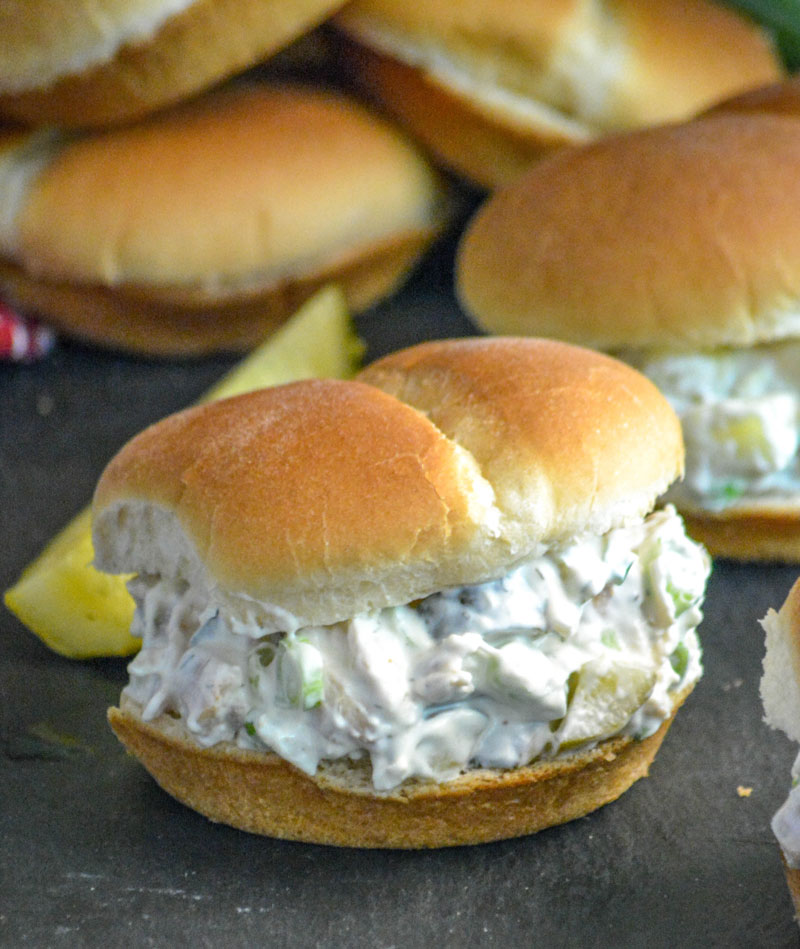 Yet, I honestly think I've found one that cannot, will not (possibly ever) be topped. Dill Pickle Chicken Salad.
Let's let that sink in for a minute or two. I mean, me personally, I suggest dedicating a moment of silence to this amazing chicken salad.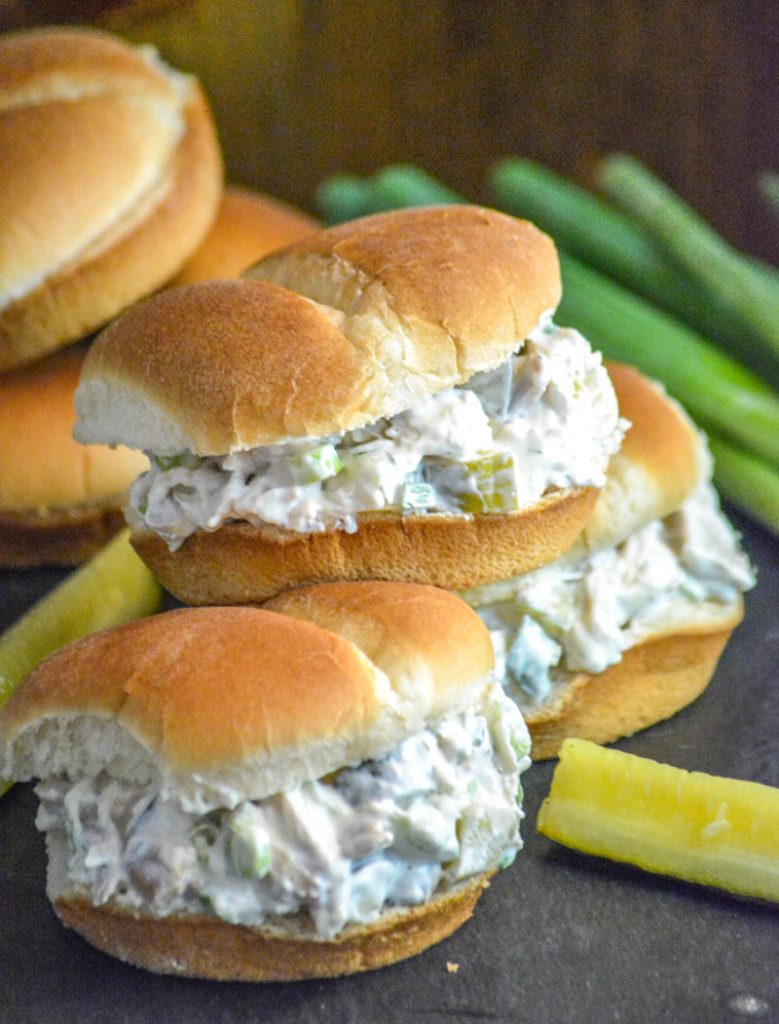 Just about anything with pickle in the name is almost guaranteed to be a hit in my book, but this is still an epic home run.
I'm gonna stop right here though, and address the elephant in the room- or what will certainly be brought up later.
Pickles are 100 % one of the most controversial ingredients I've ever encountered. Ya either love 'em, or ya hate 'em. Literally, there is no in between.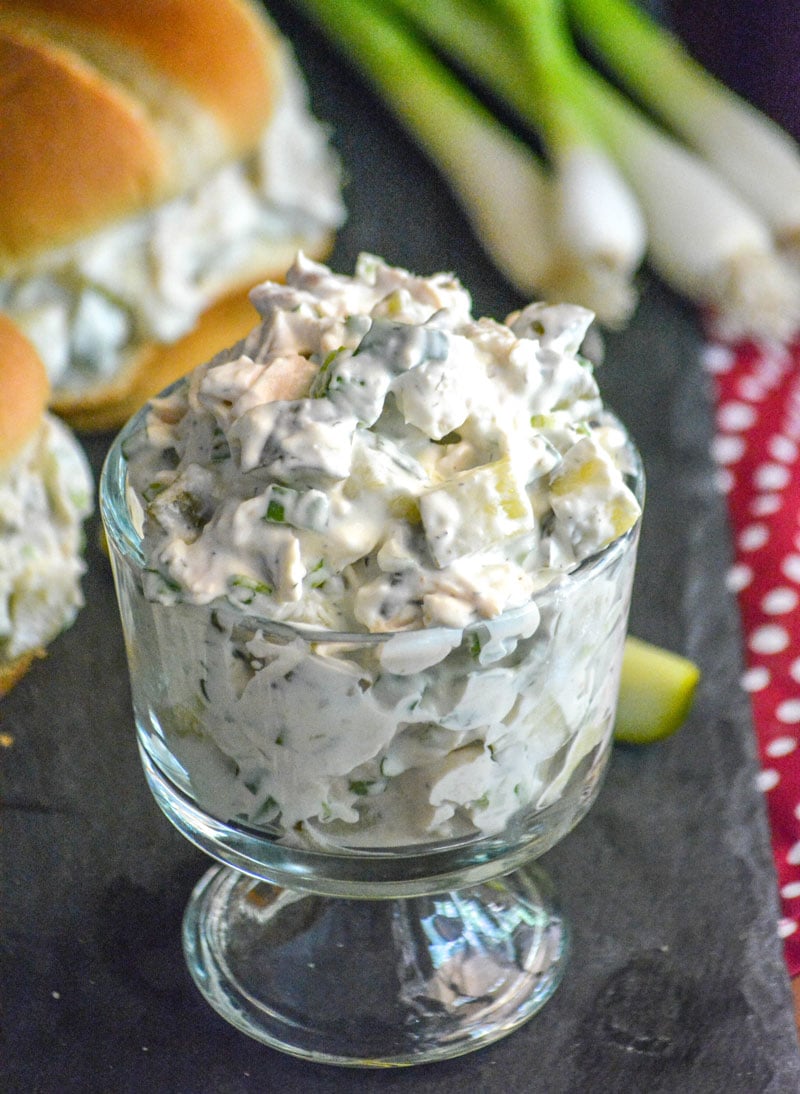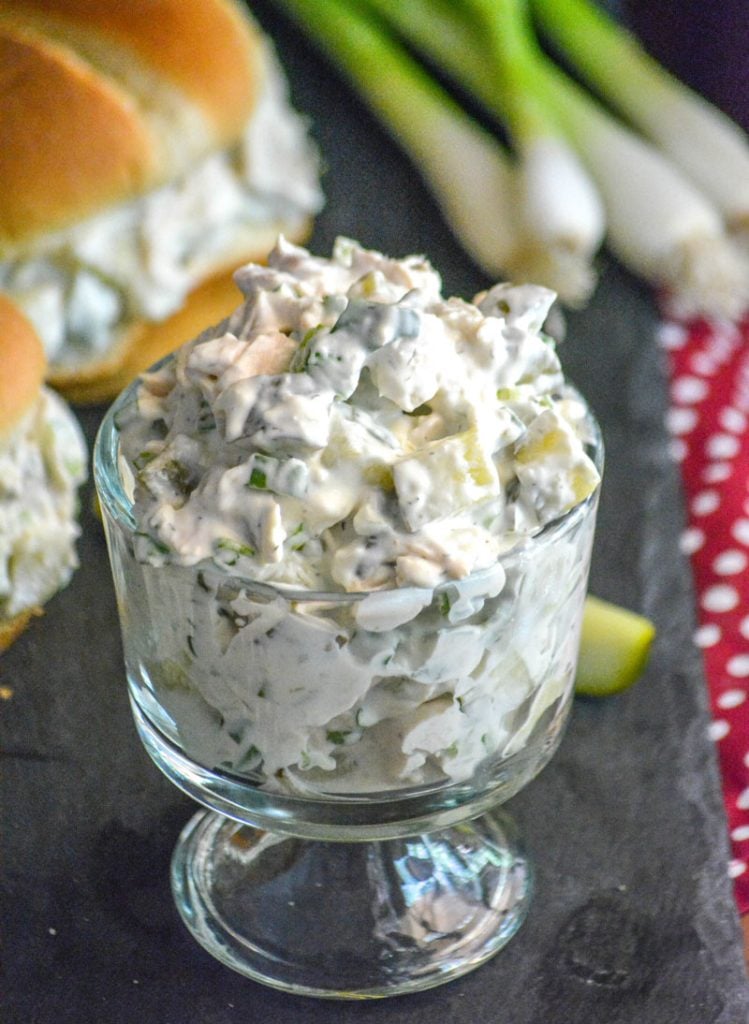 So let this be your warning, if you do not like pickles- just skip on over to a different recipe, keep scrolling, something- because this recipe wasn't meant for you. It isn't for you.
That being said, with this we're totally callin' all you pickle-lovers because for you this Dill Pickle Chicken Salad was made.
TIPS & TRICKS for making the best version of Dill Pickle Chicken Salad:
Now before you get started, here's a couple things to keep in mind before we actually get into the recipe details!
This chicken salad is creamy. Not just your typical loaded up with mayonnaise creamy either. It's actually all of the ingredients tossed in a creamy sauce made of a blend of mayo, cream cheese, pickle juice (of course there's pickle juice in the dressing!), and seasonings.
I'm just giving you a heads up so you don't look at it when you whip it up and wonder if you've made a mistake somewhere along the line. Creamy is good!
Also, the type of pickles you prefer can make of break this chicken salad. Don't use dill pickle relish- A. it has too much liquid, and B. you want chunks of pickles for texture and crunch.
I heart a good crunch from my pickles, so I tend to only buy Claussen brand as I find them the crunchiest of the bunch. Non-refrigerated ones will work too, it's just about personal preference at this point.
If you're a Greek yogurt fan and looking to make this recipe a tad bit healthier, you can totally sub it for some of the mayo or even all of it.
What you shouldn't ever do, under any circumstances, is swap the mayo in this recipe for Miracle Whip.
My friend Jessica from Together As Family told me not to, and for curiosities sake (and at the insistence of the Hubs) I tried it- totally ruined that whole batch. And he likes the stuff! Use the mayo, and use a quality brand.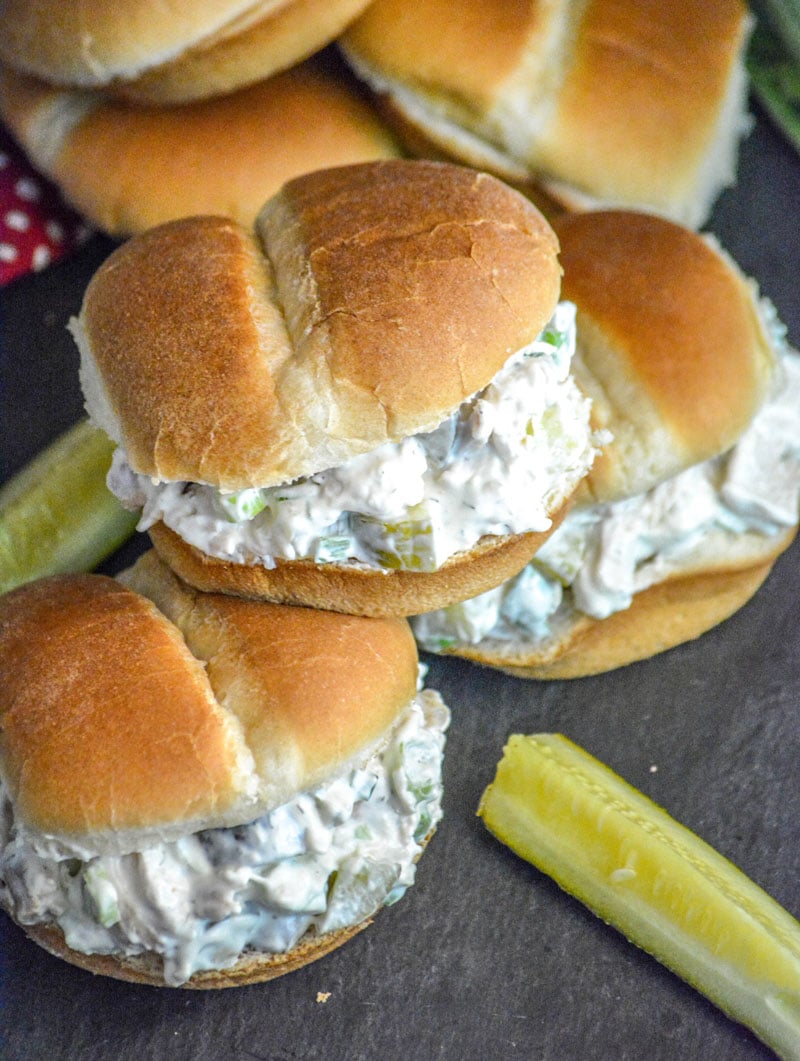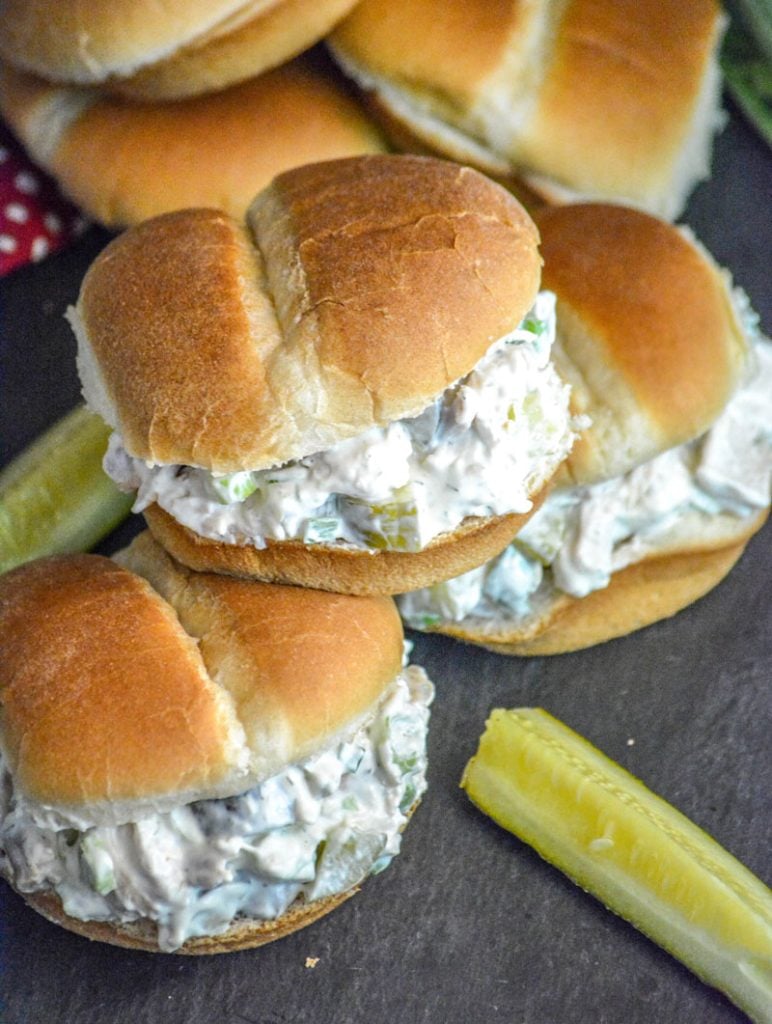 This chicken salad is ultra creamy, and the sauce has real pickle juice stirred right on in.
Chunks of rotisserie chicken, diced crisp dill pickle pieces, and a mild garlicky tang from freshly sliced green onions, this is Dill Pickle Chicken Salad makes the definition of a hearty Summer sandwich supper.
Other Dill Pickle Recipes You Might Also Enjoy: Dill Pickle Potato Salad, Dill Pickle Chips, & Fast & Easy Refrigerator Pickles.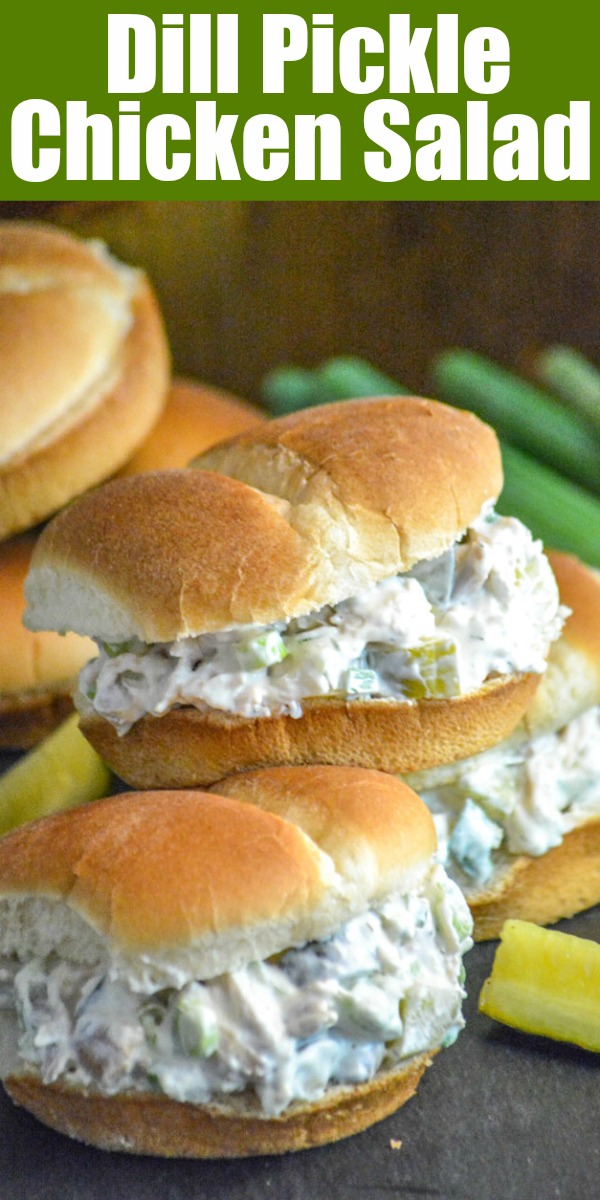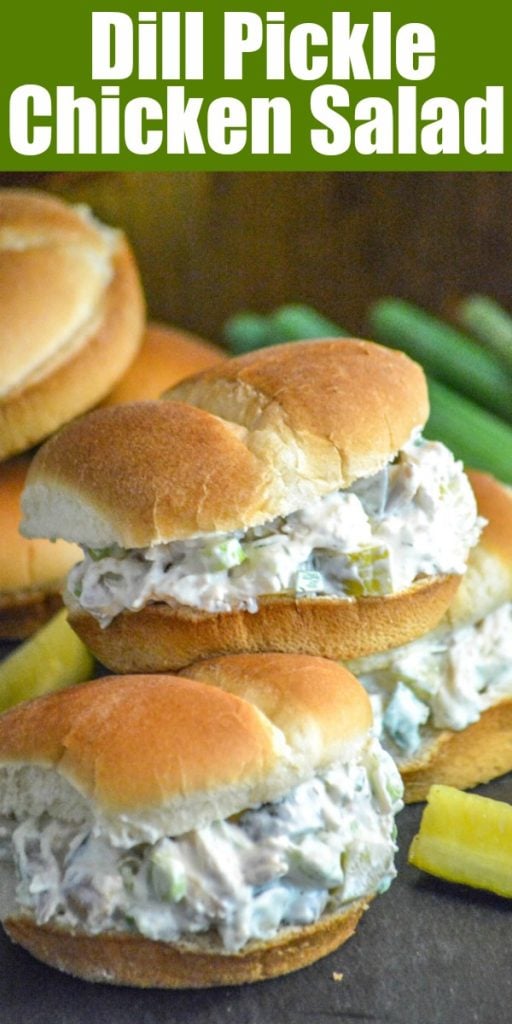 If you've tried this DILL PICKLE CHICKEN SALAD, or any other recipe on the site, let me know in the comment section how it turned out, we love hearing from our readers! You can also follow along with me on PINTEREST, FACEBOOK, and INSTAGRAM to see more amazing recipes and whatever else we've got going on!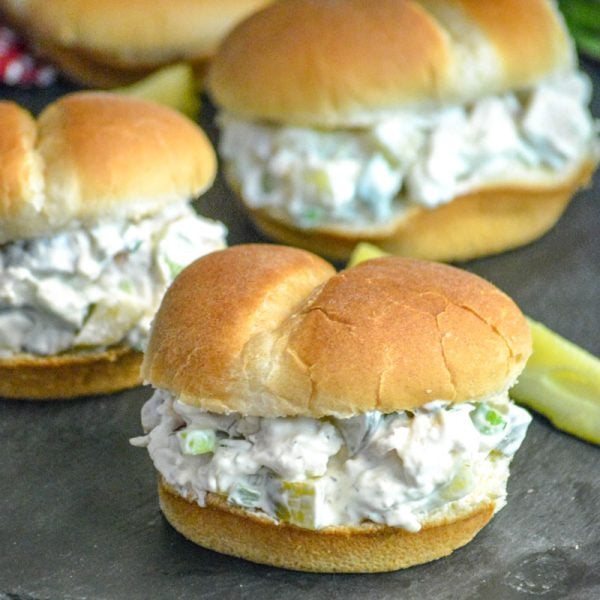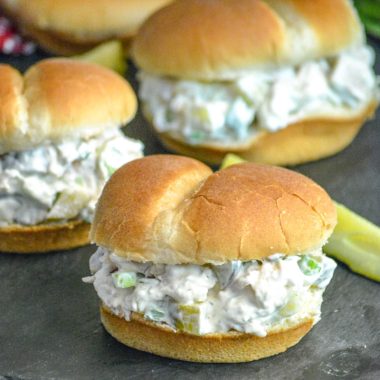 Dill Pickle Chicken Salad
Chopped rotisserie chicken, chunks of crisp dill pickles, & freshly sliced green onions are all tossed in a creamy dressing for an amazing sandwich or cracker spread that should be on any pickle-lovers bucket list.
Print
Pin
Rate
Ingredients
For The Chicken Salad
4

cups

chopped rotisserie chicken meat

1- 1 1/2

cups

chopped crisp dill pickles

1

small bunch

green onions, thinly sliced
For The Creamy Dressing
6-8

oz

cream cheese, softened

1/2

cup

mayonnaise

1

tbsp

dill pickle juice

3/4

tsp

dried dill

1/2

tsp

garlic powder

salt & pepper, to taste
Instructions
To Make The Chicken Salad
In a large mixing bowl, add the chicken, pickles, and onions. Lightly toss to evenly combine.
To Make The Creamy Dressing
Add all of the ingredients to a medium sized mixing bowl, use a hand mixer to blend them all together until smooth.

Pour the dressing over the chicken salad, tossing to evenly coat. Season with salt & pepper, to taste.

Cover the bowl tightly with plastic wrap and refrigerate until the chicken salad's nice and cold, about 4 hours.

Spoon the mixture onto buns of your choice and serve as sandwiches, or serve in a bowl with crisp crackers for dipping. Trying to avoid carbs? It also tastes delicious wrapped in a lettuce leaf.
Nutrition
Calories:
280
kcal
|
Carbohydrates:
3
g
|
Protein:
17
g
|
Fat:
22
g
|
Saturated Fat:
7
g
|
Cholesterol:
84
mg
|
Sodium:
773
mg
|
Potassium:
242
mg
|
Fiber:
1
g
|
Sugar:
2
g
|
Vitamin A:
430
IU
|
Vitamin C:
1
mg
|
Calcium:
52
mg
|
Iron:
1
mg