These Sun Dried Tomato Basil Pesto Chicken Salad Sandwiches are quick & easy to whip up, making lunch time a breeze. It's good, old fashioned comfort food with Italian flair served up on a buttery, flaky croissant roll.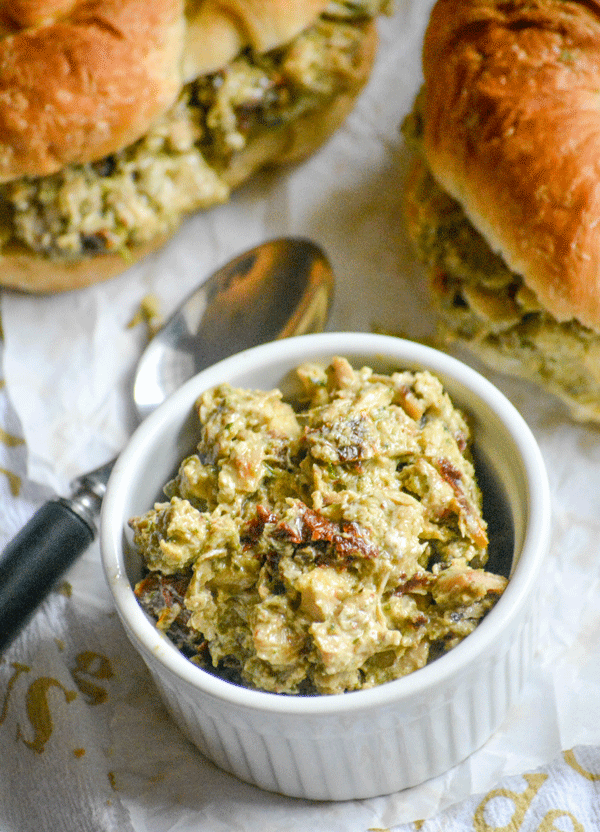 Who doesn't love a gourmet lunch on a brown bag budget? This recipe is just the thing! With chunks of chopped sun dried tomatoes and rotisserie chicken tossed in a basil pesto sauce with a little bit of mayo- it's the perfect way to add some 'sauce' to your day.
I think it's safe to say that recently we've done a fairly good job of covering most of the main meals. We just finished a whole week of breakfast/brunch style recipes. We've had a couple desserts, and we've always got a bevvy of dinner recipes to choose from.
But I keep finding myself asking the same question over and over. What about lunch?
It's such an arbitrary meal as an adult, I really think I'd forget about it all together if I didn't have kids.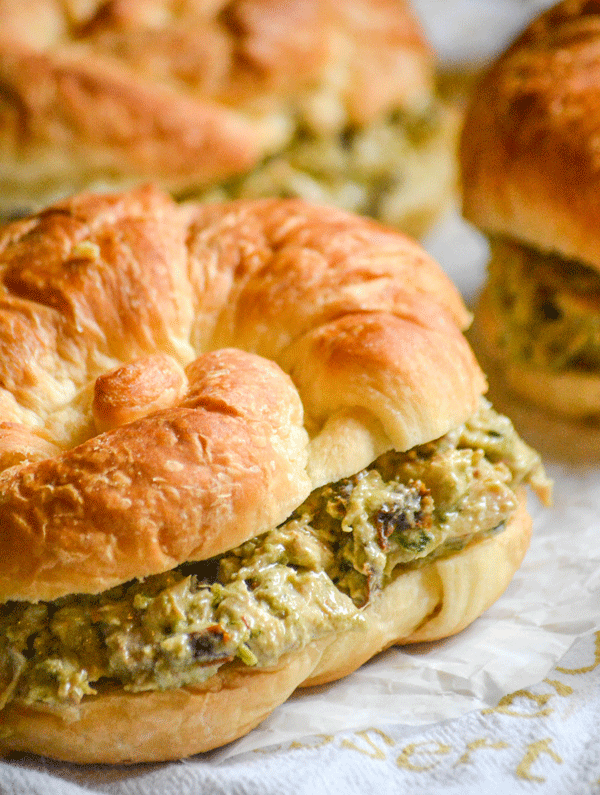 I do have kids though, so lunch I must make. Even when I'm not home, lunch must be eaten. So I definitely find myself migrating towards frugal recipes that are easy to throw together, and that will still taste just as good after a night in a tupperware container tucked away in the fridge.
Fitting all those things on my lunch recipe checklist? Salads. Both the leafy green kind (with the dressing separated, of course), and the kind that's built around either pasta or a meat, like tuna or chicken.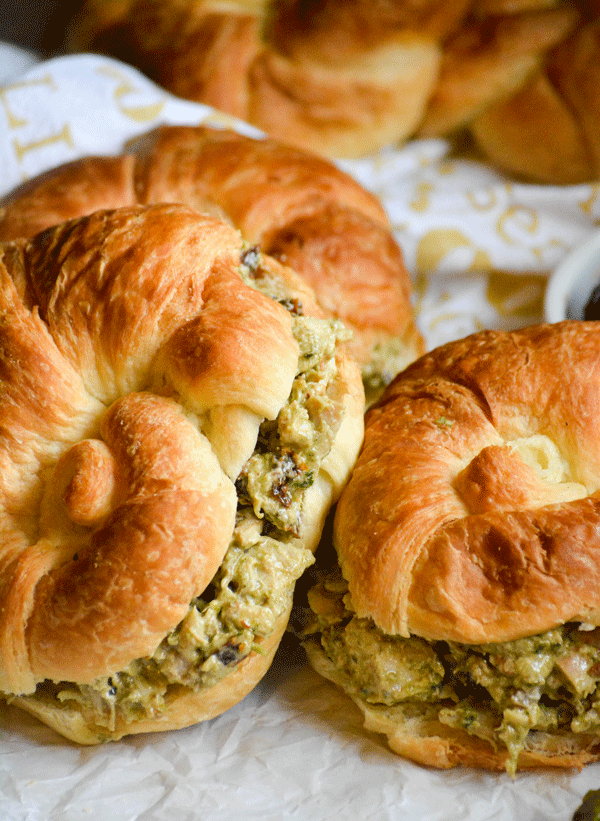 They're the perfect way to serve my guys a variety of fresh veggies, without them even thinking about it or questioning what's actually in the dish or sandwich they're eating.
Take for example my Summertime Tortellini & Vegetable Pasta Salad. All of my kids, even my biggest kid (the Hubs) love it- like looooooooove it. Guess what? It's FULL of veggies, like carrots, tomatoes, and zucchini. Zucchini, folks!
Or you've got my Spinach & Tomato Tuna Salad Sandwiches. My kids are willingly, and happily, eating spinach. Spinach– the leafy green bain of every kids existence.
It's the best of both worlds for this Mama.
They're fed, they're happy, and they're little bellies are full. I'm happy, not harassed, and feel good about what they're getting from food I prepared. I mean, I'm all about the occasional lunch-able, or even Happy Meal, but that's not a sustainable model.
Quick & easy to prepare, healthy for me, the Hubs, and the kids, and something we can not only all agree on- but look forward to. Those other two recipes I mentioned fit the bill, but they don't take the cake.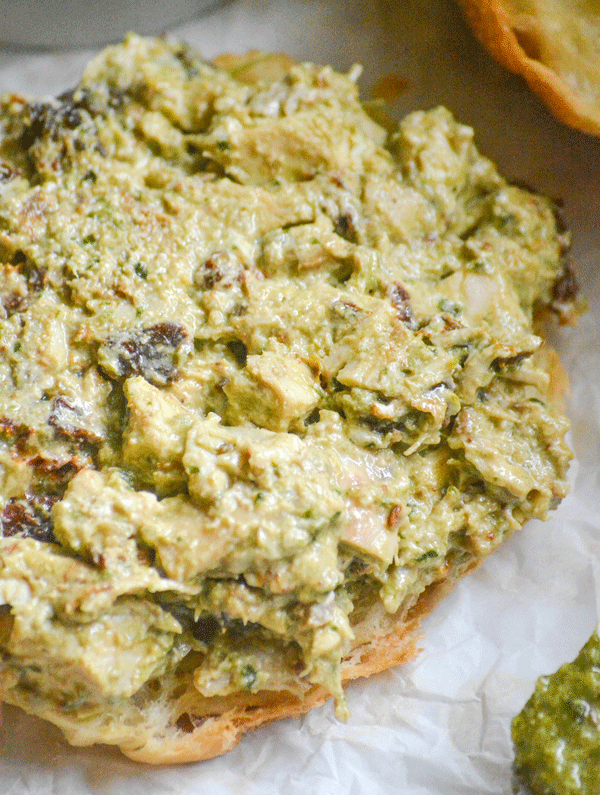 What does take the cake, I know you're wondering… these Sun Dried Tomato Basil Pesto Chicken Salad Sandwiches.
Chicken Salad isn't anything new. Apparently the very first steps toward what we know today were taking by smart Chinese entrepreneurs looking for a way to use up and sell their leftovers. The general idea was pieces of chicken mixed with a variety of spices and oils, always tied together by a binding substance.
Then in the 1800's, around the Civil War, American's caught onto the idea and began experimenting with the mayonnaise-based emulsion style we're familiar with today. The most notable being a delicatessen in Rhode Island that in 1863 began serving chicken salad that was a mixture of his leftover chicken, mayonnaise, tarragon, and grapes.
It's been a few years though (putting it mildly) since they invented the recipe, and I've slowly but surely been melding my Southern roots with my married Italian ones. It was time my chicken salad got a face lift.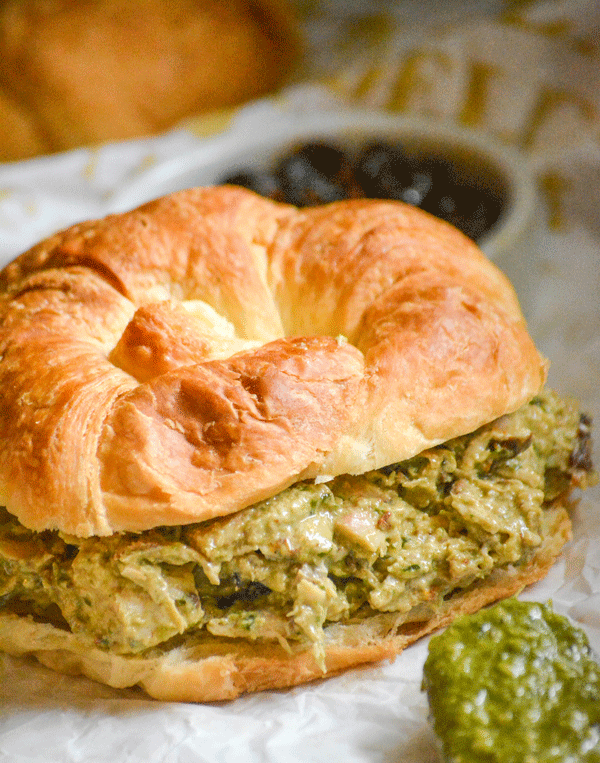 A rich and creamy chicken salad, this easy recipe features chopped rotisserie chicken, pesto, sun dried tomatoes, and a bit of mozzarella cheese.
Other Chicken Salad Recipes You Might Also Enjoy
Served on a buttery, crusty croissant roll, these Sun Dried Tomato Basil Pesto Chicken Salad Sandwiches are the lunch you've been looking for!
Looking for other chicken salads to try? Check these out:
If you've tried these SUN DRIED TOMATO BASIL PESTO CHICKEN SALAD SANDWICHES, or any other recipe on my site, let me know in the comment section how it turned out, we love hearing from our readers! You can also follow along with me on PINTEREST, FACEBOOK, and INSTAGRAM to see more amazing recipes and whatever else we've got going on!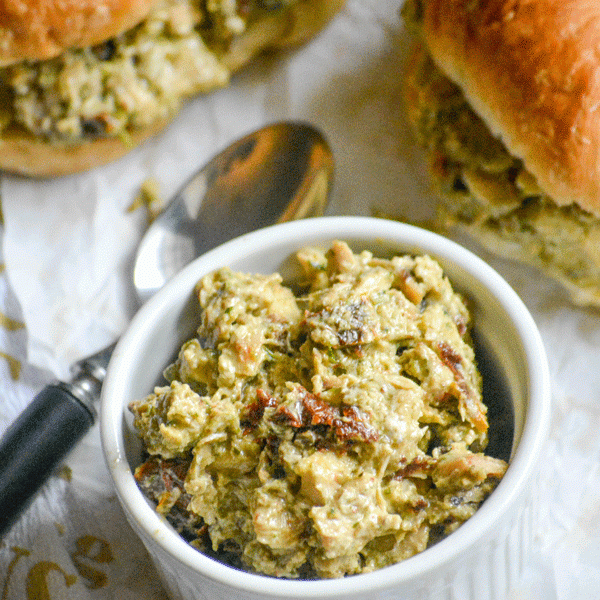 Sun Dried Tomato Basil Pesto Chicken Salad Sandwiches
A hearty chicken salad is made up of a rich pesto sauce, rotisserie chicken chunks, and chopped sun dried tomatoes. It makes for the best sandwiches around.
Print
Pin
Rate
Ingredients
2

cups

chopped, rotisserie chicken

1/2

cup

pesto

1/4

cup

packed, sun dried tomatoes in oil, chopped

2

tbsp

mayonnaise

croissants, cut in half for sandwiches
Instructions
In a large mixing bowl, add all of the ingredients. Stir together until evenly combined.

Spread the mixture evenly out onto the croissants or other bread, and serve immediately.