We're always on the hunt for the next great chicken salad recipe. This Curry Chicken Salad with Red Grapes & Pecans is a tasty new spin on the traditional lunchtime sandwich staple. A creamy curry dressing, slightly sweet, a bit of crunch, and chunks of rotisserie chicken combine into an easy, low carb meal.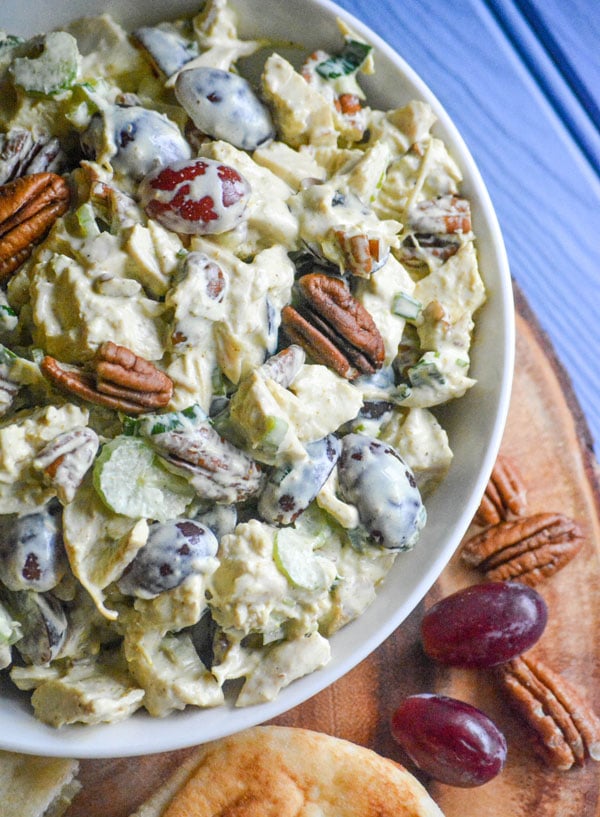 When the sons were little we had names for the akward, awful age groups. Names I probalby shouldn't repeat here.
Think terrbile twos, but those weren't the worst ages/stages for us. The 3's & 4's were a sliding scale of struggles.
st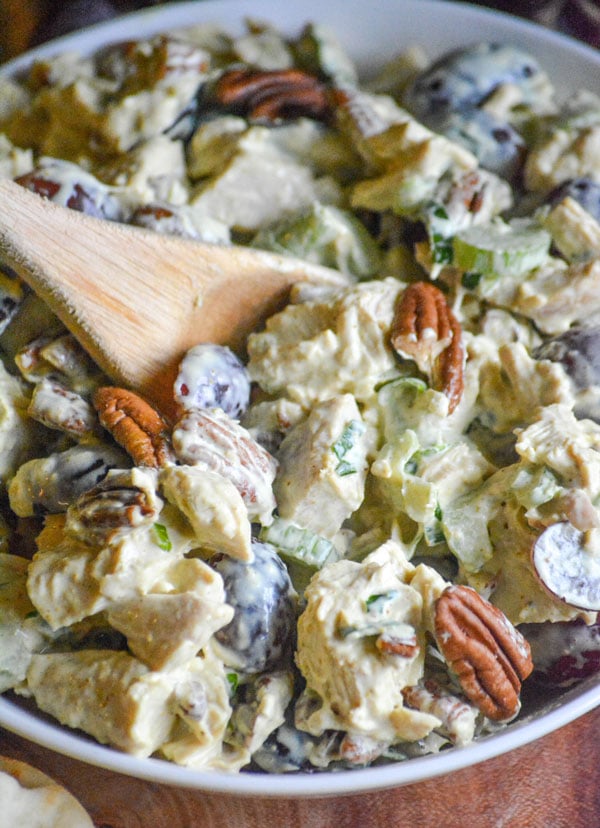 Seriously, it was one mini battle vs another. It was never-ending. I did not think a person who came packaged in such a small body would or could give me such a damn run for my money, y'all!
And yet he did.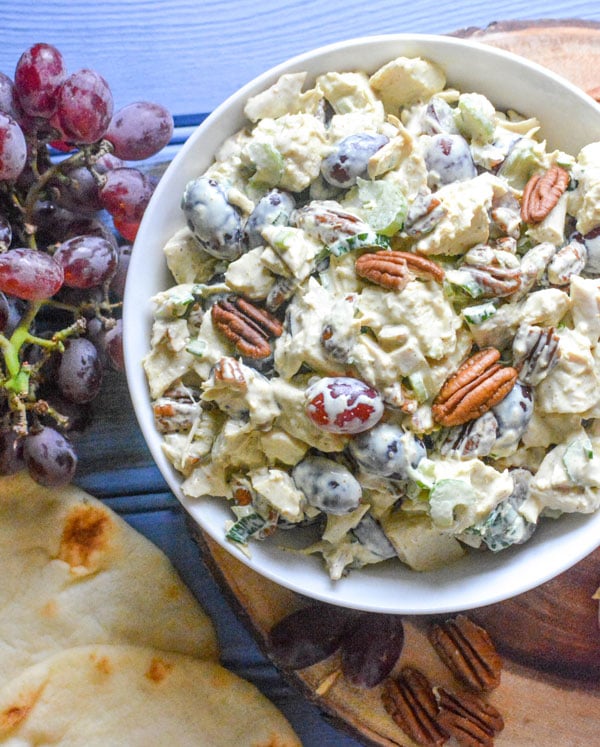 This kid, specifically the youngest son, would not eat chicken. Not a bite. Not even the smallest piece. It was an epic battle of wills, with a new performance going live every night at the family supper table.
I could cut it up to the point it was barely visible, drown it in sauce and still-like a pig sniffing out truffles- he would find it and either refuse the dish completely or suck everything remotely delicious off it and spit it back out.
It was the most frustrating situation, and I couldn't even be but so mad. Because that level of stubborn? My poor boy came by 100 % honestly, and he'd gotten a double dose.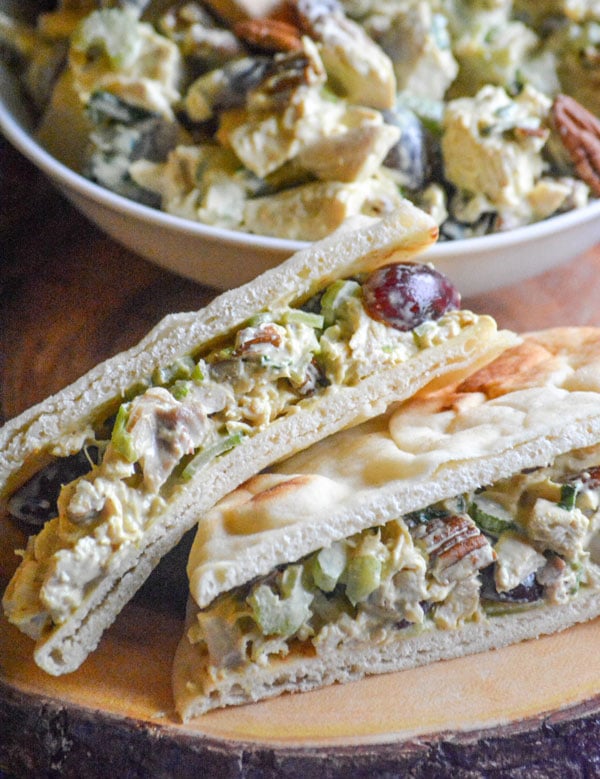 I'm not sure what exactly changed for him. I couldn't even pin point the moment it began to change. Luckily though, by around his 3rd birthday he'd begun to at least become curious enough to try poultry dishes. It was still 50/50 on if he'd actually like, let alone ingest them, but it was a start.
Thankfully now, just shy of 8 1/2 years old, the youngest son is far less picky and will tell you himself that chicken is one of his favorites. I am pretty sure he doesn't really believe us either when we remind him of his former loathing of the stuff.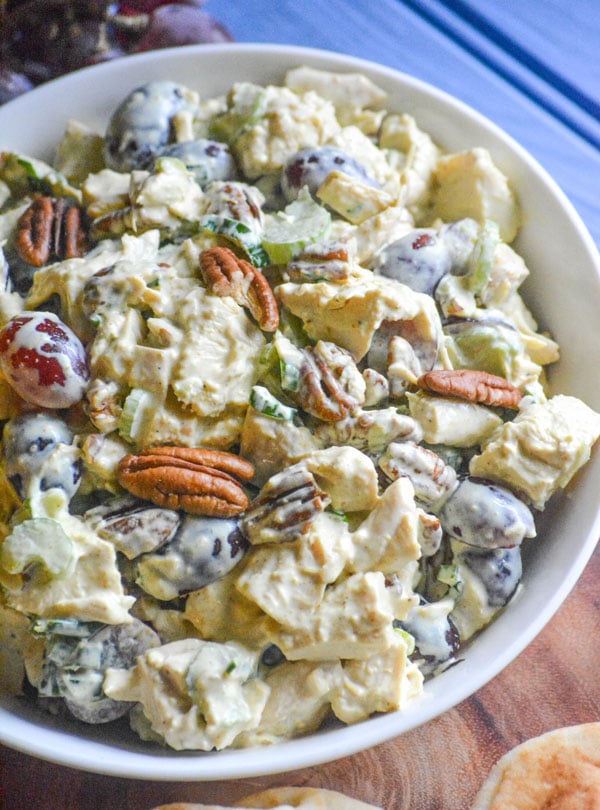 He's even branched out far enough that he likes fruit with his chicken. Even foreign flavors and exotic spices, like in this Curry Chicken Salad with Red Grapes & Pecans.
I've made it at least once a week in the past month to have on hand for lunches, snacks, or even quick/easy/fuss-free dinners. Everyone's asked for more when its gone, even the youngest son. In fact, he's asked loudest of all.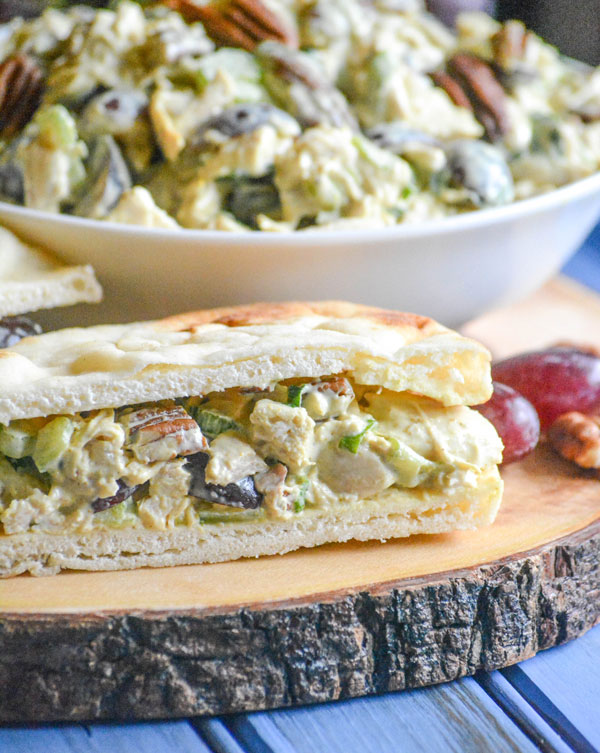 A creamy curry sauce is tossed with chunks of rotisserie chicken, crisp veggies, sweet red seedless grapes, and crunchy pecan pieces for a delightfully filling new spin on a traditional chicken salad.
Other Savory Spins On Chicken Salad
Served on fluffy pieces of naan bread, Curry Chicken Salad with Red Grapes & Pecans makes a healthy sandwich for lunch or dinner and will be an instant hit at potlucks, barbecues, and parties.
If you've tried this CURRY CHICKEN SALAD WITH RED GRAPES & PECANS, or any other recipe on my site, let me know in the comment section how it turned out, we love hearing from our readers! You can also follow along with me on PINTEREST, FACEBOOK, and INSTAGRAM to see more amazing recipes and whatever else we've got going on!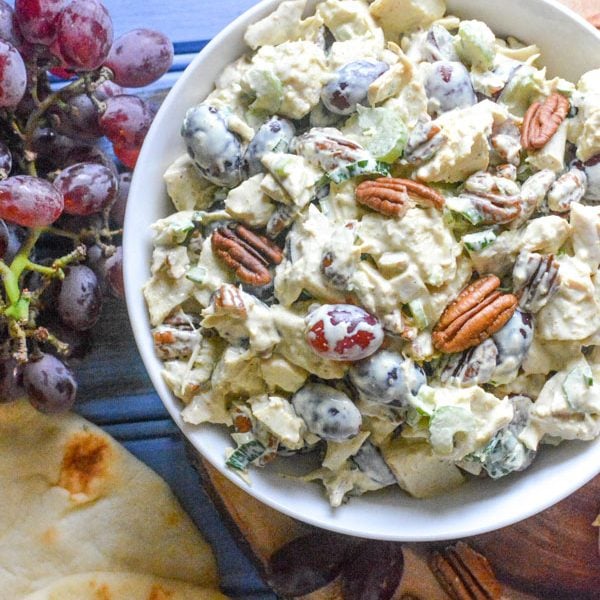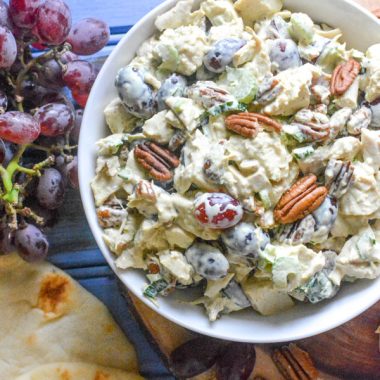 Curry Chicken Salad with Red Grapes & Pecans
A creamy curried chicken salad with a delightful nutty crunch and pieces of sweet fruit.
Print
Pin
Rate
Ingredients
For The Chicken Salad
4-5

cups

rotisserie chicken meat, roughly chopped

1 1/2

cups

diced celery

1/2

cup

thinly sliced green onions

1 1/2

cups

red seedless grapes, halved lengthwise

1

cup

pecans, roughly chopped

naan bread, for serving
For The Curry Dressing
1

cup

mayonnaise

1/2

cup

sour cream

1

tbsp

curry powder

1 1/2

tbsp

lemon juice

1 1/2

tbsp

soy sauce

salt & pepper, to taste
Instructions
In a large bowl, add all of the salad ingredients and gently toss to combine. Set aside.

In a separate bowl, add all of the dressing ingredients and stir together until evenly combined and the mixture's smooth.

Pour the dressing over the chicken salad ingredients, again stirring until everything's evenly coated.

Cover the salad and refrigerate until chilled through- a couple hours or up to overnight- before serving.

Serve on slices of naan bread for a yummy sandwich. For a healthier spin, serve as lettuce wraps on romaine lettuce leaves. Or serve with crackers as an appetizer or snack.