Between the salty feta, tangy olives, juicy, sun dried tomatoes, marinated artichoke, and the traditionally Greek seasoning palette- this Greek Quiche is a Mediterranean flavor fest in every bite. Hearty & wholesome, it's perfect for a crowd making it ideal for both brunch and dinner.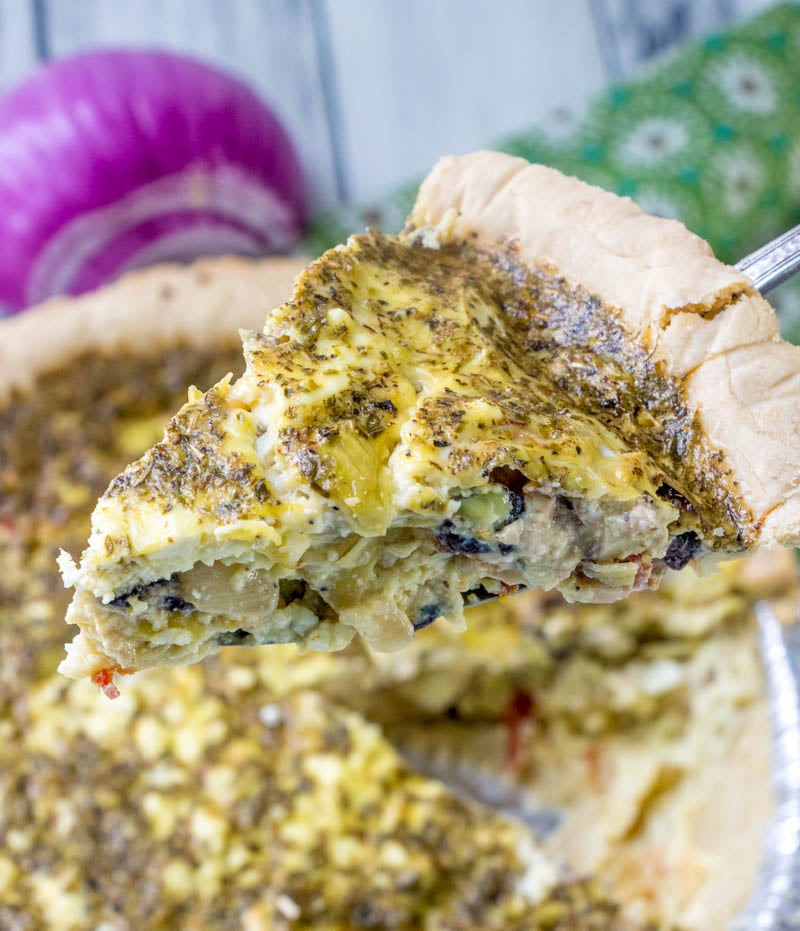 I could easily eat Greek (or Mediterranean flavored ) food all day, every day. Not even joking.
I have yet to come across another flavor pallet, that is not only bursting at the seams and win robust favors jam-packed into every single bite, but all-around pretty healthy as well.
(I'm sure they're out there, I just haven't found or fallen for 'em yet.)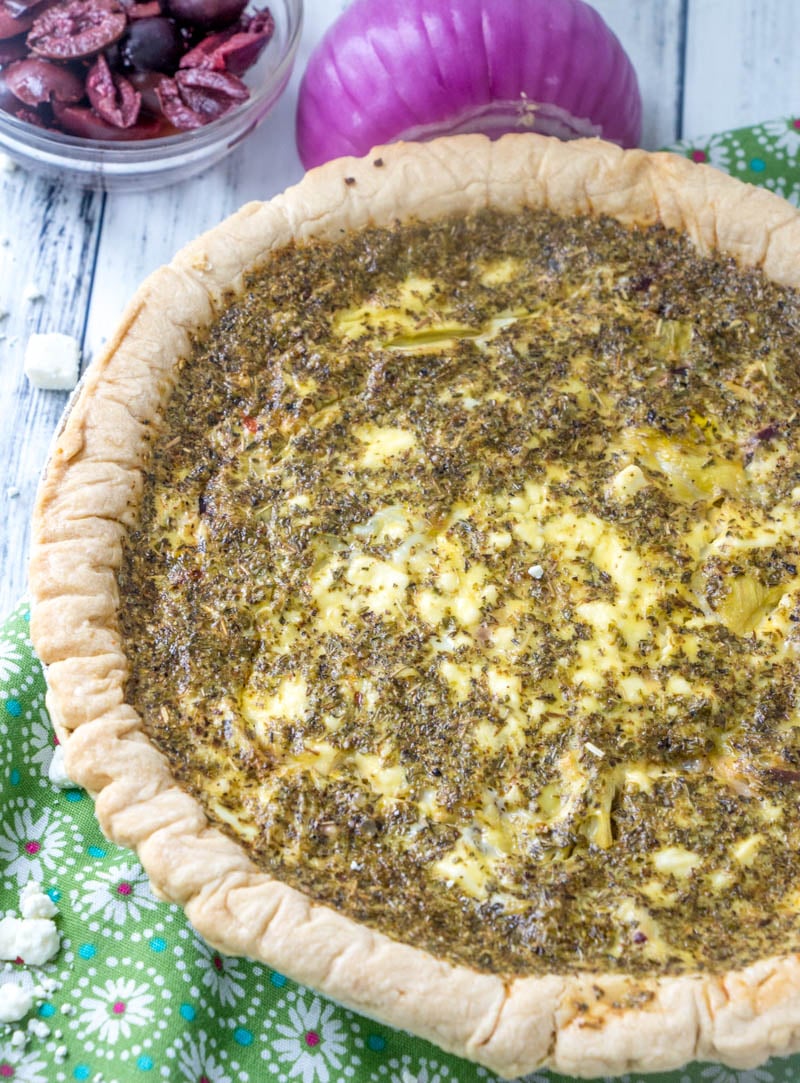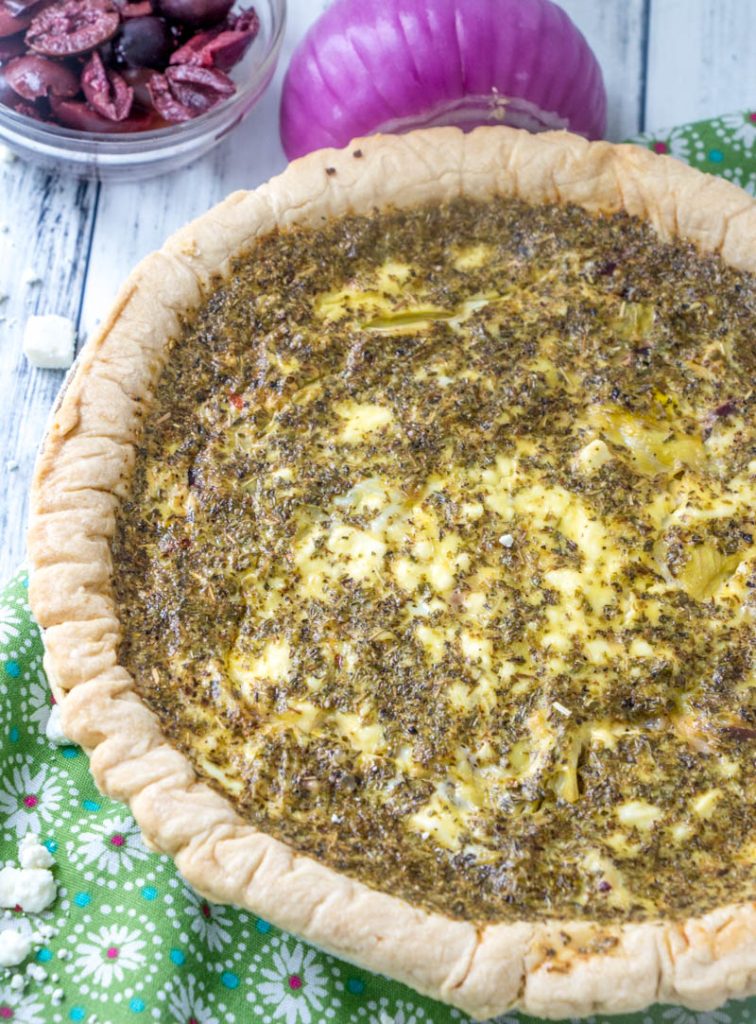 Quiche for dinner, you say?
But with all that egg-y ness how can it be?
I mean, other than in batter recipes, that much egg in a single dish is usually firmly reserved for AM hours. Breakfast yes, brunch too, but dinner?
You wouldn't believe the curious looks we've gotten before when mentioning that we sometimes serve, and always enjoy, quiche for dinner.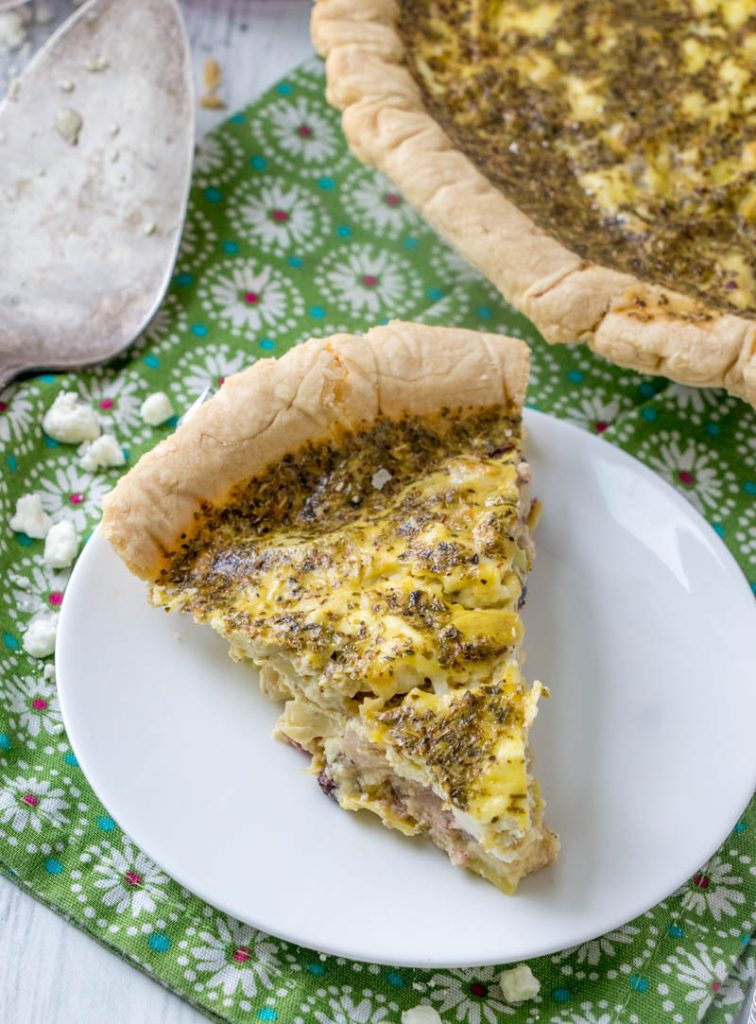 Quiche isn't anything new. It's been around for hundreds of years, although it didn't really become common or take of here in the U.S. until the 1950's.
With the original version being the Quiche Lorraine, most people think it originated in France. Which is kinda true, and kinda not- but an easy mistake to make all the same.
You might be shocked to discover that it actually originated in Germany. Yep, you read that right!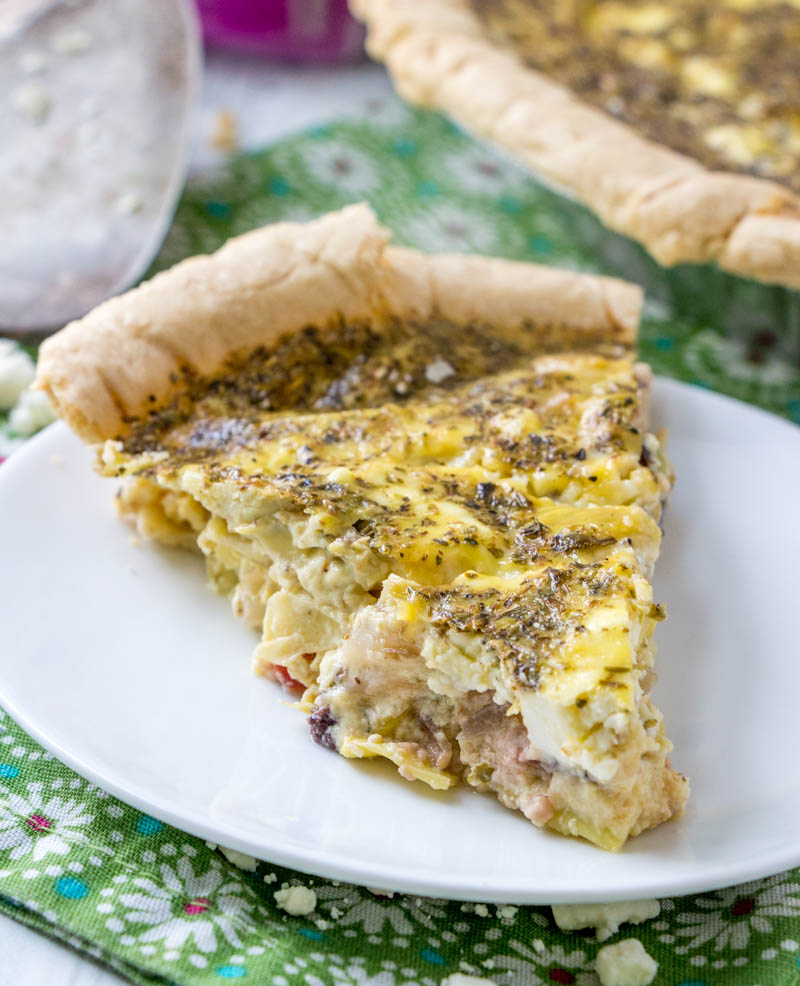 Way back in the day, there was a Medievil kingdom called Lothgrien, under German rule. Later, when the French came to rule the principality, they renamed it (drumroll, please) … Lorraine.
There you have it folks. The classic French dish was actually of German origin.
The original 'Lorraine' version featured an open faced pie filled with a mixture of eggs and creamy custard studded with chunks of smoked bacon. The 'traditional' cheese was a more modern addition.
Since becoming wildly popular outside of it's native Europe, it became clear that it was the perfect base to take on all kinds of flavor profiles. Cue all the different variations now with all kinds of add-ins.
Thankfully it paved the way for this yummy Greek Quiche version.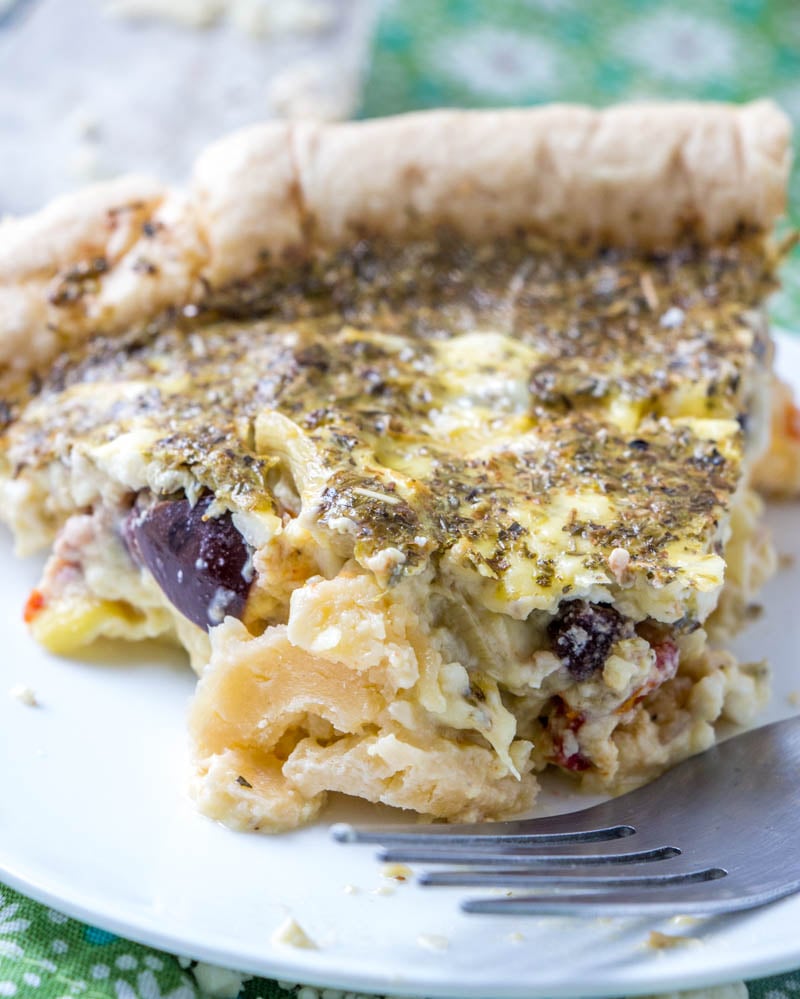 The salty feta, the tangy olives, the juicy, sun dried tomatoes, the marinated artichoke, and all the traditionally Greek seasoning palette make for a Mediterranean flavor fest in every bite.
The egg is just the glue that binds it all together, and it doesn't detract or disappoint. Far from it. Somehow it manages to get even better with every bite.
This Greek Quiche won't disappoint a single person you serve it to.
Tongues will be waggin, that's for sure, but only because of how truly delicious this dish is.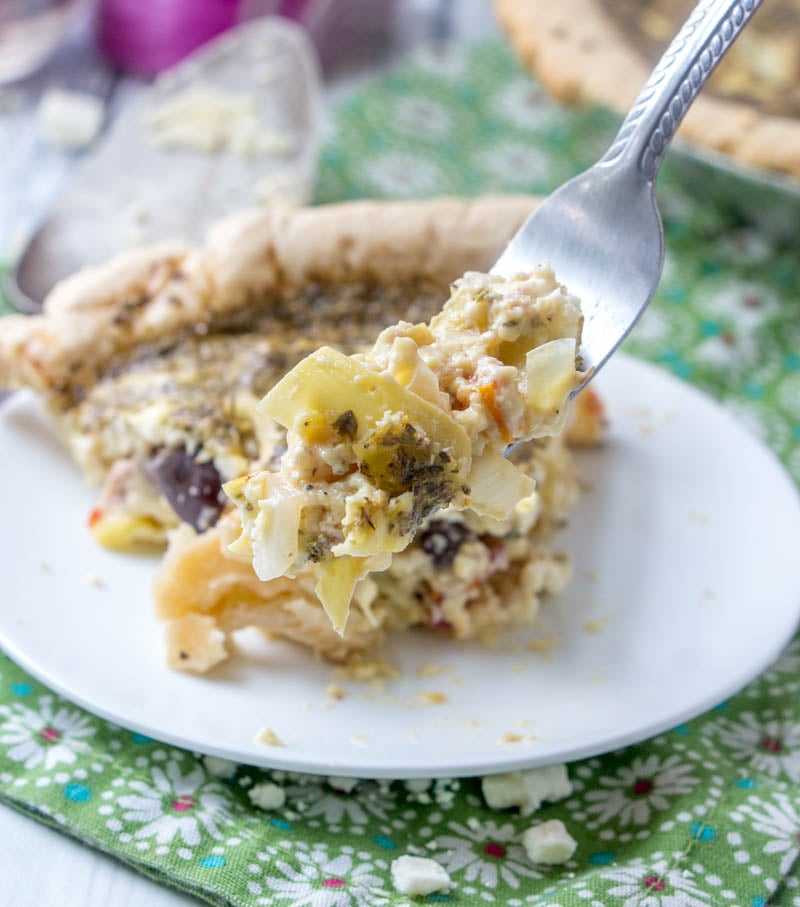 Do you share our love of all things Greek? Or Mediterranean flavored? Here's a few other ideas you might like: Greek Chicken Burger Sliders with Pickled Red Onions & Greek Yogurt Sauce, Greek Spinach Feta Chicken Pockets, or Greek-Style Oven Fries.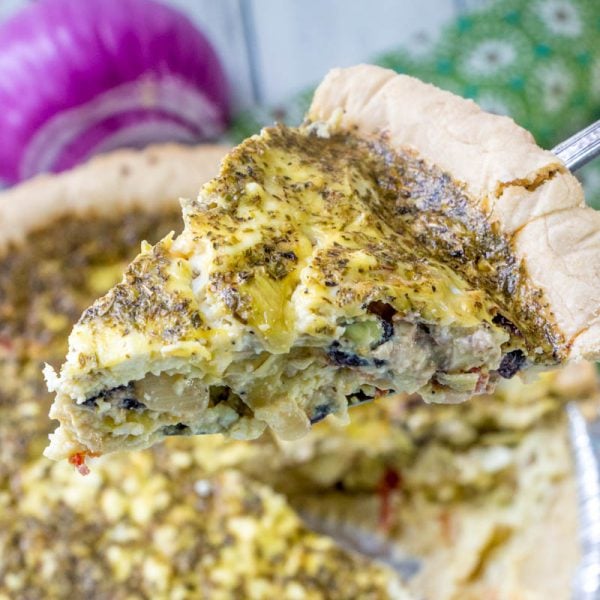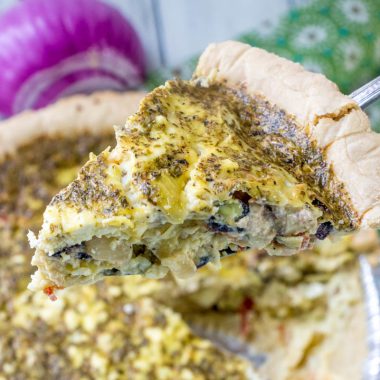 Greek Quiche
An easy, cheesy quiche featuring Mediterranean flavor favorites making it perfect to serve for brunch or dinner.
Print
Pin
Rate
Ingredients
1

pre-made

refrigerated pie crust

1

tbsp

olive oil

1

medium red onion

diced

2

cloves

of garlic

minced

a heaping 1/4 cup of Sun-dried tomatoes

packed in oil, drained & roughly chopped

1/4

cup

Kalamata Olives

or regular black olives, roughly chopped

1

cup

Artichokes

marinated in oil, roughly chopped

1/2

cup

Feta cheese

crumbled

1

cup

of milk

4

eggs

3

tbsp

fresh Oregano

diced, or 3 tsp dried oregano

1/4

tsp

salt

1/2

tsp

pepper
Instructions
Unroll/roll out the people made pie crust and place it evenly into a 9 " pie pan. Use your fingers to gently crimp the edges. This step is purely meant to be aesthetically pleasing, and totally optional!

In a medium-large skillet, add the olive oil over and heat over medium to medium high heat. Once hot, add in the diced onions and cook until they just start to turn translucent, or about 6 minutes. Add in the minced garlic and sun-dried tomatoes and let them cook together for a few minutes longer. Remove the skillet from heat, add in the olives, artichokes stirring everything together, and let the mixture rest.

While the veggie mixture is cooking, in a small bowl, whisk together the eggs, milk and spices. Add the cooked veggies to the prepared quiche crust. Top with the crumbled feta cheese.

Gently pour the egg mixture over top of the veggies, and don't worry if it doesn't quite completely cover everything or if it swamps the veggies, either way it will turn out fine.

Bake the quiche at 350 degrees for about 40 minutes to an hour, or until the top just starts to brown. When a toothpick inserted in the center comes out clean, everything is completely cooked through.

Remove the cooked quiche from the oven and let rest for a minute or two before slicing and serving. Enjoy!