Got a bunch of meatballs in the freezer? Give them, and your lunch, new life with these easy French Onion Meatball Sub Sandwiches.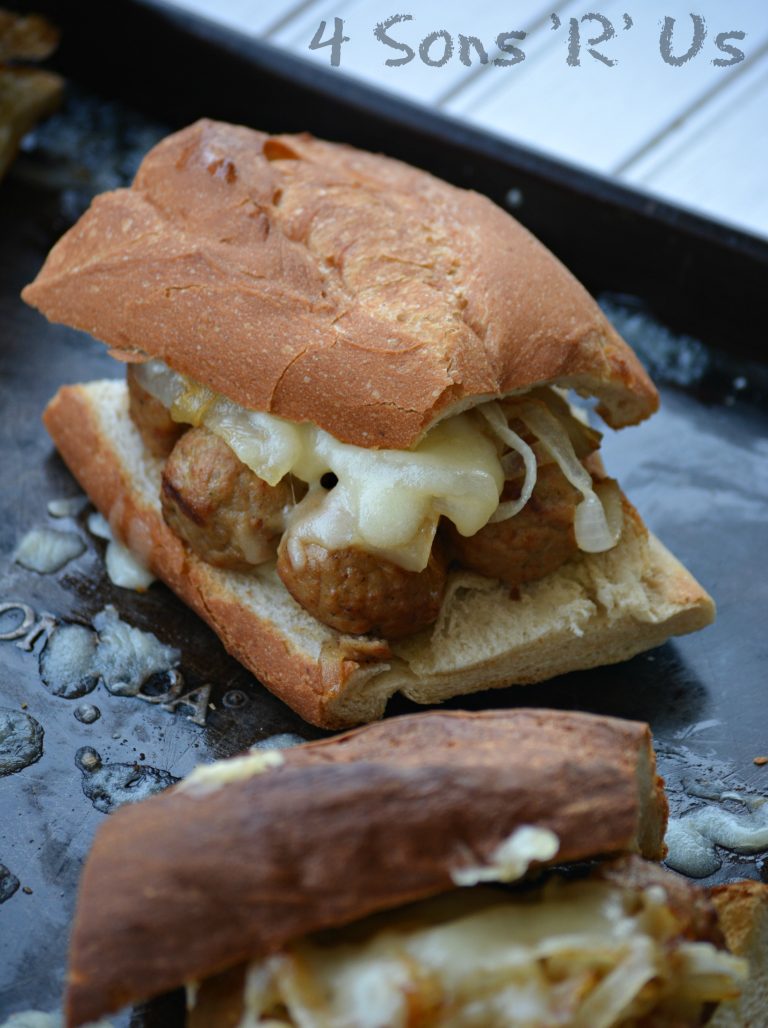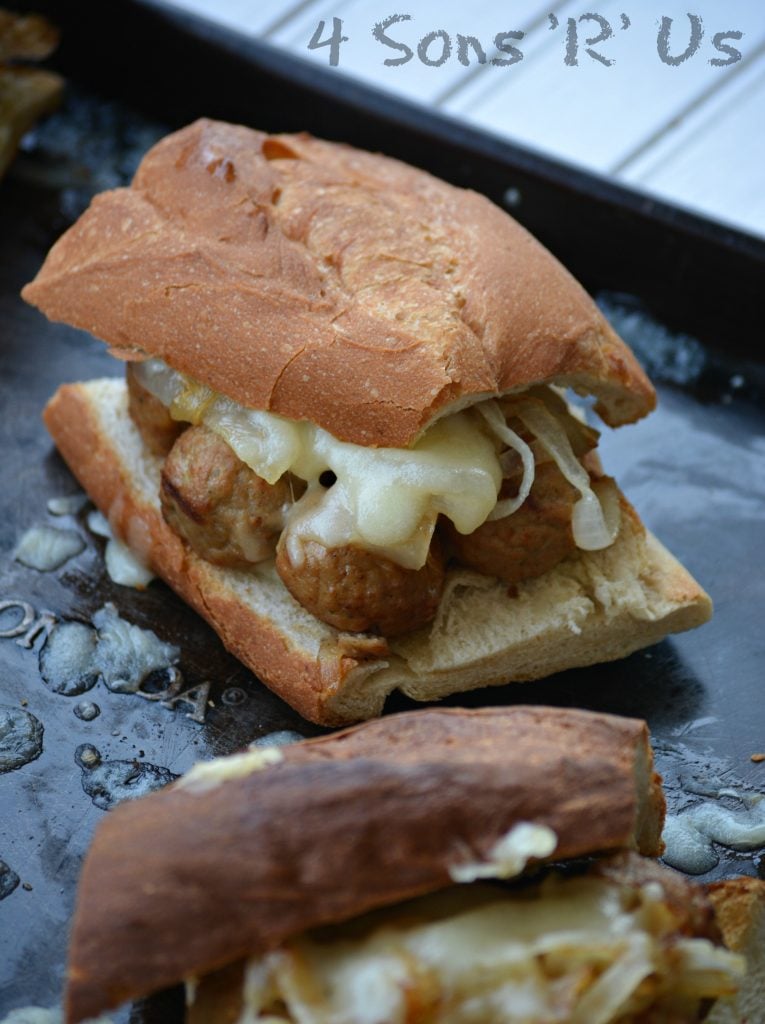 If you're anything like me, then you grew up knowing and loving a little nugget of savory, flavored beef called the meatball. It was slathered in an Italian tomato sauce, and served over a beautiful bed of hearty pasta. Often, it was topped with a generous amount of grated Parmesan cheese.
It sure was a sight to behold. It was even better to tuck into and enjoy. It was simple; it was good. No complaints were heard from anyone on spaghetti & meatball night. In fact, not a single peep was heard of an kind because we were all too busy eating, scarfing down our plates.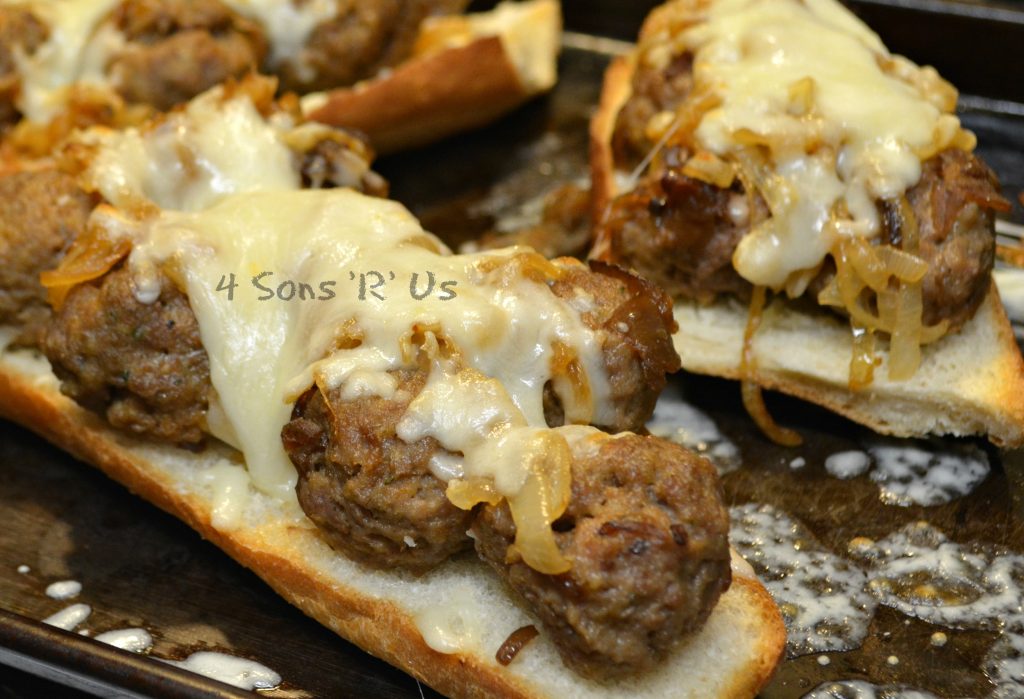 I still crave and adore a hearty plate of spaghetti and meatballs to this day. It's a love my Italian husband & I have made sure to pass along to all our boys.
However, over the years- I've realized that there's so much more to a meatball. It can be so, so much more!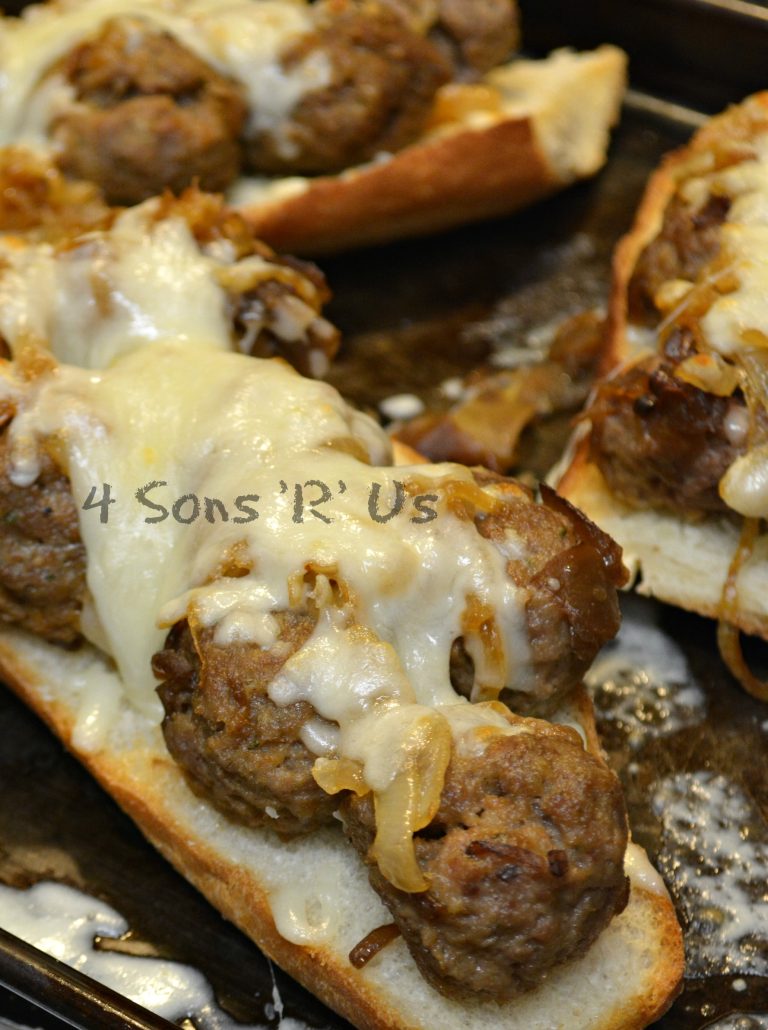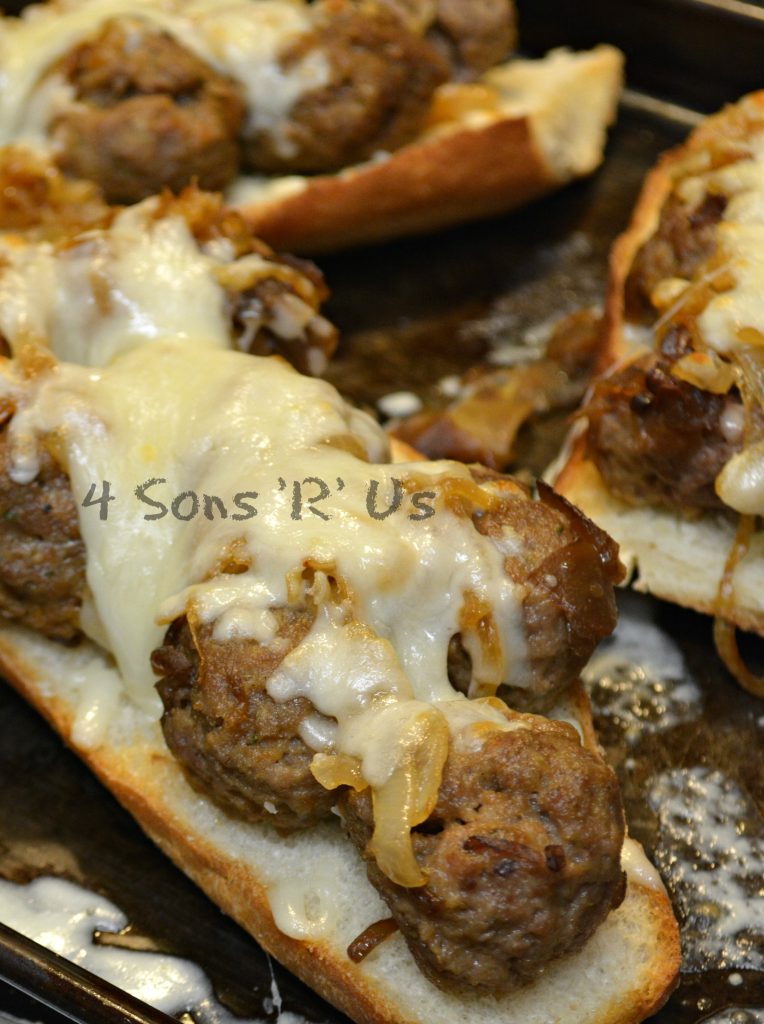 We adore our easy homemade meatballs, often making them in giant batches and then freezing them in ready to use portions. I've thrown them in a crockpot with a sweet heat buffalo honey sauce for an easy appetizer everyone raves about. I've thrown them in the crockpot and made a sweet Hawaiian version that makes an incredible dinner when served over a bed of white rice. I've even thrown them into quesadillas for a really fun surprise.
You name it, my meatball loving family has tried it!
So naturally, they weren't a bit surprised when I made a batch in a French onions soup broth, tossed them in a toasty baguette, and topped them with a heaping helping of caramelized onions and a generous amount of melted Swiss cheese.
Now they often request all the meatballs be made into these tasty French Onion Meatball Sub Sandwiches.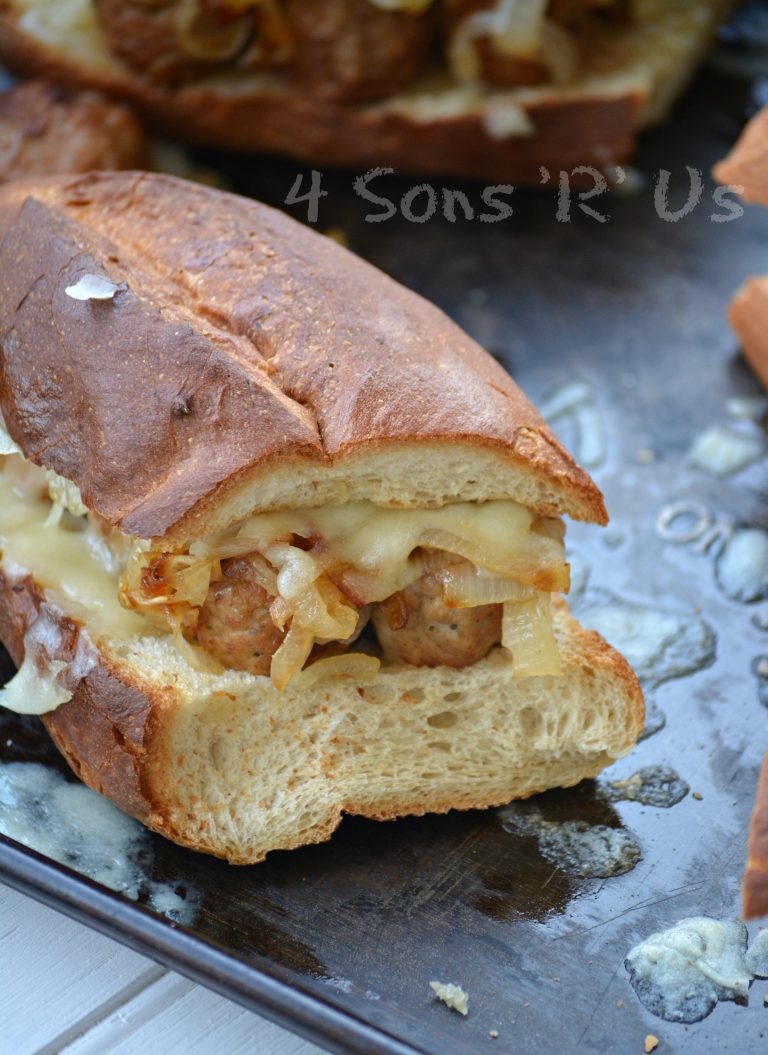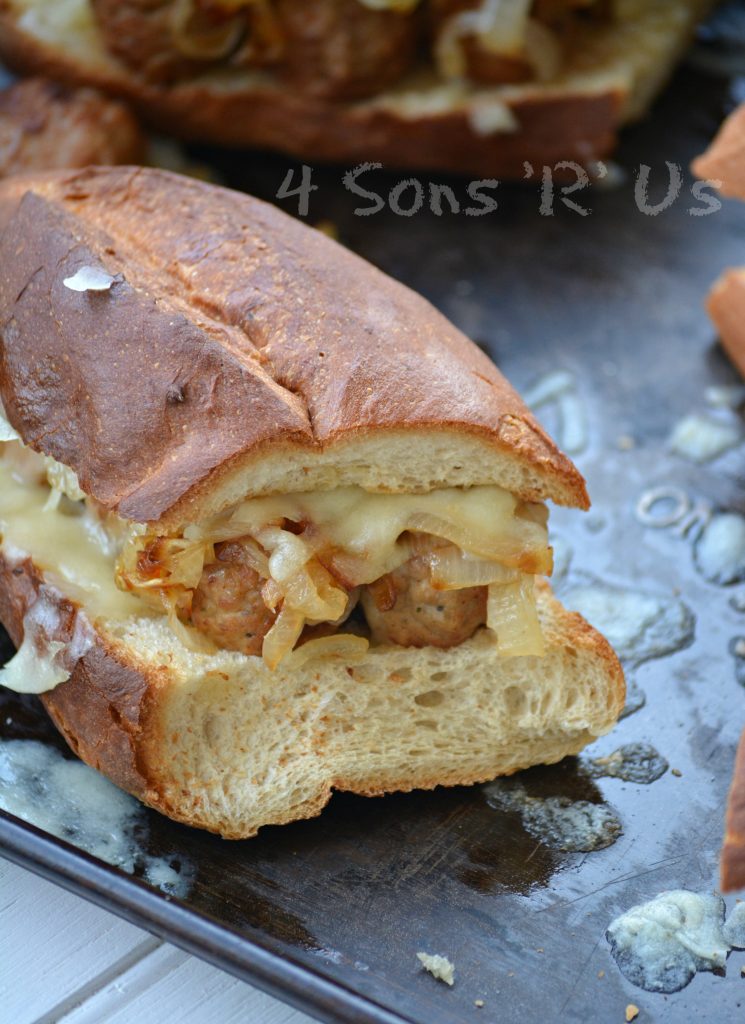 You have a bit of wiggle room here- either you can make your own meatballs from scratch, bake or fry them, and then proceed with the recipe. Or you can take the quicker option (which I often do) and just use thawed frozen ones instead. They also don't need to be beef meatballs, turkey ones work just fine and taste just as good in this sandwich.
The meatballs are placed in a baking dish, the French onion soup is poured evenly out over the top. Give the mixture a gentle stir to make sure everything's coated. The meatballs are then baked for 25 minutes at 350 degrees.
Scooped up with a slotted spoon, they're scooped onto the bottom half of a buttered baguette. Topped with savory caramelized onions, and a generous amount of sliced Swiss cheese- they're baked under the broiler until everything's hot & bubbly. Topped with the other half of a crusty buttered baguette, these French Onion Meatball Sub Sandwiches are served immediately- hot & fresh from the oven.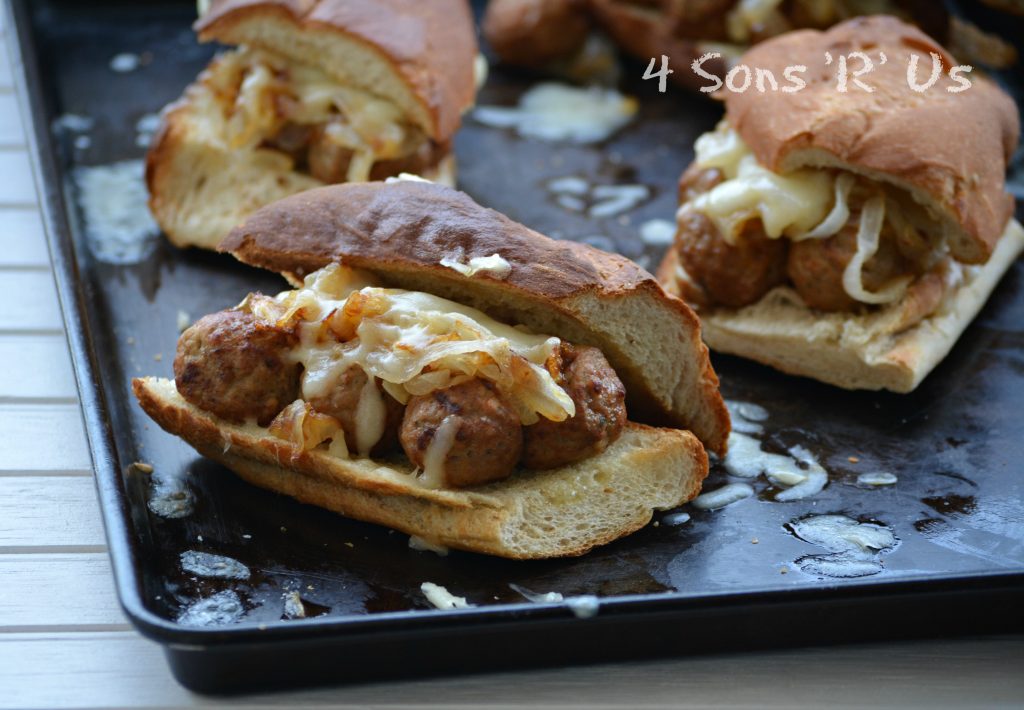 Our kids enjoy them served with salad or fresh vegetables. However you choose to serve them though, if you're a meatball fan then these will never disappoint!
Other Meatball Recipes You Might Also Enjoy: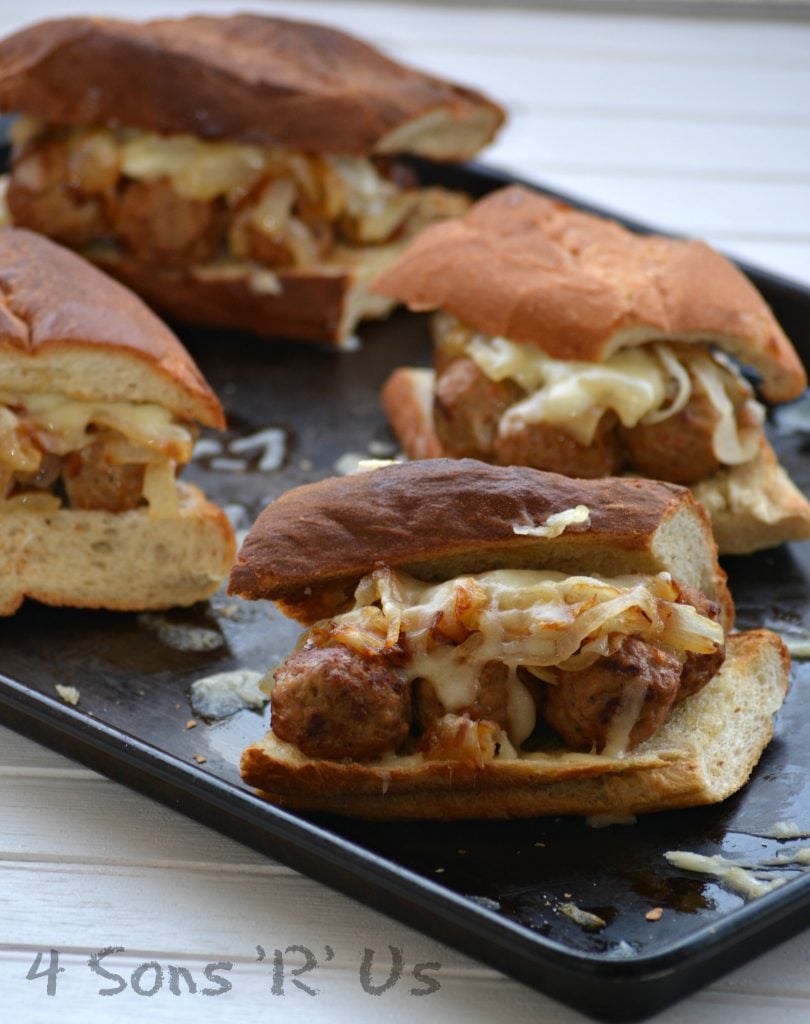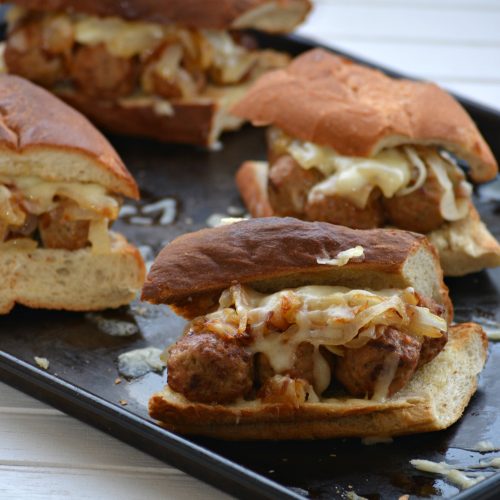 French Onion Meatball Sub Sandwiches
Your favorite meatballs are lovingly tossed and cooked in a French onion soup bath, then added to a crusty baguette, topped with creamy Swiss cheese and caramelized onions and baked to cheesy, delicious perfection.
Print
Pin
Rate
Ingredients
1

bag

of frozen meatballs, thawed

1-2

cans

condensed French onion soup

2

medium

yellow onions, thinly sliced

4

tbsp

butter, divided

thinly sliced Swiss cheese

6

6"

crusty baguettes
Instructions
Spread the meatballs out in a 9x13" baking dish. Pour the soup out over the meatballs. Stir a bit to evenly coat the meatballs.

Bake the meatballs at 350 degrees for 20-25 minutes.

In a medium sized skillet, over medium heat, melt 2 tablespoons of butter. Stir in the onions, and then cook, stirring often to prevent burning, until the onions are caramelized- about 7-10 minutes. Remove from heat, and set aside.

Slice the baguettes in half, if they aren't already, and spread the rest of the butter evenly out over the insides. Transfer them to a baking sheet, butter sides up.

When the meatballs are done, turn the oven to broil. Place the bread in the oven, watching closely, and cook just until the butters melted and they've begun turning golden brown.

Using a slotted spoon, add meatballs to the bottom of each baguette. Top each generously with the caramelized onions and cheese. Place them back under the broiler, just until the cheese is melted & bubbly.

Remove them from the oven. Top each sandwich with its top bun, and serve immediately.
Nutrition
Calories:
383
kcal
|
Carbohydrates:
4
g
|
Protein:
20
g
|
Fat:
32
g
|
Saturated Fat:
14
g
|
Cholesterol:
102
mg
|
Sodium:
140
mg
|
Potassium:
379
mg
|
Fiber:
1
g
|
Sugar:
2
g
|
Vitamin A:
235
IU
|
Vitamin C:
3.5
mg
|
Calcium:
27
mg
|
Iron:
1.1
mg