A creamy sauce laden with chunks of chicken, onions, garlic, & a sprinkle of poppy seeds is topped with a buttery cracker crumb topping. A quick and easy dinner solution, this Creamy Poppy Seed Chicken Casserole is just the meal you've been looking for.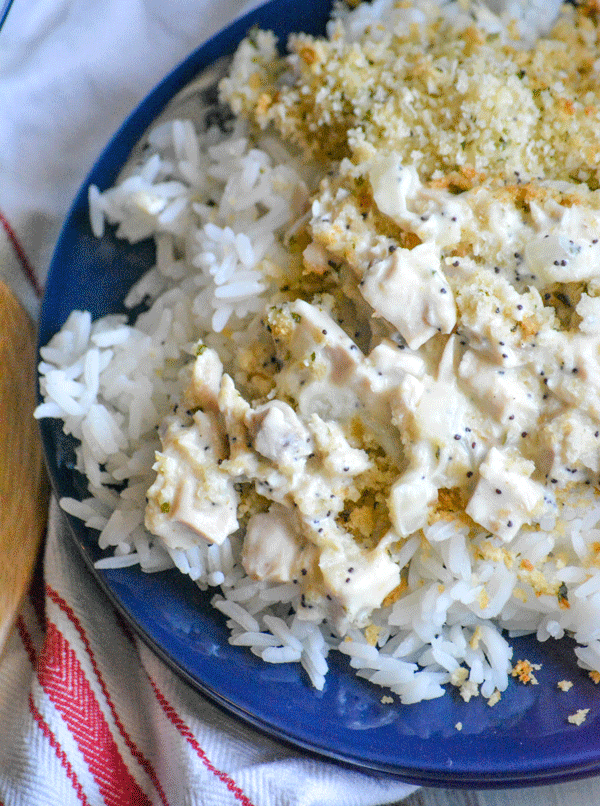 Does anyone else remember Ark Linkletter's old comedy series, 'Kids Say The Darndest Things'? Anyone?
Honestly, that series itself was before my time but my Grandma used to talk about it whenever we'd say something particularly funny. I've since seen video clips of it myself. Any parent can tell you, that quote… 100% truth.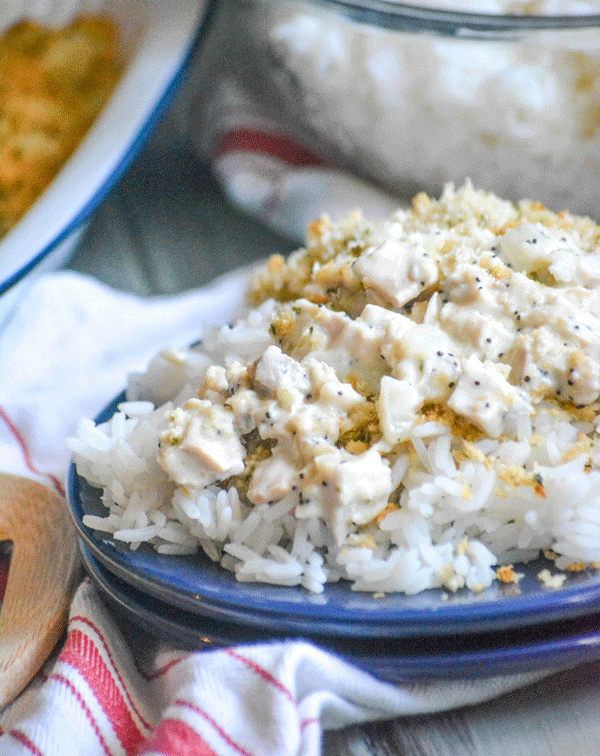 I could be wrong, I don't think I am but I'll give the benefit of the doubt here, buutttttttt unless you're a parent, or have spent a decent amount of time around kids-
I don't think you can really appreciate just how true that quote is.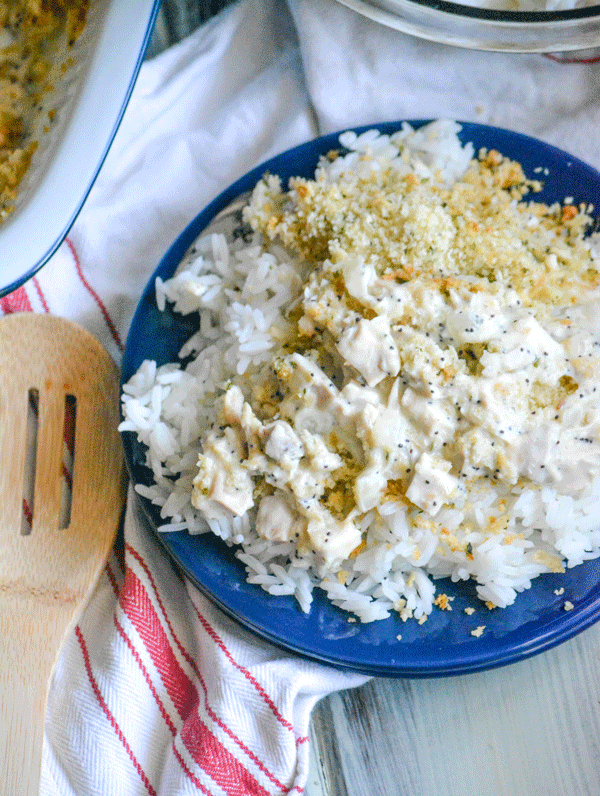 Most of the time they're just cute, but sometimes they're downright hysterical and inspired. So much so that I never want to forget that precious moment.
Literally. So I have a leather-bound, pocket-sized journal I lovingly entitled 'Sh*t My Kids Say', where I record all of those precious gems.
And as the youngest son's gotten older, I'm including more and more of his accidental anecdotes. Even when they hurt!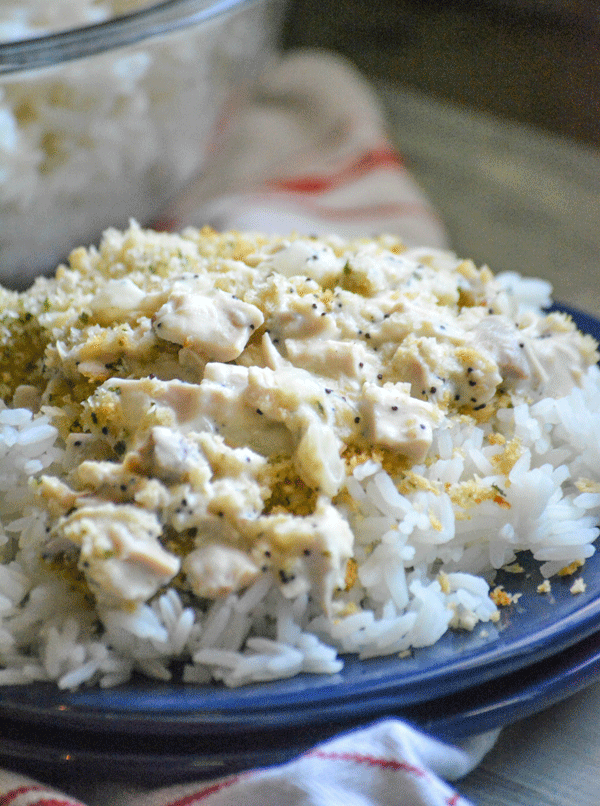 Take dinner time a few weeks ago for example. I'd lovingly made and served a new dish, this Creamy Poppy Seed Chicken Casserole, that I thought was sure to be a hit. The teens and the Hubs dug right on in, just like I knew they would. Then there was the youngest son, who sat scooting tiny pieces of chicken around his plate.
Of course, Daddy asked him what he was doing. His response? "Trying to find a clean piece to eat." Naturally, we both looked at each other and laughed, and were all like 'what are you talking about'? At this point he looked at us like we'd just fallen off the turnip truck and thrusts his little finger towards his plate and offhandedly said, "I didn't want to say anything to hurt Mom's feelings, but she served me dirty chicken. See all the specks of dirt on my plate? I was trying to just scrape it off, but it's IMPOSSIBLE."
At which point my husband chocked on his food, laughing so hard you'd have thought he died and came back to life, sputtering and sucking in air. Turns out I cook with poppy seeds so infrequently my own kid thought I'd served him a plate with dirt in it, and he's such a sweet soul he was gonna try to make the best of it. It took a little convincing, but after one actual bite- he happily dug in just like the rest of our crew.
One bite and you'll agree, there's nothing to second guess about this Creamy Poppy Seed Chicken Casserole.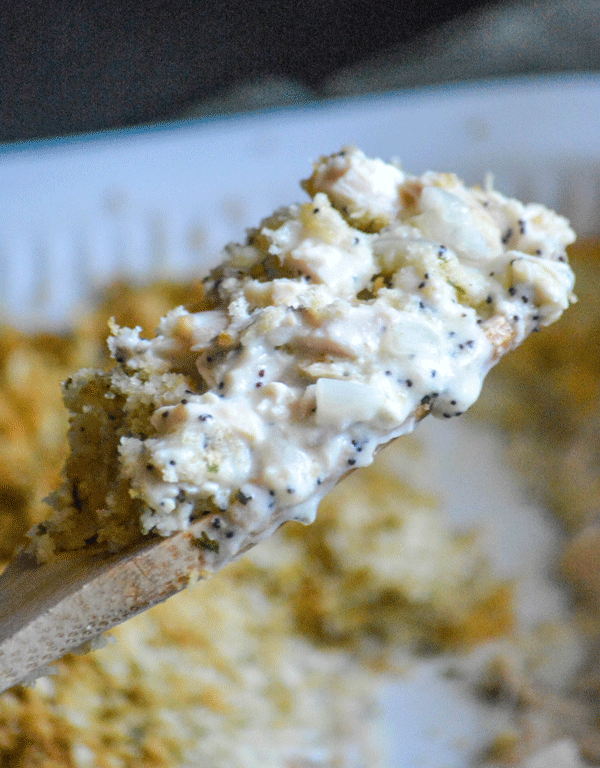 I grew up eating casseroles, but having this one as an adult blew me away. It's easily one of the creamiest chicken dishes I've ever had.
Sauteed onion and garlic are stirred into a homemade cream of chicken soup sauce. Add a dash of poppy seeds, shredded chicken, salt & pepper, and you're in business. Spoon it into a casserole dish and add a layer of crushed buttery Ritz crackers, and finally sprinkle on a final layer of crushed buttery Ritz crackers.
Other Creamy Chicken Casserole Recipes
Bake it to bubbly perfection, serve this creamy chicken casserole over white rice for a super yummy meal when paired with your favorite roasted veggie.
If you've tried this CREAMY POPPY SEED CHICKEN CASSEROLE, or any other recipe on my site, let me know in the comment section how it turned out, we love hearing from our readers! You can also follow along with me on PINTEREST, FACEBOOK, and INSTAGRAM to see more amazing recipes and whatever else we've got going on!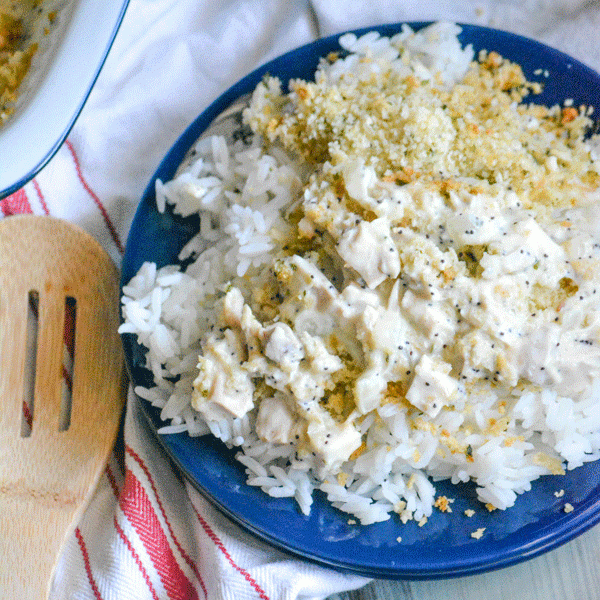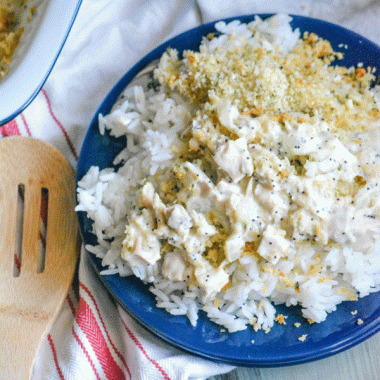 Creamy Poppy Seed Chicken Casserole
An easy, from scratch creamy chicken dinner casserole that's perfect served over a bed of white rice.
Print
Pin
Rate
Ingredients
2

chicken breasts

cooked and roughly chopped

3

tbsp

butter

1/2

onion

diced

2

cloves

garlic

minced

3

tbsp

flour

1 1/2

cups

chicken broth

1/2

cup

milk

8

oz

sour cream

1

tbsp

poppy seeds

salt & pepper

to taste

2

tbsp

butter

1 1/2

cups

crushed Ritz crackers
Instructions
In a large skillet over medium heat, saute the onions in the butter until soft. Stir in the garlic and saute for an additional minute.

Stir in the flour until it's combined with the veggies. Cook, stirring, and another minute.

Add the chicken broth and milk, a little at a time, stirring each addition until it's completely incorporated and smooth- no lumps! Continue until all the liquid's been incorporated. Continue cooking over medium heat until the mixtures reduced slightly and thickened.

Stir in the chicken, and season with salt & pepper, to taste. Stir in the sour cream and poppy seeds, until evenly incorporated.

Transfer the mixture to a 9x13 baking dish and use a spatula to spread it out evenly.

Melt the butter, and toss it with the crushed crackers coating them well. Sprinkle the cracker crumbs evenly out over top of the casserole.

Baked for 30 minutes at 350 degrees, or until the crackers are golden brown and the casserole's hot & bubbly.

Serve over cooked white rice and enjoy!