Stocked with tender cheese tortellini, over-sized beef meatballs, and a heaping helping of curry powder, this Curried Tortellini Meatball Soup is a hearty 'meal in a bowl' kinda creamy soup.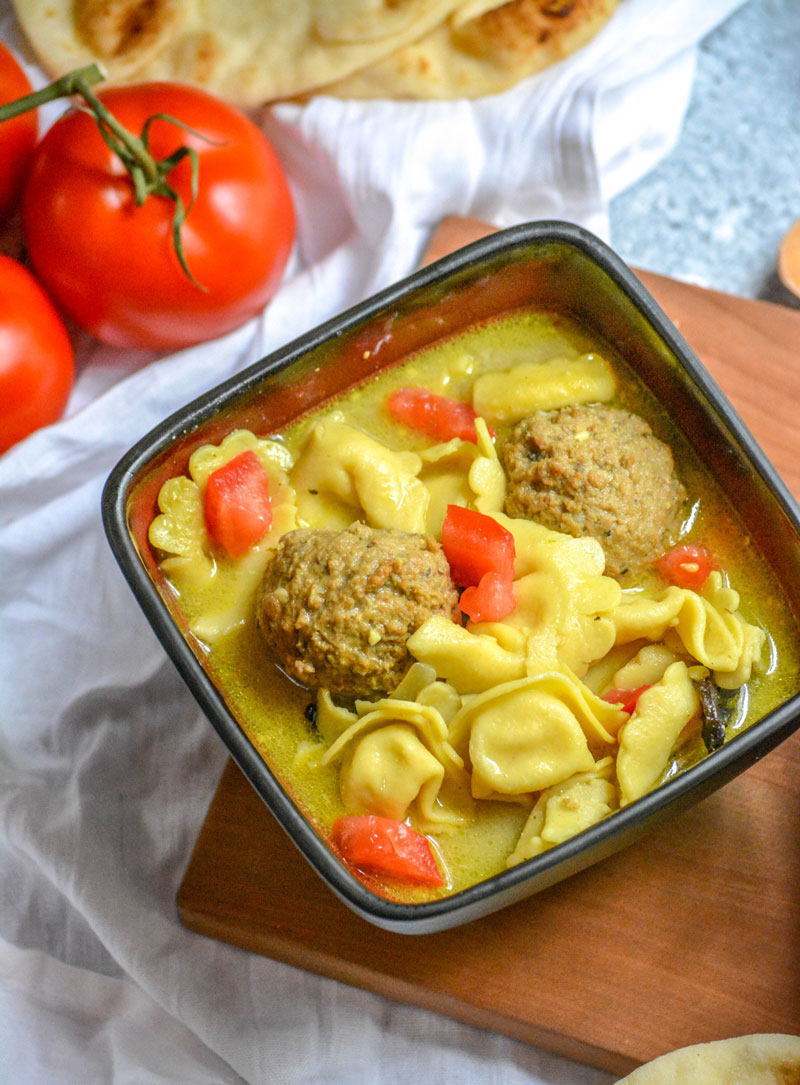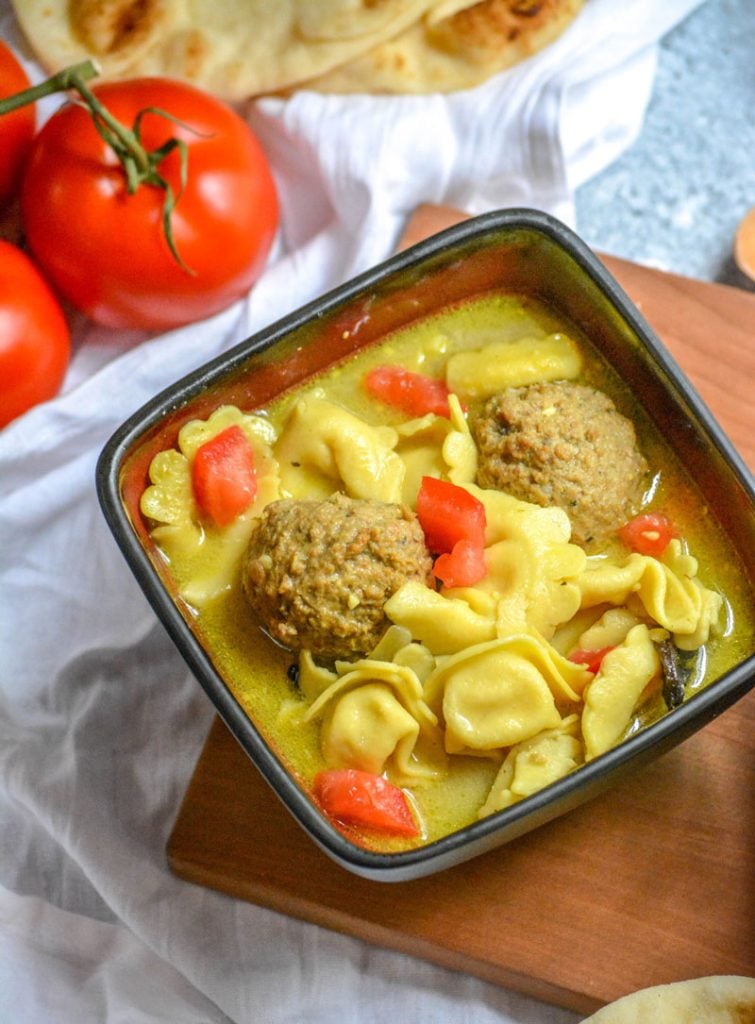 The kids are finally headed back to school after almost a week out. Most of the snow's melted away. Other than the mountains if dingy frozen crap in the Walmart parking lot, you'd never know we had a record snowfall last weekend.
It's been 22 years since our last record breaking blizzard, and this one (for most of us at least) was just as magical and memorable as the last one.
We enjoyed plenty of romps on the snow, including our 3 month old puppy who'd never seen the powdery stuff before. She just wanted to eat it all- and I do mean all, but wasn't quite sure where to start. She ended up coming inside each day looking like a powdered sugar dog-donut.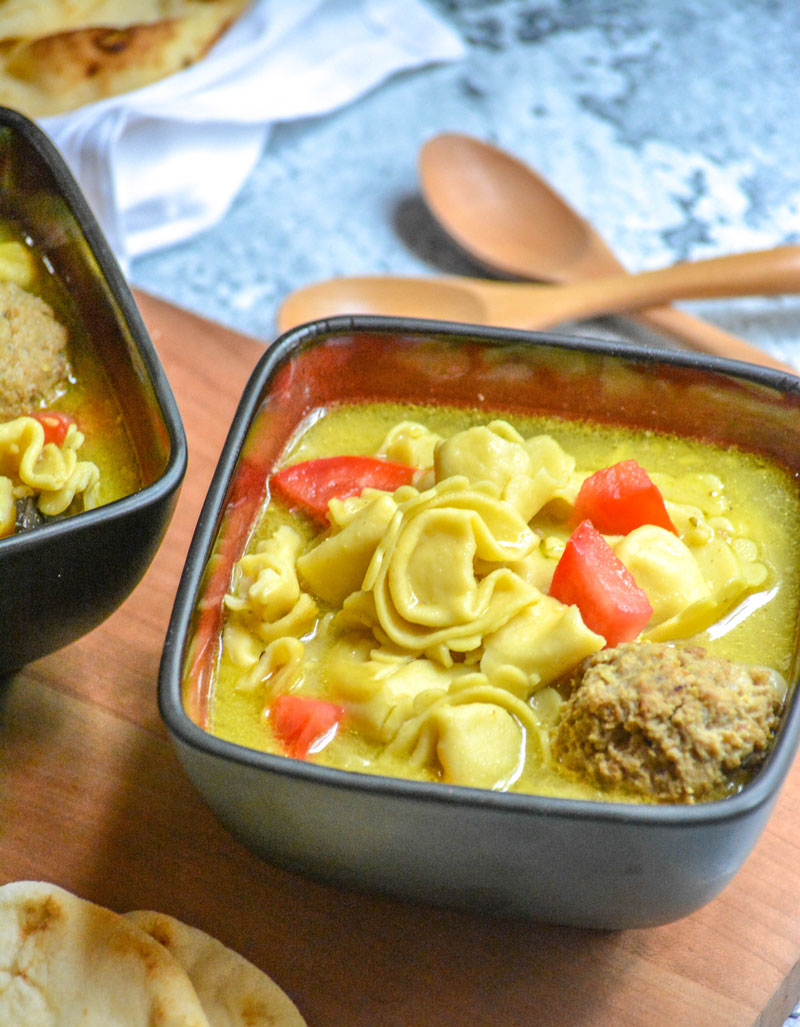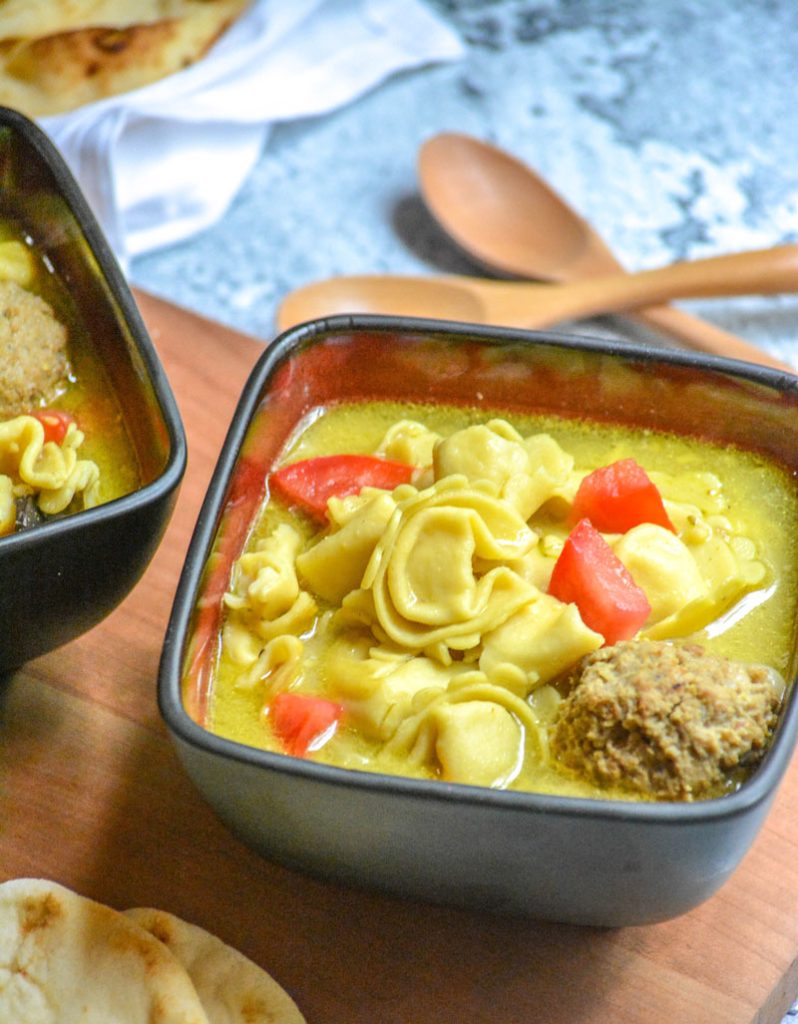 Speaking of something to eat, while the snow's all melted- the termpature hasn't completely followed suit. It's been warm enough for melting, but now really warm enough for me to enjoy. At least not without multiple, thick layers on.
The good news is that it's given me the perfect excuse to thaw out with some serious cozy, comfort food.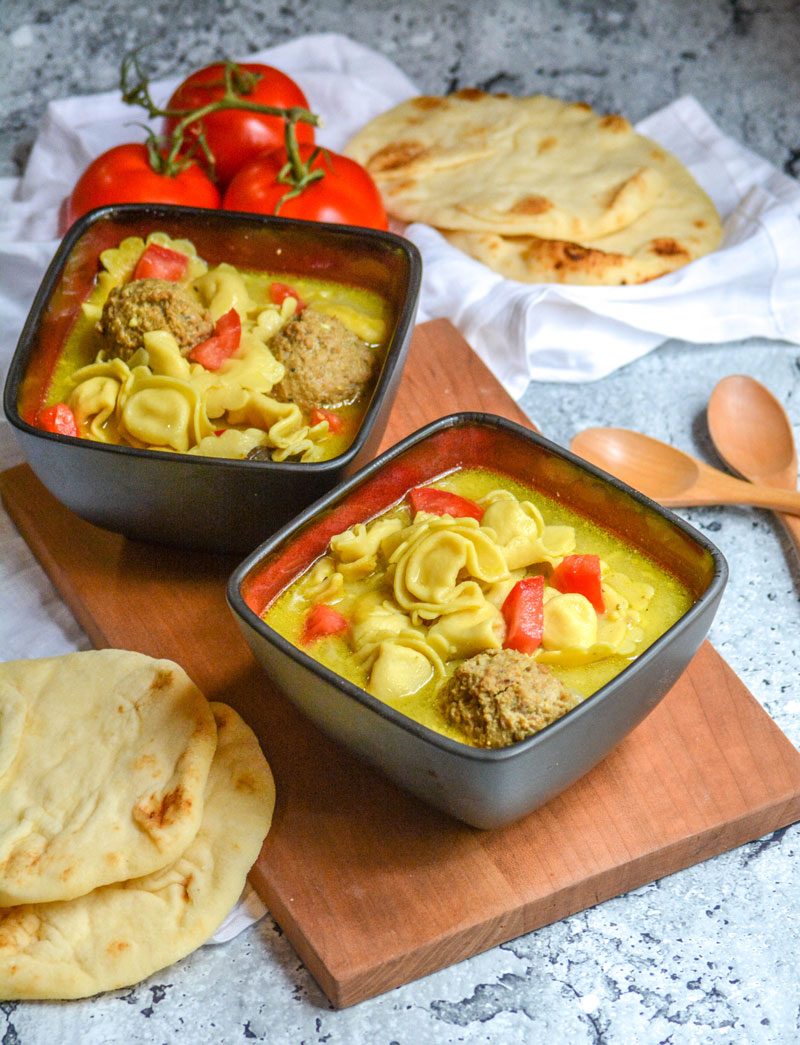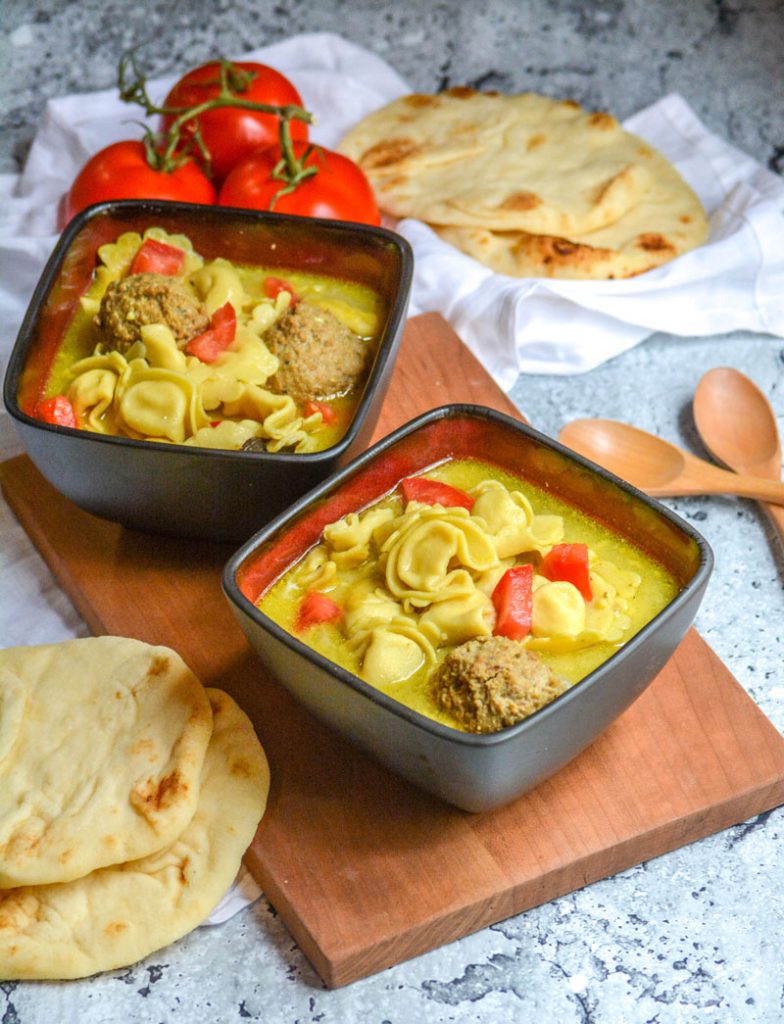 Soup is literally the bane of my children's existence. I kid you not, I once made one of them cry, simply because I put a bowl of soup in front of the at supper time. Cue the mega eye roll from this Mom!
You'd think they were in a Dicken's novel and I was serving them watery broth without any bits in it. Apparently I missed the memo the day it was globally sent out that soup is neither 'manly' or 'filling' fare. I strongly disagree, however.
A good soup, or stew, or chowder- or what have you- is filling, hearty, and chock full of tasty did bits. Just take this Curried Tortellini Meatball Soup for example.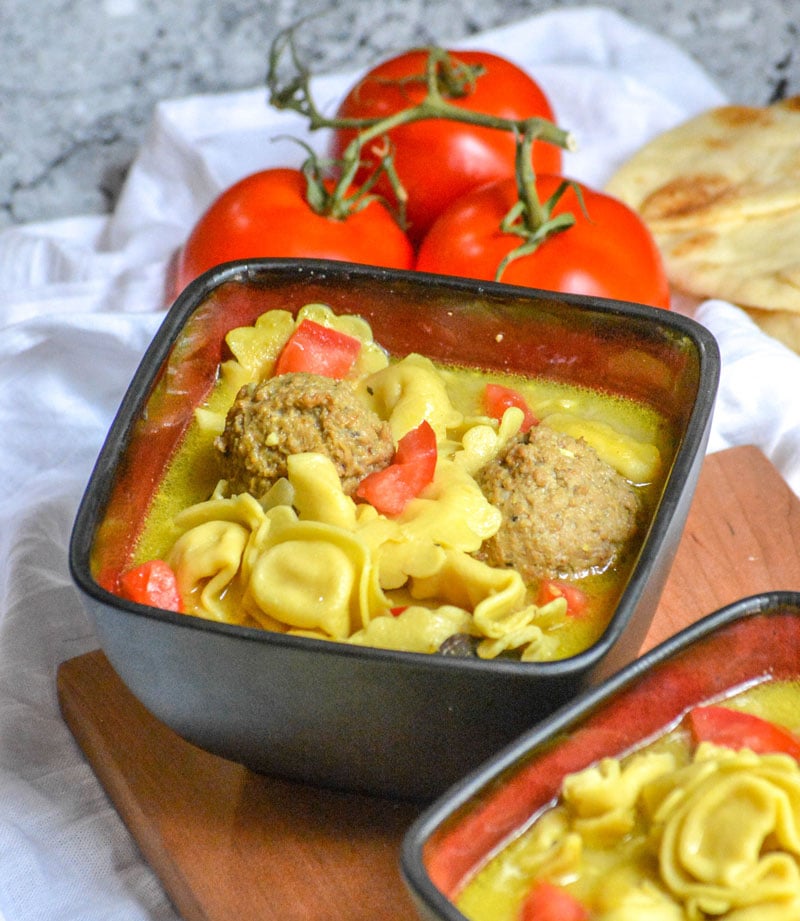 This soup prominently features several of my favorite things. Cheese tortellini, large beef meatballs, and curry powder in a rich, creamy broth. It's magical, and if some are to be believed- a Winter weather cure all. That may just be the combination of the curry powder and chicken broth though.
Despite sounding a tad complex, this soup comes together very easily.
Start by getting out your trusted soup pot. I prefer to use a dutch oven, just because it's a jack of all trades for me in the kitchen. It also heats more evenly than a standard pot, and will stay hotter longer, meaning even if I serve supper at 5:30, the soup's still hot hours later when the Hubs gets home from work.
Add the olive oil to the pot heating it over medium heat. When hot, add in the chopped onions. Cook the onions, stirring them occasionally- until they're soft and tender, typically around 2-3 minutes. Just make sure to stir them so that they don't burn. light caramelization is ok though.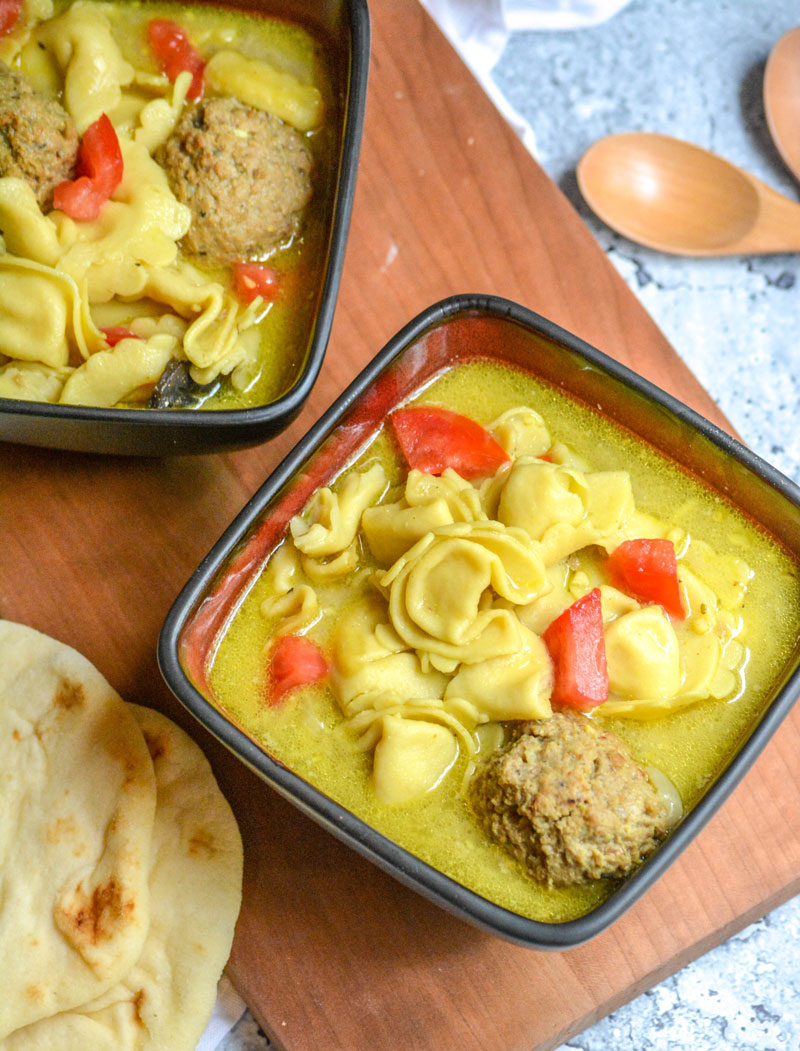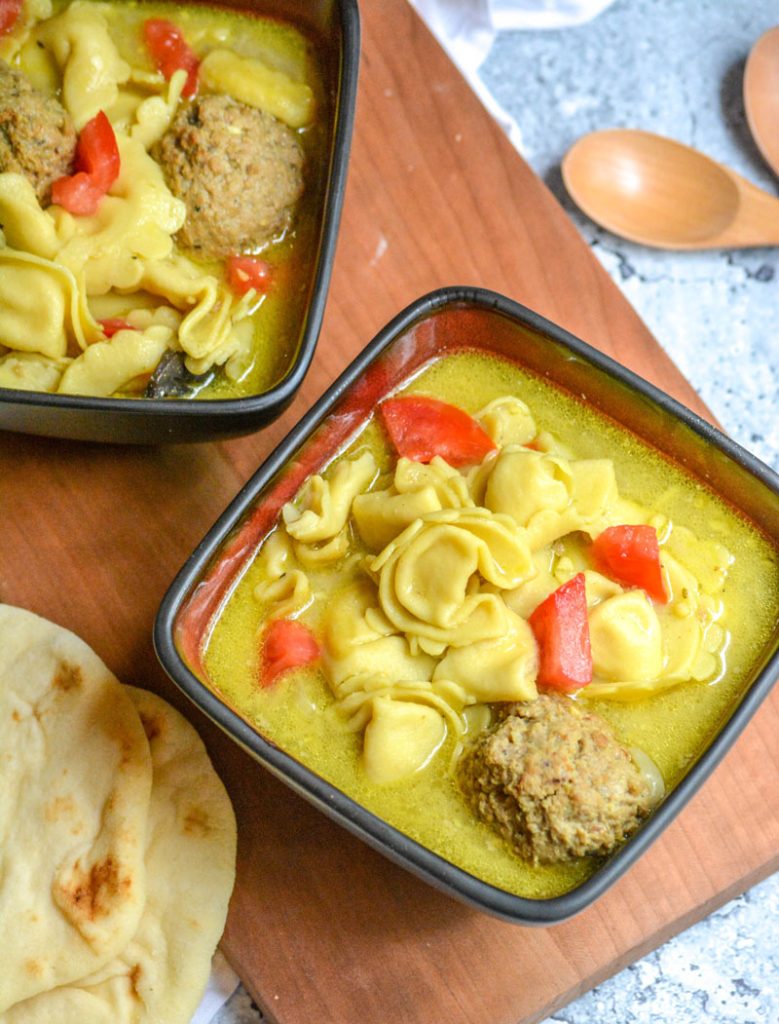 Season the sautéed onions with the curry powder, and stir in the garlic. Cook them an additional minute.
Now you're going to pour the broth into the pot, stirring well, and also using your spoon and the added liquid to deglaze the pot and get any savory browned bits up off the bottom. Those browned bits are golden flavor nuggets! We can't leave them behind. Deglazing also helps make clean up easier. So there's that, and a double method to my madness. Bring the mixture to a boil.
Once a rolling boil is reached, the real kind- not just a couple bubbles popping on top or a little simmer, immediately reduce the pot to an actual simmer. Stir in the coconut milk, tortellini, mushrooms, parsley, and meatballs.
Let me interrupt right here to say that you do have some leeway with the called-for ingredients. I prefer using beef meatballs, simply because I love the flavor it gives the soup. I also find the large sized meatball in the frozen food section at Wegmans. That being said, I've had equal success serving it to my family and guests using turkey meatballs.
Similarly, you have wiggle room with the tortellini too. My recipe calls for cheese filled pasta, but you could also use a mushroom tortellini, or even a meat-filled one and forgo the meatballs entirely- or still include them.
Now give everything a good stir to evenly incorporate, and let the soup return to a simmer. Continue cooking until the tortellini's tender and the meatballs are cooked through, a good 7-9 minutes.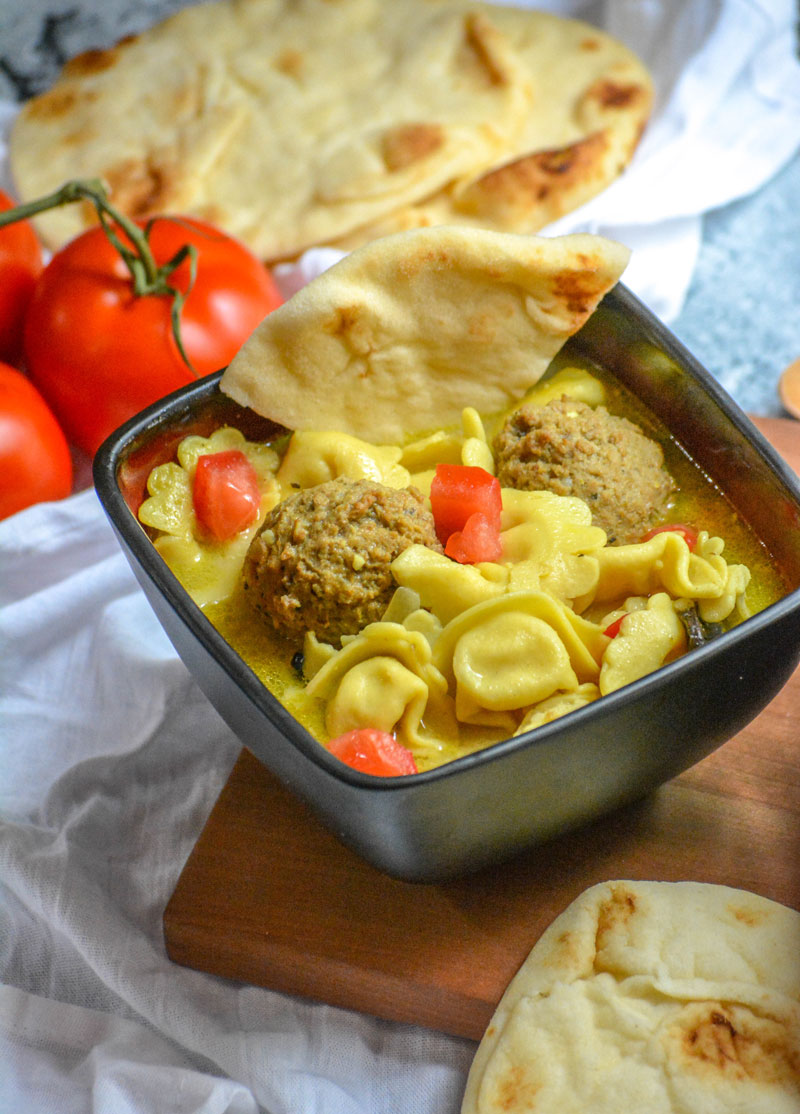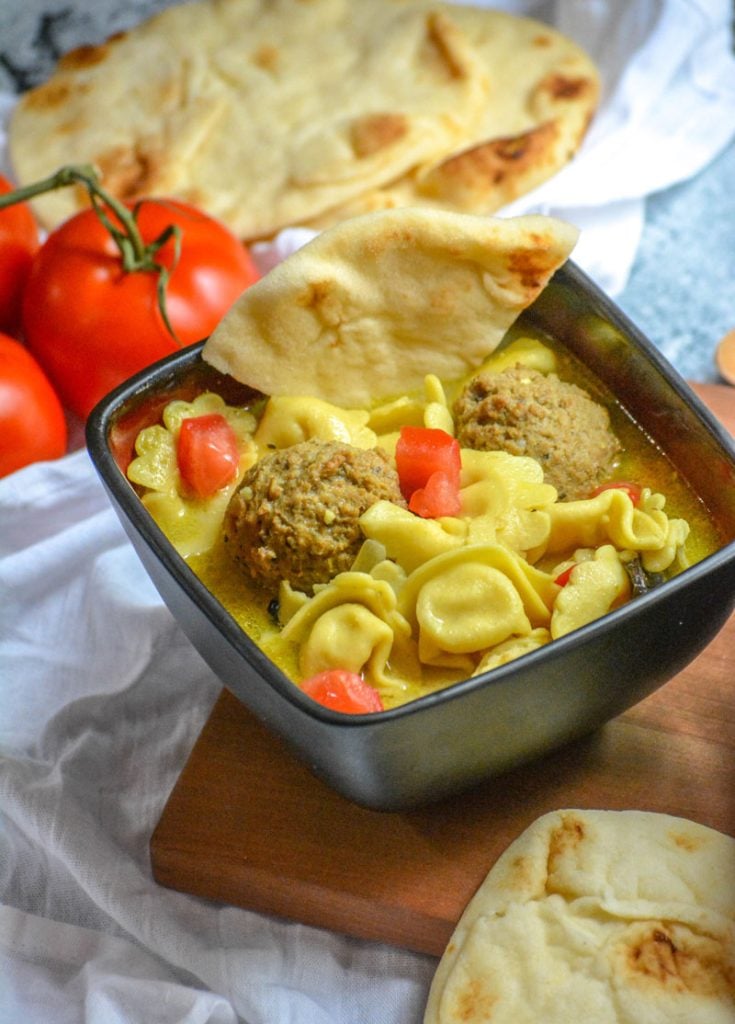 While the soup's technically 'mostly' cooked at this point, you can always opt to let it simmer longer. It will reduce a bit in volume, also making it thicker, but the biggest advantage is just an additional infusion of flavor. Either way, it will taste divine which is another reason I love this meal. It's budget friendly, and manageable on a busy weeknight without sacrificing quality, freshness, or flavor.
To finish off this Curried Tortellini Meatball Soup, add in the bit of cream and the freshly chopped tomato. Serve as soon as it's heated through. However you choose to prepare it, or how long you opt to cook it for, wait to add the cream and tomato until the very end. This will prevent the cream from cuddling and the tomato from cooking completely and becoming mushy.
Ladle the Curried Tortellini Meatball Soup into bowls and serve with warm pieces of toasted naan bread & garnish with extra piece of chopped tomato, if desired.
Other Cozy Recipes You Might Also Enjoy: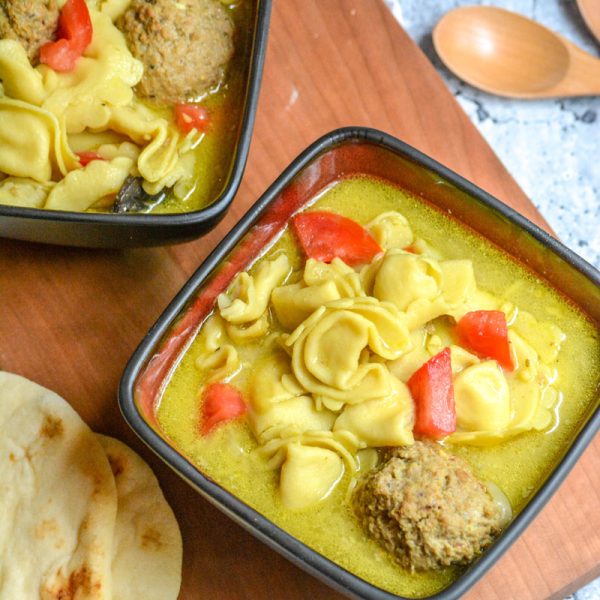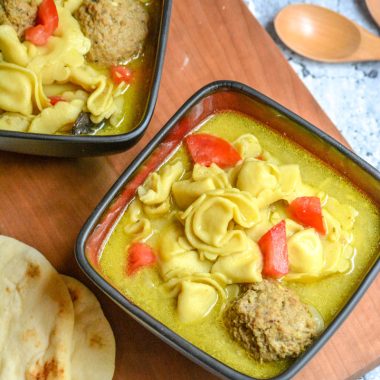 Curried Tortellini Meatball Soup
A creamy, curried soup this version is quick & easy and is infused with the flavor of beef meatballs, tender tortellini pasta, and sweet chopped tomatoes.
Print
Pin
Rate
Ingredients
6

cups

chicken broth

3-4

tsp

curry powder

3

tsp

minced garlic

1

tbsp

olive oil

1

14 oz

can of coconut milk

1

lb

cheese tortellini

1

cup

thinly sliced baby bella mushrooms

1

tsp

dried parsley

1

bag

large frozen meatballs, slightly thawed

1-2

Roma tomatoes, chopped

1/4

cup

heavy cream
Instructions
In a dutch oven, or other large soup pot, sauté the onion until soft and tender. Season with the curry powder, add in the garlic, and continue cooking an additional minute. Stir in the chicken broth, and bring the mixture to a boil.

Reduce the heat to a simmer, and stir in the milk, tortellini, mushrooms, parsley, and meatballs. Continue cooking, stirring occasionally, until the meatballs are cooked through and the tortelini's tender

Stir in the cream and tomato, just until heated through. Serve immediately, and enjoy!6