When the Winter weather rolls around, you'll want to ladle out bowls of warm, heart soup. This Slow Cooker Spaghetti & Meatballs Soup turns a simple family favorite into savory Italian American comfort soup. Serve it with crusty bread and extra Parmesan for an easy dinner any night of the week!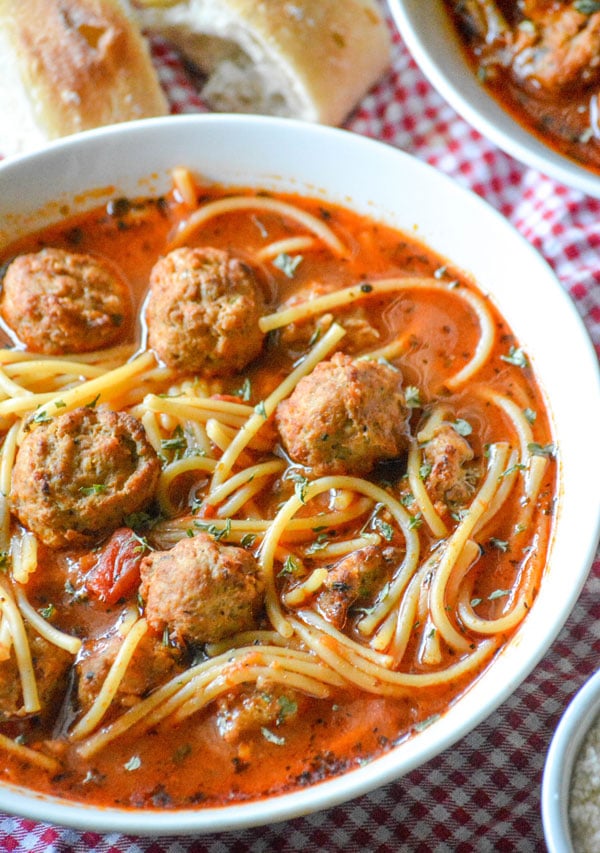 This is my time of year y'all. Finally a day spent out in the Sun even requires hoodies and other warm clothes.
Gloves, boots, hats, Winter jackets have all been pulled out of their storage lockers and dusted off.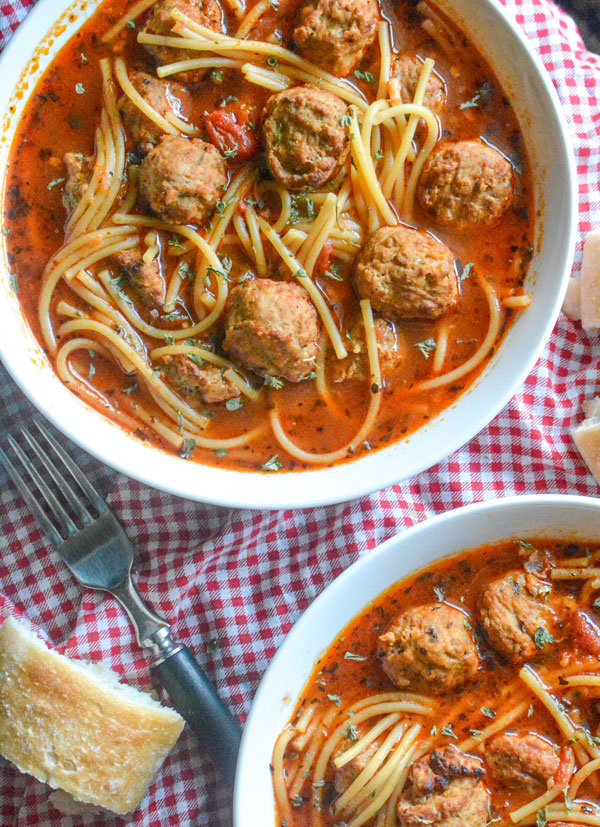 Our thermostat's set at a comfy 68-70 degrees. The couch cubbies are stuffed with our favorite family throws. Those boots I mentioned earlier? They're all loving stacked next to the front door, ready for toasty wool socks to be tucked into them in the morning on the way out.
The car radio is already tuned to the 24hr Christmas station. The bins & bins of decorations, ornaments, lights, etc are lined up in the hallway, waiting like the rest of is, in anticipation of finding, cutting down, and bringing home our family tree for 2017.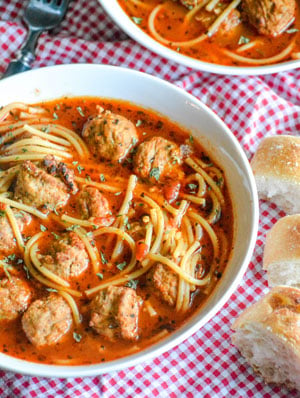 The other thing that's been dusted off? The pasta shelf in my pantry. Dusted off, and fully restocked. It only sees this much use one other time of year- and that's Summer BBQ season when we're making pasta salads to bring to back yard parties and potlucks.
Some of our favorite pasta based dishes are what we're most looking forward to when Winter rolls around.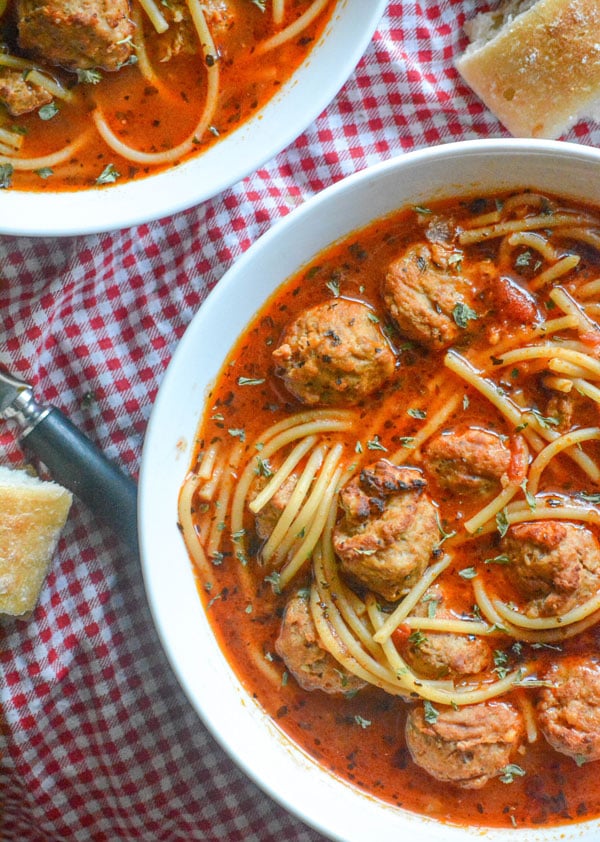 Don't get me wrong- we've allllll got our Winter favorites. I mean, just off hand, some of mine include our Chipotle Sweet Corn Leftover Meatloaf Chili or even our Asiago Bisque.
They only have to really fulfill three things, to be thick, hearty, & comforting- all things that this amazing Slow Cooker Spaghetti & Meatballs Soup encompasses.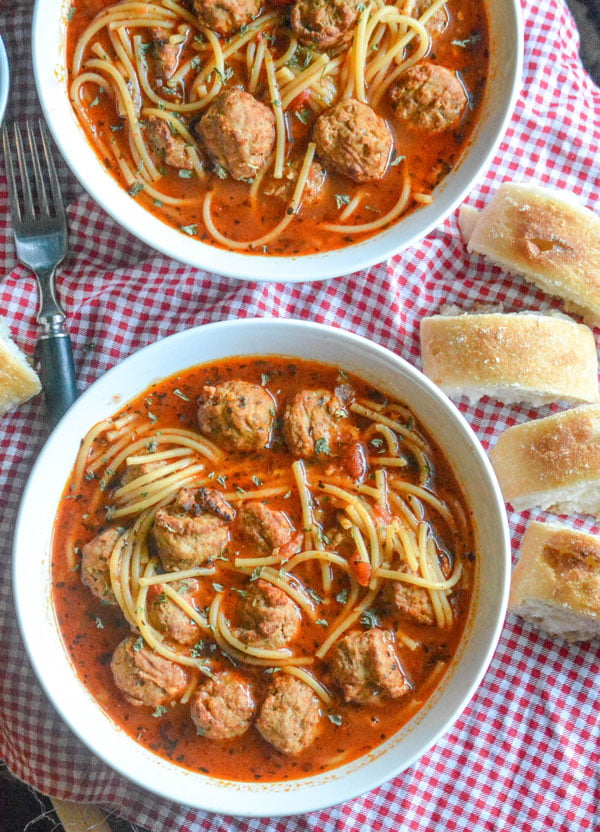 I promise you, it checks, then double checks, every box on the list!
This recipe takes one of your childhood favorites, and gives it a fun new twist. Spaghetti & Meatballs, a classic, with a modern spin.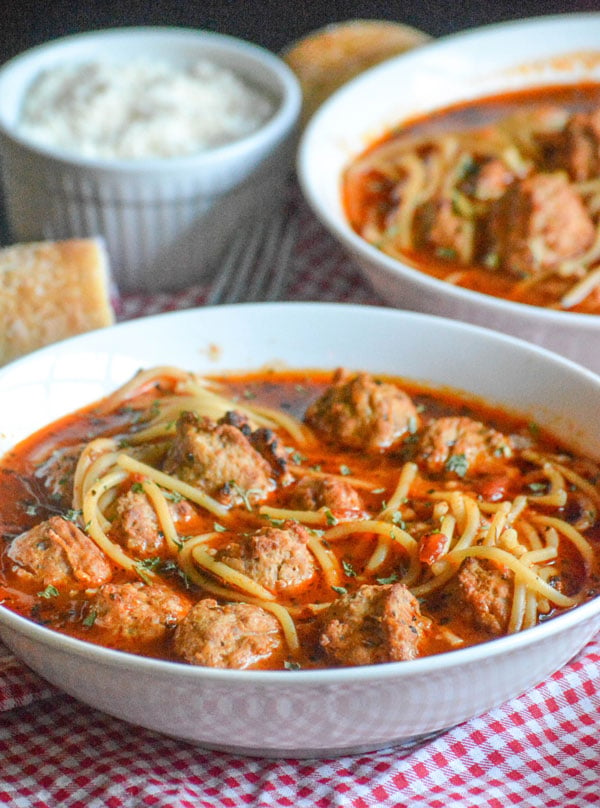 Slow Cooker Spaghetti & Meatballs Soup is obviously easy, throw everything in one pot. Let the flavors marry all day long. When you get home, throw the noodles in. It's the ideal savory Italian American supper when you've got life to deal with, and not enough time to spend slaving over the kitchen stove.
If you've tried this SLOW COOKER SPAGHETTI & MEATBALLS SOUP, or any other recipe on my site, let me know in the comment section how it turned out, we love hearing from our readers! You can also follow along with me on PINTEREST, FACEBOOK, and INSTAGRAM to see more amazing recipes and whatever else we've got going on!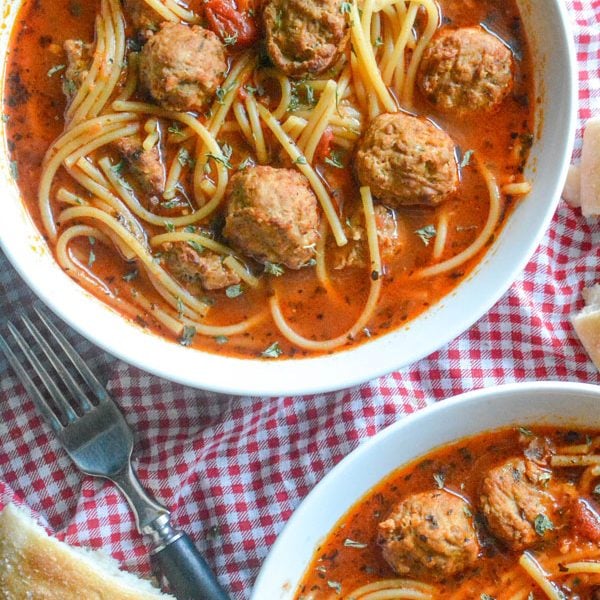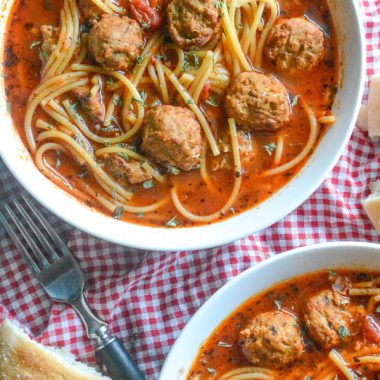 Slow Cooker Spaghetti & Meatballs Soup
One of our childhood favorites in a new savory soup that's perfect for supper.
Print
Pin
Rate
Ingredients
1

20 oz pkg frozen meatballs

1

24 oz jar of spaghetti sauce

4

cups

beef broth

3

cups

water

1

tsp

minced garlic

1

tsp

dried basil

1/4

cup

grated Parmesan cheese

8

oz

spaghetti noodles

broken into thirds
Instructions
To the bowl of your slow cooker, add the meatballs, sauce, broth, water, garlic, basil, and Parmesan cheese.

Cover and cook the soup on low for 6-8 hours.

15-20 minutes before you're ready to serve, turn the temperature up to high & stir in the uncooked pasta. Cover, and continue cooking 15-20 minutes, or until the pasta is tender.

Salt & pepper the soup, to taste. Serve topped with freshly shredded Parmesan, if desired.