A cozy pie has always been the ultimate comfort food in my family's Southern kitchen. Instead of sweet, we've gone savory with a meat and potato based beef pot pie. Infused with Irish tradition & flavor, this steak & Guinness pie is an effortless dinner that feels fancy making it fit to grace the supper table for any occasion throughout the year.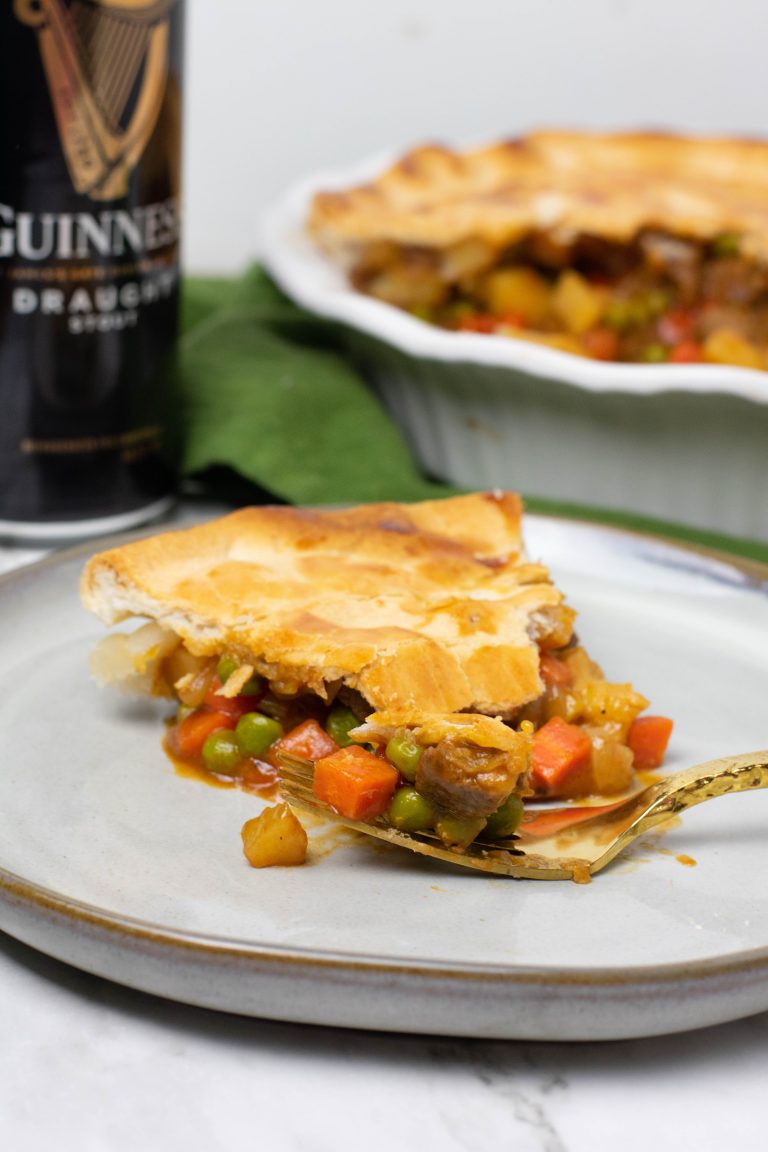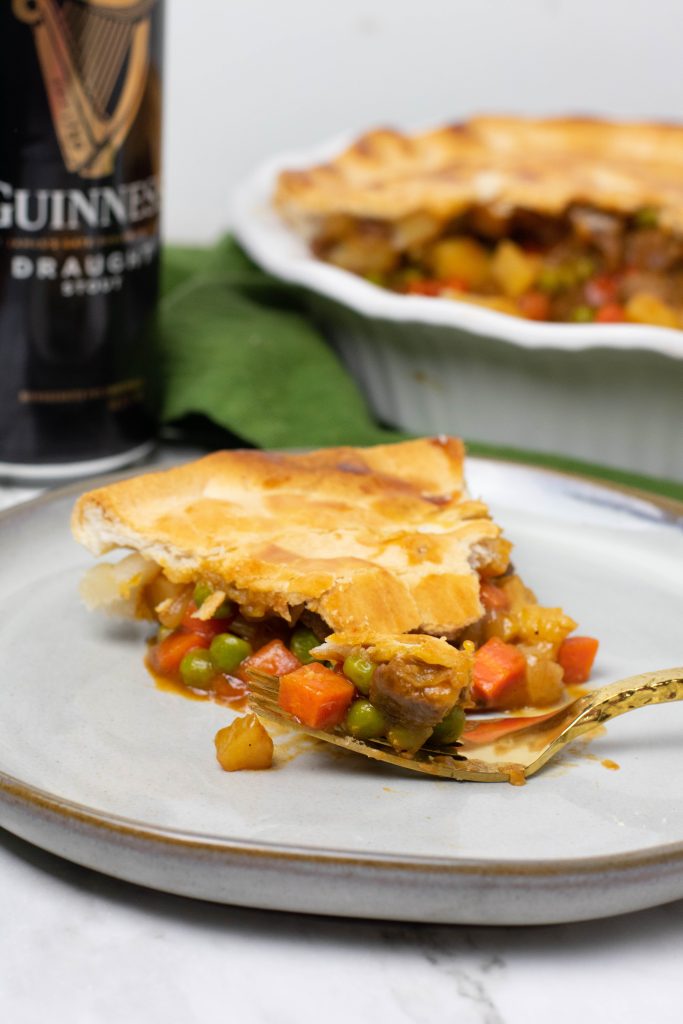 This is the second of this year's recipe trilogy in honor of Saint Patrick's day.
Guinness got just about everything right with their traditional stout, but one thing my father never told me as he slowly sipped it from an ice cold mug, is that it could be so much more than just a relaxing night cap.
Last year we introduced you to our easy crockpot Guinness beef stew.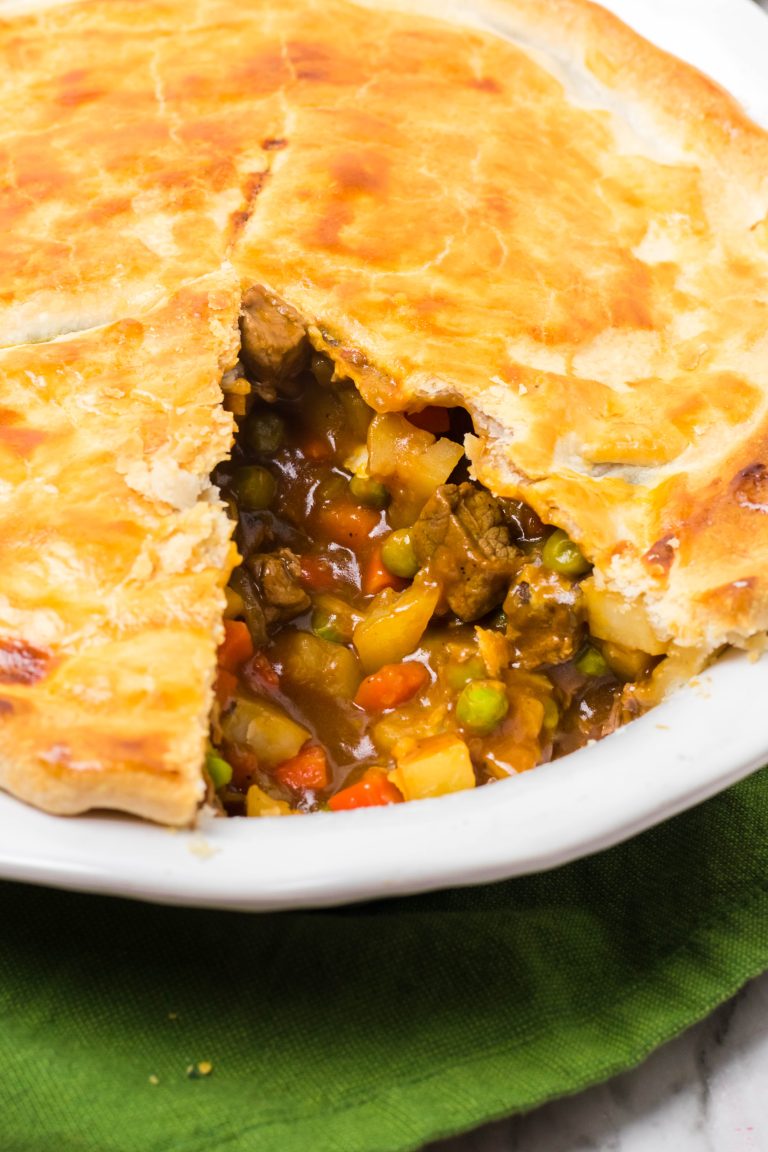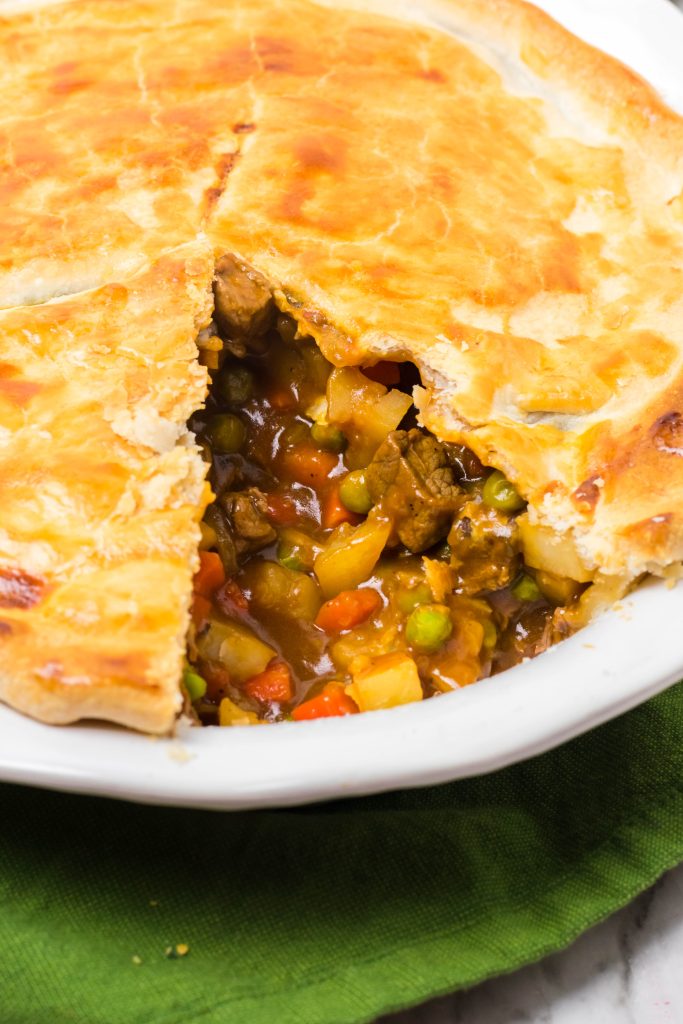 This year we built on that idea and decided to put it in possibly the best dinner pie of all time. A steak filled pie. A real meat and potatoes dinner, but stuffed between layers of buttery pastry dough.
Steak and Guinness Pie is rich, it's hearty, and embraces one of the tastiest Irish dinners of all time.
Merging a beef pot pie with the tenderizing and fortifying flavors of Guinness stout is pure genius.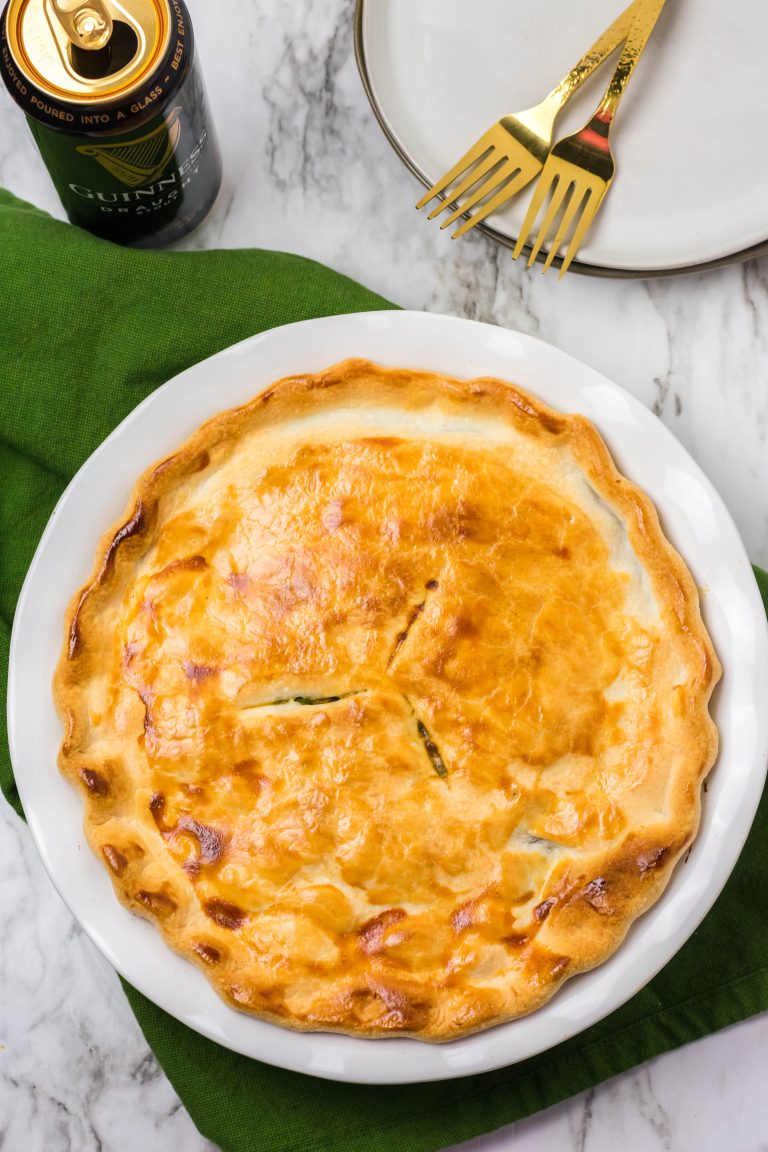 Fast forward 20 years, and you've got my kids who don't see me sipping on an ice cold brew so much as putting it in their food. And then they freak out, like they're doing something naughty by consuming a dish with 'alcohol' in it.
And I'm over here like, 'Little people, do you really think I would serve you something bad for you, let alone illegal?'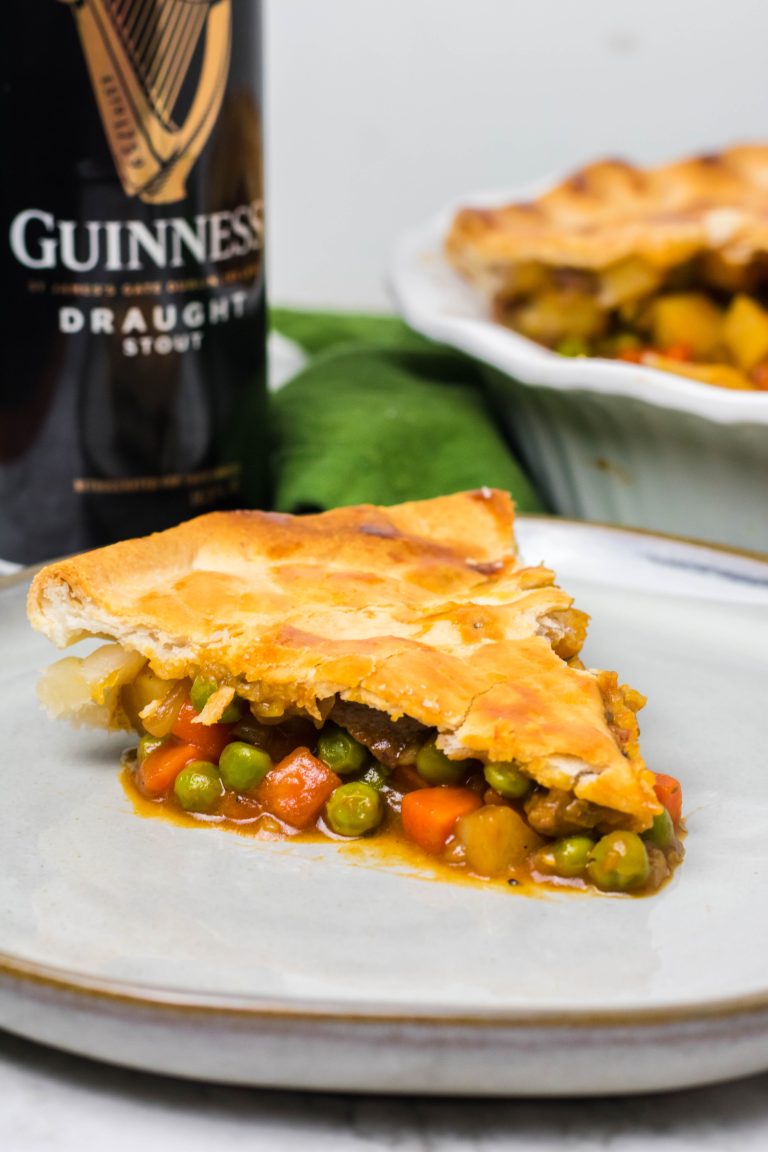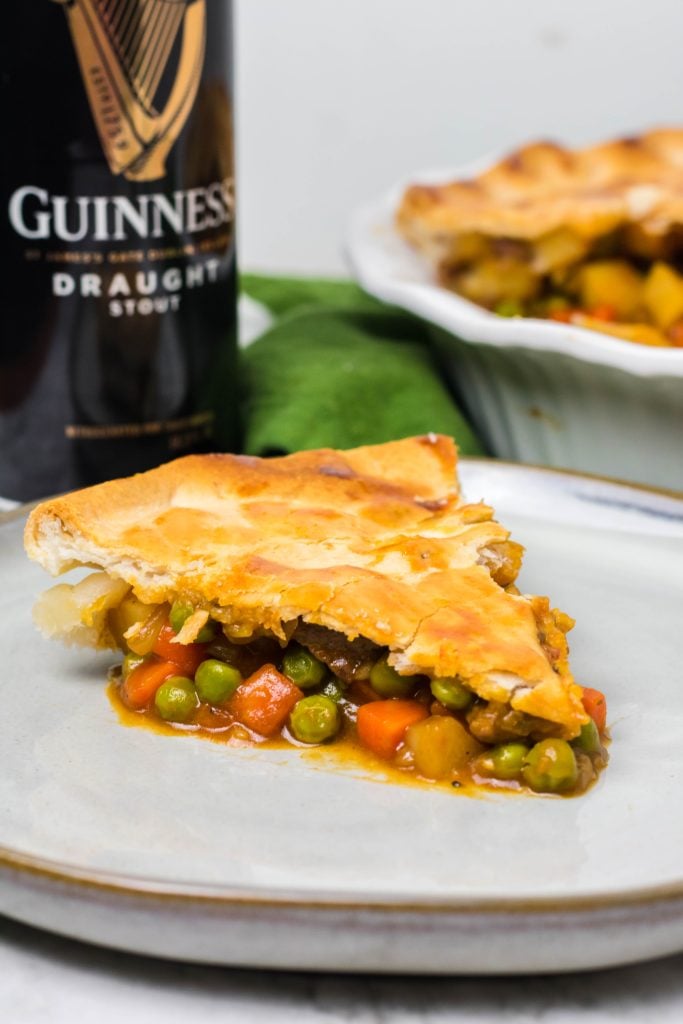 They still don't really believe me that the intoxicating bit all cooks off long before it's served to them, but I continue to assure them that it does.
Meaning that all dishes cooked & consumed in Mama's kitchen are harmless and well within the limits of the law. They just might be a tad bit more flavorful than other versions.
Personally, I think they just like to talk about it because their friends might think they're cool or something. Silly boys, but kids will be kids- or so they say.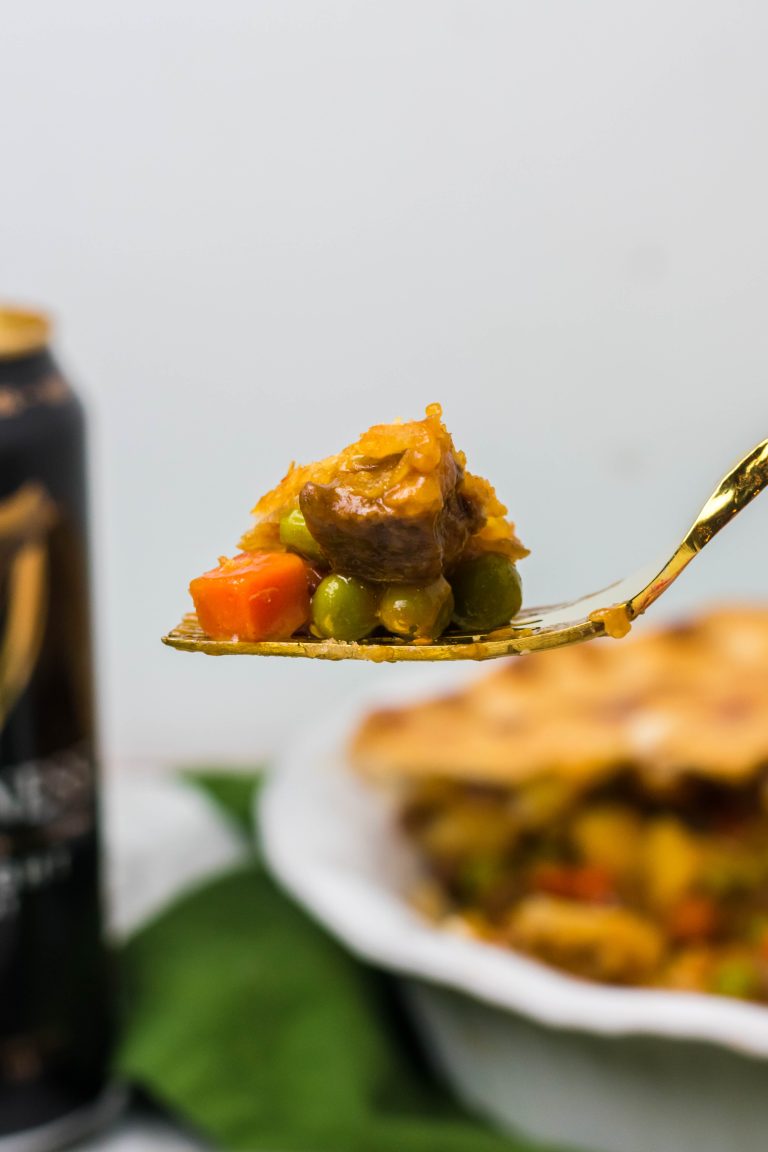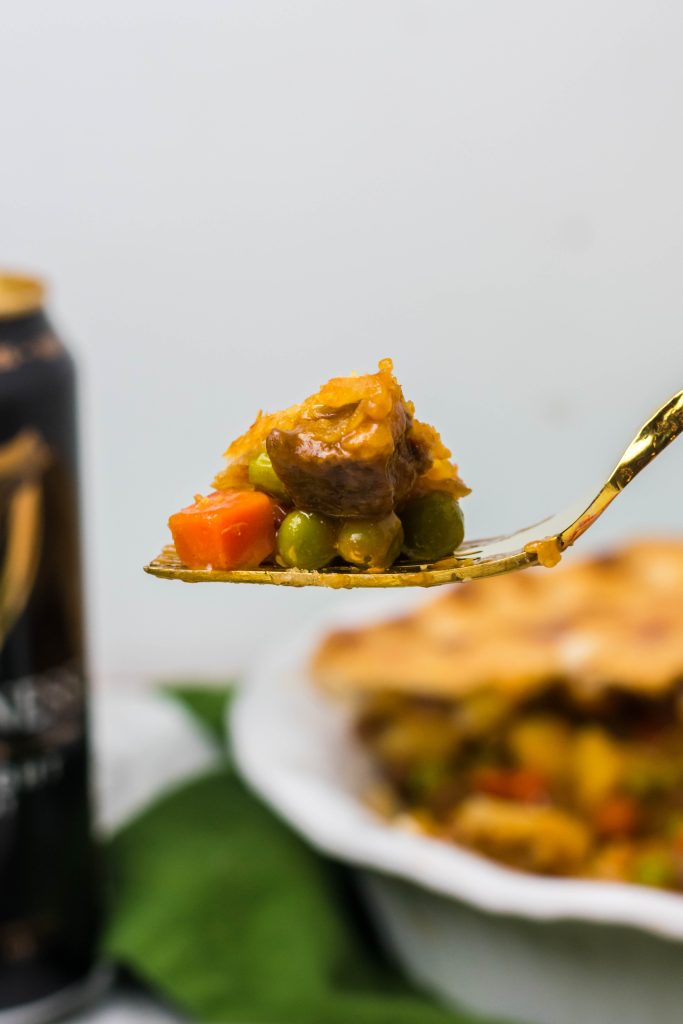 Why Is This Savory Dinner Dish Called A Pie Anyway?
Cooked off alcohol aside, this pie combines two thing's Ireland's famous for, their beef and their beer although ours does have a decidedly American bent.
It's all brought together in a convenient dish that's as rustic looking as it is good.
This thing is basically a family sized pot pie, but with beef. And not just any beef, quality beef like steak instead of the more traditional ground beef or scraps. It even bakes in it's own rich gravy that's created thanks to a little help from that hearty beer those Irish are so famous for.
All the hearty beef stew flavors you're familiar with are another thing this pie tends to remind everyone of, but enriched with the deep Guinness flavor that also tenderizes the meat until it melts in your mouth. So it really does have a purpose, in addition to just depth of flavor and overall taste.
The word pie as we know it refers to a dish baked up under a rich pastry crust, but they don't have to be sweet- they absolutely can be savory too. And that's exactly what we've done with this savory steak & Guinness pie version.
Instead of just topping it with a crackling crust though, we went old school and lined the dish with pie crust as well.
With two layers of crust sandwiching the filling, it makes it feel more indulgent. It also makes slicing and serving easier, neater, and prettier.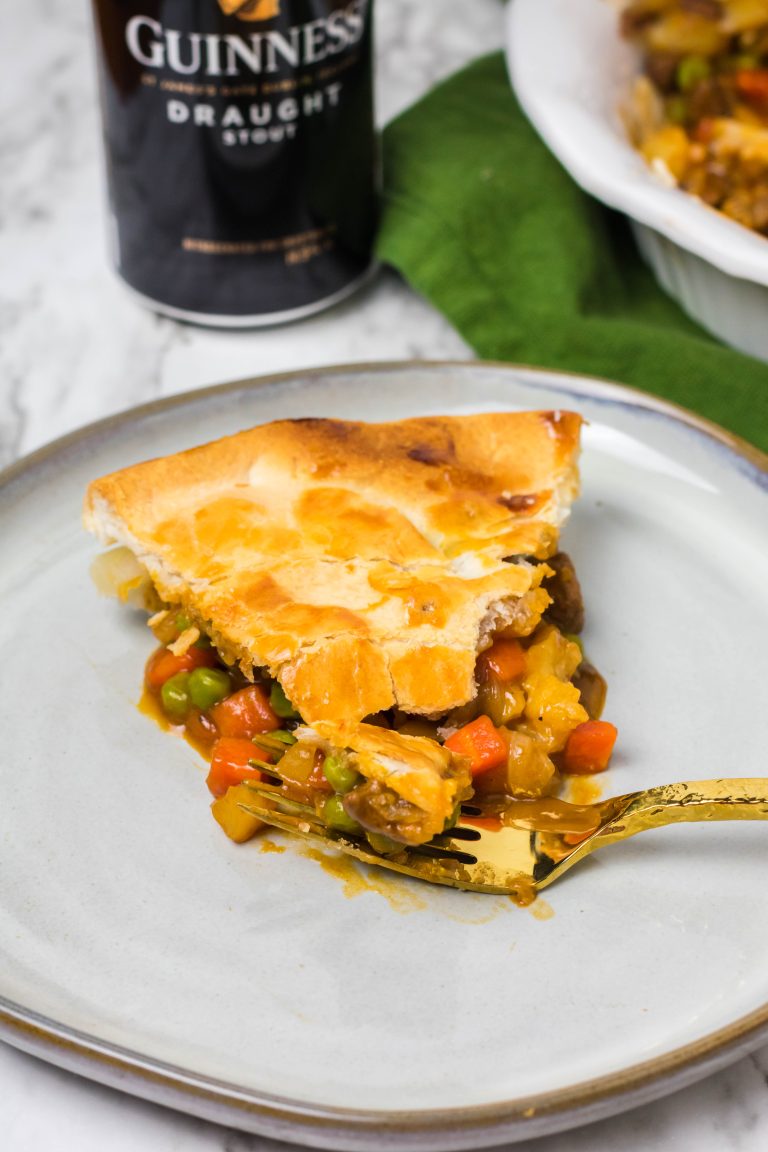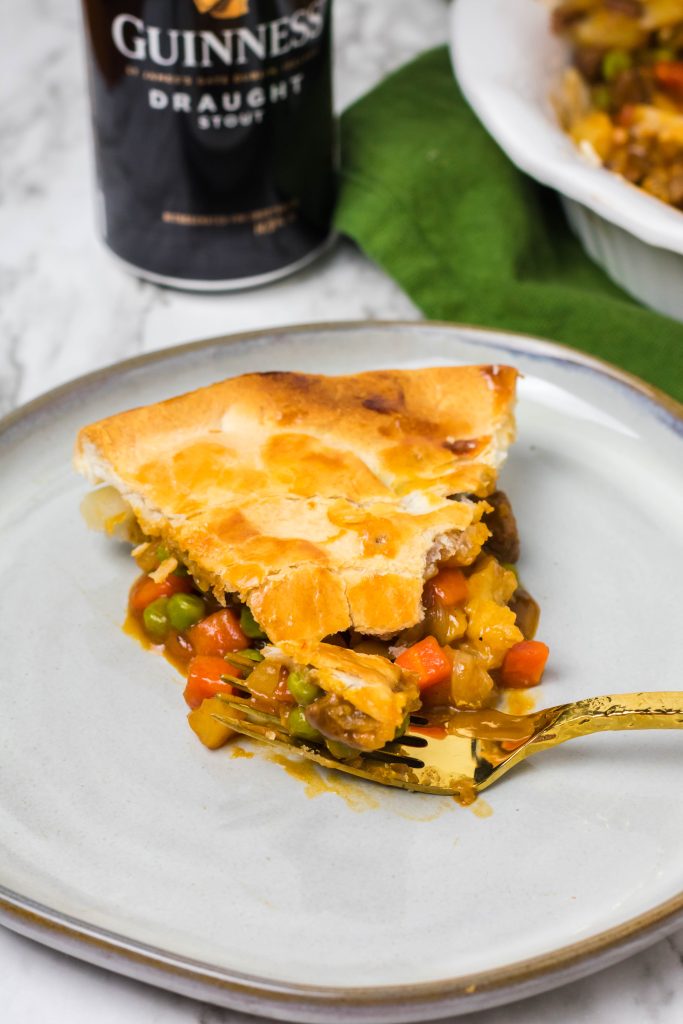 While this recipe may have more steps than the average one we post, it's still relatively simple. That being said, there's always a couple of helpful hints to ensure you have the most success when making it yourself.
Tips & Tricks To Help You Make The Best Version of Steak & Guinness Pot Pie:
You don't have to use all the veggies listed in the recipe, you can mix and match even adding some of your family's favorites. Think beef stew and what you like in there when considering changes.
While you can certainly make your own pie crust, I highly suggest using a store bought version as an easy short cut for busy nights. Just follow the package instructions when preparing the pie.
Baking the bottom shell a bit before filling will help prevent it from becoming soggy later on.
When dicing the potatoes, make sure the pieces are small enough that they're the same size as the other veggies in your filling. Keeping a uniform size will ensure that your potatoes are tender and fully cooked when the pie's done baking.
If you do not like Guinness, or are against using alcohol, that's ok- just sub a cup and a half of additional beef broth in its place.
Do not skip the resting step after removing the pie from the oven. The filling will still be soupy and needs the time to rest and thicken up before slicing and serving.
Don't have a chuck roast on hand and don't want to make a trip to the store? You can also sub any cut of steak, stew beef if cut into smaller pieces, and in a pinch even ground beef. If using ground beef cook, crumble, and drain it of any grease before including it in the recipe as written.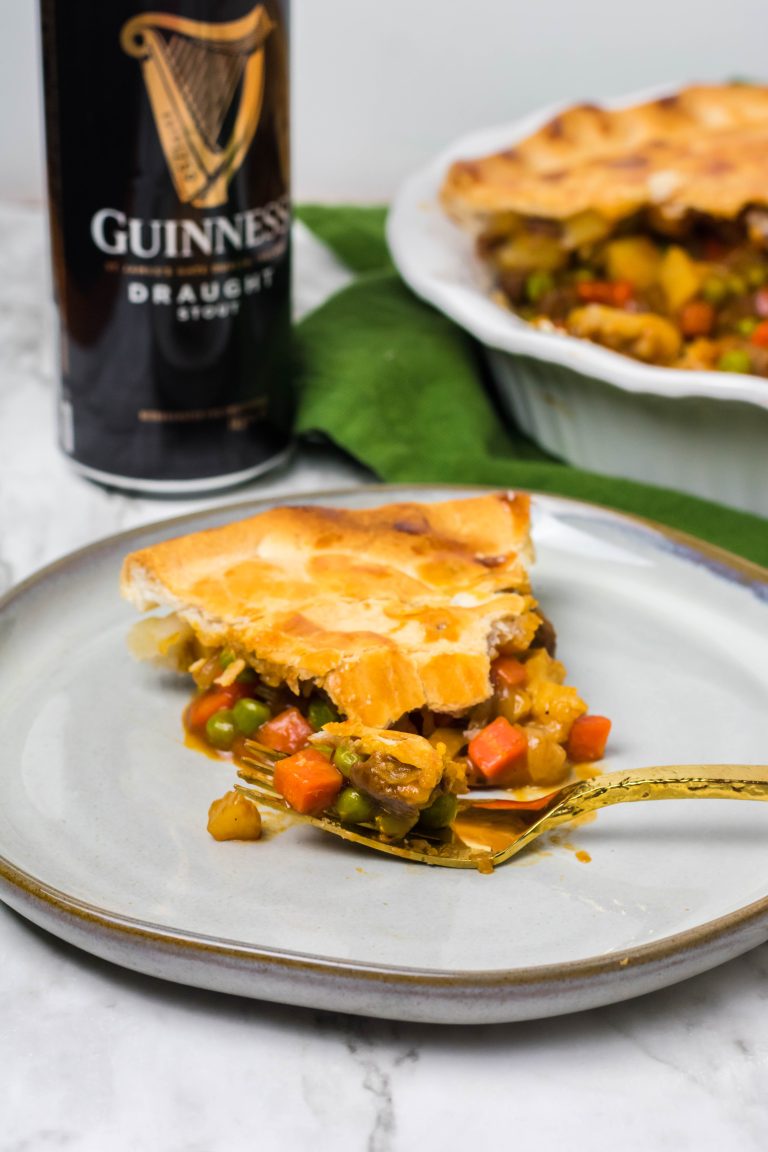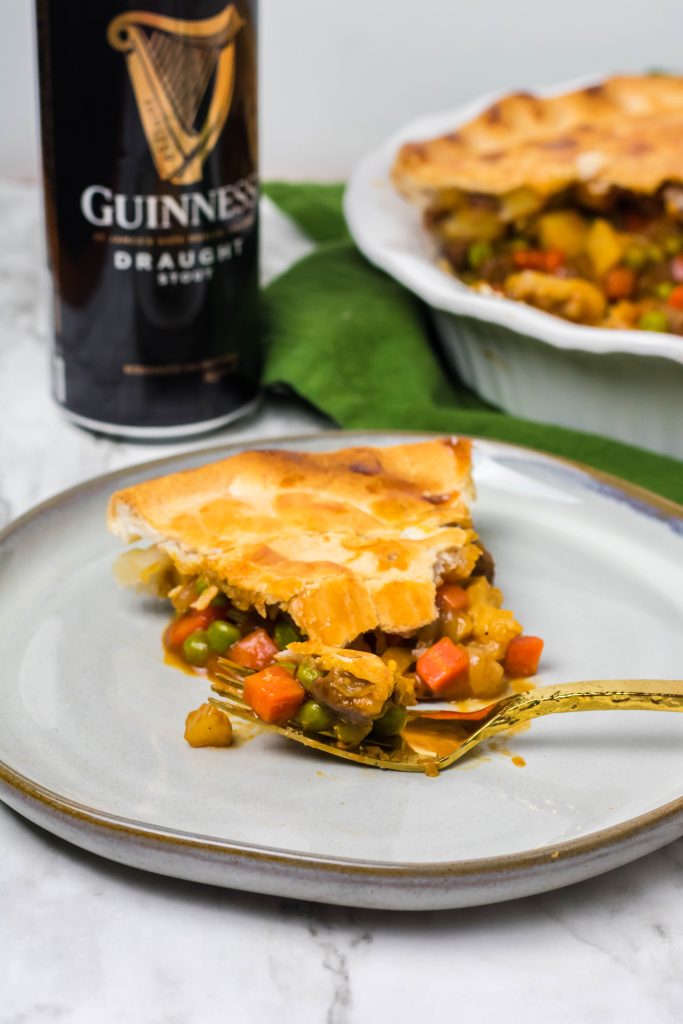 Loaded with 'peasant' vegetables, chunks of tender beef, and a savory sauce all tucked between two layers of golden, flaky pie crust– this steak & Guinness pie isn't just good, it's practically perfection on a plate.
It's the perfect dinner to savor on Saint Patrick's day, but so good we keep it in the regular recipe rotation. It will definitely warm the family up and help get the conversation flowing on chilly evenings. Pair each slice with a hunk of our crusty traditional Irish soda bread for a tasty traditional meal that has stood the test of time!
Other Savory Pot Pie Style Recipes To Try:
Looking For More Irish Inspired Recipes? Check These Out Before You Go
If you've tried this STEAK & GUINNESS POT PIE, or any other recipe on the site, let me know in the comment section how it turned out, we love hearing from our readers! You can also follow along with me on PINTEREST, FACEBOOK, and INSTAGRAM to see more amazing recipes and whatever else we've got going on!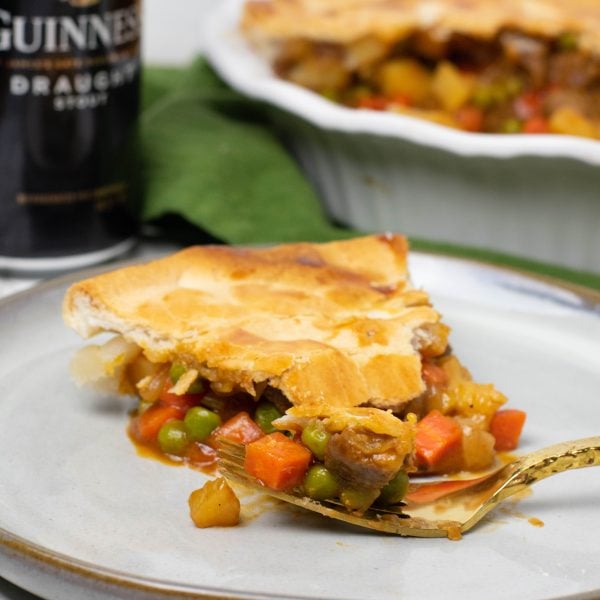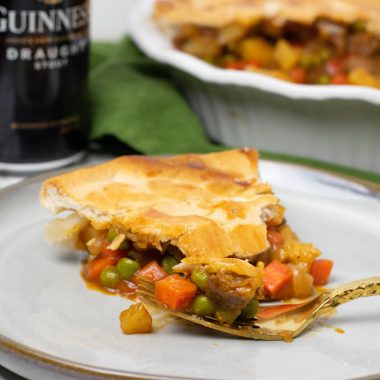 Steak & Guinness Pot Pie
The hearty and delicious flavors you love about a great beef stew (with a distinctive hint of Guinness) tucked in between two layers of golden, flaky pie crust pastry.
Print
Pin
Rate
Ingredients
2

lbs

beef chuck

cut into 1/2 inch cubes

1

large onion

thinly sliced

4

cloves

garlic

minced

3

sticks celery

diced

8-10

mushrooms

thinly sliced

2

cups

diced potatoes

or thinly sliced

1 1/2- 2

cups

frozen peas & carrots

2

tbsp

tomato paste

1

tsp

dried thyme

1/2

tsp

dried rosemary

1

bay leaf

1 1/2

cups

Guinness beer

2

cups

beef broth

3

tbsp

brown sugar

2

tbsp

flour dissolved just enough water

salt & pepper

to taste

2-3

tbsp

olive oil

1, 2

count

pkg of store bought pie crust

1

egg beaten with a pinch of salt
Instructions
Generously season the beef with salt and pepper.

Add the oil into a Dutch oven over medium heat. Add in the seasoned beef and brown on all sides before removing it with a slotted spoon and letting it rest on a paper towel lined plate to drain.

Add the onions to the pot and sautee for a couple of minutes, or until they're soft and translucent.

Add the garlic and sautee for about two minutes, stirring often

Add in the celery and mushrooms to the pot and sautee them for a couple of minutes.

Next, add in the tomato paste, thyme and rosemary and stir to evenly disperse. Stir the beef back into the pot along with the stout and the broth. Bring the stew to a rolling boil.

Stir in the brown sugar and add a bay leaf to the stew, then turn the heat down to a low simmer. Cover the pot and let the stew simmer for about 30 minutes.

Stir in the potatoes, return the cover and let the stew continue to simmer for another 30 minutes or so.

After making sure the potatoes are fork tender, bring the stew to a rapid boil, and then stir in the flour slurry until evenly incorporated.

The stew will start to thicken right away, and once it's reached the consistency you like, turn the heat off and add the frozen peas and carrots.Roll out the first pie crust. Lay it evenly in the bottom of a 9" pie pan. Gently press the sides into the glass so it rests flat against the dish. Prick the bottom several times with a fork.

Ladle the stew into the pie pan until it's even or just above the top of the dish, and then carefully lay the other pie crust out over top. Pinch the two crusts together along the rim of the dish to seal.

Brush the top of the pie lightly with egg wash and use a sharp knife to cut 2-3 slits in the top. Bake the pot pie in the oven at 400 degrees for 20-25 minutes and until the crust has turned golden and crispy.

Remove the pie from the oven and allow it rest for 5-10 minutes before slicing and serving.
Notes
If you have leftover stew after filling your pie, eat it as is or you can save it to make into a smaller pot pie. It also freezes well.
Nutrition
Calories:
866
kcal
|
Carbohydrates:
71
g
|
Protein:
42
g
|
Fat:
46
g
|
Saturated Fat:
16
g
|
Cholesterol:
132
mg
|
Sodium:
898
mg
|
Potassium:
1267
mg
|
Fiber:
8
g
|
Sugar:
8
g
|
Vitamin A:
7905
IU
|
Vitamin C:
21
mg
|
Calcium:
112
mg
|
Iron:
9
mg
originally posted March 9, 2016