We've traded in our typical pot pie for an ultra creamy, extravagant version that still doesn't break the grocery budget. Lump crab, cooked shrimp, creole seasoning, bacon– just to name a few of the flavors stuffed in this filling Seafood Pot Pie. Of course, it's rounded out with a classic veggie medley of peas, carrots, and corn. It's a savory meal tucked into every perfectly flaky juicy pot pie bite.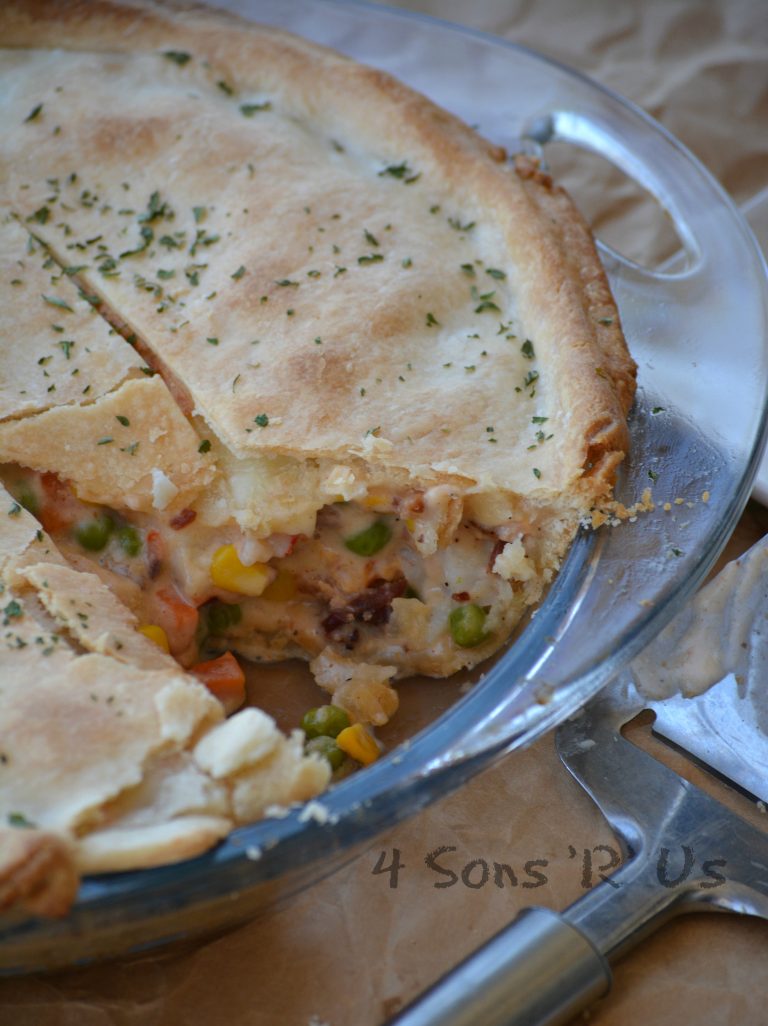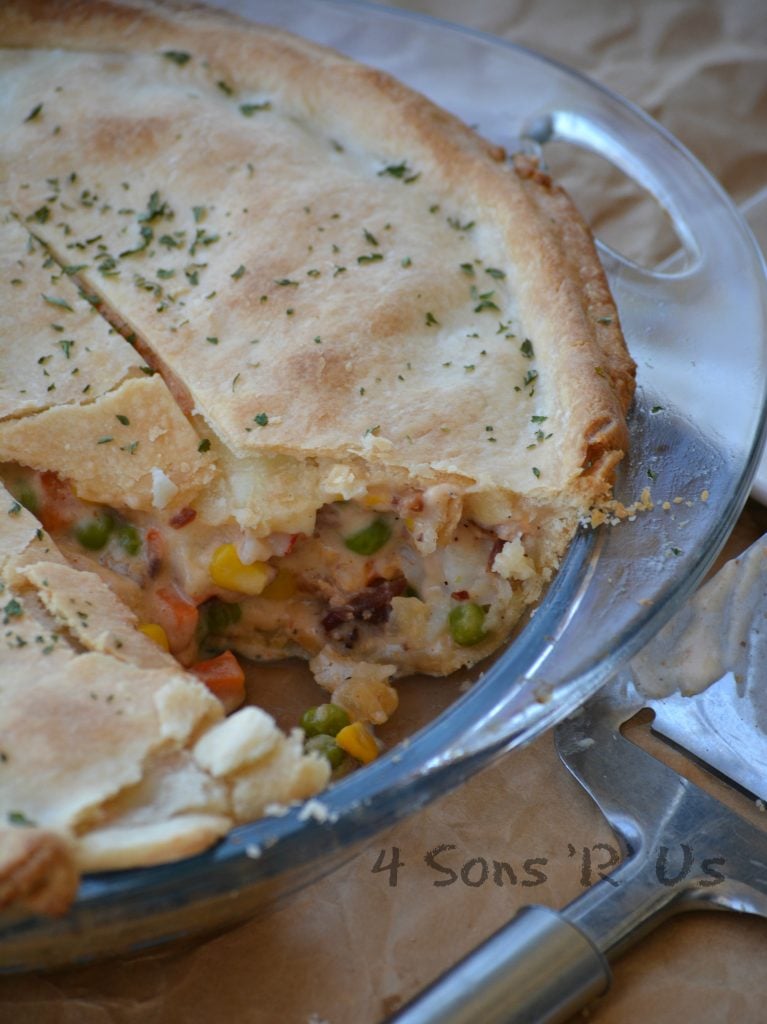 I feel like pot pie is a fairly common meal. Common enough that virtually everyone has at least heard of it and most have probably sampled it a time or two too.
The most traditional– at least here below the Mason-Dixon line– being a chicken version, although Marie Calendar introduced me to a beef version.
That was when I was first living on my own. Subsisting almost entirely on the things I found stocked in my local grocers' frozen food section.
In the years since my culinary habits, like my tastes, have continued to evolve.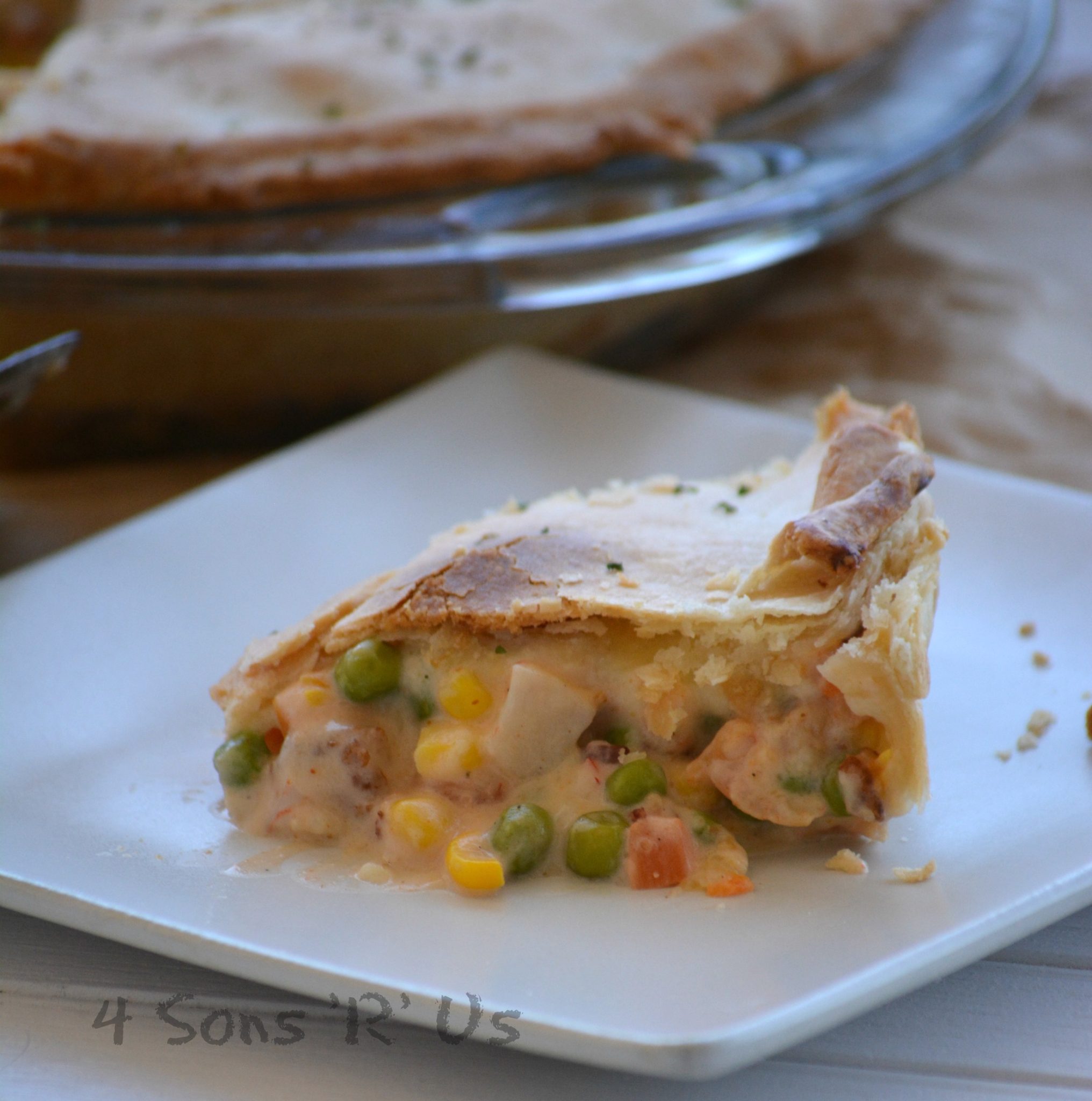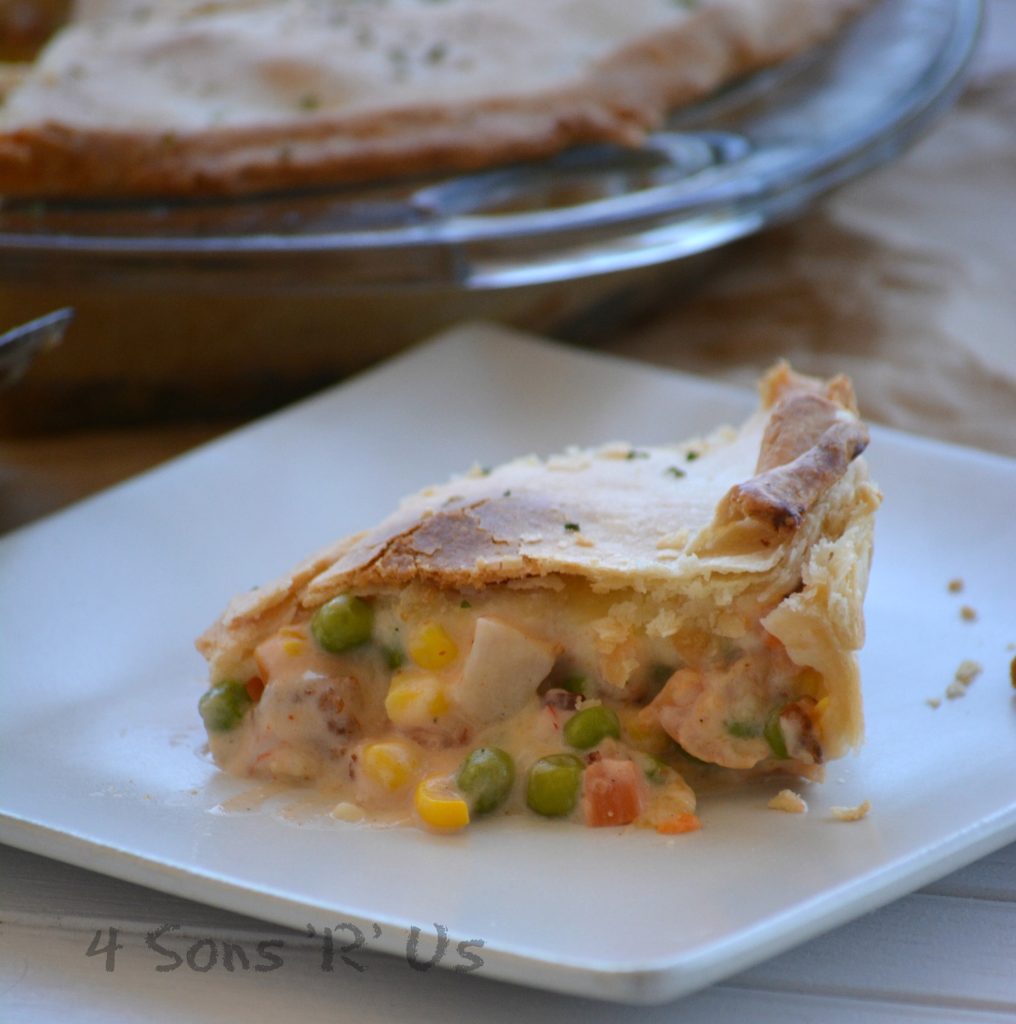 And a funny thing happened, as I tried more things– not only did I discover too many things I'd stuck my nose up at that were actually amazingly tasty, but my confidence continued to grow.
Along with the list of newly discovered foods I actually did like. And that list's a living thing that continues to grow to this day.
Shoot, I just discovered blue cheese earlier this week. Son # 2 brought me home a Cobb salad from his work and after smelling it the entire ride home and practically drooling on myself, I almost dove right into it when I walked in the door.
As it was, I set about eating it with gusto and it was only at the end that I realized those creamy, salty, tangy bits were in fact blue cheese and ohmygawd did they simply *make* each bite. See, still growing.
And I'll be the first to admit that while I tell my kids to do things (you at least have to try it, one bite, and then you can tell me how gross it is, accuse me of trying to kill you, and refuse to eat said whatever it is) I don't always do them myself.
My loss, apparently.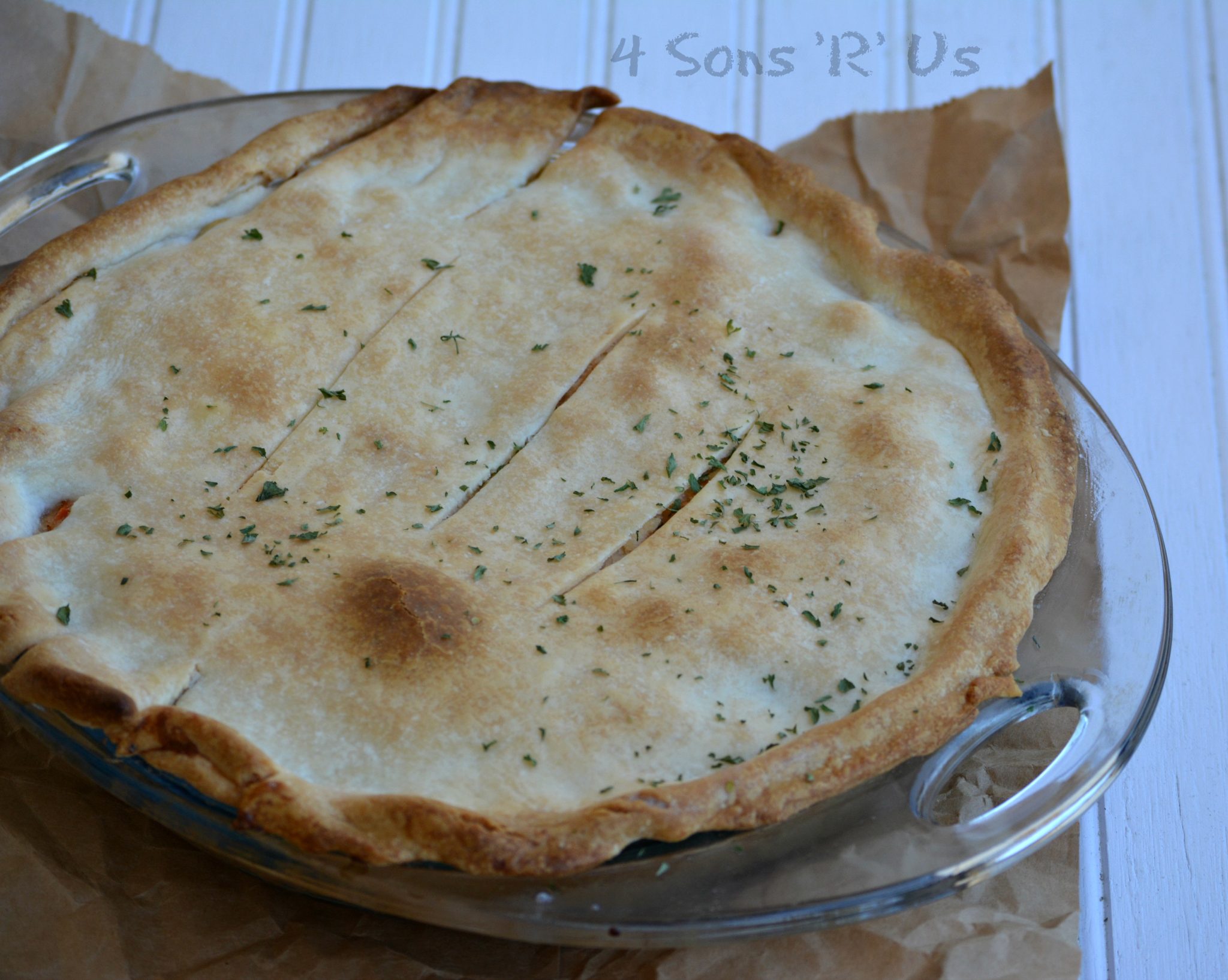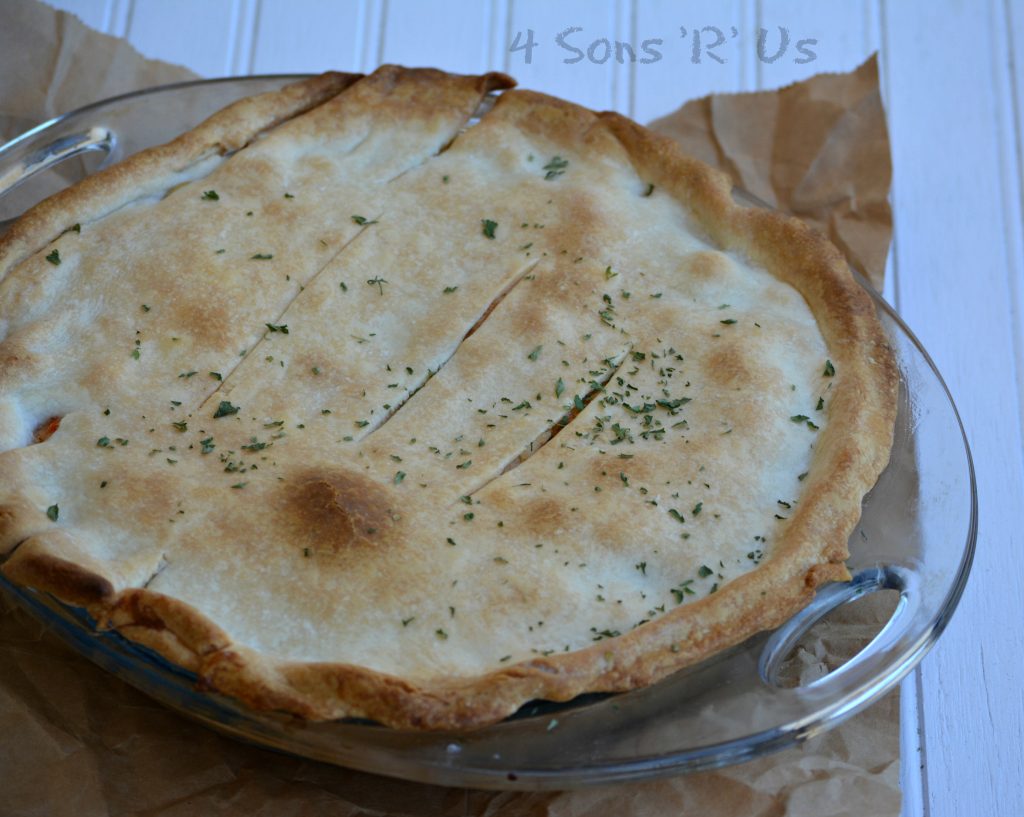 My point in all this being that since my tastes and know-how have expanded by leaps and bounds– I've gotten pretty good at figuring out other things that are equally yummy when stuffed between the golden, flaky layers of a perfect pie crust.
Guinness- braised beef for example in our tried and tasty Steak & Guinness Pie. Herbs and juicy slices of fresh tomatoes are another fine example.
But I've really got to hand it to myself with this latest seafood stuffed version.
It gets a big, ol' round of applause– like that overly-exaggerated literal clapping in a circle in front of myself rendition from elementary school.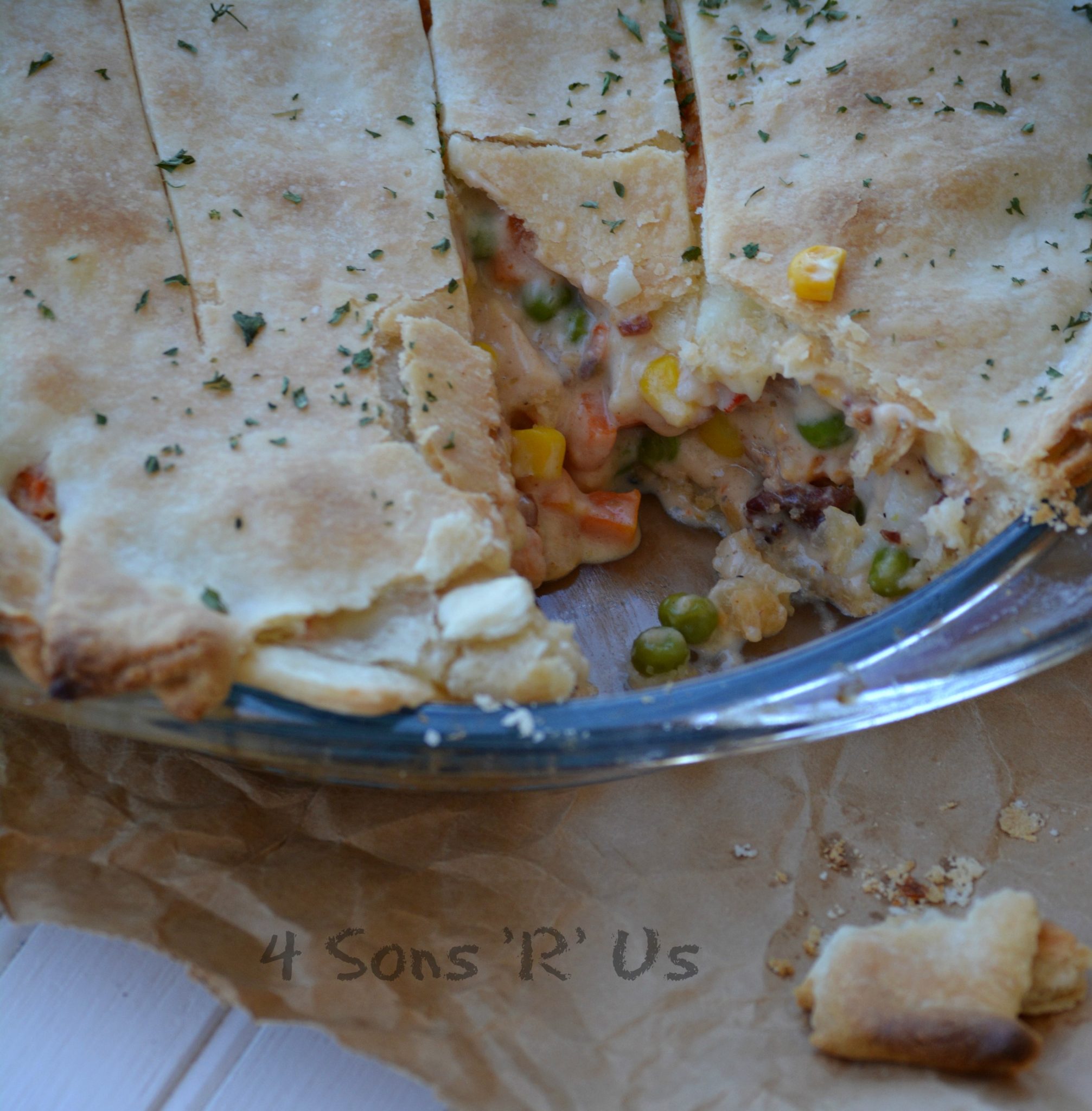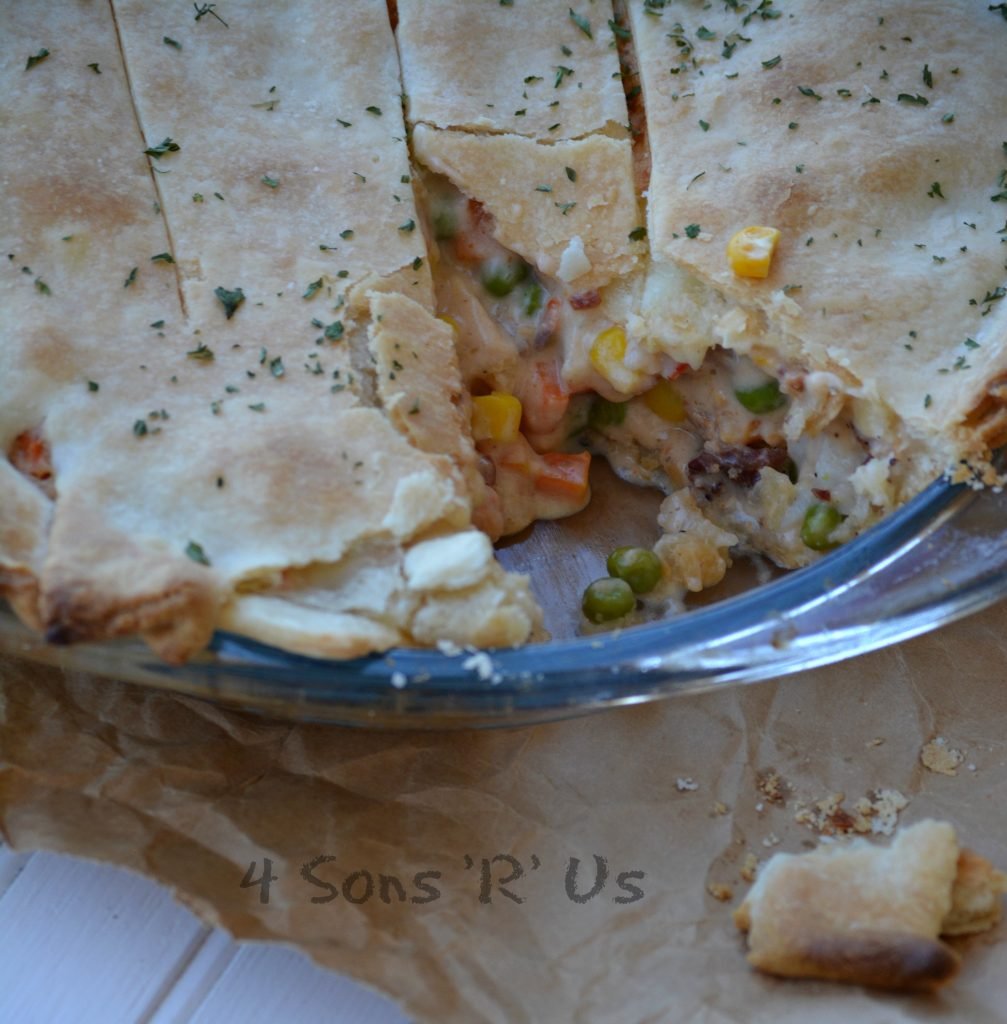 Just remember, it's pot pie so it's ok to use the cheap stuff. Chunks of imitation crab meat, bite-sized salad shrimp, crisp crumbled bacon, and a perfect vegetable medley make up the 'meat' in this dish.
A creamy shrimp-based sauce is spiced with creole seasoning and a bit of garlic before being stirred together and spooned into a prepared pie crust.
The meal's finished off with another buttery, flaky golden pie crust layer before being baked and served.
So skip the frozen food aisle and easily whip up your own gourmet pot pie, seafood style, without breaking the bank.
If you've tried this SEAFOOD POT PIE, or any other recipe on my site, let me know in the comment section how it turned out, we love hearing from our readers! You can also follow along with me on PINTEREST, FACEBOOK, and INSTAGRAM to see more amazing recipes and whatever else we've got going on!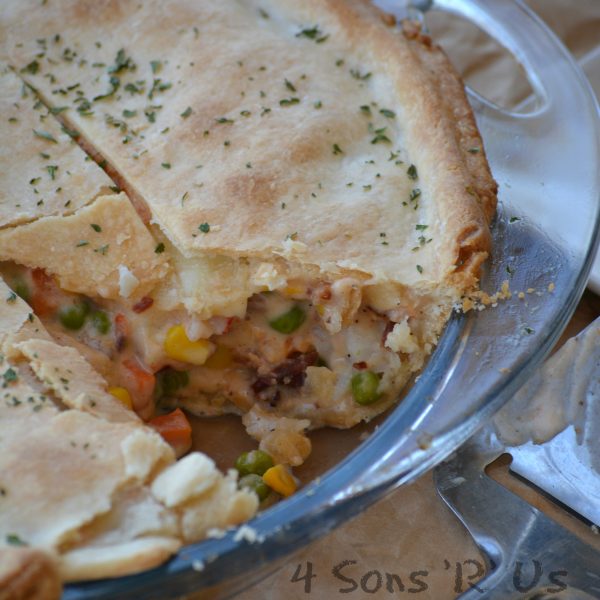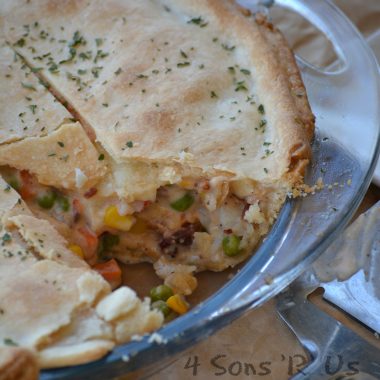 Seafood Pot Pie
A seafood themed pot pie that's easy to make without breaking the bank, and that you won't get tired of sinking your fork into.
Print
Pin
Rate
Ingredients
1

8 ounce package frozen cooked salad shrimp

1 1/2

cups

frozen veggies

we used a combo of corn, carrots, and peas,

1

can condensed cream of shrimp soup

1/3

cup

milk

1 8

oz

package imitation crab

roughly chopped

1/4

cup

crisp cooked

crumbled bacon

1

and 1/4 cup shredded Monterey jack cheese

divided

1/4

tsp

pepper

1/4

tsp

salt

2-3

tsp

Creole seasoning

1/2

tsp

garlic powder

1

box prepared pie crust

2 crusts

2

tbsp

butter

melted
Instructions
In a large skillet, add the shrimp, veggies, cream of shrimp, and the milk in a large skillet. Stir together and heat over medium heat, just until the shrimp and veggies have both begun to thaw.

Stir in the crab, bacon, 1/4 cup of the shredded cheese, salt, pepper, garlic, and creole seasoning until they're all evenly incorporated into the sauce. Heat, stirring occasionally, for about 6-8 minutes, or until the mixture is heated through and the cheese is melted and completely incorporated. Remove from heat and set aside.

Prepare a 9" pie plate/dish with non-stick cooking spray. Gently unroll the first pie crust and transfer it to the pie dish so it's flush along the bottom and evenly up against the sides.

Spoon the seafood mixture evenly out over top of the pie crust, then spread the remaining shredded cheese out evenly on top.

Gently unroll the second crust and place it on top, lightly pressing the edges together to 'seal' the pot pie crusts shut together. Cut 1-3 small slits in the middle of the top crust, then lightly brush the top crust with melted butter.

Bake at 450 degrees for 15-20 minutes, or until the crust is golden brown. Let the pie rest for a couple of minutes to 'set' before slicing and serving warm.
Notes
If you think the seafood mixture is too 'saucy', you can add another 1/2 cup of veggies to flesh it out a bit more.
adapted from Dizzy, Busy, and Hungry
Nutrition
Calories:
289
kcal
|
Carbohydrates:
29
g
|
Protein:
8
g
|
Fat:
16
g
|
Saturated Fat:
6
g
|
Cholesterol:
25
mg
|
Sodium:
588
mg
|
Potassium:
175
mg
|
Fiber:
3
g
|
Sugar:
2
g
|
Vitamin A:
2728
IU
|
Vitamin C:
5
mg
|
Calcium:
32
mg
|
Iron:
1
mg