Coney Island is famous for many things, it's unique style of hot dog chili chief among them. You haven't lived until you've savored a classic all beef frankfurter topped with this meaty Coney Island style hot dog chili. Get your fix without ever leaving home, and without any extra effort thanks to your trusty slow cooker.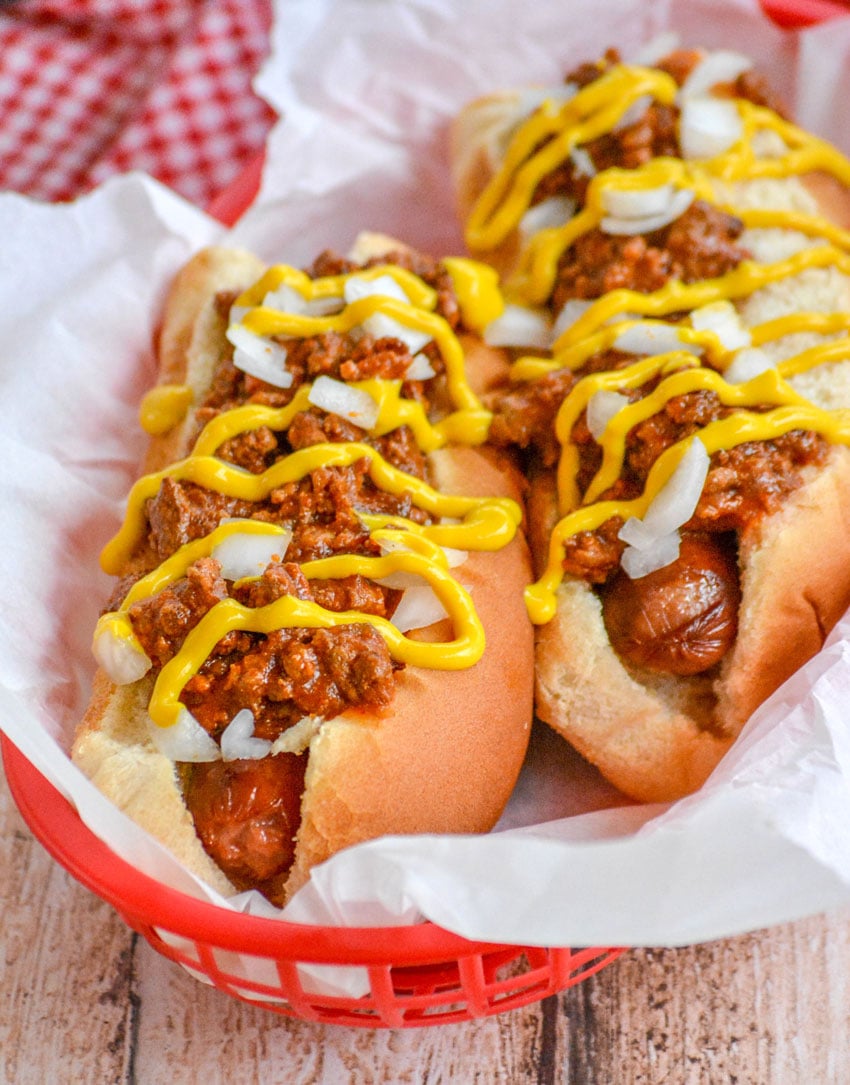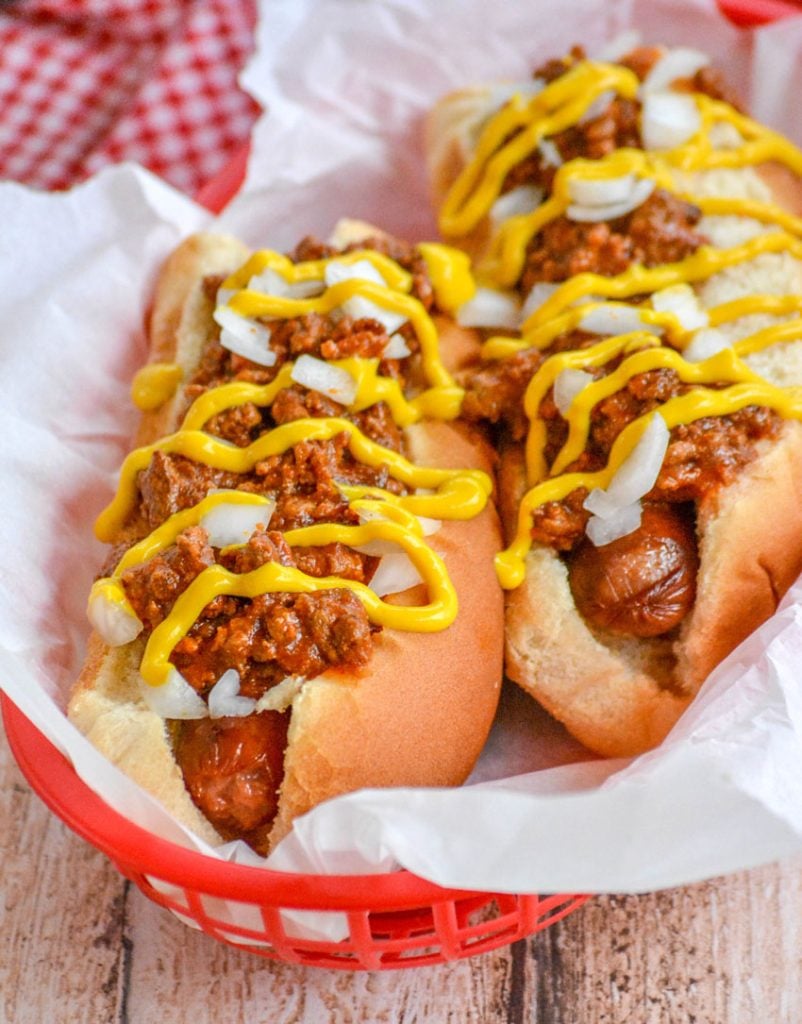 Hot dogs have always been a guilty pleasure in our home.
I know, I know. There's a litany of reasons not to eat them, including how unhealthy they are, the nitrates, etc.
And yet, I will continue to buy them when the mood strikes, and we'll all continue to 'relish' every bite. Pun 100 % intended.
As with everything else in life, I just apply the mantra- everything in moderation.
I wouldn't eat them everyday, although I'm pretty sure my kids would die happy if they could indulge in them morning, noon, and night.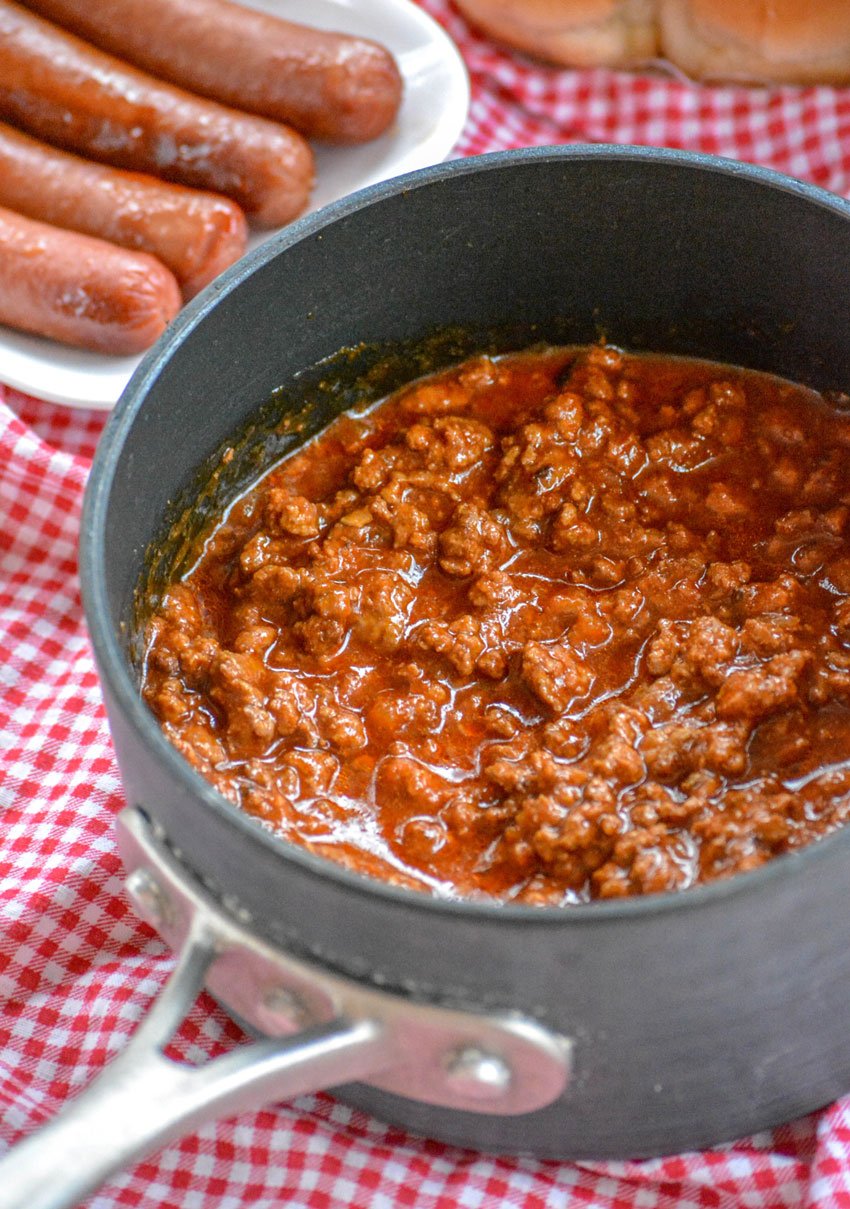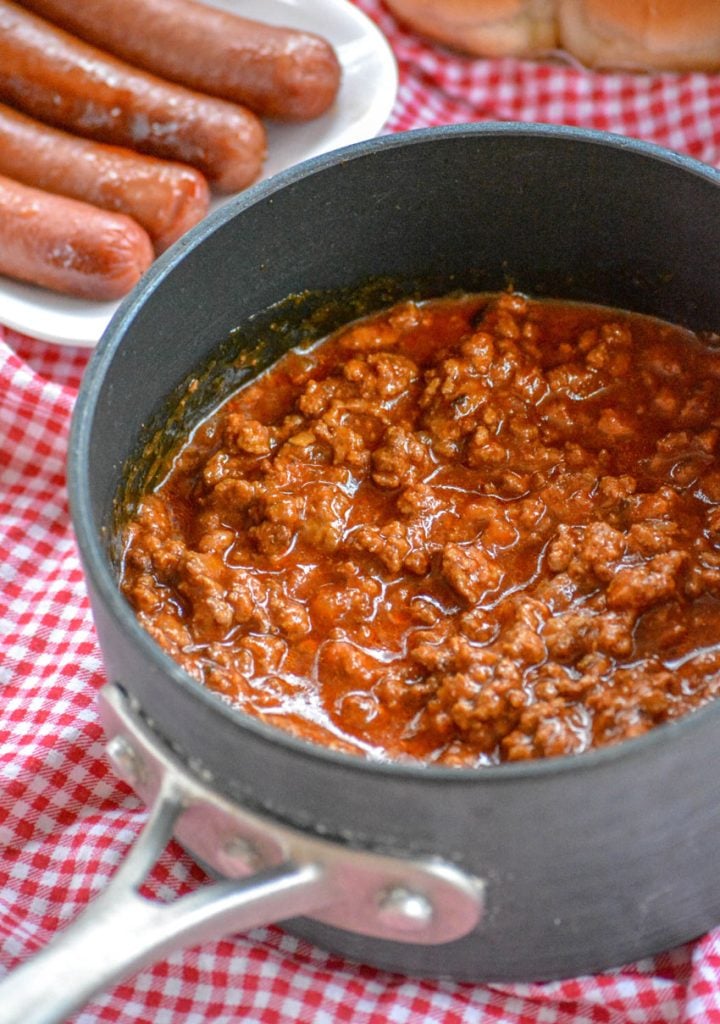 I grew up eating and enjoying them too, courtesy of my Grandma who hailed from Long Island.
They were her guilty pleasure food too.
Simple to make, but so so good. Even just served plain on a bun- they were heavenly.
100 % I chalk that up to the brand.
There was only ever one hot dog for her, and therefor only one kind ever served in our house.
Nathan's brand famous beef franks.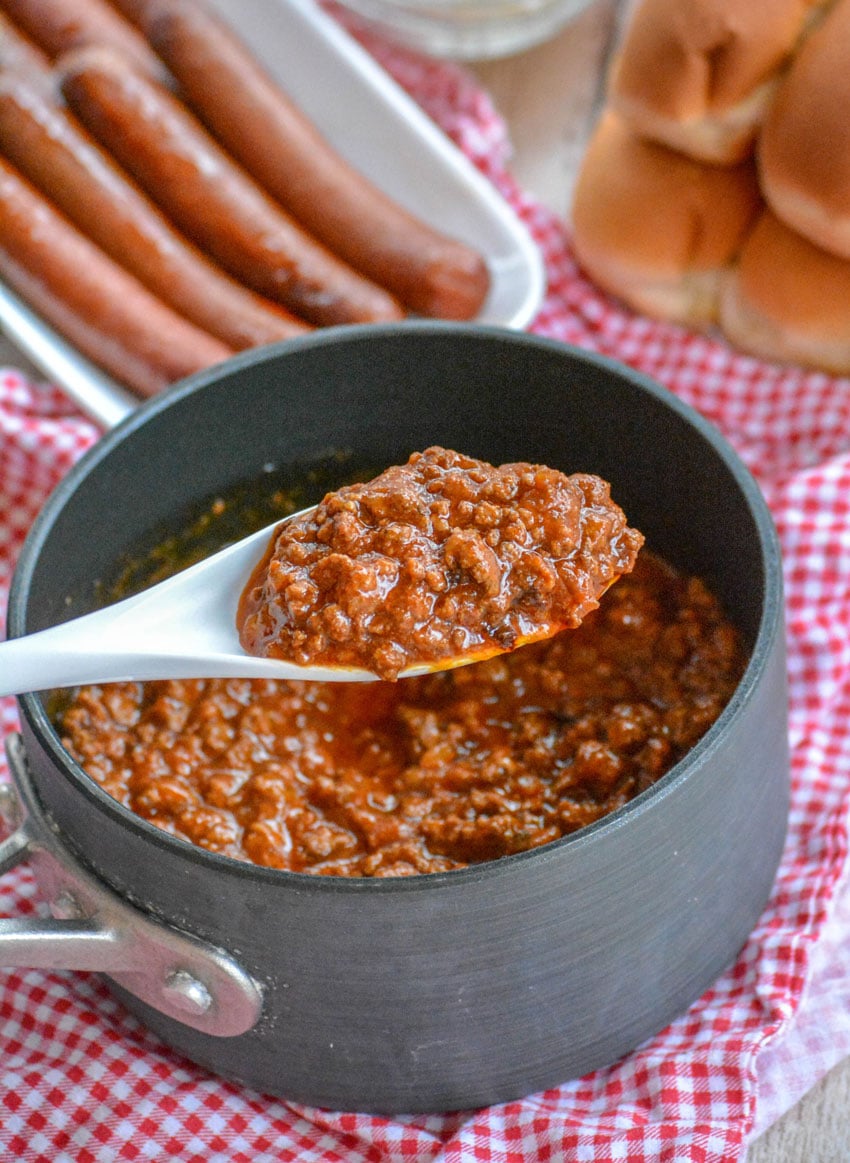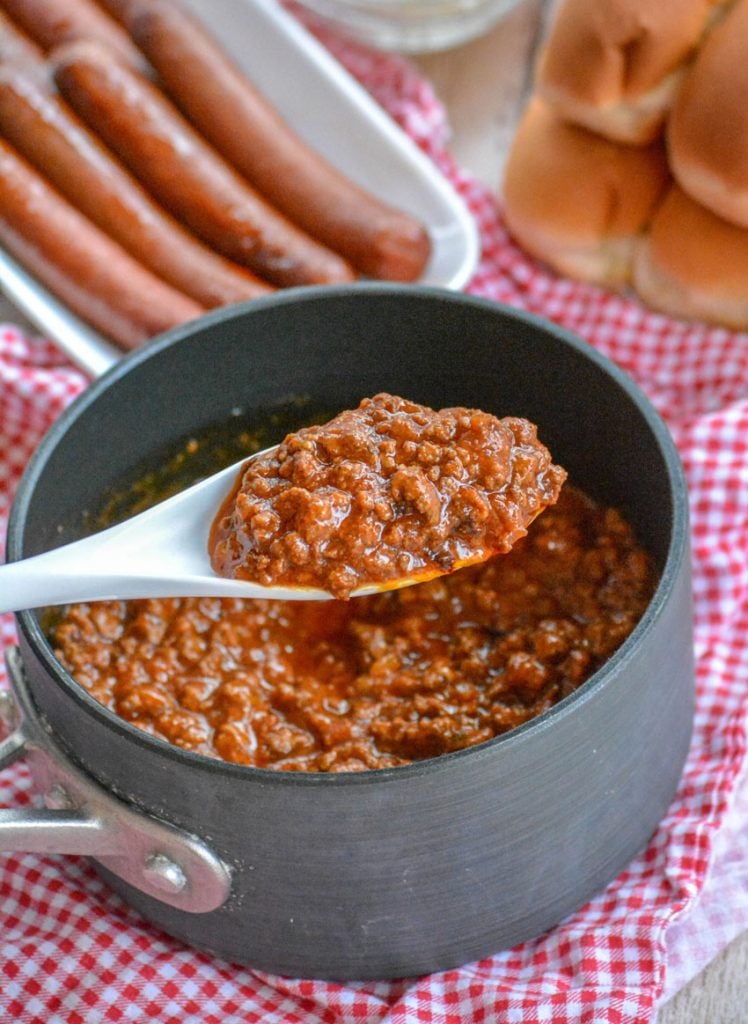 To this day it's still my favorite brand, and the only one that will satisfy a craving when I have to have a hot dog.
They're even the official hot dog of the Major Leagues now, as of 2016.
Hot dogs and baseball go hand-in-hand, making that a huge endorsement- for anyone unfamiliar with the 100 + year old brand.
Like I said, we'd happily eat them plain- just the warm cooked frankfurter on a soft bun.
But for them to be perfect?
Well then they've absolutely got to paired with a classic Coney Island-style hot dog chili.
Grandma may no longer be with us, but it was a perfect pairing she always insisted on.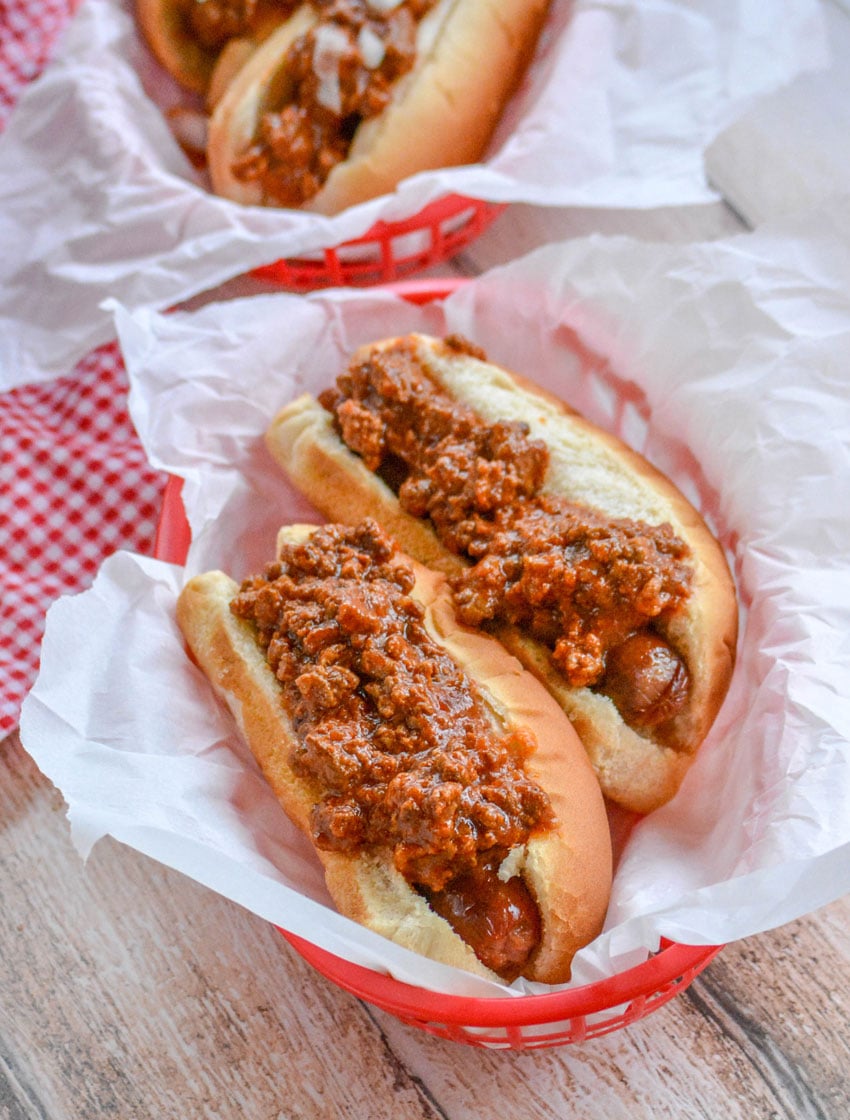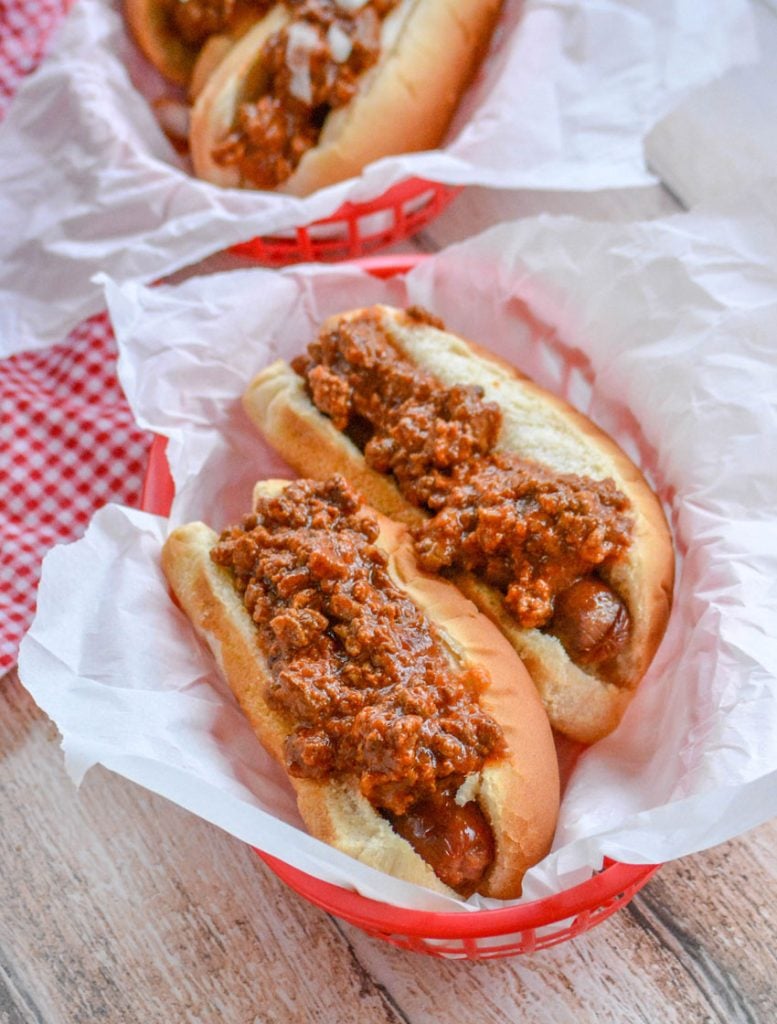 Since she moved away from New York as a young newly wed, she made sure to recreate the stuff at home.
Her hot dog chili was infamous, and a staple at her Southern dairy bar.
Her version slow simmered on the stove top, letting the sauce bubble & naturally thicken while flavors melded and married.
As much as I love tradition, and pretty much every recipe that ever came out of her kitchen… I tend to adopt an attitude of convenience in my own kitchen.
Finding new ways to prepare old favorites, but you know so that they're easier on me.
That is pretty much my main goal when it comes to family recipes, or any recipe for that matter these days.
Nothing was going to get in the way of me enjoying my chili dog fix, but making it in the slow cooker made much more sense for me & my forever busy family.
I love my slow cooker. It's one of my must have appliances, and essential in my kitchen.
Seriously, I thank the good Lord daily for it's invention.
Whether it's got Grandma's recipe for chicken & dumplings in it, or my Dad's award winning secret ingredient chili– that things goes with me everywhere- from church potlucks to game day cook offs.
It's pretty much my hero because without it, I'd be enjoying my Grandma's Coney Island Style Hot Dog Chili a whole lot less often.
Instead of standing over the stove top constantly watching the pot, stirring, and tasting with this recipe I can toss everything into the bowl and let it go.
No stirring really required, and the slow cook time allows for the same beautiful blending of all the flavors without any worry of things burning if I walk away and get busy tackling my never ending to-do list.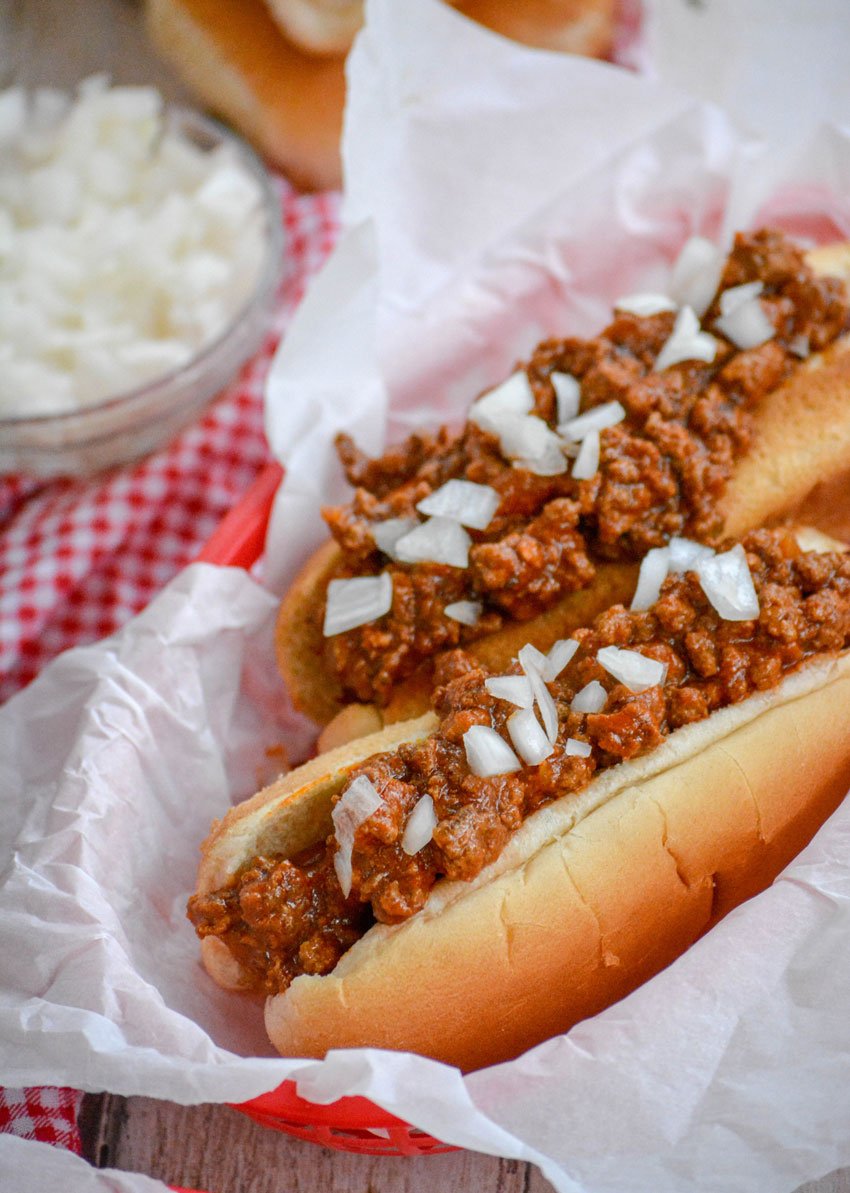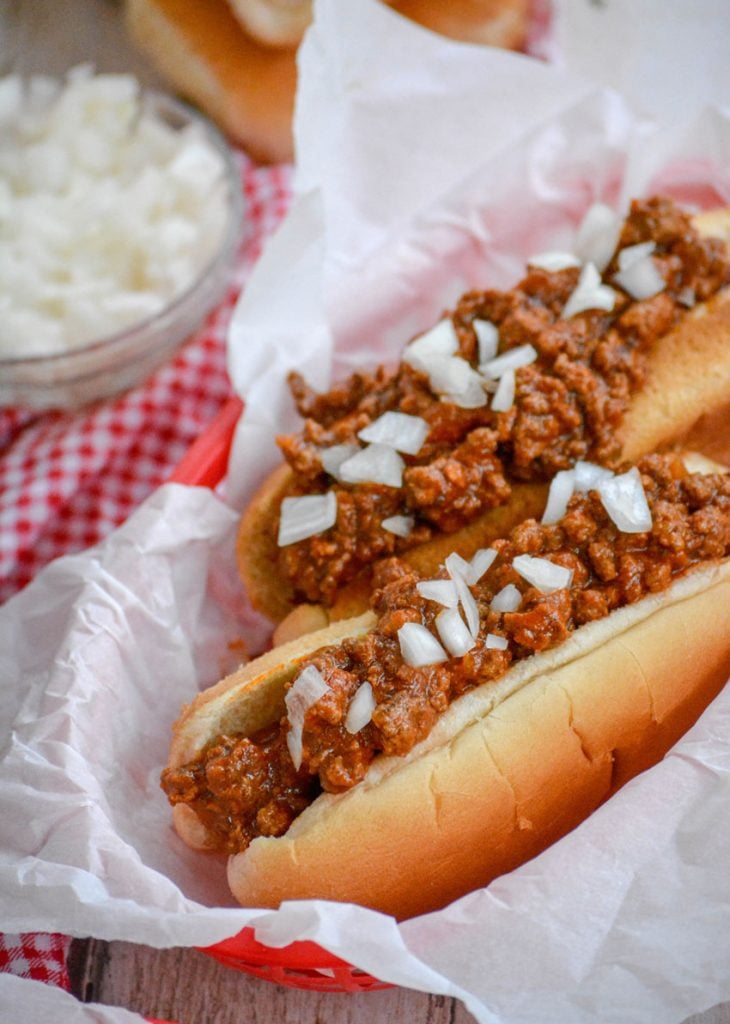 What's In A Traditional Hot Dog Chili Sauce?
The key to making any good chili, especially hot dog chili, is making sure you're using the best ingredients.
This recipe uses the following:
lean ground beef
tomato sauce
water
Worcestershire sauce
white onion
garlic
pepper
chili powder
cayenne pepper
ground mustard
All fairly common ingredients, and ones that if you don't tend to keep on hand- you'll be able to use for all variety of other recipes.
Or just to have at the ready for any time you need to throw together another batch of this addicting condiment.
Making Classic Coney Island Hot Dog Chili
Keeping with our theme of all the good things, but in super convenient form- all of this recipe's ingredients are added together to the bowl of your slow cooker.
Yes, even the uncooked ground beef.
I know I'm normally the biggest advocate for cooking your beef first and draining any and all excess grease, but not this time.
That's why I highly recommend you stick with lean ground beef.
It has the least amount of excess grease when cooked, and for this recipe just the right amount to give it that truly spot on flavor.
It's not something we eat every day so I feel ok indulging once in a while, especially on cold Winter nights or big game days.
Speaking of, this is a perfect thing to take to your next tailgate, especially since it is cooked in and can also be kept piping hot in your slow cooker.
How To Make
Stir everything together to evenly combine, loosely breaking up the ground beef.
The recipe will need to be stirred once or twice during cooking and that will break the ground beef up the rest of the way.
It's so tender from the slow cooking that it's ready to fall right apart with barely a stir anyway.
Cover your slow cooker and set it to cook over low heat for four hours.
Give everything a good stir, and carefully taste test (it will be hot!) to adjust any seasonings to your individual tastes- if needed.
At this point your Coney Island style hot dog chili is done and ready to serve!
How Can I Thicken My Hot Dog Chili?
If the chili is too thin for your liking, don't worry because it's easy to thicken.
If you have time, take the lid off the crockpot.
Continue to let the chili cook, stirring occasionally, until thickened to your desired preference.
If you need to thicken the chili quickly, you'll want to use a slurry.
Stir together one tablespoon each of cornstarch and cold water until completely smooth.
Pour this slurry into the chili, and stir to evenly combine.
Don't turn off the heat, and the chili should be noticeably thicker within minutes.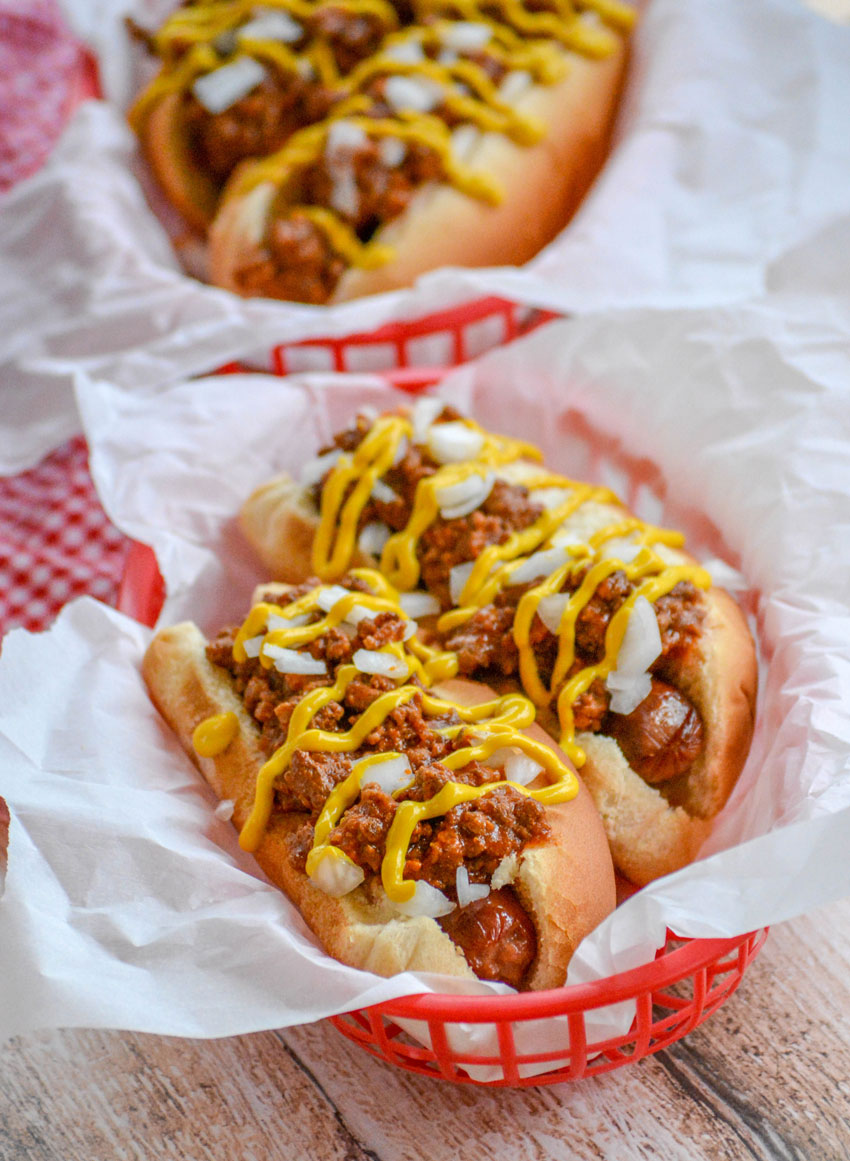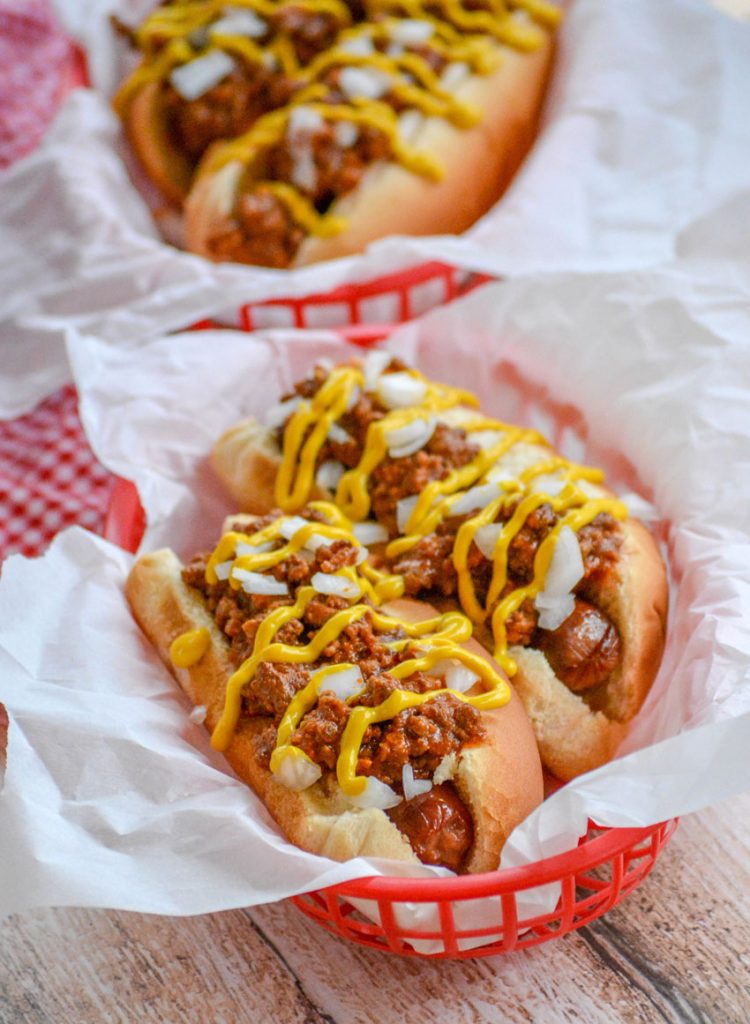 How To Serve
You can turn the pot down to warm to keep it hot until ready to be eaten, top any waiting hot dogs right away, or let it cool completely and store it for later use.
We love ours piled high with plenty of Grandma's chili.
The messier the better, as long as there's plenty of napkins on hand.
The Hubs and I like to finish ours off with a sprinkling of minced white onion and a drizzle of yellow mustard.
What's The Best Way To Store Homemade Hot Dog Chili?
To store the chili for use in the coming days, I like to act while it's still hot.
I spoon it in to mason jars, add the lid and screw on the sealing ring.
Let the jars sit until cool to the touch, and then transfer them to the refrigerator.
The chili will be good for up to two weeks this way.
Once unsealed though, it needs to be used immediately.
If storing in a regular tupperware, then it will be good for up to a week.
Can I Freeze Hot Dog Chili?
Another thing we've learned over the years is that this slow cooked hot dog chili freezes beautifully.
Transfer the cooled chili to a sealed tupperware dish, or even to a large zip locking bag removing excess air and sealing tightly shut.
In the freezer it will safely store for up to three months.
To use it, remove it from the freezer and let it thaw completely.
Once thawed, heat it in a pot on the stove stirring occasionally just until heated through.
What Can I Do With Leftover Hot Dog Chili?
If you're looking for creative ways to use up leftover hot dog chili, other than more hot dogs, we've got several delicious suggestions for you.
Nachos – Add it to tortilla chips with cheese and sour cream.
Baked Potatoes – Spoon it over fluffy baked potatoes.
Chili – Add some beans and use it as a base for a flavorful, small batch chili.
Mac & Cheese – Stir it into a pot of hot mac and cheese for a simple, savory chili mac.
Other Easy Hot Dog Recipes
Bring a little taste of the classic Long Island hot spot home with this easy recipe for Coney Island style hot dog chili.
It's the perfect way to transform your hot dog from just something you're eating and into an experience.
Shared with family and friends, it's even better- so don't just enjoy it for dinner but take advantage of your slow cooker and take it with you to the next cookout, potluck, or tailgate.
While we do enjoy our basic hot dogs, everything deserves a new spin every now and then.
Check out these other easy hot dog recipes:
Prefer to keep things main stream?
A lover of the true classics?
Then you're going to want to check out our easy homemade corn dog recipe & probably our homemade pretzel dogs too before you go.
If you've tried this SLOW COOKER HOT DOG CHILI, or any other recipe on the site, let me know in the comment section how it turned out, we love hearing from our readers! You can also follow along with me on PINTEREST, FACEBOOK, and INSTAGRAM to see more amazing recipes and whatever else we've got going on!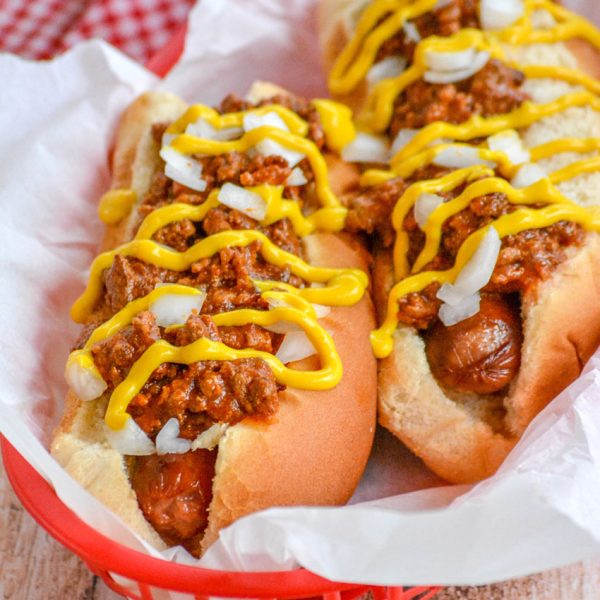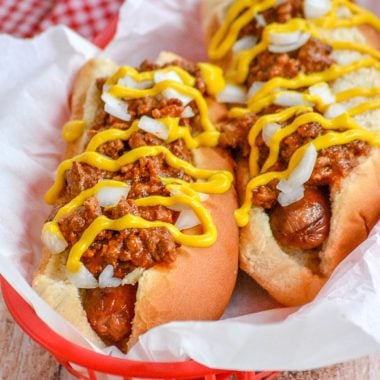 Slow Cooker Hot Dog Chili
Coney Island is famous for many things, it's unique style of hot dog chili chief among them. Get your fix without ever leaving home, without any extra effort thanks to your trusty slow cooker.
Print
Pin
Rate
Ingredients
1

lb

lean ground beef

cooked, crumbled, drained

1

15 oz can

tomato sauce

1/2

cup

water

1 1/2

tbsp

Worcestershire sauce

1/4

white onion

minced

1/2

tsp

garlic powder

1/2

tsp

ground black pepper

1/2

tsp

chili powder

1/8

tsp

cayenne pepper

1

tbsp

ground mustard
Instructions
Add all of the ingredients to the bowl of your slow cooker.

Stir everything together to evenly combine.

Cover and cook on low for four hours.

Spoon the chili over hot dogs, or let it cool and store it in an airtight container for up to a week- until ready to use.
Nutrition
Calories:
58
kcal
|
Carbohydrates:
1
g
|
Protein:
8
g
|
Fat:
2
g
|
Saturated Fat:
1
g
|
Cholesterol:
23
mg
|
Sodium:
48
mg
|
Potassium:
155
mg
|
Fiber:
1
g
|
Sugar:
1
g
|
Vitamin A:
33
IU
|
Vitamin C:
1
mg
|
Calcium:
7
mg
|
Iron:
1
mg