All the flavors you crave in a seriously delicious pizza, sandwiches between layers of luscious, melted mozzarella cheese and puffy pastry crust. Our Pizza Pot Pies are made in ramekins, and meant to be single served.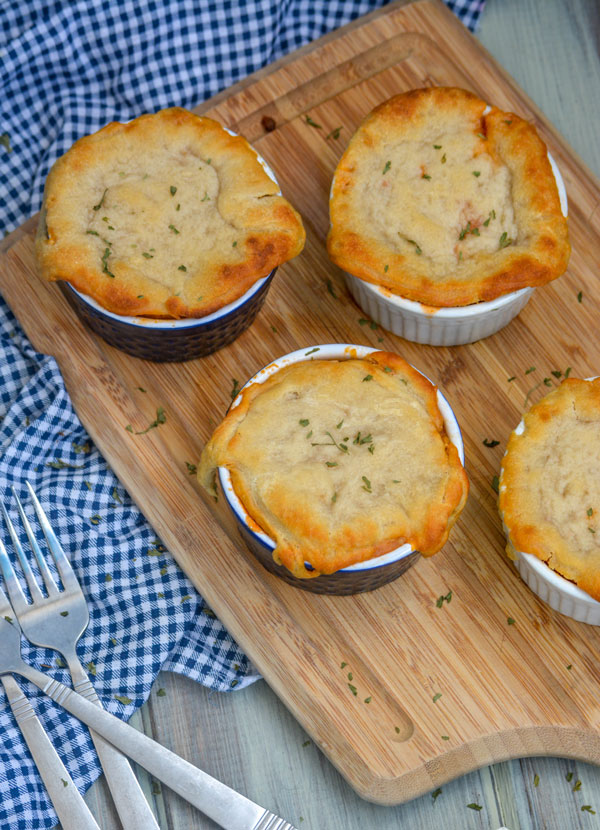 Well I'm checking in to report that we've managed to survive another Christmas Break. All the kids, me working from home, the house- we're all alive and well after two weeks together.
Unfiltered. No separation. All together. All. Day. Every. Day.
Luckily though, we all survived the harrowing ordeal. I kid, I kid. Some years I actually am ready to pull my hair out, with all the constant bickering and what not. This year though, with my older sons half in and half out of the family home? I'm savoring every single moment.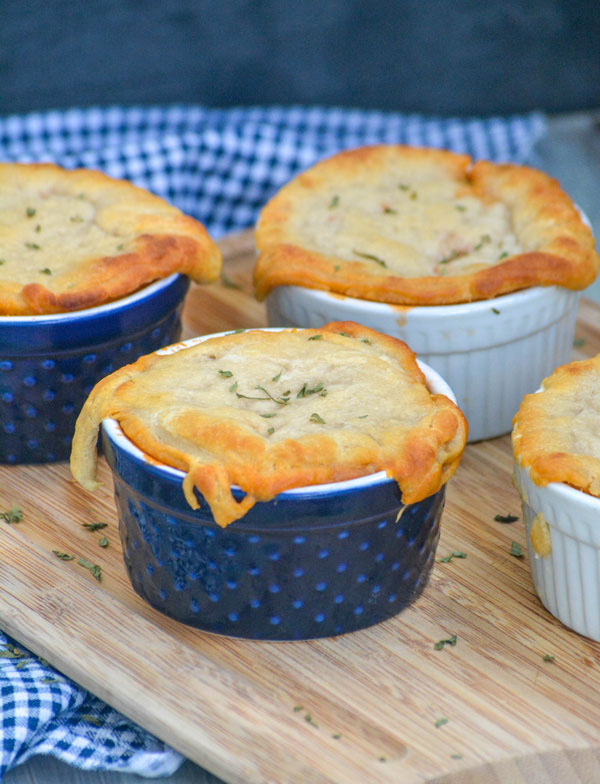 While I am a hugger, and probably an embarrassing over PDA-er- my second love language has always been food.
So while having all my guys home, and mostly getting along is special- being able to cook up some especially tasty treats for them each day has been, well, a real treat!
Even the Hubs has been home every day to savor flavors and be my primary test-taster. One of his Christmas gifts was saving up enough PTO to take almost all of Christmas Vacation off, check some things off the Honey-Do list, and just be in the moment with us.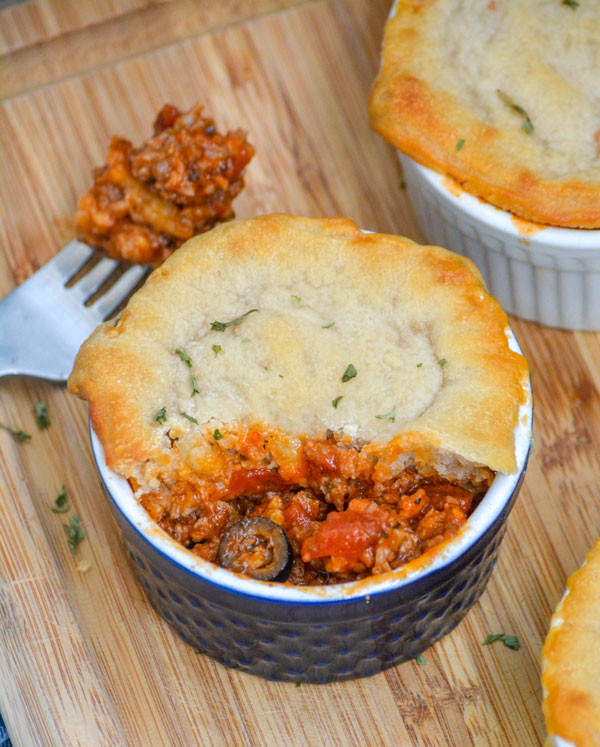 My kids are no different than most every other kid. They love pizza.
Not just 'love' as in they love a good grilled cheese, or even a solid bowl full of spaghetti and meatballs. My boys' love of the sacred pizza borders more on the verge of obsession, definitely full blown and embraced adoration. If hero worship had an edible equivalent, this would be it.
I'm no stranger to making all different flavors of pizza- Roadhouse Pizza, Garlic Shrimp Alfredo Pizza, Big Mac Pizza– and to making all different variations of pizza flavored things: Pizza Burgers, Pizza Pasta, Pizza Pancakes.
These Pizza Pot Pies though? My favorite variation yet! I shouldn't be surprised. We stuff all kinds of things in between to layers of pastry shell, slap the word pie on it, and excitedly fork it down. Why not add traditional pizza flavors to the mix?! It was a real 'a-ha' moment.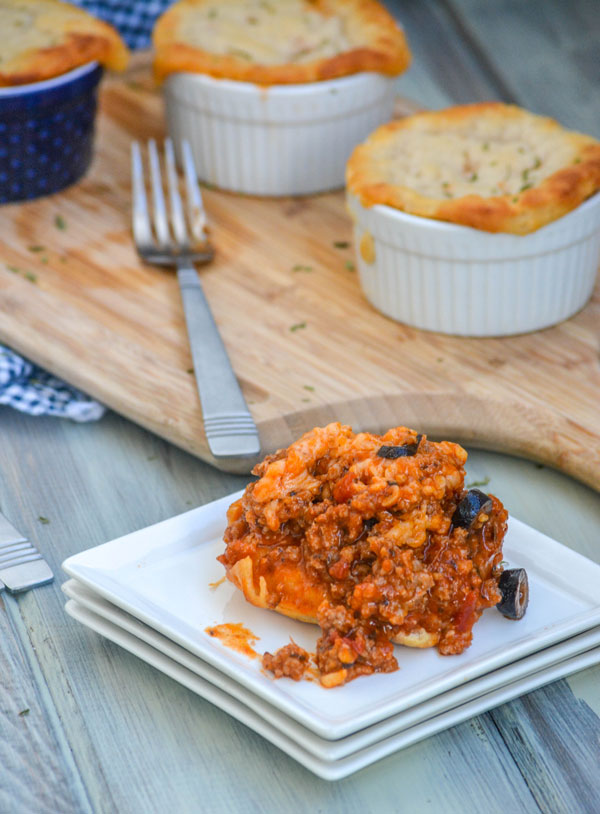 While it may seem a bit out of the box, these Pizza Pot Pies are delicious- and surprisingly simple to whip up. If you have six ramekins on hand!
Grease your six ramekins with either butter, oil, or non stick cooking spray. Use the sliced cheese to coat and cover the insides of each and every ramekin. It's ok to overuse the cheese. You can never have too much cheese. Pack into each cup a mixture of the cooked sausage, sliced mushrooms, ham, and black olives.
Stir together the sauce, garlic, and Italian seasoning- then evenly distribute it among the dishes, pouring it out over top covering the meat. Finish all the ramekins.
Now we come to the doughy bit. You could obviously make homemade pizza dough, or use store bought. However, for expediency purposes, I suggest buying a tube of Pillsbury's refrigerated Pizza Crust. It's easy, and the price point is right.
Spread the dough out onto a clean counter top, and divide it into six sections. Working with one ramekin at a time, stretch the dough slightly to evenly cover the ramekin and it's outer rim. Press the dough and press in to seal it, you want to create a pie style cover. Repeat for each ramekin, and brush the crusts with a light coating of olive oil.
Baked at 400 degrees for 12-15 minutes, these Pizza Pot Pies are a dreamy dish.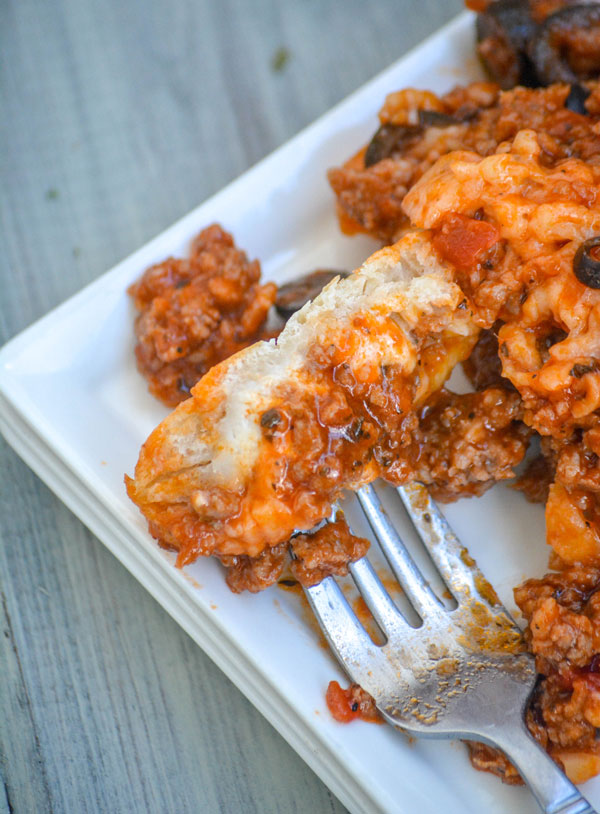 All of my guys' favorite flavors, in a single dish- that sounds like the ultimate right? Stick them in ceramic ramekin dishes lined with thich slices of mozzarella, spoon a saucy mixture of sausage, mushrooms, & black olives over top, and finish with a pizza crust topping.
These Pizza Pot Pies are every little boys grown up dream come true!
Other Pizza Themed Recipes You Might Also Enjoy: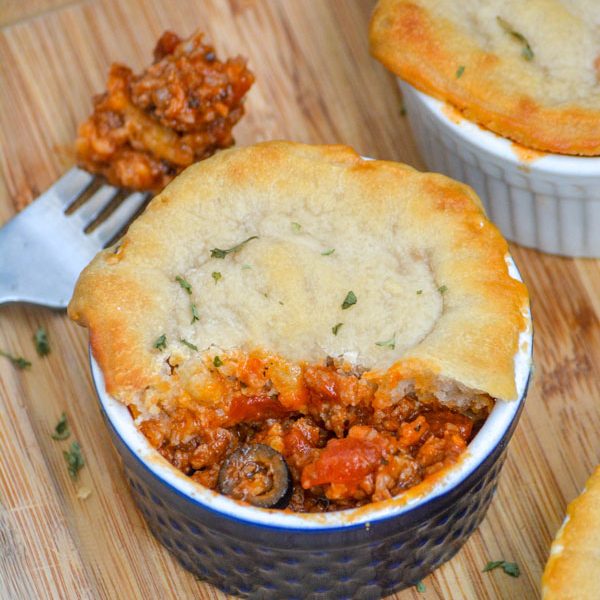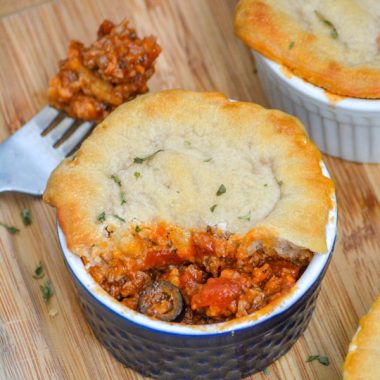 Pizza Pot Pies
A hearty pot pie in a single ramekin serving, with all the meat & flavors of a pizza with a golden crust on top.
Print
Pin
Rate
Ingredients
1

tube

refrigerated pizza dough

mozzarella cheese, thinly sliced

1 1/2

cups

pizza sauce

1

tsp

minced garlic

1

tsp

Italian seasoning

1

lb

ground Italian sausage, browned & drained

1

cup

baby bella mushrooms, thinly sliced

1/2

cup

finely chopped ham

thinly sliced black olives, optional
Instructions
Grease 6 ramekins. You can use butter, or non stick cooking spray, including the upper lip and down the outside a bit.

Use the mozzarella cheese to completely, generously coat the insides of all 6 ramekins. Add/pack in the sausage, mushrooms, ham. and black olives, if using.

In a small mixing bowl, add the sauce, garlic, and Italian seasoning. Stir them together to evenly combine. Then pour the mixture out evenly into each ramekin to cover the meat.

Spread the dough out, and cut into six thick sections. Spread a section out over a ramekin, making sure to cover the outer edges, and pressing the dough against the dish to seal. Repeat to fill & finish each ramekin.

Transfer the ramekins to a sturdy baking sheet. Lightly brush each crust with olive oil. Bake at 400 degrees for 12-15 minutes., or until the crusts are golden brown.

Let the pot pies rest for 2-3 minutes before serving. Garnish with more seasonings, if desired.