Corned beef and cabbage isn't just for the Irish! With this one pot corned beef, cabbage, and potatoes recipe, you can easily enjoy the flavors of Ireland at home any time you want. Learn how to make this classic meat and potatoes recipe just in time for St. Patrick's Day!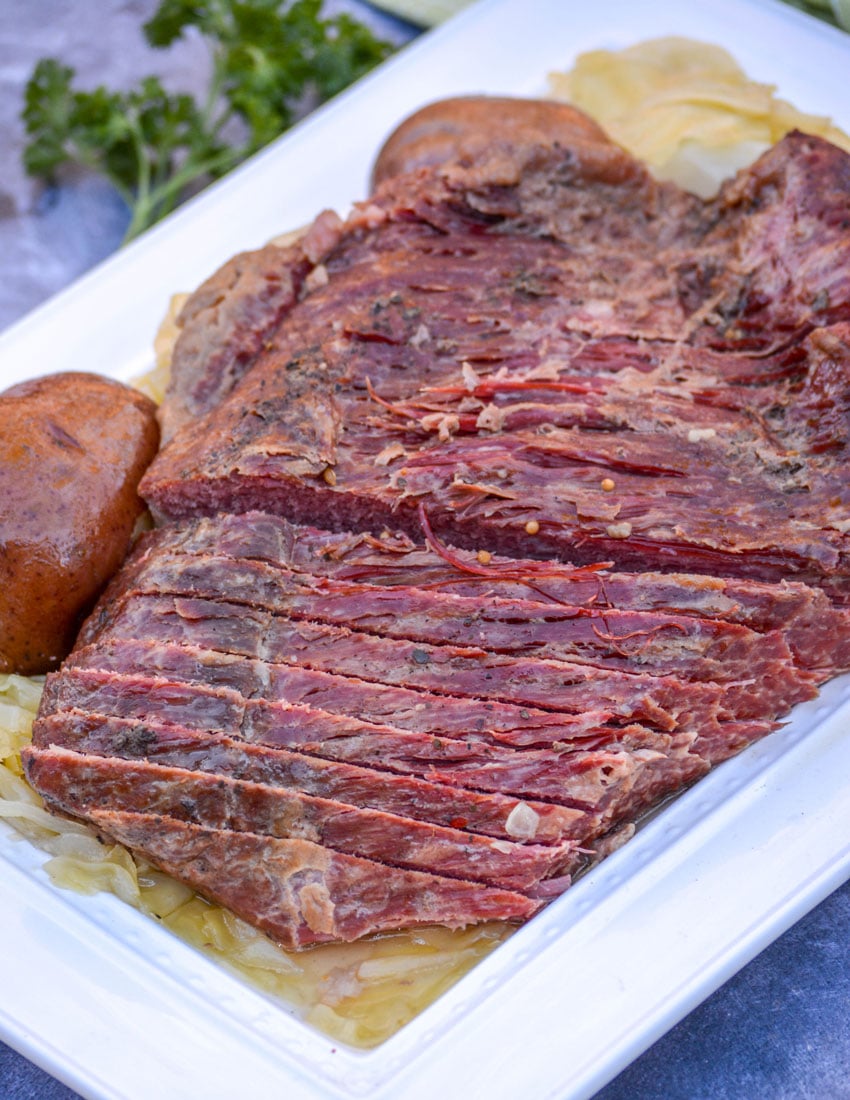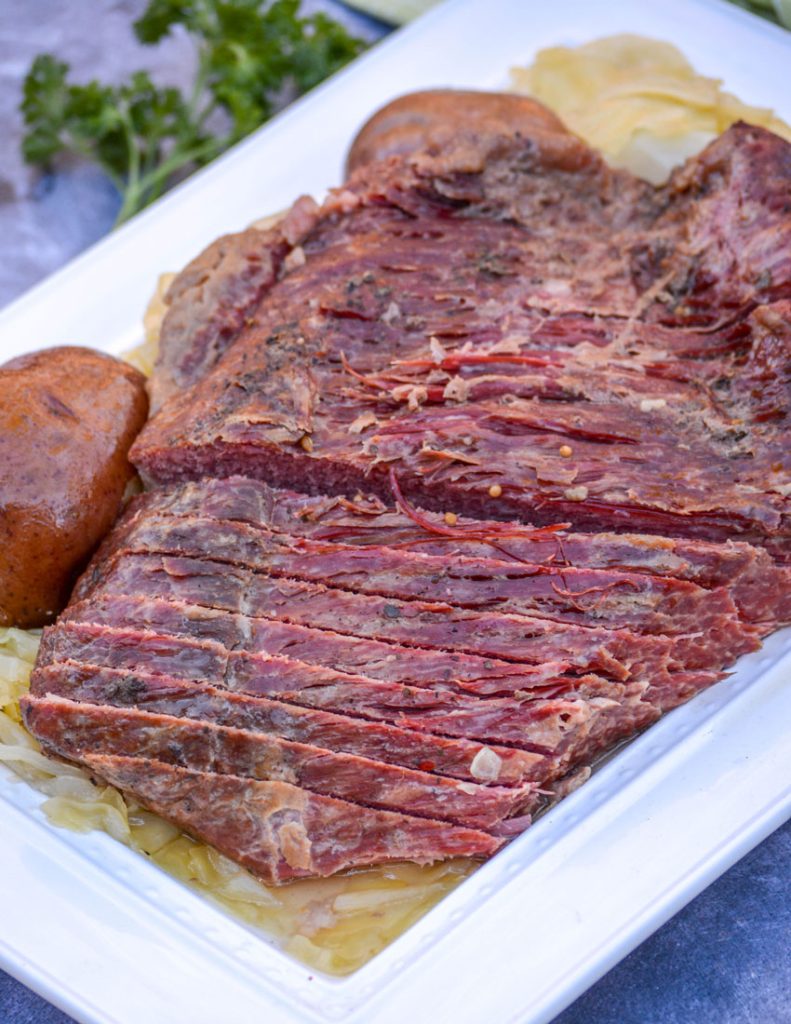 Winter is winding down and that means it is finally time to think about St. Patrick's Day and all things green and Irish inspired.
While I love the holiday as a reason to make festive St. Patrick's Day jello shots, my favorite part of the holiday just might be the corned beef and cabbage.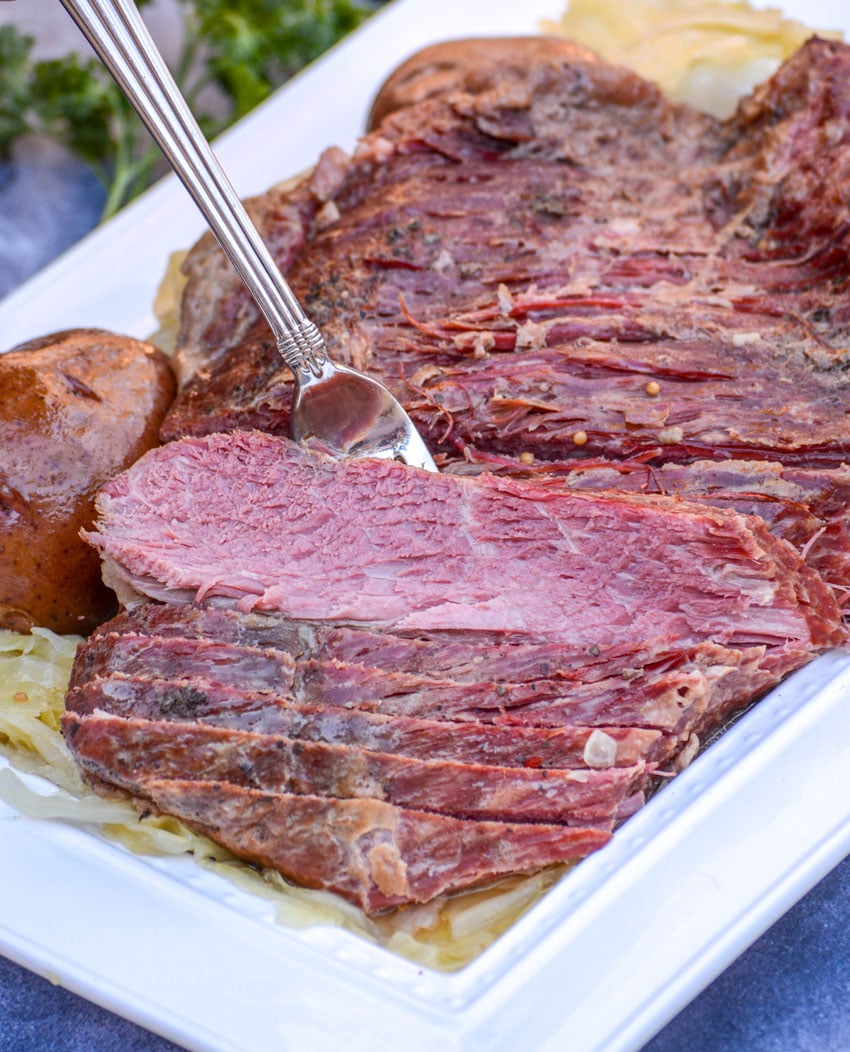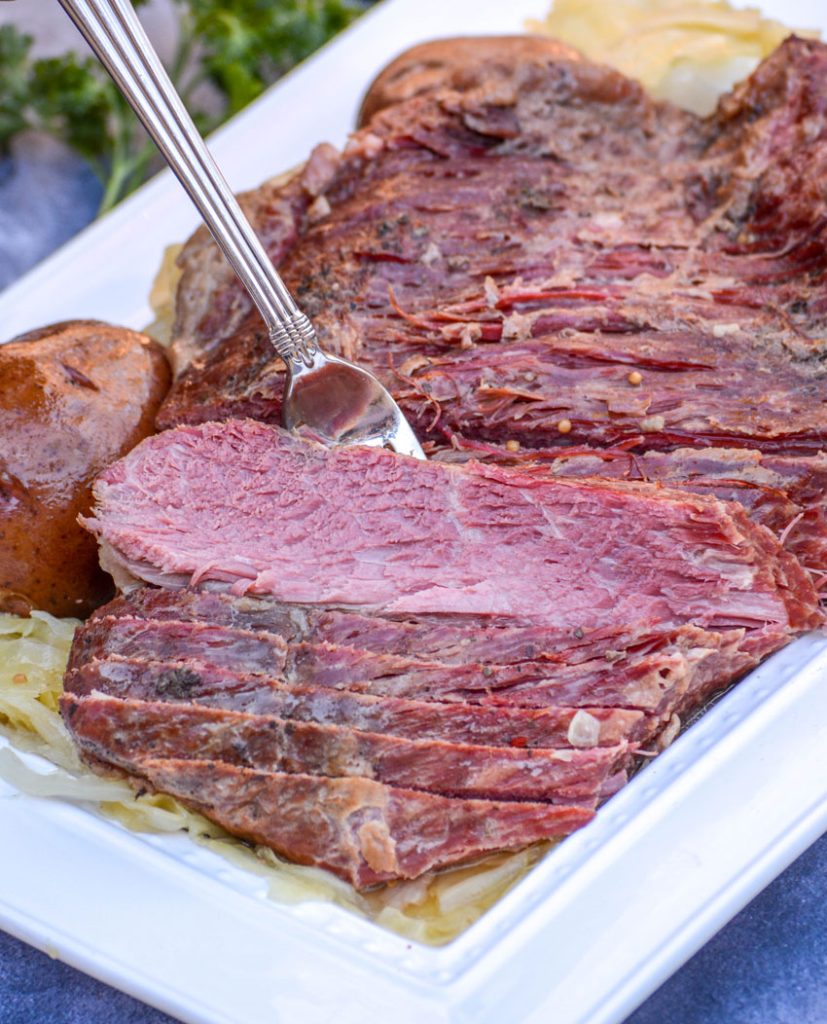 What is corned beef?
Corned beef is a cut of brisket that's been salt cured.
Brisket is a muscular piece of meat from the chest of a cow. Because the muscle it comes from works so hard, it is full of connective tissue that can be tough if it's not cooked properly.
Generally, corned beef, like other brisket recipes benefits from cooking slow and low so that all the tough tissue breaks down and becomes perfectly tender and delicious.
Hence, why so many tried & true, traditional recipes call for boiling it as the cooking method. While it's not typically associated with red meat, with this cut it makes the most sense and yields the most tender results.
Corned Beef & Cabbage- Is It Irish? What's The Significance?
This dish is synonymous with St. Paddy's Day here in the States, so much so- that many assumes it's 100 % authentic and that their Irish cousins will be chowing down on the same fare across the pond on the same day. That couldn't be further from the truth.
Our country's a melting pot, from it's people to the traditions they bring including the recipes and this one's no exception.
When large masses of Irish immigrants were coming to America in the 19th century, they naturally wanted something that reminded them of home when their beloved national holiday came rolling around.
This was not corned beef & cabbage folks. Nope. What an Irish cook worth their salt, or any Irishman who couldn't cook but was looking for a comforting celebratory meal, would be looking forward to was in fact boiled bacon & cabbage.
Bacon however was pretty darn expensive at that time here, and being new and trying to find footing and finances and all- they instead turned to finding the cheapest alternative they could to the traditional pork product.
At the time, that was beef brisket- specifically salt cured beef. 'Corned' beef actually referring to the large salt crystals in the brine-ing preservation process.
Cabbage? Well apparently that was cheap everywhere, and also known for absorbing fatty flavors making it an ideal pairing. And that my friends, is how corned beef & cabbage evolved into the traditional Irish American way to savor Saint Patrick's Day!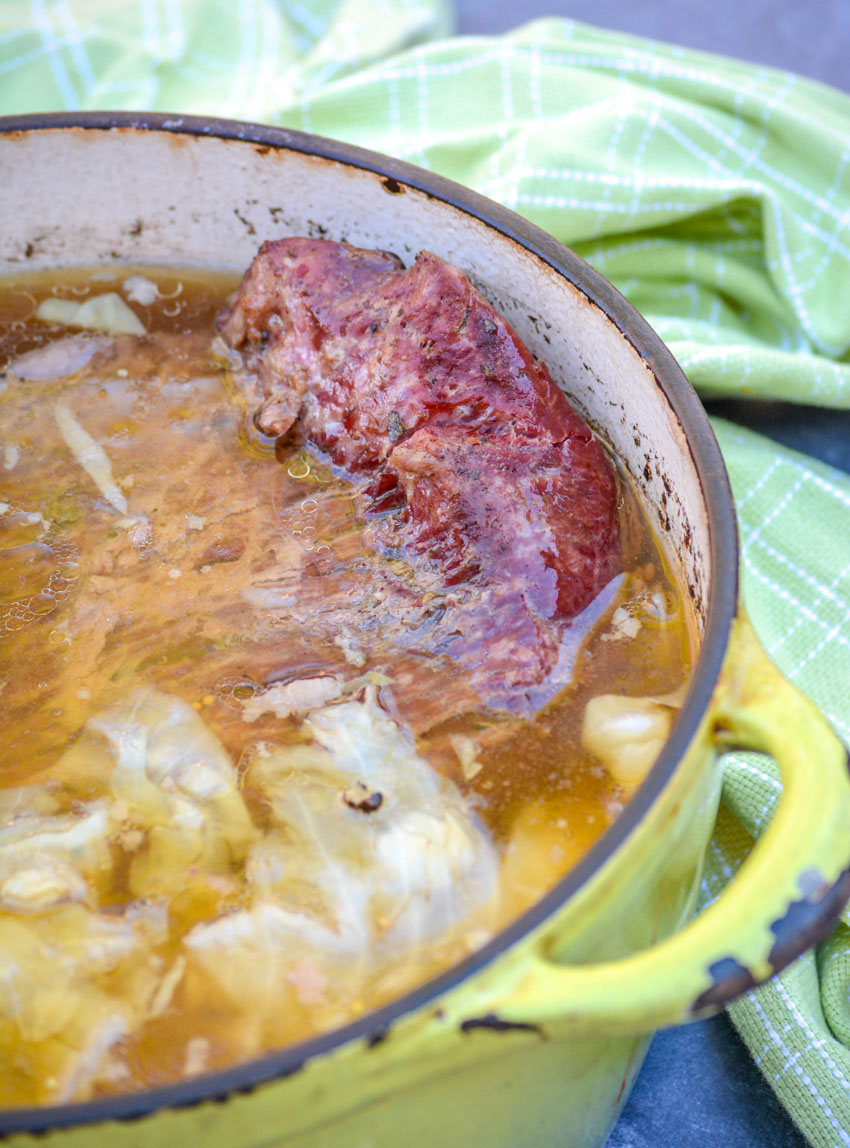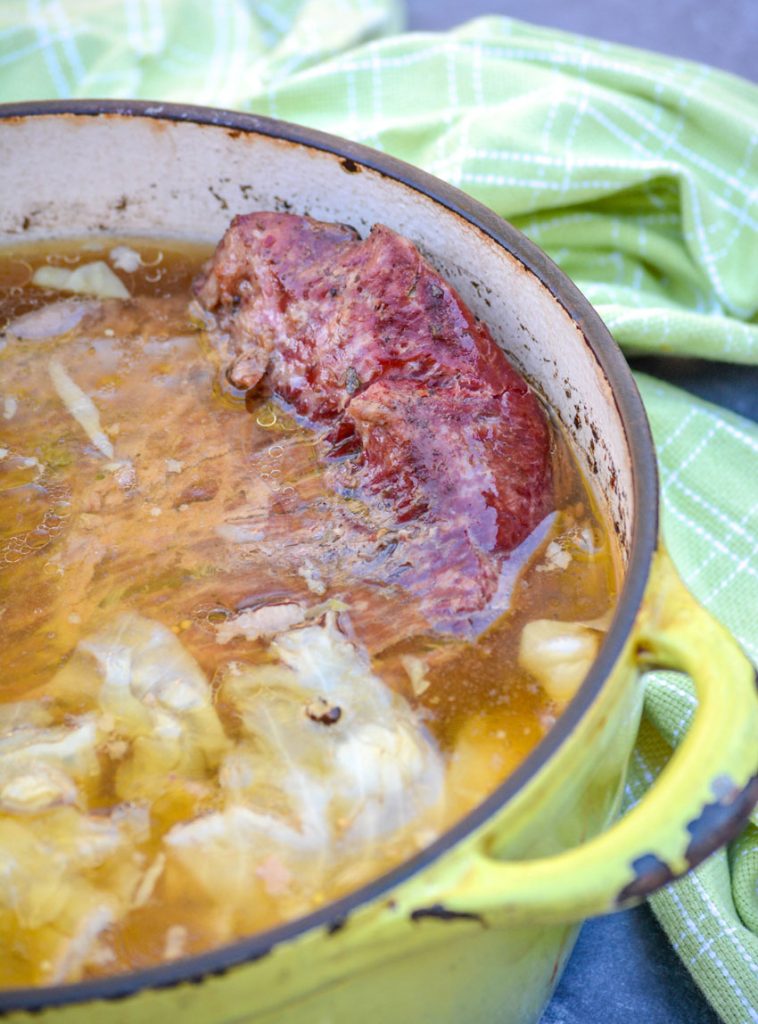 How to Make Old Fashioned Corned Beef, Cabbage and Potatoes
Making this one pot corned beef dish is very easy. Despite having a longer cook time, your active prep is very quick and simple.
To make this corned beef, cabbage, and potato recipe start by putting the brisket fat side down in a Dutch oven or another large heavy bottomed pot.
Next, sprinkle the seasoning packet evenly over the meat. Then pour the beer into the pot and add water to cover the beef.
Bring the mixture to a boil, then reduce the temperature to low. Cover the pot and let the beef mixture simmer slower for 4 hours.
About half an hour before the beef should be done, add the whole red potatoes. Let them cook for 15 minutes and then add the wedged cabbage and carrots, using a spatula to push them under the broth.
If the broth doesn't cover the additional veggies, feel free to add a bit more water. Once the broth covers the veggies, allow them to cook for another 15 minutes. Then remove the brisket to a serving platter and tent it with foil so it can rest for an additional 15 minutes.
While the brisket rests, use a slotted spoon to transfer all the vegetables to a waiting dish. Feel free to add as much or little broth as you like.
Once the brisket has rested for 15 minutes and you've transferred the veggies, serve the corned beef by slicing it against the grain and serving it with vegetables.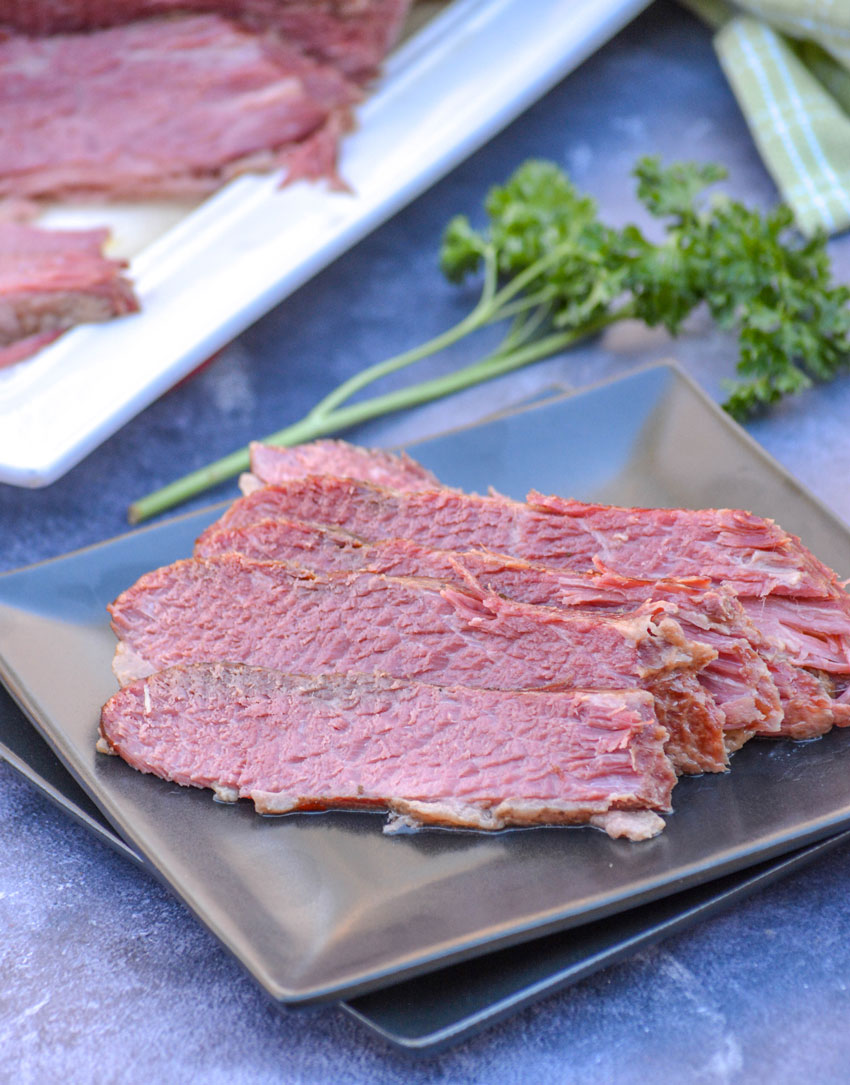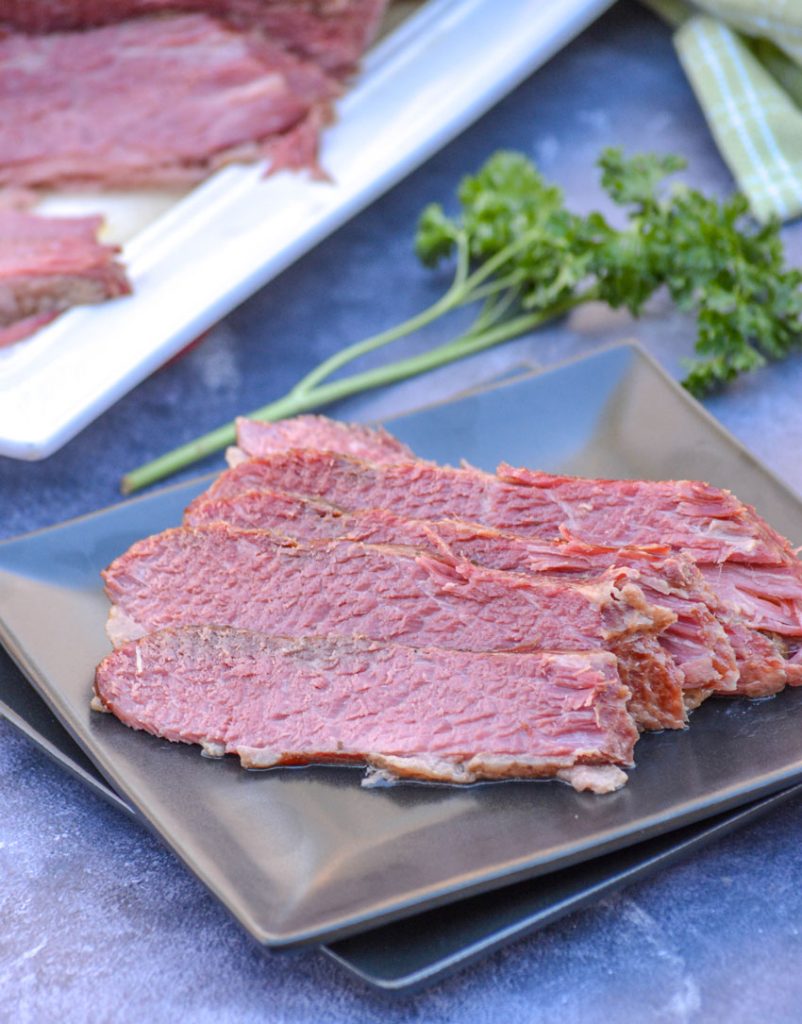 Tips and Tricks for Making Delicious Corned Beef and Cabbage
Corned beef and cabbage is a very easy recipe to make for St. Patrick's Day. To make delicious corned beef and cabbage, use these tips and tricks when you make this recipe:
Some people prefer rinsing their corned beef before cooking. I don't, but if you want to you absolutely can. Corned beef can be salty, and rinsing it removes excess salt which can lead to a milder flavor.
Feel free to add onions for extra flavor.
You can substitute the beer for a traditional Irish beer like Guinness or any other stout.
Don't substitute beef broth for water. Doing so will make the corned beef taste less like traditional corned beef and more like a pot of beef stew.
Adjust the cook time based on the size of your brisket. I cook my corned beef for 60 minutes per pound so if you use a smaller or larger roast you may need to adjust the time up or down.
The meat is done when it reaches a minimum internal temperature of 145. I like ours a little more done so we let it go until its closer to 160.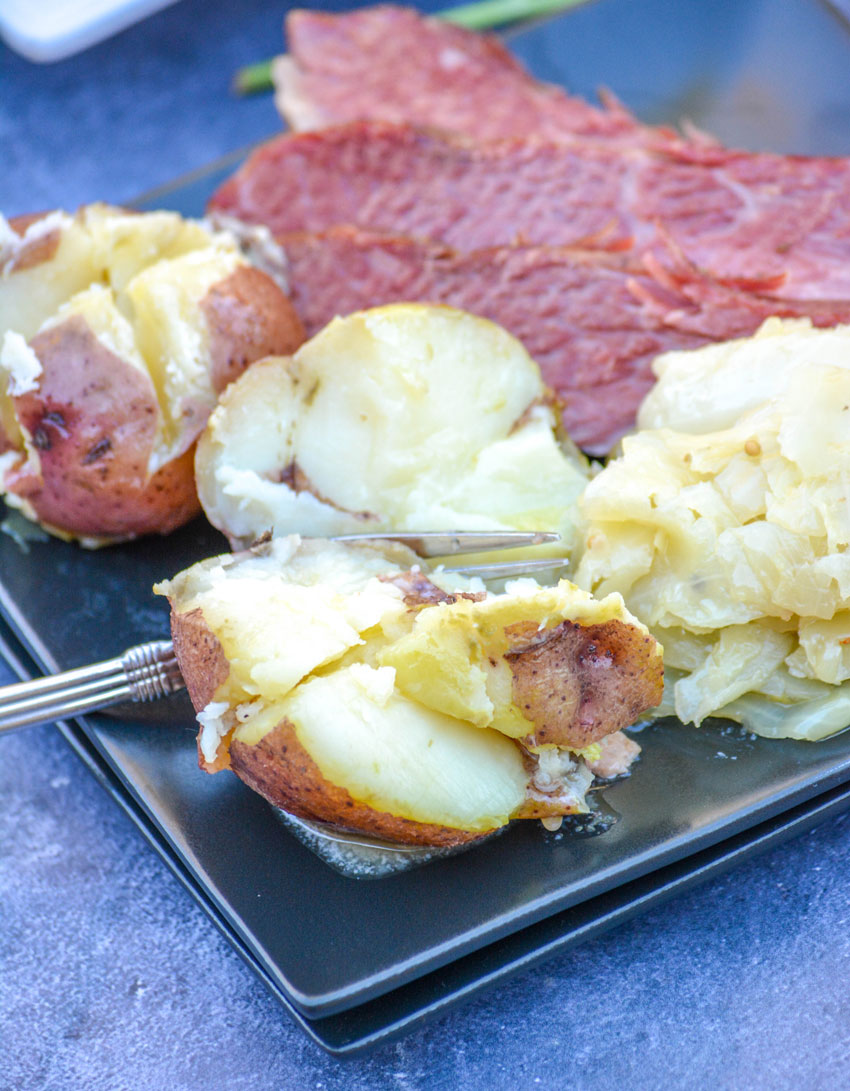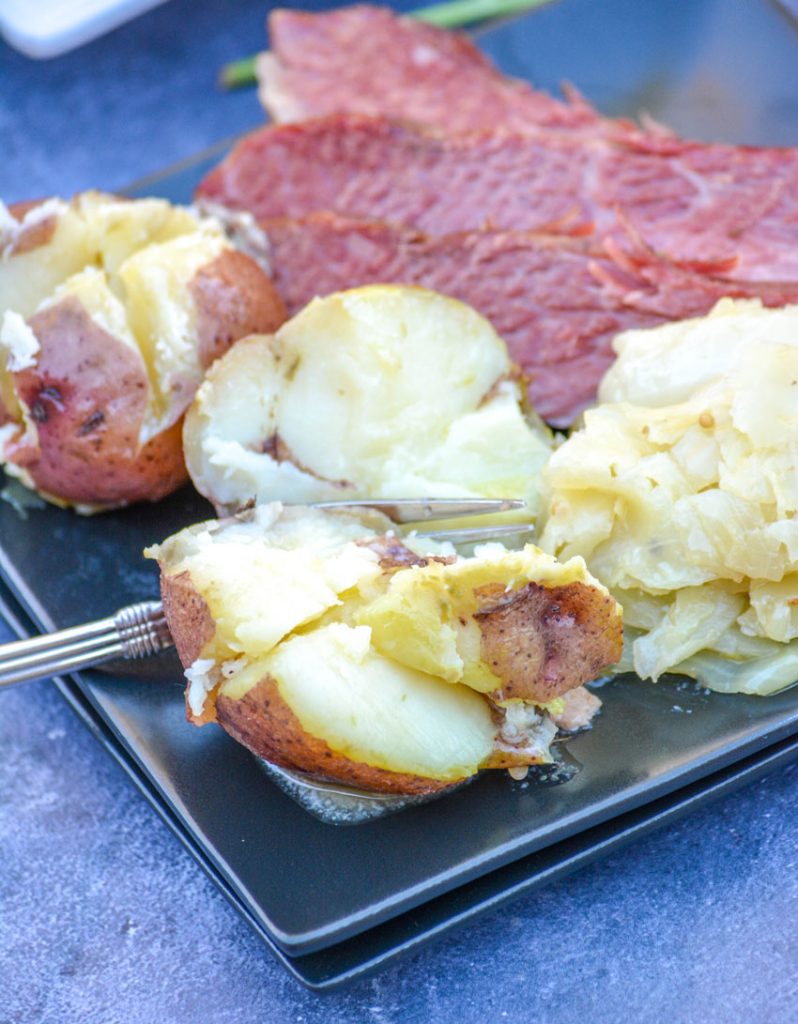 Other St. Patrick's Day Main Dishes You Might Enjoy
This one pot corned beef, cabbage and potato recipe is my favorite main course to serve on St. Patrick's Day. Make it yourself this St. Patrick's Day and see how easy it is to celebrate with this traditional meal.
Looking for other St. Patrick's Day meal ideas? Try these:
If you've tried this ONE POT CORNED BEEF CABBAGE & POTATOES, or any other recipe on the site, let me know in the comment section how it turned out, we love hearing from our readers! You can also follow along with me on PINTEREST, FACEBOOK, and INSTAGRAM to see more amazing recipes and whatever else we've got going on!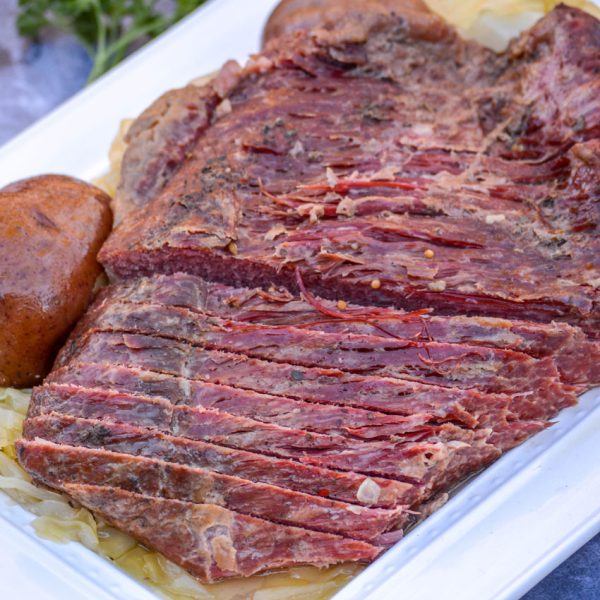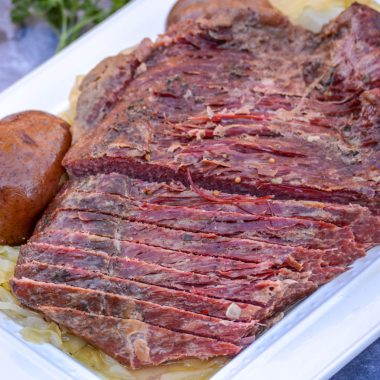 Ingredients
3

lb

corned beef brisket

with the spice packet

2

12 oz bottles

bud light

water

8-10

small/medium

red potatoes

2

cups

baby carrots

optional

1

large head

cabbage

cut into wedges
Instructions
In a Dutch oven or other large heavy bottomed pot, add the brisket- placing in the center with the fat side down.

Sprinkle the seasoning packet out over the meat.

Slowly pour the beers in until both have been added. Add water to the pot to cover the beef.

Bring the mixture to a boil, then quickly reduce the temperature. Cover the pot and let the corned beef simmer for roughly 4 hours.

Thirty minutes before the corned beef is due to be done, carefully add the whole red potatoes.

15 minutes before the meal should be done, carefully add in the cabbage wedges & the carrots (if using). Use a spatula to push them under the broth. Add extra water if necessary.

Remove the brisket to a serving platter. Tent it with foil, and allow it to rest for 15 minutes, before slicing & serving.

While the brisket rests, use a slotted spoon to transfer all the vegetables to a waiting casserole dish. Spoon as much or as little of the broth in with them, and then cover the dish.

Make sure to slice the brisket against the grain, and serve it with the veggies.
Nutrition
Calories:
388
kcal
|
Carbohydrates:
12
g
|
Protein:
27
g
|
Fat:
26
g
|
Saturated Fat:
8
g
|
Cholesterol:
92
mg
|
Sodium:
2123
mg
|
Potassium:
851
mg
|
Fiber:
5
g
|
Sugar:
7
g
|
Vitamin A:
4566
IU
|
Vitamin C:
104
mg
|
Calcium:
85
mg
|
Iron:
4
mg