Put the phone & the take out menu down. This quick & easy shrimp toast recipe will have you enjoying your favorite Chinese appetizer in under 30 minutes. A simple shrimp mousse is spread over sliced white bread triangles, breaded, and fried to golden brown perfections- it's finger food perfection!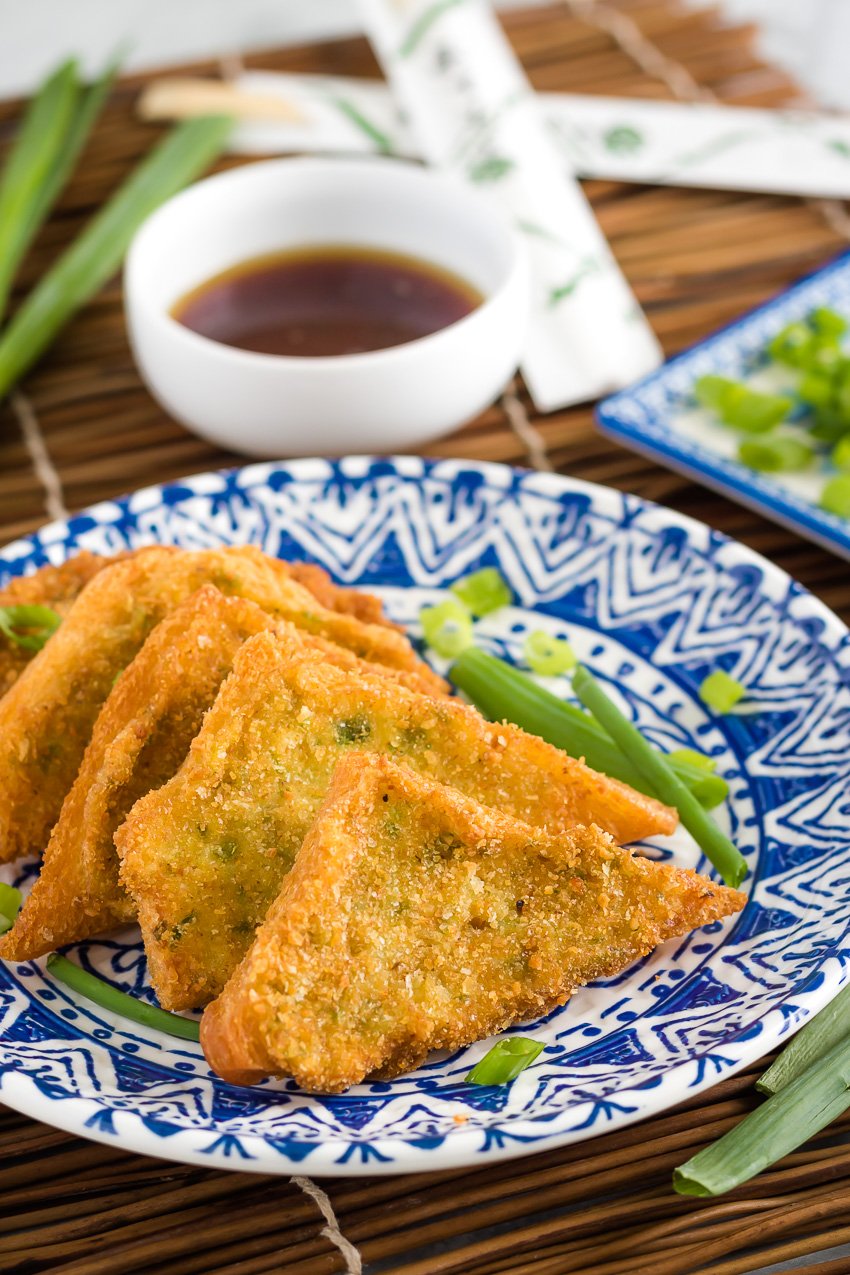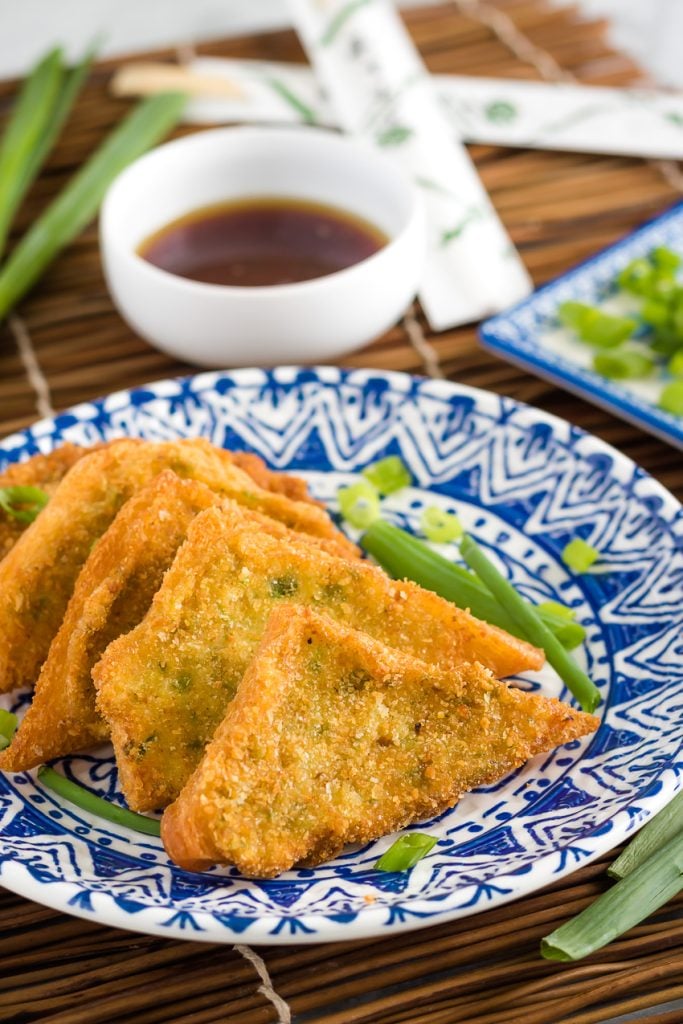 Growing up, I vividly remember the family matriarchs making it their known mission to have hot, hearty meals on the supper table each evening.
Nothing's changed for me all these years later. The same goal's still in my mission statement.
I do have a few different rules, or rather I allow myself some extra concessions.
Like my Mom & Grandma before me- I don't hold myself to a lofty goal of these dinners always being from scratch or 100 % healthy. I need my goals to be attainable after all.
I also don't keep the cupboard stocked with trusty boxes of Hamburger Helper for nights when I need a helping hand.
Instead, I keep the takeout menu tacked to the inside of the pantry door.
I try to limit it to once or twice a month, but if I'm being honest- Chinese take out is my saving grace some nights.
Especially if it's a night any of the sons' need help with math homework. Without it, dinner just ain't gonna happen before bedtime.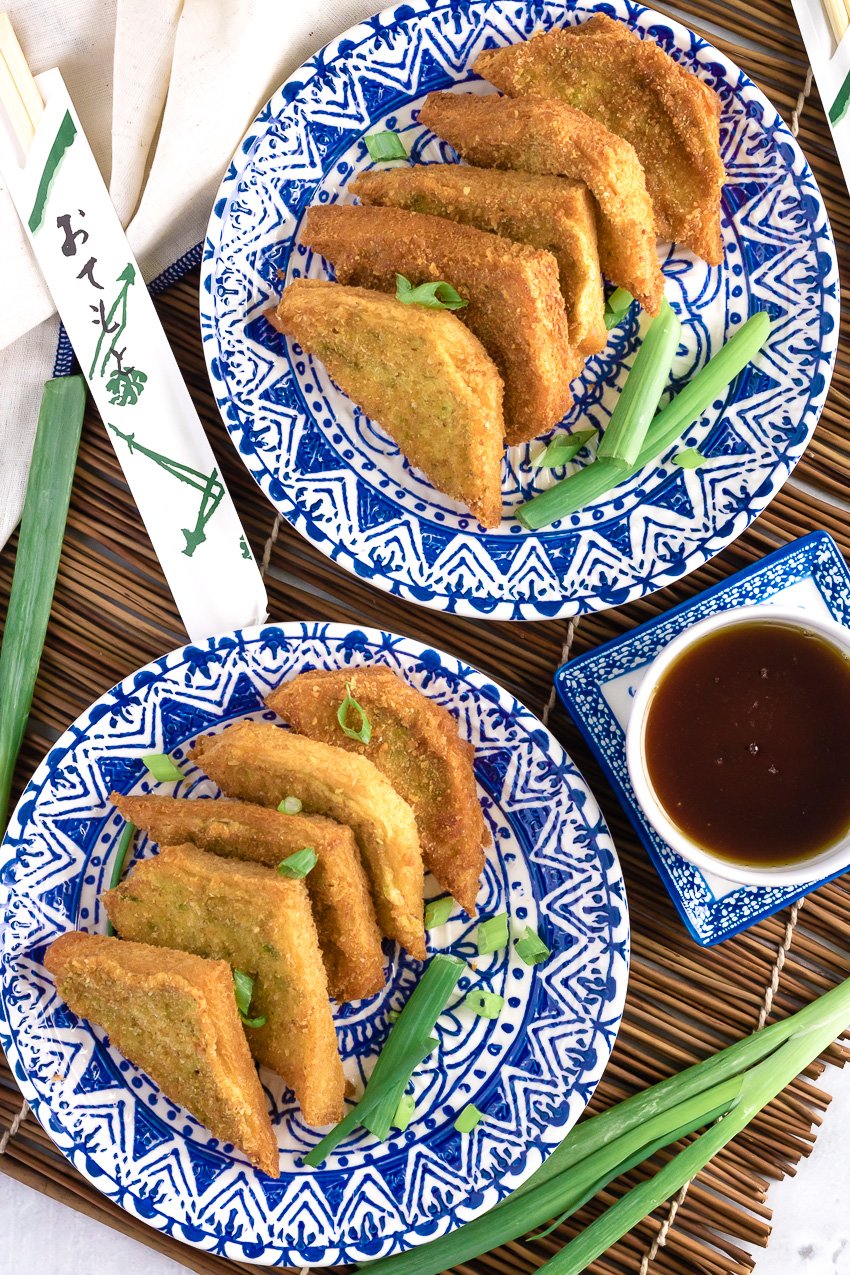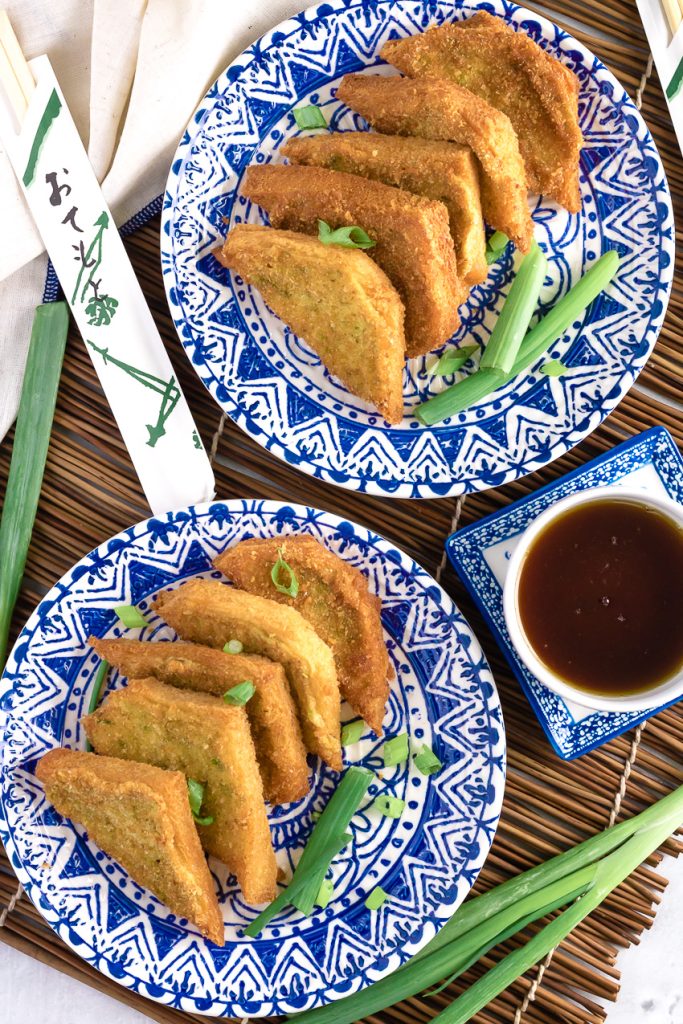 We didn't eat take out growing up, like ever. Not that I'm complaining. It did mean that I had some catching up to do when I got older.
To think, I couldn't missed out on the whole concept of Asian food and flavors. Not just the cheap, American-ized fast food version- but as a whole.
In the intervening years, my family's discovered some favorites we all love. Honey or lemon chicken, beef & broccoli, egg foo yung, and Singapore rice noodle all top our familys' lists.
We've been known to order a couple main dishes, and divvy them up among everyone.
That way we all get a little taste of each of our favorite dishes. What we all really enjoy though, are the appetizers.
So much so, that we've enjoyed discovering how to make them easily & affordably at home.
Whether it's copy cat Panda Express fried rice, crisp egg rolls with a sesame ginger dipping sauce, or an authentic egg drop soup– our Chinese take out appetizer game (at home) has gotten pretty strong.
It was only a matter of time before I made it my mission to tackle our absolute favorite Asian appetizer: shrimp toast.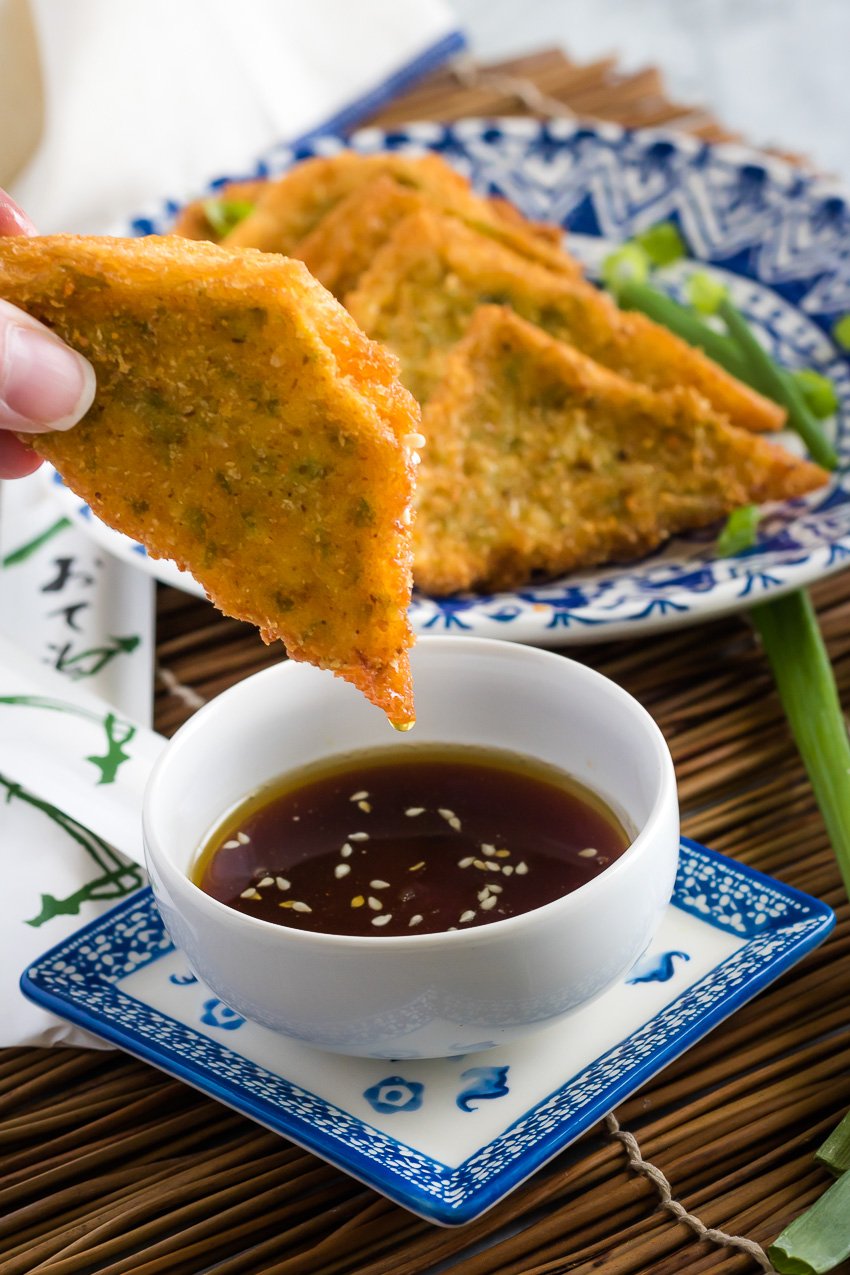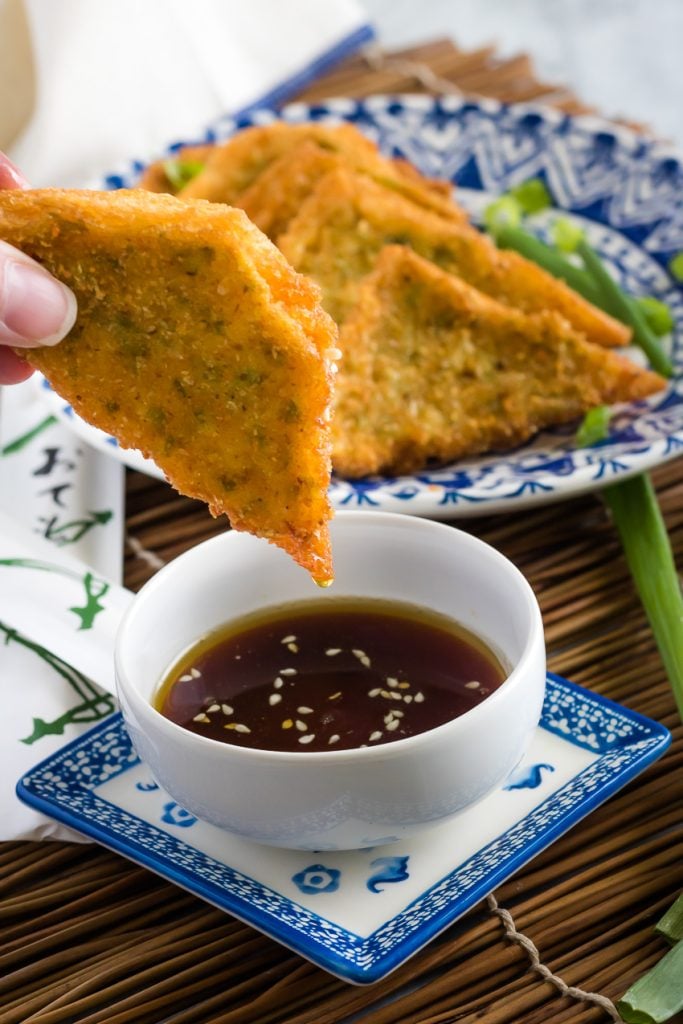 What Exactly Is Shrimp Toast?
Shrimp toast is a dim sum style appetizer, or tiny bites. It's not the traditional dumpling commonly known by that name though.
Instead, it's golden fried bread bites that feature a savory shrimp mousse.
The shrimp batter is smeared onto the bread, covered in a bread crumb coating of choice, and fried until golden brown on the outside with the shrimp mixture cooked through.
If it sounds simple, it's because it is. It's deceptively easy, but packs in a major flavor punch with beautifully married flavors melded together.
The result's a fun finger food that's got a light crunch on the outside with a hot, juicy, dense shrimp center.
Where Does Shrimp Toast Come From?
This easy shrimp toast may seem like a totally American Chinese invention, especially with the inclusion of the very Western 'white bread'.
It's actually a spin on a traditional Shandong finger food, fried shrimp balls. Those were a basic shrimp meatball, that fluffed when fried.
This Chinese takeout shrimp toast recipe is the evolutionary result that's common on takeout menus & in Asian restaurants all over America.
The Cantonese typically pair it with mayonnaise, or miracle whip, and ketchup but we much prefer a simple spy sauce for dipping.
All of this seems like a great place to talk about what exactly goes into making shrimp toast.
Shrimp mousse seems a bit vague now that I think about it.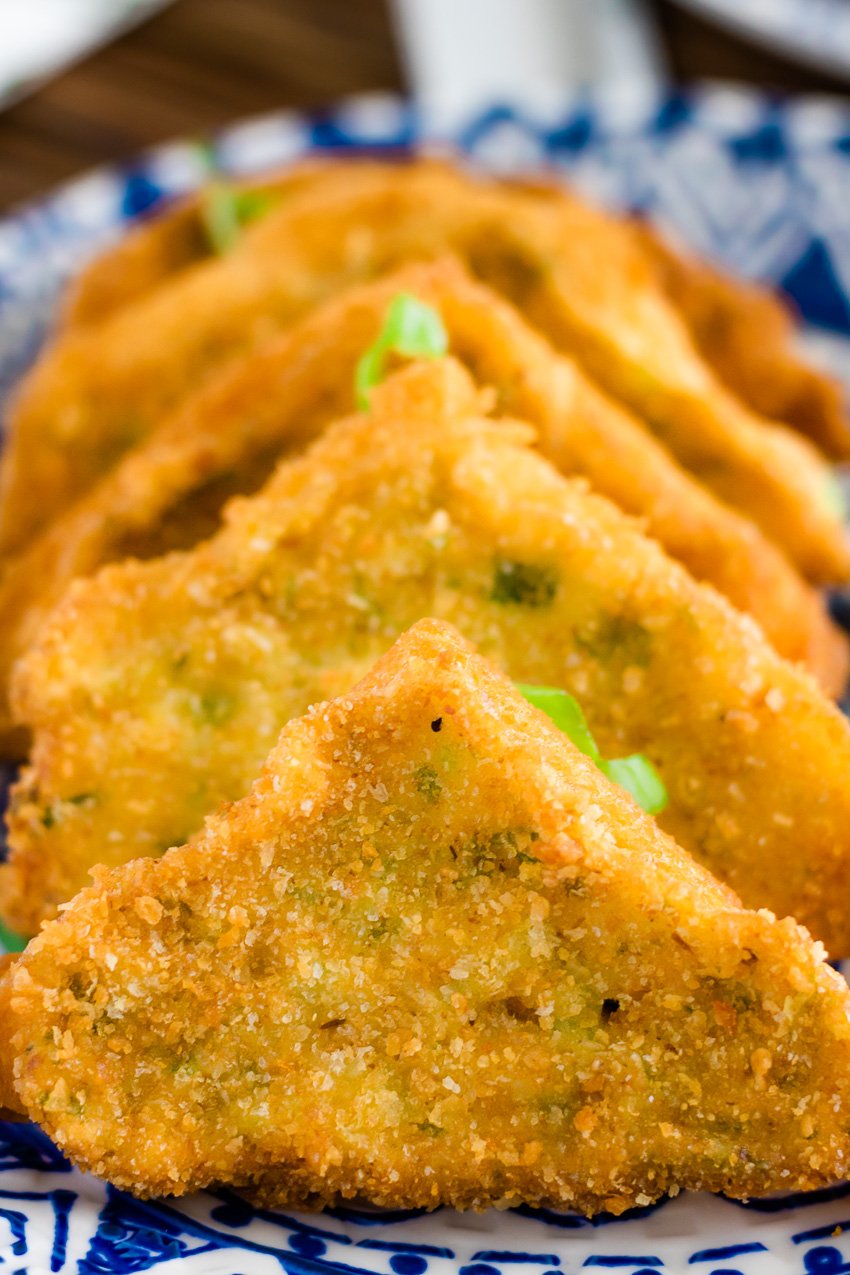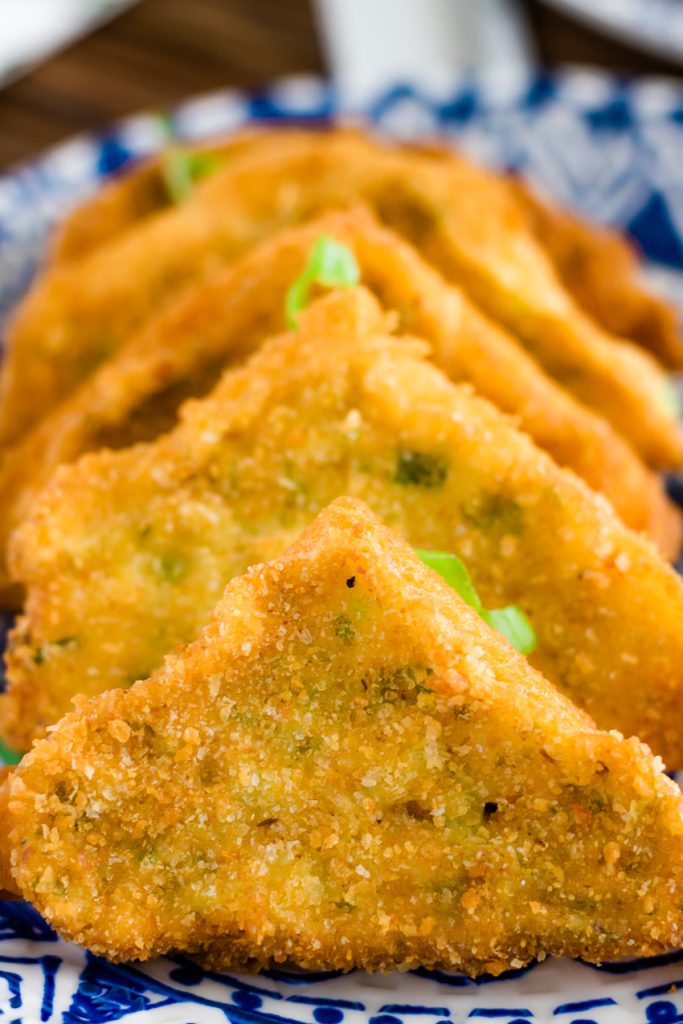 Ingredients Needed To Make Shrimp Toast:
shrimp
egg
salt
green onions
white bread
bread crumbs
canola oil
It's always a plus for me when a great recipe comes with such a simple ingredient list. Start to finish, this shrimp toast recipe only needs 6 things.
Almost all of which, I guarantee most home cooks keep stocked on hand. And if not?
Well, they're common enough to find in almost any grocery store. Get everything ready, have plenty of counter space ready, roll your sleeves up, and it's time to make a batch of your favorite Asian appetizer.
To Make The Shrimp Toast:
Blend together the shrimp, egg, & salt until the mixture's pureed.
Add in the green onions, pulsing just until they're mixed in.
Add an even spoonful of the shrimp mousse to each bread triangle.
Using the back of the spoon, spread the mixture smoothly out.
Fill a pot with oil to an inch level. Heat the oil over medium high heat.
Press the shrimp covered pieces of bread into the bread crumbs. Press them in to ensure a solid, stuck coating.
Working in batches of four, add the bread to the hot oil shrimp side down. When golden brown, flip and continue cooking until the other side's also golden brown.
At this point, use a slotted spoon to remove the fried toasts from the oil. Transfer them to a paper towel lined plate to drain away and soak up any excess oil. Serve them while still warm, with dipping sauce of your choice.
We like soy sauce, but I'm also partial to sweet & sour sauce. For a pretty garnish, sprinkle them with thinly sliced green onions and/or sesame seeds.
I adore this easy shrimp toast recipe, but I am in love with how easy it is to whip up in my own kitchen. I mean, seriously- it's so easy.
A good take out saves the day on so many occasions, but being able to plan my own Chinese style supper at home is priceless.
Having made this many times now, there are a couple of things I've learned along the way- so make sure to check below for our helpful tips & tricks.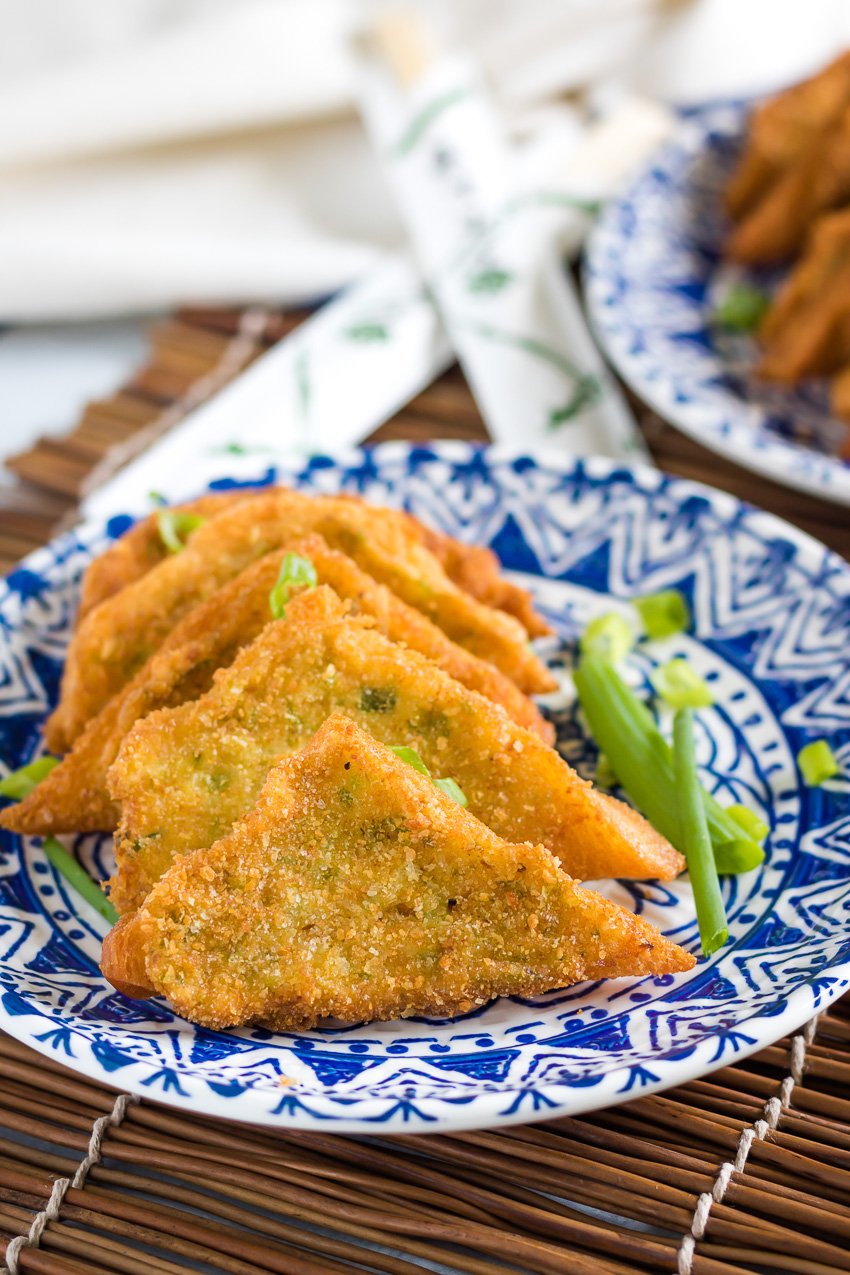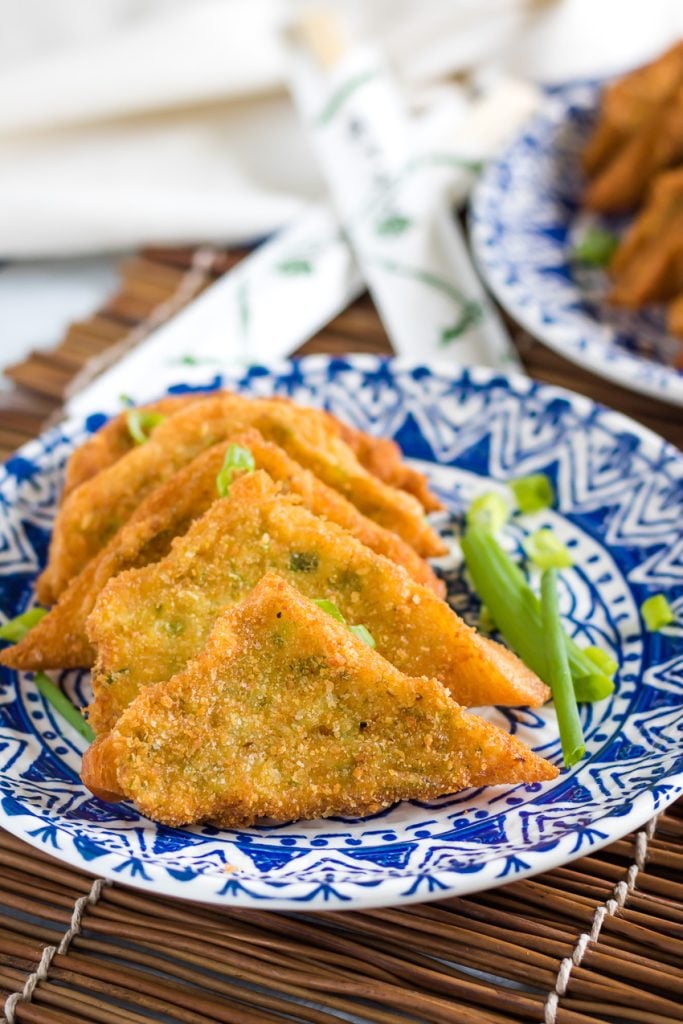 Tips & Tricks For Making Shrimp Toast:
As with many other fried foods, shrimp toast is best made to order. Or since we're cooking at home, freshly fried right before serving. To expedite the process, and make it 'ahead' you can spread the mousse on the bread, cover, & refrigerate. Wait to bread until just before frying.
You can technically use any white bread for this recipe, but I suggest springing for the very American Wonder brand. Other cheaper brands can pull and get holey when spreading the shrimp mixture. It also holds up incredibly well to frying, and yields the best crispiest texture.
The filling we've listed is basic. It's great, but you can always add things to it to give it an extra depth of flavor. For extra flavor, you can add a bit of uncooked ground sausage to the shrimp batter. Blend it together with the shrimp. You can also add crunchy chopped water chestnuts to the mix, or even freshly grated ginger.
Keep that take out menu in it's secret drawer, and wow your family with a homemade version of their favorite Chinese appetizer instead.
It's easier than you'd think, and yummier than they'd ever guess. Round it out with a couple other dishes and make it a complete meal.
You'll surprise them and yourself with how easy it is to get on the table with the help of this easy shrimp toast recipe.
Make It A Meal With These Other Easy Dishes: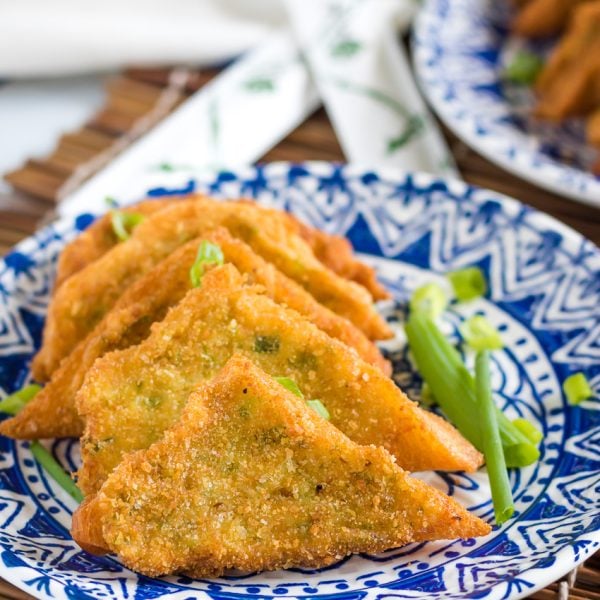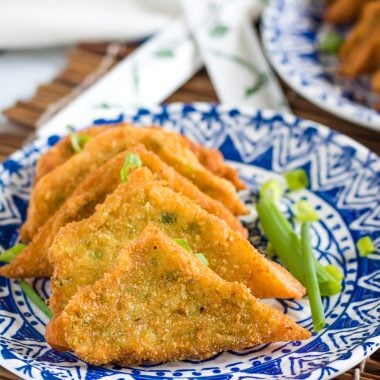 Shrimp Toast
This quick & easy shrimp toast recipe will have you enjoying your favorite Chinese appetizer in under 30 minutes. A simple shrimp mousse is spread over sliced white bread triangles, breaded, and fried to golden brown perfections- it's finger food perfection!
Print
Pin
Rate
Ingredients
1/2

lb

shrimp, peeled & deveined

1

large

egg

pinch

salt

2

green onions

thinly sliced

5

slices

white bread

crusts removed & each slice cut into 4 triangles

1

cup

bread crumbs

canola oil

for frying
Instructions
To the bowl of a large food processor fitted with the blade attachment, add the shrimp, egg, & salt. Pulse until the mixture's smooth.

Add in the green onions, and pulse again- just until they're also blended in.

Divide the shrimp evenly out among all the bread triangles. Carefully spread/smooth it out over one face of each triangle.

Fill a large pot with oil, one inch deep. Heat it over medium high heat.

While the oil's heating, dip the shrimp mouse covered side of each bread triangle into bread crumbs. Press it in if needed, to ensure that they're coated evenly.

Transfer the coated pieces of shrimp to the hot oil. Working in batches of four, add them to the hot oil shrimp side first. When it's golden brown, flip it and cook until that side's also golden brown & crispy.

Transfer to a paper towel lined plate to drain. Serve immediately after with dipping sauce of choice, and a garnish of fresh thinly sliced green onions.