Don't pick up the phone, there's no need to call for take out when you can easily whip up a batch of authentic egg drop soup at home. Ten minutes is all you need until you're enjoying a hot bowl full of your favorite Asian soup!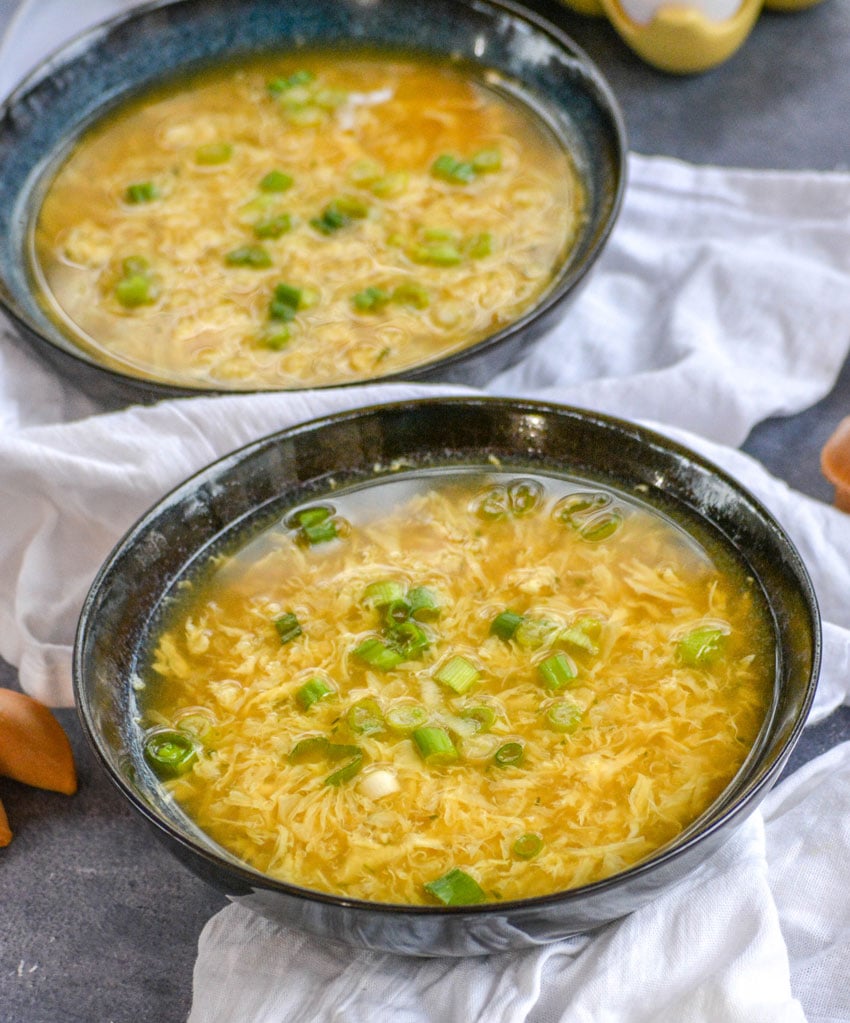 Egg drop soup has become one our family's favorite Asian dishes to enjoy. Lunch, dinner it doesn't really matter to us- it's delicious enough for any occasion.
That wasn't always the case though.
For years I refused to even try the stuff. I didn't even really know what it was, but I knew where it wasn't going- anywhere near me or my mouth.
I had some weird ideas I guess about it because I knew it was a hot soup, and raw eggs were involved. Nope, that did not sound appetizing at all.
Thinking about that now is just crazy to me. The eggs are cooked, and I've had scrambled eggs in soup before. What a waste spending all that time missing out on such a simple, yet savory soup.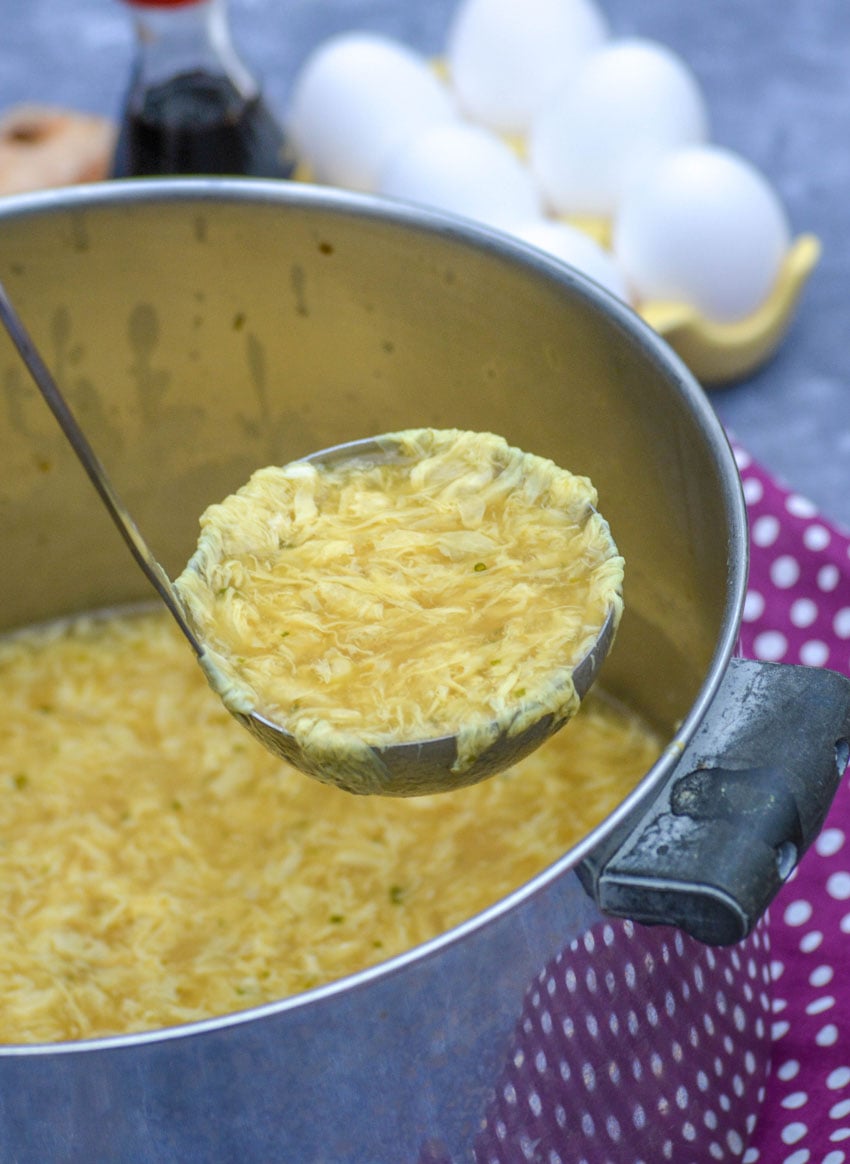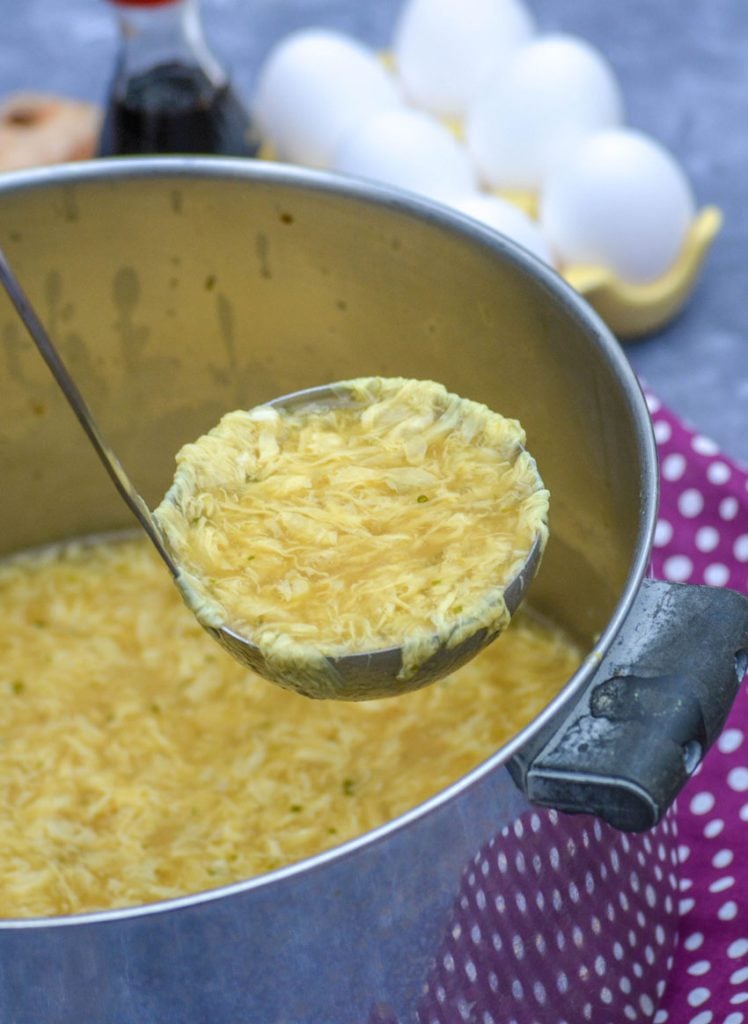 While enjoying an authentic egg drop soup may be relatively new to me, it's nothing new culturally or historically.
It's been around forever, like literally so long that nobody's ever been able to pinpoint it's origin story.
The Chinese call it dan hau tang, and it's a simple soup made up of wisps of beaten eggs boiled in chicken stock.
It's typically served as is, and sparsely seasoned. Maybe a bit of pepper, maybe some chopped green onions or a few cilantro leaves.
That's it. It's one of those base soups. The kind that's good all by itself, but can be an amazing creation with a variety of your favorite mix-ins.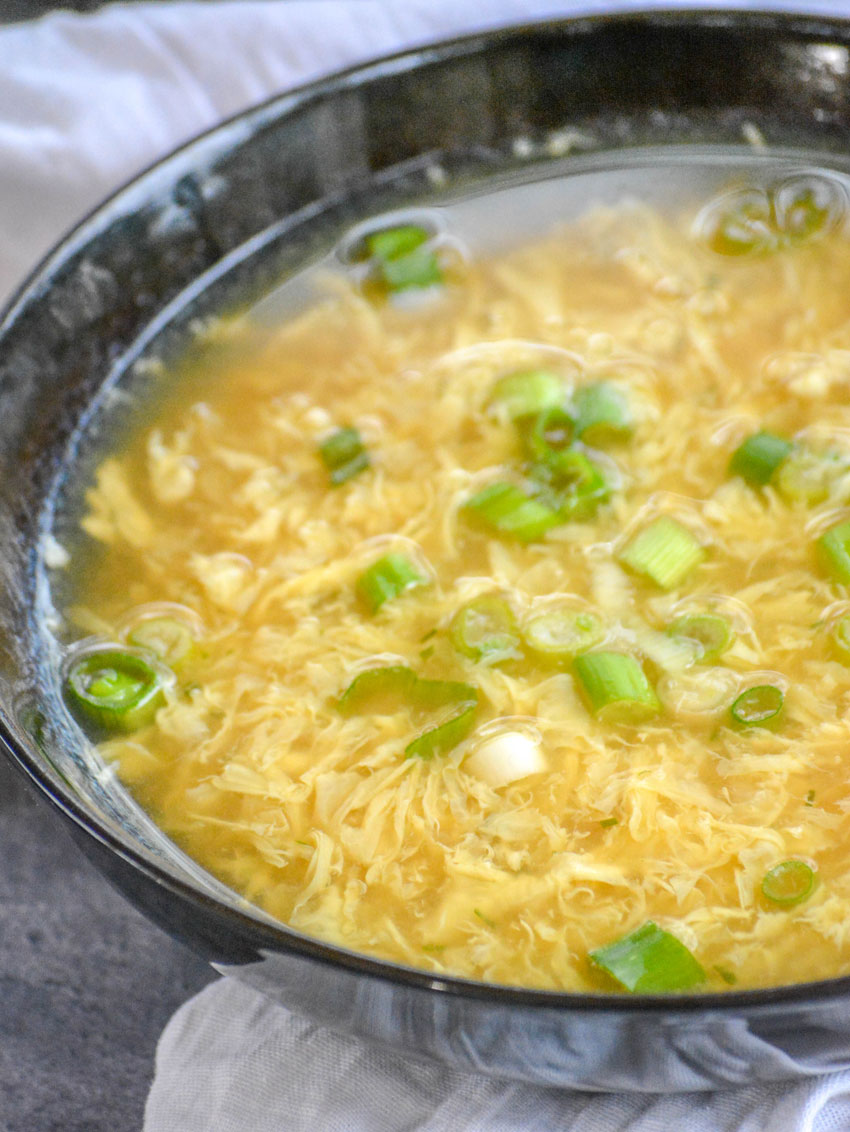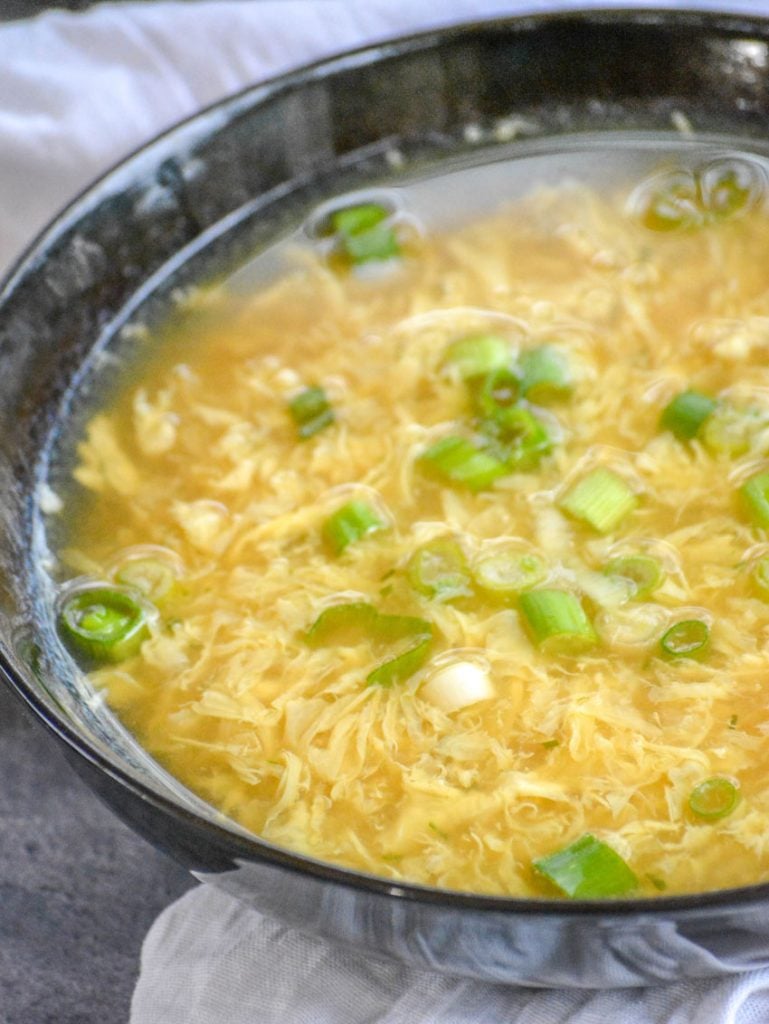 The combination of hot broth and eggs (much to my surprise, again) is not a new thing. It's actually quite common, as is the knowledge that adding various tasty bits to the mixture is a really delicious idea.
The Greek's added a bit of lemon juice, rice or orzo pasta depending on who you ask, sometimes dill, and called it Avgolemono.
The Italians added a heaping helping of tangy Parmesan cheese to their version, Stracciatella.
Even France jumped on the bandwagon using egg whites in their garlicky le tourin.
The basic combination of this soup's a blank canvas, ready for you to go to work and make it your own.
What all actually goes into a simple authentic egg drop soup though?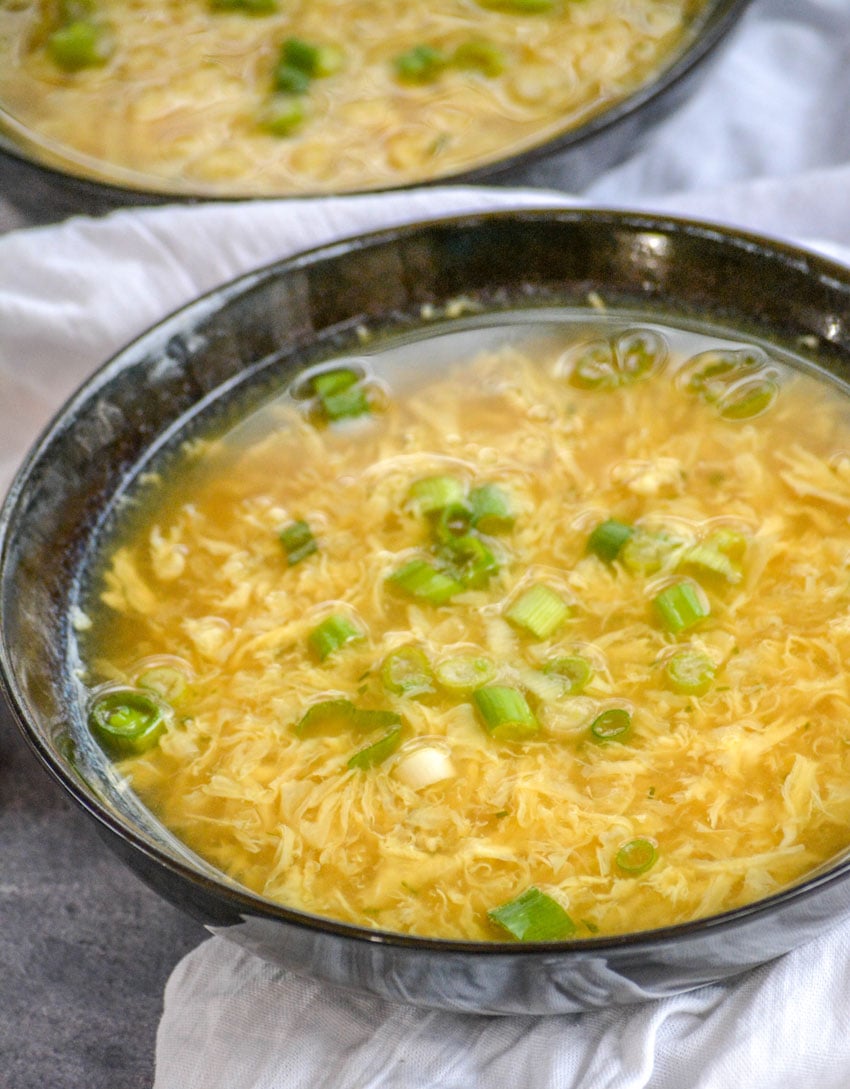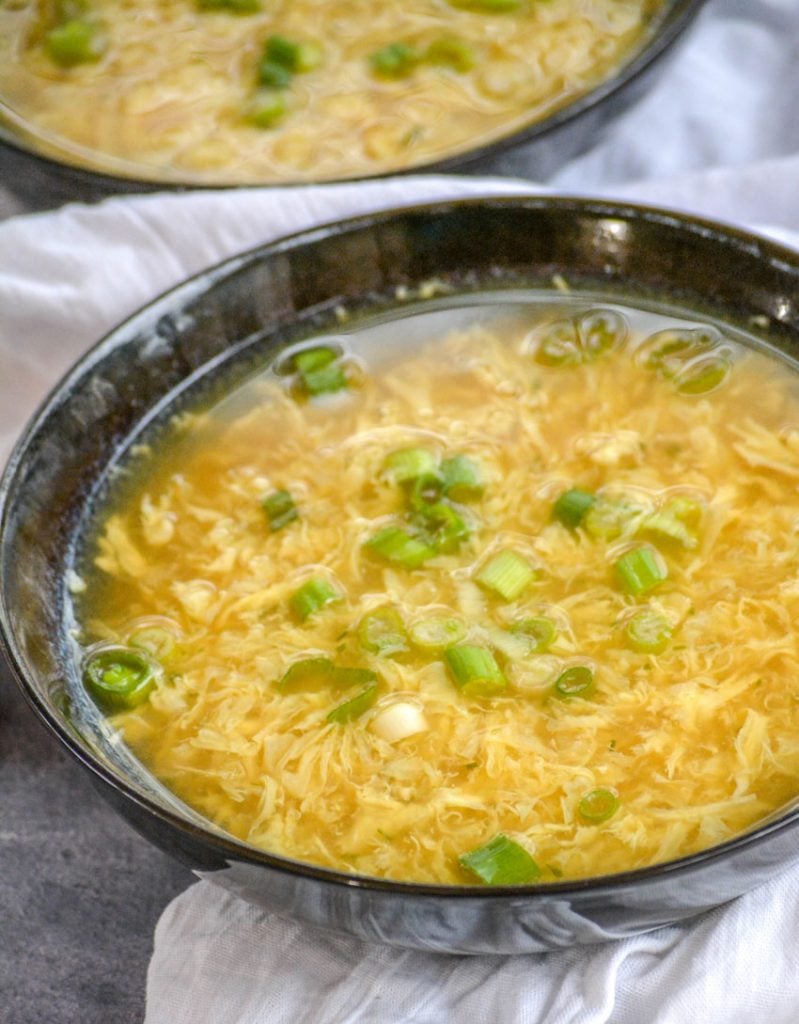 Ingredients Needed For Egg Drop Soup:
chicken broth
soy sauce
ginger root
eggs
white pepper
green onion
Nothing crazy. Nothing hard to pronounce. It's the easiest soup on the planet, but it tastes so good!
Think of it like the Asian version of a simple wholesome chicken noodle soup. Minus the noodles & excess carbs, but with all the tasty bits.
It's not a healthy meal all by itself, despite being protein rich. Add a couple sides, or serve it as an appetizer though and it works. We also enjoy it as a light lunch.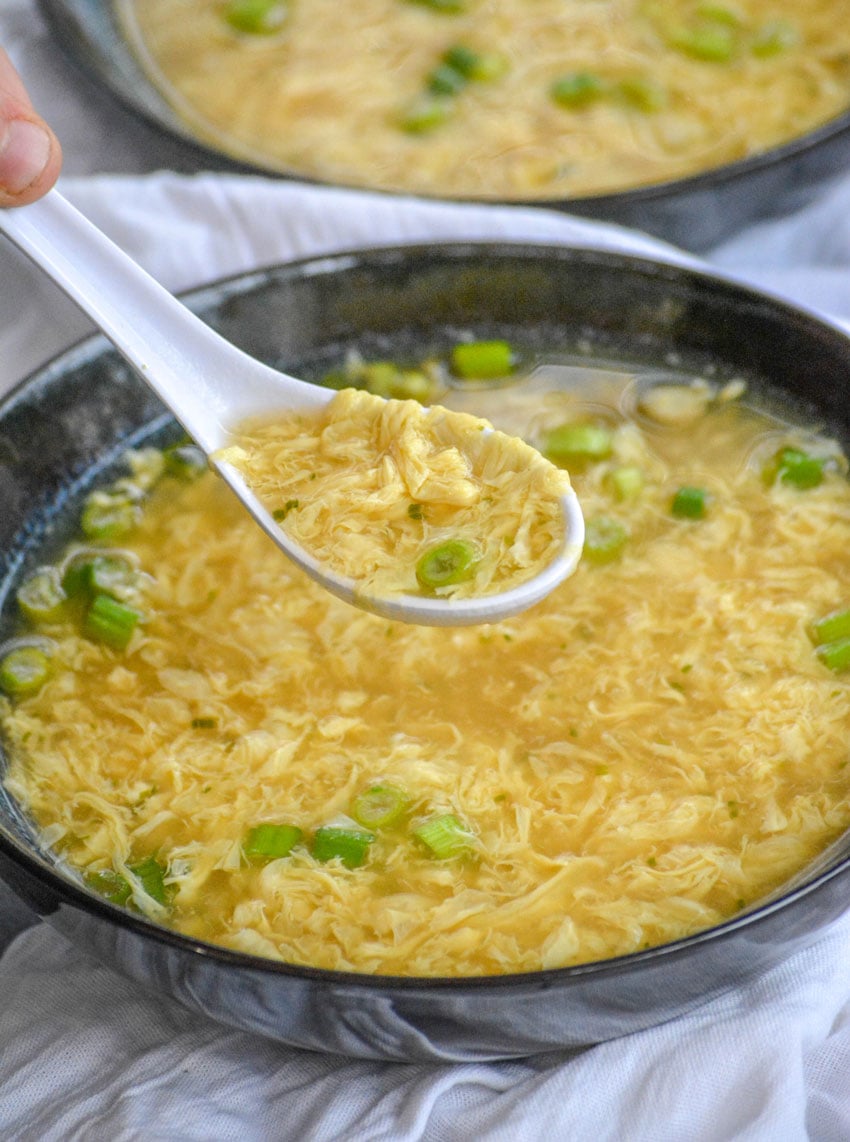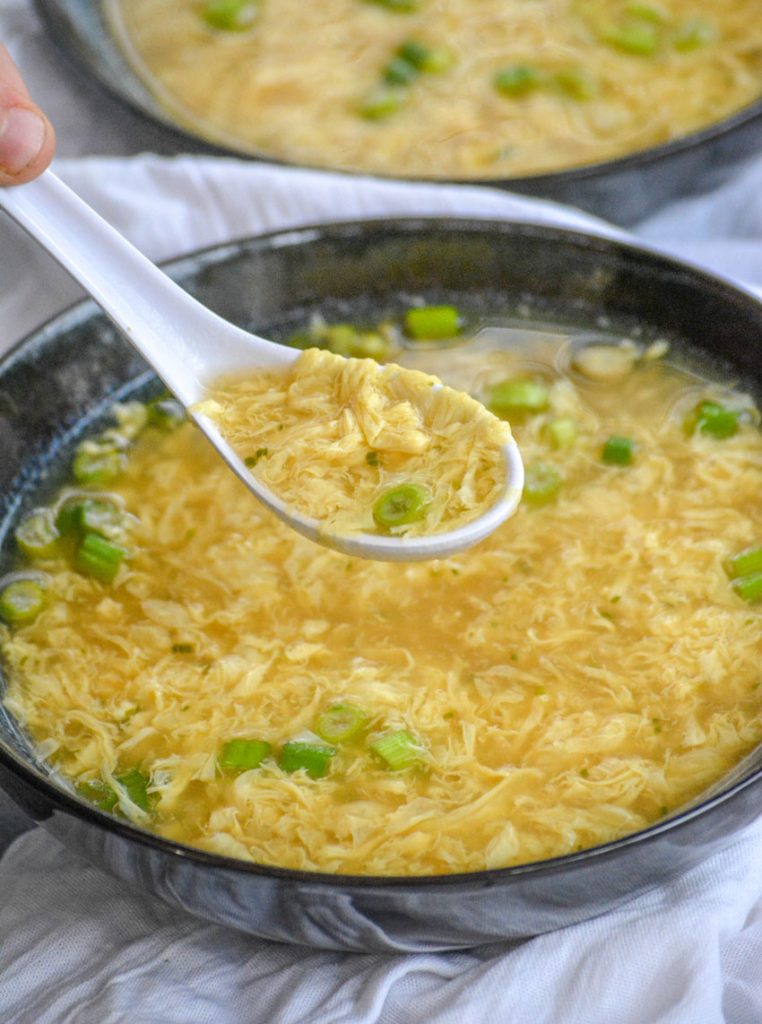 How To Make Authentic An Egg Drop Soup Recipe:
Combine the broth, soy sauce, and ginger in a large pot. Bring the mixture to a boil. Reduce the heat until the soup's simmering, and cook for 1-2 minutes.
While whisking the soup continuously in a single direction (pick counter or clockwise), slowly pour in the beaten eggs. Add the pinch of pepper, and whisk in.
Ladle the hot soup into bowls and served topped with sliced green onions.
That's it. Simple soup, but so many infinite possibilities now. Not even kidding. I had no clue how many different ways there were to serve this soup.
All it took was me mentioning it to a couple people, and boom- everyone's opinions came flooding in. Most of them were good, too!
Tips & Tricks:
This recipe calls for chicken broth, chicken stock will also work. You may have to taste and adjust the seasonings accordingly.
Don't have fresh ginger? That's ok, swap a 1/4 tsp of ground ginger in instead.
The soup as prepared is thin. If you want a thicker soup, combine a tablespoon of cornstarch with one tablespoon of water. When evenly mixed, whisk it into the soup. Cook the soup, and stir, until it's thickened.
Don't like green onions? Chopped cilantro leaves also make an excellent topping.
Want a more complex flavor profile? Add a dash of oyster sauce to the soup, and top each bowl with a tiny drizzle of sesame oil.
This soup will keep for a couple of hours, but it doesn't do well beyond that. I do not recommend making it ahead of time. It's done in 10 minutes tops, so hopefully that shouldn't be an issue.
Consider this savory soup a blank canvas that you can decorate any which way you want. There's so many different versions to try & enjoy.
Add a bit of miso seasoning and some bits of tofu. Want some spice? Try a drizzle of sriracha on for size, maybe even some shrimp.
Want to make it a whole meal? Serve each bowl with freshly cut kernels of sweet corn, crab meat, and plenty of cilantro leaves.
Seriously, go wild here because there's not way you can really go wrong.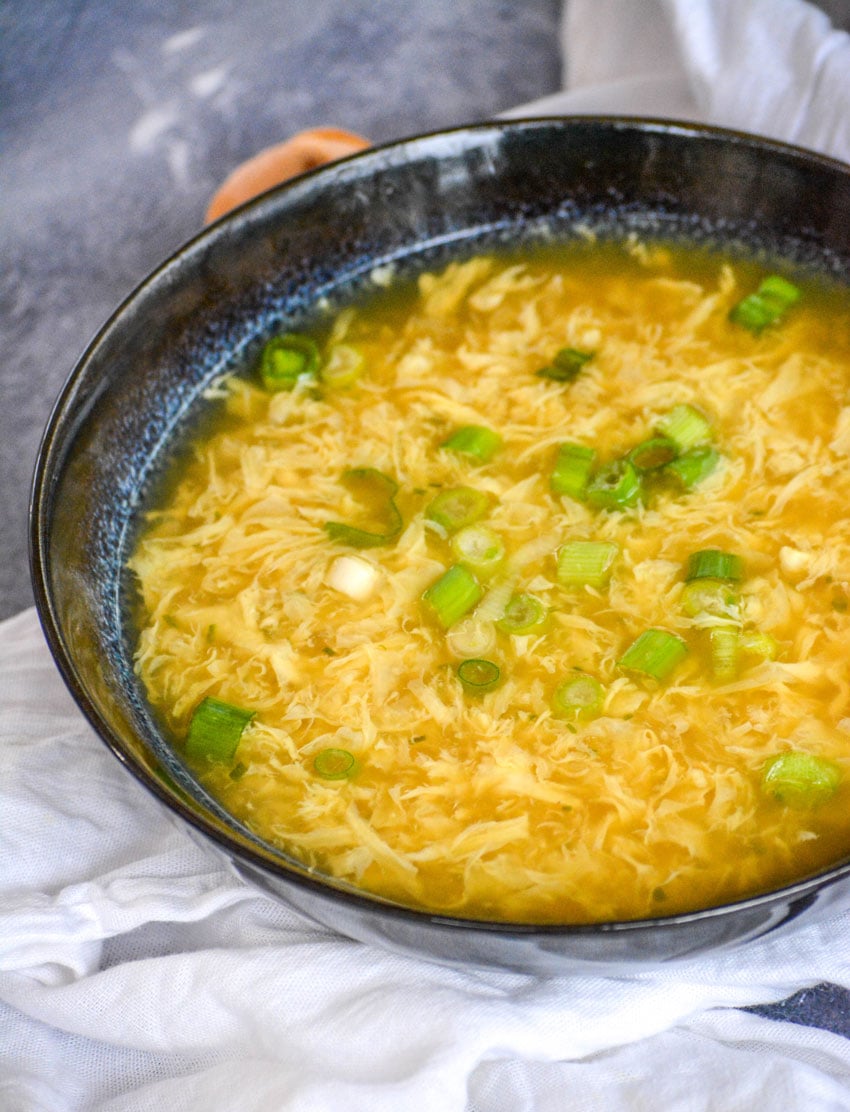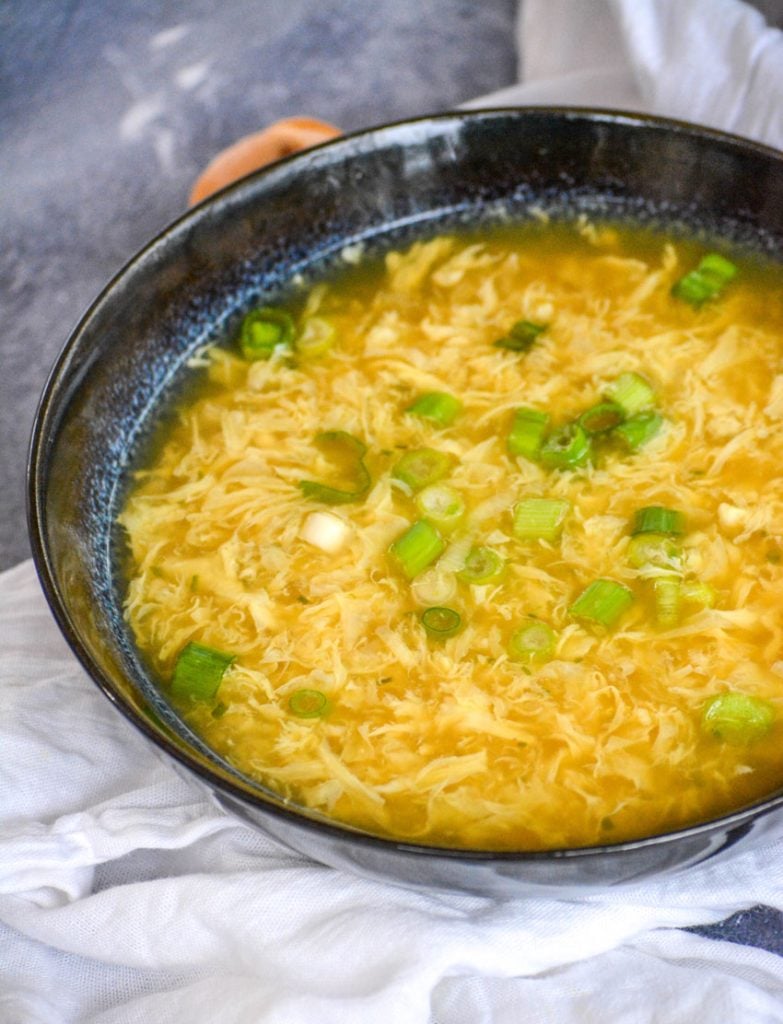 If soup sounds like a good idea, whatever the reason, whip up a quick batch of this authentic egg drop soup. It's the perfect dish when the mood strikes. Shoot, it even helps you kick the take out crutch aside.
It's also a great option for when you're feeling under the weather, and need something light & soothing. Don't make the same mistake I did, get your family hooked on this age old classic asap!
Other Asian Soups To Give A Try:
If you've tried this AUTHENTIC EGG DROP SOUP, or any other recipe on the site, let me know in the comment section how it turned out, we love hearing from our readers! You can also follow along with me on PINTEREST, FACEBOOK, and INSTAGRAM to see more amazing recipes and whatever else we've got going on!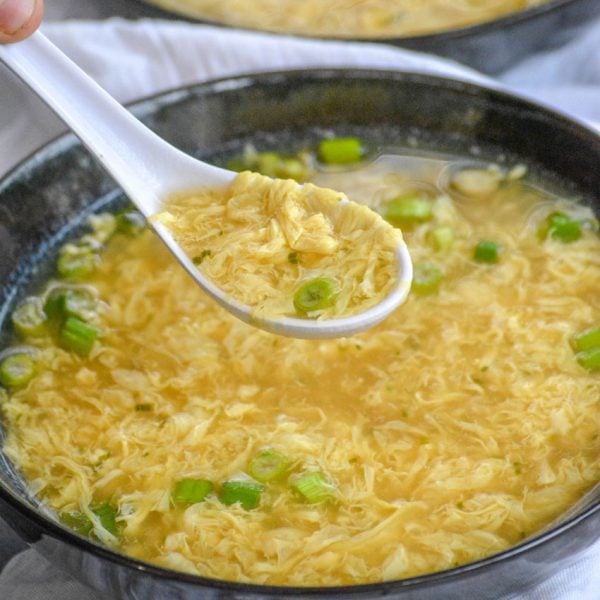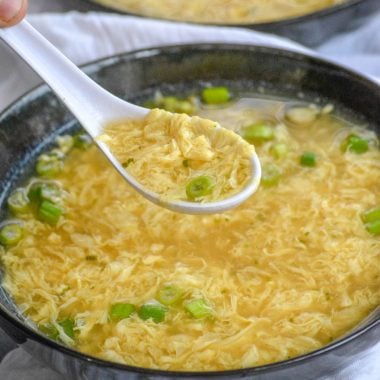 Authentic Egg Drop Soup
A simple soup of chicken stock & wisps of cooked beaten egg- this authentic version is the perfect canvas to make your own with whatever Asian additions you choose.
Print
Pin
Rate
Ingredients
8

cups

chicken broth

4 1/2

tsp

soy sauce

1/2-1

tsp

freshly grated ginger root

4-5

eggs, beaten

pinch

white pepper, optional

1/2

cup

chopped green onions
Instructions
Add the broth, soy sauce, and ginger to a large pot. Whisk everything together to evenly combine.

Slowly pour in the eggs, think a trickle, and whisk constantly in a single direction until all the egg's been added. Stir in the pinch of white pepper if using.

Ladle the hot soup into bowls, and serve them topped with the chopped green onions. Enjoy!
Nutrition
Serving:
8
g
|
Calories:
47
kcal
|
Carbohydrates:
1
g
|
Protein:
4
g
|
Fat:
2
g
|
Cholesterol:
81
mg
|
Sodium:
1080
mg
|
Potassium:
242
mg
|
Vitamin A:
180
IU
|
Vitamin C:
17.7
mg
|
Calcium:
31
mg
|
Iron:
1
mg