Stay in tonight and still have your favorite fried rice. This copy cat version of Panda Express' most popular side dish makes it easy to see why it's so loved. Slightly salty, extra savory this meal packs a flavor punch while still keeping the ingredients simple. In under 20 minutes you can be enjoying this take out- fake out version, and serve it as part of your own two entree plate from the convenience of your own home.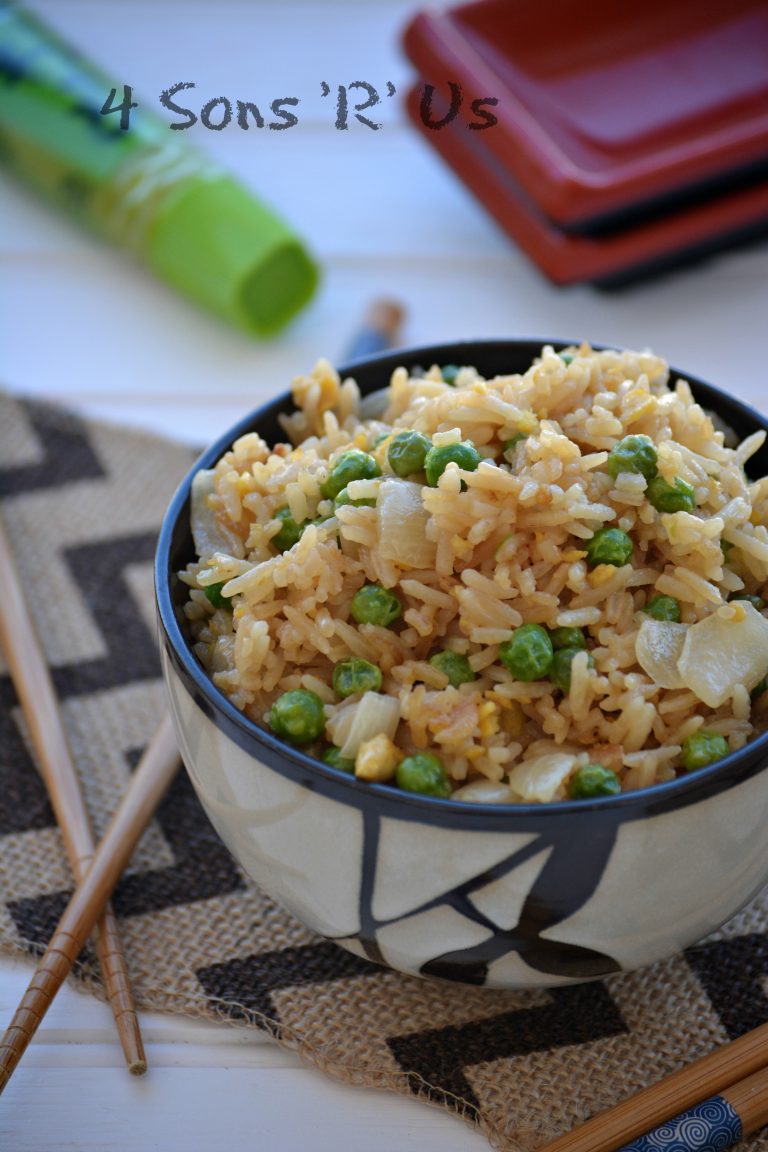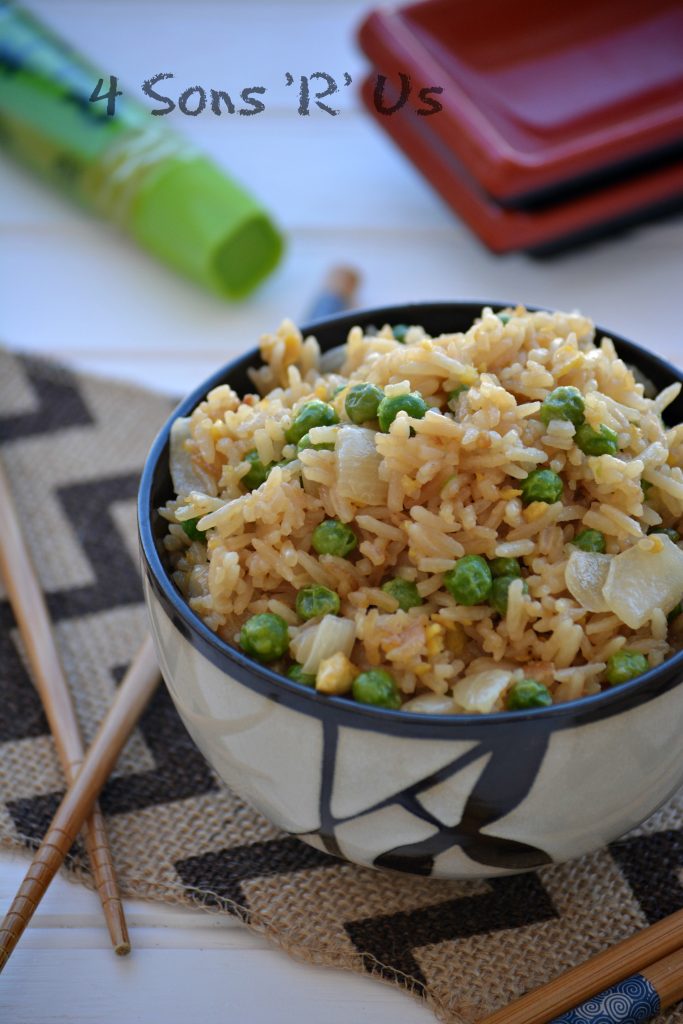 The hubs is working out of town this week. It feels really weird. Like in the almost decade we've been together– this is only the third time. I expected to miss him, but not necessarily the things I'd miss.
I miss being able to fall back asleep when I wake up in the middle of the night to his gentle chuffing snore.
Or the way he smiles when the kids tell him about their days new discovery or latest thing, and how that smiles lights up his eyes. I miss the way I make him laugh.
Still we've both got our jobs to do and the world still spins and demands must still be met even when we're apart. That doesn't mean that everything's necessarily the same though– especially in the kitchen.
I've discovered I'm less inclined to cool three course or 5 star gourmet meals, and it's a nice change of pace to keep things a bit more casual. I need to remember this when he's home and we've resumed our normal routines too.
This is why it should come as no surprise when I tell you that we've had fried rice more than twice in his absence. I love it– I can dress it up or down, add meat or leave it off.
And it's even easier now that I've created a copy cat version of my favorite take out version.
No piling everyone in the car or fussing over menus and manners while we're out. No waiting on carry out or delivery. Just me, and a few minutes by the stove and a yummy simple dinner is served.
Bonus? When it tastes this good and just like their favorite Panda Express version– there are no complaints from the peanut gallery. Seriously, all you could hear were the crickets in the background.
And more importantly, who doesn't like fried rice? Ok, I guess if I'm being honest my 6 year old kind of doesn't.
He likes the fried rice part well enough. It's the veggies in it that he disagrees with and painstakingly picks out one by one. Even the egg, and this kid lives for Daddy's scrambled eggs on Saturday & Sunday mornings.
He's at a weird age, at least that's what I tell myself. But he ate everything else and he didn't complain or beg for an alternate meal he was never going to get so I still consider it a win.
And can any 6 year old truly appreciate the goodness that is a Copy Cat version of Panda Express'amazing fried rice?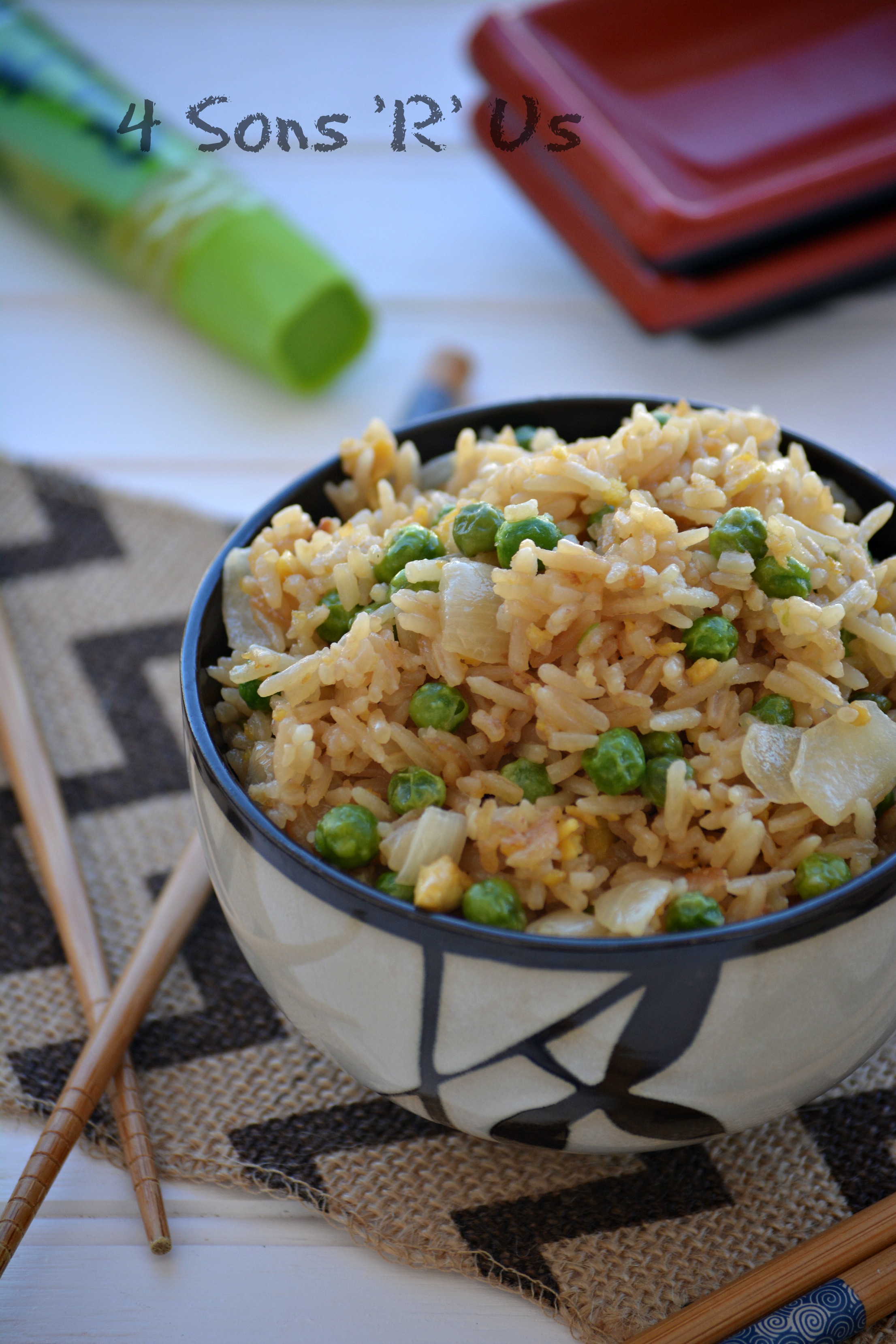 Copy Cat Panda Express Fried Rice
An easy at-home version of one of the most popular take out versions of this classic Asian-American side dish.
Print
Pin
Rate
Ingredients
2

cups

cooked long grain white rice

2

eggs

beaten

3

tbsp

butter

divided

1

cup

frozen peas and carrots

slightly thawed

1/4

cup

roughly diced white onion

2

tbsp

soy sauce

or more to taste

1/4

tsp

sesame oil

or more to taste

1/8

tsp

freshly ground black pepper

1/8

tsp

salt

or more/less to taste
Instructions
Set the cooked rice aside- in a large bowl- until needed.

Scramble the eggs with 1 tbsp of the butter in a wok on stove top. While the eggs cook use a spatula to break them up into pea sized pieces.

Transfer the chopped scrambled eggs into the bowl of cooked rice along with the thawed peas and carrots and diced white onion, stirring until everything's evenly incorporated.

Heat the remaining 2 tbsp of butter in the wok over medium heat. Add the rice mixture to the skillet. Give it a good toss to thoroughly coat and then add the soy sauce and sesame oil, again tossing until they're evenly incorporated. Saute the rice, stirring constantly, for 6-8 minutes-- or until the onions have softened slightly and the veggies and rice are completely heated through and just slightly browned.

Remove the wok from heat and season the fried rice with salt and pepper, to taste.

Serve immediately as is or alongside your favorite Asian entree.
Notes
I regret to inform you that due to budget cuts, Panda Express removed the egg from their version and replaced it with corn. I wouldn't recommend doing that as it really diminishes the flavor, but if you happen to prefer the updated rice, omit the egg and add in 1/4 cup of corn kernels to the dish.
Nutrition
Calories:
321
kcal
|
Carbohydrates:
37
g
|
Protein:
10
g
|
Fat:
15
g
|
Saturated Fat:
8
g
|
Cholesterol:
140
mg
|
Sodium:
949
mg
|
Potassium:
213
mg
|
Fiber:
2
g
|
Sugar:
1
g
|
Vitamin A:
4945
IU
|
Vitamin C:
6
mg
|
Calcium:
43
mg
|
Iron:
2
mg