Stay in tonight and still have your favorite fried rice. This version of Panda Express' most popular side dish makes it easy to see why it's so loved. Slightly salty, extra savory this meal packs a flavor punch while still keeping the ingredients simple. In under 20 minutes you can be enjoying this copy cat fried rice recipe, and serve it as part of your own two entree plate from the convenience of your own home.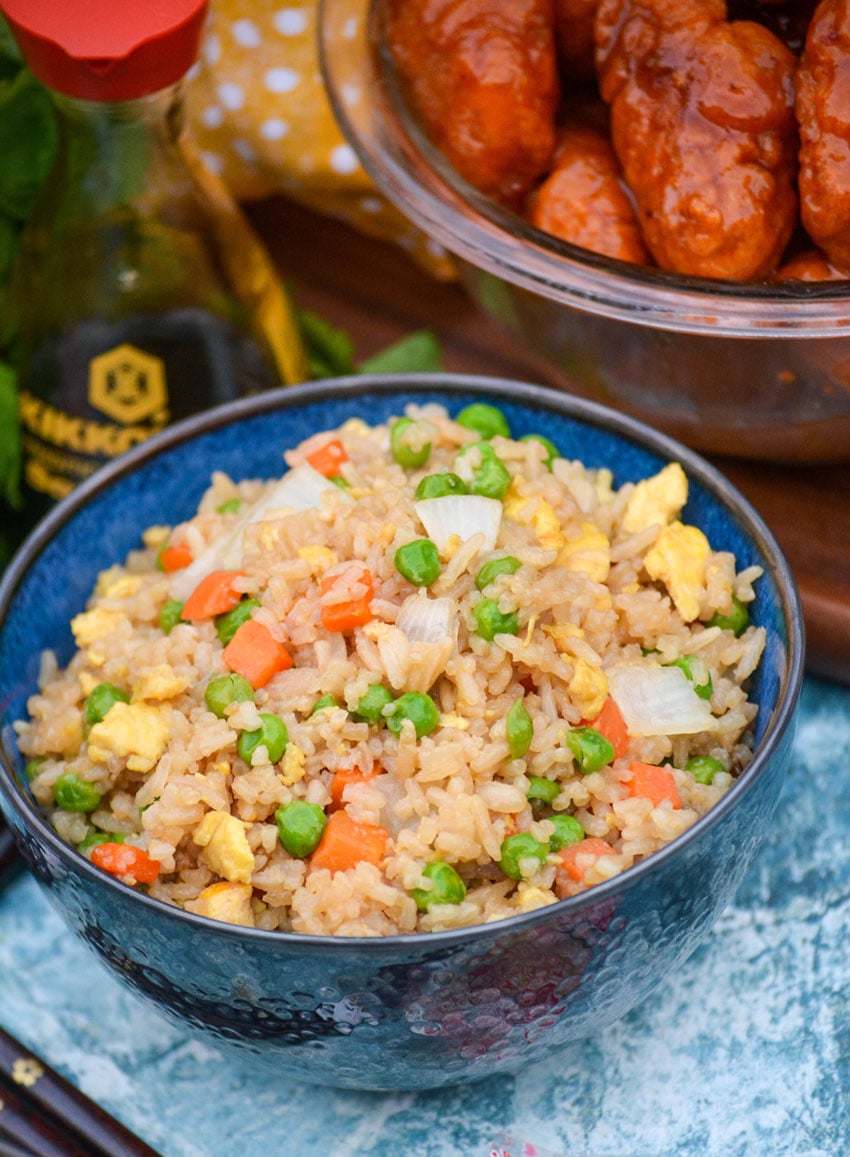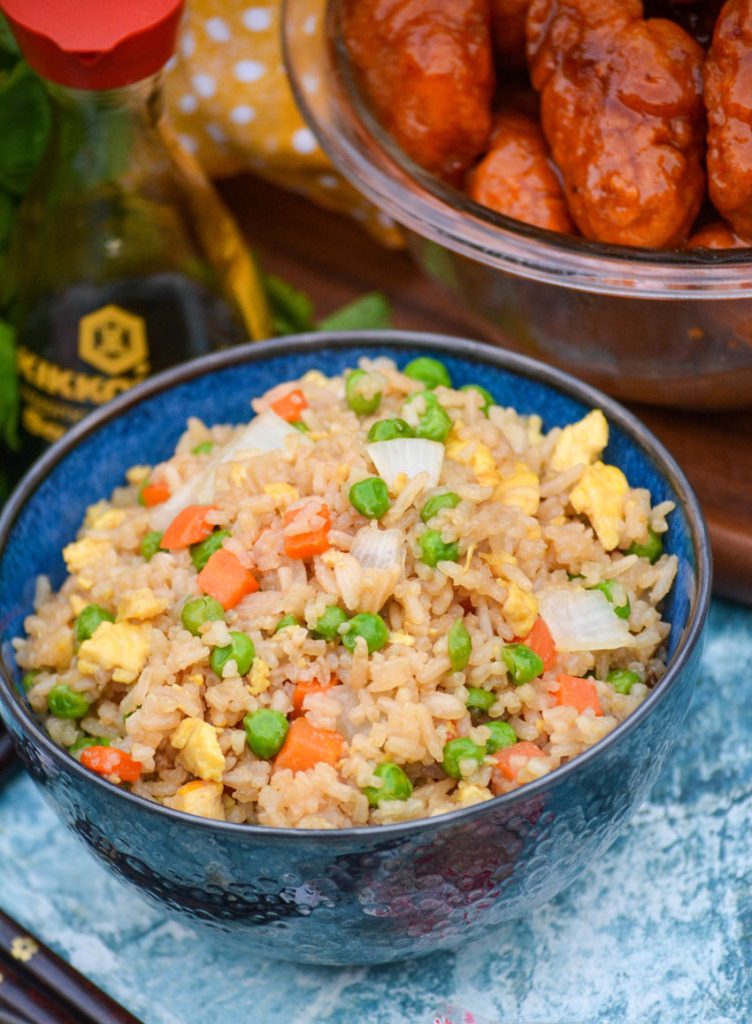 The hubs is working out of town this week. It feels really weird.
In the almost decade we've been together– this is only the third time.
I expected to miss him, but not necessarily the things I'd miss.
I miss being able to fall back asleep when I wake up in the middle of the night to his gentle chuffing snore.
Or the way he smiles when the kids tell him about their days new discovery or latest thing, and how that smiles lights up his eyes.
I miss the way I make him laugh.
Still we've both got our jobs to do and the world still spins and demands must still be met even when we're apart.
That doesn't mean that everything's necessarily the same though– especially in the kitchen.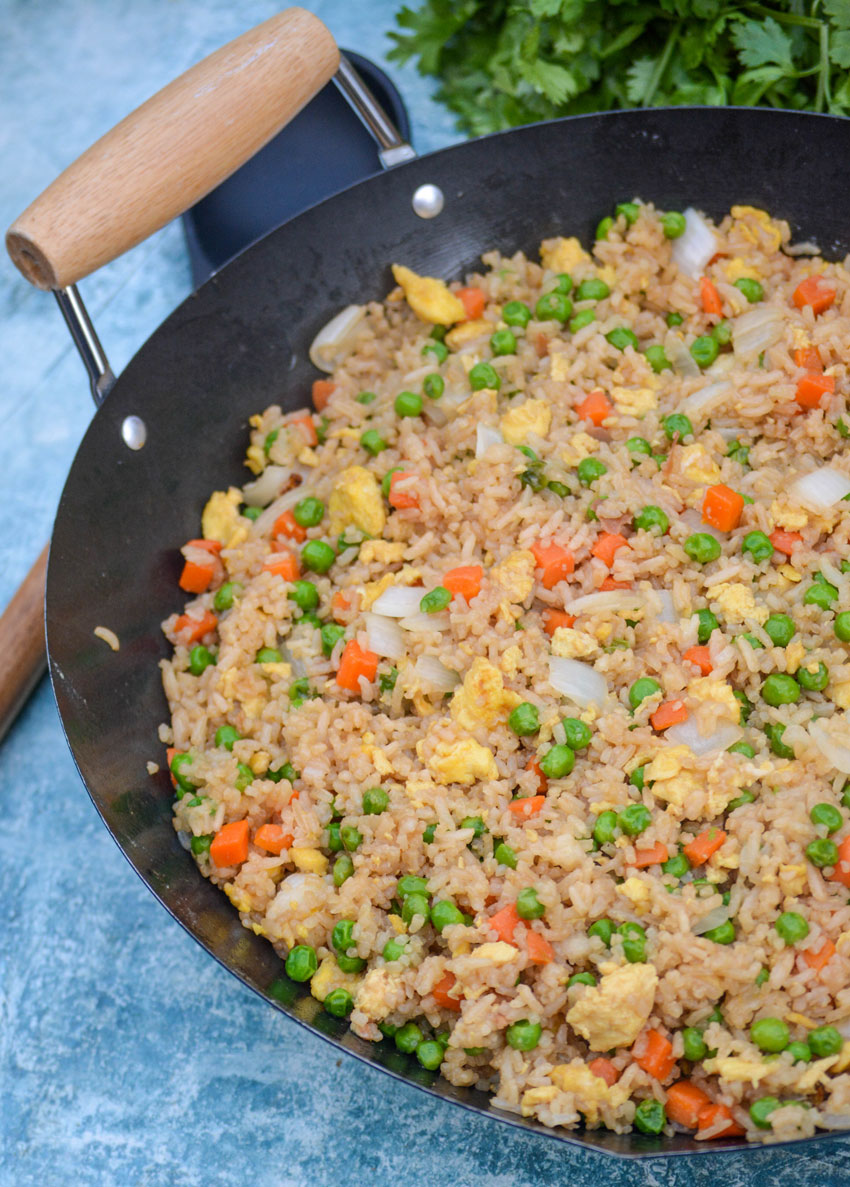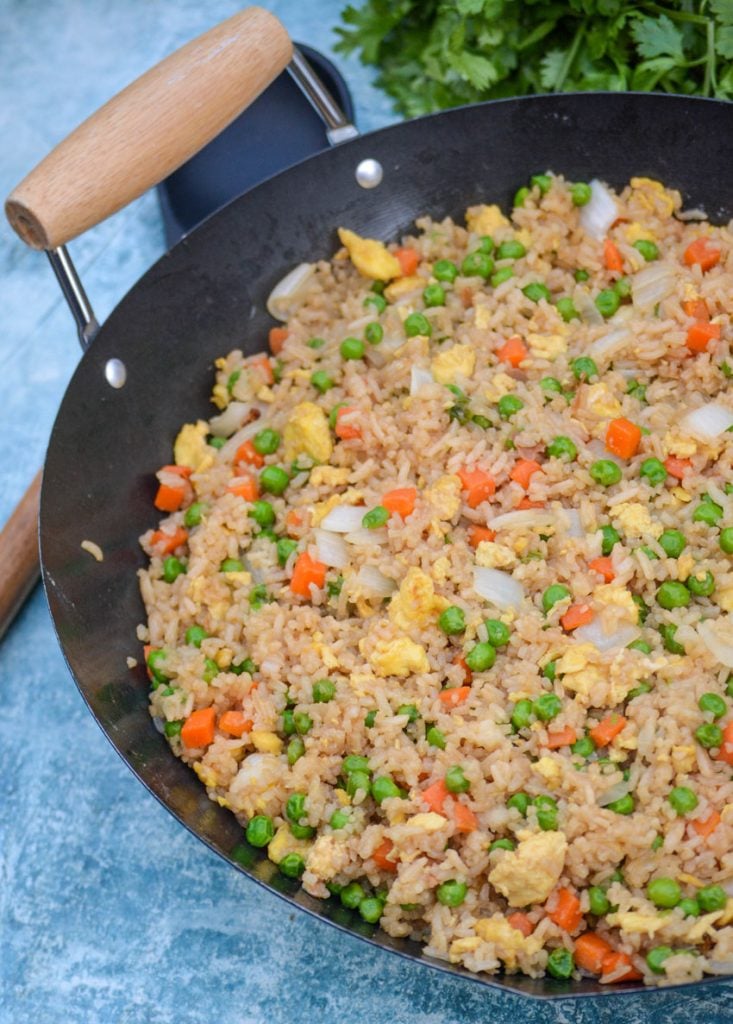 I've discovered I'm less inclined to cook three course or 5 star gourmet meals, and it's a nice change of pace to keep things a bit more casual.
I need to remember this when he's home and we've resumed our normal routines too.
This is why it should come as no surprise when I tell you that we've had fried rice more than twice in his absence.
I love it– I can dress it up or down, add meat or leave it off.
What Ingredients Go In Traditional Fried Rice?
These days, it seems like everybody's got there own version of everything. Fried rice isn't any different.
However, I like to keep things simple yet flavorful myself.
Which is exactly why I love the traditionalist versions of this dish.
Traditional ingredients include:
cooked rice
vegetables
eggs
meat or seafood, although this is totally optional
soy sauce and/or sesame oil, for flavoring & is also optional
Panda Express fried rice adhere's almost exactly to this ingredient list.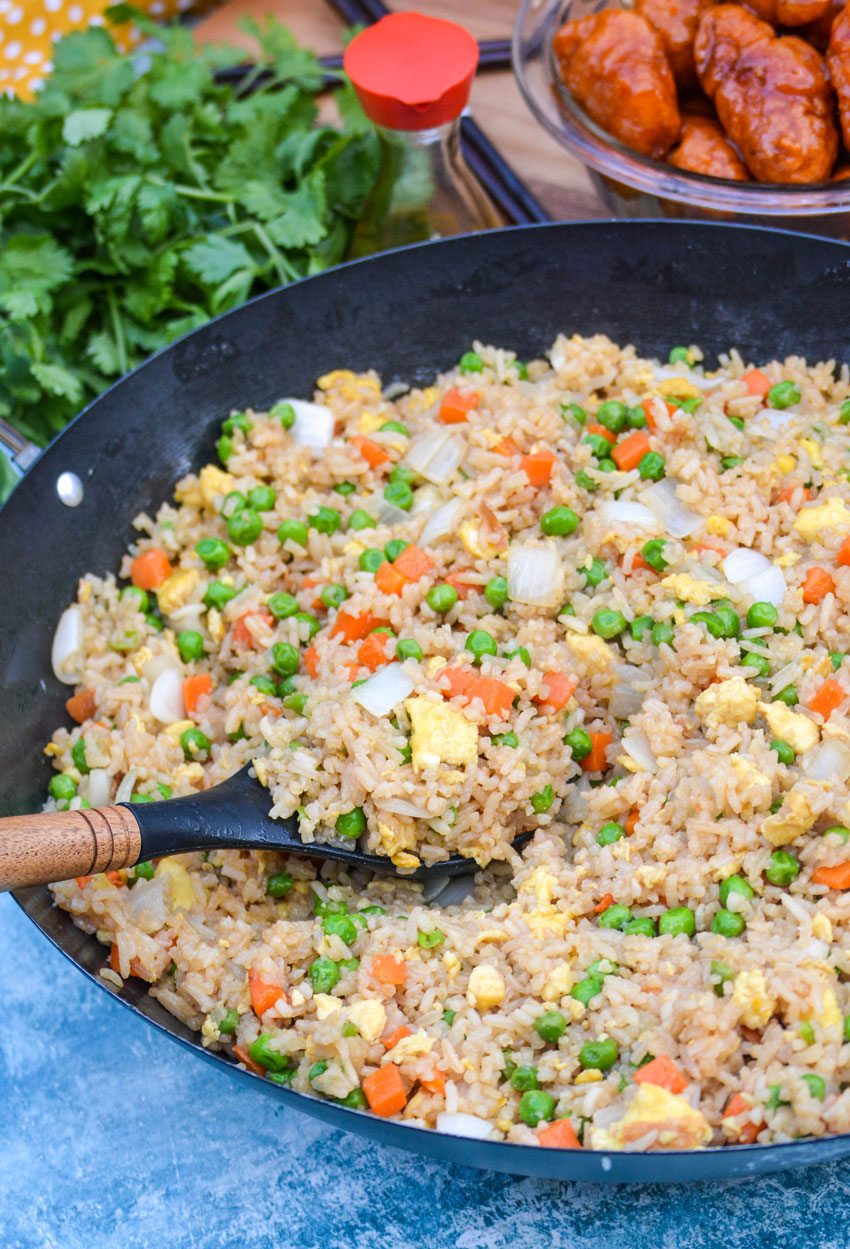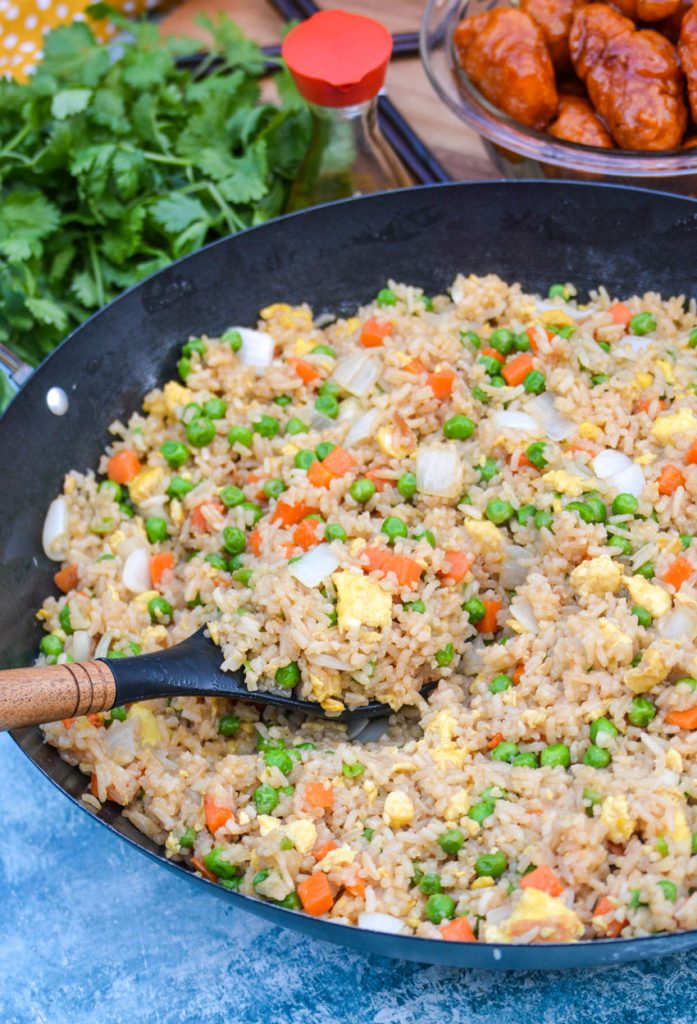 A copy cat version of my favorite take out item, also means no more piling everyone in the car or fussing over menus and manners while we're out.
No waiting on carry out or delivery.
Just me, and a few minutes by the stove and a yummy simple dinner is served.
Bonus?
When it tastes this good and just like their favorite Panda Express version– there are no complaints from the peanut gallery.
Picky kids eating in silent enjoyment when there's vegetables involved? That's a real win!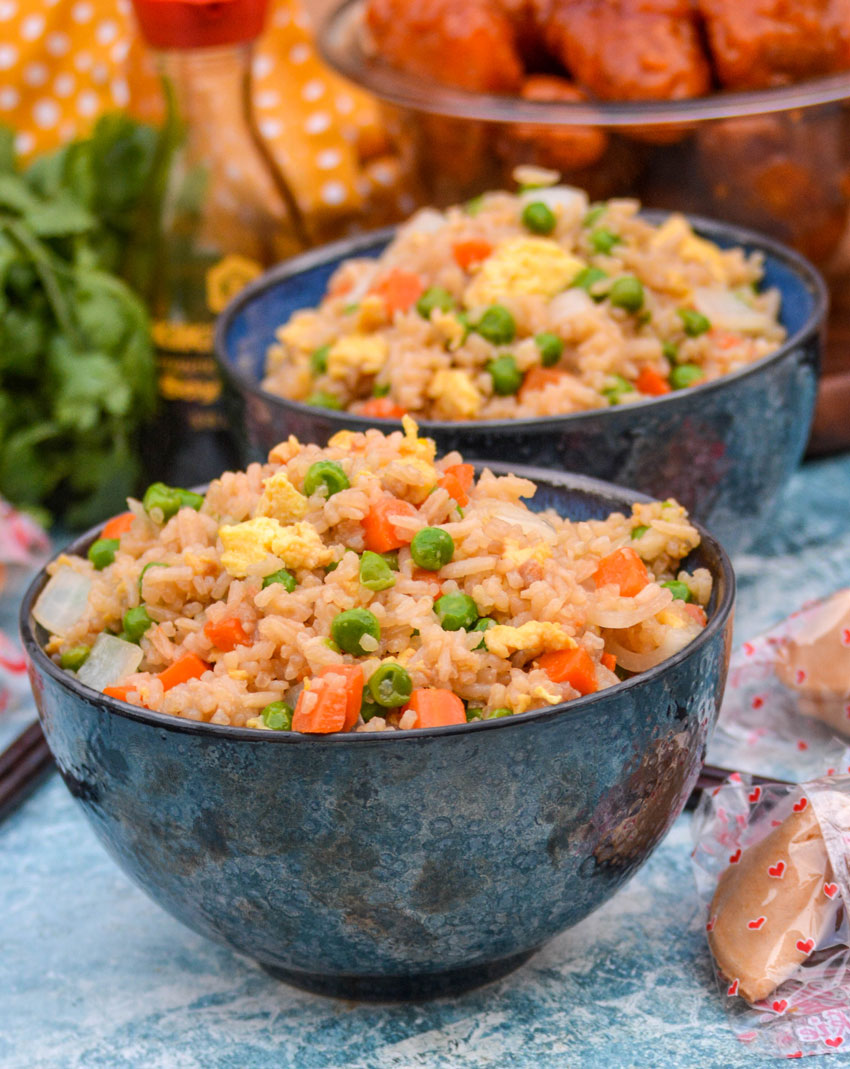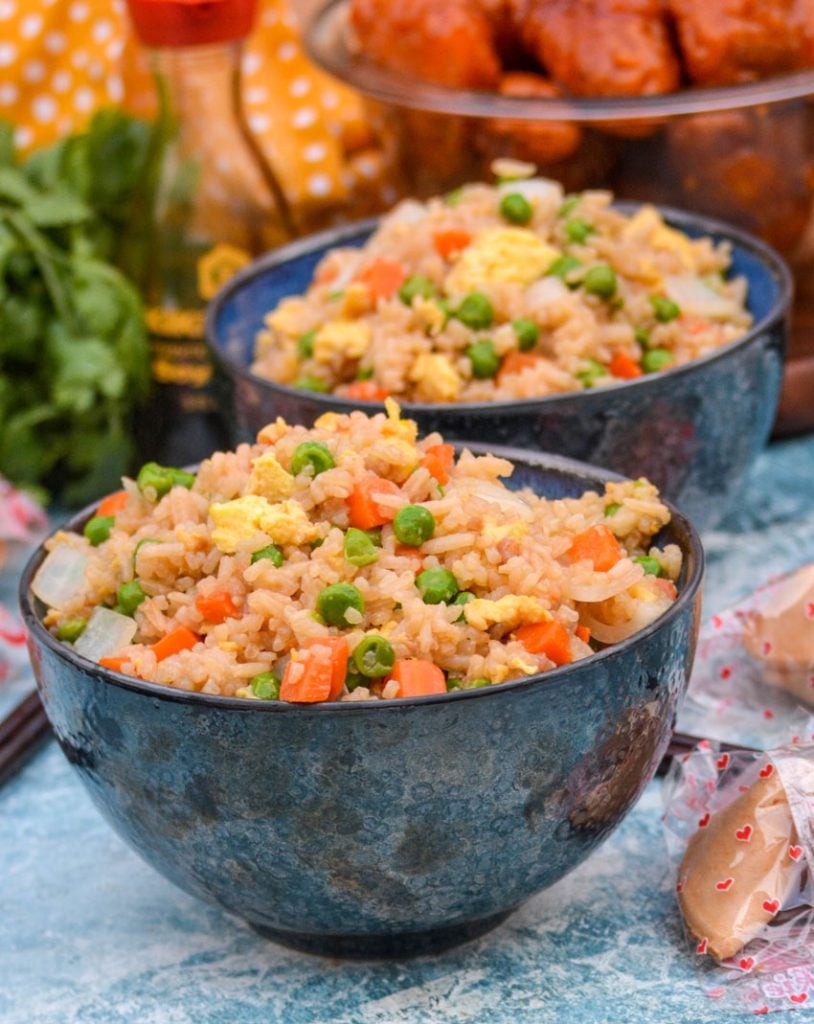 As I mentioned above, this recipe is super simple.
Still, there are some things to know about fried rice in general that are important.
Do I Have To Use A Wok?
The short answer is, no. You can always use a skillet.
However, I highly recommend using a wok if at all possible.
It doesn't have to be a fancy, or expensive, one- just a wok.
The reason being, for perfect cooking the rice needs to cook at a high temperature to allow it to 'fry' without burning.
Sure, stirring often helps, but often it will still stick and burn to the bottom.
Or, you will cook it at a much lower temperature to avoid this- and your rice won't properly 'fry'.
The wok solves this problem by allowing the cook to gently 'toss' the rice in the air while cooking using a small back and forth motion with the wok.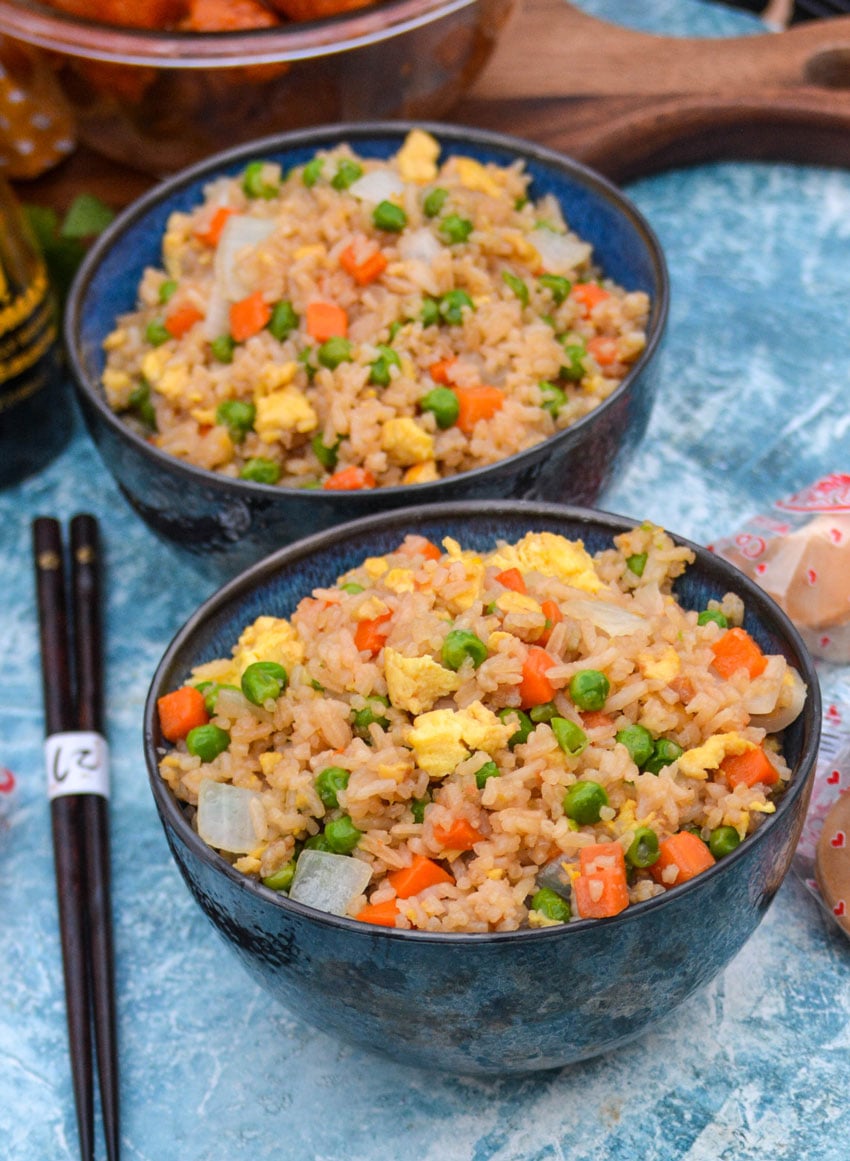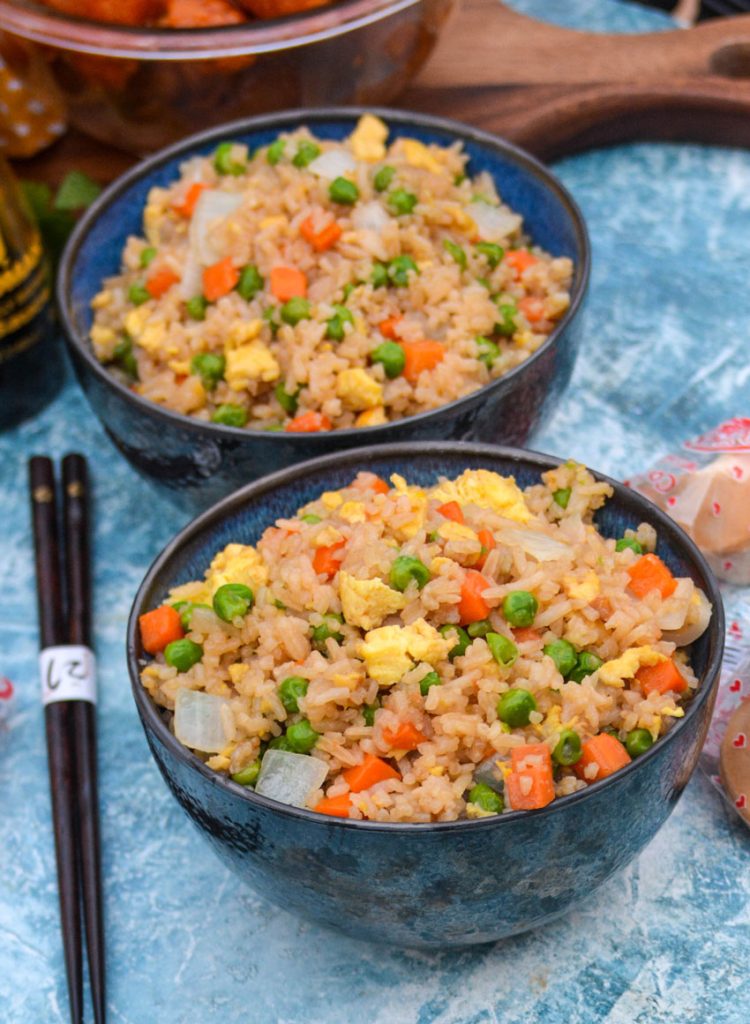 What Kind Of Rice Should I Use?
While at first glance, all white rice may look the same, it doesn't all cook the same.
For fried rice you always want to use a long grain rice, my top two choices being either jasmine rice or basmati rice.
Long grain rice holds its shape and doesn't clump together when being stir fried.
This may not seem like a big deal, but it's the difference in serving a bowl of fried rice or a bowl of mushed stuff that resembles rice and is studded with eggs and veggies.
This also makes it easy to maneuver in the pan, which is pretty important given that fried rice cooks quickly and needs to be aerated while cooking.
The choice between jasmine or basmati varieties is totally up to you though.
Either will work perfectly in this recipe.
For best results use cold, cooked rice. Leftover rice is perfect.
Use The Soy Sauce Wisely!
Many people think fried rice gets it's distinctive color from the inclusion of soy sauce (or sesame oil).
That's not the case though, at least if your recipe is done properly.
The signature golden brown color actually comes from how the rice is cooked.
While those ingredients do lend a hint of color, the rich golden brown actually comes from the frying of the rice in butter or oil.
So don't skip the butter!
Further, soy sauce is a very heavy ingredient. A little bit goes a very long way.
For best results, use a lighter soy sauce and don't use more than the two tablespoons called for.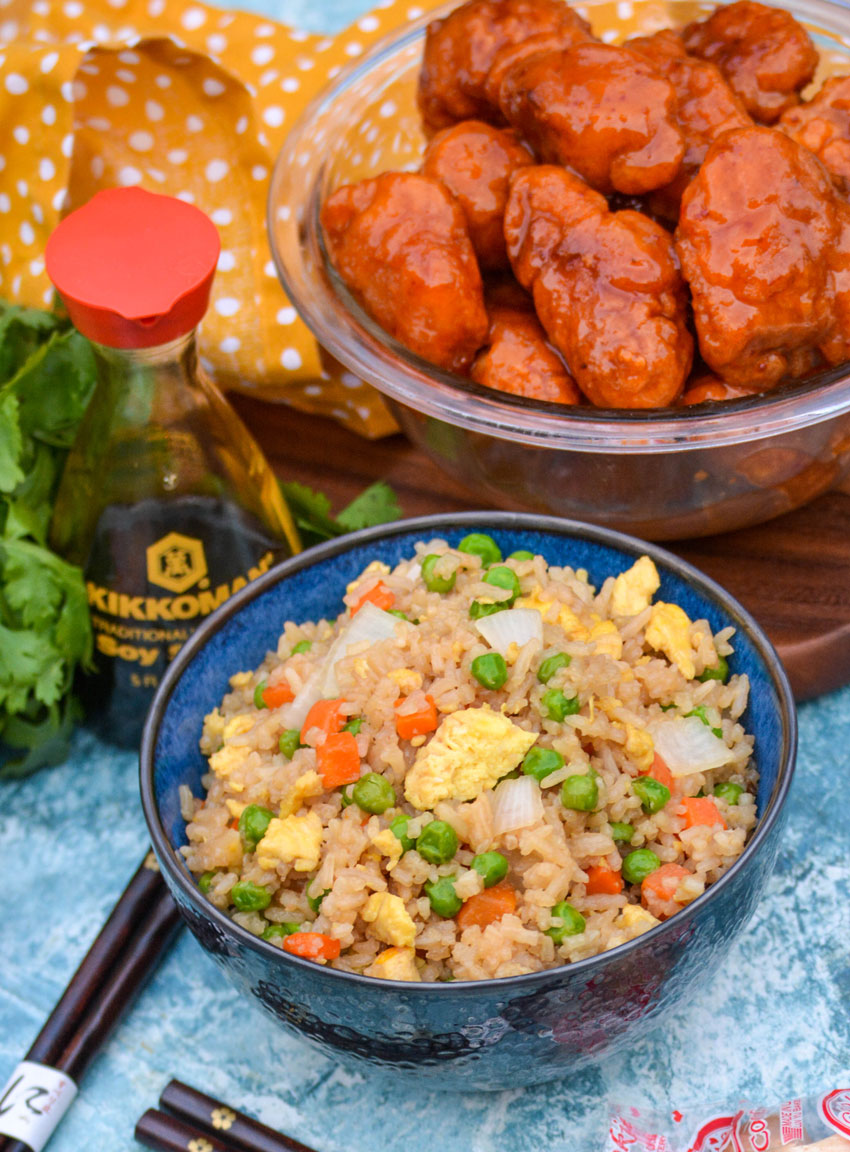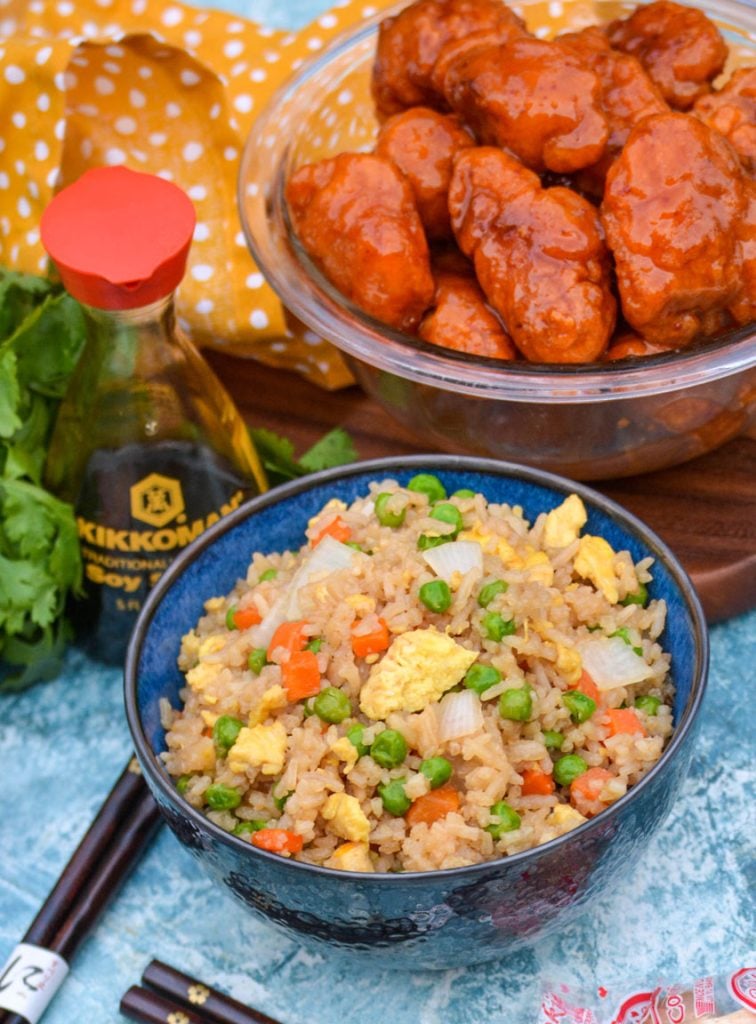 What To Serve With Fried Rice To Make It A Full Meal
Fried rice is often served as a stand alone meal all by itself, especially if a variety of meats are involved.
Or even if you're looking for a lighter meal, say for lunch for example.
True to the original though, we almost always keep this Panda Express copy cat fried rice a side dish whenever we make a batch.
To make it a meal, we either pair it with an Asian-style meat-based entree, a hearty bowl of soup, or a couple of our favorite take out appetizers made at home.
Entrees
Soups
Appetizers
Depending on your preferences, you can totally treat these suggestions like a take out menu.
Mix & match them to make any delicious combination meal your hungry crew desires.
If you've tried this COPY CAT FRIED RICE, or any other recipe on the site, let me know in the comment section how it turned out, we love hearing from our readers! You can also follow along with me on PINTEREST, FACEBOOK, and INSTAGRAM to see more amazing recipes and whatever else we've got going on!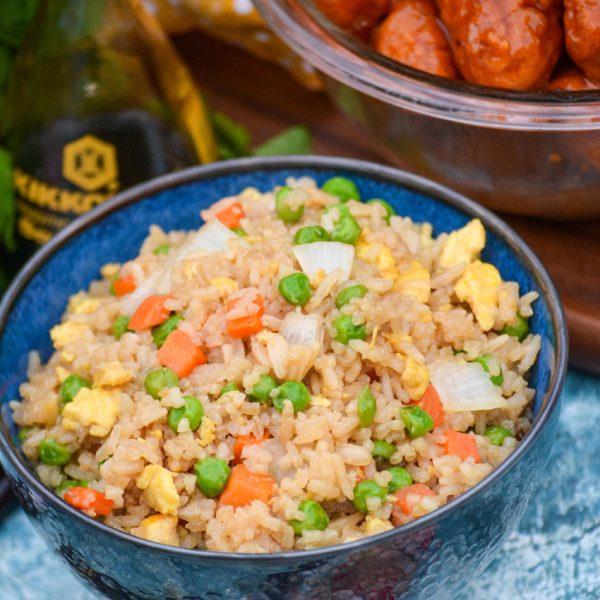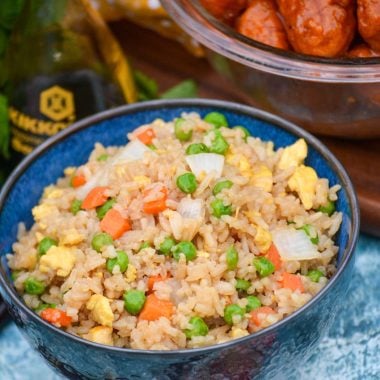 Panda Express Copy Cat Fried Rice
An easy at-home version of one of the most popular take out versions of this classic Asian-American side dish.
Print
Pin
Rate
Ingredients
2

cups

cooked long grain white rice

2

eggs

beaten

3

tbsp

butter

divided

1

cup

frozen peas and carrots

slightly thawed

1/4

cup

roughly diced white onion

2

tbsp

soy sauce

or more to taste

1/4

tsp

sesame oil

or more to taste

1/8

tsp

freshly ground black pepper

1/8

tsp

salt

or more/less to taste
Instructions
Set the cooked rice aside- in a large bowl- until needed.

Scramble the eggs with 1 tbsp of the butter in a wok on stove top. While the eggs cook use a spatula to break them up into pea sized pieces.

Transfer the chopped scrambled eggs into the bowl of cooked rice along with the thawed peas and carrots and diced white onion, stirring until everything's evenly incorporated.

Heat the remaining 2 tbsp of butter in the wok over medium heat. Add the rice mixture to the skillet. Give it a good toss to thoroughly coat and then add the soy sauce and sesame oil, again tossing until they're evenly incorporated. Saute the rice, stirring constantly, for 6-8 minutes-- or until the onions have softened slightly and the veggies and rice are completely heated through and just slightly browned.

Remove the wok from heat and season the fried rice with salt and pepper, to taste.

Serve immediately as is or alongside your favorite Asian entree.
Notes
I regret to inform you that due to budget cuts, Panda Express removed the egg from their version and replaced it with corn.
I wouldn't recommend doing that as it really diminishes the flavor, but if you happen to prefer the updated rice, omit the egg and add in 1/4 cup of corn kernels to the dish.
Nutrition
Calories:
321
kcal
|
Carbohydrates:
37
g
|
Protein:
10
g
|
Fat:
15
g
|
Saturated Fat:
8
g
|
Cholesterol:
140
mg
|
Sodium:
949
mg
|
Potassium:
213
mg
|
Fiber:
2
g
|
Sugar:
1
g
|
Vitamin A:
4945
IU
|
Vitamin C:
6
mg
|
Calcium:
43
mg
|
Iron:
2
mg
recipe originally published June 14, 2016