A complete meal baked on a single pan, this dinner takes the traditional 'meat & potatoes' pairing to a whole new level. This Ranch Pork Chop & Potato Sheet Pan Supper is seasoned to perfection with a delicious blend of your favorite Ranch flavors mixed with a little smoky spice.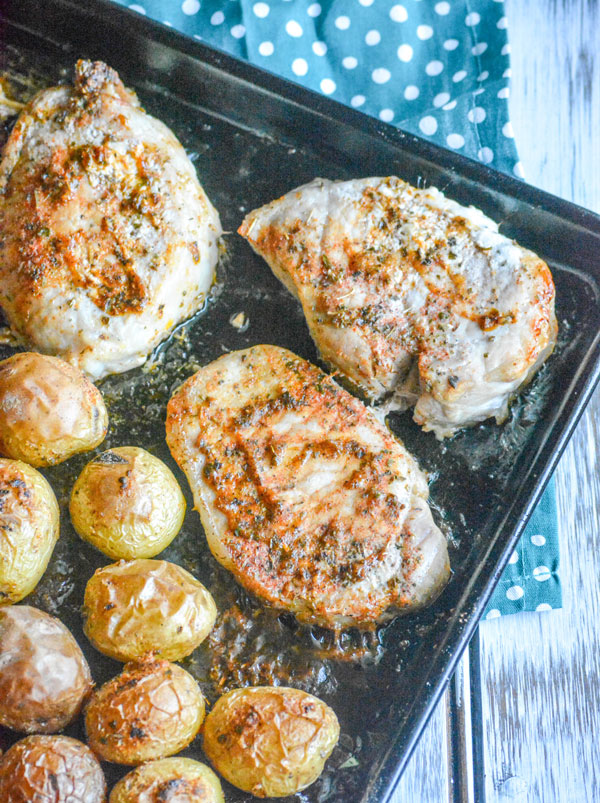 Meat and potatoes are a classic meal pairing, and it's almost always a magical menu combination. Usually, I hear it referred to as 'man food'.
Ha, jokes on whoever coined that phrase, because my kids and I love it just as much as my very manly man.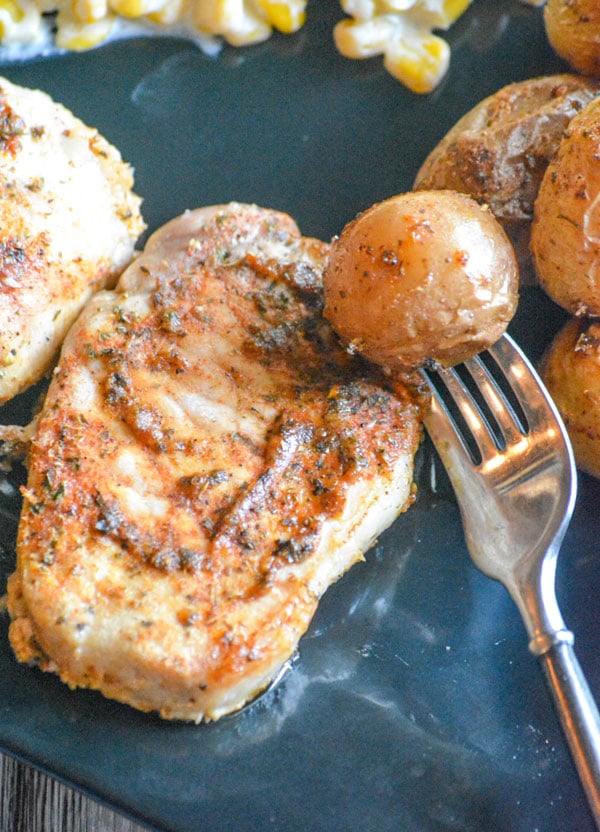 Usually we see it with things like steak & potatoes, mashed or baked. Pot roast for dinner? If the potatoes weren't baked right along with it, then we're probably gonna be serving Cheesy Scalloped Potatoes Gratin with it.
Burger on the menu? I can promise you we;re gonna be enjoying potatoes with that too. Maybe these Greek-Style Fries. Maybe these Crispy Oven Baked Cheese Fries. Or possibly even these Giant Cheesy Tater Tots.
Whatever the planned pairing, we're fans of 'em all.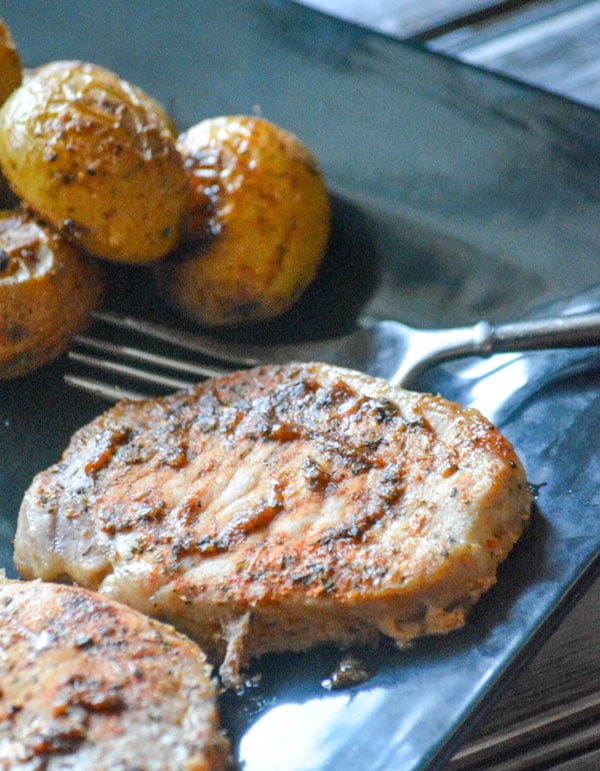 We also all are big fans of 'the other white meat' pork, especially pork chops.
Did you know they also go really well with potatoes? If not, let me just tell ya now so you know. This is something you're gonna want to experience for yourself.
For sure!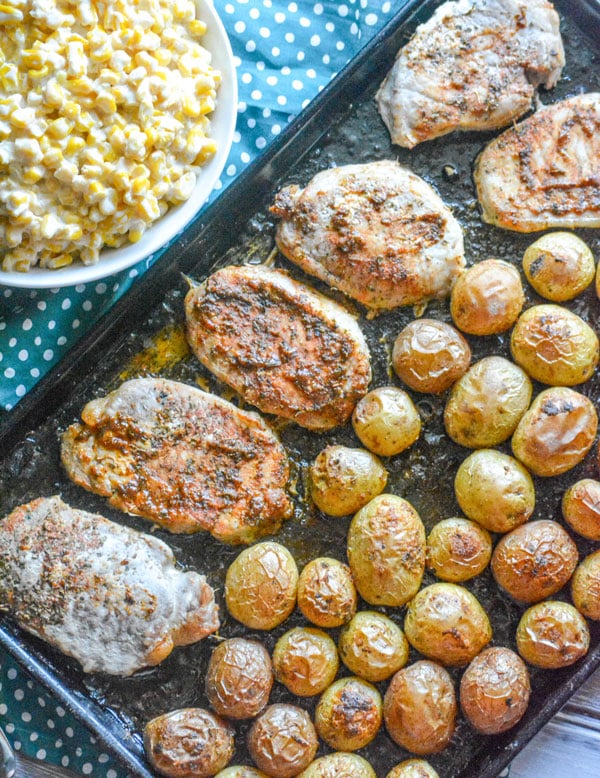 Another thing we really dig around these parts is any meal that cooks in a single dish. Pot, Pan, doesn't matter which as long as it means less clean up when I'm done.
Whoever the genius was who first figures that out is my existential hero.
One pan, a complete dinner so everyone's full of some seriously good eats, and I'm not stuck at the kitchen sink for hours afterwards. It's a busy Mom's dream come true, y'all.
So there you have it folks. One pan + quality pork chops + little potatoes + some serious seasonings = one amazing meal in the shape of this Ranch Pork Chop & Potato Sheet Pan Supper.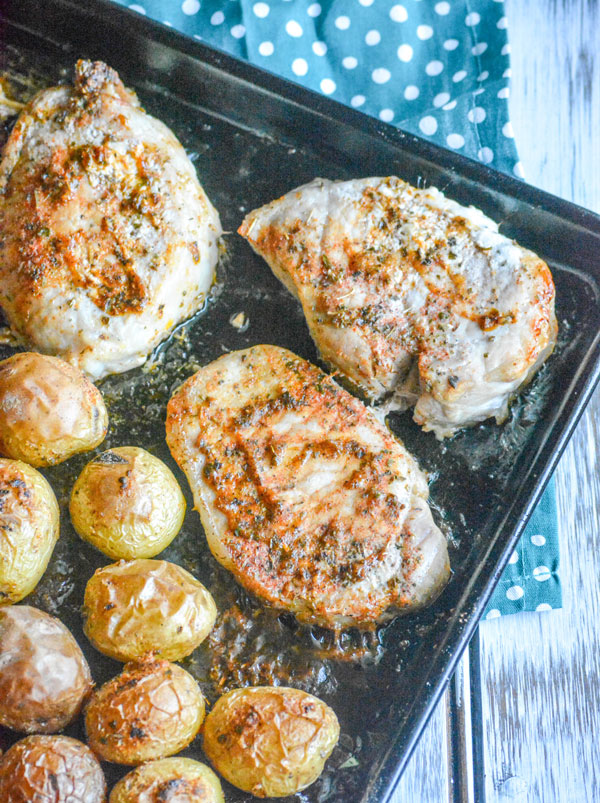 A simple blend of seasonings make something as seemingly ordinary as pork chops & potatoes a flavorful feast the whole family will go ga ga for.
This recipe combines ranch dressing seasoning, smoked paprika, a bit of chili powder, and some dried oregano into a simple, yet extremely savory spice blend.
So perfect in fact, that it's used to season both the meat AND the spuds.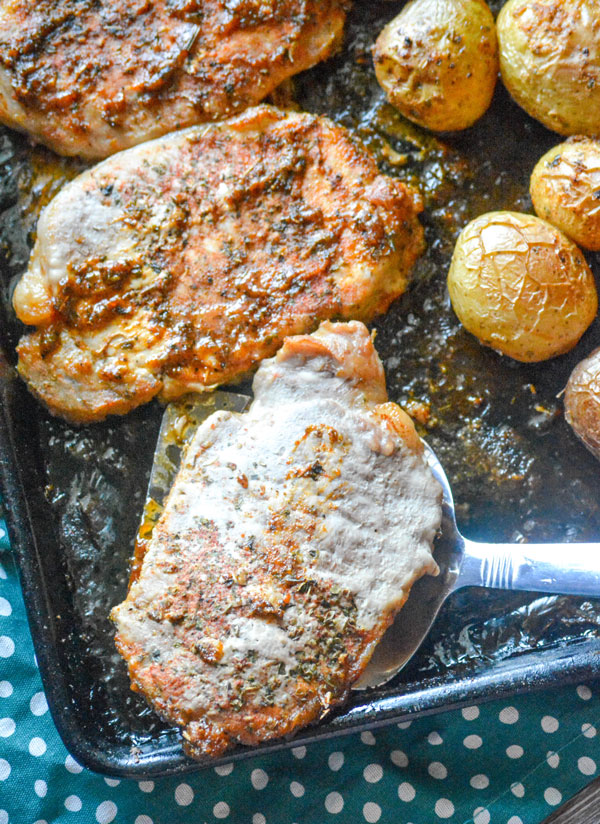 Everything's arranged on the sheet pan in a single layer. Tossed with the delicious, homemade spice blend, both the meat and potatoes are then sprinkled with sea salt and liberally seasoned with freshly cracked black pepper.
It takes about 5 minutes to prepare, well to 'throw together' would be more accurate honestly. Then it only takes about 40 minutes to bake in the oven, before it's fully cooked and ready to serve.
That's not just meat and potatoes magic, that's meal time magic right there.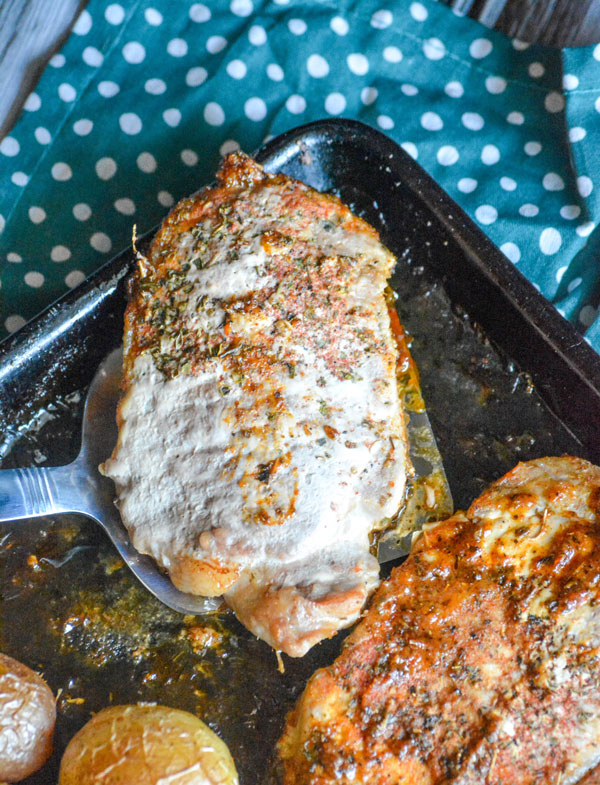 Do yourself a favor, throw that dish drying towel over your shoulder, and kiss all those extra dirty dishes good bye. Get your meat and potato fix in this simple to make, even simpler to clean up Ranch Pork Chop & Potato Sheet Pan Supper.
Other Sheet Pan Suppers You Might Also Enjoy: Pan Roasted Chicken & Vegetables Supper, Loaded Italian-Style Sheet Pan Nachos, Sheet Pan Meatloaf Supper, Sausage, Apple, & Herb Sheet Pan Supper, and if it's a side dish you're looking for then this Cheesy Garlic Sheet Pan Roasted Asparagus is just the thing.
If you've tried this RANCH PORK CHOP & POTATO SHEET PAN SUPPER, or any other recipe on my site, let me know in the comment section how it turned out, we love hearing from our readers! You can also follow along with me on PINTEREST, FACEBOOK, and INSTAGRAM to see more amazing recipes and whatever else we've got going on!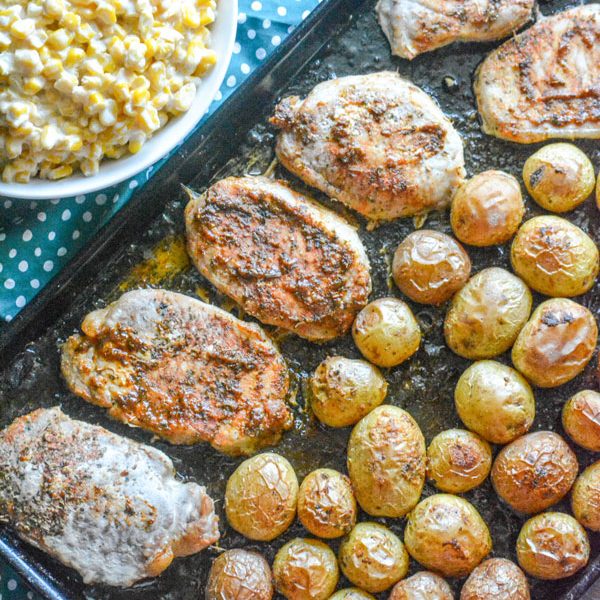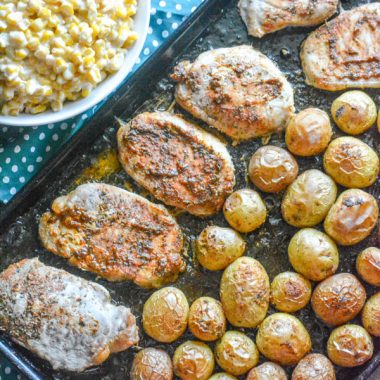 Ranch Pork Chop & Potato Sheet Pan Supper
A complete meat & potatoes meal roasted on a single sheet pan, this one features smoky spiced ranch seasoned pork chops and little potatoes.
Print
Pin
Rate
Ingredients
5-6

boneless pork chops

2

lb

little potatoes

2-3

tbsp

extra virgin olive oil

1

packet

ranch dressing seasoning

1

tsp

smoked paprika

1/4

tsp

chili powder

1 1/2

tsp

dried oregano

salt & black pepper, to taste

fresh parsley, chopped, for garnish (optional)
Instructions
On a large sheet pan sprayed with non stick cooking spray, arrange the pork chops on one side and the potatoes on the other- in a single layer. Drizzle everything with the olive oil, tossing lightly to coat. Salt everything lightly, but liberally season with freshly cracked black pepper.

In a separate bowl, use a fork to stir together the ranch, paprika, and chili powder until evenly combined. Sprinkle the seasoning mixture evenly out over both the meat and potatoes. Press into the pork chops to make sure it sticks.

Bake at 400 degrees for 35-40 minutes, or until the pork chops are cooked through, but still tender & moist.

Let the pork chops rest for 2-3 minutes before serving. Top with the parsley, if desired, and serve with a fresh side salad & veggie of choice for a complete family meal.