If you grew up in the South, chances are you've eaten a variation of chicken & dumplings a few times in your life. We've taken Grandma's recipe and given it a few modern adjustments, making it a quick and easy dinner for any occasion. Set it, forget it, and let your machine do all the work– come supper time, tuck into a cozy bowl of Slow Cooker Chicken & Dumplings.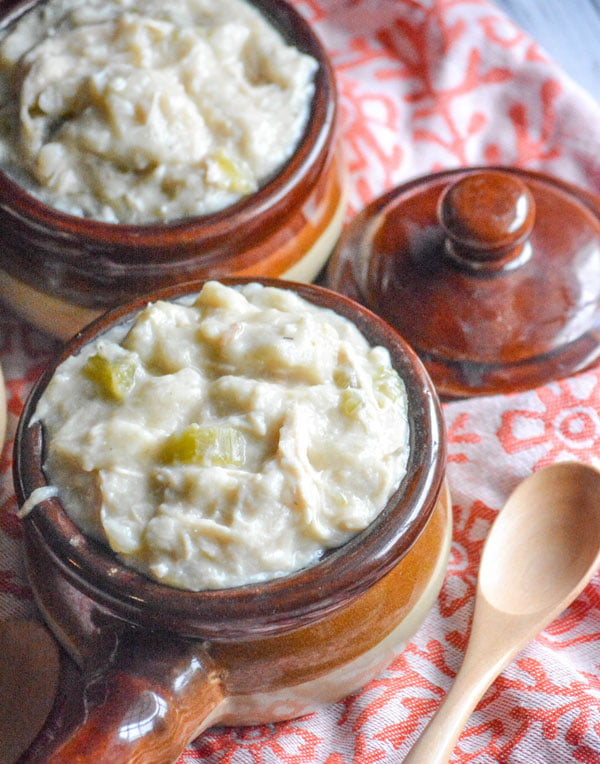 Chicken & Dumplings. There's something so Southern sounding about it. Just it's name, aside from the fact that it is of course a Southern staple.
For years though, the hubs and I only had it when we'd visit a restaurant. Namely, Cracker Barrel who specializes in Southern style fare.
This recipe takes all that old-fashioned taste, all that classic dumpling texture, and wraps it up nice and warm in an easy slow cooked package.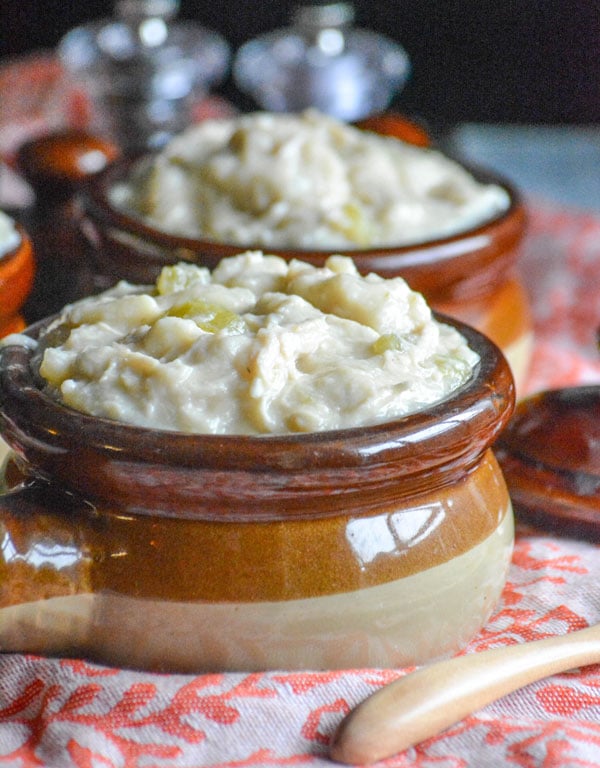 You guys know all about my love affair with soups.
The sons don't think anything broth-based should be considered a 'meal' for a guy, and the hubs likes soup but really only in winter and only if it's hearty with plenty of toppings, and served with a salad and a hunk of bread.
All my guys are meat and potatoes kinda people. And I get that, and appreciate it when they suffer in silence for me.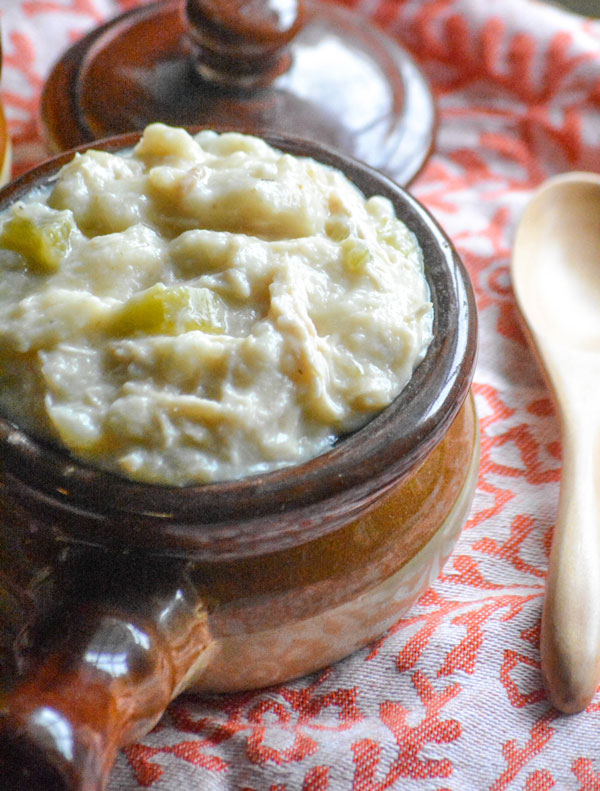 Wanna know how I know Slow Cooker Chicken & Dumplings got it going on? Not. one. single. complaint.
And everyone came back for seconds.
The hubs liked it SO much that he insisted we have it twice in one week, and then acted like a kid at Christmas when he came home one night the next week from work to find out I was making it for him again.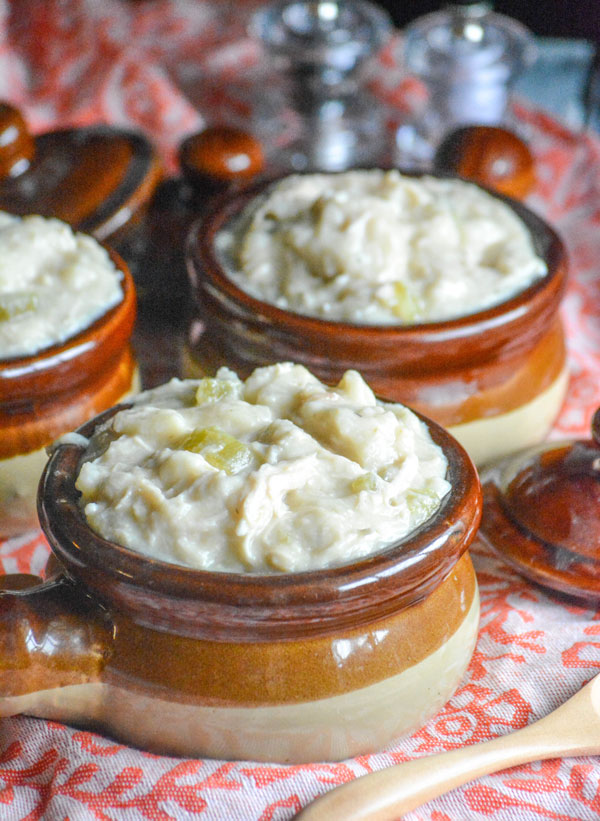 Let the slow cooker do all the work, and you just sit back and soak it all in.
We've even found a perfect dumpling shortcut, keeping the whole thing as simple as can be from start to finish.
Refrigerated biscuits, cut into small pieces, plump up and cook in the soup creating yummy, fool-proof dumplings.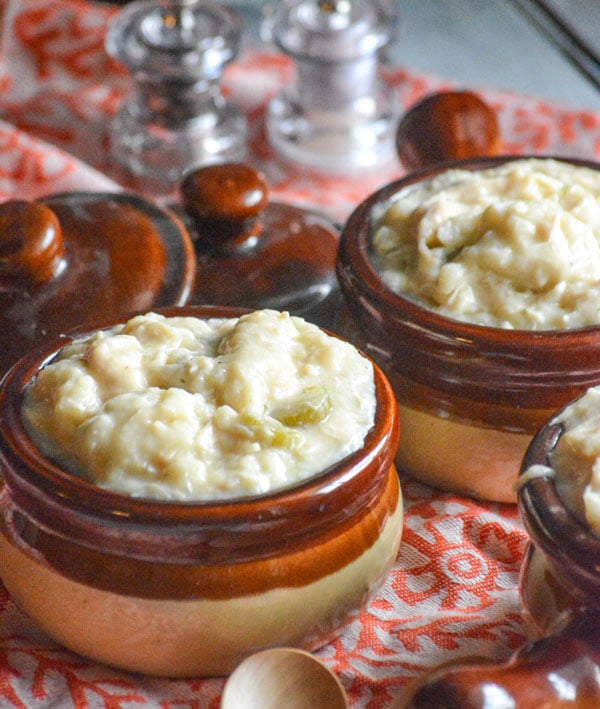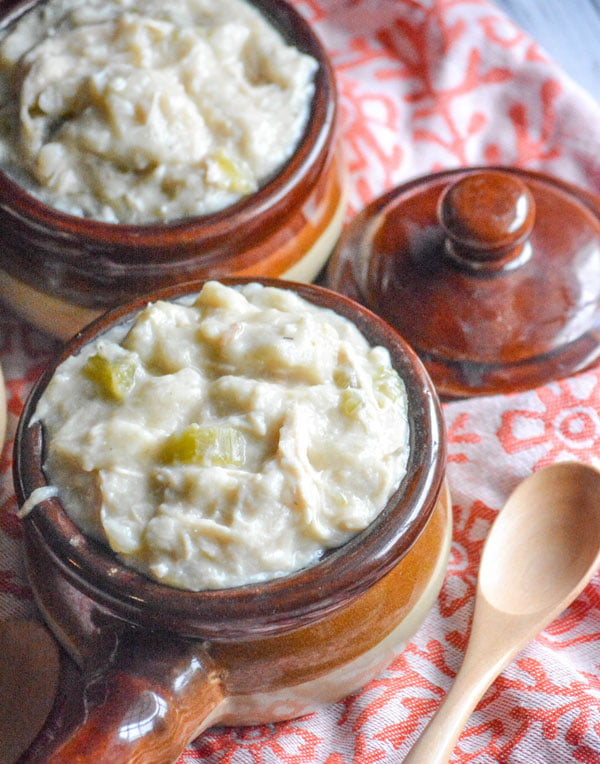 Slow Cooker Chicken & Dumplings
A southern staple, we've taken Grandma's recipe and given it some modern updates for an easy meal, anytime.
Print
Pin
Rate
Ingredients
small white onion; diced

2-3

stalked celery

thinly sliced

2

cans cream of chicken soup

3

chicken breasts

2

tubes refrigerated biscuits

not butter flavored or flaky layered, 10 oz each

4

cups

chicken broth

1

heaping tbsp garlic powder

1

tbsp

parsley

1/4

tsp

poultry seasoning

1

cup

half and half

1

tbsp

corn starch

1

tbsp

water

salt & pepper

to taste
Instructions
In a skillet over medium high heat, saute the onion and celery in a little bit of olive oil until tender, and then transfer them to the slow cooker.

Lay your chicken breasts over top the cooked veggies and then season them with salt and pepper.

Place the soup, chicken broth, half & half, and the additional seasonings in the slow cooker. Give the liquids a gentle stir to combine.

Cover and cook on low heat for 6-8 hours or on high heat for 4-6 hours. An hour before it's done cooking, mix the cornstarch and water together in a small bowl until smooth. Add the mixture. Cut each of the biscuits into 4-6 small pieces and add them into the slow cooker as well. At this point give everything a stir and return the lid to the pot to cook for the remaining hour.

When the soup's done cooking, you can either break up the chicken in the slow cooker with a spatula or remove the breasts and shred the chicken and then return the shredded chicken to the soup.
Pictures Updated 9/15/2017