If you grew up in the South, chances are you've eaten a variation of chicken & dumplings a few times in your life. We've taken Grandma's traditional chicken and dumplin recipe and given it a few modern adjustments, making it a quick and easy dinner for any occasion. Set it, forget it, and let your machine do all the work– come supper time, tuck into a cozy bowl of Slow Cooker Chicken & Dumplings.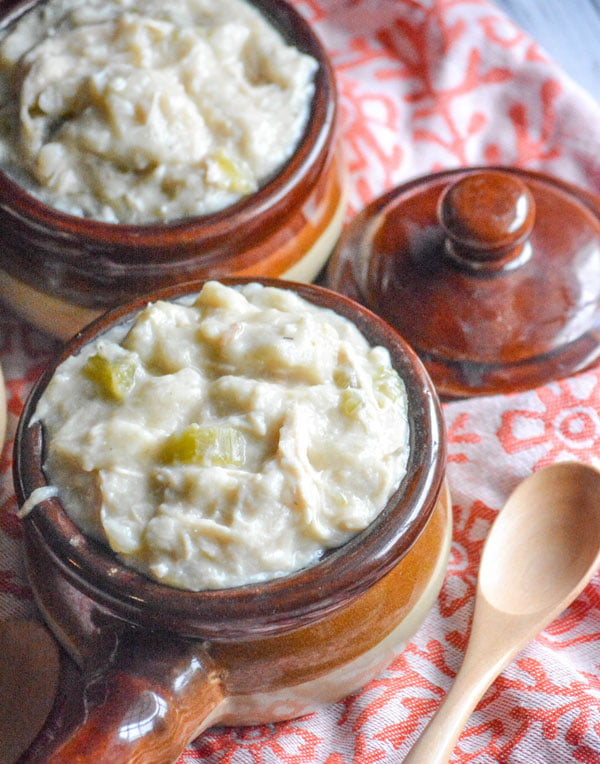 Chicken & Dumplings.
There's something so Southern sounding about it.
Just it's name, aside from the fact that it is of course a Southern staple.
For years though, the hubs and I only had it when we'd visit a restaurant. Namely, Cracker Barrel who specializes in Southern style fare.
This recipe takes all that old-fashioned taste, all that classic dumpling texture, and wraps it up nice and warm in an easy slow cooked package.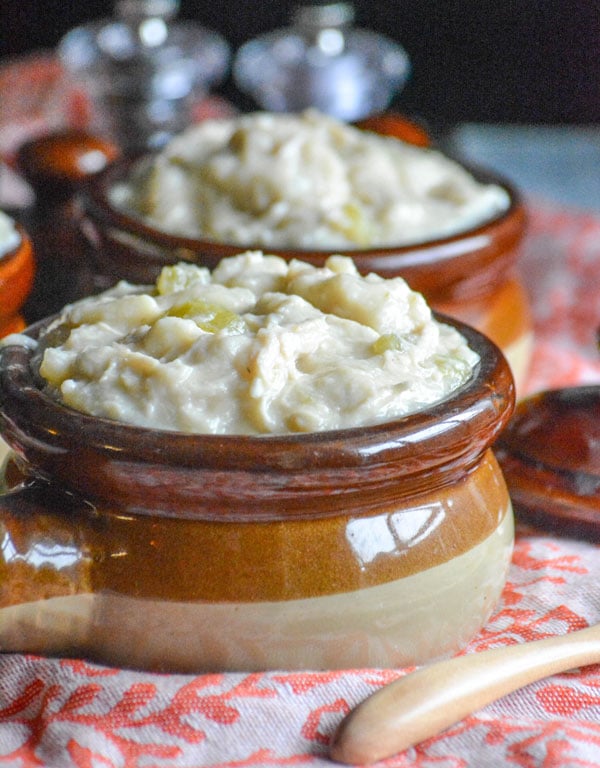 You guys know all about my love affair with soups.
The sons don't think anything broth-based should be considered a 'meal' for a guy, and the hubs likes soup but really only in winter and only if it's hearty with plenty of toppings, and served with a salad and a hunk of bread.
All my guys are meat and potatoes kinda people.
And I get that, and appreciate it when they suffer in silence for me.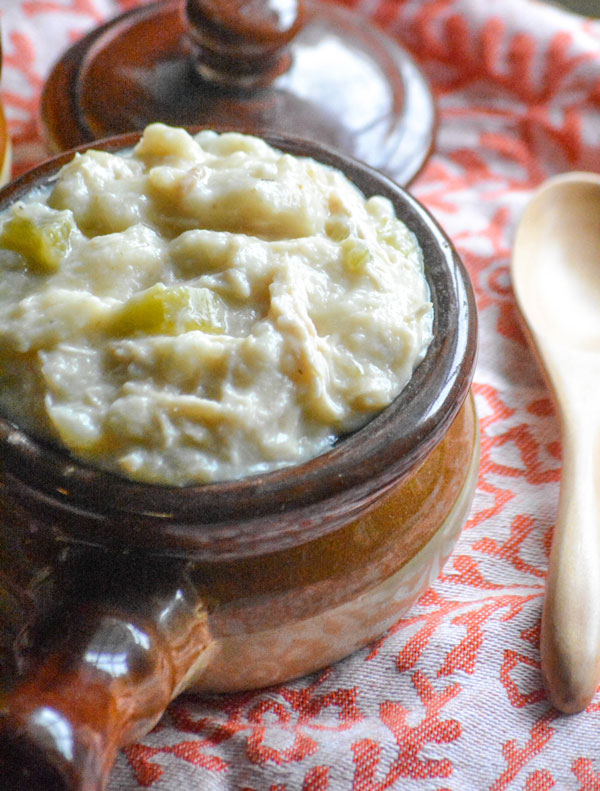 Wanna know how I know Slow Cooker Chicken & Dumplings got it going on? Not. one. single. complaint.
And everyone came back for seconds.
The hubs liked it SO much that he insisted we have it twice in one week.
Then still acted like a kid at Christmas when he came home one night the next week from work to find out I was making it for him again.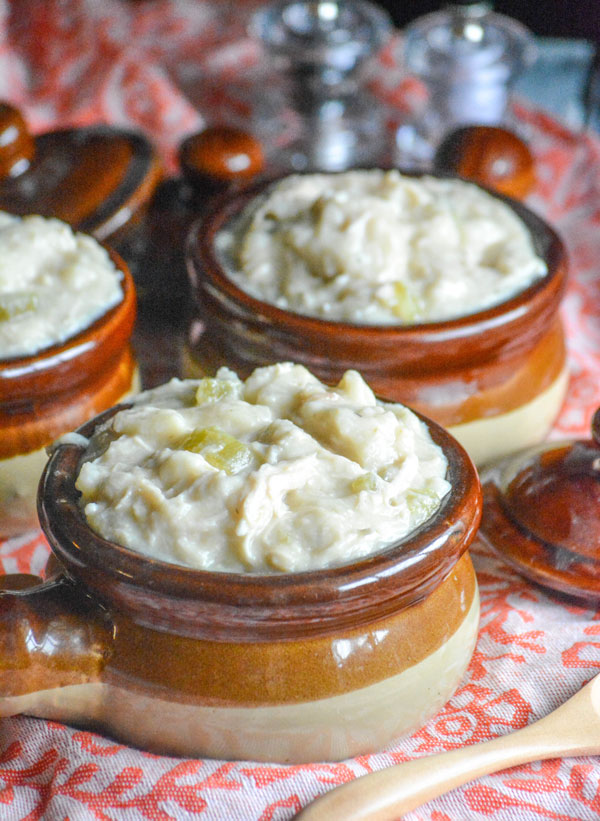 Let the slow cooker do all the work, and you just sit back and soak it all in.
The Shortcut To Perfect Dumplings – Using Canned Biscuits
I know, I know what you're thinking.
You love chicken and dumplings & would totally enjoy it, but you don't have hours to slave away like your grandmother did whipping up dough and rolling out that fluffy pillow-y magic.
I get it. It's 2020. From scratch is great, but no longer a necessity. Our shortcut dumplings using refrigerated canned biscuit dough is just the answer you've been looking for.
The biscuit dough is surprisingly similar to it's homemade counter part, and using it keeps things super simple from start to finish.
Refrigerated biscuits, cut into small pieces, puff up and cook in the soup creating yummy, fool-proof dumplings. I use kitchen shears to cut mine.
Just remember these will double in size, so keep that in mind when deciding how small or large to cut them.
We also like our chicken and biscuits to be roughly the same size when eating, so that's another thing to consider.
You can't mess them up though, that I promise.
Prefer the more traditional, flatter style?
Use a rolling pin to flatten and roll out each individual biscuit on a cutting board. Using a knife, cut the flattened biscuits into thin strips before using as instructed.
Not all canned biscuits are made the same either, and the kind you use will either lead to great success or total disaster. There is no in between; it's pass or fail.
Do NOT use flaky layers, butter flavored, or crescent style biscuits. You want the plain old original variety.
They may say Southern or Homestyle on the packaging.
What Kind Of Chicken Should I Use?
Obviously the recipe calls for chicken breasts.
You can sub chicken thighs, although I do recommend going the boneless, skinless route.
Starting with raw chicken means it slow cooks along with the soup. This not only infuses the chicken & dumpling concoction with 100 % flavor, but it makes for chicken that's ready to fall apart once done.
This is particularly helpful if you like the 'shredded' style in this dish. You don't even really have to shred it. Just take a pair of tongs and break it up.
If you're looking to use up leftover rotisserie chicken though, then I still suggest that as a tasty option in this soup.
Since it doesn't need to cook any, you can stir it in when there's only thirty minutes left of cook time. This will allow it to heat through without drying out.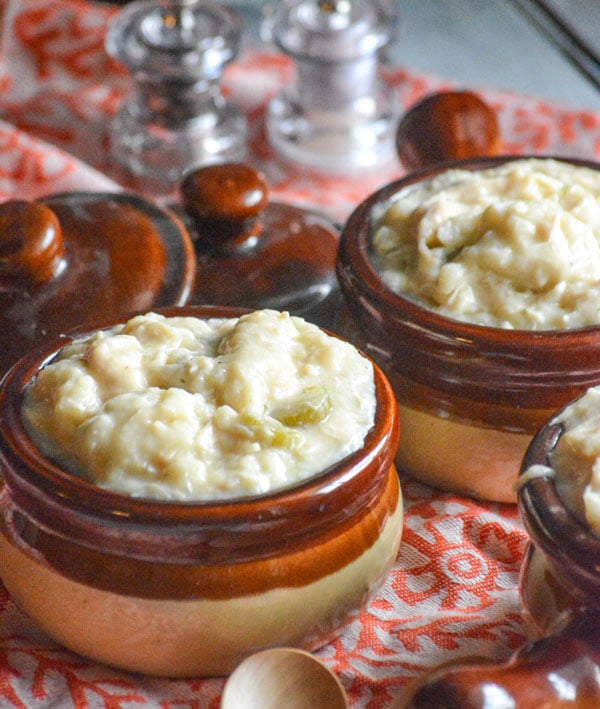 Veggies Or No Veggies- Which Is Traditional?
Southern comfort food purist's will most likely all agree that vegetables shouldn't be coming anywhere near this celebrated dish.
Chicken & fluffy dumplings only floating in savory liquid gold- the way God & Southern Grandmama's always intended it.
My Italian husband, surprisingly, will agree with them.
However, since I have kids and am cooking for the whole family- I like to include some veggies. I mean, I don't always have a full meal in me.
Adding some veggies to the mix, means I can throw everything in the bowl of my crockpot and just call it a day when it's done.
Ladled into soup bowls- boom, that's dinner folks. Don't forget to wash up when you leave the table.
Typically I just add the celery and onions. Not only do they add great flavor, but they give the thickened mixture some much appreciated texture.
If I'm trying to make it a one stop shop meal, than I add in 1-2 drained cans of peas and carrots.
I don't want them turning to mush though, so I stir them in just about 5 minutes before serving.
This way they will heat through, but maintain shape and flavor.
Other Cozy Slow Cooker Recipes To Try
If it's another thick soup recipe you're looking for, then you have got to try this slow cooker split pea, ham, & barley soup. It's hearty comfort food that's packed full of rich flavors.
If you've tried this CHICKEN AND DUMPLINGS RECIPE, or any other recipe on the site, let me know in the comment section how it turned out, we love hearing from our readers! You can also follow along with me on PINTEREST, FACEBOOK, and INSTAGRAM to see more amazing recipes and whatever else we've got going on.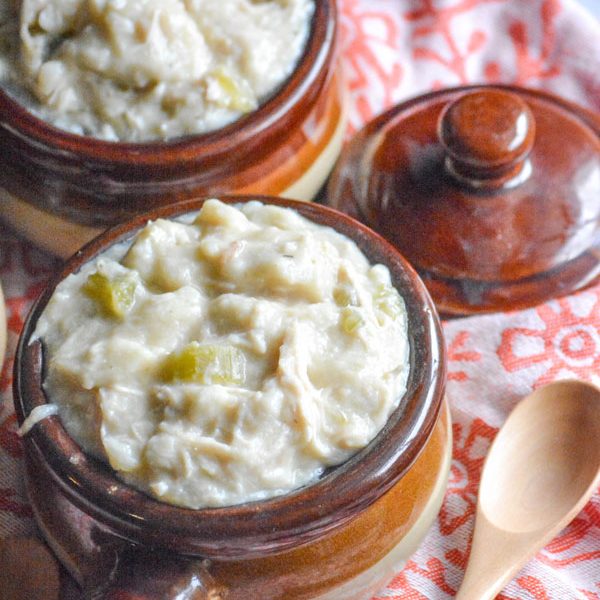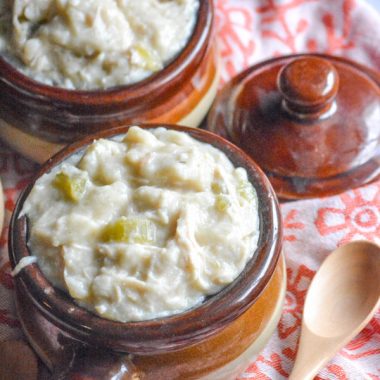 Slow Cooker Chicken & Dumplings
A southern staple, we've taken Grandma's recipe and given it some modern updates for an easy meal, anytime.
Print
Pin
Rate
Ingredients
small white onion; diced

2-3

stalked celery

thinly sliced

2

cans cream of chicken soup

3

chicken breasts

2

tubes refrigerated biscuits

not butter flavored or flaky layered, 10 oz each

4

cups

chicken broth

1

heaping tbsp garlic powder

1

tbsp

parsley

1/4

tsp

poultry seasoning

1

cup

half and half

1

tbsp

corn starch

1

tbsp

water

salt & pepper

to taste
Instructions
In a skillet over medium high heat, saute the onion and celery in a little bit of olive oil until tender, and then transfer them to the slow cooker.

Lay your chicken breasts over top the cooked veggies and then season them with salt and pepper.

Place the soup, chicken broth, half & half, and the additional seasonings in the slow cooker. Give the liquids a gentle stir to combine.

Cover and cook on low heat for 6-8 hours or on high heat for 4-6 hours. An hour before it's done cooking, mix the cornstarch and water together in a small bowl until smooth. Add the mixture. Cut each of the biscuits into 4-6 small pieces and add them into the slow cooker as well. At this point give everything a stir and return the lid to the pot to cook for the remaining hour.

When the soup's done cooking, you can either break up the chicken in the slow cooker with a spatula or remove the breasts and shred the chicken and then return the shredded chicken to the soup.
Notes
Stir in a (drained) can of peas and carrots just before serving to add some vegetables to the dish. It's a great way to entice picky eaters!
Don't have chicken breasts? This recipe is a great way to use up leftover grilled or rotisserie chicken.
Nutrition
Calories:
241
kcal
|
Carbohydrates:
12
g
|
Protein:
22
g
|
Fat:
11
g
|
Saturated Fat:
4
g
|
Cholesterol:
72
mg
|
Sodium:
1148
mg
|
Potassium:
525
mg
|
Fiber:
1
g
|
Sugar:
1
g
|
Vitamin A:
358
IU
|
Vitamin C:
10
mg
|
Calcium:
61
mg
|
Iron:
2
mg
Pictures Updated 9/15/2017