One pan. A whole dinner? Yes, dreams do come true courtesy of this succulent Sheet Pan Meatloaf Supper. Enjoy a family meal of meatloaf just like Mama made, whipped mashed potatoes, and fresh roasted green beans– with minimal clean up!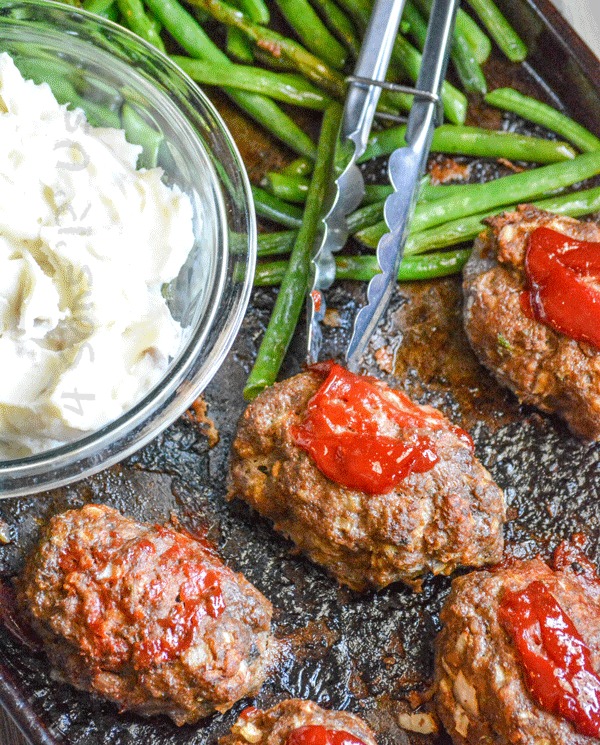 What're your favorite family recipes? Everybody's got some.
Like recipes your Grandma & Mama made that you still make for your own kids today.
One's every generation loves just as much as the next.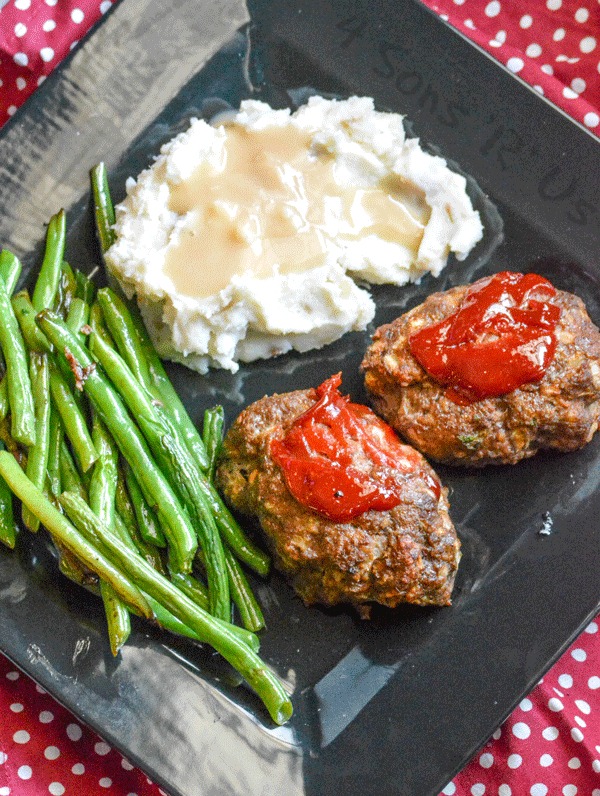 Without a doubt, ours has to be my Grandma's meatloaf.
I asked the hubs and kids just to be sure, and was met with a resounding chorus of 'YES'.
No matter what our days have looked like, or where we are on the current day, a family meal where her meatloaf is served brings us all to the table.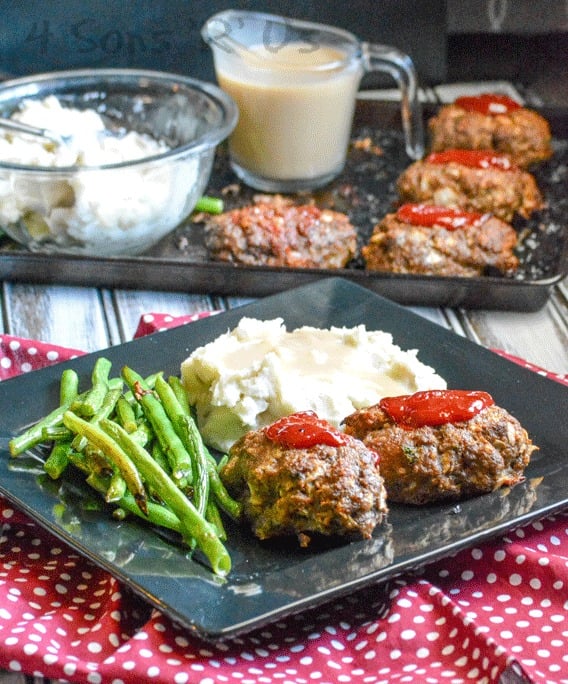 I've found getting everyone to gather around the table can be a key to keeping us all connected.
So while I love and want that, my own busy schedule doesn't always mean I have time to get the focal point food together in time for supper.
I mean, I don't mind getting wrist deep in a big old slimy bowl of ground beef, eggs, and other ingredients- but I don't always have the time for that.
Especially when I count how many times I have to wash my hands, stopping and starting the mixing process, to help with homework, studying, general cleaning, etc before shoving everybody out the door and carting them around to their various activities.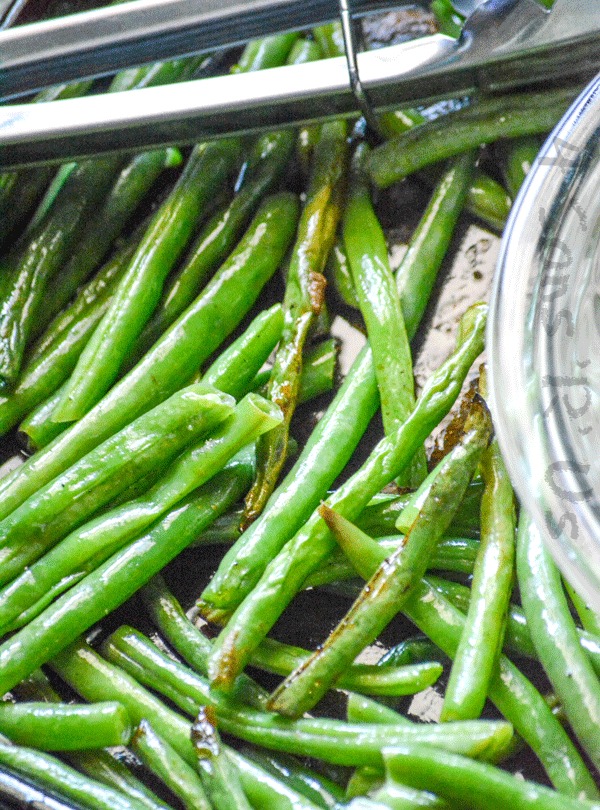 And that doesn't even account for the time it takes to make the sides. Our meatloaf requires two things. Two. Staple. Sides.
Creamy whipped potatoes and sauteed green beans.
I have 30 minutes to get dinner ready? Ain't nobody got time for that. Even on the nights we really, really need it as a family.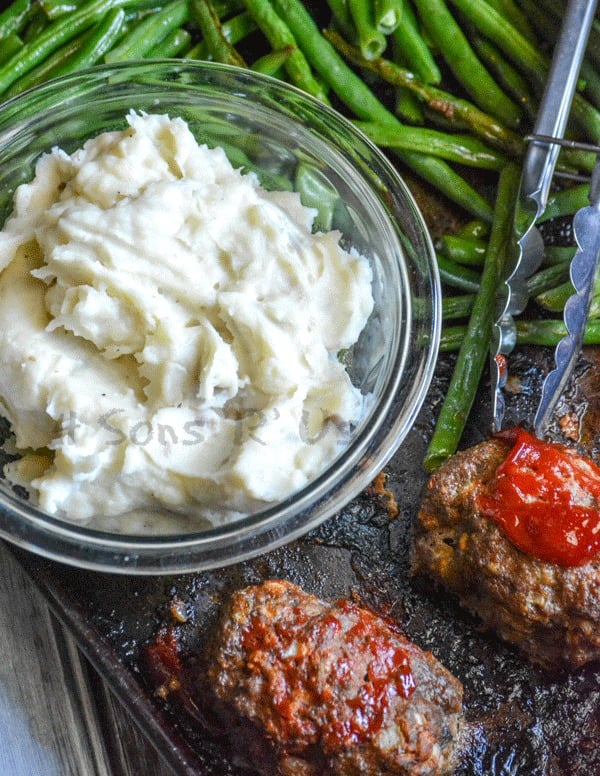 Necessity is the mother of invention though, right? Right.
Which is why I'm now bringing to you the most genius solution of all time. Make your meatloaf and have time to eat it too, even on the busiest of nights. Seriously, you'll even have time to sit down and enjoy a full on meal with the fam.
Sheet Pan Meatloaf Supper is the meal anyone can make on the tightest of budgets, that even Mom can sit down and enjoy too.
One pan. Mini meatloaves enough to serve the family. Whipped mashed potatoes. Roasted green beans.
Other Sheet Pan Meals To Try
One pan, about 30 minutes, and you've got a family favorite meal- a Sheet Pan Meatloaf Supper that begs digging into– even on the tightest schedules.
If you've tried this SHEET PAN MEATLOAF SUPPER, or any other recipe on my site, let me know in the comment section how it turned out, we love hearing from our readers! You can also follow along with me on PINTEREST, FACEBOOK, and INSTAGRAM to see more amazing recipes and whatever else we've got going on!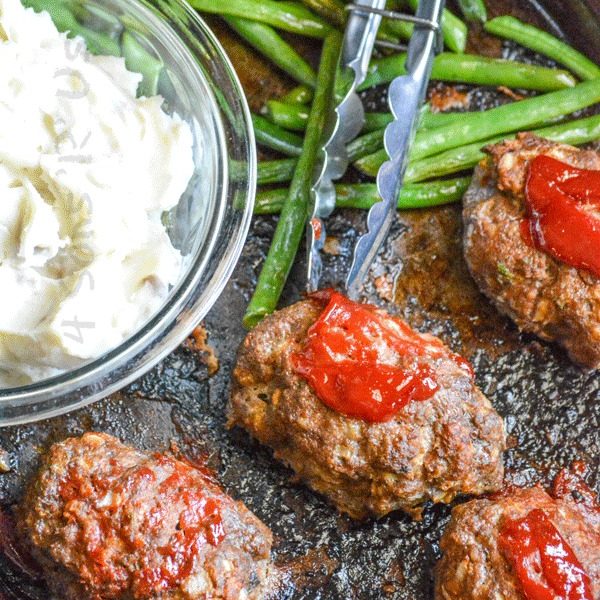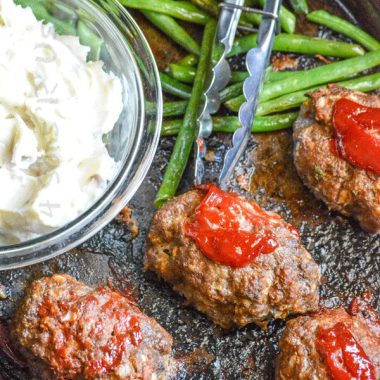 Sheet Pan Meatloaf Supper
A full dinner, meatloaf and the works, all baked on one sheet pan.
Print
Pin
Rate
Ingredients
For The Mashed Potatoes
1 1/2

lbs

russet potatoes, washed, peeled & diced

1/3

cup

water

1

tbsp

butter

2/3

cup

milk

salt & pepper, to taste
For The Mini Meatloaves
1

large

egg, beaten

1

large

onion, diced

1

tsp

Italian seasoning

1

tbspq

tomato paste

1/4

cup

Panko breadcrumbs

2

tbsp

milk

3

tbsp

finely chopped fresh parsley

1 1/4- 1/2

lbs LEAN

ground beef

1/3

cup

ketchup
For The Green Beans
1

lb

fresh green beans, trimmed

1 1/2

tbsp

olive oil
Instructions
To Make The Mashed Potatoes
Line a large sheet pan with aluminum foil, generously spray the foil with non-stick cooking spray. Put the potatoes in the center of the foil, and salt & pepper them, to taste.

Fold the foil up around the potatoes to create a 'bowl', add in the water, and finish folding the packet to seal it all in.

Cook them at 425 degrees for 10 minutes, and while they cook prepare the meatloaves.
To Make The Meatloaves
In a large bowl, add all of the meatloaf ingredients. Use your hands (it's ok, little soap and water will take it all off) and mix everything together until it's evenly combined.

Form the mixture into 6 mini meatloaves.

Scoot the potato packet to the left side of the pan. Add the meatloaves (carefully) to the middle of the hot sheet pan. Spread the ketchup evenly out over top of each loaf.

Return the pan to the oven, baking for 23-25 minutes.

Take the pan out, and use a paper towel to sop up any grease. Don't skip this step.
To Make The Green Beans
Add the beans to the right side of the pan, in a single layer. Drizzle them with the olive oil. Salt & pepper them, to taste. Gently toss them.

Bake again for 18-20 minutes.
To Finish
Remove the pan from the oven. Open the potato packet, careful to avoid the escaping steam. Transfer the potatoes to the bowl of a stand mixer.

Add in the butter and milk. Salt & pepper the potatoes, to taste.

Using the whisk attachment, whip the potatoes until they're smooth and creamy.