Fried chicken often gets all the credit as the best of the fried foods. However, one bite of this city chicken and you're bound to agree that this Pittsburgh classic is just as good, if not even better. Using tender chunks of pork that are breaded, flash fried, and then baked to perfection- this vintage recipe is another one straight from Nonna's Italian American kitchen.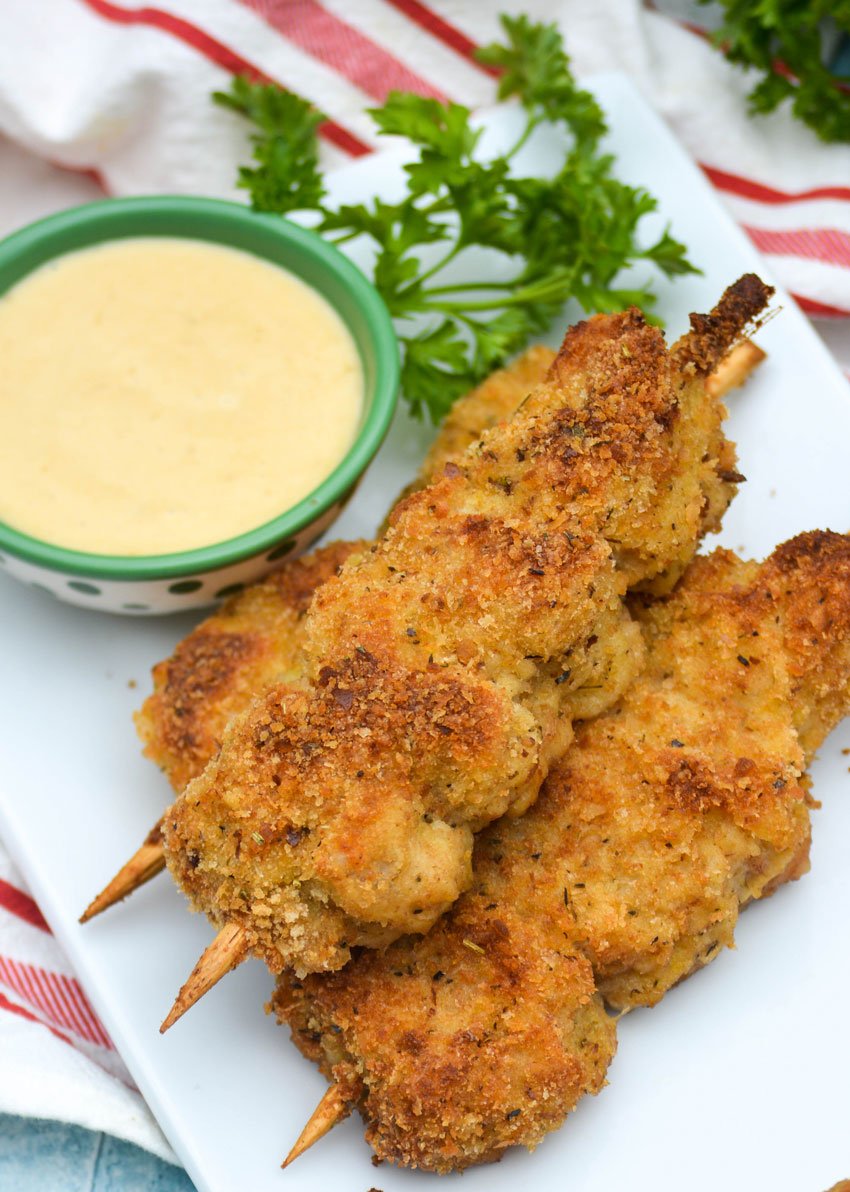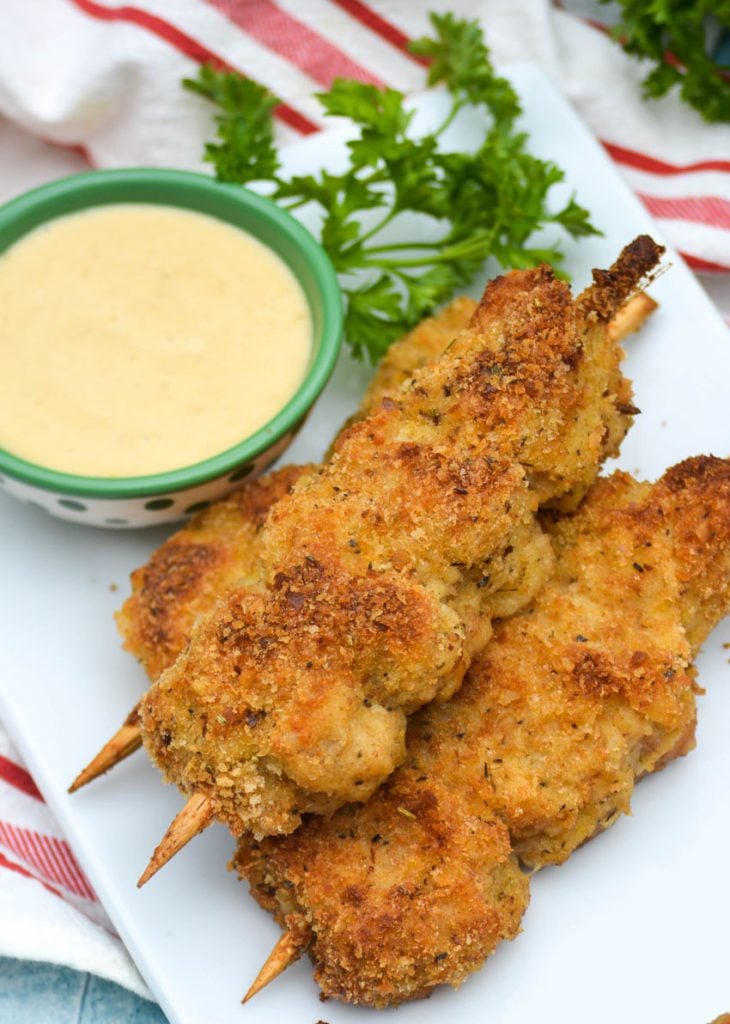 Growing up in the South, fried chicken was on the menu at least once a week.
Whether it be lunch, dinner, or even cold leftovers for a snack.
Fried chicken was something my Italian husband wasn't all too familiar with when we met & married.
Instead, he wanted to know if I'd ever had city chicken.
He made it sound like it's most delicious cousin, but served on a stick like all the best things most often are.
I'm pretty willing to try most things at least once, and am I ever glad that I gave city chicken a chance.
It didn't change my allegiance to fried chicken at all, but it's right up there with it.
Family friendly, simple fried finger food at it's finest!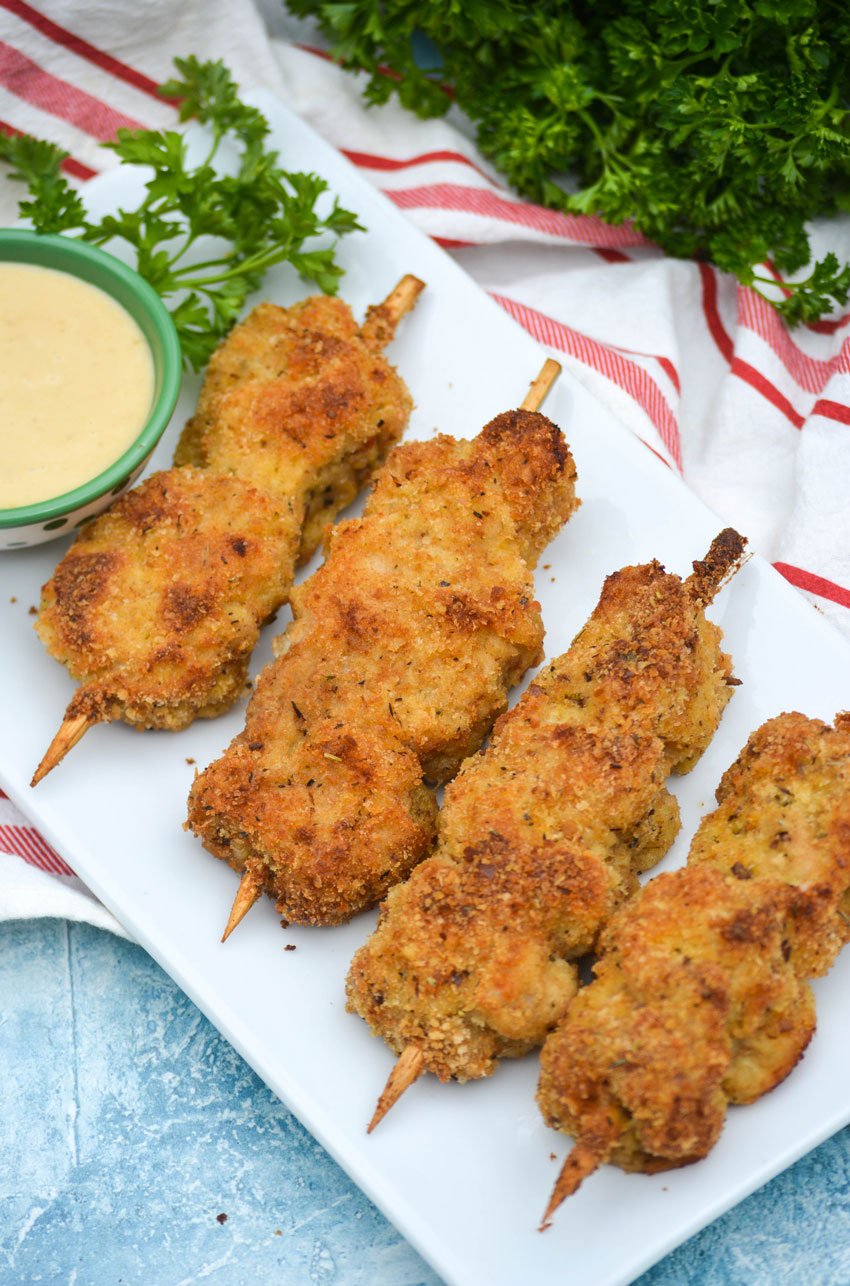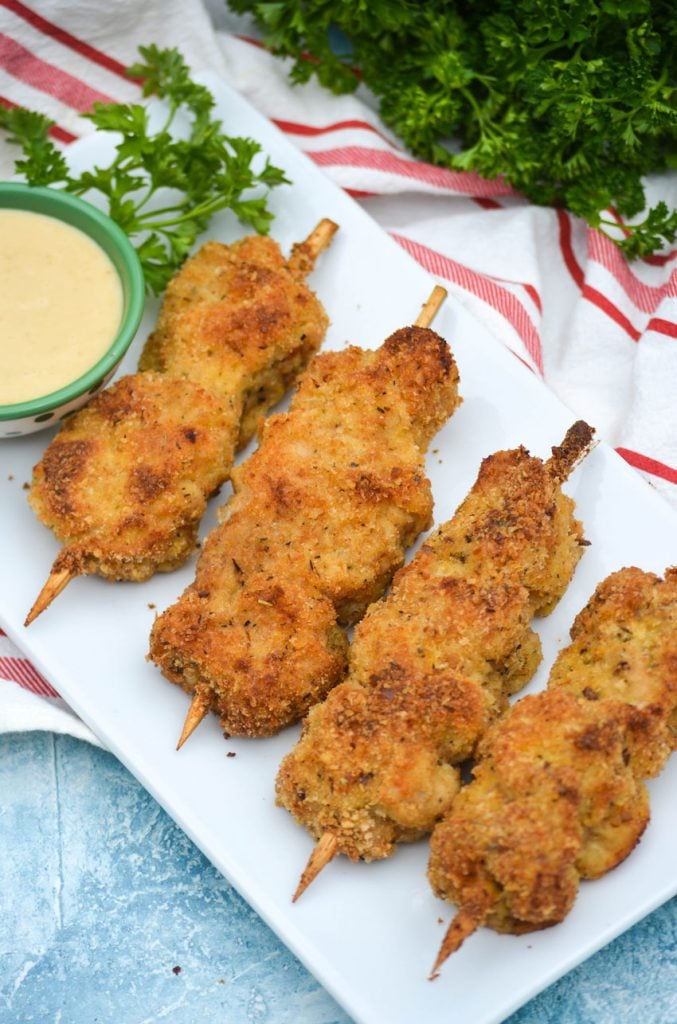 What Is City Chicken?
First off, let me stop you right there.
City chicken isn't actually chicken. There's not even any chicken involved.
Some people call it 'mock' chicken, which would probably be a more accurate name.
It's actually cubes of pork and veal (more often than not scraps), that're thread on a roughly 4-5″ wooden skewer in an alternating pattern.
They're given an egg wash, breaded, and pan fried, before being finished with an hour long bake in the oven.
No gravy's involved.
They got their name, mostly because once cooked the city chicken skewers would 'loosely' resemble a chicken drumstick in shape.
Notice I said loosely.
City chicken was a staple in may households growing up, especially those of Italian and Polish immigrants in and around Pennsulvania, especially the Pittsburgh area.
My husband remembers eating it often growing up, it was as common as a spaghetti & meatball dinner- or as regular as taco tuesdays are in our house today.
Where Did It Come From?
In our modern kitchens, it might seem like an odd idea, but it's not a new concept and was once incredibly popular.
After marrying into this recipe, I really became curious about it's origins and was surprised to discover it has it's roots in the Depression Era.
Many immigrants migrated to live in/around big cities where jobs could easily be found.
This proved especially true for those from Eastern Europe & Italy and the relationship with Pittsburgh.
While work may have been in abundance, fresh chicken was not.
This was before the times of mass produced meat that could be frozen.
Without rural farms nearby, things as common as chicken were actually often in short supply and pretty darn expensive when they could be found.
Not something a poor working class 'city' family could afford to splurge on, even for Sunday dinners.
Not culture's to let traditions die or go unobserved, city chicken was a simple dish that came to the rescue.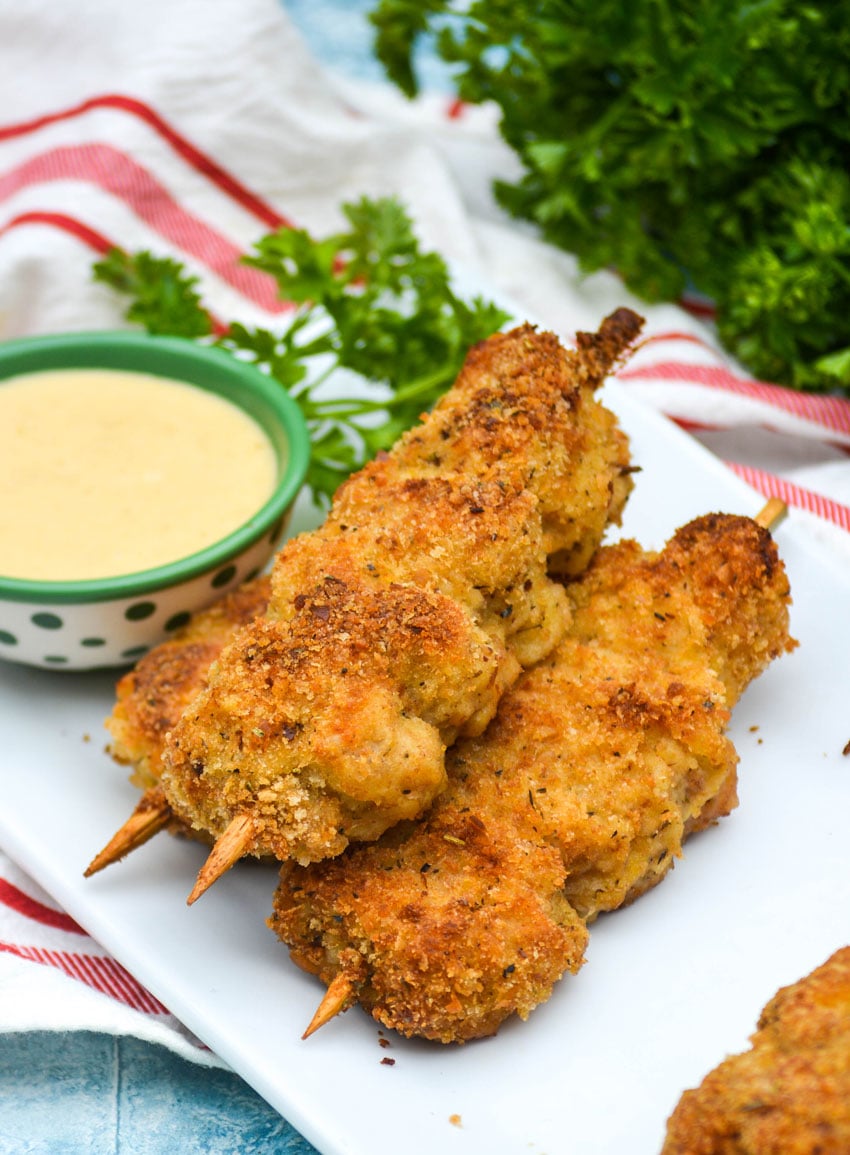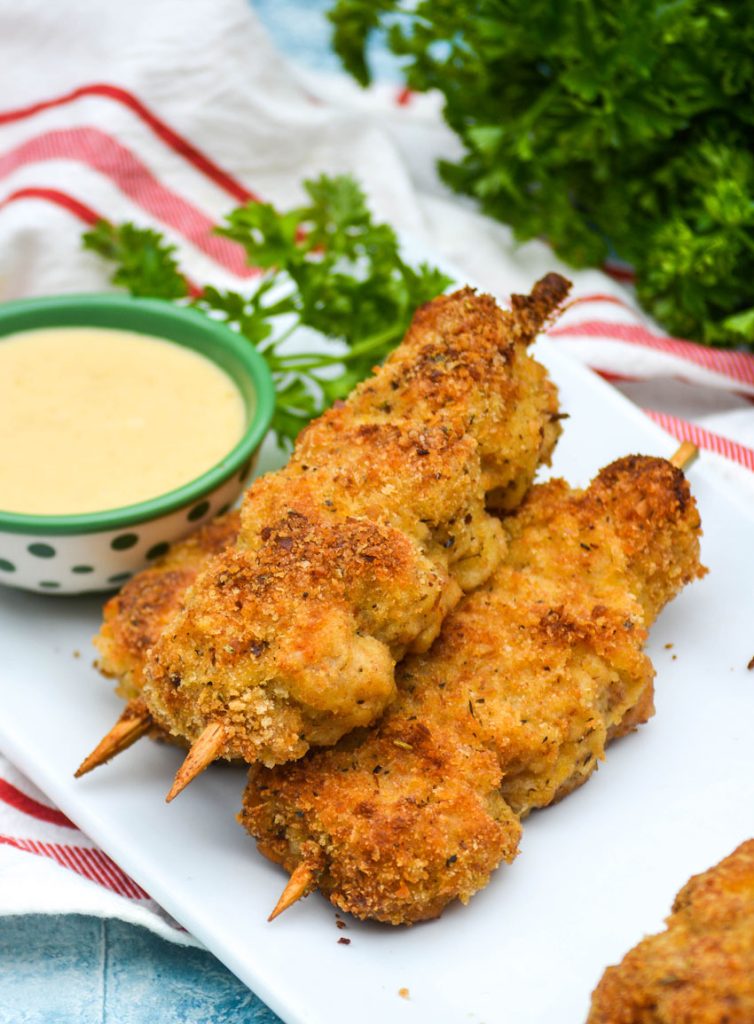 Why Use Veal & Pork?
While chicken was hard to come by at an affordable price in the last century, beef and pork were not.
And family's did a lot with them, often using one large cut of either meat for several meals.
The scraps would be saved and then used for a great leftover meal, that looked anything but appetizing by themselves.
But when the meats were placed on skewers and fried, they resembled the fancy chicken they wished they could afford to serve & enjoy for Sunday suppers.
Obviously things have changed in the last hundred years.
Chicken is readily available to purchase everywhere, as is pork, but veal has become much harder to find.
And as the price of veal has steadily risen, sadly this nostalgic regional favorite has begun to dwindle in popularity.
Used to a visit to the Strip District in downtown Pittsburgh would allow us to purchase several skewers to take home and make ourselves.
We didn't find a single deli offering them when we were there last year.
Not even from the street vendors, which was both surprising and telling.
Not to worry, my father in law graciously shared Nonna's family recipe.
And while I can't get my hands on (what I consider) affordable veal here in central VA- we still make the family classic- just using all pork instead.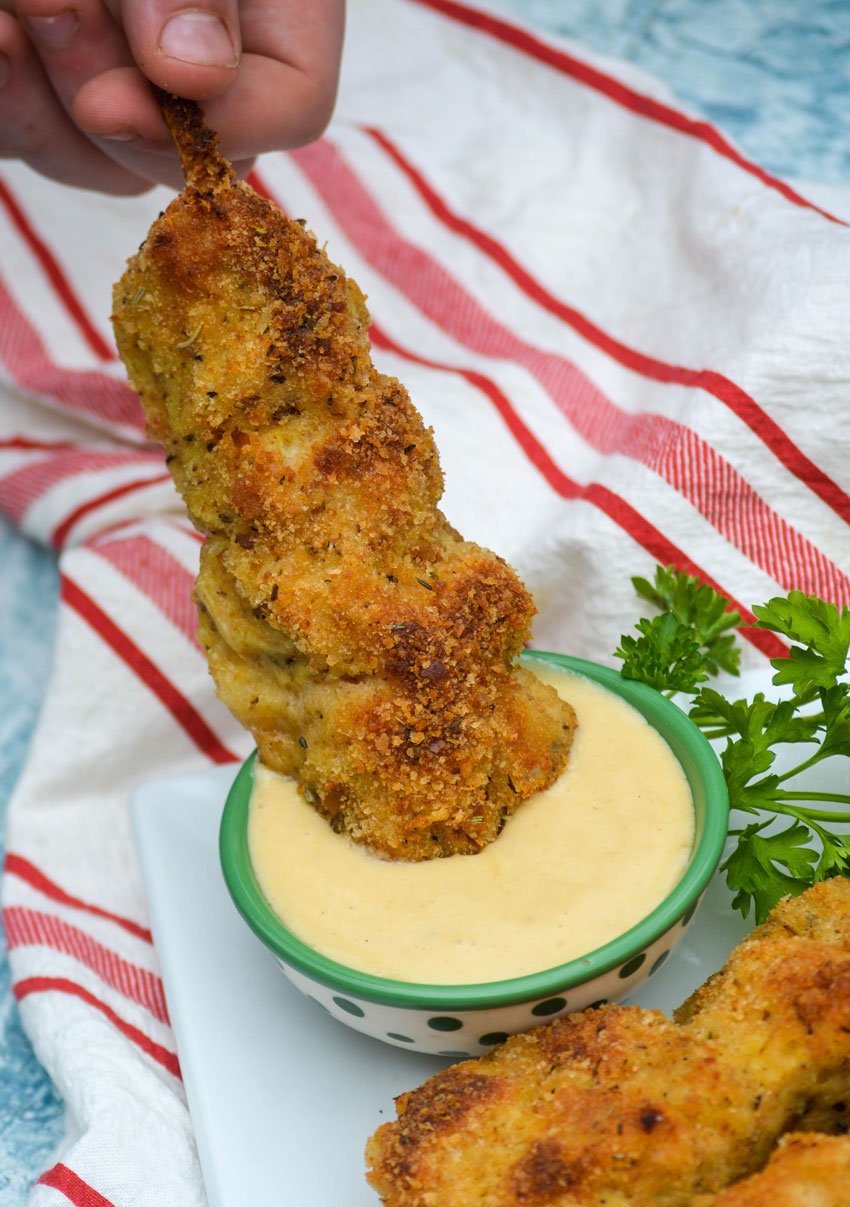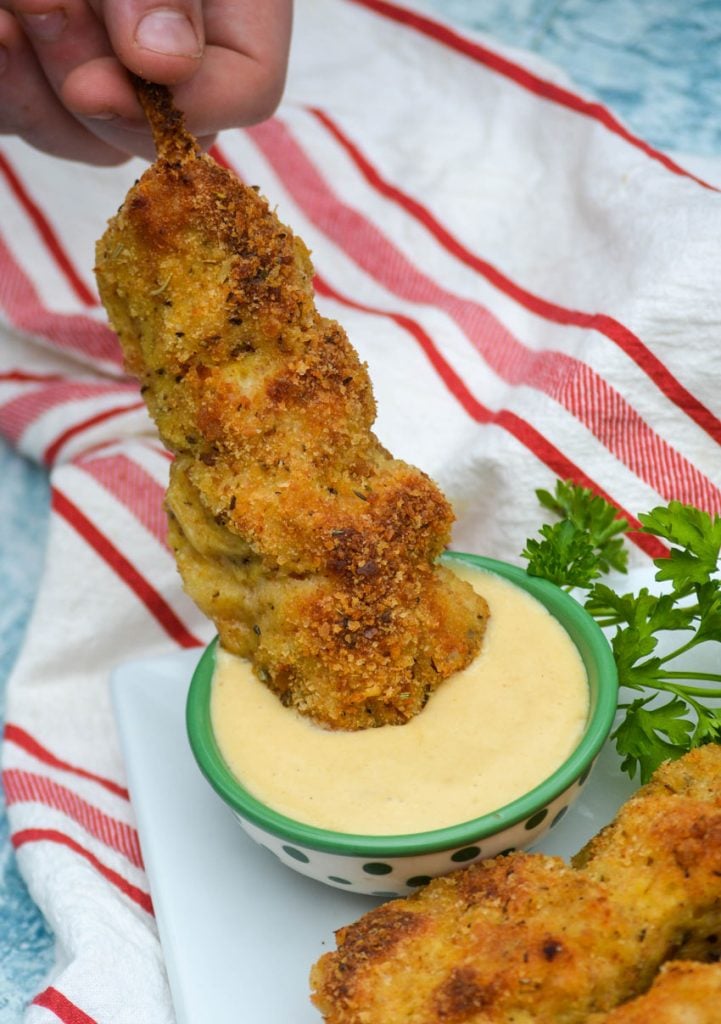 Making Modern City Chicken Skewers
Mention city chicken, and I guarantee it's going to illicti fond reactions from anyone who grew up around the greater Pittsburgh area and Mon Valley.
The dish is totally regional, but even spread out into the Cleveland, Ohio area- and from there the Great Lakes.
Our version is from my native Italian Pittsburghese family, the recipe can vary based on the region.
We're using all pork, and have for years.
So to start, you need a good cut of pork.
I use pork tenderloin, but a pork loin will work just as well.
My purchase usually depends entirely on which cut of meat is on sale that week.
Otherwise, the ingredients needed are pretty basic & also common.
pork tender/loin
bread crumbs
oil
flour
eggs
salt & pepper
ground thyme
That's it!
Now we just have to put everything together.
Assembling The Skewers
Cut the meat into roughly 1 1/2″ cubes.
A little smaller, or larger, is ok. It's not an exact science.
Thread several chucnks of meat onto a 4-5 inch wooden skewer. I can usually fit four, sometimes five.
You want the meat pressed close together, no gaps, smooshed even, but with an obvious end of wooden skewer left on each side for holding onto.
Thread all of the meat onto the wooden skewers, and then set them aside.
Next, it's time to get everything ready for coating.
I find it best to do it in an assembly line style, with three different stations.
A flat plate of flour, a wide shallow bowl with egg, and then another flat plate for the bread crumbs.
The assembly line helps me move quickly, and ensures the best even final coating.
Working with on skewer at a time, roll and coat them in the flour (shake off any excess).
Transfer it to the egg was bowl, rolling to evenly coat. Hold it aloft for a second or two to allow any excess egg to drip back into the bowl.
Roll it in the bread crumb coating, pressing it in as needed to ensure an even coat.
Set the prepared city chicken skewer aside on a clean plate, and repeat until all the remaining skewers are evenly coated.
How To Cook
I know it sounds a bit off, but classic city chicken is a two step process when it comes to cooking.
It's flash fried, and then baked in the oven to finish.
So we'll brake it down into two steps for simplicity's sake!
Flash Frying
Flash frying is a simple tecnique for getting gorgeous, golden brown crispy coatings on many street-style fried foods.
Basically, it involves submerging food in very hot (350 degrees in this case) oil for anywhere from 1-5 minutes.
The oil's so hot that it immediately sears the outer coating, essentially sealing the inside off from the oil since it can no longer penetrate.
This gives a beautiful color and crunch to the outside of the city chicken skewers, but means the meat inside still needs to cook through.
Watch the skewers carefully to prevent burning, and once they're a gorgeous golden brown, remove them to paper towels to drain off excess grease.
Transfer the skewers to a 9×13″ baking dish, repeating until they've all been fried and are ready to finish off in the oven.
Oven Baked
Sprinkle the fried city chicken with droplets of water, these will steam off during baking and keep it moist, yet crisp.
Cover the baking dish with aluminum foil to seal.
Bake the skewers for 20-25 minutes at 350 degrees.
Then carefully remove the foil, and bake them an additional 10 minutes.
I set mine directly in the pan, just like Nonna did.
However, my MIL swears by laying them out on a wire rack set inside her pyrex baking dish for extra crispness.
I like both our versions equally, so you decide for yourself which method works for you.
They're ready to serve as soon as they come out of the oven, although be careful because the insides may be much hotter than they appear.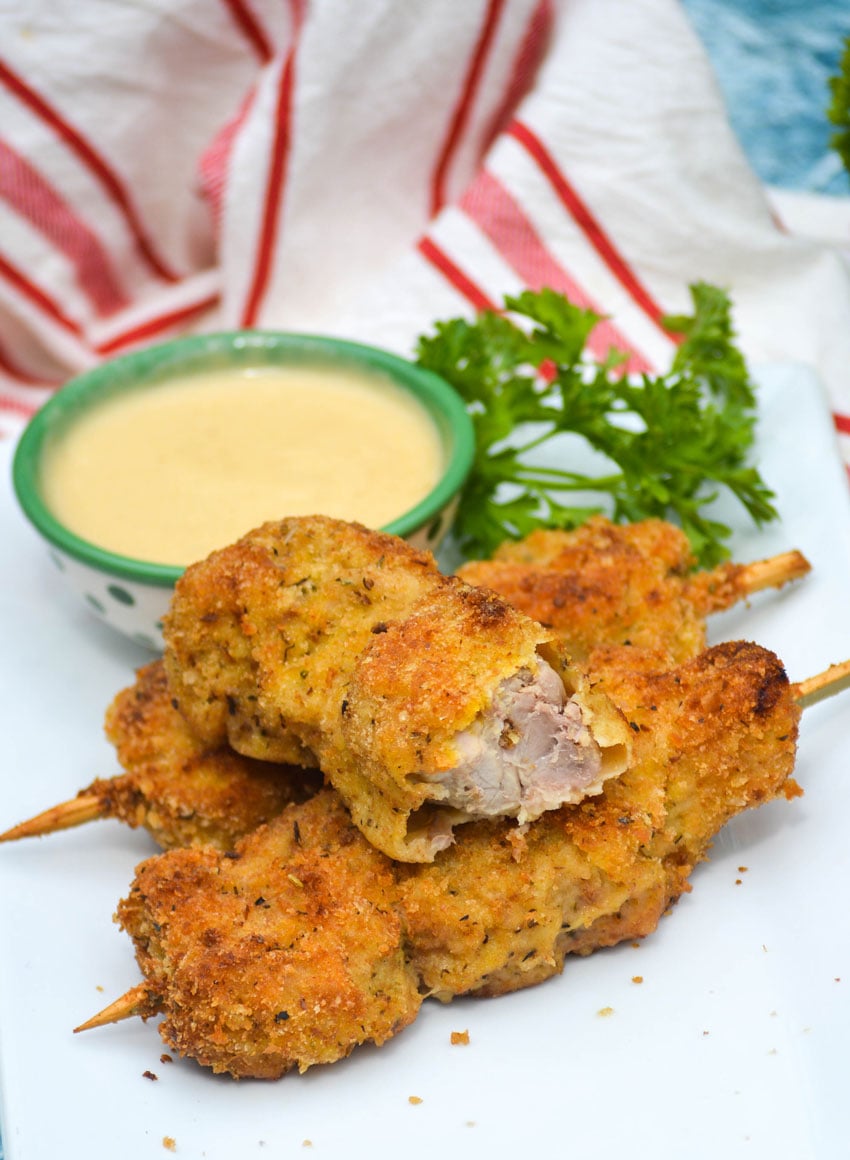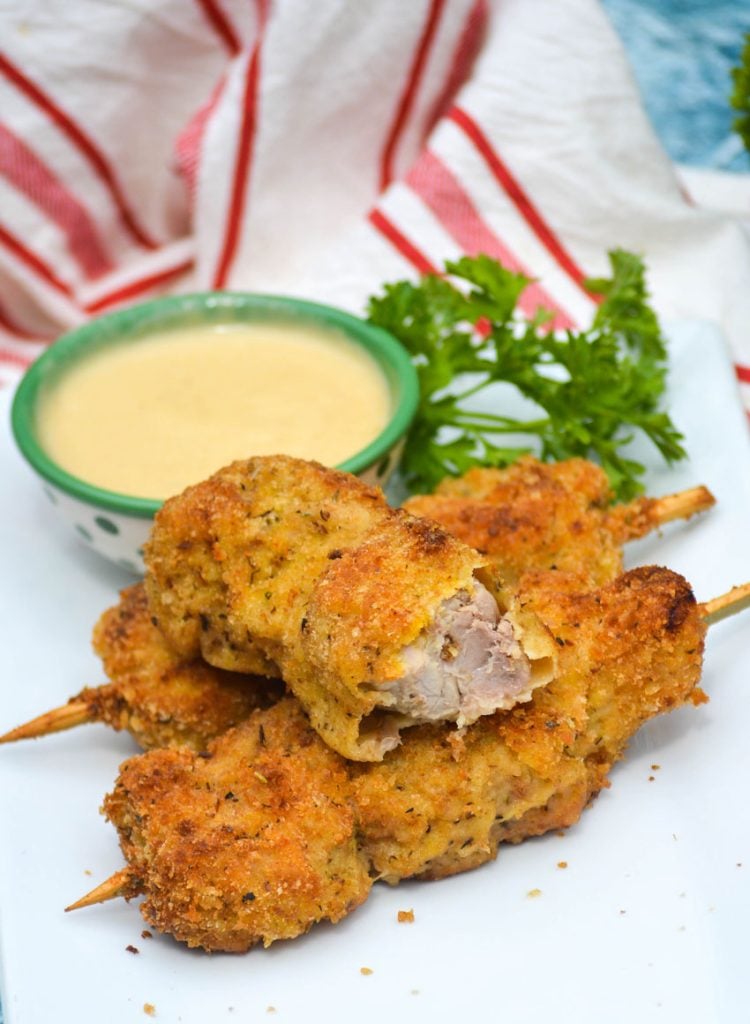 What Kind Of Skewers Should I Use?
The good, old fashioned wooden ones work best. You can find them pretty cheaply online.
Get the ones that measure somewhere between 4-6 inches in length.
DO NOT be tempted to break longer wooden skewers in half as this leads to splintering, which can be extremely harmful.
Alternatively, do not try to substitute tooth picks for wooden skewers.
They won't work for a variety of reasons. Yes, someone really did that.
What Sauce Pairs Best With These Fried Pork Skewers?
I know plenty of people in our family who'd argue that Nonna's city chicken should be served as is, no sauce needed.
And it is great all by itself, but I'm a dipper myself so sauce of some kind is a must.
Ketchup always works for most kids, and honey mustard is also a great option.
Cream based dips will work too.
I've served it as a Game Day appetizer many times with some bacon horseradish dip and some delicious dill dip on the sides.
Alternatively, you can always pair these with Nonna's Sunday Sauce.
Sunday sauce was the week's pasta sauce that simmered on the stove all day every Sunday like clock work.
Don't have a family recipe?
Use your favorite jarred kind or make a batch of our homemade marinara sauce in the crockpot.
You can also go an even more savory route and pair these with gravy.
What Can I Serve With These Skewers To Make It A Meal?
When we serve this for dinner, I tend to treat it like I would a pork chop or any other fried chicken dinner.
I need a starchy side & a yummy vegetable option for a classic combination my whole family will enjoy!
Mashed potatoes may seem like a good idea, but I wouldn't suggest them.
Still another potato dish does pair with these perfectly- baked cheesy scalloped potatoes gratin.
Another delicious cheesy carb loaded option that never fails? Mac and cheese is always a crowd please.
I suggest either our Southern homestyle mac and cheese or this copy cat Stouffer's version.
For the veggies I like to keep it simple, so all my effort can go into the main event and a large side.
A side salad is a great option, as is some steamed broccoli, or I'll doctor up some canned greens beans with Grandma's easy recipe.
Want To Try These But Need A Low Carb Option. Help!
I know low carb diets are not only trendy right now, but an overall popular health option.
While we haven't jumped on the bandwagon, I do know you can use different breading options to help reduce the amount of overall carbs.
For example,
Substitute crushed pork rinds for the bread crumbs
Use a mixture of crushed pork rinds and Parmesan cheese in the bread crumbs place
Swap the regular all purpose flour out for almond flour
Whatever you serve it with, this classic recipe Nonna's City Chicken is bound to be an instant hit with the whole family.
Other Easy Family Favorites From Nonna's Kitchen
Looking for other dinner inspiration from our nostalgic family recipe box?
Check out these other tried and true ideas from our beloved grandmother:
If you've tried NONNA'S CITY CHICKEN, or any other recipe on my site, let me know in the comment section how it turned out, we love hearing from our readers! You can also follow along with me on PINTEREST, FACEBOOK, and INSTAGRAM to see more amazing recipes and whatever else we've got going on!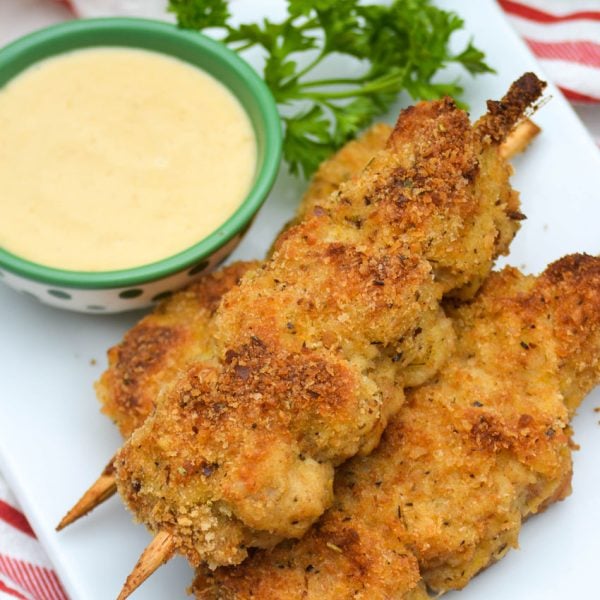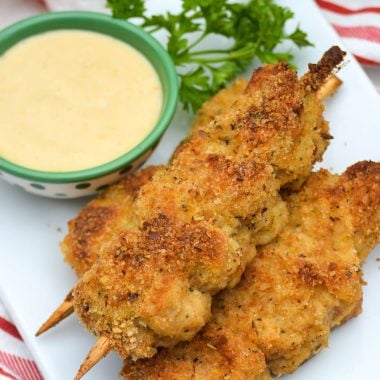 Nonna's City Chicken
Fried chicken often gets all the credit as the best of the fried foods. However, one bite of this city chicken and you're bound to agree that this Pittsburgh classic is just as good, if not even better. Using tender chunks of pork that are breaded, flash fried, and then baked to perfection- this vintage recipe is another one straight from Nonna's Italian American kitchen.
Print
Pin
Rate
Ingredients
2

lb

pork tenderloin

cut into 1 1/2" cubes

4

inch

wooden skewers

Italian seasoned bread crumbs

canola oil

flour

3

eggs + 2 tbsp water

beaten until smooth

s & p

to taste

1

pinch

ground thyme
Instructions
Add the bread crumbs to a large flat plate, and the flour to another. Make sure the beaten egg + water mixture's in a bowl wide enough to roll a 4" skewer in. Line them up in this order: flour, egg, bread crumbs.

Thread 4-5 chunks of meat onto your skewers, crowding it together, but making sure to leave enough wooden skewer visible on each end so that you can hold it with your fingers. Do this until all the meat's been skewered.

One skewer at a time, roll them in flour, then dip in egg wash, and into the bread crumbs- rolling and pressing to coat if needed. You want an even bread crumbs coating. Set the skewers onto a waiting plate, and continue until all the skewers have been coated.

Heat oil in a heavy bottomed pot to 350°. Once the oils hot, add 3-5 skewers gently into the hot oil. I like to use tongs for this part to avoid any burns on my fingers or hands. Don't overcrowd the number of skewers in the pot at one time.

Fry the city chicken skewers for 3-5 minutes, watching carefully, just until they're a rich golden brown on all sides. Use the tongs to carefully remove the fried skewers to a waiting plate lined with paper towels so that excess hot oil may drain.

Transfer the fried skewers to a 9x13" pyrex baking dish. Continue frying the skewers in batches until all have been fried, drained, and are in the baking dish.

Sprinkle the fried meat liberally with water. I flick it on with my hand. Cover the dish tightly with aluminum foil.

Bake the meat at 350° for 20-25 minutes. Carefully remove the foil, and bake the meat an additional 10 minutes.

Serve the skewers while still warm, with desired sauce or dip of choice.
Nutrition
Calories:
128
kcal
|
Carbohydrates:
1
g
|
Protein:
20
g
|
Fat:
4
g
|
Saturated Fat:
1
g
|
Cholesterol:
108
mg
|
Sodium:
66
mg
|
Potassium:
375
mg
|
Sugar:
1
g
|
Vitamin A:
71
IU
|
Calcium:
13
mg
|
Iron:
1
mg