A quick and easy soup, you'll be surprised by the rich flavor in such a simple chicken soup recipe. Nonna's Italian Style Chicken Noodle Soup tastes like Grandma slaved away at the stove all day stirring the love into every last drop.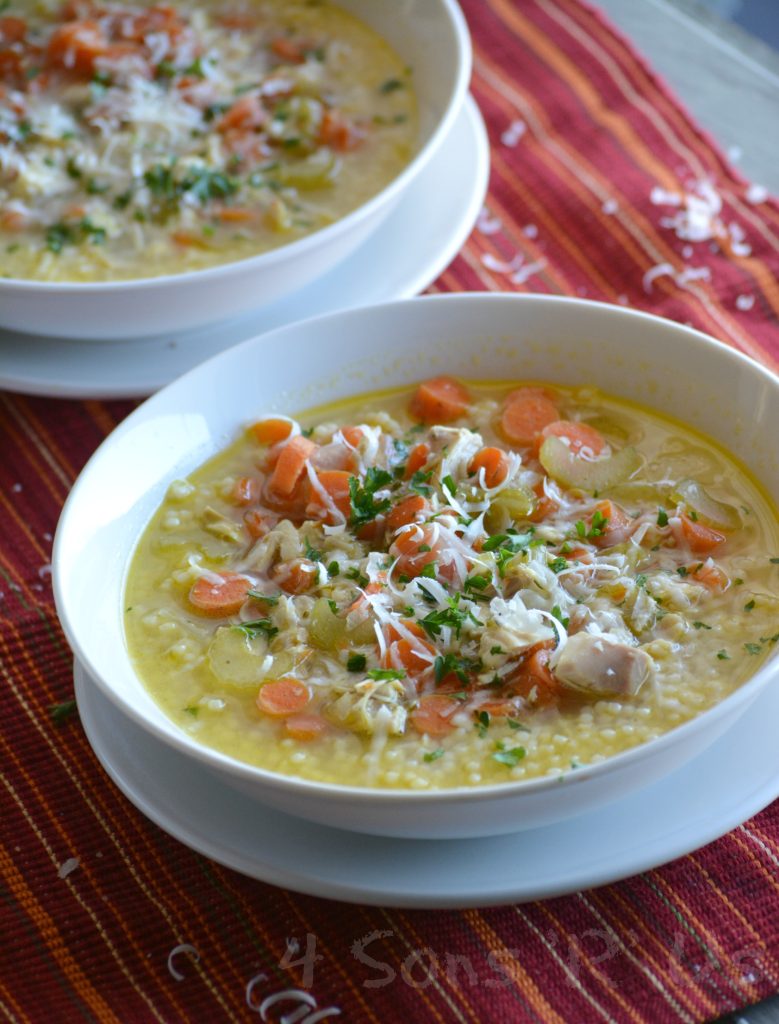 I am assuming by now we've all seen the Campbell's Soup commercial for their classic Chicken Noodle Soup. It's good. And growing up it was a staple for many of us.
But for my Italian husband it was different. Similar, but different.
He grew up living far away from his Italian immigrant grandparents, but always looked forward to visiting them around the holidays, or any other time his young parents could afford to make the trip back home.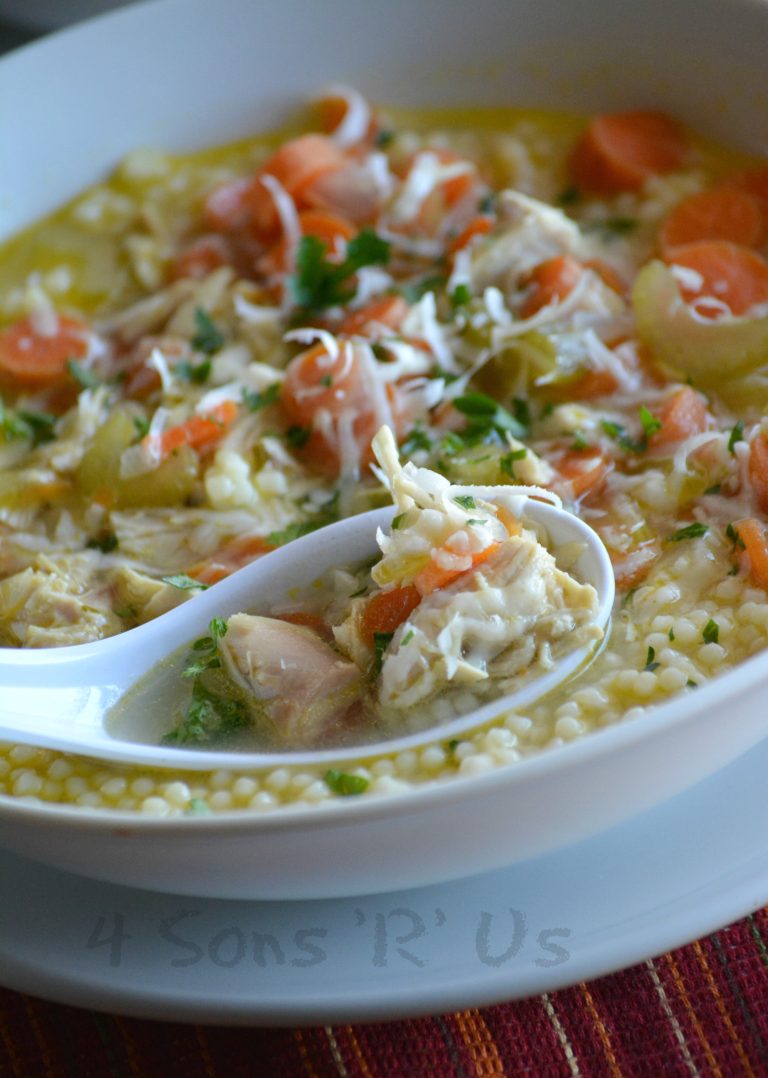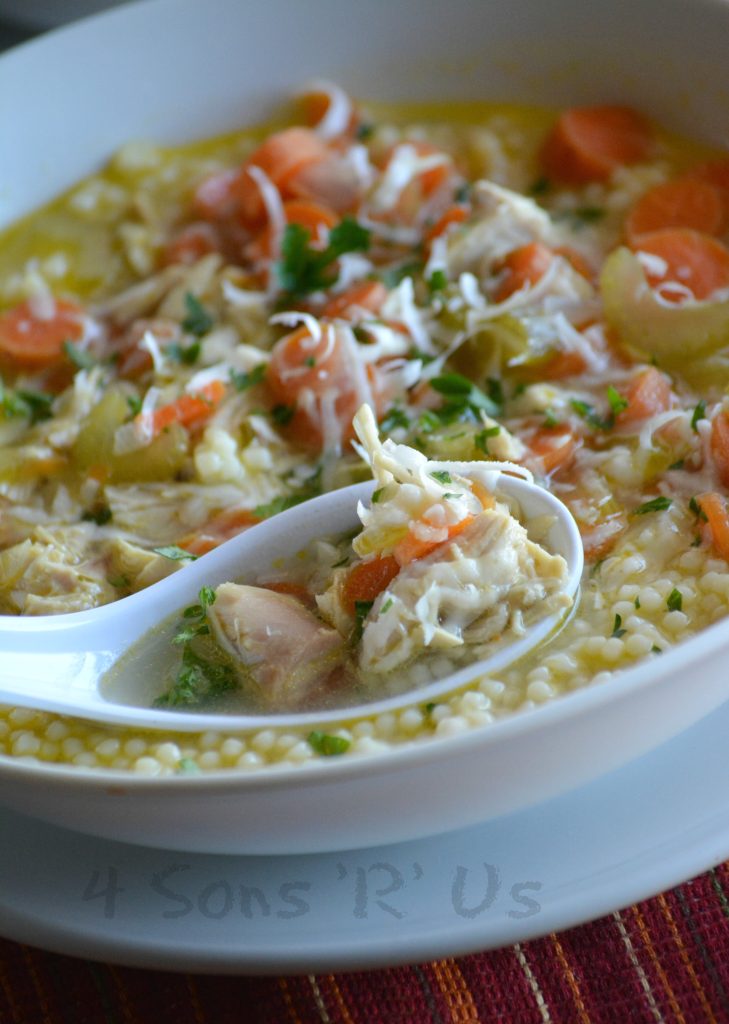 Every time he'd come home to visit- because the Monongahela Valley outside of Pittsburgh has always been home for his family- he knew a pot of his Nonna's Italian Style Chicken Noodle Soup would be waiting for him on the stove.
He'd sit down to a warm bowl of his favorite soup, Nonna's Italian Style Chicken Noodle Soup and slip the secret five dollars into his pocket his Nonna had slipped into his hand as soon as his parents had gone to unpack.
Ahh, memories.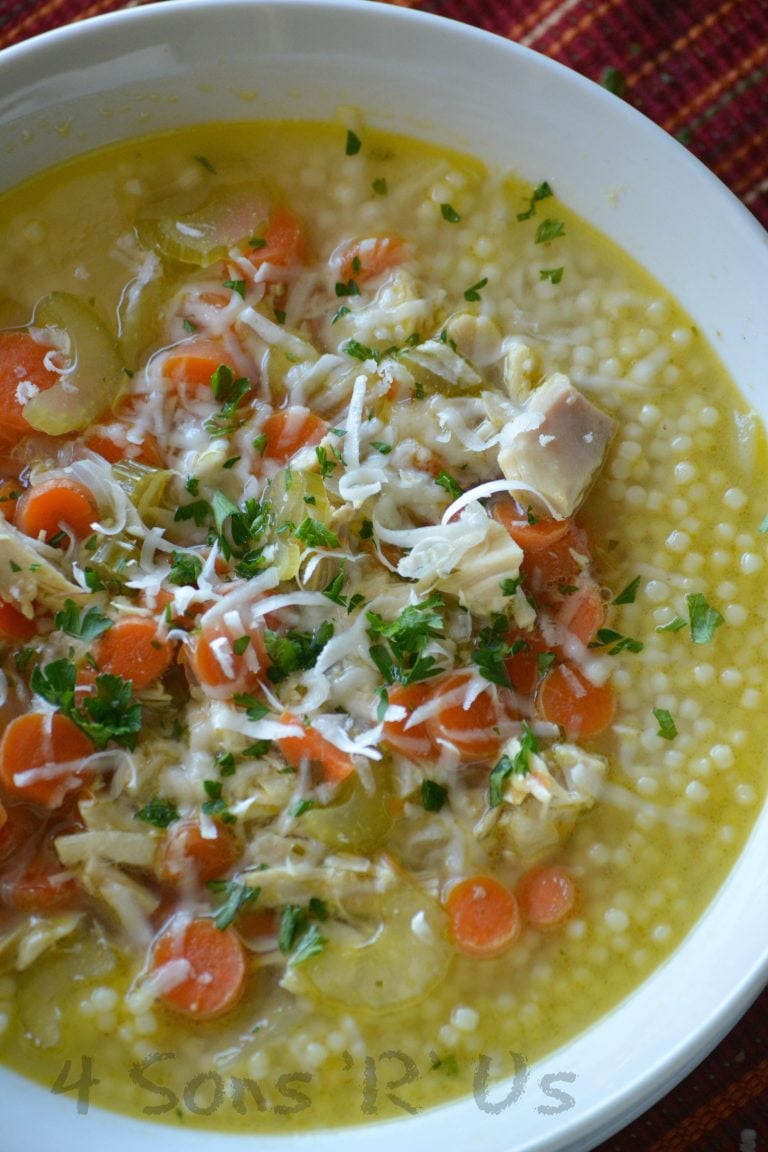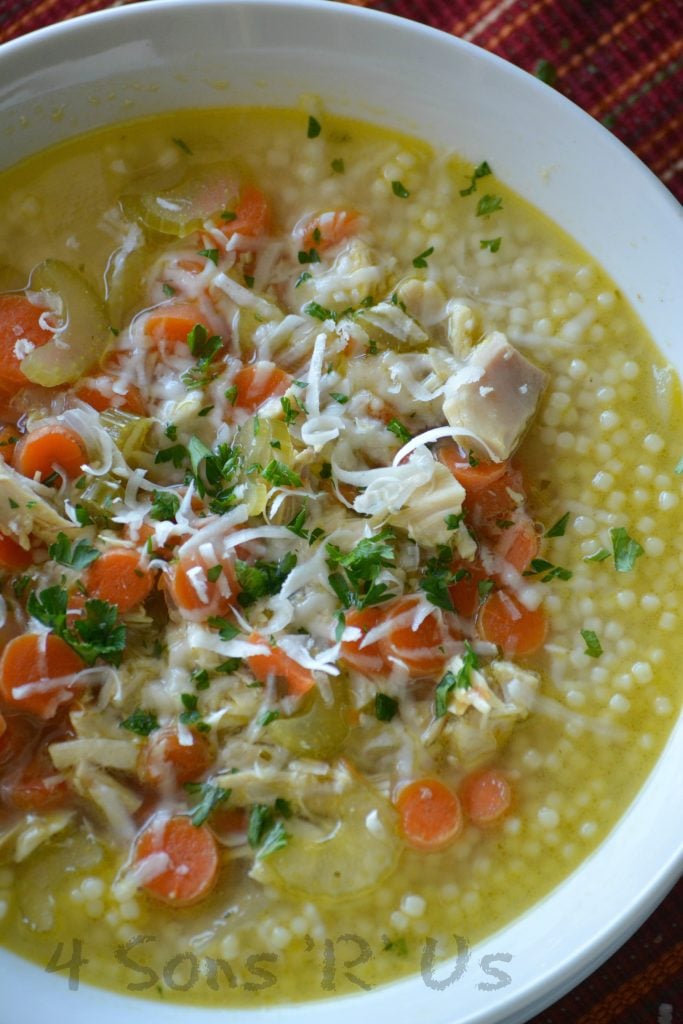 Nothing changed in the entirety of his childhood– every visit, same comforting soup, same loving grandma.
When he took me 'home' for the first time, the smell greeted us before we even got to the door. After hugs and introductions all around, bowls of this liquid love were enjoyed by all.
We love it so much, we can't wait to enjoy it a few times a year. We've learned to make it ourselves, and share the memories and the love with our boys.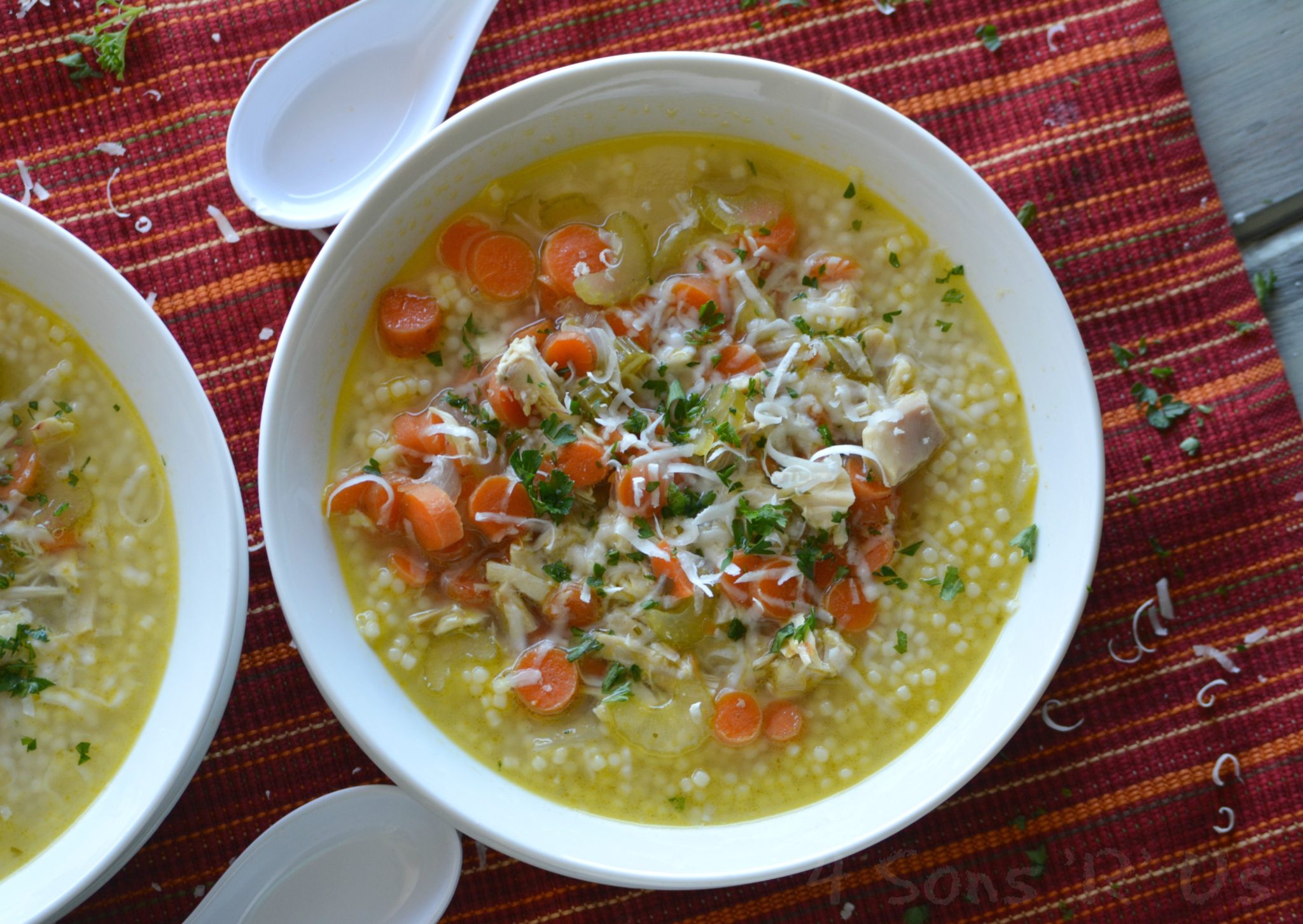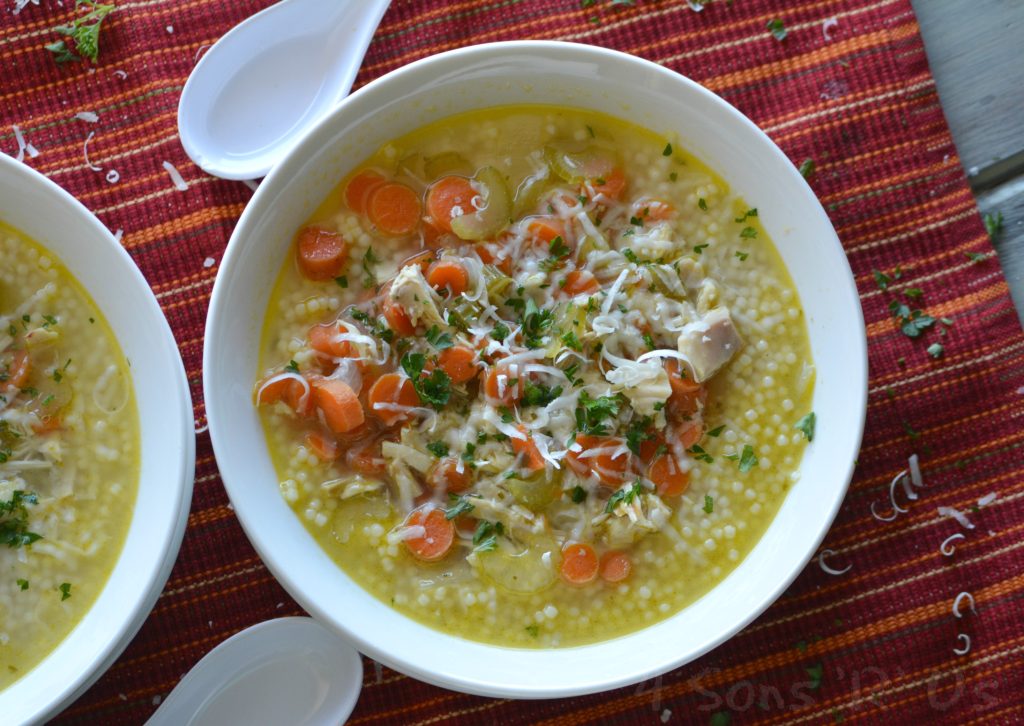 Despite it's irresistible-ness, I get my fill after one (okay two) bowls. Then I'm good for another month or so.
My husband? He would happily brush his teeth with the stuff. The kids too, and usually they regard soup as something too 'unmanly' to go gaa-gaa for.
When they start arguing over who deserves seconds and lobbying with us– then I know it's a winner. I can't wait to share this family recipe with you.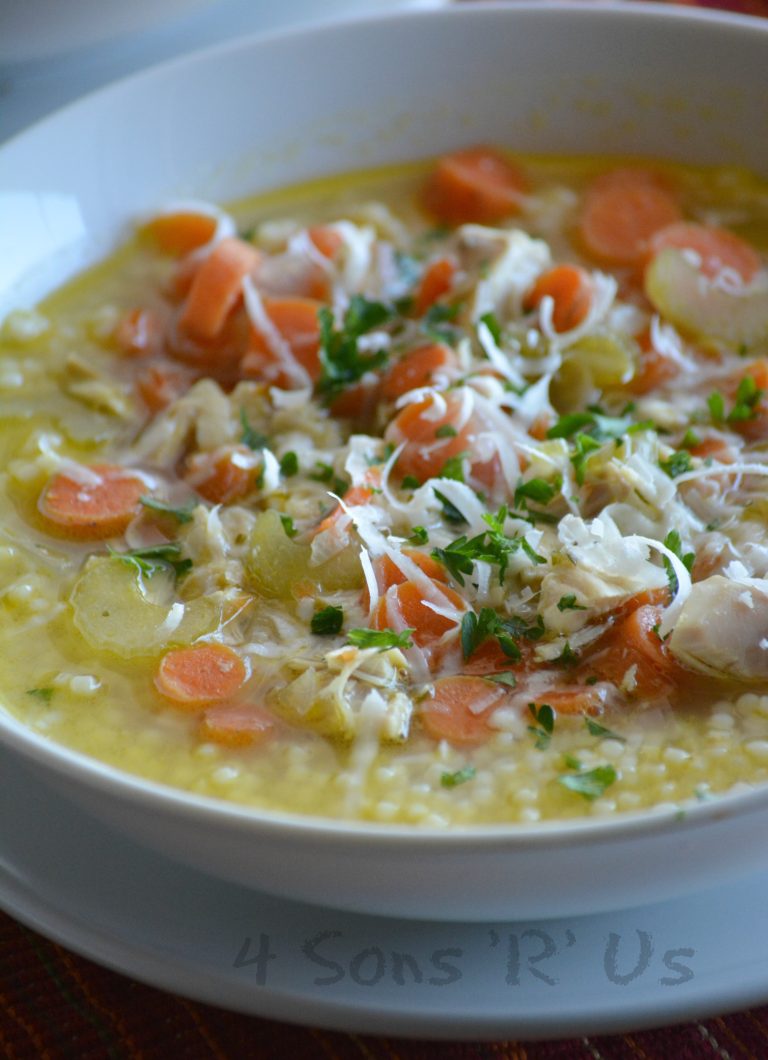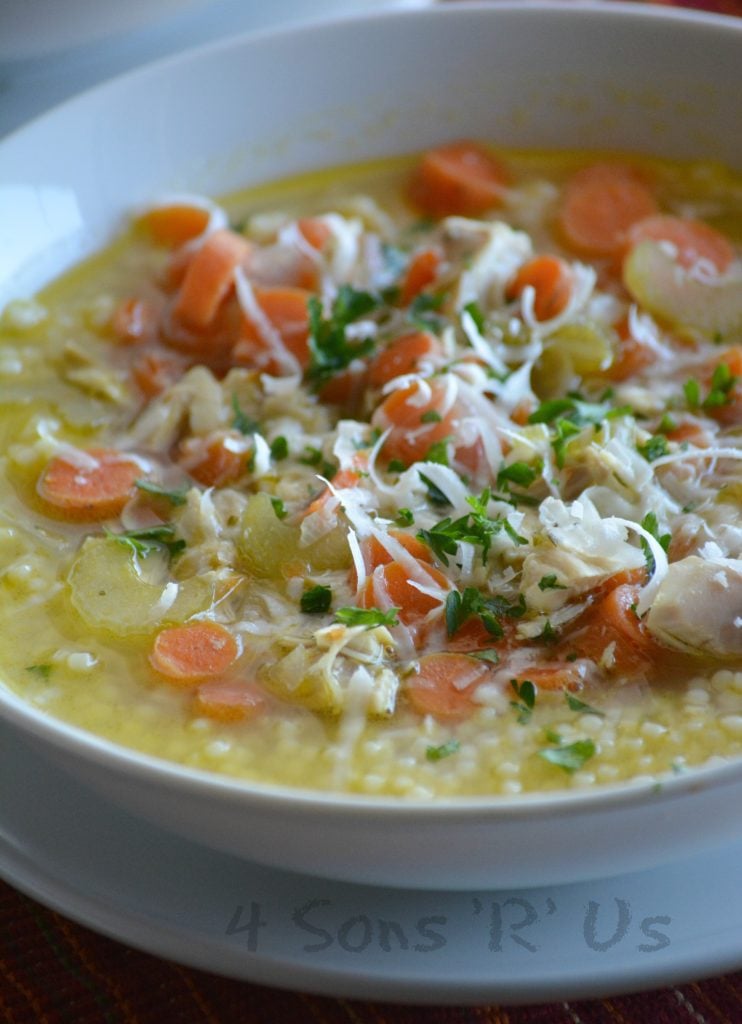 A rich broth is filled with tiny bits of acini di pepe pasta, chunks of juicy chicken, and sauteed veggies before being served topped with freshly grated Parmesan cheese and chopped parsley.
When it turns cold outside, when you're feeling under the weather, or when you just get a hankering for a bowl full of 'home', make a batch of Nonna's Italian Style Chicken Noodle Soup. It's the answer to whatever ails you, in liquid form.
If you've tried our NONNA'S ITALIAN STYLE CHICKEN NOODLE SOUP, or any other recipe on the site, let me know in the comment section how it turned out, we love hearing from our readers! You can also follow along with me on PINTEREST, FACEBOOK, and INSTAGRAM to see more amazing recipes and whatever else we've got going on!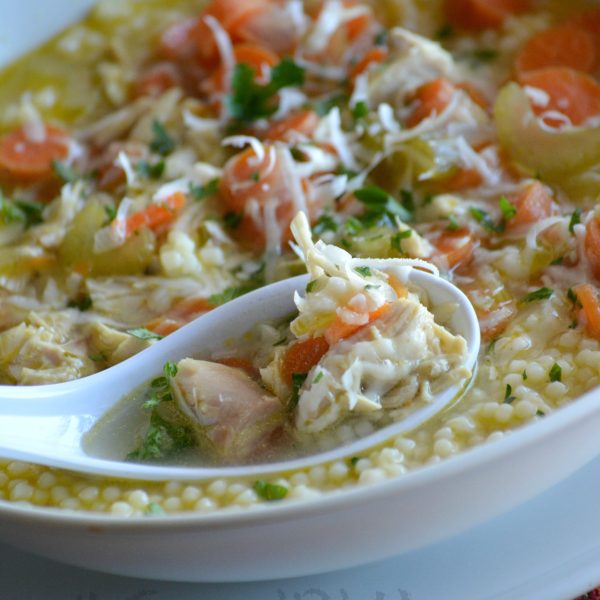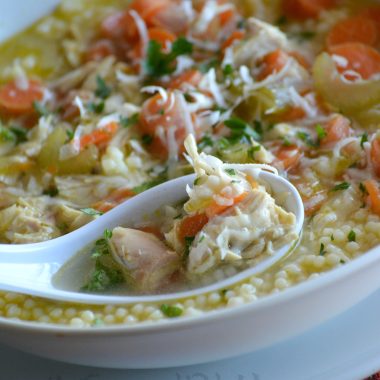 Nonna's Italian Style Chicken Noodle Soup
A different take on the classic chicken noodle soup, Nonna's Italian version is the perfect version for any occasion.
Print
Pin
Rate
Ingredients
12

cups

chicken broth

1

tbsp

extra virgin olive oil

1

cup

of thinly sliced celery

2-3

cups

of thinly sliced carrots

1/2

of a large white onion

roughly chopped

1/3

cup

of chopped fresh parsley

4

cups

chopped rotisserie chicken

1

cup

freshly grated Parmesan cheese

plus extra for garnishing

salt and pepper

to taste

1

lb

acini di pepe
Instructions
To a large dutch oven, or other soup pot, add the broth, olive oil, celery, carrots, onion, and parsley. Over high heat, bring the soup to a rolling boil. Reduce the heat to medium and continue boiling for 15-20 minutes, or until the carrots are tender.

While the soup cooks, prepare the pasta according to the package directions JUST until al dente. Immediately strain and run around cold water, stirring until all the pasta is cool to stop the cooking process. Set aside.

Reduce the heat again, this time to medium low, and stir in the chicken, Parmesan, and salt and pepper. Let the soup cook an additional 5-10 minutes, stirring occasionally.

To serve, ladle the soup into bowls. Stir in the desired amount of pasta into each bowl. Garnish shreds of freshly grated Parmesan and chopped parsley, if desired.
Nutrition
Calories:
410
kcal
|
Carbohydrates:
48
g
|
Protein:
29
g
|
Fat:
12
g
|
Saturated Fat:
4
g
|
Cholesterol:
65
mg
|
Sodium:
1711
mg
|
Potassium:
620
mg
|
Fiber:
3
g
|
Sugar:
4
g
|
Vitamin A:
5752
IU
|
Vitamin C:
31
mg
|
Calcium:
189
mg
|
Iron:
3
mg