Quick & easy recipes are my jam, even better when it's a throwback to something from our own childhood that we can share with our kids now. Nonna's Italian macaroni pie needs only four ingredients, and is creamy cheesy pasta heaven on a plate.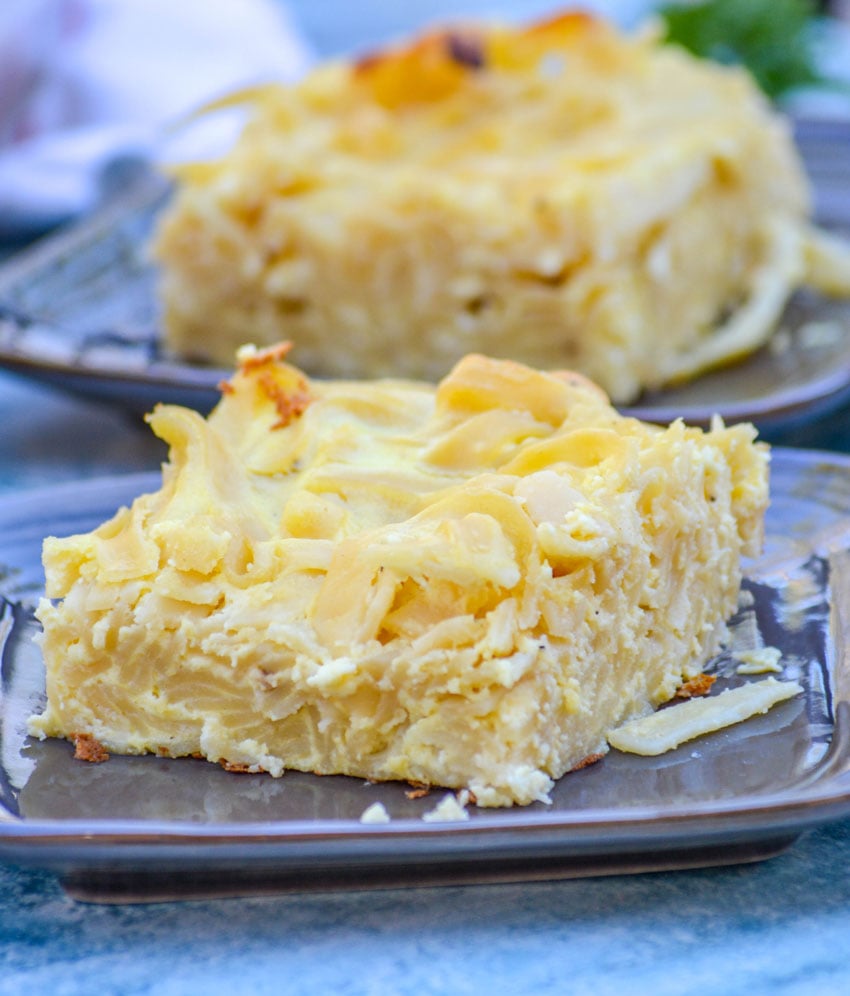 Do you remember your favorite childhood comfort foods? Is there a certain recipe your Grandmother used to make that you've never forgotten?
For me, it's things like Grandma's American goulash, or her classic Southern creamed corn pudding. Even my Mama making her version of country beef gravy gets the same reaction from me.
A single sniff of it's heavenly scent wafting from the kitchen and I'm immediately five years old again, frantically searching for my apron and running to find my seat at the kids' table.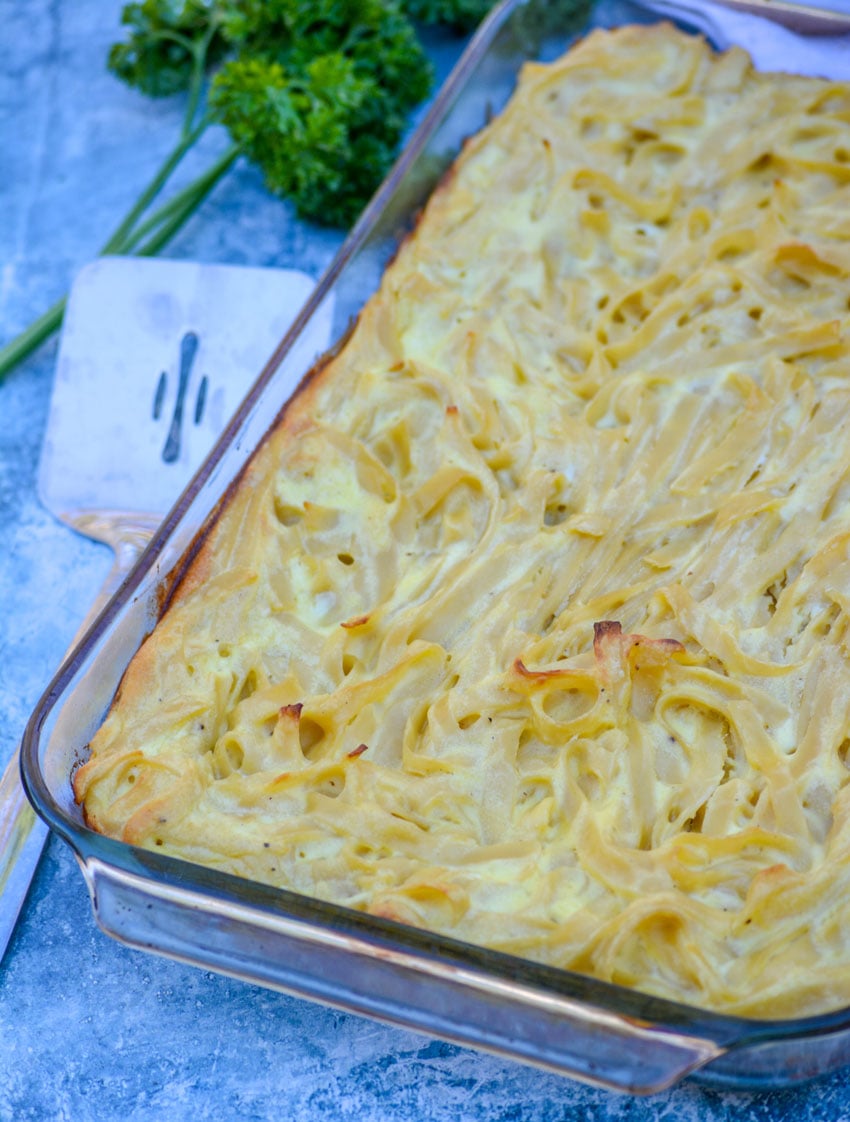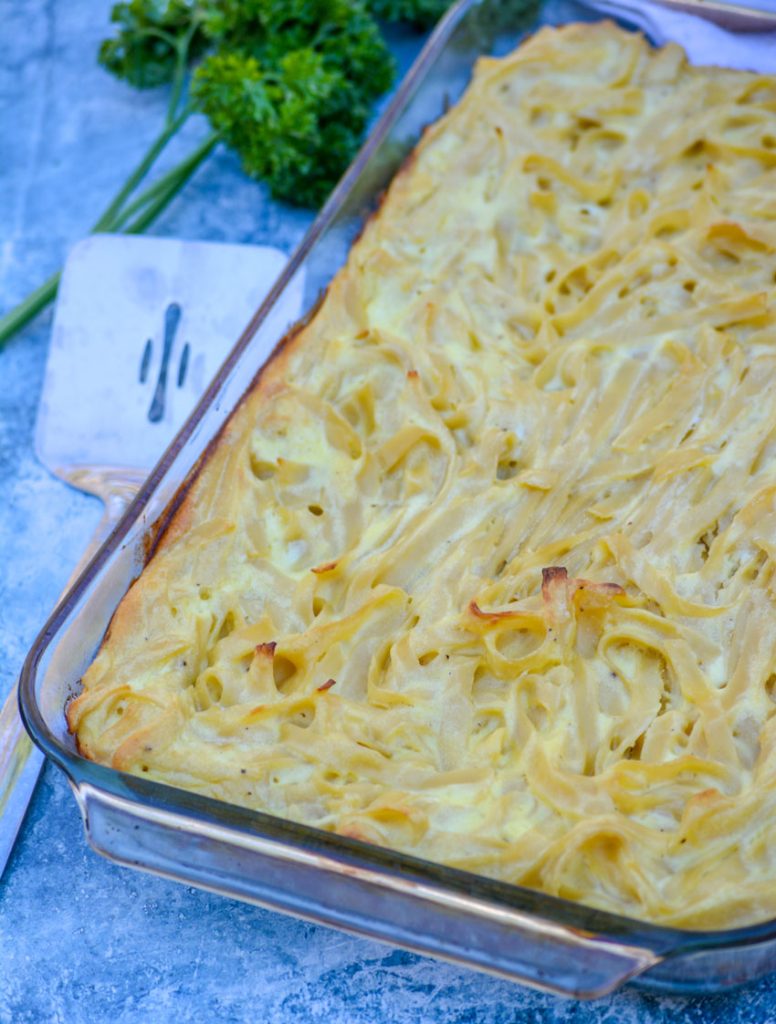 My husband however, is Italian. Most of his cherished childhood favorites are very different from my Southern ones. His all came out of his Nonna's cozy little kitchen.
We've shared a few with you before- such as his Nonna's Italian spaghetti and broccoli, which his Nonna called pasta e broccoli.
Other favorites included her Italian style chicken noodle soup, and for dessert- her tasty cannoli dip recipe. I think it's a universal fact, whatever you're culture or heritage- Grandmothers' always make the best desserts.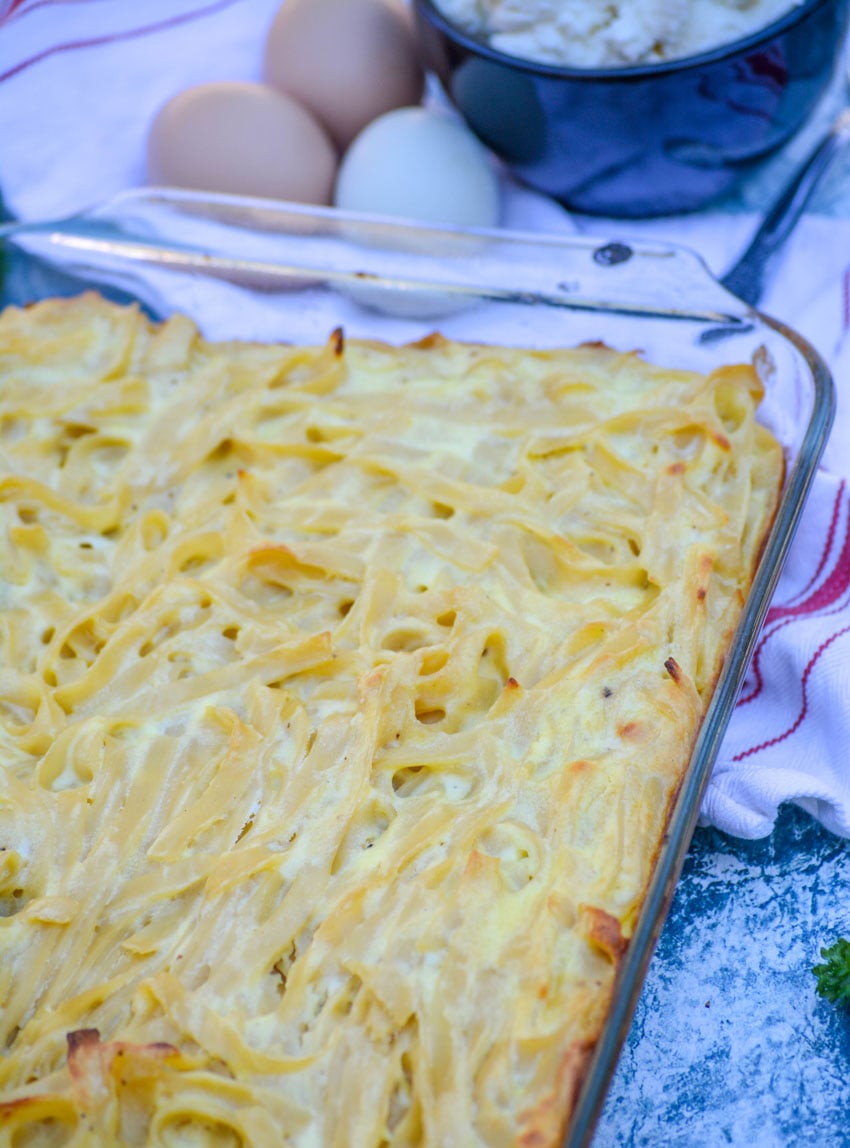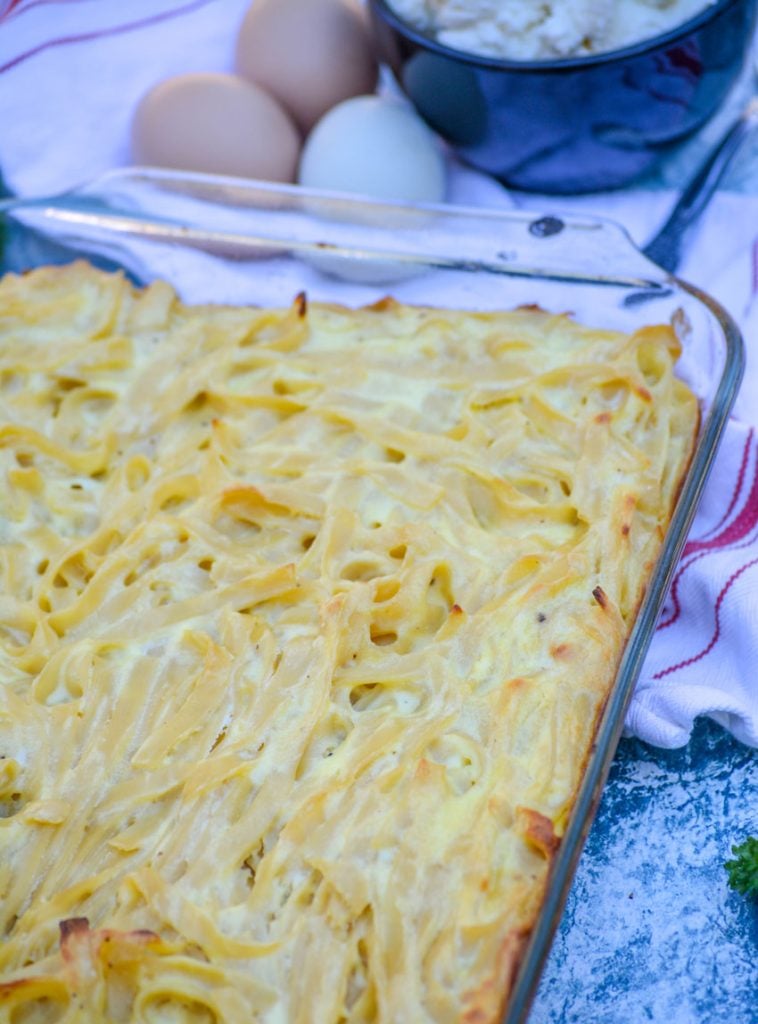 Fast forward many years, and we're now firmly entrenched in our own little kitchen & trying to meal plan. A new school year's starting, schedules are filling up, and if I'm not careful chaos will reign.
One of my self-proclaimed super powers? Being able to whip up simple meals out of just a handful of ingredients. My friends are always impressed, but I have a secret.
If it weren't for my husband teaching me the basics of his childhood favorites from his Italian granny, it wouldn't be nearly as easy for me. I guarantee it wouldn't taste as good at all either!
My husband's Nonna wasn't a truly gifted cook, but she knew her ingredients well & she sure knew what to do with them. The simpler, the better. That's a motto I've adopted myself.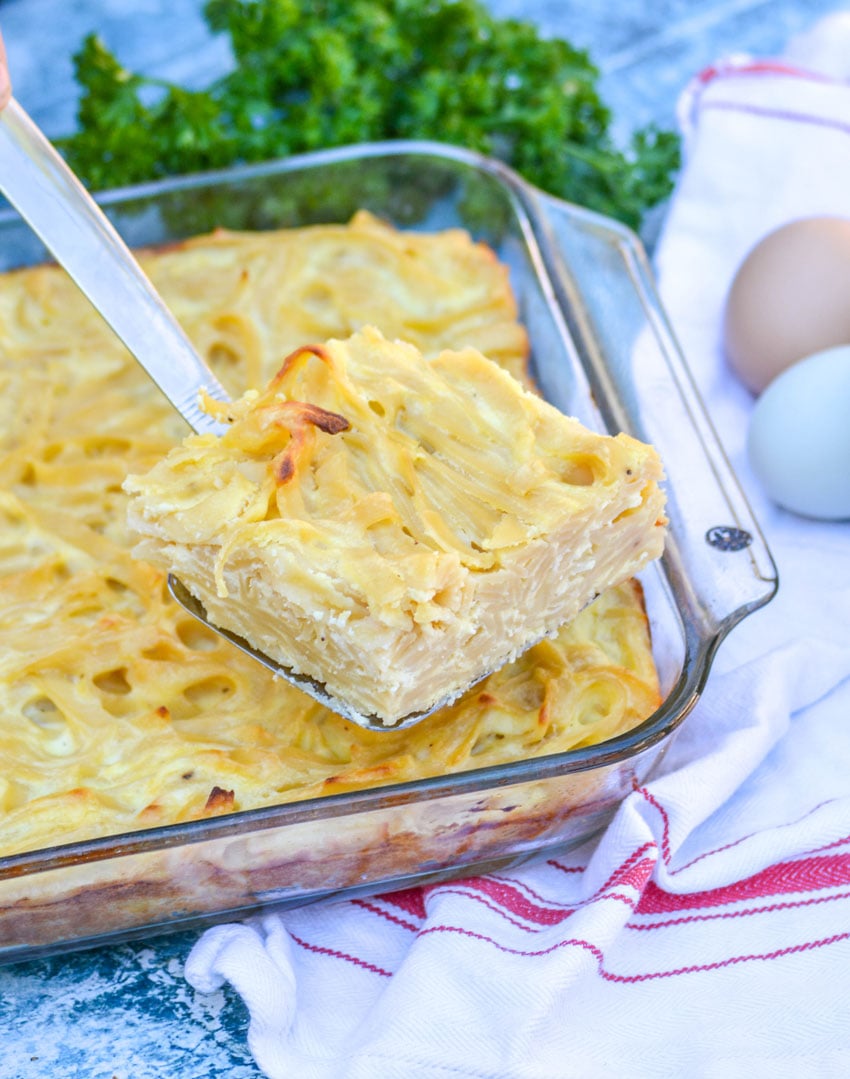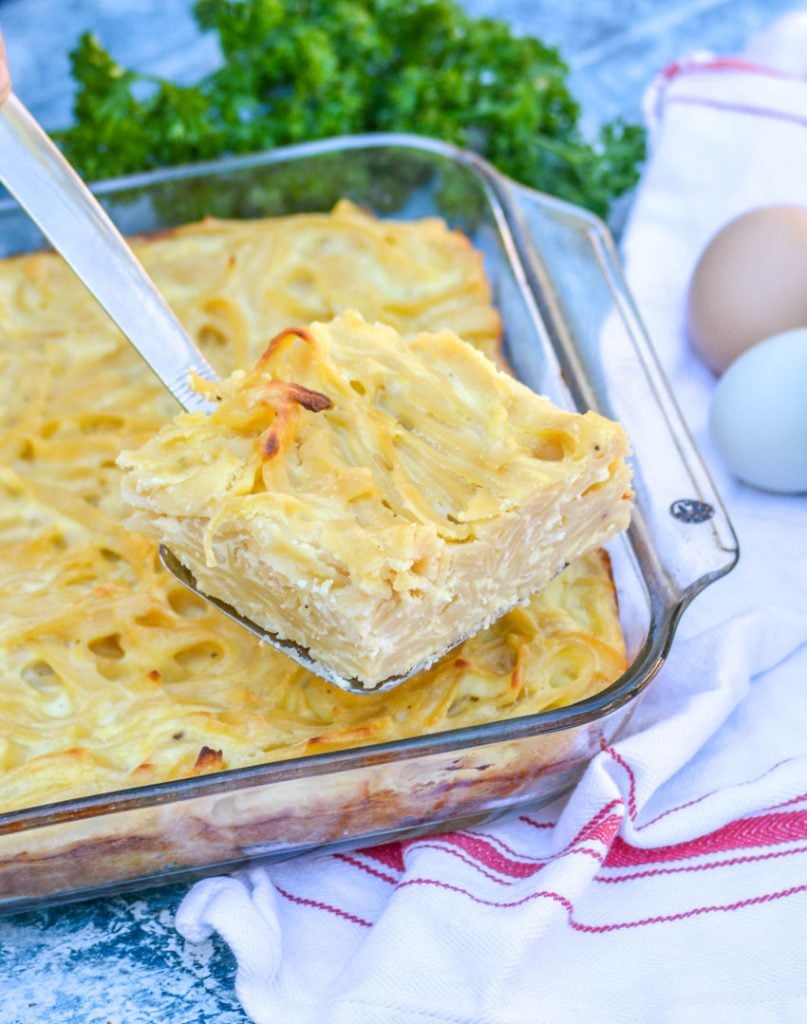 There's nothing simpler than her recipe for Italian macaroni pie. It combines two of everyone's favorite things. Cheese & pasta. Who doesn't love cheese & pasta together in a delicious dish?!
My rational brain knows there are people who don't, but it's also reminding me they're not in my immediate gene pool & therefor don't affect my ability to thoroughly enjoy the combination.
WHAT INGREDIENTS ARE NEEDED FOR AN ITALIAN MACARONI PIE?
The ingredients list is super short. Surprisingly so for a lot of people when they hear it's an 'Italian' dish. It may be Italian-American at best, but it does highlight some of their best basic ingredients.
This recipe uses a long pasta such as fettuccine, real butter, creamy ricotta cheese, fresh eggs, and is simply seasoned with salt & freshly ground black pepper.
That's only four ingredients, not including the super simple seasoning. And yet I kid you not, it's baked into a magical dish that makes a classic comfort food dream come true.
WHY IS A PASTA CASSEROLE CALLED A PIE?
The casserole as we know it is actually derives from a French word. It can refer to either food cooked in the oven, or food served in an oven safe vessel (or drum).
It really found it's footing in America during the 1950's & 60's. It's hey day basically included throwing your favorite things together and hoping to enjoy a delicious result. Even all these years later, the term is really just an American thing.
Many other countries tend to refer to things thrown in a dish & baked to perfection before serving as 'pies'. While I'm used to associating the word with a buttery crust, that's not a must or a necessity in other countries. This version was Americanized by my husband's Nonna after she immigrated and made due with more modern cooking conventions and available ingredients.
However, as a very young child she remembers her parents making something called a timballo. Basically it's a baked Italian dish with a base of pasta, rice, or potatoes, with one or more other ingredients mixed in (like cheese, meat, fish, vegetables, or fruit).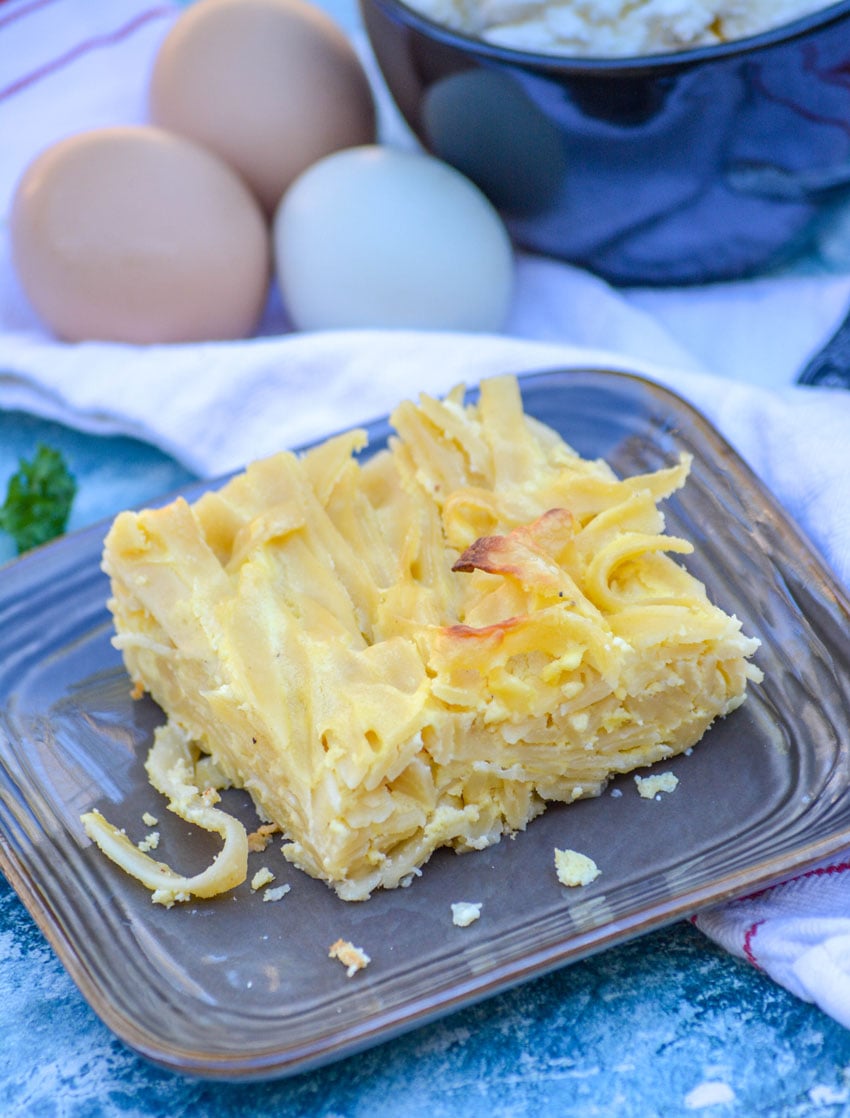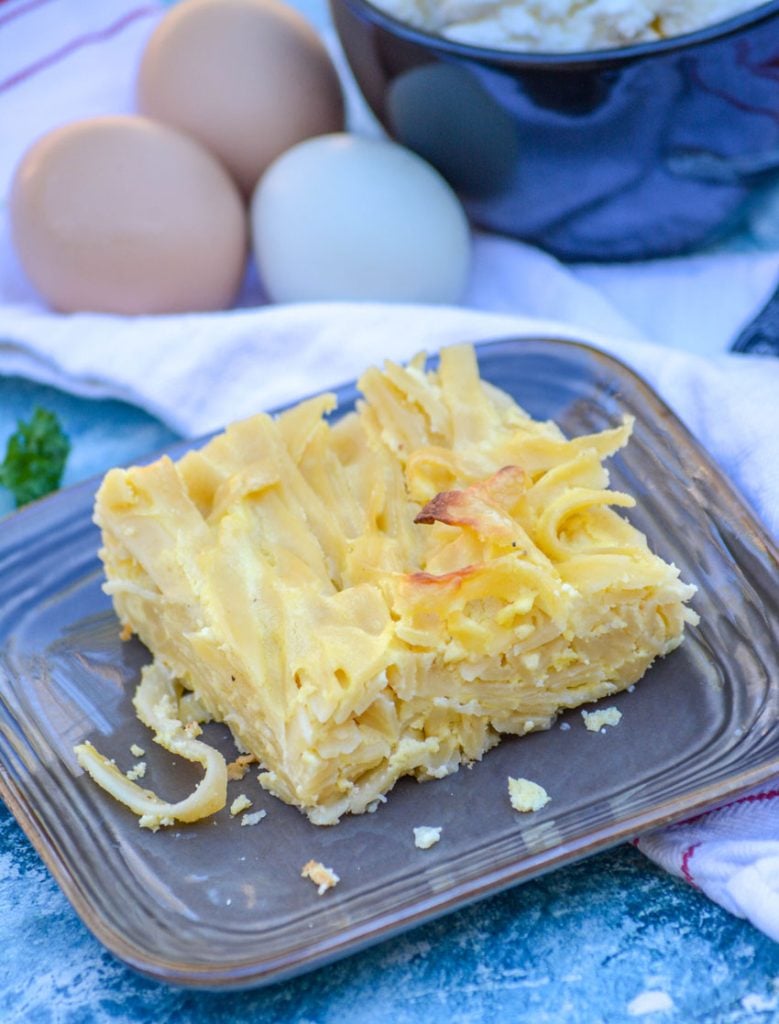 If that doesn't check all my boxes in my modern kitchen, I'm not sure what will! It's got the potential to be the ultimate clean out the fridge meal, a true casserole!
As my husband's great grandparents and grandmother adapted to their new home & learned the language they stopped using the word timballo. Actually I don't think the parents did, but by the time my husband came along- in Nonna's kitchen it was referred to as her Italian macaroni pie.
HOW DO YOU MAKE A CLASSIC MACARONI PIE?
It's extremely simple to throw together, but unlike other easy casserole this one does require a few key steps to come together without any problems. This is largely due to working with ingredients like fresh eggs and hot pasta.
It's easy enough, even for the newest of beginners or the busiest of parents. Just make sure you pay attention and follow each step to the letter.
The pasta is cooked until it's a true 'al dente'. This Italian term just means cook it until it's cooked, but still firm when bittern. Instructions for how long to cook the pasta should be clearly written on the box. Have your ingredients ready, because you'll need to work quickly for the best results.
Transfer the cooked pasta to a colander, and drain it off all water. Do this as soon as it's reached the desired consistency. You can loose 'al dente' quickly. Pasta is a fickle thing that can go from perfect to soggy & over cooked in a matter of seconds.
Return the strained pasta to the hot pot, and stir in the butter. Continue stirring until the butter's all melted and the pasta's completely coated with it. Add the ricotta & stir it into the pasta until evenly combined.
Scrambled your eggs, and season them liberally with salt & freshly cracked black pepper. Begin stirring the pasta, and slowly pour in the eggs, continuing to stir until they're also stirred in & the mixture's smooth.
At this point you can spoon the mixture into a 9×13 pan that's been sprayed with non stick cooking spray. You can use a smaller 7×11 inch pan if you'd prefer thicker slices. The cooking time remains the same. The creamy ricotta pasta casserole is then baked at 425 degrees for 25 minutes.
Whatever you call it, it remains simple & utterly delicious. It's a real crowd pleaser, even for the pickiest of eaters. It's also easily adaptable to your own preferences.
TIPS & TRICKS FOR MAKING NONNA'S ITALIAN MACARONI PIE:
Use whole milk ricotta cheese. Yes, you can skim off a few calories with the lower moisture version but you will lose creaminess and that's a big part of the overall uniform texture.
Don't be worried about tempering your eggs before adding them. The cool ricotta stirred into the hot pasta and butter will help naturally do that for you and prevent them from scrambling.
This is another recipe where pasta prep is key. When you bring your pot of water to a boil, salt it heavily. Think salty like the sea. That's the boiling water you want to cook your pasta in. It will mean less salt needed overall, and help the starches in the pasta break down.
Once you've added the pasta, use the recommended cooking time as a guide. Keep a close eye on it, stirring often. Taste as needed. 'Al dente' pasta should taste completely cooked (not raw), but still be firm in texture. As soon as your pasta's reached this consistency you want to strain it immediately. This will prevent it from overcooking which can happen shockingly fast. It's especially important because this isn't the only cooking the pasta will go through, it still has to be baked too.
We call for fettuccine in this recipe, but I have it on good authority that Nonna often subbed linguine, spaghetti, and even elbow noodles if that was all that was on hand. That being said, the longer pastas yield a better texture, and part of that comes from the height of the macaroni pie when baked. If using a smaller pasta like elbow noodles, then definitely opt of the smaller 7×11″ baking fish.
Worried it will be too bland? My advice will always be try it as is before hand, and if you still feel that way add some dried Italian seasoning to the ricotta before stirring it in. Or add a couple teaspoons of freshly diced basil leaves to the mixture. A little goes a long way in this simple dish.
This pasta casserole is easy to store. You can cover it with tin foil, refrigerate and reheat when ready to enjoy leftovers- or you can use Nonna's genius hack.
She would cut the leftovers into equal portions, and wrap each one individually in cling wrap. That way anyone could grab one and go. You could pop it onto a plate to heat & eat, or enjoy it cold on the run. Believe it or not, a lot of the kids actually preferred it cold. Either way, leftovers were no problem!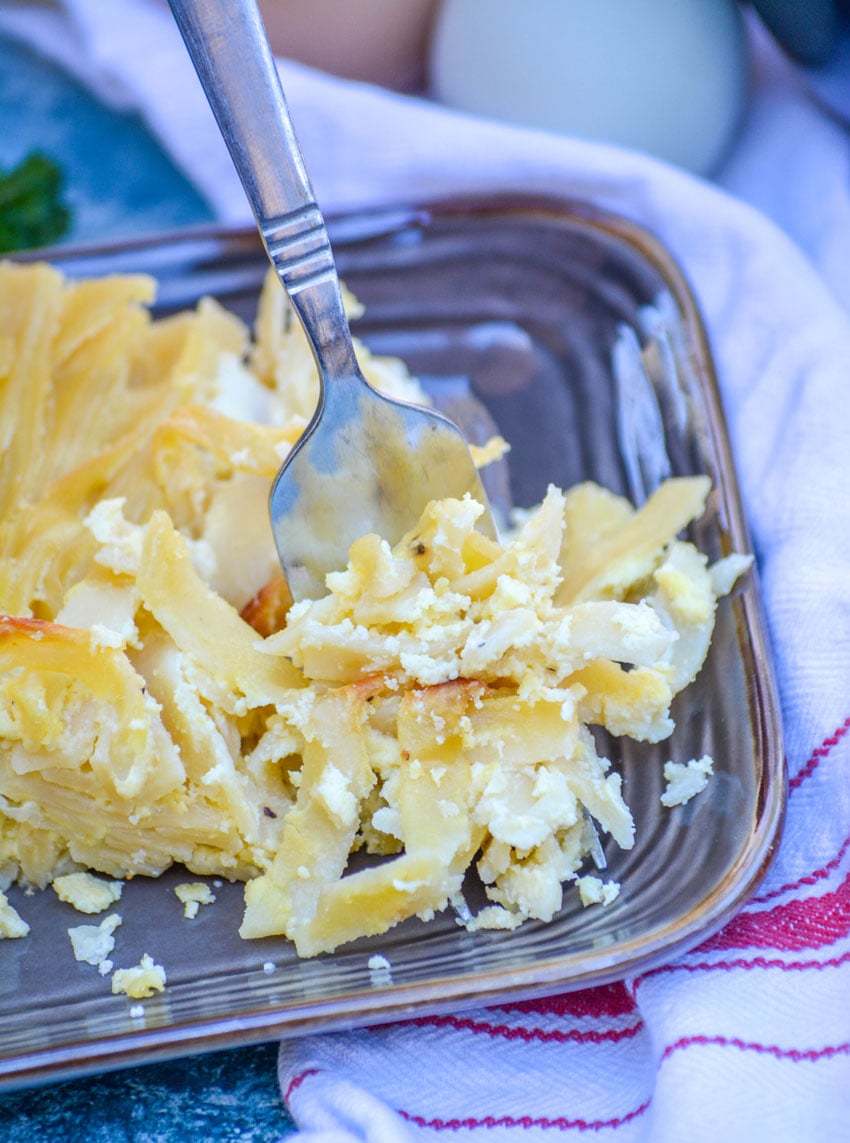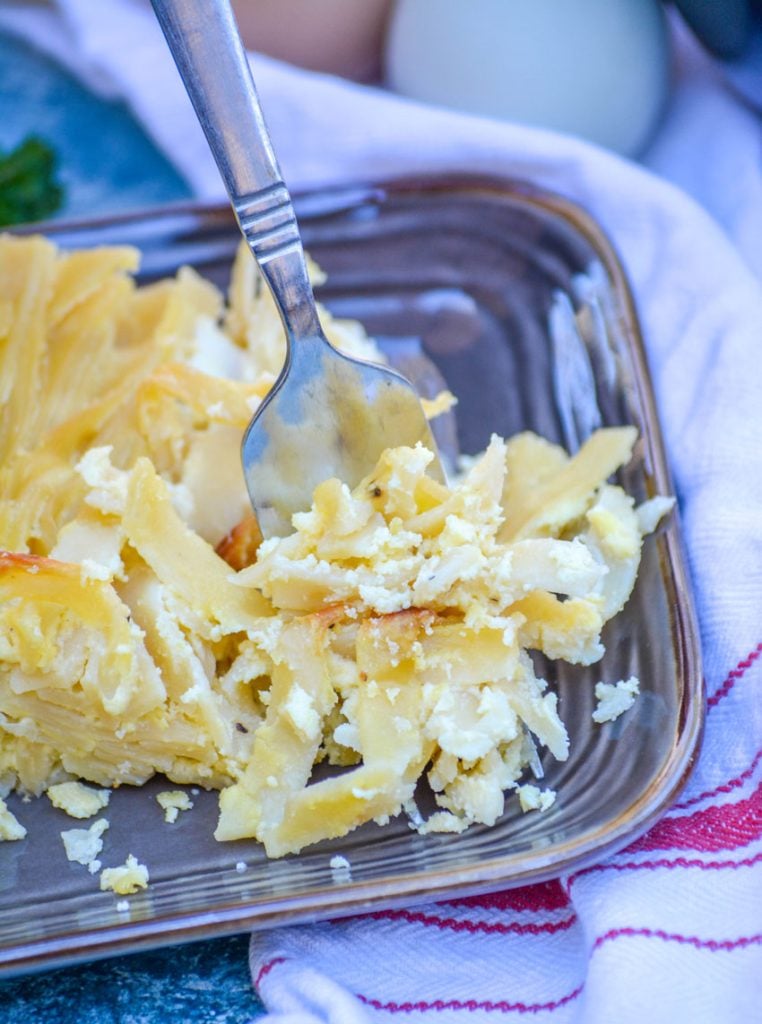 Whether you've got Italian somewhere in your ancestry, or just appreciate it's fine cuisine- this is a cozy dish straight from our Italian Nonna's kitchen.
From her table to yours, Nonna's Italian macaroni pie is guaranteed to please everyone- from the one doing the cooking down to the one's savoring each bite. Second helpings are guaranteed!
OTHER SIMPLE ITALIAN COMFORT FOODS TO COZY UP TO:
If you've tried NONNA'S ITALIAN MACARONI PIE, or any other recipe on my site, let me know in the comment section how it turned out, we love hearing from our readers! You can also follow along with me on PINTEREST, FACEBOOK, and INSTAGRAM to see more amazing recipes and whatever else we've got going on!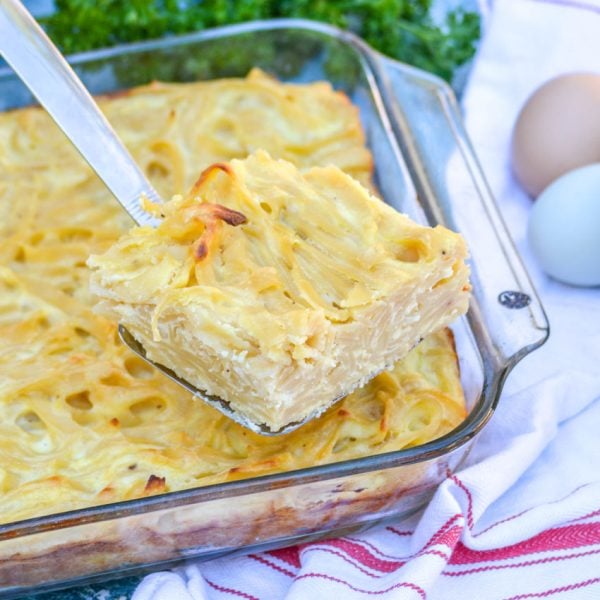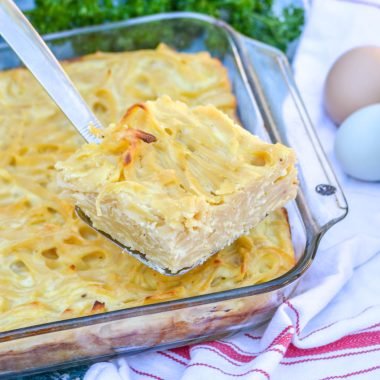 Nonna's Italian Macaroni Pie
A classic Italian comfort food, this cheesy pasta casserole was every kids favorite when Nonna served it for a simple supper.
Print
Pin
Rate
Ingredients
1

lb

fettuccine pasta

1

stick

butter

1

lb

ricotta cheese

6

eggs

salt & pepper

to taste
Instructions
Cook the fettuccine according to the package directions, until al dente.

Pour the cooked pasta into a colander and drain completely. Transfer it to a large mixing bowl.

Add the butter, stirring until it's completely melted & coating the pasta.

Stir in the ricotta until it's also evenly combined.

In a separate, smaller mixing bowl- whisk together the eggs until scrambled. Generously add salt & pepper to the egg mixture.

Slowly pour the scrambled eggs into the pasta mixture while stirring until all the eggs are added and completely incorporated.

Prepare a 9x13 inch baking dish by spraying generously with non stick cooking spray. Add the pasta mixture to the dish, and spread it out evenly. Season again with more salt & pepper, if desired.

Bake the macaroni pie at 425 degrees for 25 minutes. Let it rest 2-3 minutes before slicing and serving.
Nutrition
Calories:
457
kcal
|
Carbohydrates:
44
g
|
Protein:
18
g
|
Fat:
23
g
|
Saturated Fat:
13
g
|
Cholesterol:
182
mg
|
Sodium:
199
mg
|
Potassium:
232
mg
|
Fiber:
2
g
|
Sugar:
2
g
|
Vitamin A:
783
IU
|
Calcium:
151
mg
|
Iron:
2
mg