A tried and true creamy, cheesy pasta dish is a cornerstone of any home-cook's kitchen. This Copy Cat Stouffers Macaroni & Cheese recipe is one you want to keep on hand. It's easy & delicious, making it perfect for almost any occasion.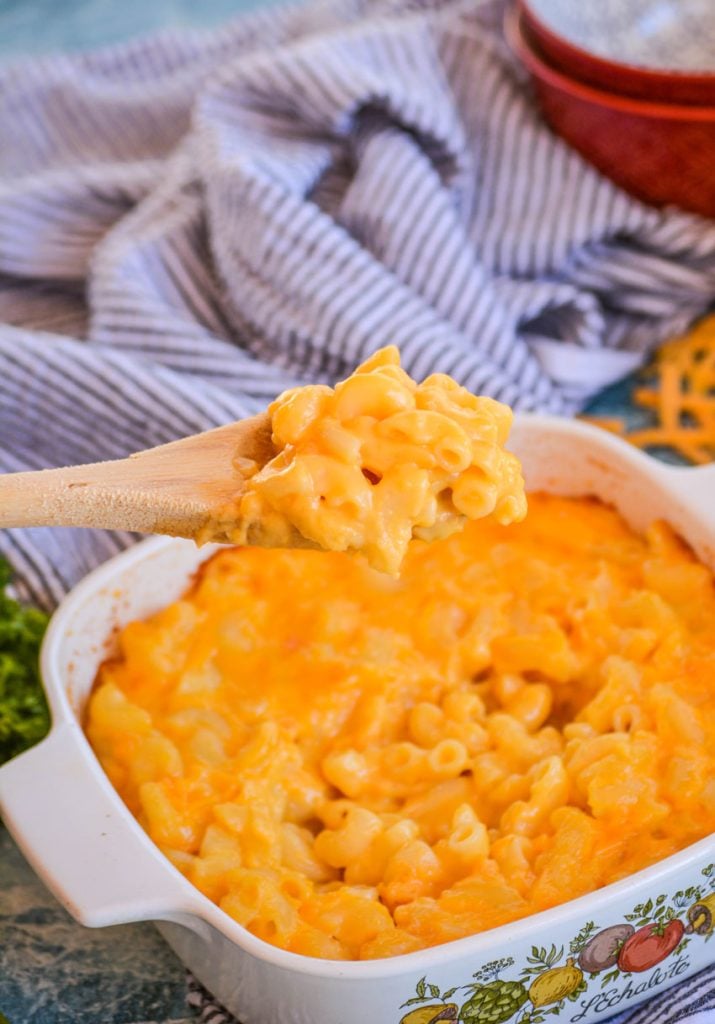 Our family's no strangers when it comes to the creamy, delicious cheese laden pasta dish that's macaroni & cheese. Seriously, it combines two of our most favorite things. Cheese & pasta.
Who doesn't love those two things. Who doesn't love them even more when they're combined together?
If you're at all familiar, you'll immediately want to bookmark our Southern homestyle mac and cheese. It's a quintessential recipe.
Every cook should have a solid mac & cheese recipe in their arsenal. That's just basic kitchen 101.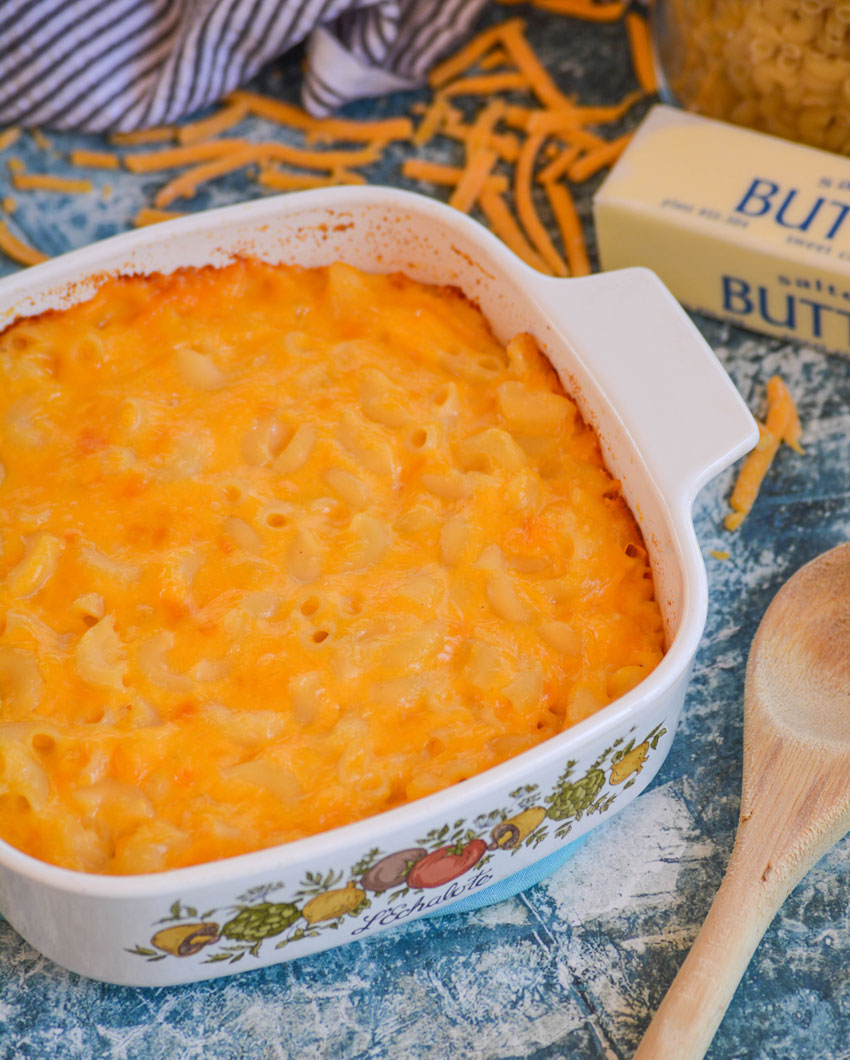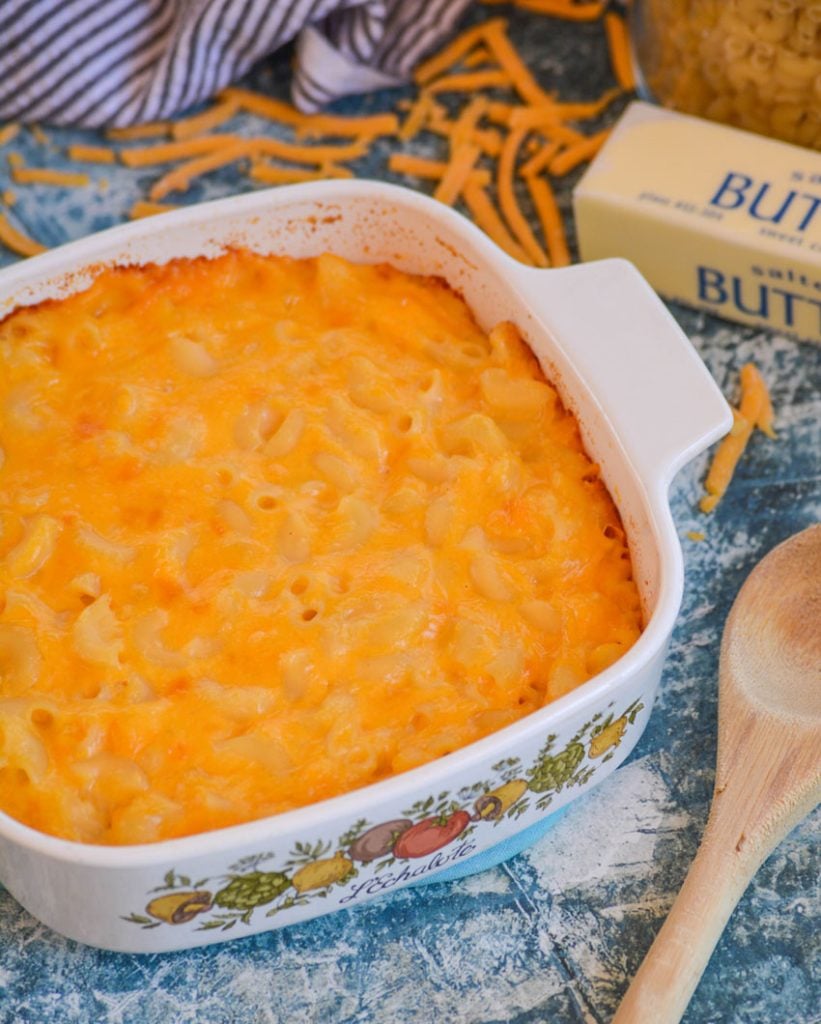 We love the classic combination so much, we've managed to stuff it into as many different dishes as possible.
Really when you think about it, I mean the possibilities are pretty much endless…
On our site alone we've got macaroni and cheese donuts, mac and cheese soup, even a grilled mac and cheese sandwich. I wasn't kidding when I hinted that we mac and cheesed all the things. We seriously love the stuff.
One of my favorite mac and cheeses ever is the frozen Stouffer's brand. It's rich, it's creamy, and it's the ultimate in cheesy pasta based joy.
That led me to trying recipe after recipe in search of a true Stouffer's copycat recipe that I could make at home. I tried recipe after recipe, and most disappointing. The ones that didn't, well they still weren't what I was actually looking for.
It only took about 10 years, but I'm happy to share with y'all that I finally found what I was looking for.
I can't wait to share with you all the delicious things that make up this yummy Copy Cat Stouffers Macaroni & Cheese recipe work so perfectly.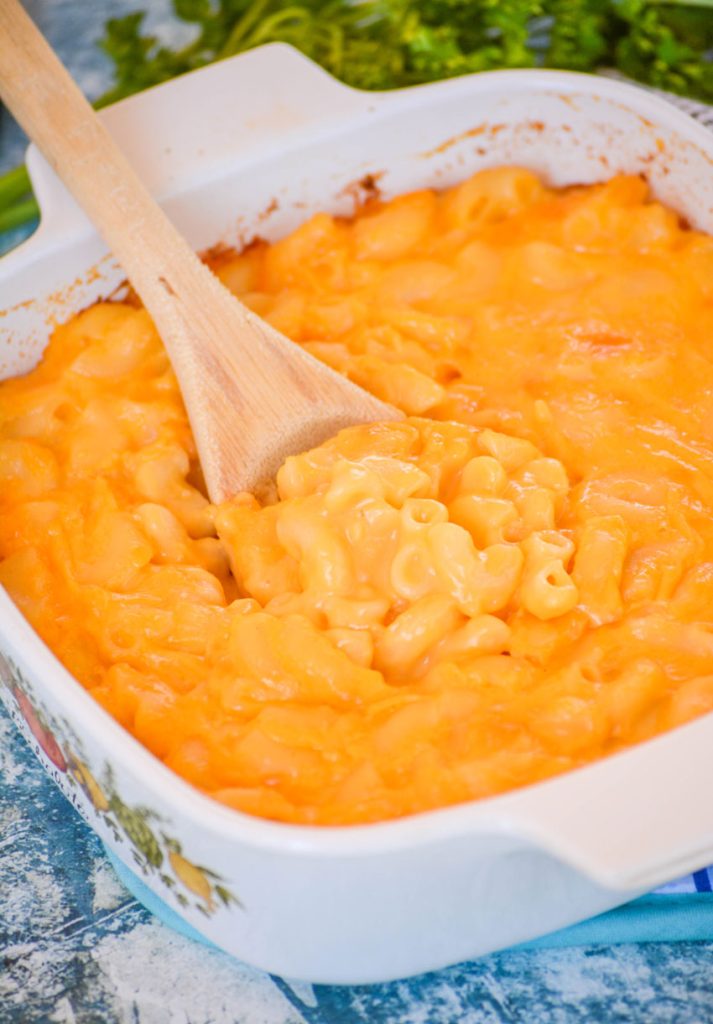 WHY THIS MAC & CHEESE RECIPE WORKS:
The cheeses and sauce ingredients in this recipe combine to form a rich mac and cheese. Loaded with pasta & cheese, this version's tangy ultra-smooth & creamy.
While the recipe does include both butter & flour, we don't start off with a traditional roux. Instead everything simmers together low & slow to form a cream sauce that won't curdle.
This recipe only requires a handful of ingredients making it perfect for any occasion, busy nights or potluck parties.
It really is the perfect recipe for foolproof macaroni and cheese. Rich, creamy homemade mac and cheese is always a winner around here.
This copy cat Stouffer's macaroni & cheese may taste just like it's store-bought, frozen food section counter part- but this version is so much better for you.
STOUFFERS MAC AND CHEESE INGREDIENTS:
milk
flour
cheddar cheese
butter
salt
pasta
That's it.
I'm sure there are going to be plenty of skeptics that don't believe I can pull off a truly creamy mac and cheese from such a short, simple ingredient list. To them I say, give it a try.
Seeing is believing.
Another reason I love this recipe is that it's perfect for any age and any level of home cook. Nothing fancy's required know-how, equipment, or other-wise.
It's a great way to get the kids excited about what's on the menu, and to get them familiar with basic cooking techniques without them feeling 'taught' or forced.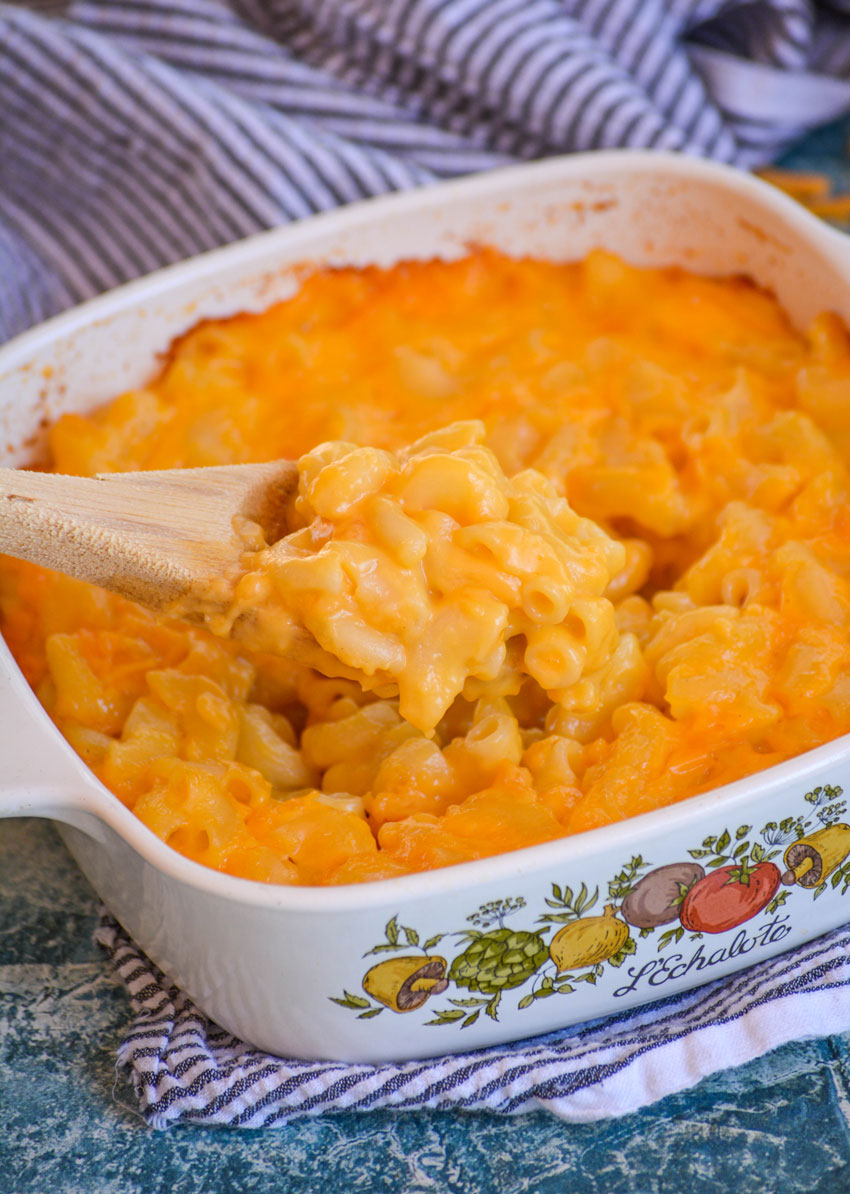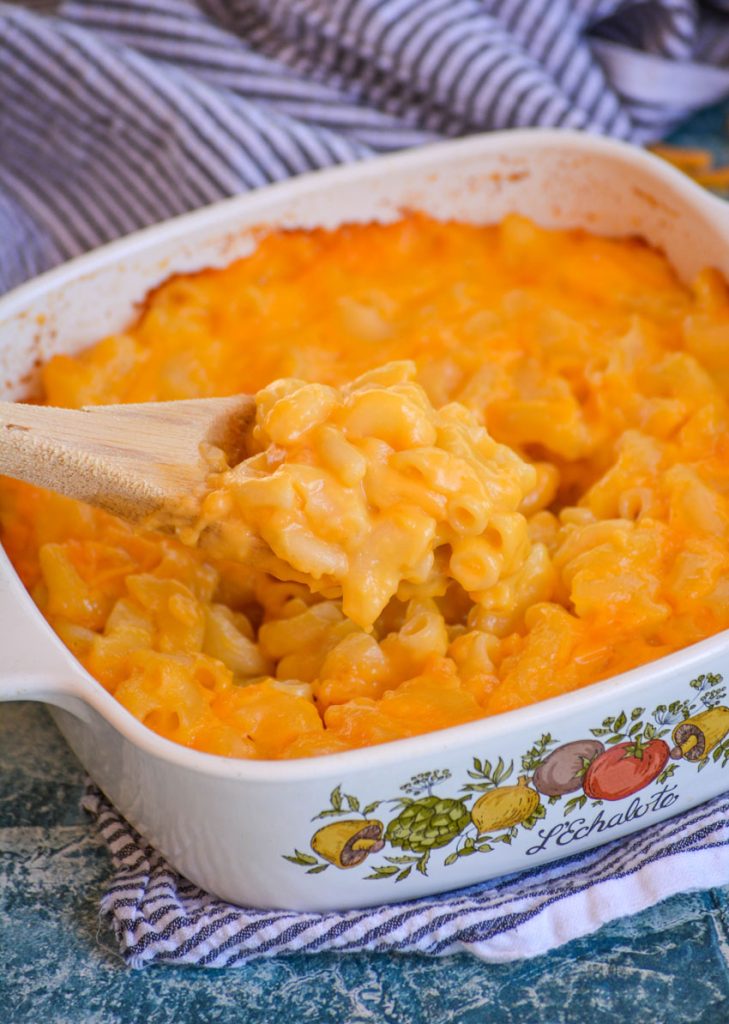 A couple things to consider before we get into this recipe's details:
WHAT PASTA IS BEST FOR MAC AND CHEESE:
For mac and cheese, just like many other sauce laden pasta dishes- you want a pasta that the sauce will cling to & not get lost in. Since this recipe uses a heavy cheese-based sauce, I recommend a smaller pasta shape.
The sauce clings better to it, and seeps into & stays in the nooks and crannies. This insures maximum cheesiness and creaminess in every single bite.
IS MACARONI AND CHEESE HEALTHY:
I've been surprised by how many times I've been asked this question when bringing this dish to a gathering.
While there are things you can do (substitutions to be made) to make it a healthier dish- cheese and pasta aren't inherently healthy by themselves.
This dish was not designed to be healthy, by default. It's pure comfort food, or soul food as a lot of people down here would label it.
If you want to make it healthier, I'd suggest decreasing portion size.
Another alternative is making this your meal's main course, and serving it with a healthy side like a simple salad and a steamed veggie. It's rich enough that you won't miss a meat on your plate, at least not with this meal.
Also, as written this meal isn't 'allergy' friendly. We're fortunate enough not to have any obvious allergies in our family.
If you have loved ones with dairy or gluten allergies, this recipe is easily adaptable to their needs with simple substitutions. Swap the milk for an approved alternative, and use a gluten free pasta you enjoy.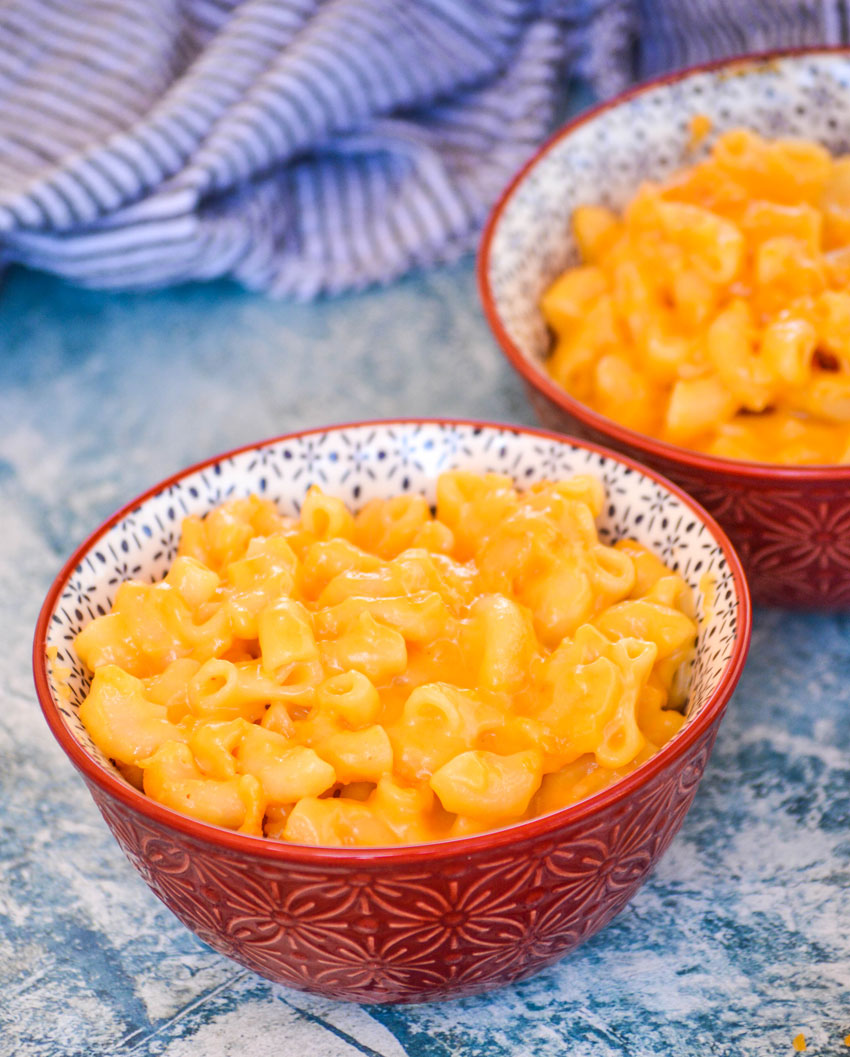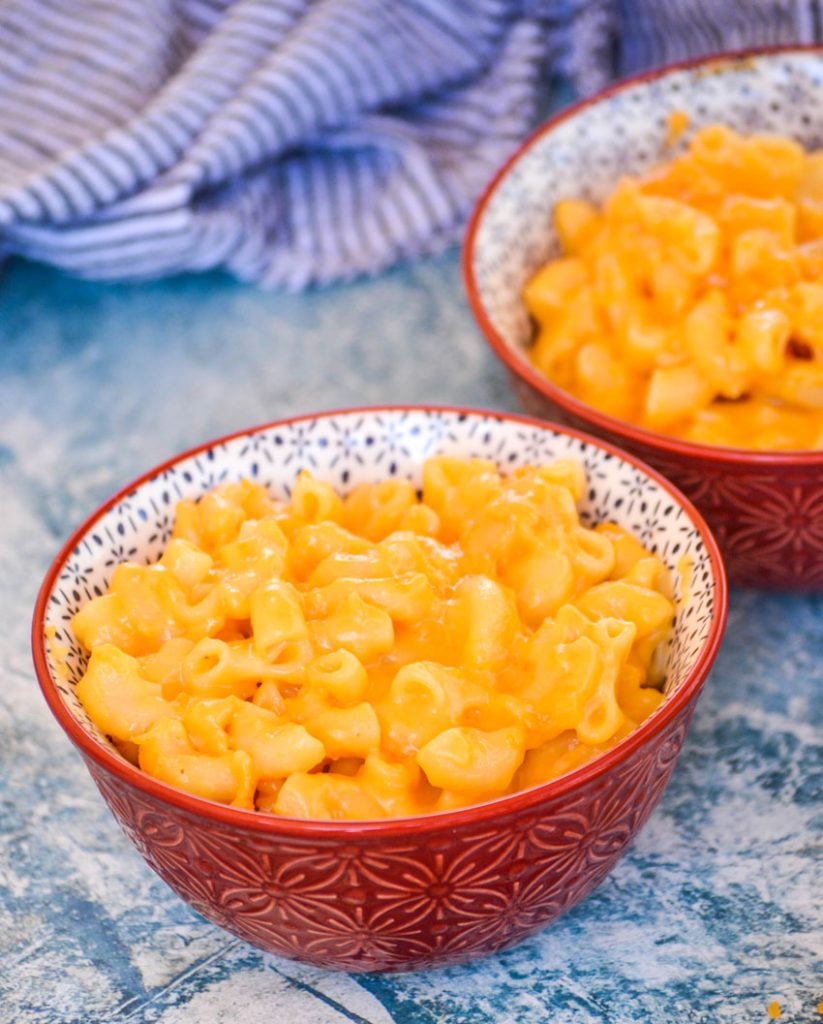 As mentioned earlier, this mac and cheese recipe is really easy to whip up. It does take close to an hour though, so plan accordingly.
Otherwise, it's my new favorite go to because of just how simple it is.
MAKING COPY CAT STOUFFERS MACARONI AND CHEESE:
Whisk the flour and milk together in a skillet until smooth. Heat over medium heat.
Whisk in the cheese, salt, & butter into the mixture until the cheese begins to melt.
Reduce the heat to low. Let the cheese sauce simmer for 30 minutes, whisking occasionally.
Prepare the sauce according to the package instructions. Strain.
Combine the pasta & cheese sauce in a large mixing bowl.
Spray a casserole dish with non stick cooking spray.
Transfer the pasta to the prepared dish. Spread out.
Bake the macaroni at 350 degrees for 25 minutes.
Let the dish rest for 60 seconds before scooping and serving.
Nothing hard. Nothing overly complicated. Just delicious creamy mac and cheese waiting at the end of the to-do list.
Something you can feel pretty good about, considering this version didn't take any short cuts to come together.
That doesn't mean there aren't other short cuts I don't embrace wholeheartedly with this recipe. Namely the make-ahead, meal prep kinda thing.
One of my favorite things about buying Stouffer's mac and cheese, is literally that it's frozen. All the work's pretty much been done for me. All I have to do is grab it out of the freezer.
That's a huge blessing on busy nights, or not busy nights when I'm just burnt out on cooking in general. Or ya know, just being really lazy. It happens.
It wouldn't be a true Stouffer's copy cat recipe unless I'd found a way to replicate that same freezer friendly meal deal. So that's exactly what we did.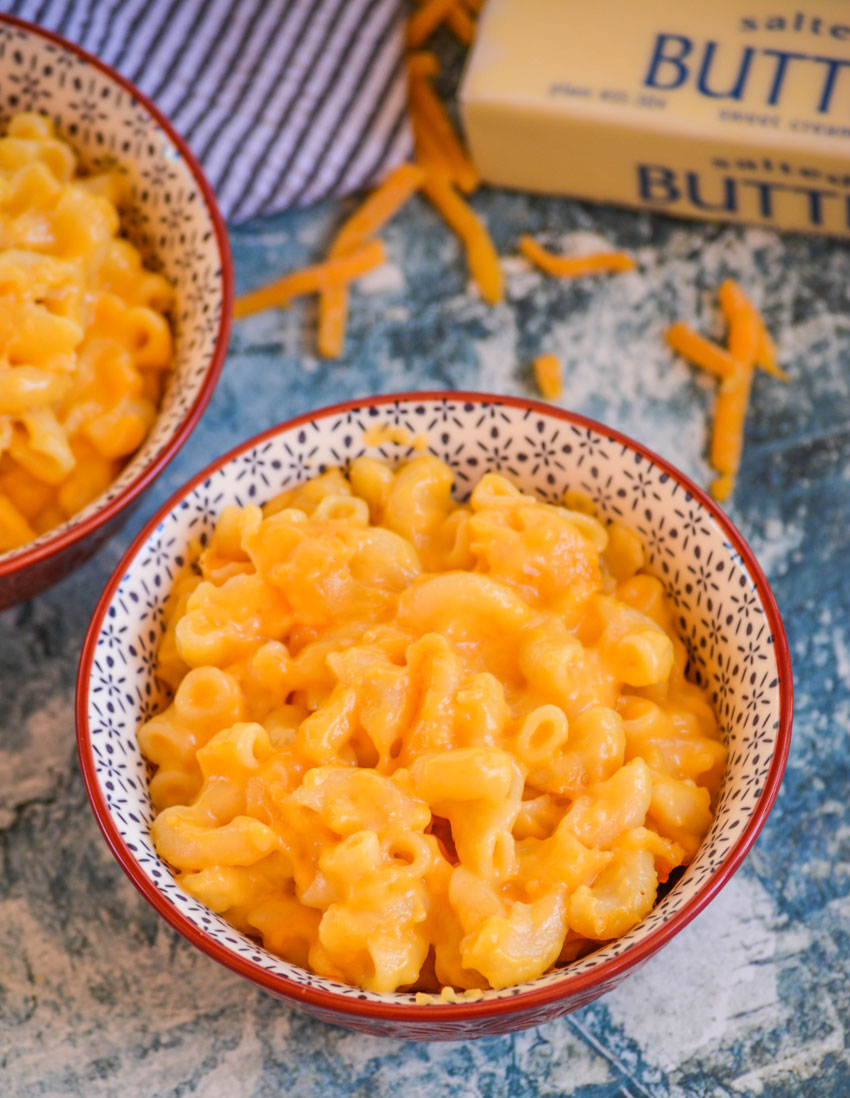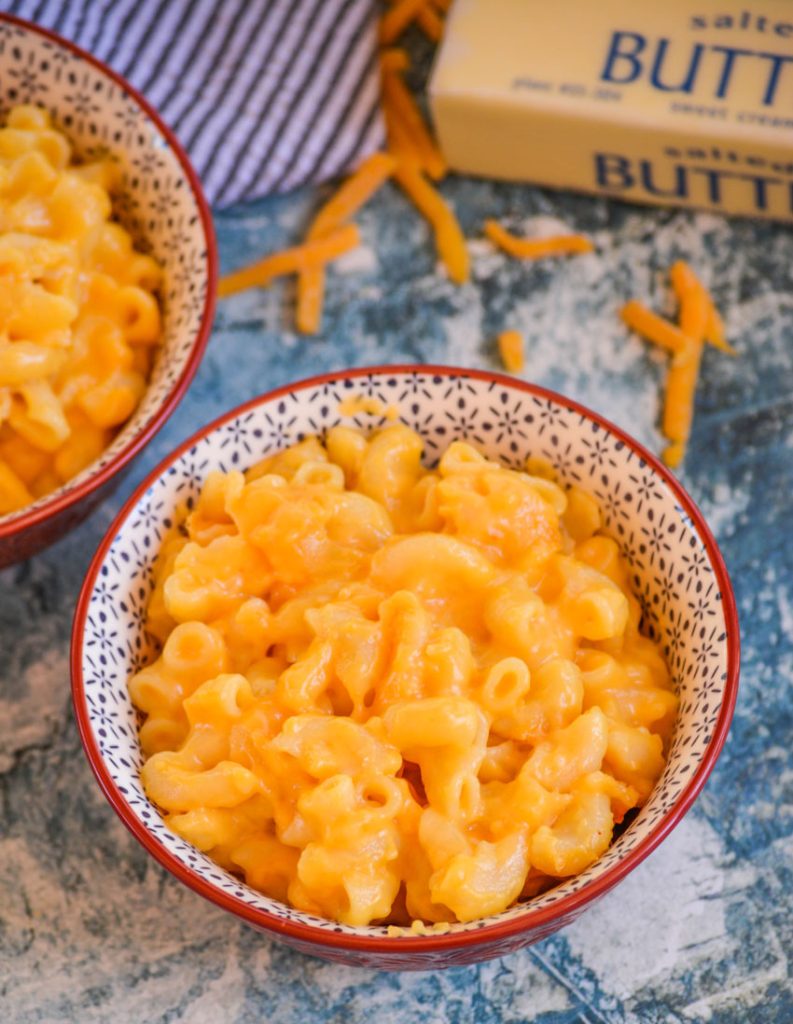 HOW TO MAKE THIS A FROZEN MAC AND CHEESE RECIPE:
Making this dish freezer friendly is actually very simple. Bake the recipe as is, following all the steps accordingly.
When the dish is removed from the oven, set is aside, and let it cool completely.
Cover the dish tightly, aluminum foil works best, and place it flat in a freezer. It will stay good in the freezer for up to three months.
When ready to cook, remove the dish from the freezer bake the frozen mac and cheese for 55-60 minutes.
Basically until it's cooked through, bubbly, and the edges are slightly golden brown. That's it, serve & enjoy!
TIPS & TRICKS FOR THIS STOUFFERS COPYCAT RECIPE:
The recipe calls for milk. I suggest skim milk. I know macaroni and cheese probably makes you think of cream, or fuller fat versions. I wouldn't suggest using anything above 2%. It will affect the cheese melting smoothly.
While the recipe calls for elbow noodles, not all pastas are the same or end with the same results. If you don't have those on hand, I suggest subbing other small shapes- shells, ditalini, or even mini farfalle.
I always keep store bought shredded cheese on hand- I mean it's convenient. That's what I most often use in this recipe. However, if you really want to take this mac and cheese up a notch, use freshly shredded cheddar. Just reduce the sauce simmer time, as it will melt much quicker.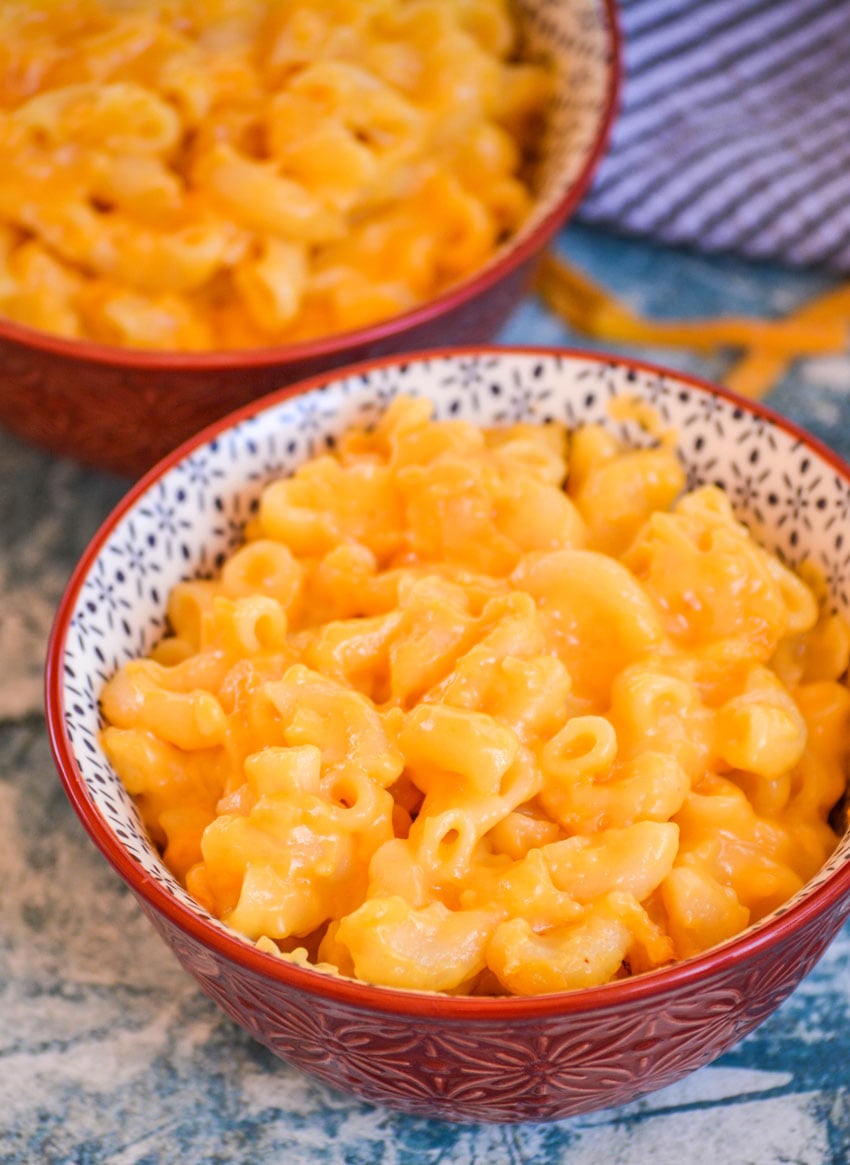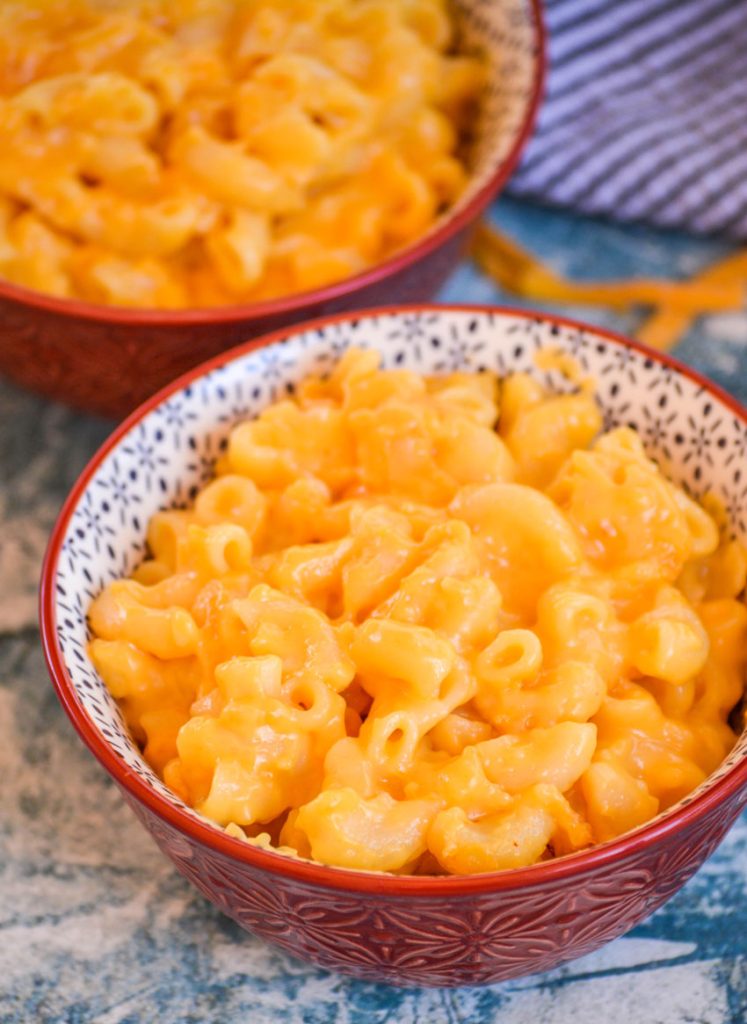 That's it, you're just a few simple ingredients & easy steps away from the most amazing homemade macaroni and cheese of your life. Even better, because it's a copy cat Stouffers macaroni & cheese.
There's mac and cheese, and then there's macaroni and cheese. One try, and this version will be set on a pedestal above the rest.
OTHER FUN MAC AND CHEESE IDEAS TO TRY:
If you've tried this COPY CAT STOUFFERS MACARONI & CHEESE, or any other recipe on my site, let me know in the comment section how it turned out, we love hearing from our readers! You can also follow along with me on PINTEREST, FACEBOOK, and INSTAGRAM to see more amazing recipes and whatever else we've got going on!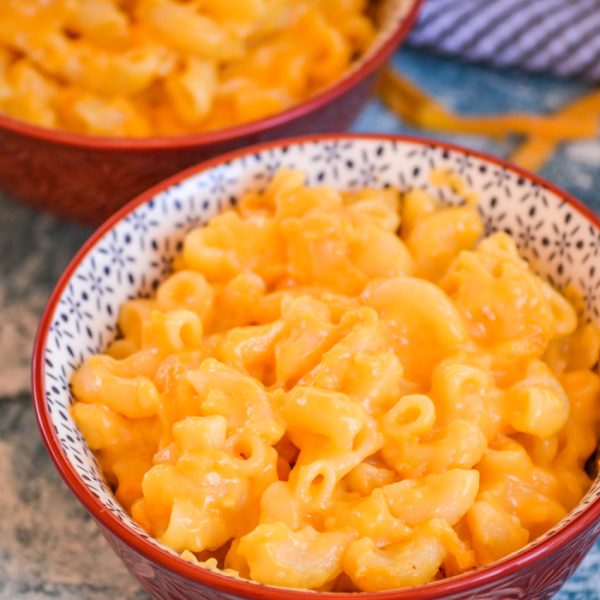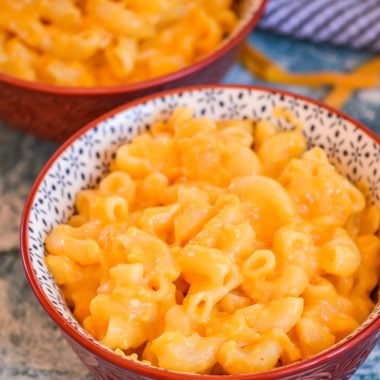 Copy Cat Stouffers Macaroni & Cheese
A creamy cheesy dish, this one is for fool proof macaroni and cheese that tastes just like the Stouffer's version.
Print
Pin
Rate
Ingredients
1

cup

milk

skim suggested

5

tsp

flour

2

cups

shredded cheddar cheese

2

tsp

salted butter

1/4

tsp

salt

3/4

cup

uncooked elbow noodles
Instructions
Add the flour to a small skillet. Pour in the milk, and whisk quickly until the two are completely combined without lumps. Heat over medium heat.

Add the cheese, butter, and salt to the mixture. Whisk constantly until the cheese begins to melt.

As soon as the cheese begins to melt, reduce the heat to a bit above low and let the cheese sauce simmer for 30 minutes. Whisk every few minutes to encourage melting, while the sauce comes together and thickens.

When the sauce begins to thicken, prepare the pasta according to the boxes directions. If finished before the sauce, strain, and run under cool water to stop cooking and prevent sticking. Transfer the pasta to a mixing bowl.

Once the cheese sauce is done simmering and thickened finally, pour it over the pasta. Stir until the pasta's evenly & completely coated. Transfer this to a casserole dish that's been lightly sprayed with non stick cooking spray.

Bake the mac and cheese at 350 degrees for 25 minutes.

Remove from the oven, let the dish rest 60 seconds, and serve immediately.