A layer of crispy french fries top a house salad in this delicious regional dish. This fun twist on a traditional salad makes the Pittsburgh Salad a must try!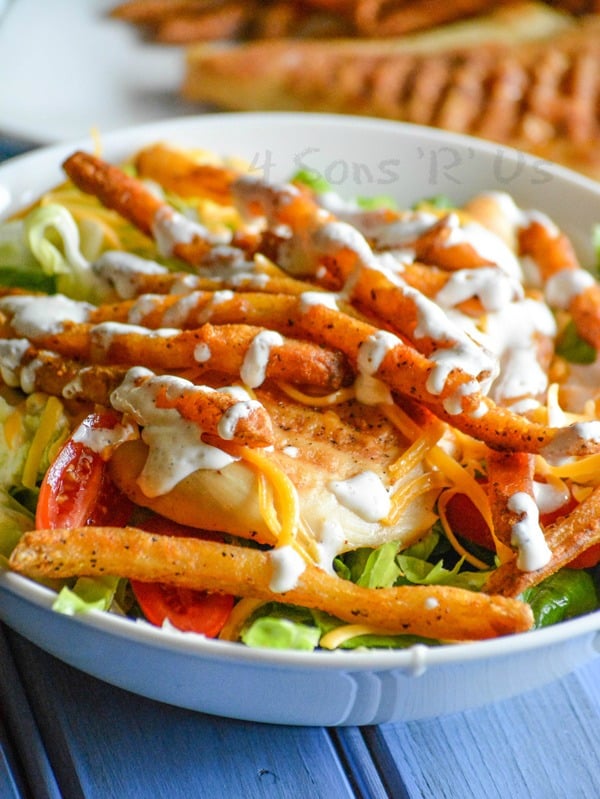 Growing up, Pittsburgh seemed like a world away. I'd never been there, didn't know anyone there, and never even thought I'd ever have a reason to go there.
Fast forward to my current life, and I'm married to a 4th generation Italian immigrant, with a bit of Polack thrown in for good measure.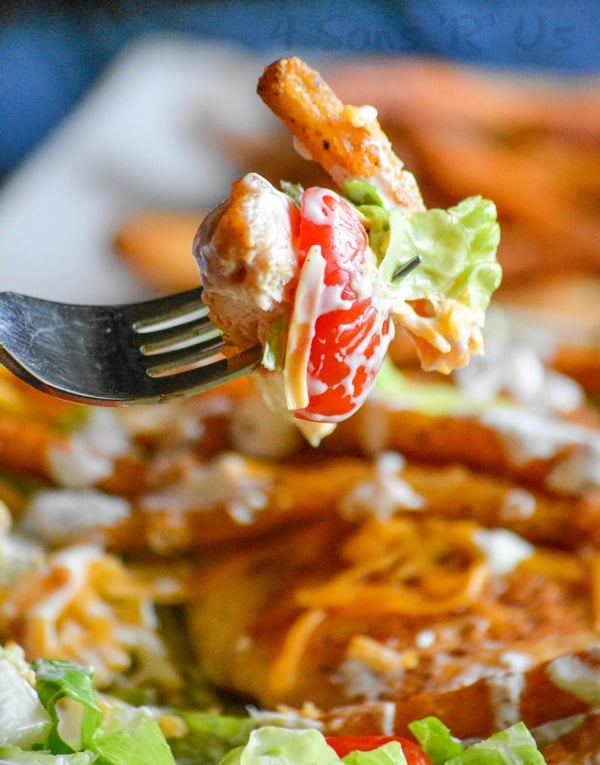 Thanks to my husband's Great Great Grandfather, he still has his true last name. Brothers immigrated together; one chose to keep his heritage via his native last name, and the other chose to Americanize his, as was suggested.
Ironically enough, everyone settled in the hot bed that is Pittsburgh, Pennsylvania and the suburbs surrounding it. Both brothers, happily enough.
Roughly 80 years later, we've dispersed– or I guess I should say that they have, and they've moved across the country.
Our last name is unique. And while there's still only a handful of us, we now hail from all corners of the U.S.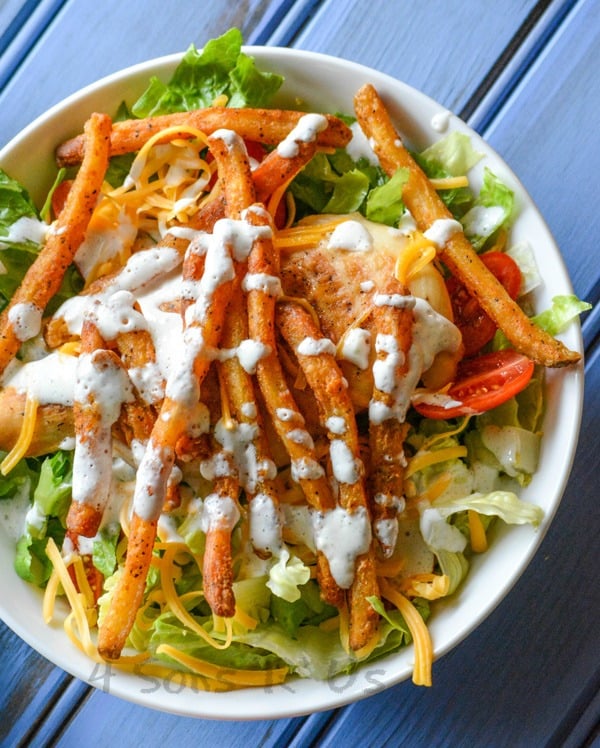 The annual trek 'home' still happens, except for our generation– it isn't a trip to the family farm in the fields of Italy anymore. It's packing everyone up and loading the car for the 7-8 hour drive back home to Pittsburgh.
It is a trip we all always look forward to making.
It's a wonderful city with a blend of so many cultures, which means so many flavors. I was simply overwhelmed the first time I went.
The best gyro I've ever had is still the one from a random street vendor on the corner selling them out of a ramshackle tent.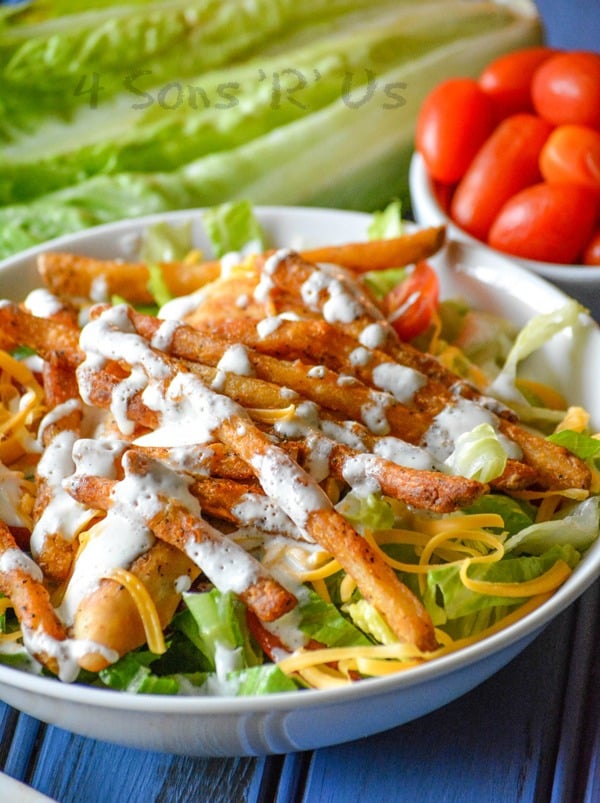 This weekend my sons all head off for a visit 'home' with their Nonno to help move, and comfort, their Great Nonna into a nursing home.
Nanny may be small in stature, but she is fierce- and firmly independent since the death of her beloved husband. And she fiercely vets new additions to the family.
96 years young, so this is a big change and one I think will be important for her great grandsons to witness, but also to be a part of.
Memories last long after we're gone.
My husband and I, unfortunately, have to stay behind and work this weekend. Naturally, we're craving a little taste of 'home'.
Remember earlier when I mentioned that Pittsburgh is a hotbed of distinct flavors? Hold that thought.
There is nothing more unique, or more enjoyable (in my humble opinion), than the Pittsburgh Salad.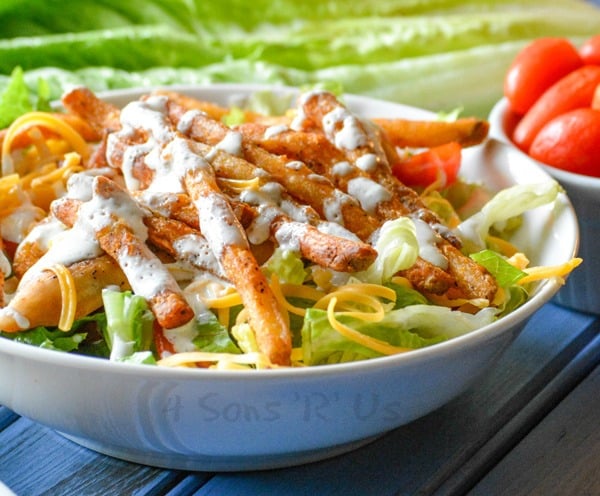 If you grew up anywhere else in the world, you may not be aware that fries on a salad are a thing.
If you grew up in Pittsburgh, you may not be aware that elsewhere in the world french fries on your salad may get you looks of horror from fellow diners.
If you're new to the Steel City's salad staple, I can promise you– it's delicious, addictive even.
A bed of your favorite lettuce is studded with fresh tomatoes, and topped with a juicy piece of grilled chicken or (even more commonly up North) steak (it's a great way to use up any grilled leftovers too!) and a heaping helping of crispy french fries. Sprinkled with cheeses and drizzled with dressing, it's a complete meal in a bowl.
Whether you're looking for a reminder of a hometown favorite, or wanting to branch out and add a little bit of comfort to an otherwise healthy dish– the Pittsburgh Salad has it all.
Looking for some other meals in a bowl on a bed of greens? Make sure you check out our Big Mac inspired cheeseburger salad, as well as our BLT salad bowl.
If you've tried this PITTSBURGHER SALAD, or any other recipe on the site, let me know in the comment section how it turned out, we love hearing from our readers! You can also follow along with me on PINTEREST, FACEBOOK, and INSTAGRAM to see more amazing recipes and whatever else we've got going on!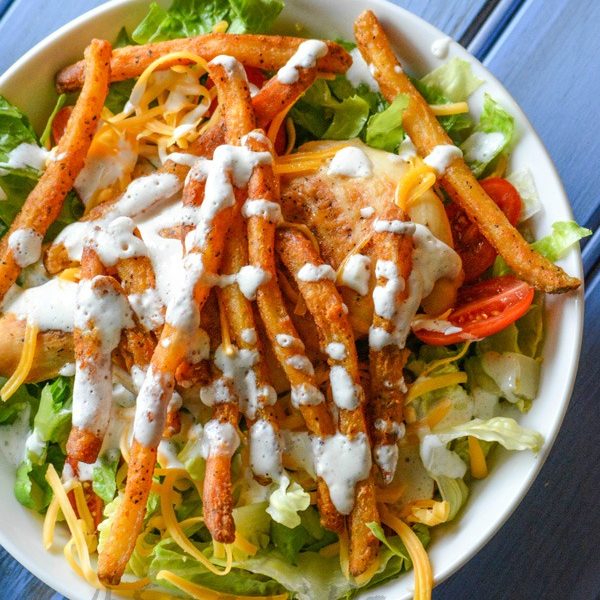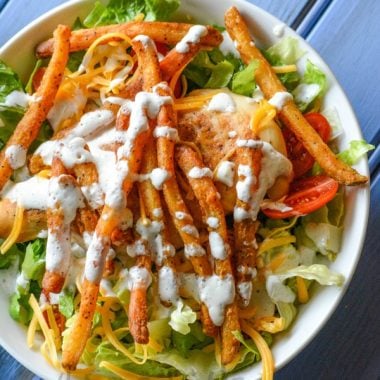 Pittsburgh Salad
A hearty salad that originated in Pittsburgh, it's unique spin on the leafy dish features grilled chicken or steak and a heaping helping of crispy French fries.
Print
Pin
Rate
Ingredients
lettuce, roughly chopped

grape tomatoes

grilled chicken breast, or steak

a dozen crispy french fries

blend of shredded cheddar and mozzarella cheeses
Instructions
Cook the french fries according to package directions, making sure to double, triple, quadruple the amount for the number of desired salads.

Place the desired amount of lettuce into a large, shallow bowl or onto a large plate. Add a handful of tomatoes. Place your grilled chicken, or steak, on top in the center.

After cooking, let the fries cool so that they're warm but no longer actually hot. Spread the fries out over the assembled salad.

Sprinkle with the desired amount of cheese, we usually use 1/4 cup per salad. Drizzle with ranch dressing.

Repeat as many times as necessary for the number of salads required.
Notes
While this salad is true to our experience in Pittsburgh, and our favorite way to enjoy it-- it can easily incorporate your own favorite salad veggies, like cucumbers, carrots, even red onion.
Other Salads You Might Also Enjoy: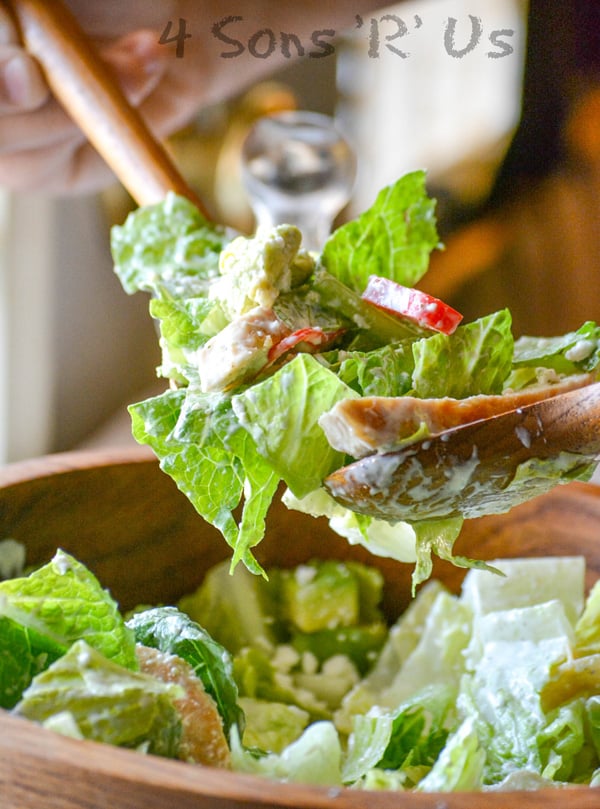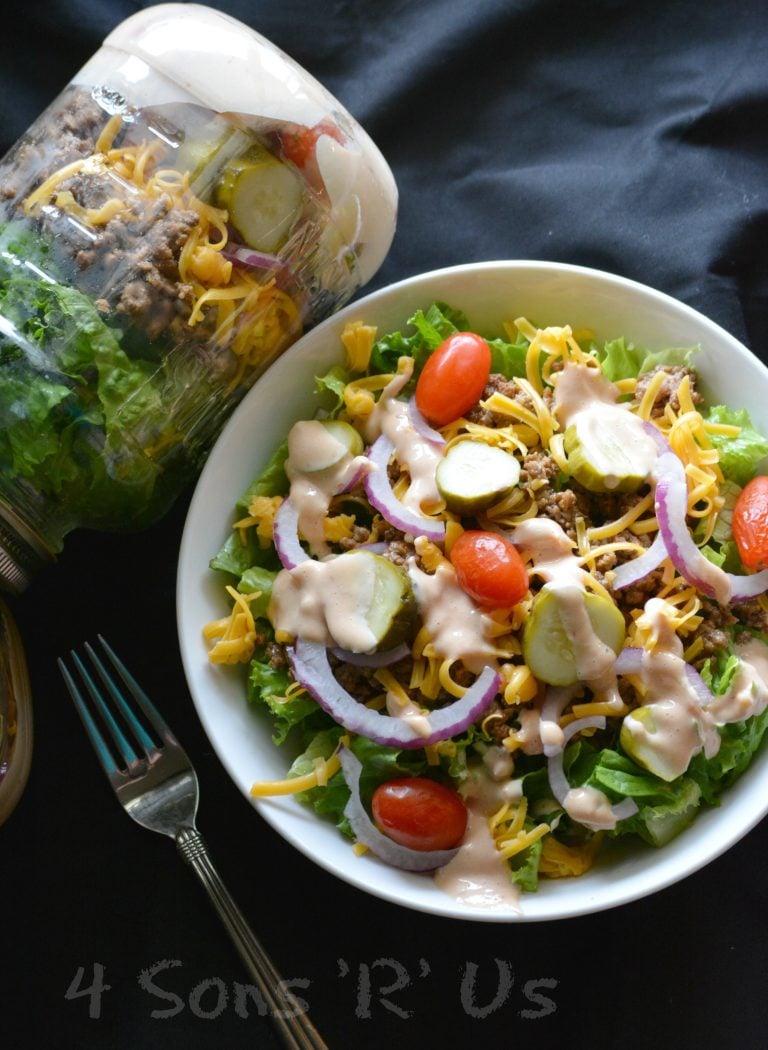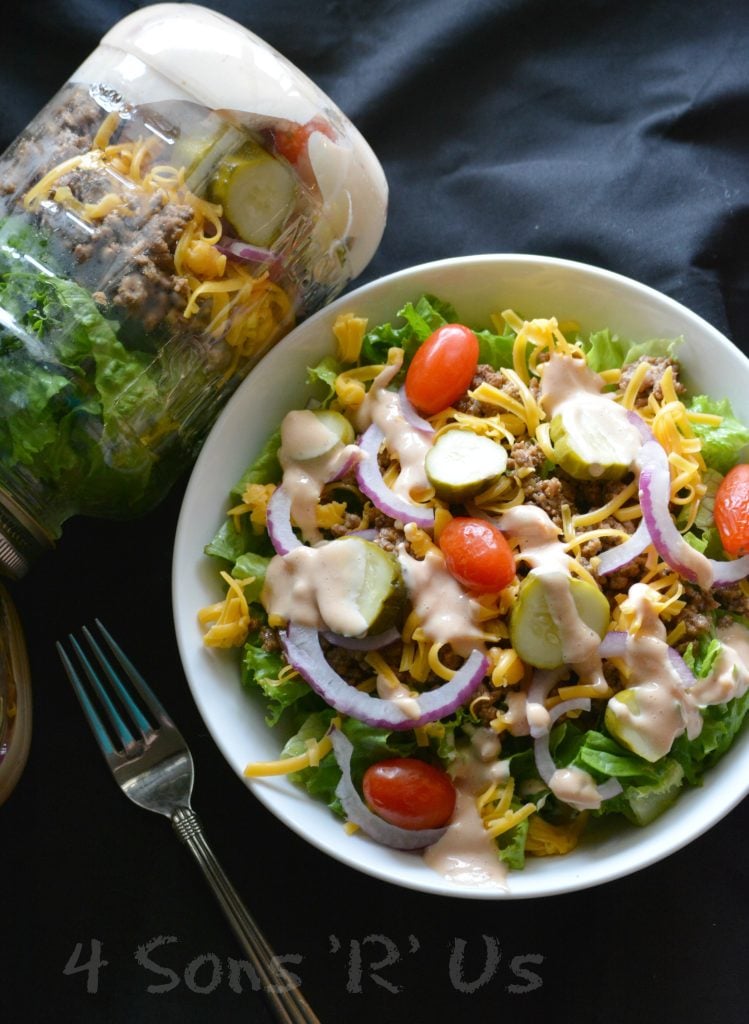 The Ultimate Layered Mason Jar Salad